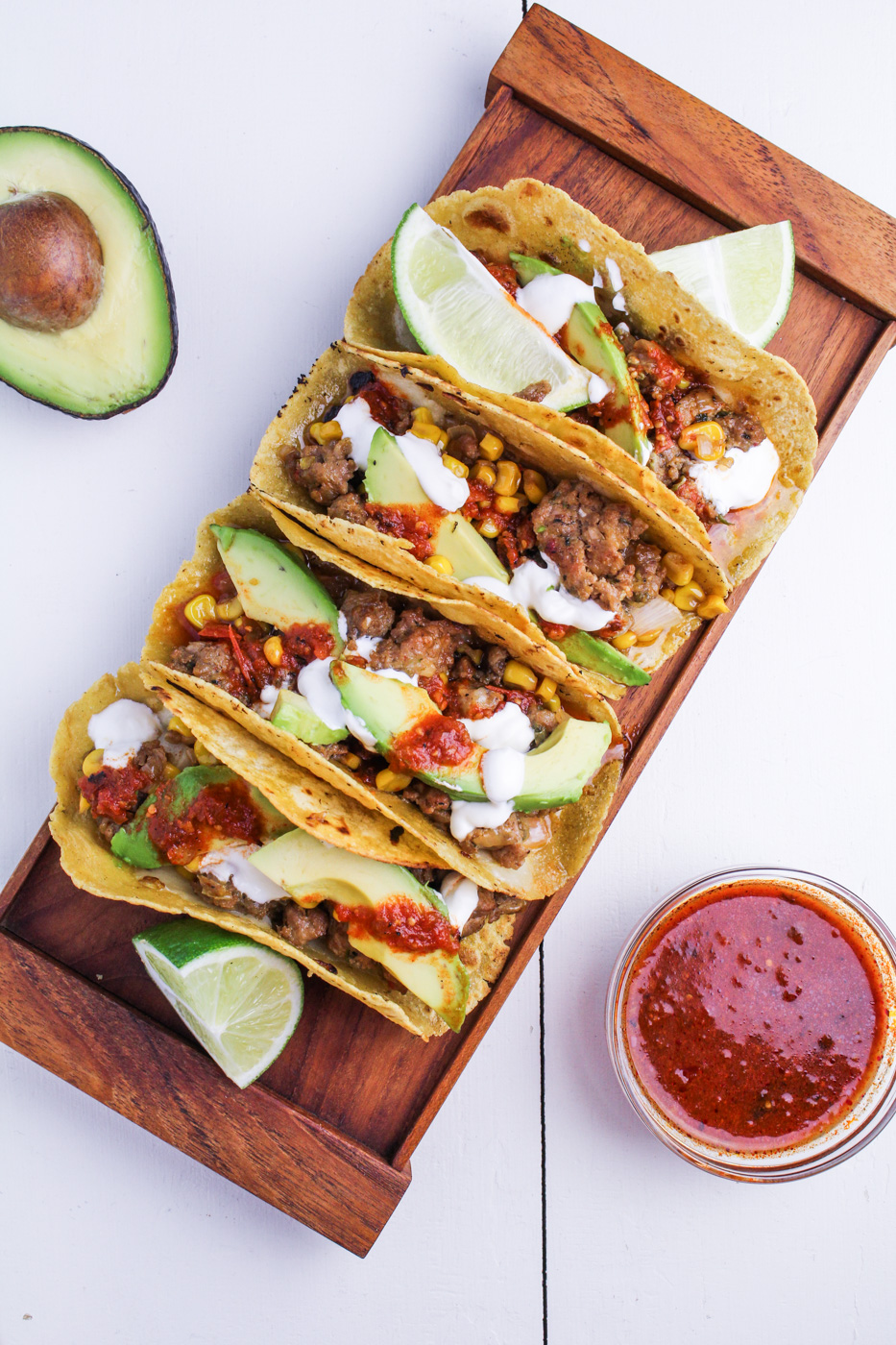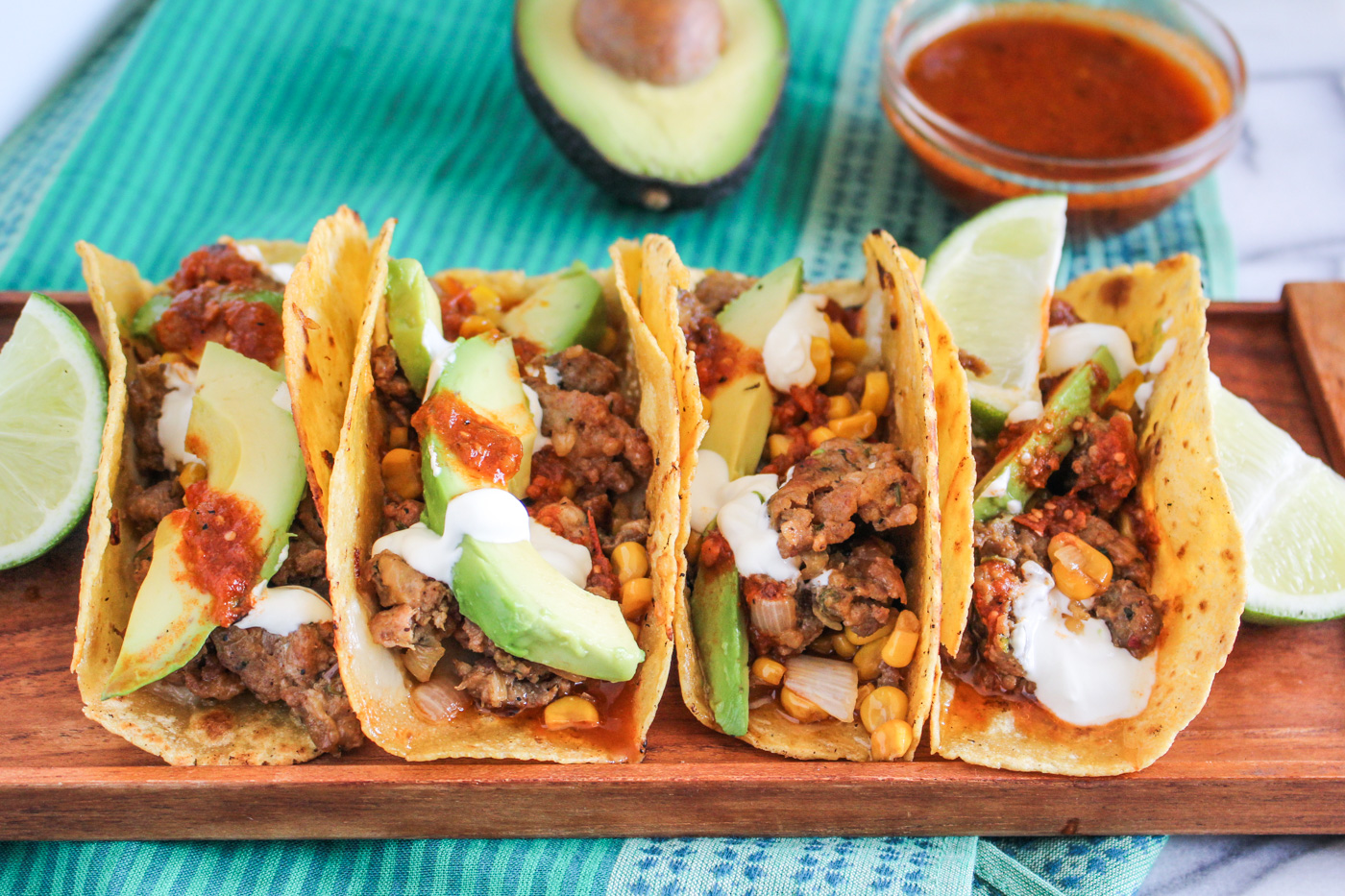 I have recently rediscovered the taco as a homemade dinner option. Jury's still out on how this discovery will affect my overall health, but on all other fronts – flavor, ease, cost, deliciousness – I'm pretty happy with it. It's no wonder tacos were a staple of our childhood dinners. They're so easy! While even your basic taco-kit Tex-Mex taco can be delicious, gourmet tacos are next level. You know, the kind that successful food trucks all over the US are dedicated to – with soft flour tortillas wrapped around spicy barbacoa and pickled onions and freshly made salsa. The kind that makes you feel like you're standing on a street corner in Mexico, watching life go by and soaking up the sun.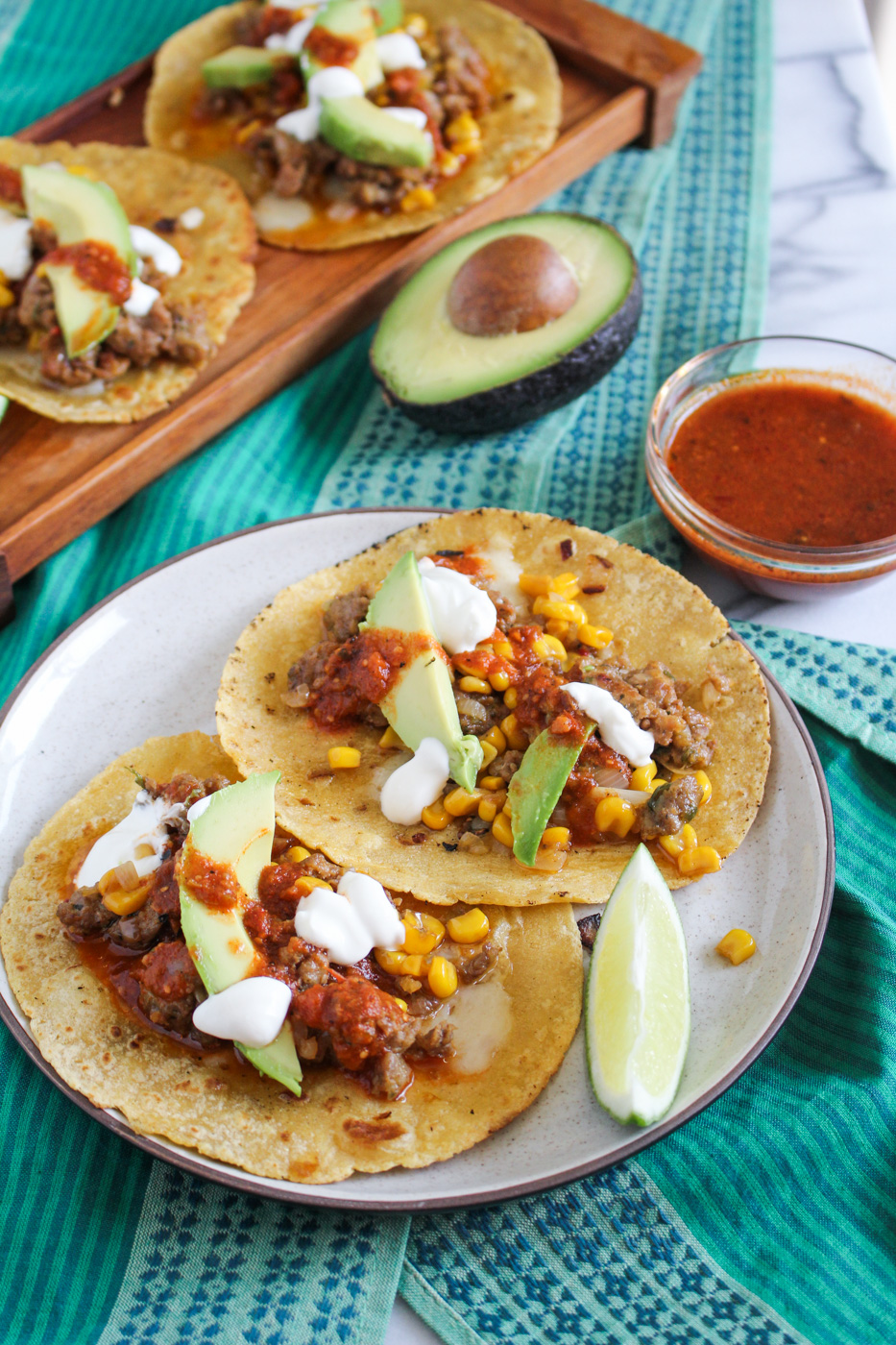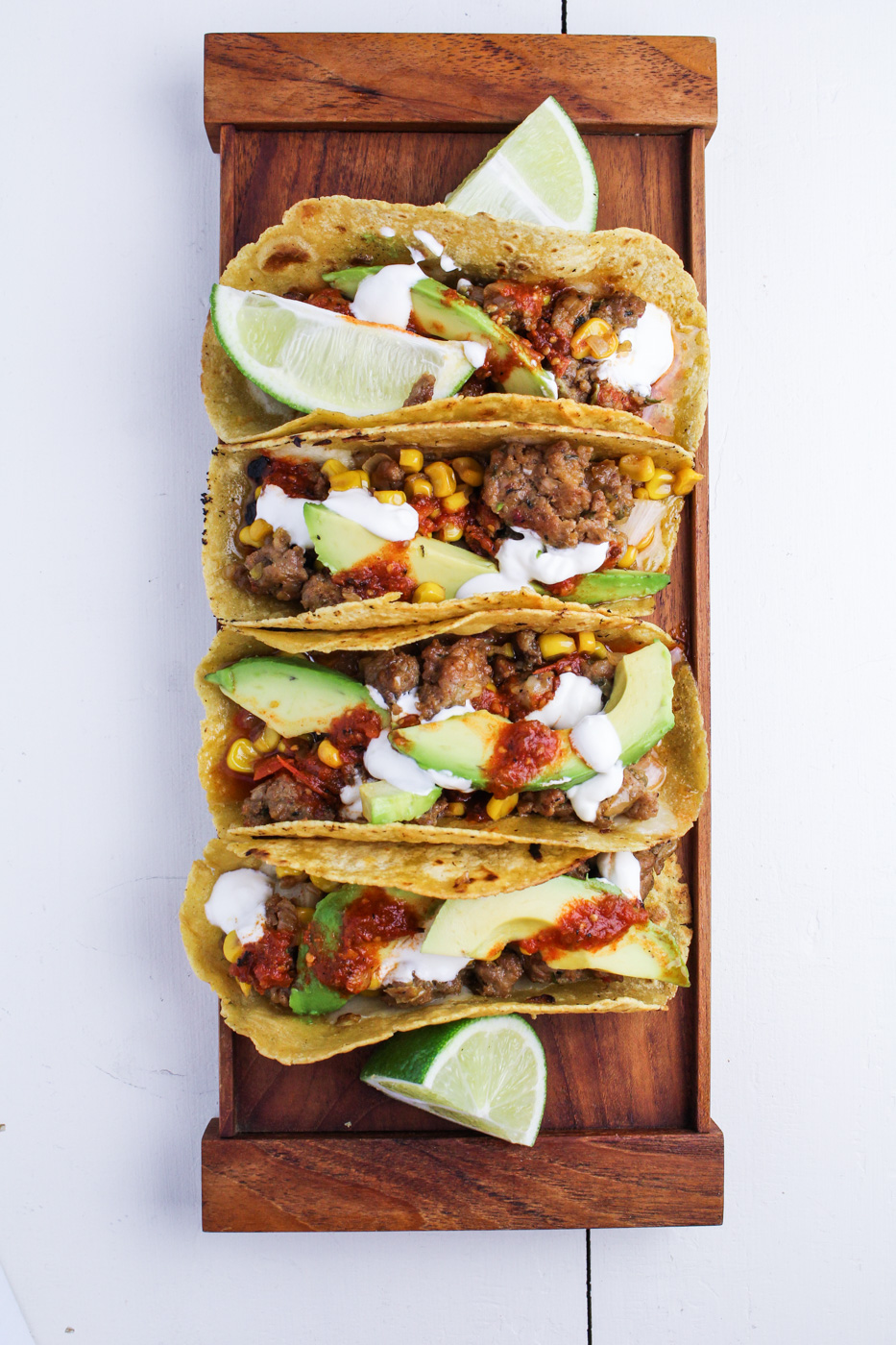 These tacos are more of the grown-up, gourmet variety (although with a couple throwbacks to the childhood Tex-Mex version). Instead of ground beef and "taco spice" I make them with fresh Mexican-style chorizo sausage. The mixture of the mildly-spiced chorizo, sweet onion, and corn makes up the bulk of the filling. They come together in no-time, maybe 20 minutes from "I want tacos!" to biting into your first one. So if you're going for a 30-minute dinner, you'll still have 10 minutes left to shake up a margarita.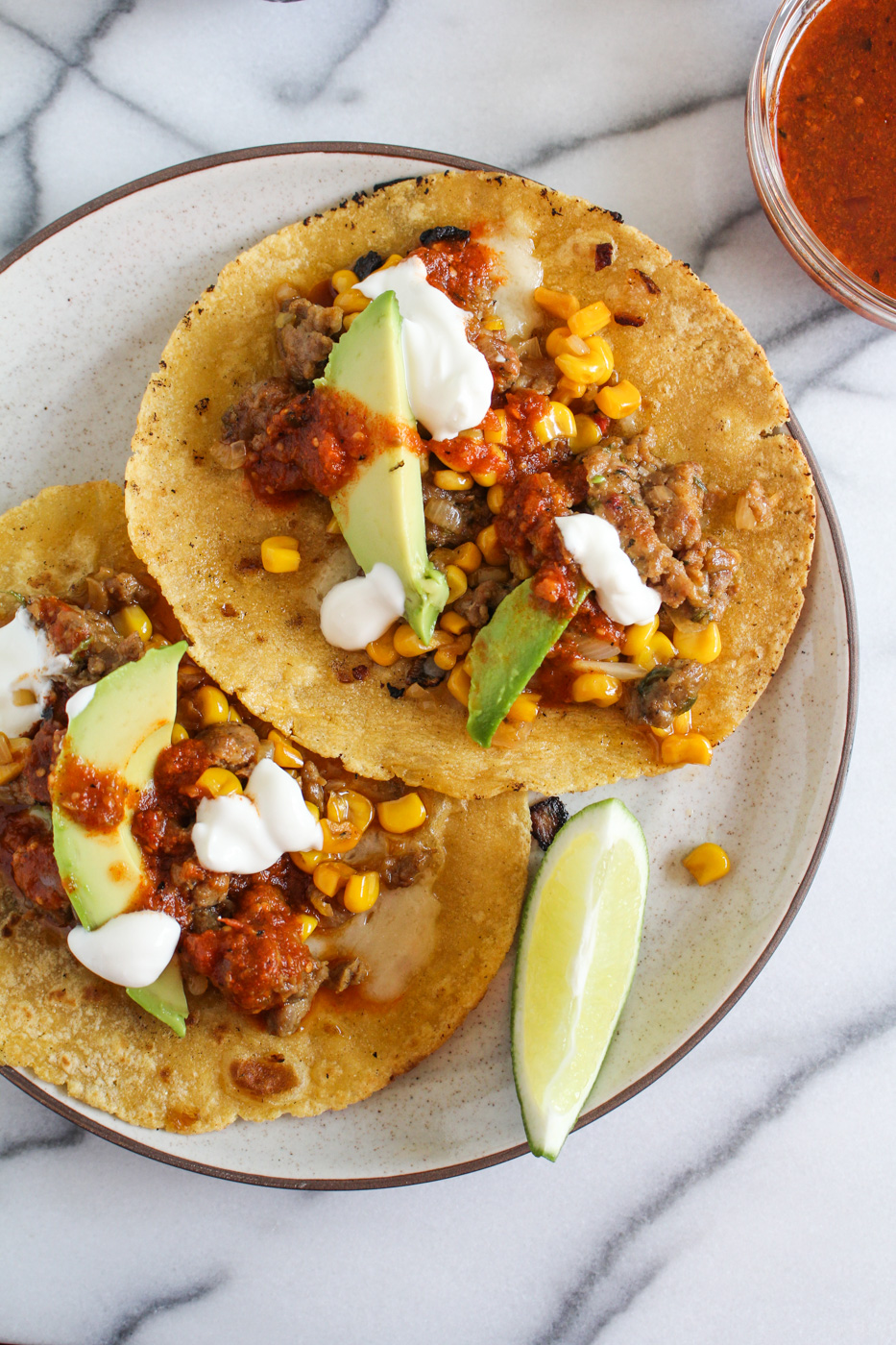 What takes these chorizo tacos over the top for me is griddling the tortillas in the leftover chorizo fat. They turn golden brown and a little crispy, and if you melt a bit of cheddar cheese in the center at the same time you are ready for taco heaven. Quality toppings also up the ante here. A generous amount of sliced avocado, fancy salsa, and sour cream all come together to give you the perfect amount of savory-spicy-rich-sweetness in each bite. I've been making these with the chorizo that comes in our Walden Local Meat Company subscription, and I'm pretty sure they'll be on our table at least once a month. From now until… forever.
Like what you just read? Subscribe to Katie at the Kitchen Door in the box on the right, on Feedly or Bloglovin', or follow along on Facebook, Twitter, Pinterest, and Instagram. Thanks for reading!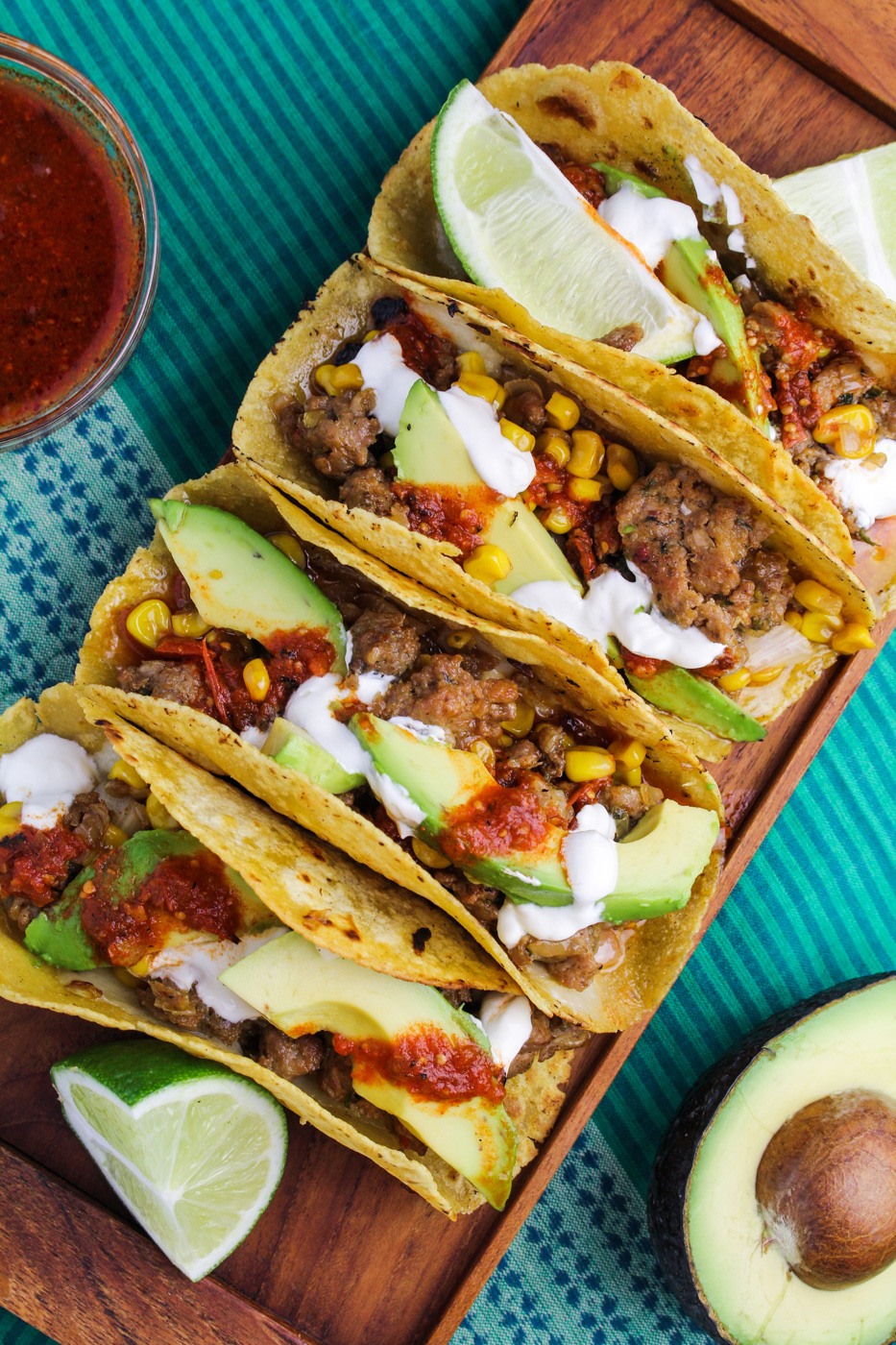 Print
Corn and Chorizo Tacos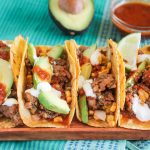 Easy and delicious Corn and Chorizo Tacos, on your table in 30 minutes. Fry the corn tortillas until crispy and golden brown for an extra decadent meal.
1

TBS olive oil

1

medium onion, peeled and roughly chopped

1

lb. fresh, Mexican-style chorizo sausage

1 1/2 cup

frozen corn

8

small corn tortillas

6 oz

. cheddar cheese, thinly sliced

1

or

2

ripe avocados, peeled and thinly sliced, for topping
salsa, for topping
sour cream, for topping
Instructions
In a large frying pan, heat the olive oil over medium heat. Add the chopped onion and saute until translucent, about 3-4 minutes. Remove the sausage from its casing and crumble into the pan. Use the back of a wooden spoon to chop it into small pieces. Saute, stirring frequently, until fully cooked and crispy on the outside, about 8-10 minutes. Add the frozen corn and cook for another 2-3 minutes, then transfer the stuffing mixture to a bowl, leaving most of the oil/drippings in the pan.
Working with one or two tortillas at a time, add the tortillas to the hot grease and cook until golden brown on the first side, about 60-90 seconds, then flip the tortilla over to cook the second side. While the second side is cooking, place a few pieces of cheddar cheese on top of the tortilla so that it melts into the tortilla. Remove from the heat when cheese is melted and both sides of tortilla are golden brown. Repeat with the remaining tortillas.
Fill the cheesy tortillas with the chorizo and corn mixture, then top each taco with sliced avocado, salsa, and sour cream. Serve immediately.
11