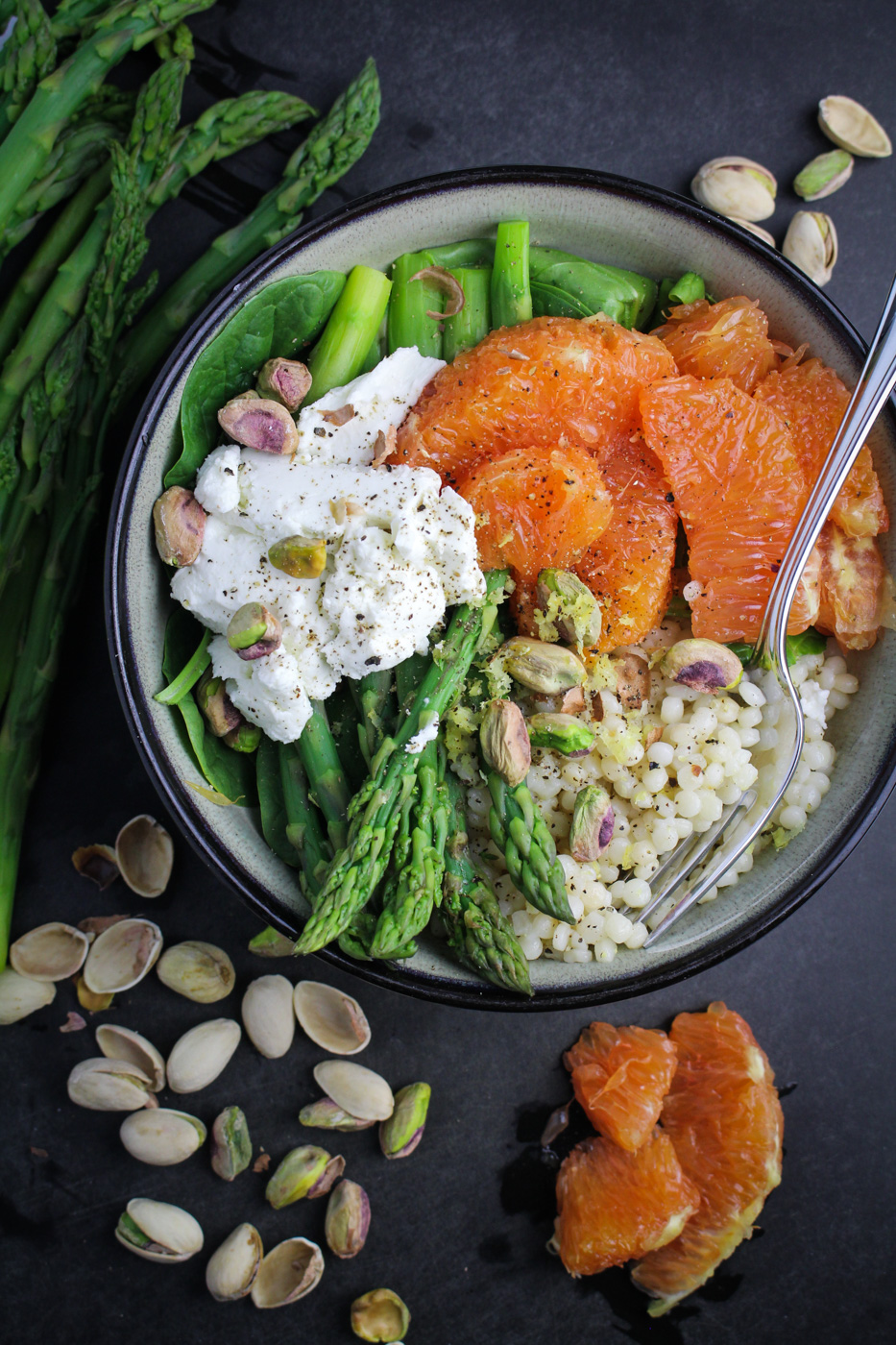 I recently discovered two things. First, Cara Cara oranges. Have you ever had one? They're amazing. Whoever invented orange-flavored candies was definitely inspired by these guys. They are so much sweeter, juicier, and just more wonderful than regular oranges, and they're a beautiful pink color inside, too. Although I usually associate citrus with January and February, Cara Caras seem to just be hitting their peak season now. At least, Wholefoods is full of them: no ramps or fava beans, just a lot of oranges. Although to be honest, I think my expectations for the seasonal produce that should be available in April have always been a little out of touch with reality. It was snowing two weeks ago, after all.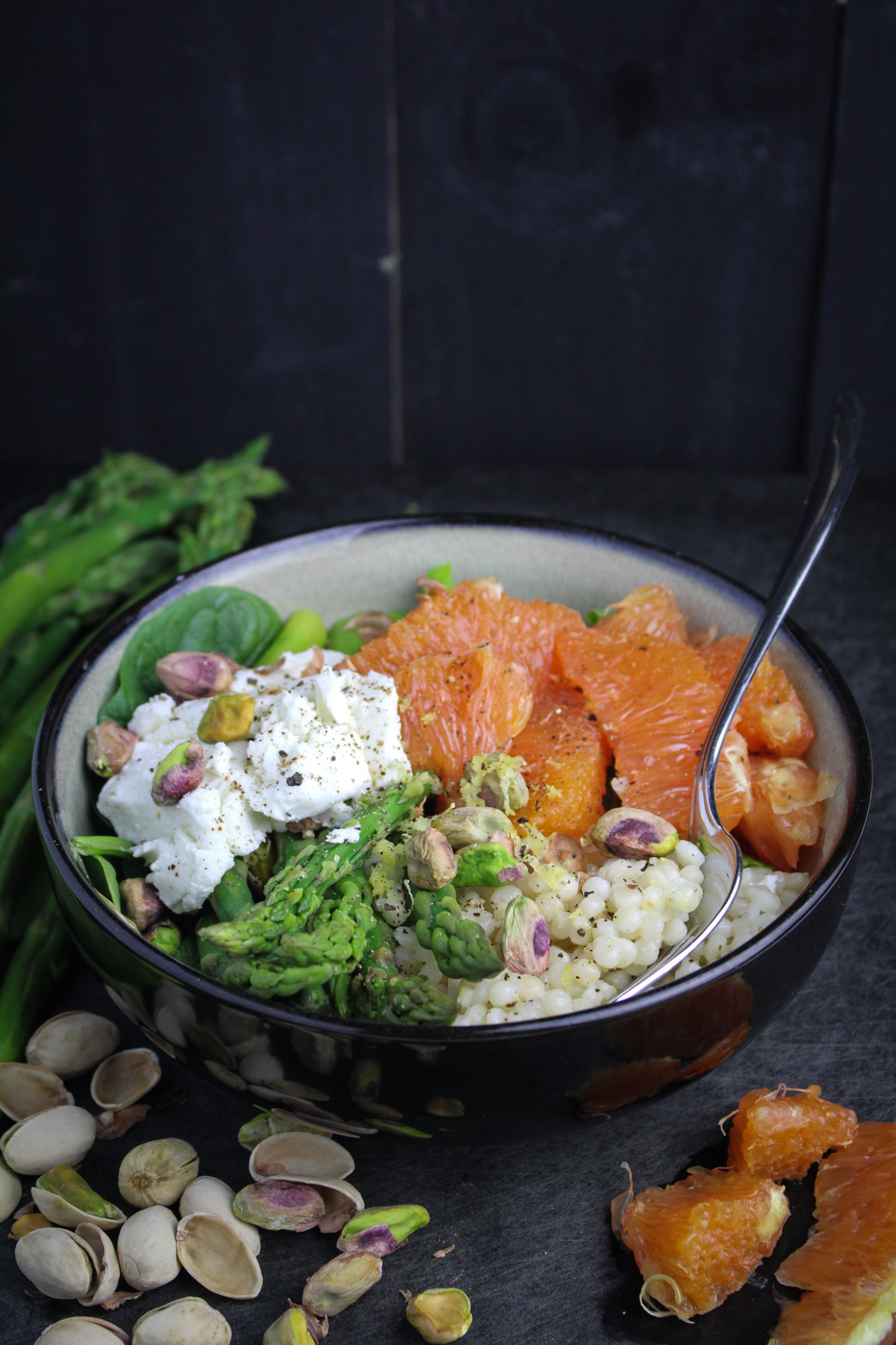 Writing the above paragraph has sent me down an internet rabbit hole looking for orange trees online. Because wouldn't a Cara Cara orange tree be the perfect addition to our collection of trees that you probably shouldn't try and grow in Boston? Our impulse-tree-purchase rate is way up this month anyways – last weekend alone we bought an olive tree and a coral bark Japanese Maple. What would harm could one more citrus tree do?
The second thing I discovered is that I've been cooking asparagus wrong. My standard cooking method for most vegetables is this: douse liberally with olive oil, sprinkle with sea salt, roast at 400°F until nicely charred. I like my roasted vegetables to be borderline carcinogenic. Especially brussels sprouts – I love the way the leaves get translucent and crunchy. Unfortunately, this method has left me unsatisfied when it comes to asparagus. If you roast asparagus even a little bit too long, it becomes stringy and mushy. So I recently tried a recipe in Diana Henry's Simple which calls for you to lightly steam the asparagus by putting the thick ends in an inch or two of simmering water and pushing the tips just below the edge of the pot, without putting the whole stalk underwater. You only cook the asparagus for a few minutes, until they're bright green, then drain immediately. This method resulted in asparagus that was fresh, tender, and perfectly cooked without being limp or mushy or stringy. Success!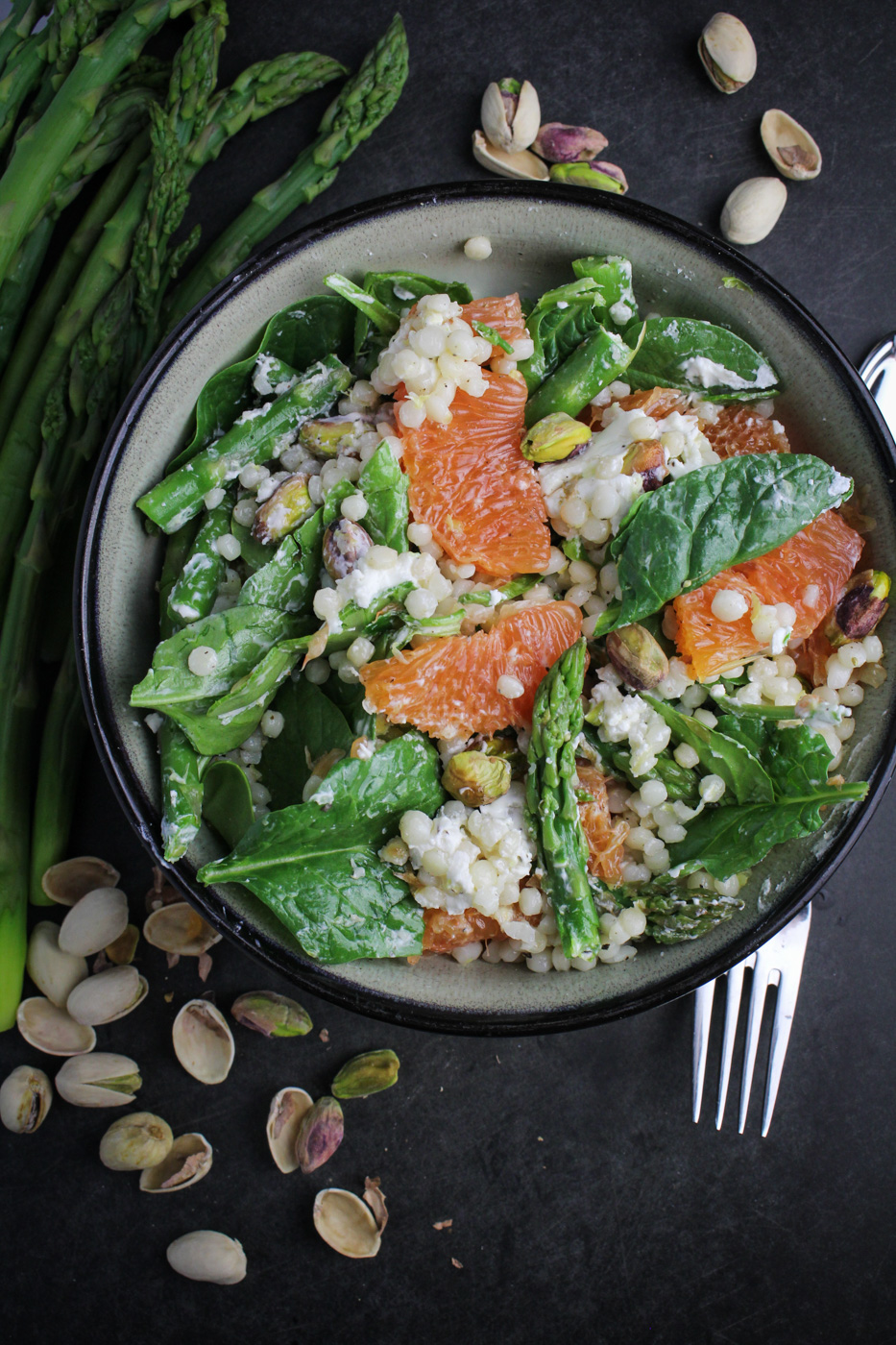 In this recipe I've brought these two April delicacies together in – surprise! – a bowl. I just like things better when they're in bowl form, OK? It's a trend that makes me eat my vegetables. I've built on the Diana Henry recipe I mentioned above, which served the steamed asparagus with goat cheese and lemon butter, to build a warm bowl that screams spring. The base of the bowl is Israeli Couscous tossed with butter, lemon juice, and lemon zest while the couscous is still warm. Adding spinach, steamed asparagus, goat cheese, the lovely Cara Cara oranges, and shelled pistachios makes a healthy spring dinner that is complete and satisfying.
Like what you just read? Subscribe to Katie at the Kitchen Door in the box on the right, on Feedly or Bloglovin', or follow along on Facebook, Twitter, Pinterest, and Instagram. Thanks for reading!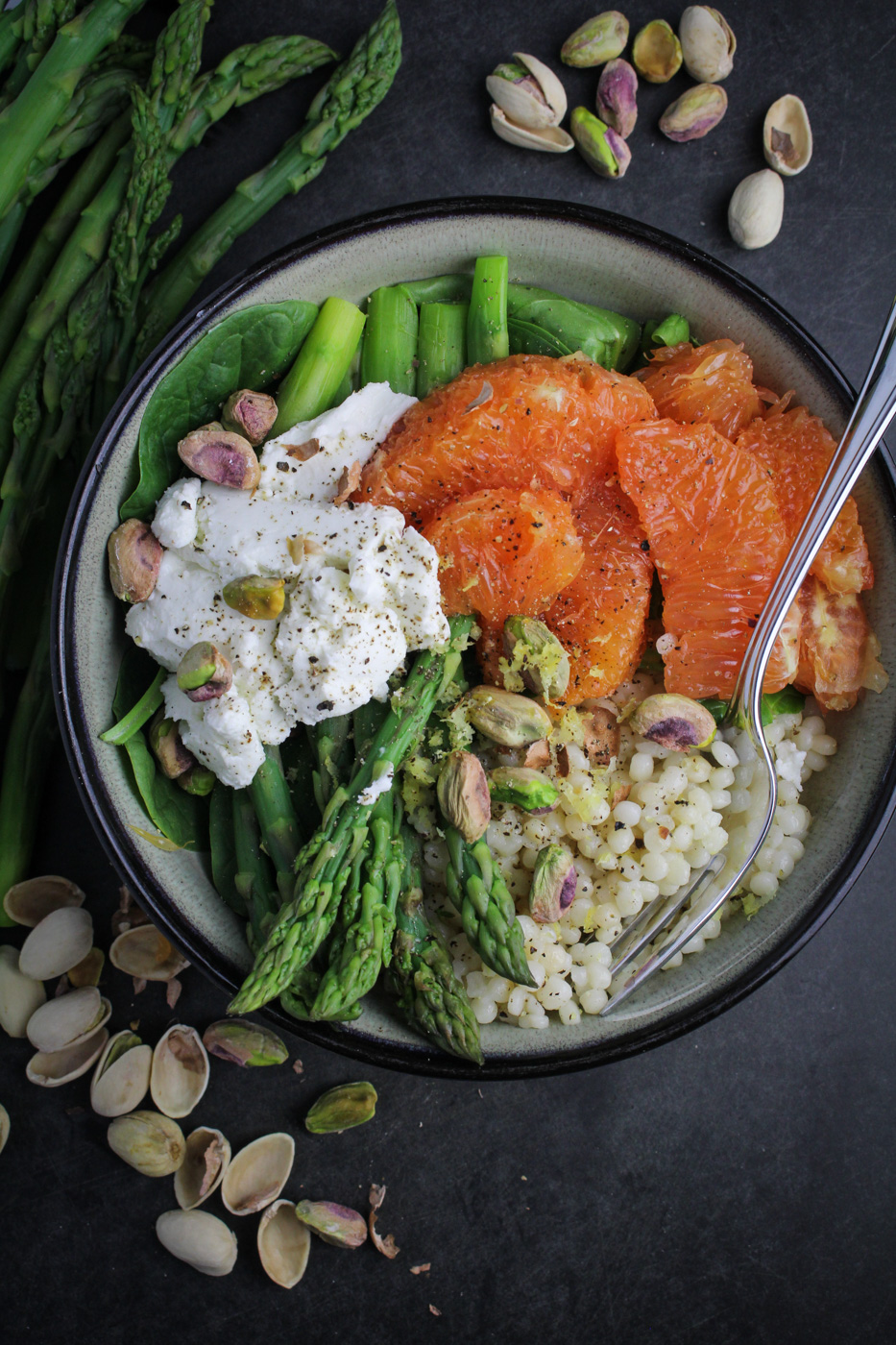 Lemony Israeli Couscous with Asparagus, Oranges, and Goat Cheese
Inspired by Simple. Serves 2.
1 cup of uncooked Israeli couscous
2 TBS butter
zest and juice of half a lemon
black pepper
1/2 pound of asparagus
3 oz. of baby spinach
1 Cara Cara orange, peeled and supremed (cut into segments)
3 oz. soft goat cheese, cut into slices
1/4 cup of shelled pistachios
Bring a medium pot of salted water to a boil over medium heat (the pot should be slightly less wide than the length of your asparagus stalks). Add the couscous to the boiling water and stir. Cook until tender and chewy, about 5-7 minutes, then drain. Transfer to a bowl and add the butter, lemon juice, lemon zest, and black pepper while couscous is warm. Stir until the couscous is evenly coated with the lemon butter and set aside.
Add about 2 inches of water to the pot and return to the stove. Bring to a simmer over medium heat. Prepare the asparagus by snapping or trimming off the thick woody end of each stalk, usually about the bottom 1 inch. (You can gently bend the asparagus to find the natural breaking point as a guide). Place the thick end of the stalks in the simmering water in the bottom of the pot. Gently bend the asparagus so the tips are resting just inside the pot but aren't submerged in the water, so they will steam but not boil. Cook the asparagus in this way until bright green, which should take about 3-5 minutes depending on the thickness of your asparagus. Remove from the heat, drain, and run under cold water for 60 seconds to stop the cooking process.
To assemble the salads, divide the couscous and spinach between two bowls. Top with asparagus, orange segments, goat cheese, and pistachios. Serve warm.
4