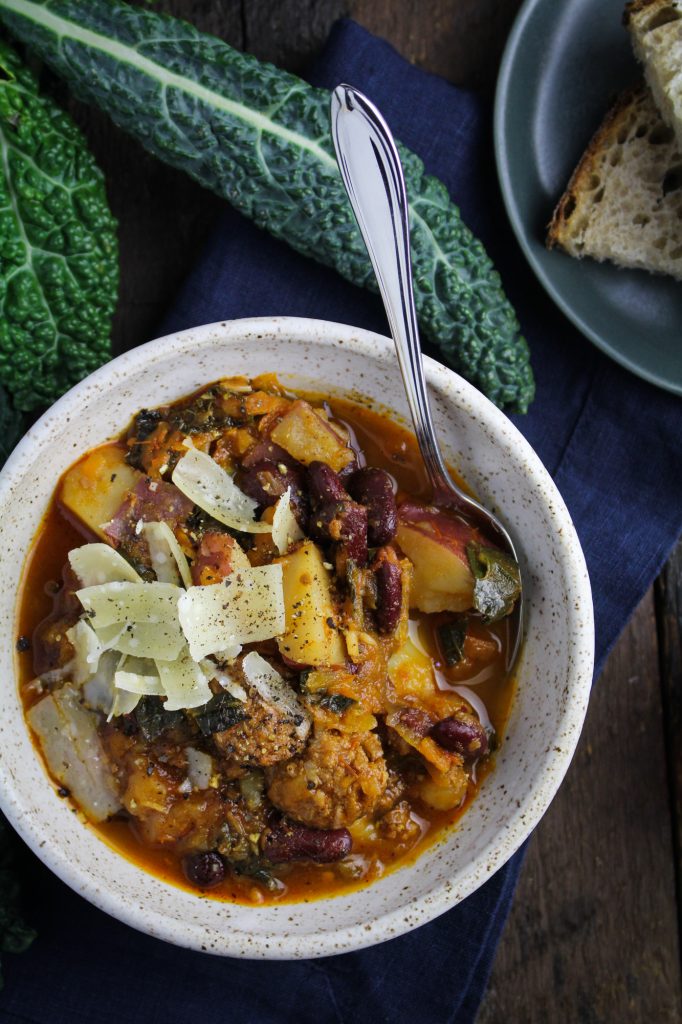 We had a glorious sneak peek of spring last weekend. The temperature rose to over 70° and the snow melted away in one warm rush. I woke up to birdsong and a warm breeze coming in through the open window. I was ready to plunge my hands into the soil and prepare it for new life, to throw open all the windows and air out the house.
We knew it wouldn't last, and it didn't. This weekend fickle March is welcoming us with a cold snap and below freezing temperatures. But that reminder that there are days where no jacket is required, where slow afternoons outdoors are the norm, was just what we New Englanders needed to help push on to spring.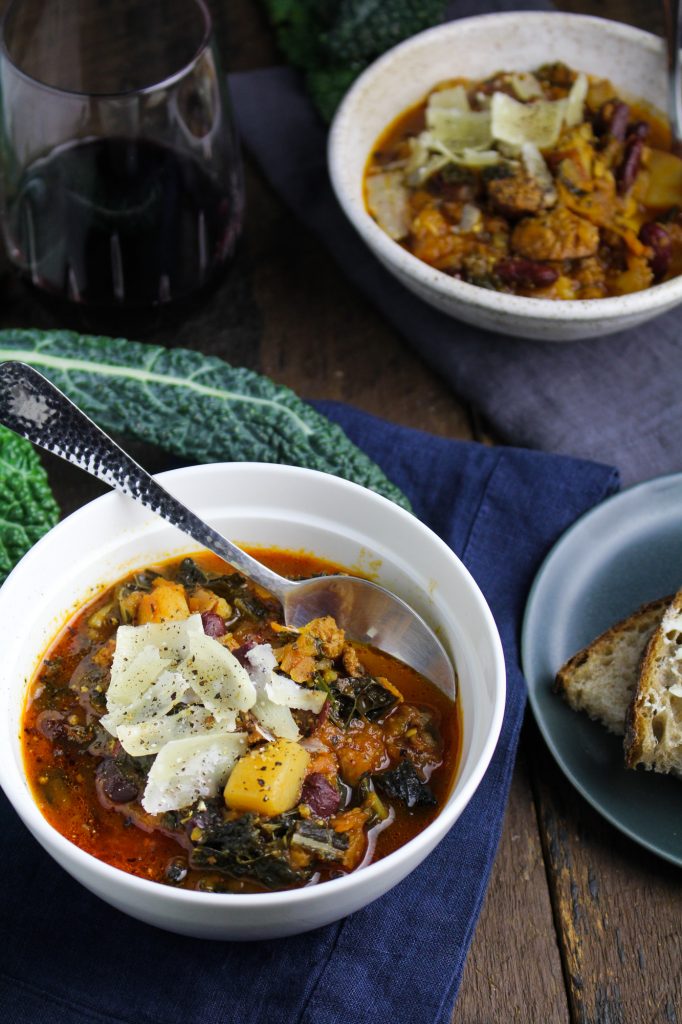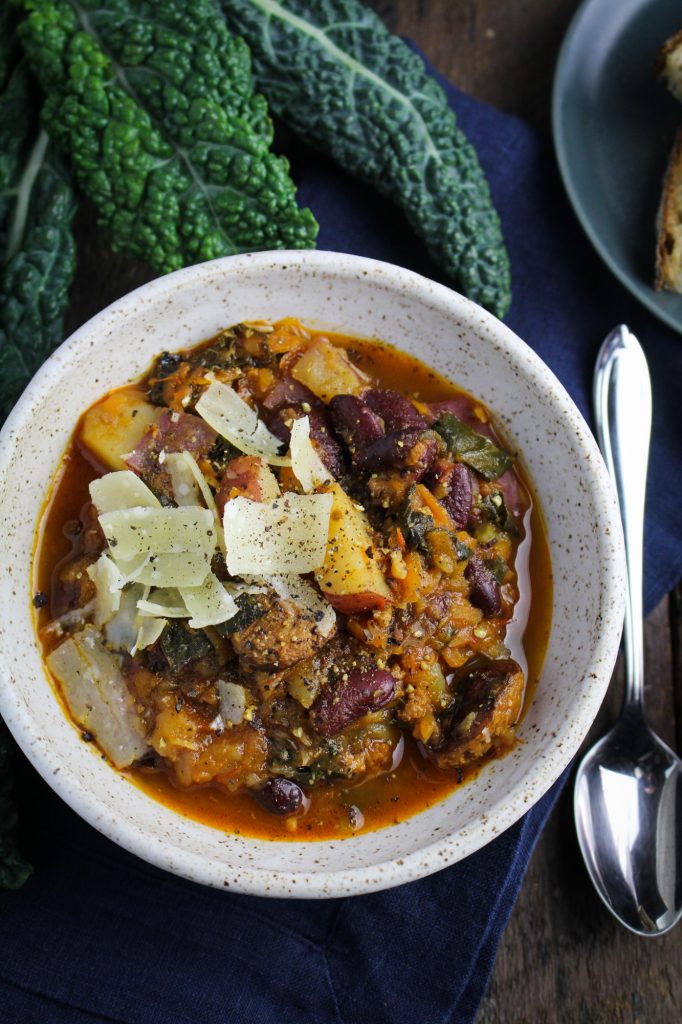 We're in the last days of comfort food – already my cravings are starting to shift towards brighter, greener flavors. So I figured now was a good time to post one last warming soup for the season. This Portuguese Kale Soup is a family favorite, something we've been making for years. Actually, it was one of the very first recipes that I ever posted, way back in 2010. (Look at those pictures! Good for perspective, no?) It's still one of my favorite recipes, although I've tweaked it a bit as I've become a better cook. Since we just got home from Portugal, now seemed like a good time to give it a refresh.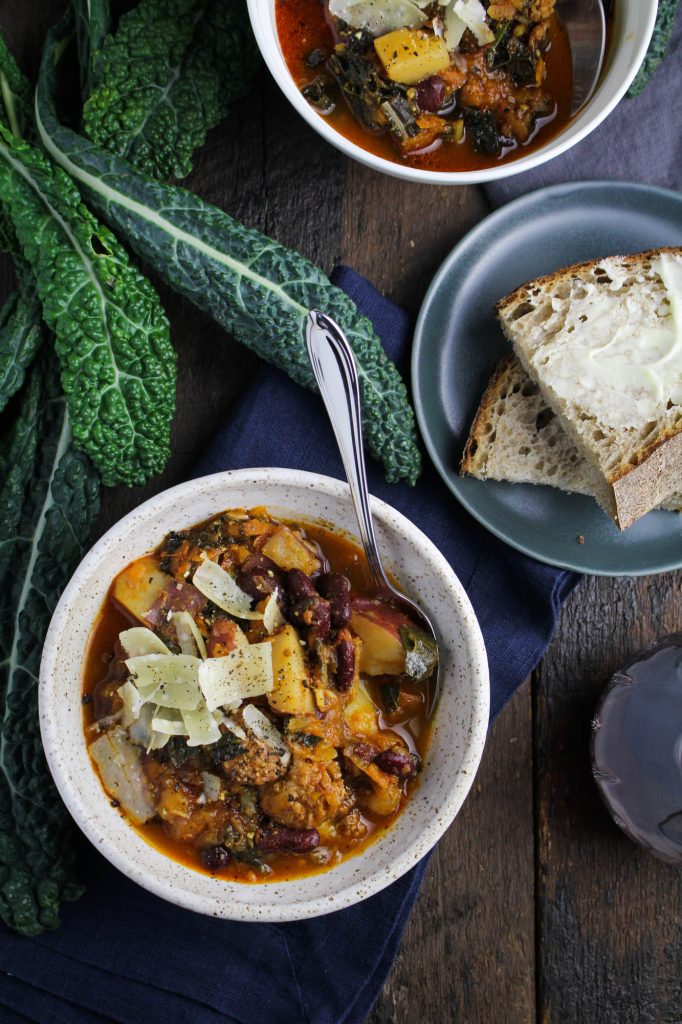 While we were in Portugal in January, I ate plenty of bowls of green and filling caldo verde. But caldo verde and this Portuguese Kale and Linguiça Soup, while largely based on the same ingredients, are somehow very different. Where caldo verde is mild and very green, this soup is assertive and tangy, rich with the flavors of tomato and vinegar. After some research, I think this particular soup may very much be a Massachusetts-special: not strictly traditional Portuguese, but a Provincetown evolution.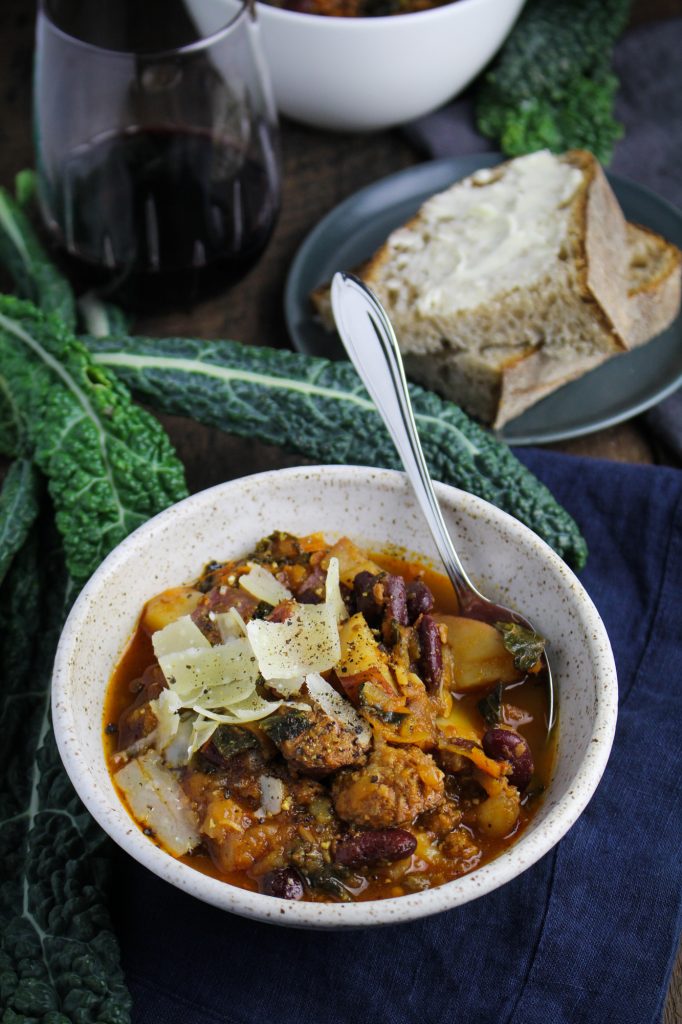 I realize that 3 of my last 5 recipes have been soups (what can I say? I know my strengths), so I promise that after this we'll move on to other food groups. Food groups that are not stewed for hours on end and that involve green vegetables. Until then, stay warm and think spring thoughts!
P.S. I relaunched my blog this week with a snazzy new design. What do you think? I've also got a newsletter in the works, so if you're not already subscribed, head on over now and subscribe in the side-bar.
Like what you just read? Subscribe to Katie at the Kitchen Door in the box on the right, on Feedly or Bloglovin', or follow along on Facebook, Twitter, Pinterest, and Instagram. Thanks for reading!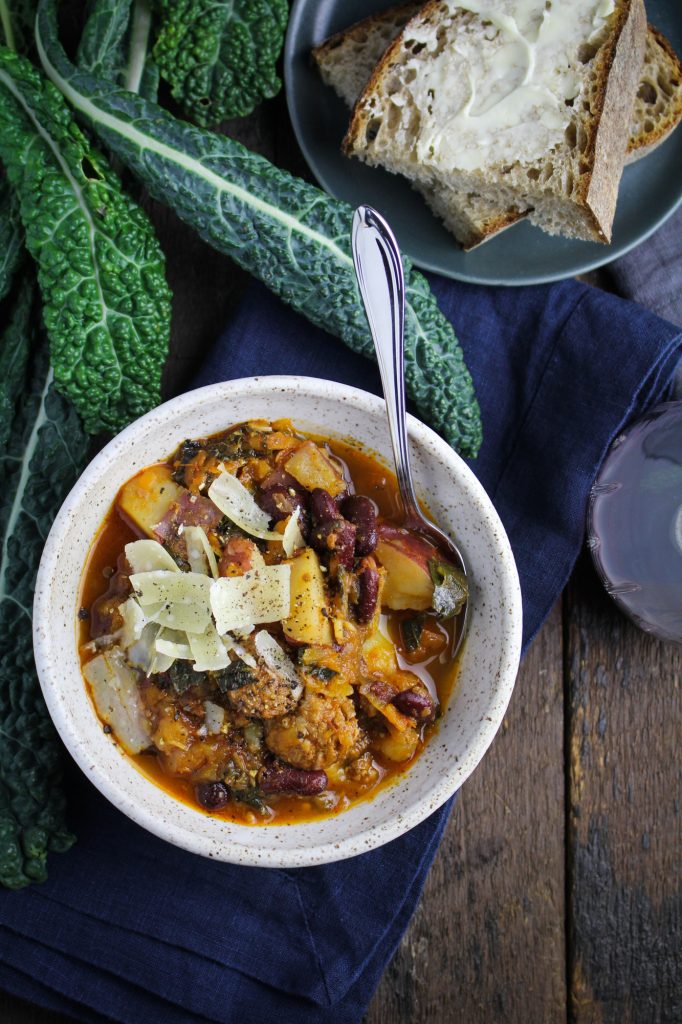 Portuguese Kale and Linguiça Soup
Family recipe. Serves 6.
2 TBS olive oil
1 onion, peeled, grated or finely minced
1 large carrot, peeled and grated
sea salt
3 cloves of garlic, minced
1/2 tsp cumin
5 cups chicken stock
3 medium Yukon gold potatoes, cut into 1/2 inch cubes
1 large bunch of kale finely chopped
One 14.5 oz can of crushed tomatoes
8 oz. linguiça, cut into 1/4 inch slices
One 15 oz can of kidney beans, drained and rinsed
1 tsp red wine vinegar
Heat the olive oil in a soup pot over medium heat. Add the grated onion and carrot and season with sea salt. Saute until tender, about 6-8 minutes, stirring frequently. Add the minced garlic and the cumin and cook for 2 minutes longer, stirring.
Add the chicken stock, cubed potatoes, kale, crushed tomato, and linguiça to the pot, and stir to combine. Bring to a boil then reduce the heat slightly and simmer for 30 minutes, until potatoes and kale are very tender. Add the kidney beans and vinegar and cook for 5 minute longer, just to heat the beans through. Serve hot with crusty bread.
3