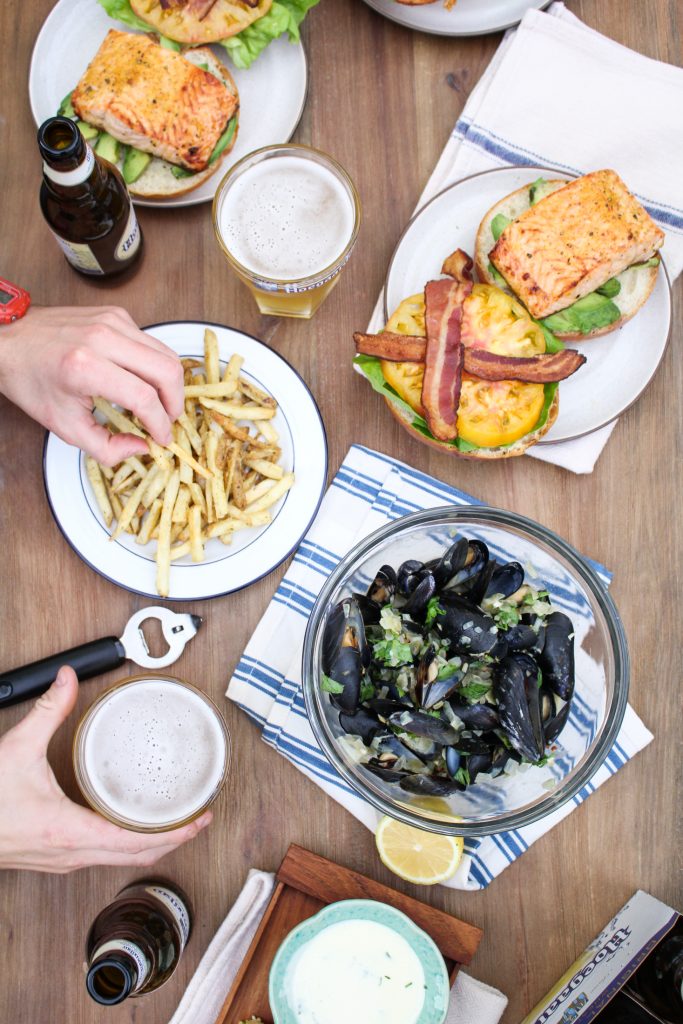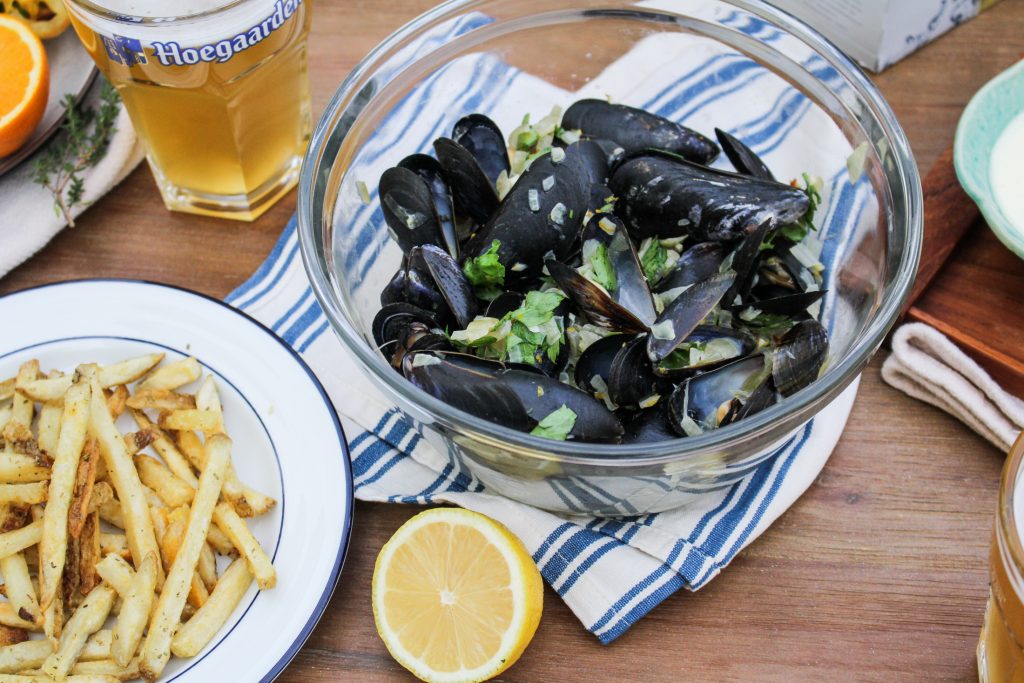 Wheat ales are hands down my favorite beers, and I particularly love Belgian ones. I love the hints of sweetness and citrus, the light body and easy drinkability. I know you all see a lot of wine around here, but there are days when a beer is so much more refreshing and casual and somehow just better. And on those days, nine times out of ten I am reaching for a Belgian wheat ale, and I'm never disappointed with my choice. So partnering with Hoegaarden (pronounced "who-gar-den"!), a brewery that has been brewing wheat ales in Belgium for almost 600 years, was an excellent chance to spend time working with a beer made by true experts of my favorite brewing style.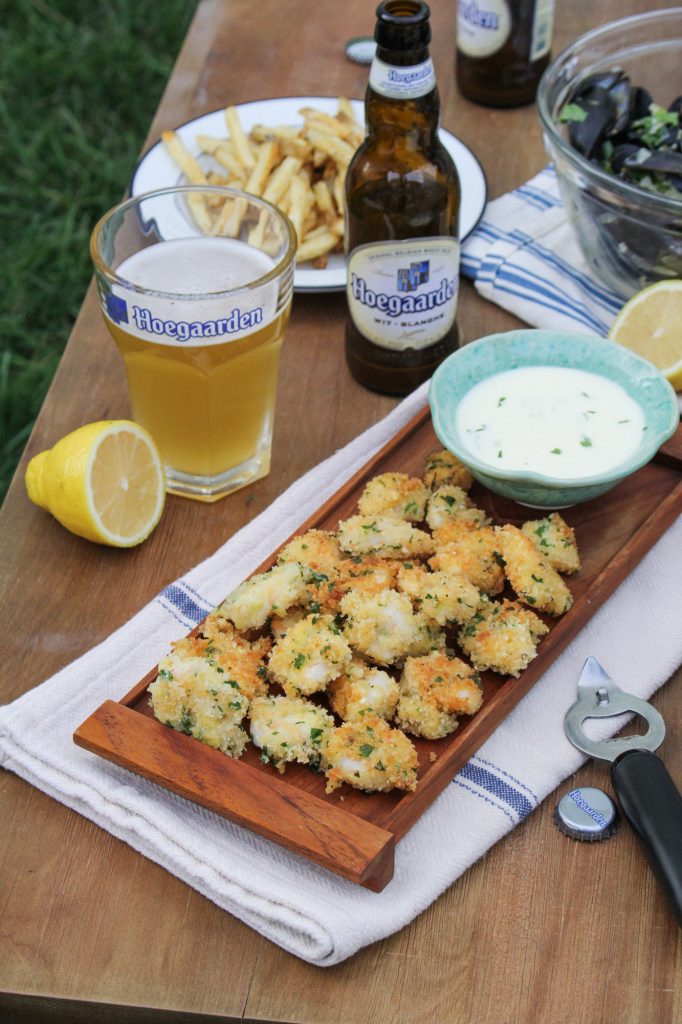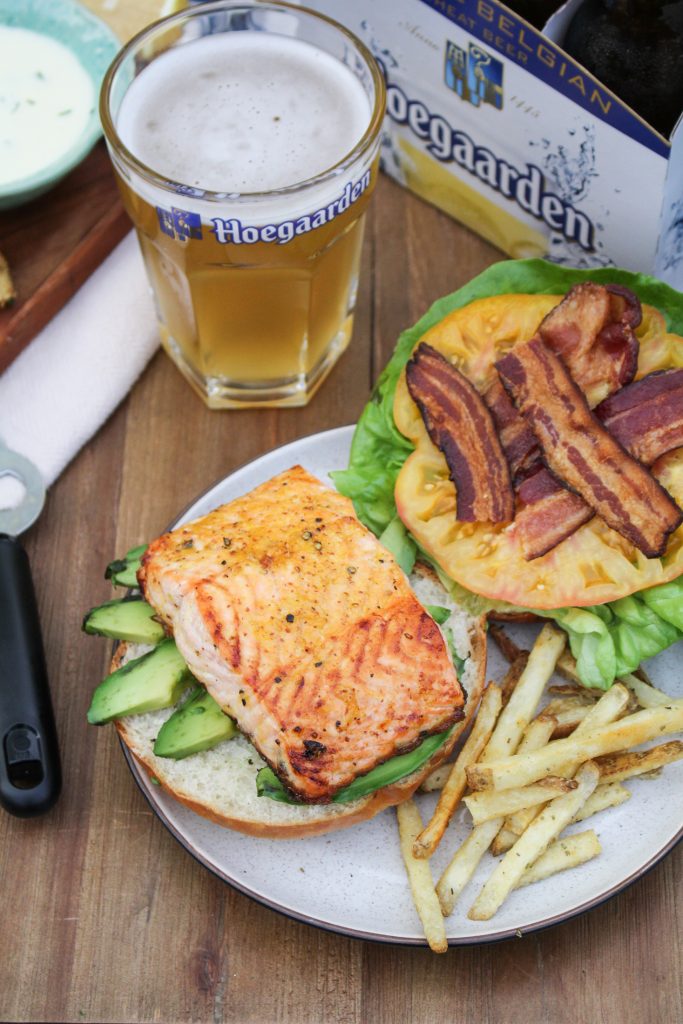 Light, citrusy wheat ales are a great match for seafood dishes, and since I've been building my seafood recipe repertoire after a lifetime of avoiding eating it at all costs (you can read more about that particular piece of my history here and here if you're curious…), coming up with a few new recipes to pair with Hoegaarden was a fun challenge. When I think of seafood and beer, my thoughts immediately skew to summertime – images of seafood shacks lining long sandy beaches, the scent of just-greasy-enough fish sandwiches and French fries wafting over the dunes, frosty brown bottles brought to your lips while you survey the ocean through sunglasses, everything sparkling and blown out in tones of blue and blonde. But it's October, and October in New England is all coziness and sweaters and crunching through leaves. How could I take that easy breezy summer beach feeling and make it appropriate for fall?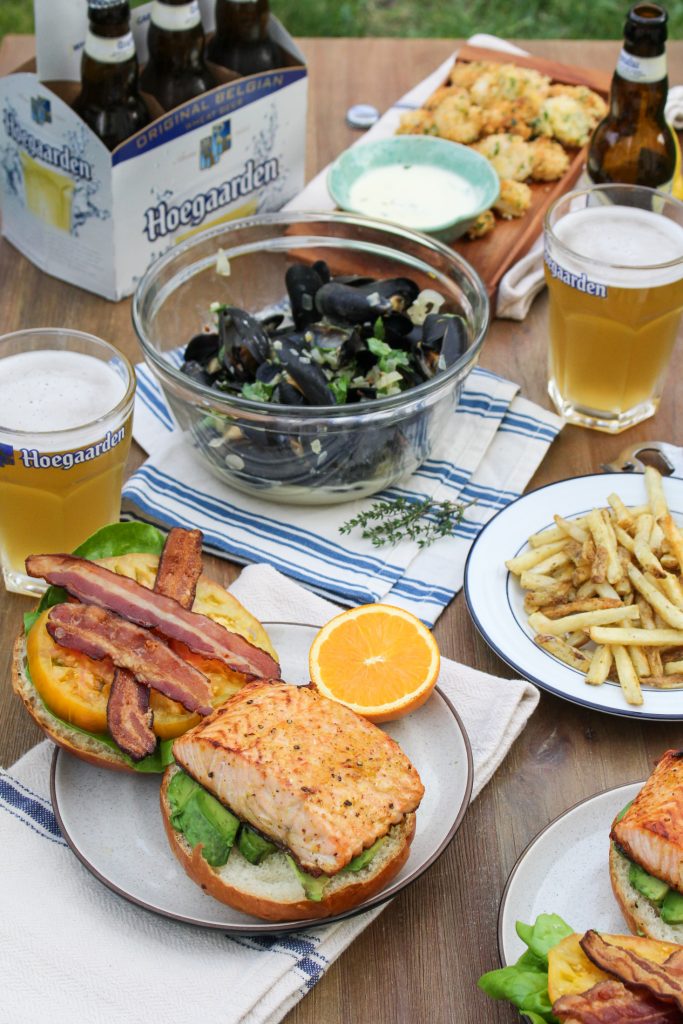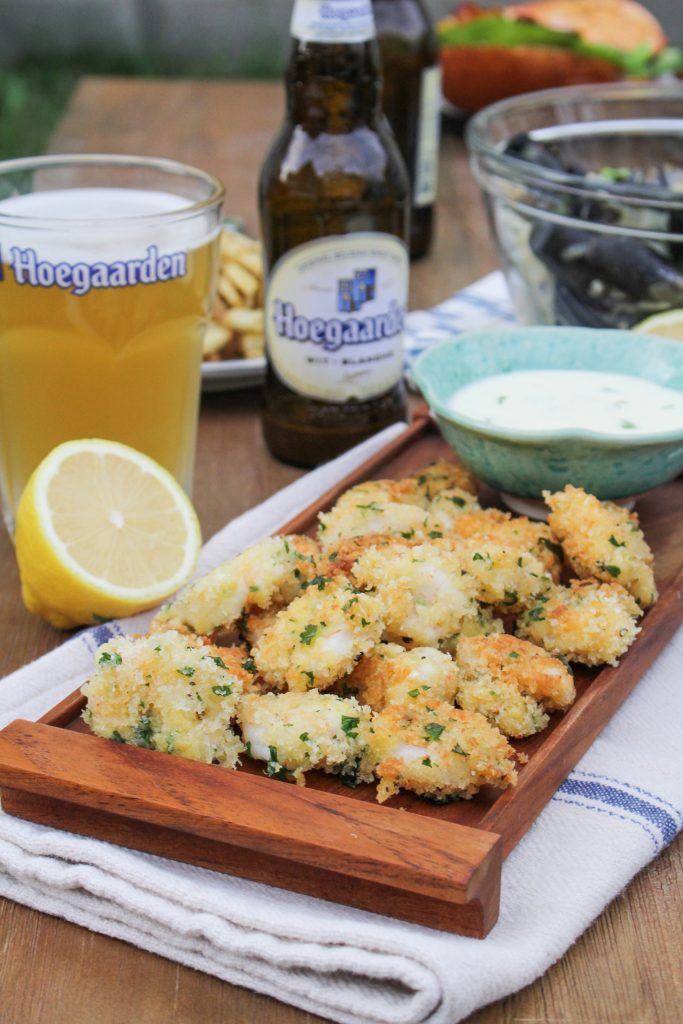 The answer: take a bunch of summer seafood classics – fish sandwiches, fried seafood, and steamed mussels – and make the flavors just a little bit heartier, a little bit more warming. Start with a platter of just-fried popcorn shrimp, dipped in an addictive lemon-garlic aioli. When you've had your fill of the crunchy-creamy bite-sized shrimp, bring out a steaming bowl of mussels, simmered in a mixture of Hoegaarden and garlic-butter and crème fraiche and finished with a shower of fresh parsley. If you're really feeling the Belgian vibe, serve the mussels with a basket of French fries (frozen ones are fine, I won't tell anyone if you don't) for a take on the classic dish Moules Frites. Alternatively, a fresh baguette for sopping up the creamy sauce will work. Last, bring out Salmon B.L.A.T.s, where each piece of salmon is glazed in an orange-mustard sauce before being sandwiched between a soft brioche bun, two crispy pieces of bacon, a thick slice of summer's last heirloom tomato, and a few slices of creamy avocado. Enjoy everything outside on a beautiful fall afternoon, with a six pack or two of chilled Hoegaarden and some good company. Relax and savor the fact that it's the weekend, that it's still warm enough to be outside, that you're surrounded by good friends and good food and good beer.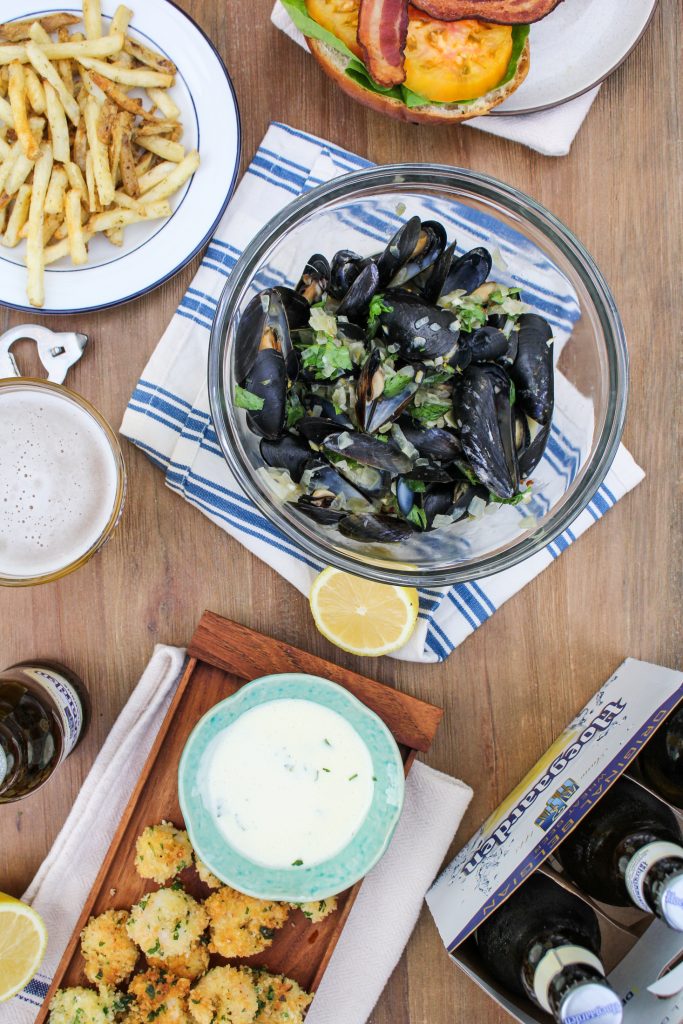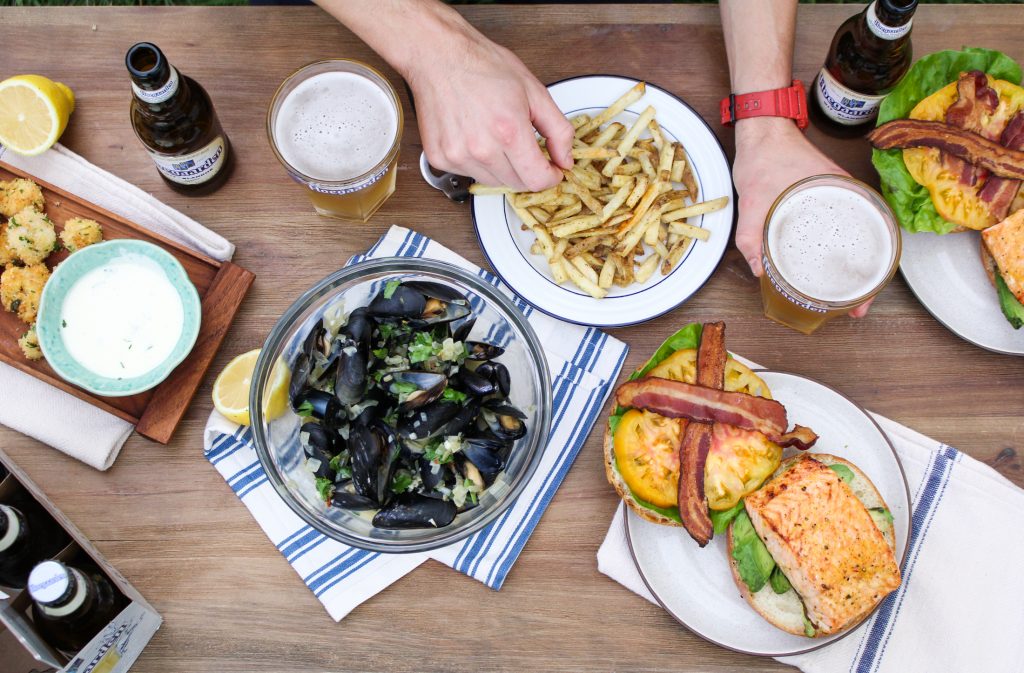 In the mood for a Hoegaarden or two but don't feel like schlepping out to the store? If you're in Drizly's delivery area (most major US cities!), head to Drizly.com and you can have it delivered to your door in an hour. Even better, readers can use the code "WHO141" at checkout for a special offer when purchasing Hoegaarden. Once you've cracked your beer (and hopefully cooked up at least one of these recipes to go with it) snap a pic and share it with #itsWHOgaarden… I'd love to see what you're cooking up! 
This post was sponsored by Drizly and Hoegaarden. As usual, all opinions are my own.
Like what you just read? Subscribe to Katie at the Kitchen Door in the box on the right, on Feedly or Bloglovin', or follow along on Facebook, Twitter, Pinterest, and Instagram. Thanks for reading!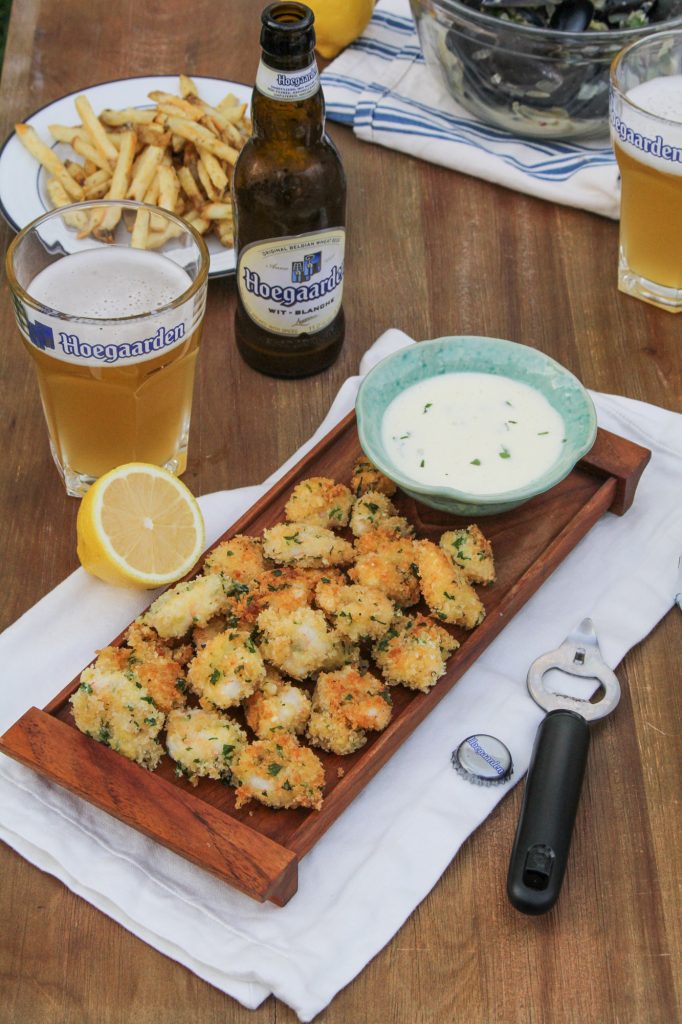 Paprika-Dusted Popcorn Shrimp with Lemon-Garlic Aioli
Serves 4 as an appetizer.
1 lb. uncooked Key West shrimp (51-60 count), thawed according to package directions
2 eggs
1 c. flour
1 c. panko
½ tsp salt
½ tsp smoked paprika
1 TBS finely minced fresh parsley
Canola oil for frying
For the Lemon-Garlic Aioli:
2 cloves garlic, peeled and minced
1 egg plus 1 egg yolk
¼ tsp sea salt
½ c. canola oil
¼ c. olive oil
2 TBS freshly squeezed lemon juice
In a small bowl, whik the eggs until smooth. Put the flour in a second small bowl. In a third bowl, whisk together the panko, salt, smoked paprika, and minced parsley. Working a few at a time, dip the thawed shrimp first into the egg, then in the flour, then back in the egg. Let the shrimp drip for a moment or two to rid excess moisture, then dip in the panko mixture and set on a plate.
Once you have breaded all of the shrimp, heat a frying pan filled with about half an inch of canola oil over medium high heat. Working in batches of 5-6 at a time, place the shrimp in the frying pan – they should sizzle immediately upon contact with the oil if the oil is hot enough. Fry for 20-30 seconds on one side, flip, fry for another 20 seconds, and then use tongs to remove the shrimp to a paper towel-lined plate. The shrimp should be just cooked through.
To make the aioli, place the minced garlic, the egg and egg yolk, the sea salt, and the canola oil in a wide-mouth mason jar. Place an immersion blender that just barely fits inside the mason jar straight up and down in the jar. With the immersion blender fit snugly into the jar, start blending the mixture, moving the blender very slowly straight up as the mixture emulsifies. After blending for about 60 seconds you should have a smooth, creamy aioli. Whisk the olive oil into the mixture a tablespoon at a time, blending completely before adding the next tablespoon. Whisk the lemon juice into the aioli. Taste for seasoning and adjust if necessary. Serve the hot shrimp with the aioli on the side.
Hoegaarden-Steamed Mussels with Crème Fraiche
Serves 4 as an appetizer.
2 TBS salted butter
3 cloves garlic, peeled and finely minced
1 TBS fresh thyme leaves
1 shallot, peeled and finely diced
¼ tsp red pepper falkes
2 lb. mussels, debearded and thorough rinsed (discard any mussels with broken or cracked shells)
Fresh juice and zest from ½ of a navel orange
One 12-oz bottle of Hoegaarden
¼ c. crème fraiche
2 TBS minced fresh parsley
French fries or baguette, for serving
Melt the butter in a large saucepan over medium heat. Add the minced garlic and thyme to the melted butter and saute just until fragrant, about 60-90 seconds. Add the diced shallot and the red pepper flakes and saute, stirring frequently, until the shallot is translucent, about 2-3 minutes.
Add the cleaned mussels to the pan along with the orange juice, orange zest, and Hoegaarden. Bring to a simmer and then cover the pan. Steam the mussels for 5-8 minutes, or just until they have all opened. Use a slotted spoon to transfer the mussels to a large bowl. Discard any mussels that haven't opened.
Continue simmering the cooking liquid for the mussels until it has reduced by half. Remove from the heat and stir in the creme fraiche and parsley before pouring the sauce back over the mussels. Serve mussels with french fries or baguette.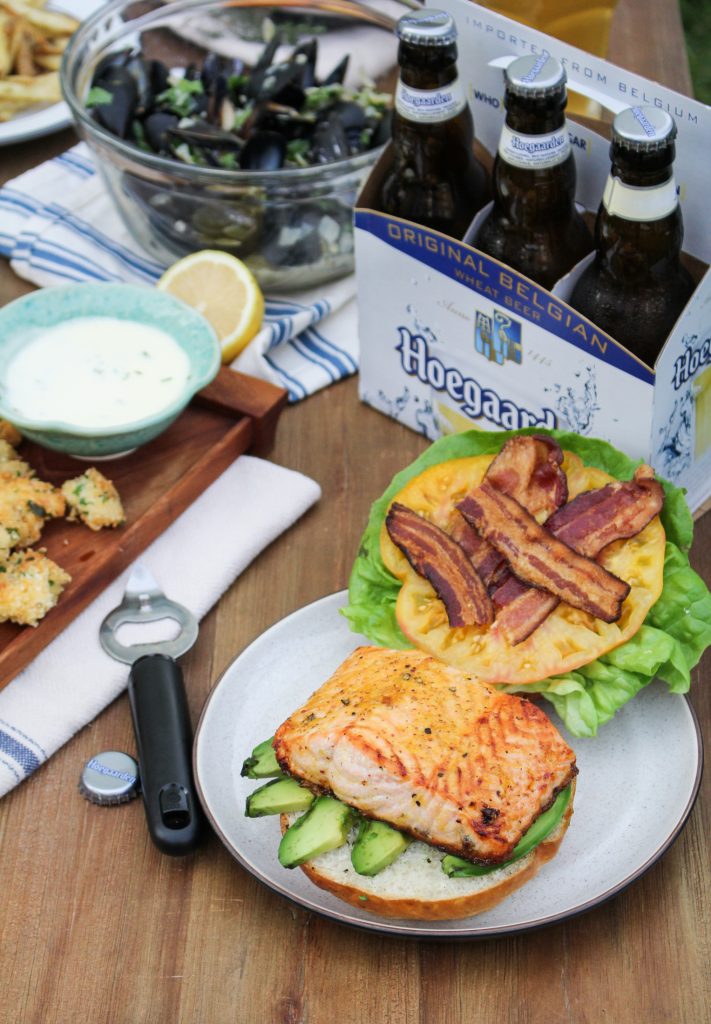 Orange-Glazed Salmon B.L.A.T.s
Serves 4. Bacon cooking instructions from The Kitchn.
8 strips bacon
½ cup fresh orange juice from 2 navel oranges
1 TBS brown sugar
½ tsp sea salt
¼ tsp freshly ground black pepper
1 TBS mustard
2 lbs. fresh salmon filets, deboned and cut into 4 equally sized pieces
1 TBS olive oil
4 brioche buns, sliced in half horizontally
1 large, ripe heirloom tomato, sliced horizontally
2 ripe avocados, peeled, pitted, and sliced
4 large leaves of butter lettuce
Preheat the oven to 400°F. To cook the bacon, line a large baking sheet with tinfoil. Place the bacon strips on the lined baking sheet in a single layer so that they aren't touching each other. Bake for 12 minutes, then remove from the oven and pour the hot fat out of the pan and into a can (to discard or reuse once cooled). Return the bacon to the oven for another 3-5 minutes, until crispy and browned. Set bacon aside.
Add the orange juice, brown sugar, sea salt, black pepper, and mustard to a small saucepan. Bring to a simmer and simmer until the sauce is reduce by half and makes a runny glaze, about 7-9 minutes. Set glaze aside.
Preheat the oven to broil on high. Line a large baking sheet with tinfoil. Heat 1 TBS of olive oil in a heavy-bottomed skillet over medium-high heat for 1-2 minutes. Season the salmon lightly with sea salt, then add 1 piece of salmon to the pan skin-side down. Salmon skin should crackle immediately when you place it in the pan. Cook for 2-3 minutes until the skin is crispy, and then use a spatula to remove the salmon and place on the foil-lined baking sheet. Repeat with the remaining filets. Note that if the pan is not hot enough before adding the fish the salmon skin will stick to the pan.
Spoon the glaze evenly over the tops of the crisped salmon filets. Broil until the salmon is just cooked through. This will vary with the thickness of the salmon, but should take 8-10 minutes for a piece of salmon that is one inch thick. Remove salmon and set aside.
To assemble the sandwiches, place one large piece of lettuce and one piece of salmon on the bottom half of each of the four brioche buns. Top each piece of salmon with two strips of bacon, one or two large slices of tomato, and slices from half or an avocado. Place the second half of the bun on top of the sandwich and serve immediately.
1