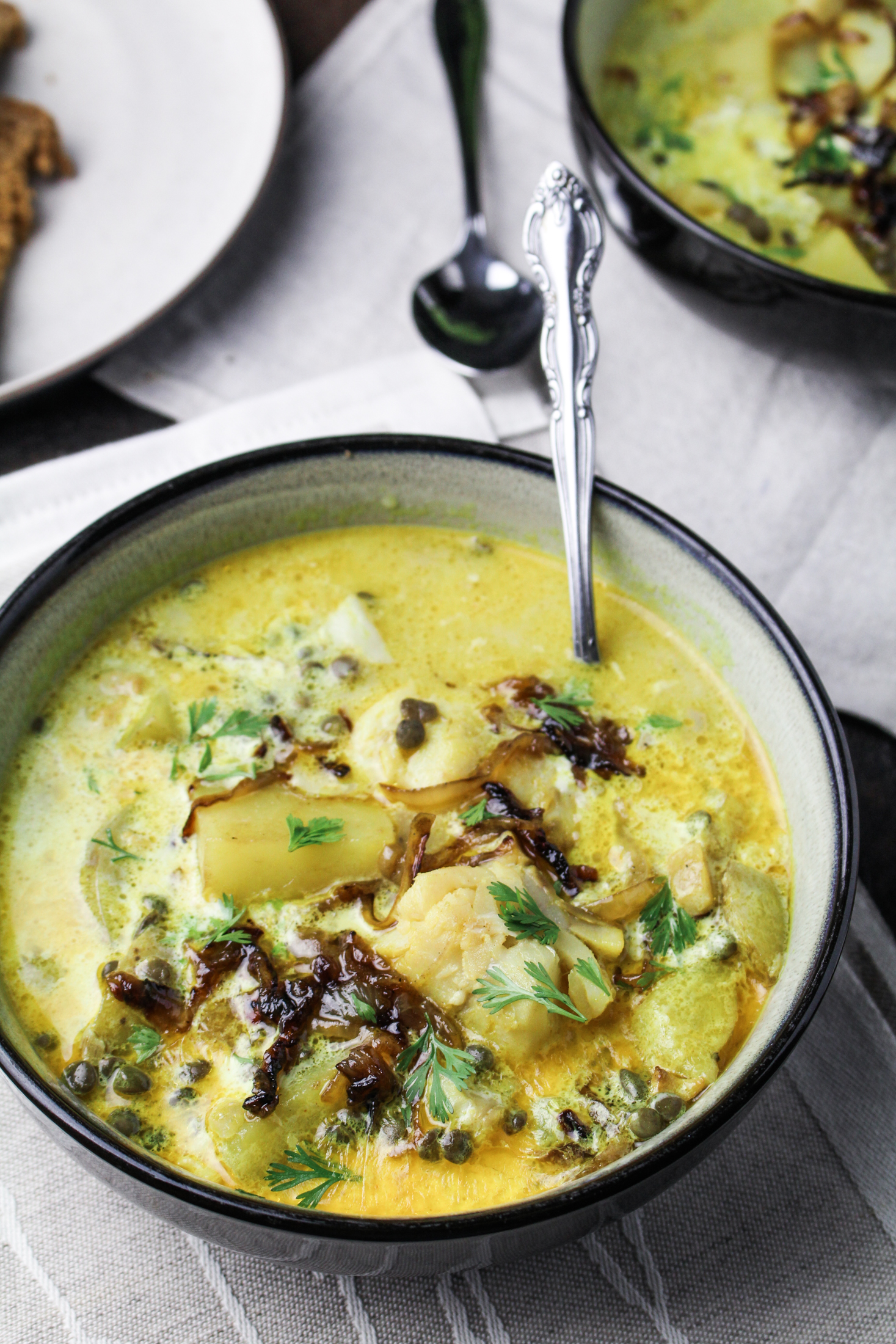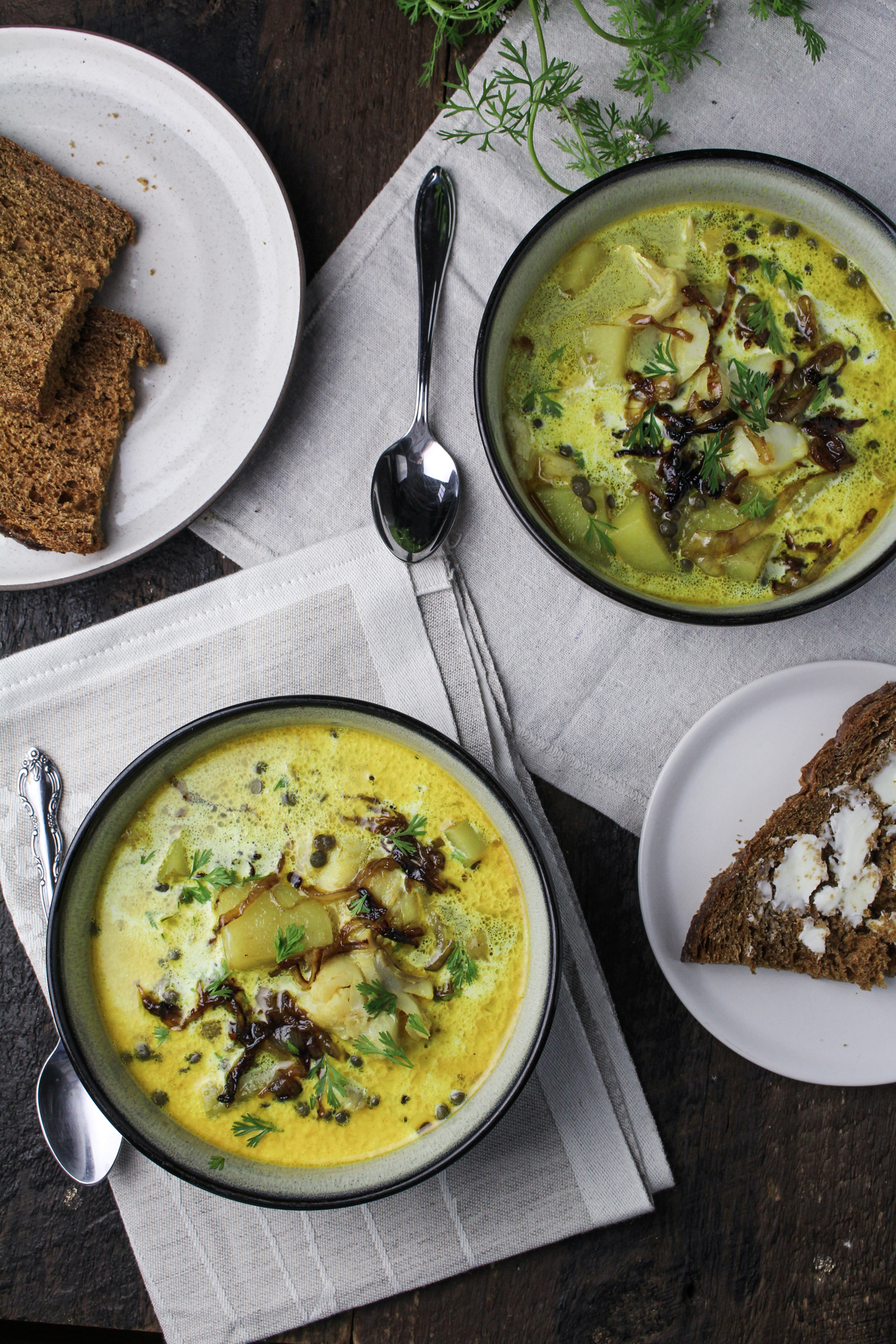 I'm still organizing my thoughts, feelings, pictures, recipe notes, etc. from Hong Kong and Japan, trying to find the right way to share 6 weeks of travel with you all. One thing I have accomplished, is stocking up on Asian cookbooks (Vietnamese, Japanese, and Chinese are all fair game) and groceries. Last night we made an excursion to HMart, the giant Korean grocery store in Cambridge, and we were like kids in a candy store. I came home with 5 different varieties of frozen fresh egg noodles: there is a lot of ramen in my future. While I process everything and experiment with recipes, I can at least share this delicious curried fish chowder with you – especially because if I wait much longer, we will be decidedly out of chowder season.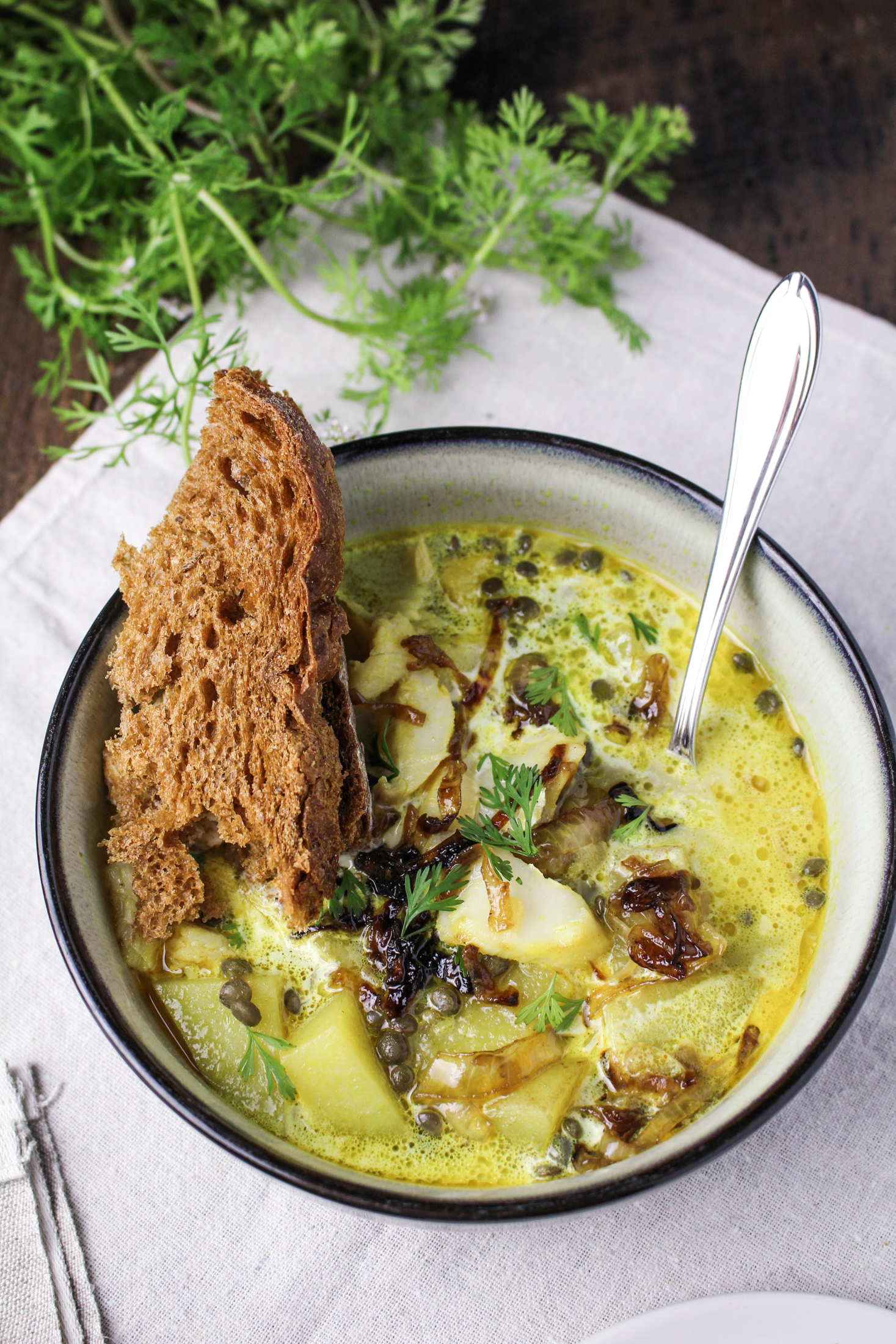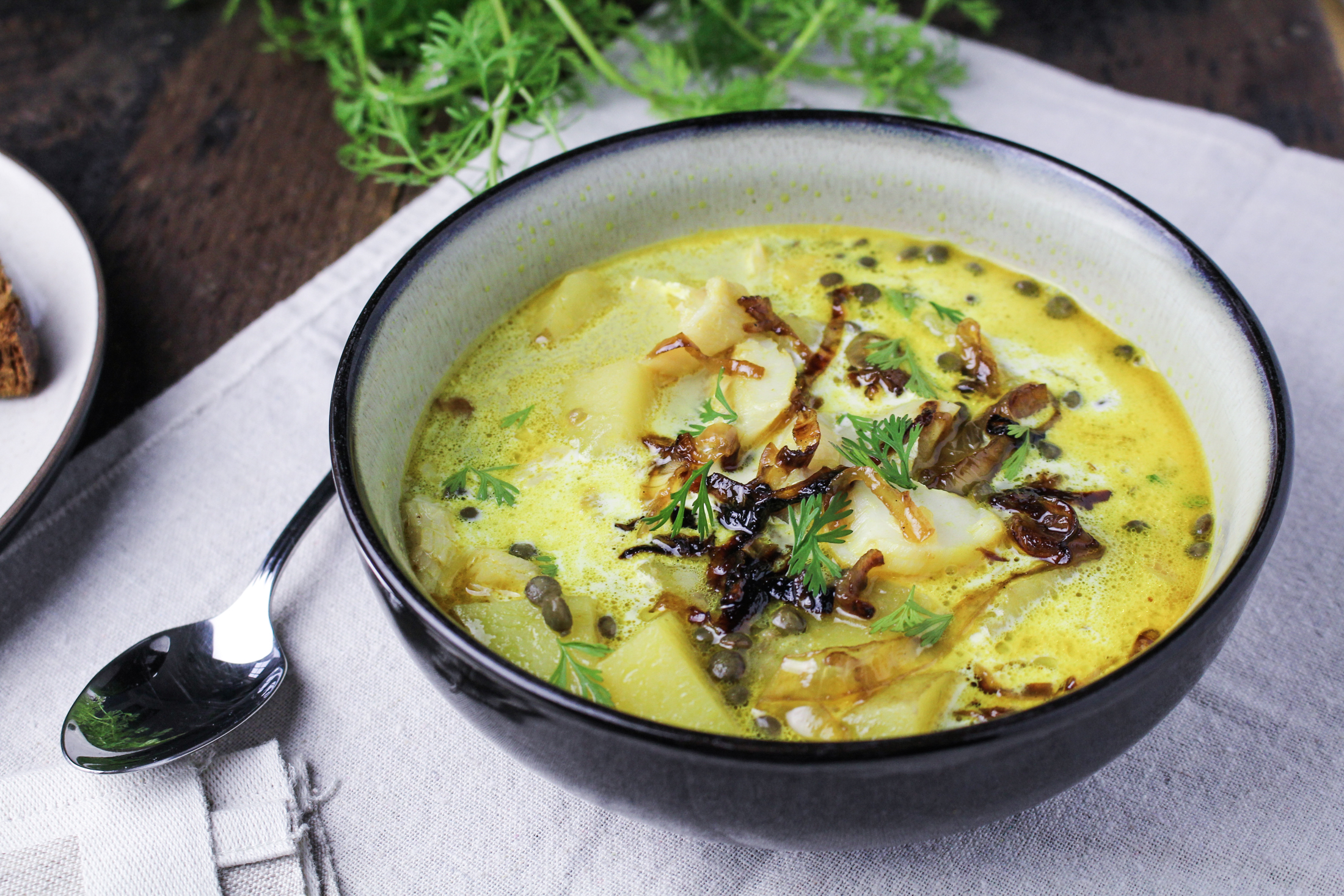 I'm sure I've mentioned it before, but I've only really been eating fish for the past year and a half. As a kid, I found fish absolutely revolting, and have terrible memories of sitting at the dinner table crying over the piece of now-cold baked cod that I couldn't bring myself to eat. And now, after a lifelong hatred of all things seafood, here I am, posting two seafood recipes in a row. Smoked fish was my gateway drug. I started eating it on airplanes when it was the only choice (really, it's amazing how frequently airplanes serve smoked salmon, at least in my experience). Although there are still things that I can barely get down (squid sashimi, for example), I will now readily eat smoked fish, ceviche, most sushi, grilled fish, fried fish, and shrimp. This may not sound like much of an accomplishment to you, but I really didn't expect my tastes to change so drastically in such a short period of time.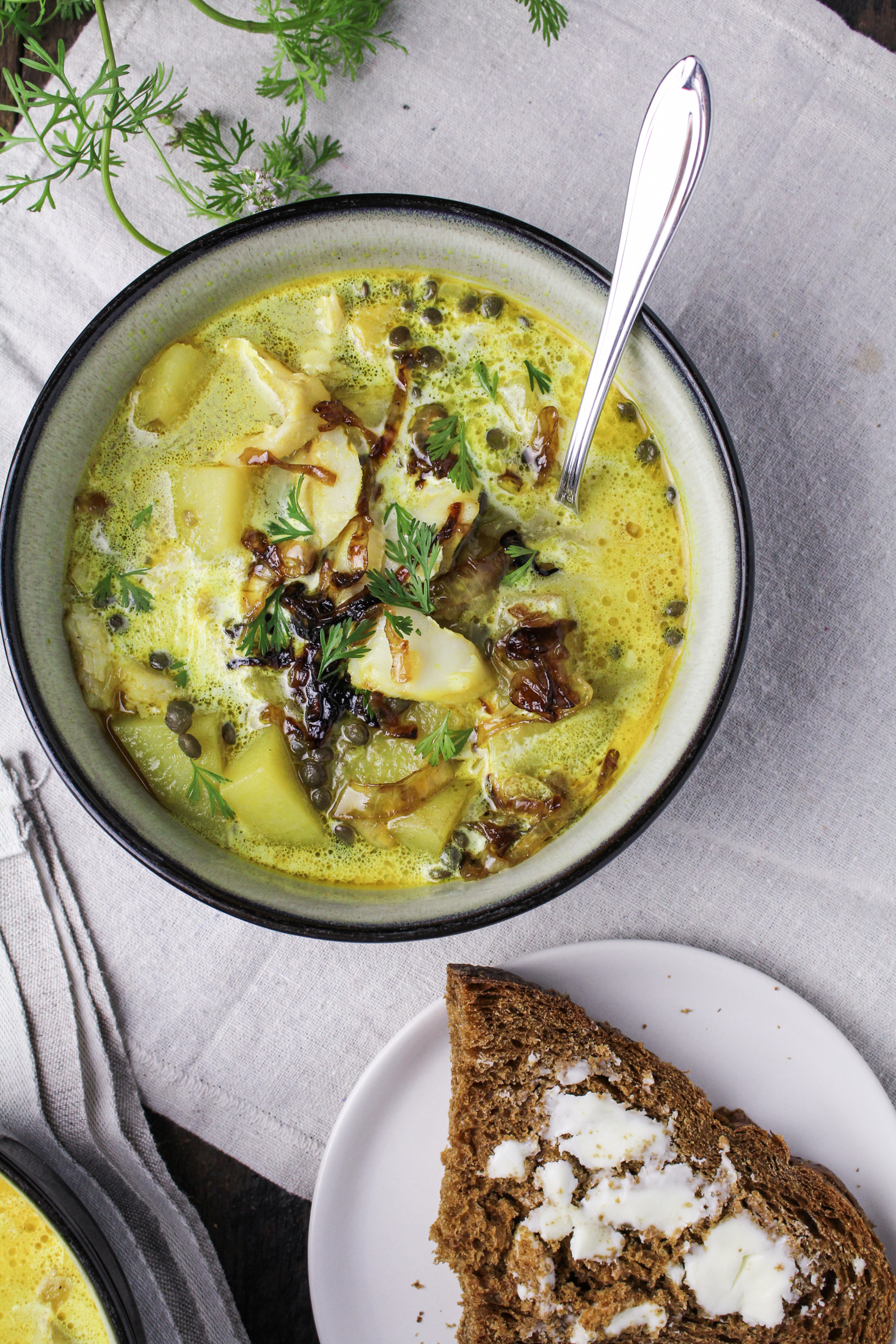 This soup, adapted from one of my favorite cookbooks, A Change of Appetite, is the sort of thing that can help convert non-fish lovers into fish lovers. It has a lot of intense flavors – caramelized onions, curry and cayenne, savory lentils, smoked fish, and even smokier pancetta. It is not your average fish chowder. I love it – it's something I make every few months (an anomaly in a house where we are pretty much constantly trying new recipes). One word of caution – this makes a giant batch. If you're just feeding one or two people, cut this one in half.
Like what you just read? Subscribe to Katie at the Kitchen Door in the box on the right, on Feedly or Bloglovin', or follow along on Facebook, Twitter, Pinterest, and Instagram. Thanks for reading!
Print
Curried Smoked Whitefish Chowder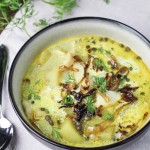 A hearty winter smoked fish chowder with two delicious twists – the addition of traditional curry spices like turmeric and cardamom, and a base of  lentils.
Adapted from A Change of Appetite. 
Ingredients
3/4 c. Puy or green lentils
1 bay leaf
salt and pepper to taste
2 large onions
1 TBS olive oil
2 tsp dark brown sugar
1 TBS butter
2 oz. diced pancetta or bacon
1 tsp curry powder
1/2 tsp ground ginger
1/4 tsp ground turmeric
1/4 tsp cayenne pepper
1/8 tsp ground cardamom
3 medium Yukon gold potatoes, peeled and cut into 1/2 inch cubes
4 c. chicken stock
1/2 lb. smoked white fish, deboned and flaked into chunks
1 lb. fresh cod, deboned and cut into 1 inch chunks
1/3 c. heavy cream, plus more for serving
Instructions
First, prepare the lentils. Place the lentils and bay leaf in a saucepan and cover with water. Bring to a boil, then reduce the heat and simmer until just tender but not falling apart. This will vary slightly with each batch of lentils but should take between 15-30 minutes. Test your lentils at various cooking times to see if they are done. When they are tender, drain the lentils, season to taste with salt and pepper and set aside.
Peel one of the onions and cut into thin slices. Heat the olive oil in a medium frying pan over medium-low heat and add the sliced onion. Cook until golden brown, stirring frequently, then add the brown sugar and caramelize until onions are dark brown and sweet. Set to the side for serving.
To prepare the chowder, melt the butter in a large pot over medium-low heat. Add the pancetta or bacon and cook until crisped, stirring frequently, about 5 minutes. Peel the remaining onion and chop into small pieces, then saute with the butter and pancetta until translucent, about 5-8 minutes. Add the spices and cook until fragrant, about 2 minutes. Add the potatoes and stock and bring the soup to a boil, then reduce to a simmer and cook until potatoes are tender, about 15-20 minutes.
When potatoes are cooked, add the smoked fish and the cod to the chowder and cook until cod is opaque throughout and beginning to flake into smaller pieces, about 4-5 minutes. Remove from the heat and gently stir the cream into the chowder.
Divide the lentils between bowls and ladle the chowder over the lentils to serve. Top with the caramelized onions.