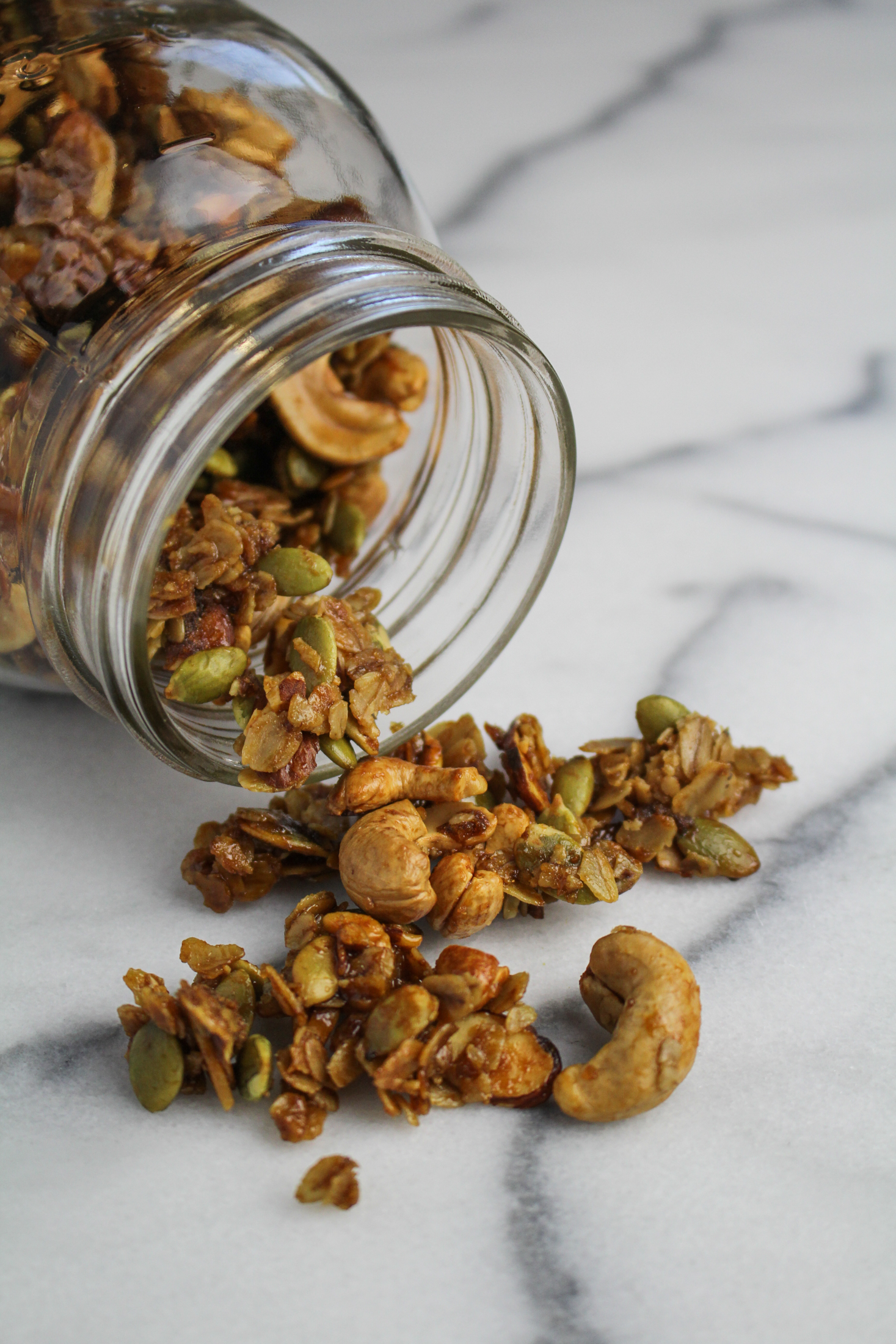 I've struggled to gain traction with my fitness goals so far this year. I started off on the right foot in December and January, but in February I was too distracted by making the most of our time in Hong Kong and Japan, and in March I got derailed by a short flu on my second day into a Nike Training Club program, followed by a longer, more persistent flu after getting back from Costa Rica.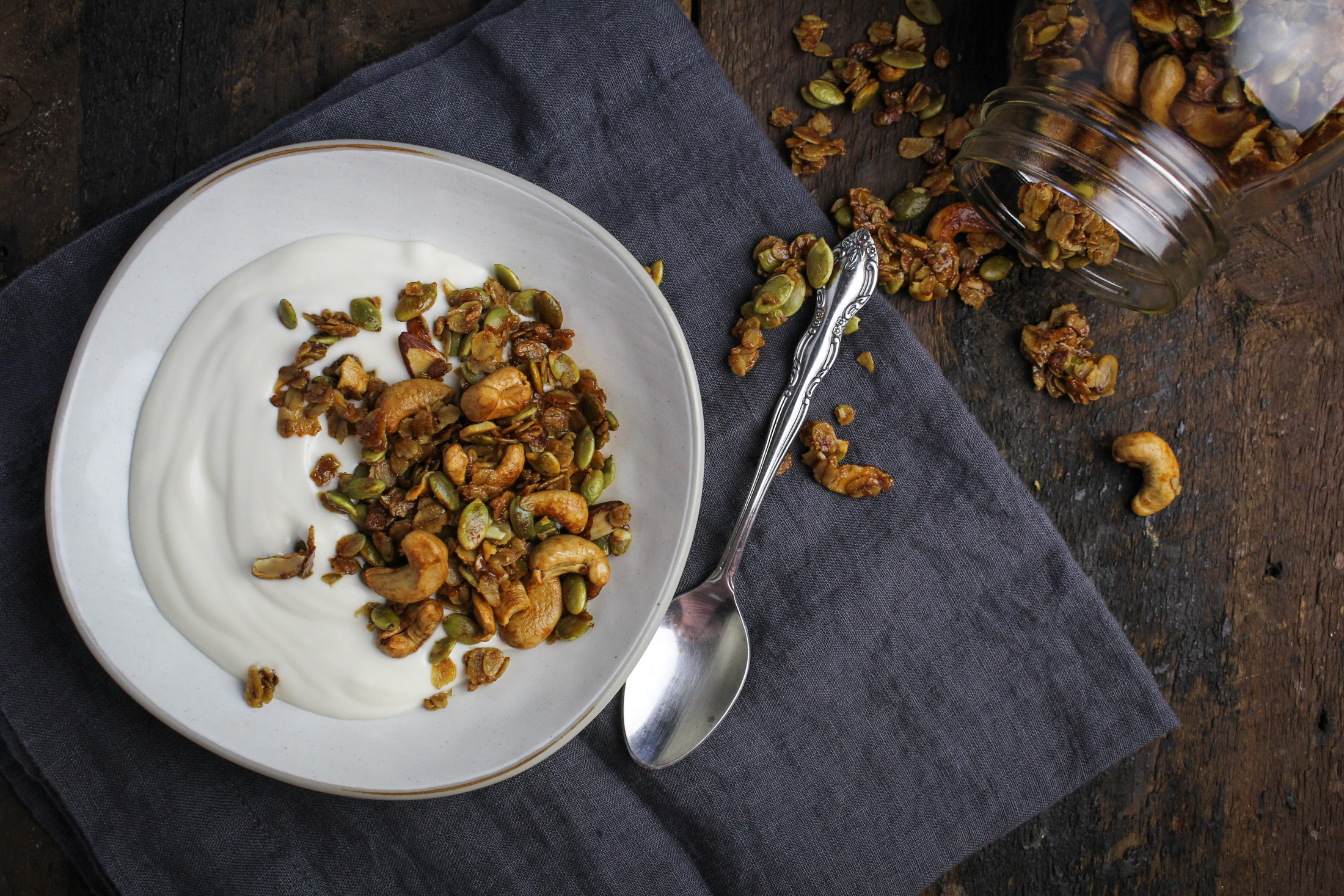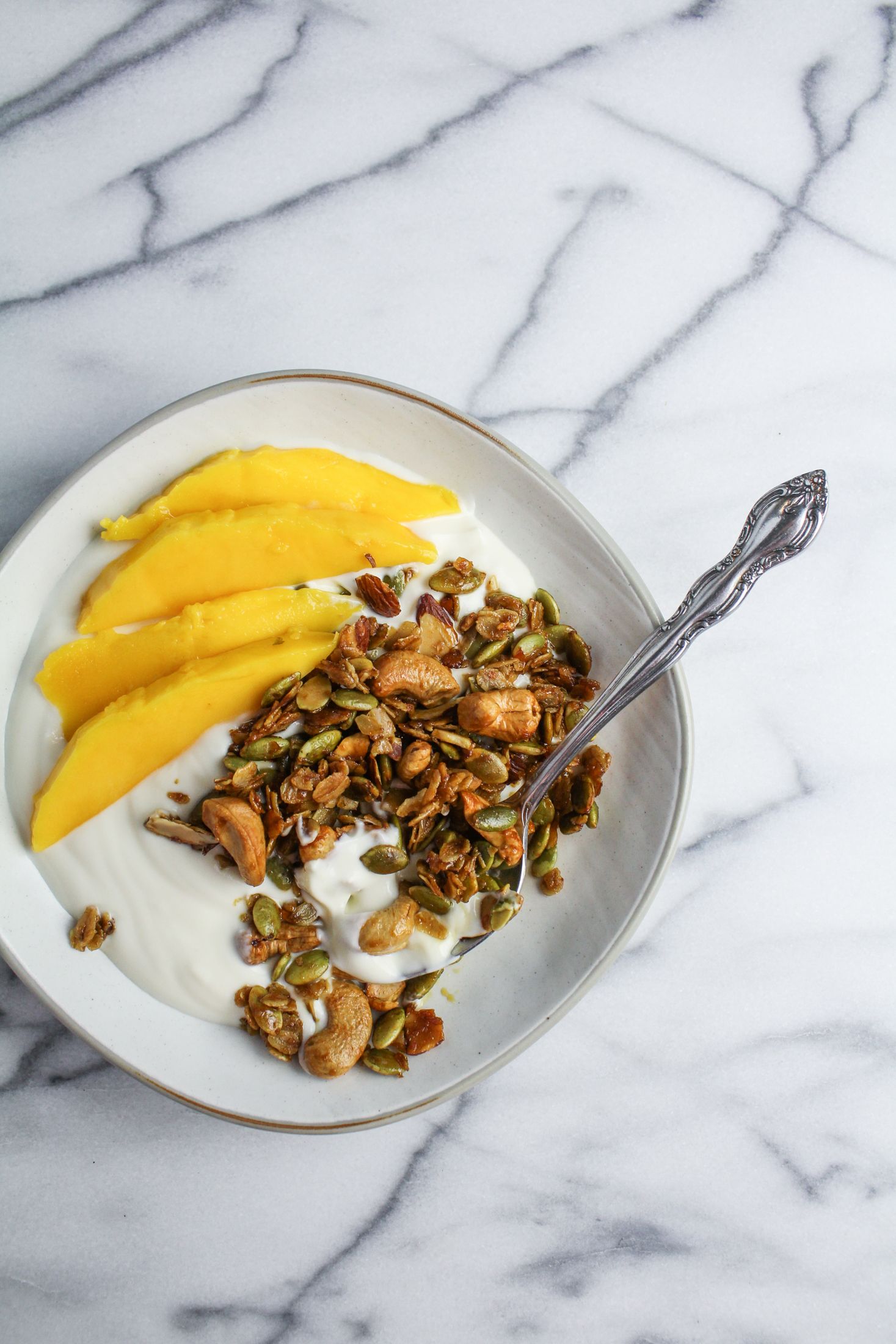 I realize, also, that these are excuses. But April is going to be a month of no excuses, starting today. I'm tired of looking at pictures of myself, in all of these fabulous places that I get to go, and not liking what I see. I've never been super-slender, but for most of my life I have been fit and toned and in shape, and now, I am decidedly not. It's hard to admit, but admitting it is the first step to making it a priority again. So in April, I am going to exercise every day, because there is no day in which I can't find 15 minutes to squeeze in a yoga session or kick myself out of the house for a 20 minute run. I'm not going to give myself a hard time for not doing enough – running 2 miles instead of 3, or choosing yoga instead of weight lifting – it's all about making it a habit again. And once the habit is back, we can work on strength and speed and endurance.
Breakfast is the easiest meal for me to choose something healthy. Yogurt and granola, a green smoothie, or avocado toast are my go-to meals, with the occasional bowl of oatmeal or side of scrambled eggs for variety. I almost never indulge in pancakes, waffles, or french toast, although I will admit to a weakness for chocolate-chip scones. This Vanilla-Cashew Granola is a close approximation of the granola at Tatte Bakery, which is currently a favorite of mine. I pick up a container every few weeks when I stop in for a latte, but at $11 for a pint-sized container, it's pretty steep for oats and nuts. So I took a photograph of the ingredients label and tinkered a bit until I felt I had the right mix. I'd venture to say that I like my homemade version even better. There's no fruit in it, just lots of crunchy nuts and seeds, and a sweet golden brown coating from a mixture of honey and brown sugar. It makes breakfast something to look forward to, especially when paired with a tangy yogurt and fresh slices of sweet mango.
Like what you just read? Subscribe to Katie at the Kitchen Door in the box on the right, on Feedly or Bloglovin', or follow along on Facebook, Twitter, Pinterest, and Instagram. Thanks for reading!
Past Fitness Challenges
January '14: 10 Visits to the YMCA; Recipe: Gluten-Free Olive-and-Feta Corn Muffins
February '14: One vegan meal every day; Recipe: Pakistani Chickpea Pulao with Sweet-Hot Date-Onion Chutney
March '14: Run 40  miles in 20 days; Recipe: Chocolate-Dipped Almond Butter Cookie Bites
April '14: Walk 8,000 steps a day; Recipe: Herb-Flecked Spring Couscous
May '14: 180 minutes of Nike Training Club; Recipe: Warm Arugula Salad with Maple Mustard Dressing
June '14: Fresh fruit/veggies at every meal; Recipe: Chickpea Crepes with Grilled Curried Chicken and Mango Salsa
July '14: 8 different types of exercise; Recipe: Homemade Spinach Wraps with Chopped Greek Salad Filling
August '14: Relax; Recipe: Green Tea and Zucchini Noodles with Honey Ginger Sauce
September '14: Average mile pace below 8'10″; Recipe: Potato, Poblano, and Chard Enchiladas with Salsa Verde
November '14: Go to 6+ dance classes; Recipe: Crispy Brussels Sprout, Lemon Chicken, and Pomegranate Rice Bowl
December '14: Hit my goal weight; Recipe: White Bean and Parsnip Soup with Guanciale
December '15: Regular yoga practice; Recipe: Vegetarian Chili
January '16: Walk 10,000 steps a day; Recipe: Bananas Foster Oatmeal
Vanilla-Cashew Granola
Inspired by Tatte Bakery. Ratios adapted from Alton Brown.
2 c. oats
1 c. pepitas (raw pumpkin seeds)
1 c. cashews (roasted and salted)
1/2 c. raw sliced almonds
1/4 c. brown sugar
1/4 c. canola oil
1/4 c. honey
3/4 tsp salt
1 tsp vanilla extract
1 TBS turbinado sugar
Preheat the oven to 275°F. In a large bowl, combine the oats, pepitas, cashews, almonds, and brown sugar. Stir until evenly combined. In a separate bowl, whisk together canola oil, honey, salt, and vanilla extract until smooth. Pour the honey mixture over the oats and nuts and stir with a wooden spoon until dry ingredients are fully coated with the honey mixture.
Spread the granola out on a large cookie sheet in a single layer and sprinkle evenly with the turbinado sugar. Bake granola for 1 hour, until nuts and oats are golden brown. Stir the granola every 20 minutes with a spatula to promote even browning. Once the granola is baked, remove from oven and let cool to room temperature, then break into chunks and store in glass jars with lids or a large bowl.
3