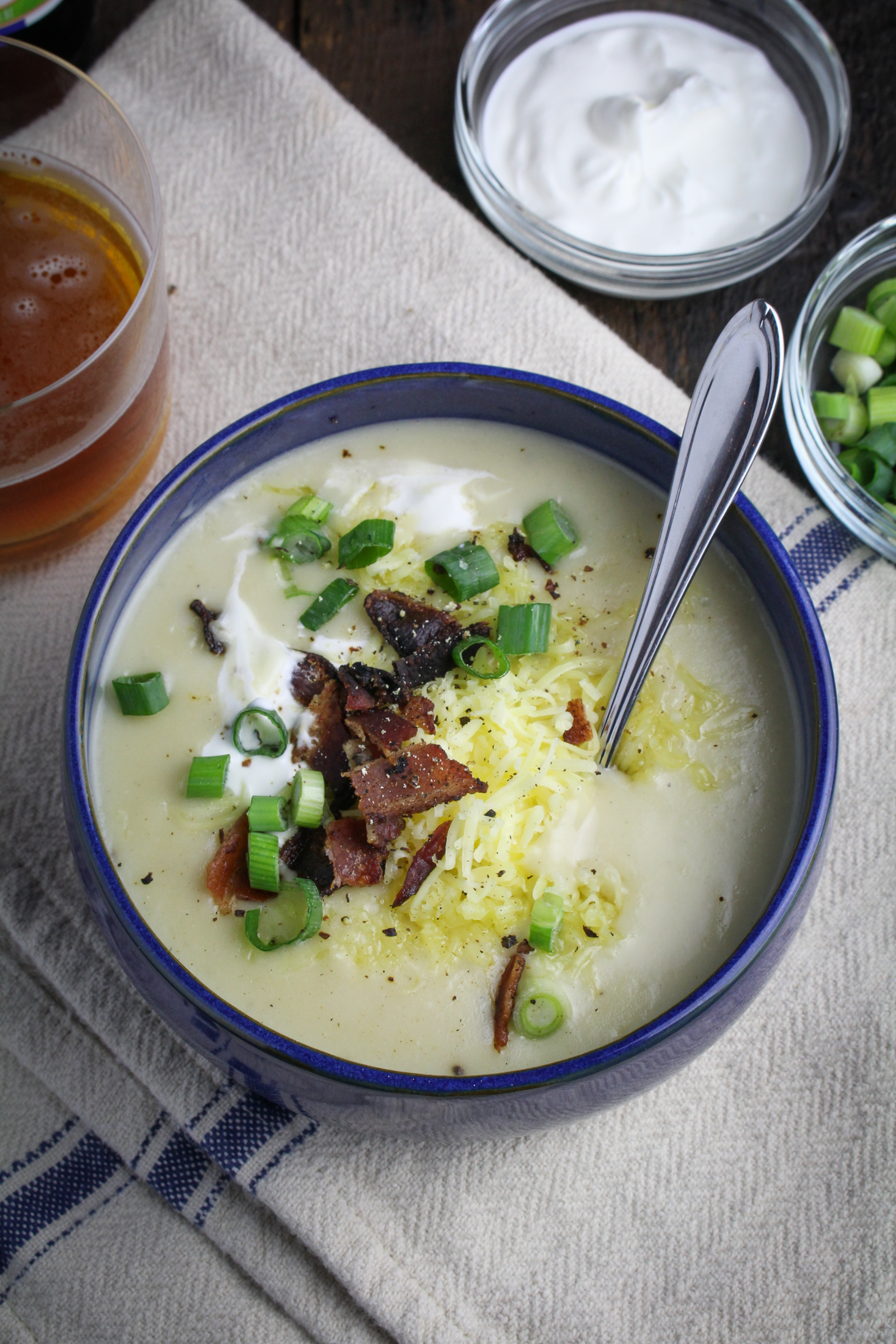 It's been a whirlwind two weeks in Hong Kong. We've been to temples, beaches, horse races, mountain-tops and markets selling everything from parrots to orchids. I've eaten more bowls of noodles and dumplings than is good for one person, totally offsetting the extra steps and uphill runs. It's rained every day save one, but somehow it hasn't held us back much. I'm enjoying myself and there have been some real highs, but I'll admit that at times it's also a little overwhelming. That can happen when you're sharing an island with 7 million people! Still, I'm so happy I'm here and that Trevor is here with me. I'm taking copious notes on everything to share with you when we get back, but for now, I'm mostly just soaking it all in.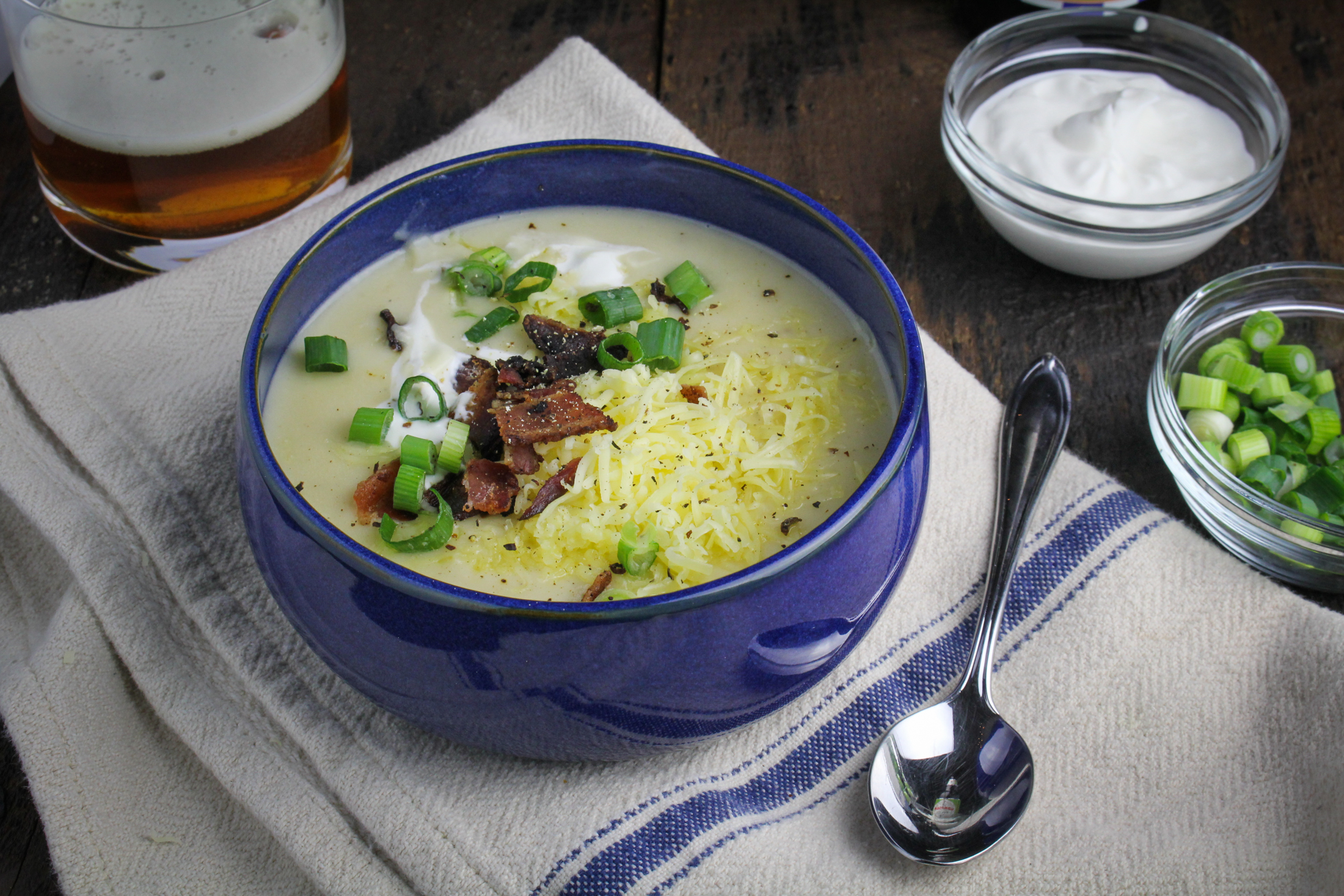 I wanted to share this hearty Loaded Baked Potato Soup in advance of the impending blizzard facing my friends and family back at home this weekend. I'm not trying to rub it in – Hong Kong is due to experience record low temperatures this weekend, dipping down into the mid-30s. Not as advertised for a country on the same latitude as Cabo! So I will also be cozying up to a bowl of soup this weekend, most likely with noodles in it.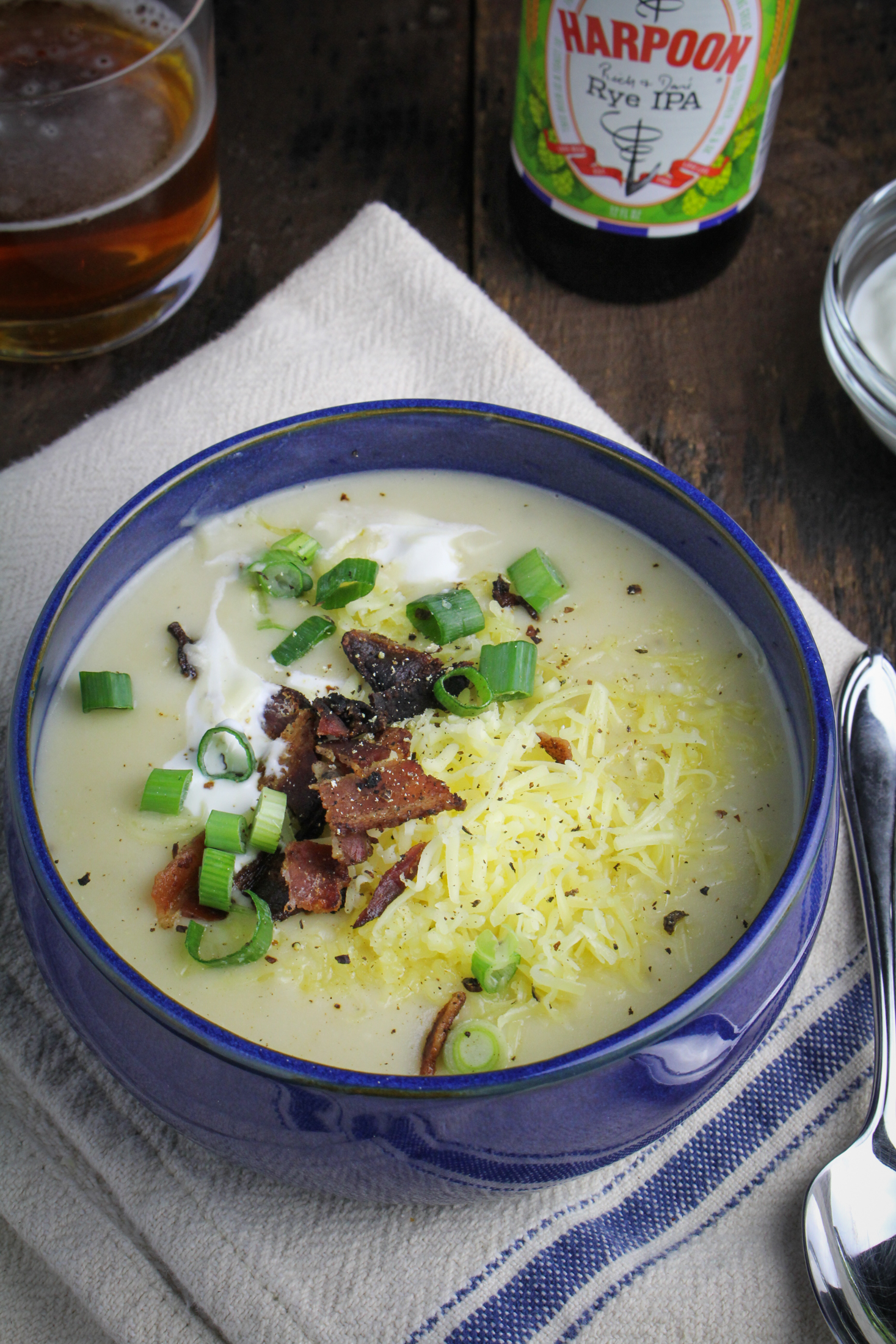 Loaded Baked Potato Soup came back onto my radar for the first time in years on the way home from our engagement trip to Vermont – we stopped at a little bagel shop halfway home and I ordered a bowl of it as soon as I saw it on the menu. For someone whose ultimate childhood meal consisted of 2 orders of the loaded potato skins at a local restaurant where 95% of the clientele was over 60, it was impossible to resist. I understand that this recipe is a bit pedestrian, a little clunky, and definitely all-American but I'm all for it anyways. It's based on a deep-seated American love for potatoes, bacon, and sour cream served in concert – an utterly delicious combination that has almost no nutritional value. But it's so good, and even more so when the weather is cold and your energy is flagging. As an added bonus, it's easily made from pantry ingredients – as long as bacon and cheddar cheese are staples in your pantry, too – so those of you on the East Coast can whip it up without a trip out into the cold and snow.
Like what you just read? Subscribe to Katie at the Kitchen Door in the box on the right, on Feedly or Bloglovin', or follow along on Facebook, Twitter, Pinterest, Instagram, or Google+. Thanks for reading!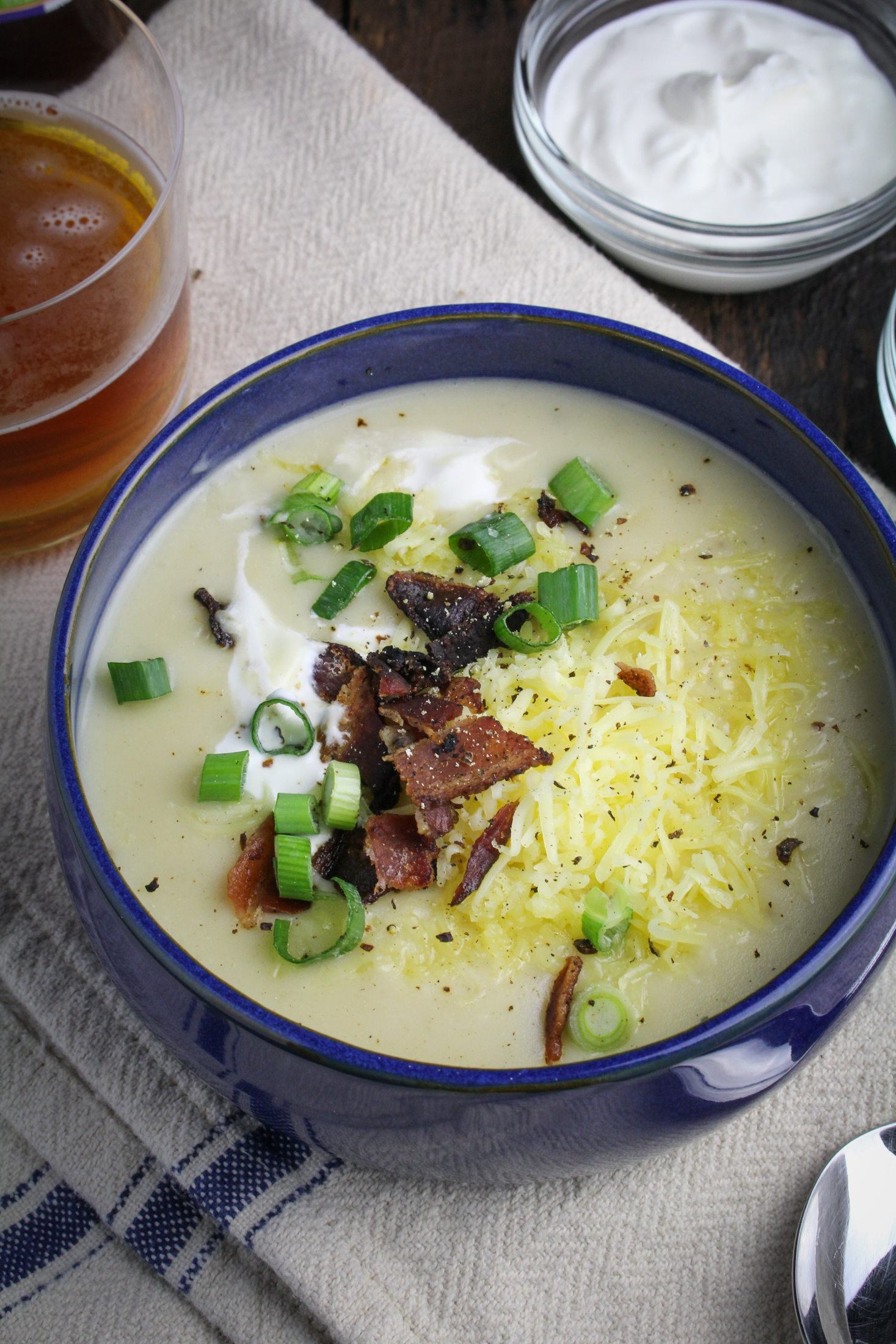 Loaded Baked Potato Soup
Adapted from Betty Crocker. Serves 6.
6 oz. bacon, cut in 2-inch lengths
1 onion, peeled and diced
3 large russet potatoes, peeled and cut into 1-inch cubes
4 c. chicken stock
3/4 c. light ale
3 TBS butter
3 TBS flour
2 c. whole milk
1 1/2 c. shredded cheddar cheese, plus more for garnish
salt and pepper to taste
4 scallions, thinly sliced, for garnish
sour cream, for garnish
In a large stockpot, arrange bacon in a single layer and cook until crispy over medium-low heat, about 3-4 minutes per side. Cook in batches if necessary. Move the cooked bacon on a paper-towel lined plate, reserving the grease in the pan. When cool, crumble into small pieces.
Add the diced onion to the reserved bacon grease and cook, stirring frequently, until soft and translucent, about 5-7 minutes. Add the diced potato and the chicken stock and bring to a boil. Boil until potatoes are very tender, about 15-20 minutes, then add the ale and remove from the heat. Use an immersion blender to blend the soup until smooth. Return to the heat over medium-low, at a very gentle simmer.
In a separate saucepan, melt butter over medium-low heat. Add flour and whisk vigorously, cooking flour for 1-2 minutes until it gives off a nutty fragrance. Slowly drizzle in milk, whisking constantly as you do to incorporate into the flour and butter mixture. Continue cooking over medium-low heat until mixture has thickened into a sauce. Remove from heat and stir into the blended potato mixture until evenly combined. Remove potato mixture from heat and add cheddar cheese a handful at a time, stirring to help the cheese melt into the soup. Season soup to taste with salt and pepper. Ladle the soup into bowls and top with the crumbled bacon, sliced scallions, sour cream, and additional shredded cheddar cheese. Serve hot.
0