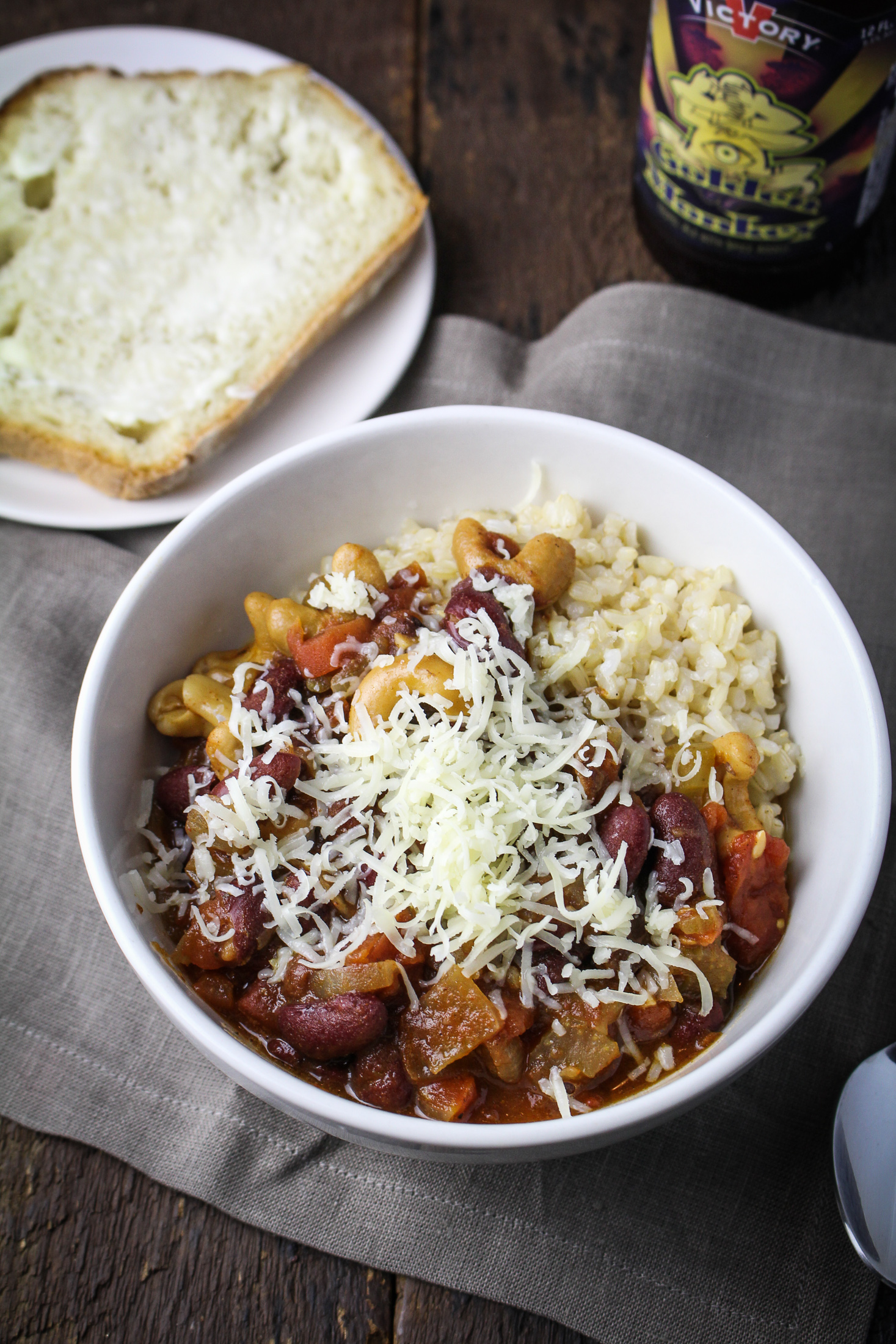 At the beginning of 2014, I decided that rather than set one overall weight loss goal for the year, which never seems to work, I was going to take things one month at a time, setting a specific health or fitness goal each month of the year, and chronicling them here as I went. In my first post, I wrote about how traveling to Russia, moving, and changing routines had caused my exercise and healthy eating routine to fall by the wayside. Sound familiar? Because it sounds a lot like my last 8 months to me. The monthly goals turned out to be surprisingly effective for me – I stuck with it the whole year, got in way better shape, changed my eating habits for the better, and lost about 10 pounds. In December, I declared victory, and retired the post series. The first few months of 2015 I managed to keep up my focus on healthy living, but as travel and house-shopping and moving became overwhelming, my focus slipped. And now, 2 years later, I'm almost back where I started – not somewhere I want to be. So I'm restarting my monthly fitness goals, at least for now, in the hopes of getting my balance back.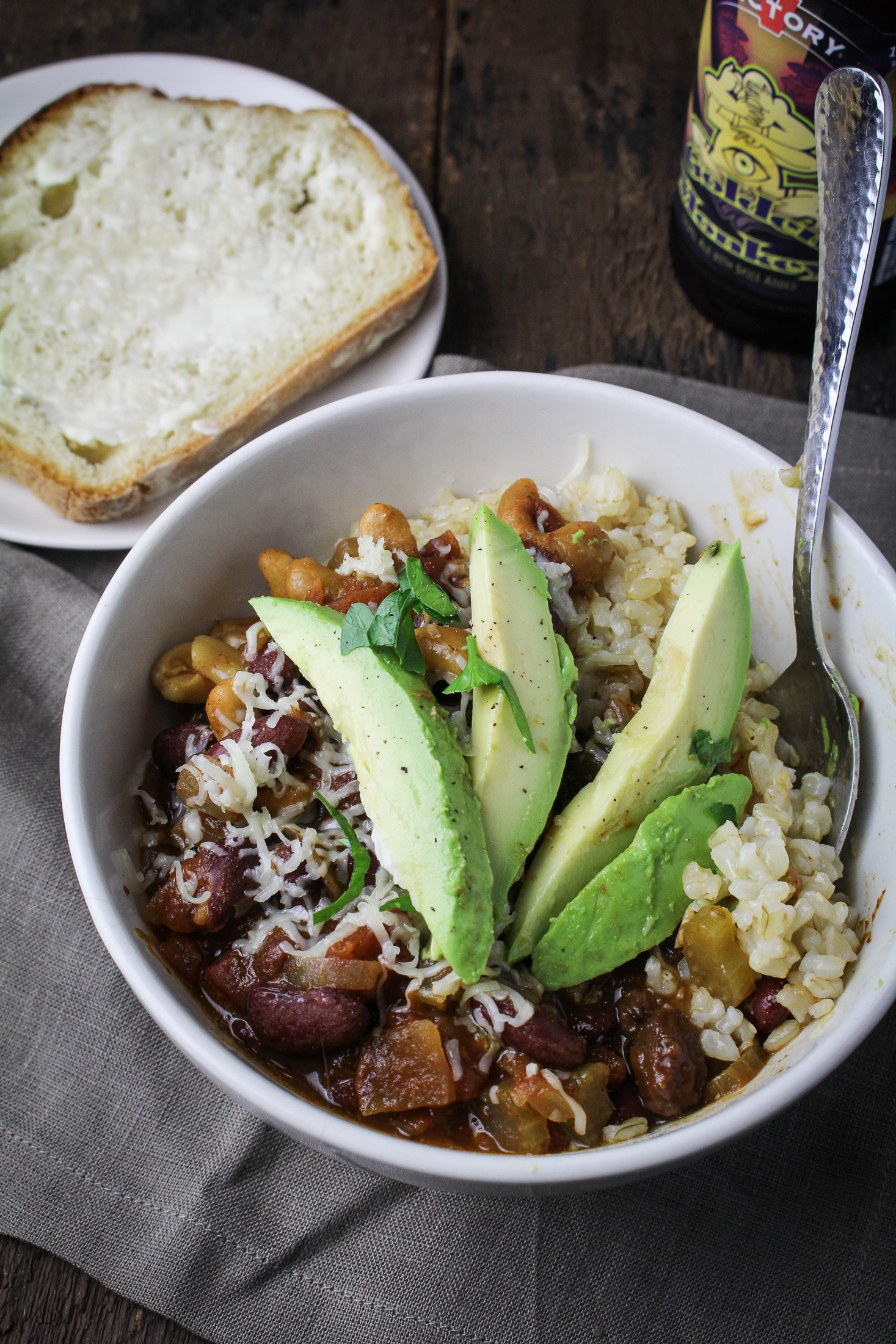 This month, I've been focused on yoga. I didn't set any specific goal for the number of sessions or total minutes that I spent, I'm just treating it as a priority. I'm late to the yoga game – the only real class I ever went to was way too "om" for me, with candles and chanting and a room full of almost 50 overly sweaty people and very little instruction from the teacher. After that, I told people that ballet was my yoga – same idea really, stretching and balance and focusing on teaching your body to achieve new levels of strength and precision. Only, they aren't the same. As I've actually started trying it, I've found that yoga is relaxing and meditative where ballet is sharp and driven. I still love ballet, but yoga serves a different purpose for me. I'm not sure if the benefits of yoga for me are more physical or more mental; all I know is that I sleep better when I take the time to practice and that getting a good session in makes my next run a little easier.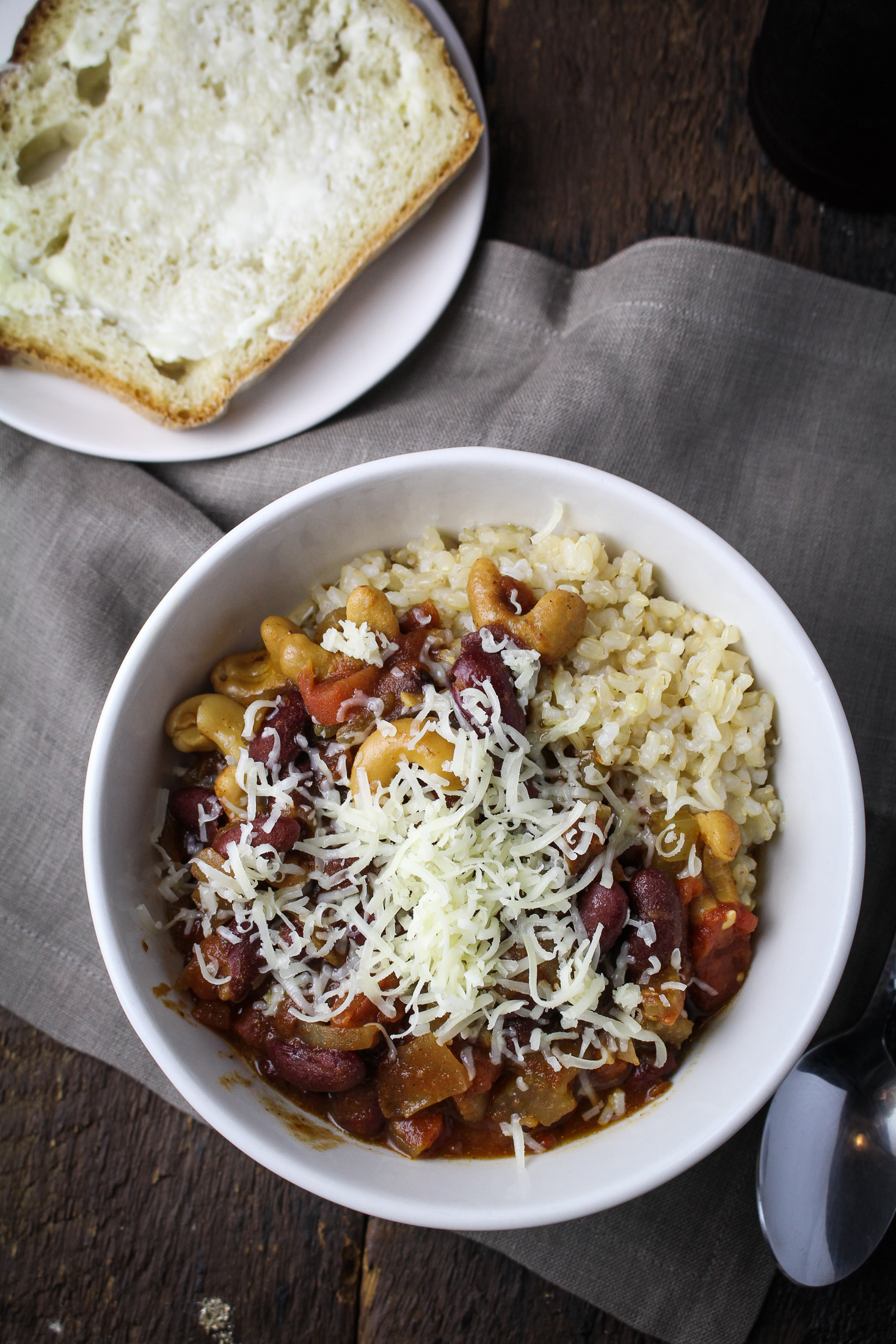 My favorite time to do a yoga session is right before bed, after I've shut down the first floor, locking the doors and turning out the lights. I retreat to my office, where the low light and warm wood floors make me feel mellow and focused, shut the door, and turn on my (current) favorite yoga app. I'll admit that I still don't go to real classes, but part of what I find appealing about yoga at this time in my life is that I can squeeze in 15 or 30 minutes without needing to change my clothes, sign up for a class in advance, or interact with strangers. I can just do it on my own, and the effects are immediate.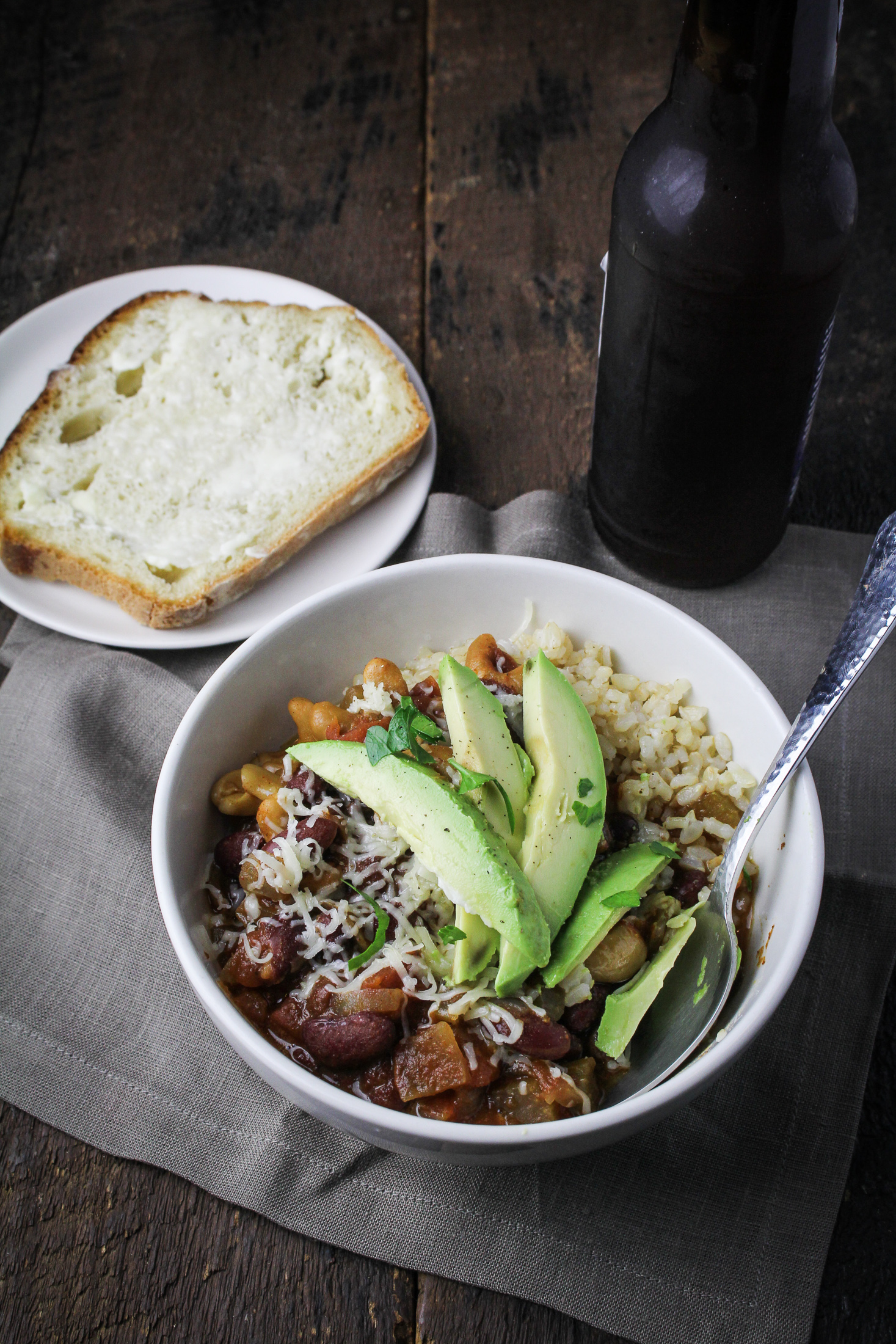 Although I haven't decided yet if I'm bringing the monthly fitness goals series back permanently, in the tradition of last year's series, I'm sharing a healthy recipe to go along with this month's goal. This recipe is actually one of the first that I published on this blog, back in 2010. It's the vegetarian chili that my mom has been making for as long as I can remember, and it's a recipe I make regularly during the fall and winter. Here's a link to the first time I published the recipe, but since it's one of my favorites I thought it deserved fresh photos and a little boost to the top of the page. I love how easy it is to make, and how rich the flavors are – sweet from the raisins and tomatoes, a little bitter from the addition of beer, lots of herbs and spices, crunchy cashews, and of course, tons of shredded cheddar cheese melted on top. It's all vegetables and beans and spices, but still super flavorful and satisfying – make a big batch and feel good about your dinner all week.
Like what you just read? Subscribe to Katie at the Kitchen Door in the box on the right, on Feedly or Bloglovin', or follow along on Facebook, Twitter, Pinterest, Instagram, or Google+. Thanks for reading!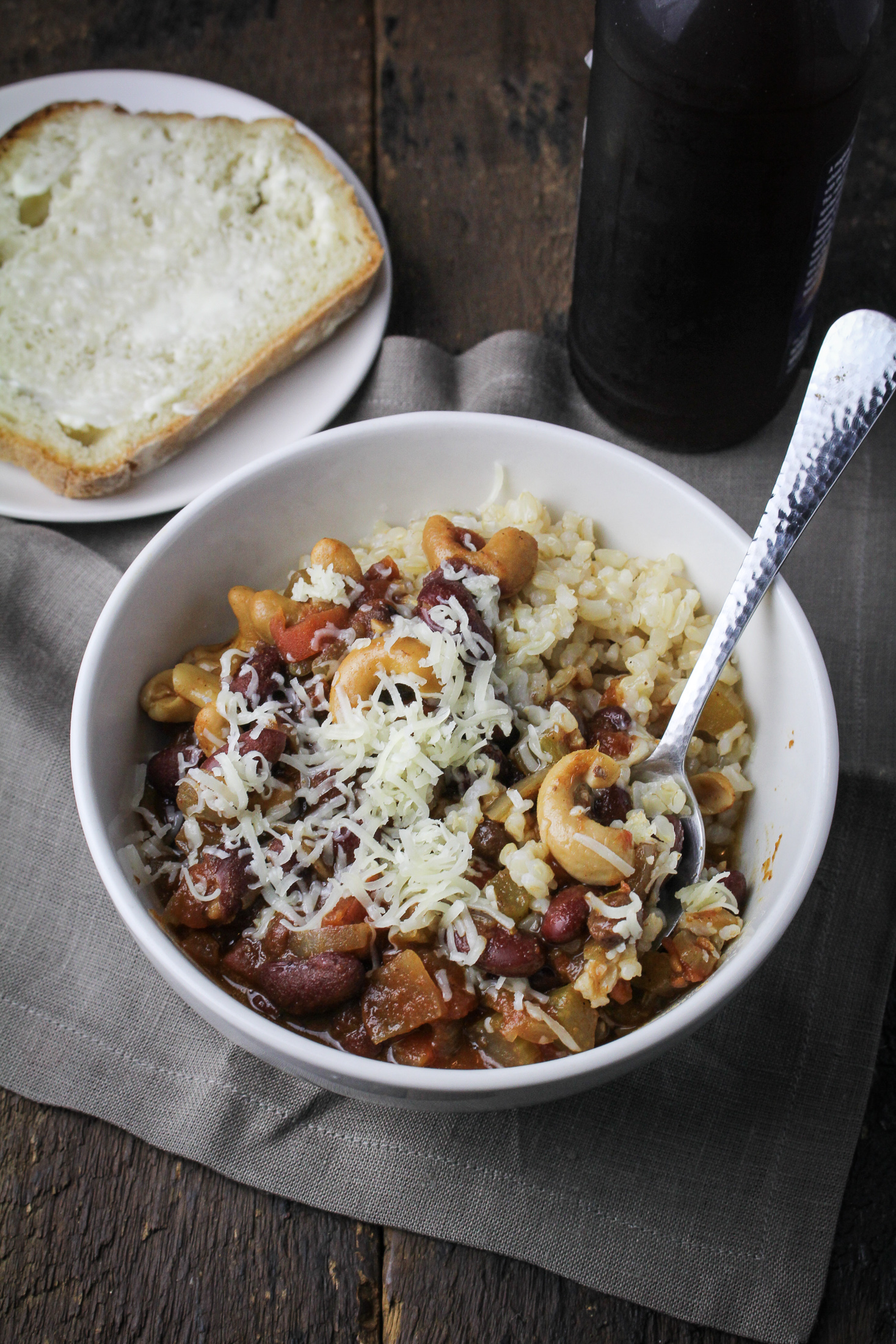 Mom's Vegetarian Chili
Serves 6
1 T olive oil
3/4 c. chopped celery
3/4 c. chopped onion
3 cloves garlic, minced
1 28 oz. can diced tomatoes
2 cans kidney beans, drained and rinsed
1/2 c. raisins
1 T red wine vinegar
2 tsp chili powder
1 tsp dried parsley
1 tsp salt
1 tsp dried basil
1 tsp ground cumin
1 tsp dried oregano
1/2 tsp allspice
1/4 tsp pepper
1 bay leaf
6 oz. beer
1/2 c. cashews
cheddar cheese, for serving
sliced avocado, for serving
Heat olive oil over medium heat in a large stockpot.  Add celery and onion and saute until soft and translucent, about 5 minutes. Add garlic and saute until fragrant, another 2 minutes.
Add tomatoes, beans, raisins, vinegar, bay leaf, and spices.  Stir to combine, bring to a boil, reduce heat and simmer, covered, for 1 1/2 hours.
Slowly stir in beer (it will bubble) and cashews.  Return to a boil, then reduce heat and simmer, uncovered for 30 minutes.
To serve, remove bay leaf, and spoon chili over rice or cornbread.  Top with shredded cheddar cheese and avocado and serve.
2