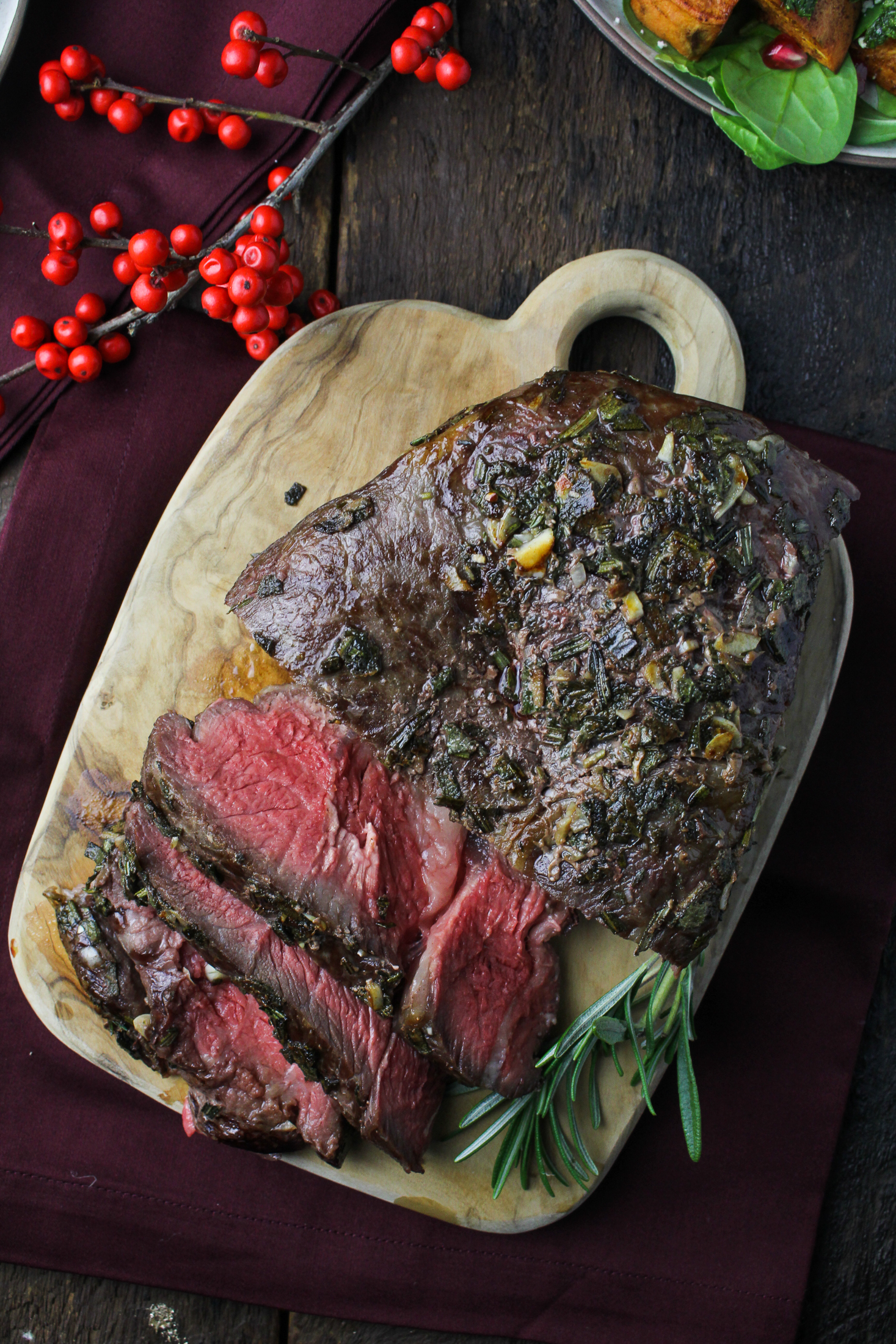 Friends! It's my 7th Sunday Dinner post! This is a series I started two-and-a-half years ago to force myself to slow down and make a meal worth savoring every once in a while, the kind of seasonal, made-with-love food that deserves to be enjoyed while sitting at the table, engaging in conversation, and enjoying a nice bottle of wine. It's something I don't do as often as I'd like, as indicated by the fact that I only manage to put together one of these posts every 5 or 6 months. But when I do take the time to put together a real, wholesome meal – and to share it here with you – it's always worth the effort.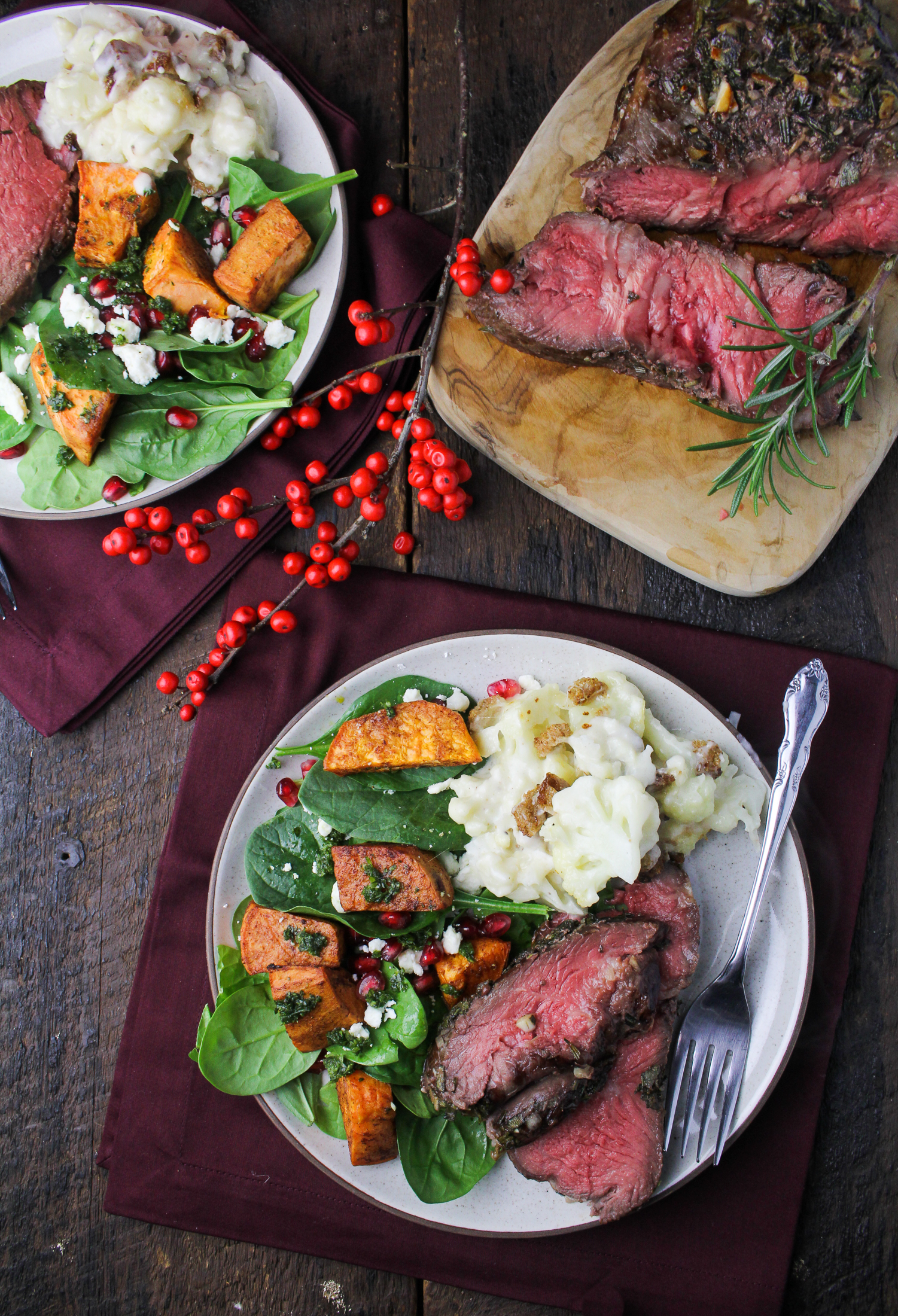 This Sunday Dinner – which consists of a Rosemary-and-Sage-Crusted Roast Beef, a cinnamon-and-ginger-spiced Roasted Root Vegetable Salad, and Cauliflower Gratin – is the first (hopefully the first of many) that I've made in our new house. Although the kitchen and dining rooms are not yet the cozy, functional spaces we hope they will be one day, we're making them work for us. And if you want to enjoy a Sunday Roast Beef like this in front of the Patriots game, in the much-cozier living room – I say it still counts.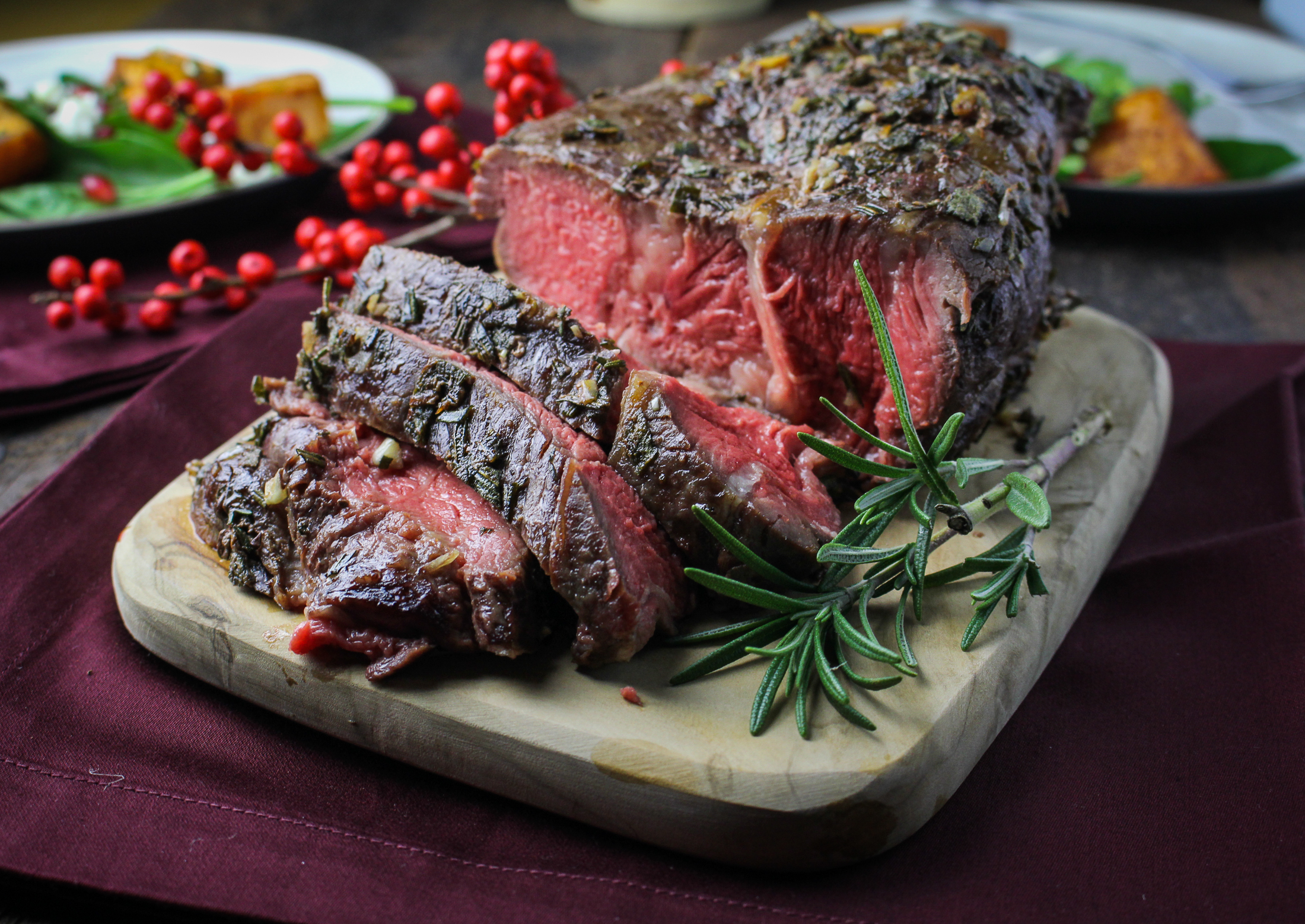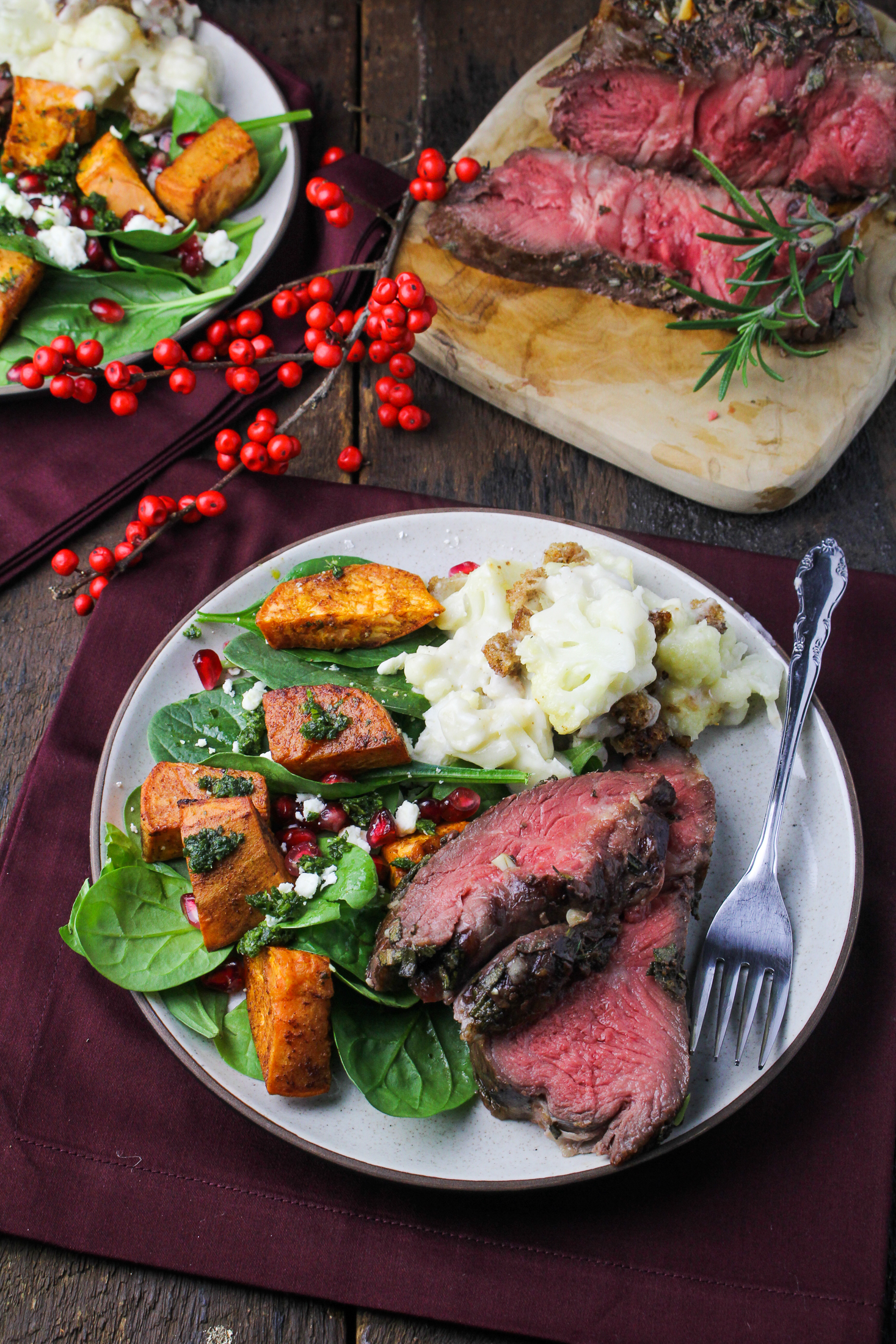 This meal is not nearly as extravagant as some of my past dinners (I'm looking at you 4-course Valentine's Day dinner) – there was no dessert, and no special cocktail to go with it. But what it lacks in elegance, it more than makes up for with flavor and ease – it's the kind of meal that you could easily make and serve at a small family gathering or holiday event without needing to spend 8 hours in the kitchen preparing or 3 hours after dinner cleaning-up.
The star of this meal was the roast beef, cooked to a perfect, juicy pink if I do say so myself. The cut we used was called a "spoon roast," something we had picked up on sale at Wholefoods on a whim. I did a lot of research on how to properly cook a low fat cut of meat like this, and found that the consensus was to dress it simply, sear it off, then roast it at a very low temperature until medium rare. As I was prepping the roast, Trevor told me that the new thing in food science is to sear beef after it's been cooked, and since I trust him, that's what we did – and it came out really beautifully. Served alongside the two veggie-heavy sides and a nice bottle of wine, it was just the thing for a casual December afternoon at home.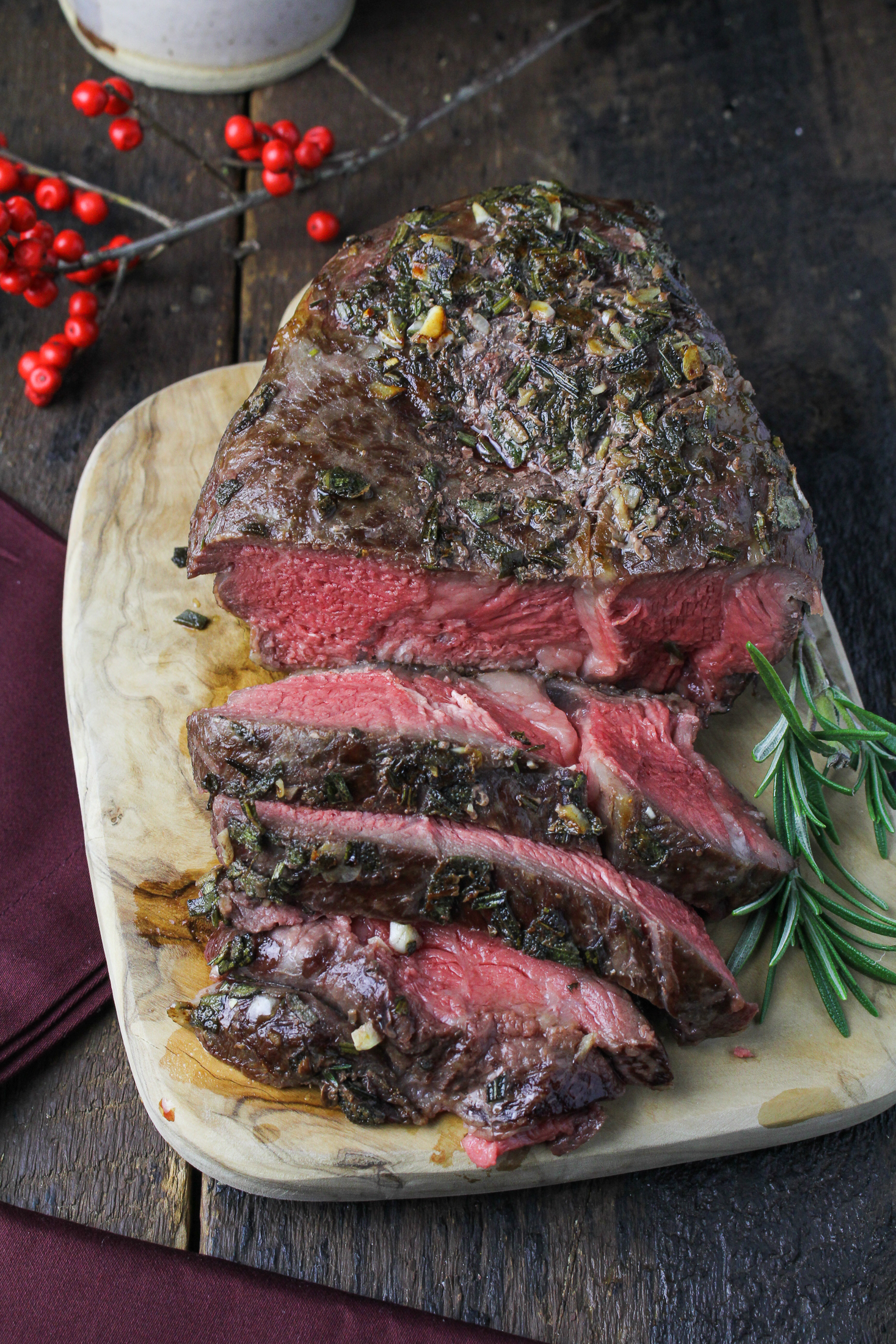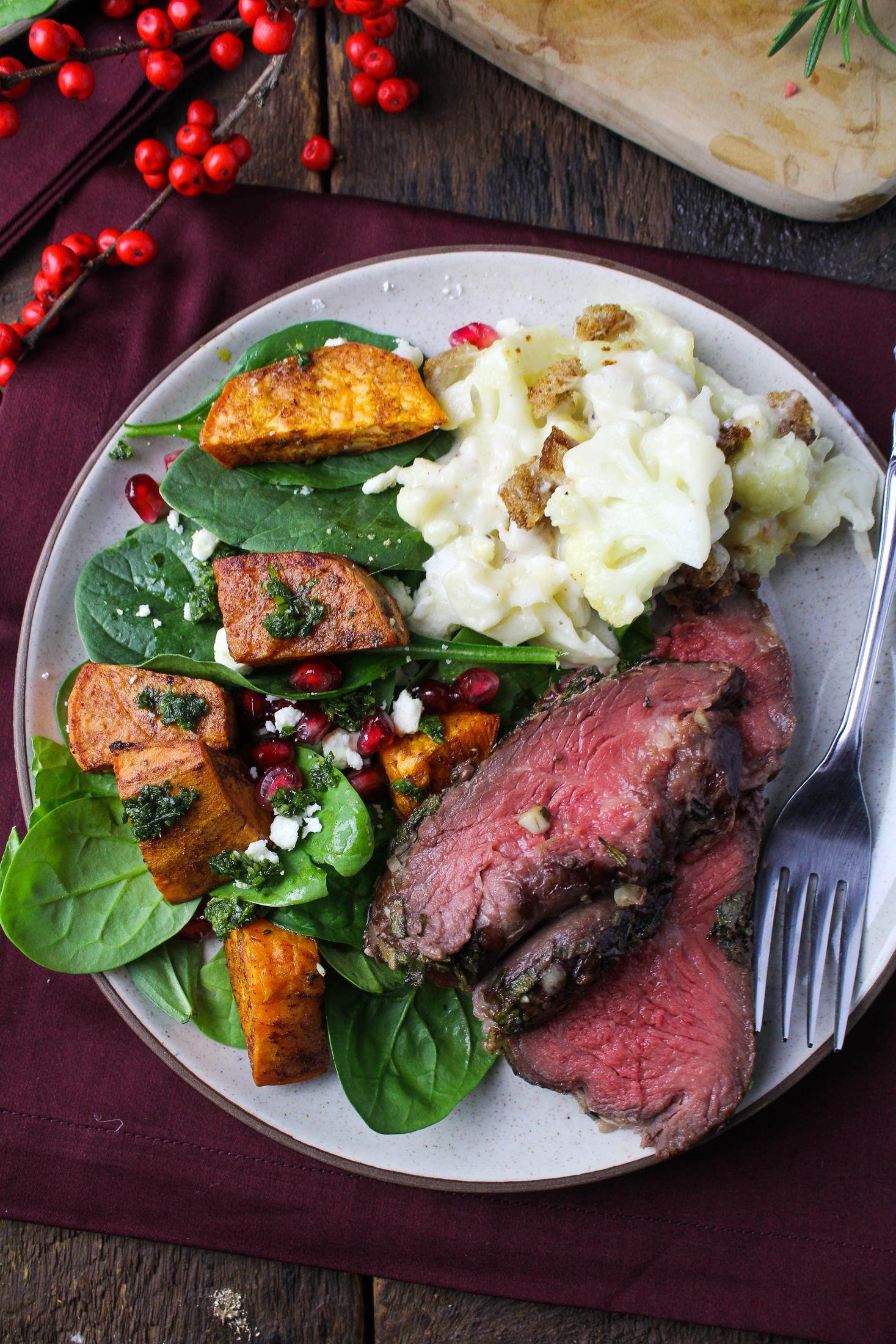 The Menu
Roasted Root Vegetable Salad with Pomegranate (recipe below, inspired by A Change of Appetite)
Herb-Crusted Roast Beef (recipe below)
Cauliflower and Horseradish Gratin (recipe below, adapted from Bon Appetit)

Past Sunday Dinners:
May 26, 2013: Coffee-and-Chile Rubbed Strip Steaks with Chimichurri Sauce; Charred and Smoky Belgian Endives; Oven-Roasted Potatoes; Strawberry-Sour Cream Ice Cream
July 1, 2013: Strawberry-Lime Agua Fresca; Smashed Pea, Dill, and Feta Crostini; Chilled Asparagus Soup with Meyer Lemon Yogurt; Mustard Spaetzle with Mushrooms; Ricotta Bavarese with Red-Wine Poached Rhubarb
October 28, 2013: Braised Lamb Shanks with Gremolata; Creamy Polenta with Fresh Corn and Blue Cheese; Roasted Brussels Sprouts; Classic Apple Pie
March 31, 2014: Fried Halloumi with Spring Veggies and Strawberry-Basil Gastrique; French Gnocchi with Watercress Sauce; Strawberry-Rhubarb Meringue Pots
August 31, 2014: Roasted Garlic, Ricotta, and Maple-Roasted Cherry Tomato Crostini; Eggplant and Pesto Napoleons; Maple Mixed-Berry Pie
February 15, 2015: Blood Orange Mimosa; Endive and Blood Orange Salad; Chanterelle and Chestnut Bisque; Coffee-Crusted Duck Breast with Brandy-Balsamic Sauce; Chocolate Espresso Layer Cake
Like what you just read? Subscribe to Katie at the Kitchen Door on Feedly or Bloglovin', or follow along on Facebook, Twitter, Pinterest, Instagram, or Google+. Thanks for reading!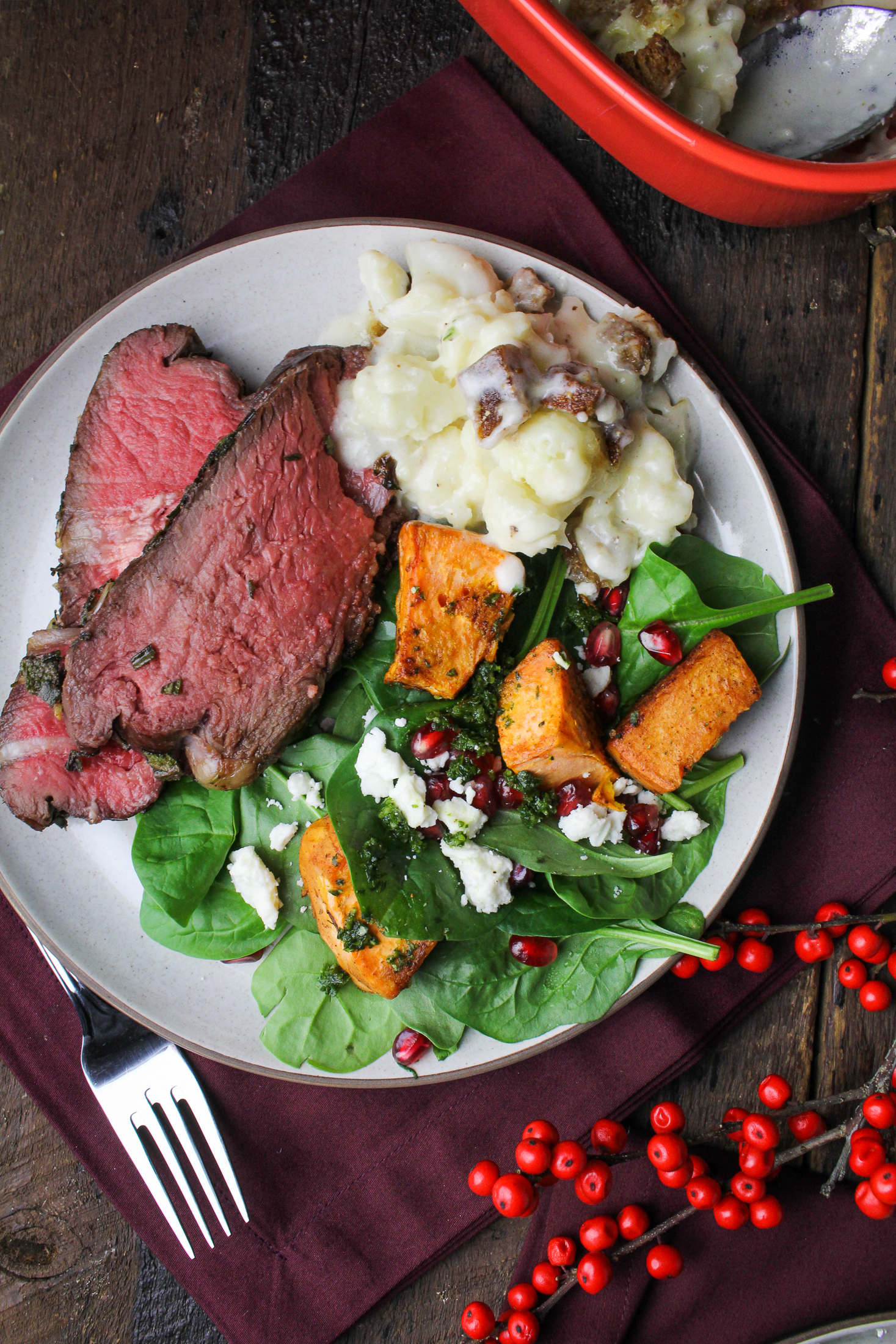 Roasted Root Vegetable Salad with Pomegranate
Adapted loosely from A Change of Appetite. Serves 4.
2 large carrots, peeled and cut into 1/2 inch pieces
1 sweet potato, peeled and cut into 1/2 inch pieces
2 large parsnips, peeled and cut into 1/2 inch pieces
3 TBS olive oil
3/4 tsp ground cinnamon
1/2 tsp ground ginger
1/4 tsp ground cayenne
sea salt and pepper to taste
5 oz. fresh baby spinach
seeds from 1 large pomegranate
2 oz. crumbled feta cheese
2 tsp pomegranate molasses
1 tsp mustard
1/4 c olive oil
juice from 1/2 lemon
Preheat the oven to 375°F. Place the cubed vegetables on a large rimmed baking sheet in an equal layer. In a small bowl, whisk together olive oil, cinnamon, ginger, and cayenne. Drizzle over the vegetables, using a spatula to fully coat them with the spice mixture. Season generously with sea salt and black pepper. Roast until tender, about 20-30 minutes.
To assemble the salads, divide the spinach between 4 plates. Top with a generous helping of the roasted vegetables, pomegranate seeds, and crumbled feta cheese. In a small bowl, whisk together pomegranate molasses, mustard, olive oil, and lemon juice. Season to taste with salt and pepper, then spoon over the salads.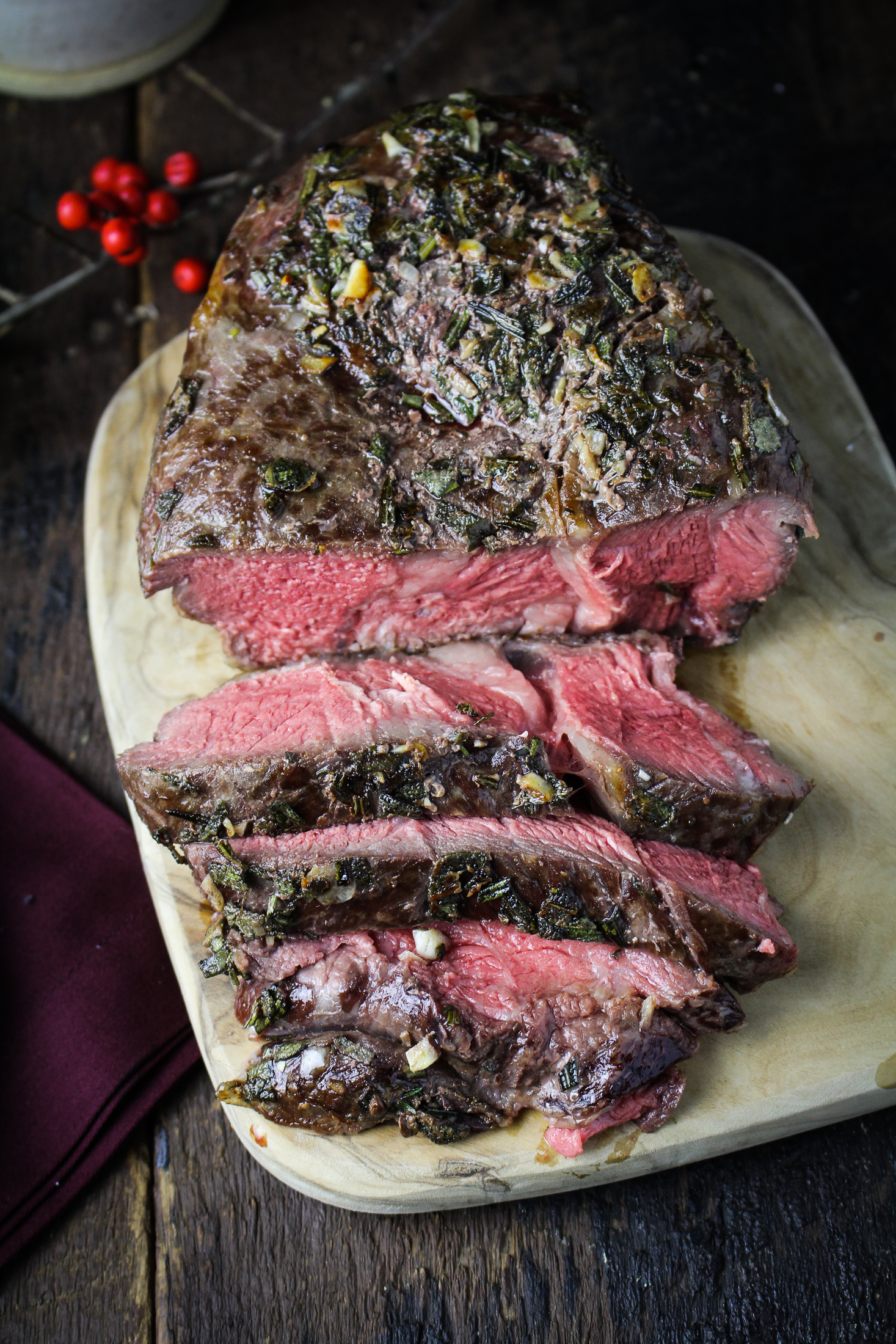 Herb-Crusted Roast Beef
Serves 4-6.
3 TBS minced fresh rosemary leaves
2 TBS minced fresh sage leaves
1 TBS fresh thyme leaves
1 TBS kosher salt
1 tsp black pepper
3 cloves garlic, peeled and minced
1/3 c. + 2 TBS olive oil, divided
One 2 to 3 lb. spoon roast (top sirloin roast)
In a small bowl, whisk together minced rosemary, sage, thyme, salt, black pepper, minced garlic and 1/3 cup olive oil. Use your hands to rub the herb mixture all over the spoon roast. Let the roast sit out at room temperature for about 30 minutes to absorb the flavors of the herbs.
Preheat the oven to 275°F. Place the roast on a roasting rack in a roasting dish. Cook the roast until a meat thermometer inserted into the thickest part of the roast registers 130°F, for a medium rare roast. The cooking time will vary depending on the size of your roast – budget at least 30 minutes per pound, potentially longer. For a 2 pound roast, start checking the temperature after one hour. Once the internal temperature has reached 130°F, remove from the oven and let rest for 10 minutes. After the beef has rested, heat the remaining 1 TBS olive oil in a large skillet over medium heat. Add the beef and sear until browned on all sides, about 2 minutes per side. Remove the beef, let rest for 5 minutes longer, then slice against the grave and serve.
Cauliflower and Horseradish Gratin
Adapted from Bon Appetit. Serves 4-6 as a side.
1/2 a large head of cauliflower, cut into florets (3-4 cups florets)
3 TBS butter, divided
2 TBS flour
1 1/4 c. whole milk
3 TBS horseradish sauce
1/4 tsp ground nutmeg
3 oz. fontina cheese, grated
2 c. fresh breadcrumbs
1 TBS mustard
Preheat the oven to 375°F. Place the cauliflower florets in a microwave and oven proof 1.5 quart casserole dish. Add 2 TBS of water to the bottom of the baking dish and cover loosely with plastic wrap. Microwave until cauliflower is tender, about 3 minutes (check after each minute by poking cauliflower with a fork). Carefully remove plastic wrap and drain water from pan.
In a medium saucepan, melt 2 TBS of the butter. Add the flour and stir to form a thick paste, then cook for 1-2 minutes, until flour smells nutty. Slowly drizzle in the milk, whisking the flour-butter mixture as you do so to incorporate the milk. Once you have added all the milk, continue cooking until sauce has thickened enough to coat the back of a spoon, which should take about 5 minutes. Remove from heat and stir in horseradish sauce, nutmeg, and half of the fontina cheese. Stir until cheese is melted, then pour the sauce over the steamed cauliflower and stir to coat. Sprinkle the rest of the grated cheese on top of the cauliflower.
Heat the remaining 1 TBS of butter in a frying pan. Add the breadcrumbs and toast, stirring frequently, until golden brown, about 5 minutes. Stir in the mustard and sprinkle on top of the cauliflower.
Bake the casserole until crumbs are toasted and cheese is bubbling, about 20 minutes. Serve hot.
1