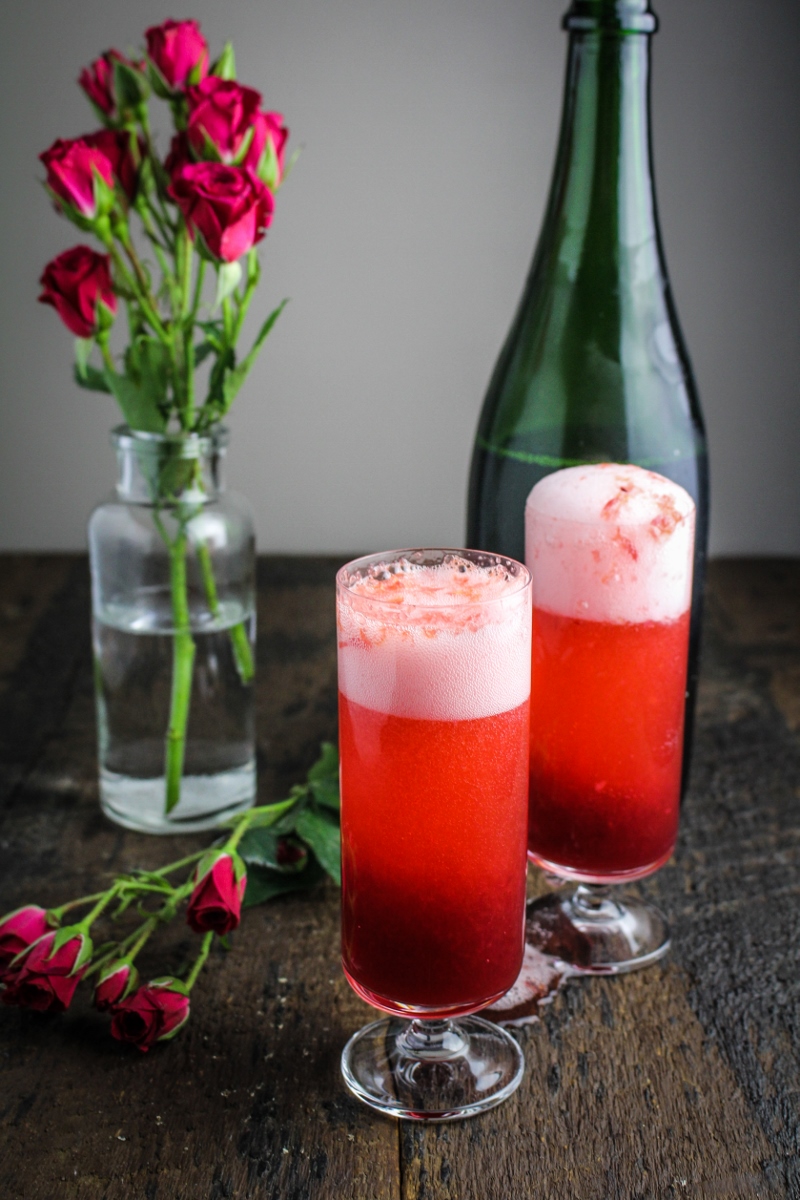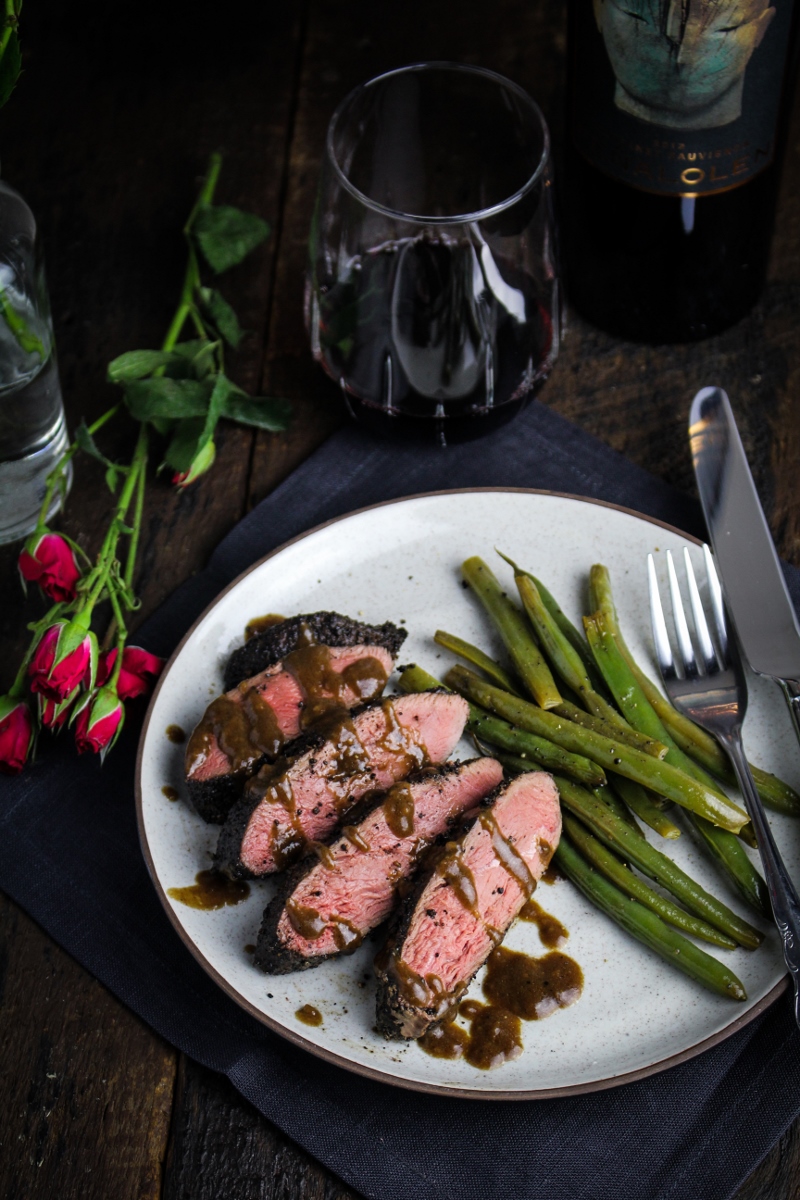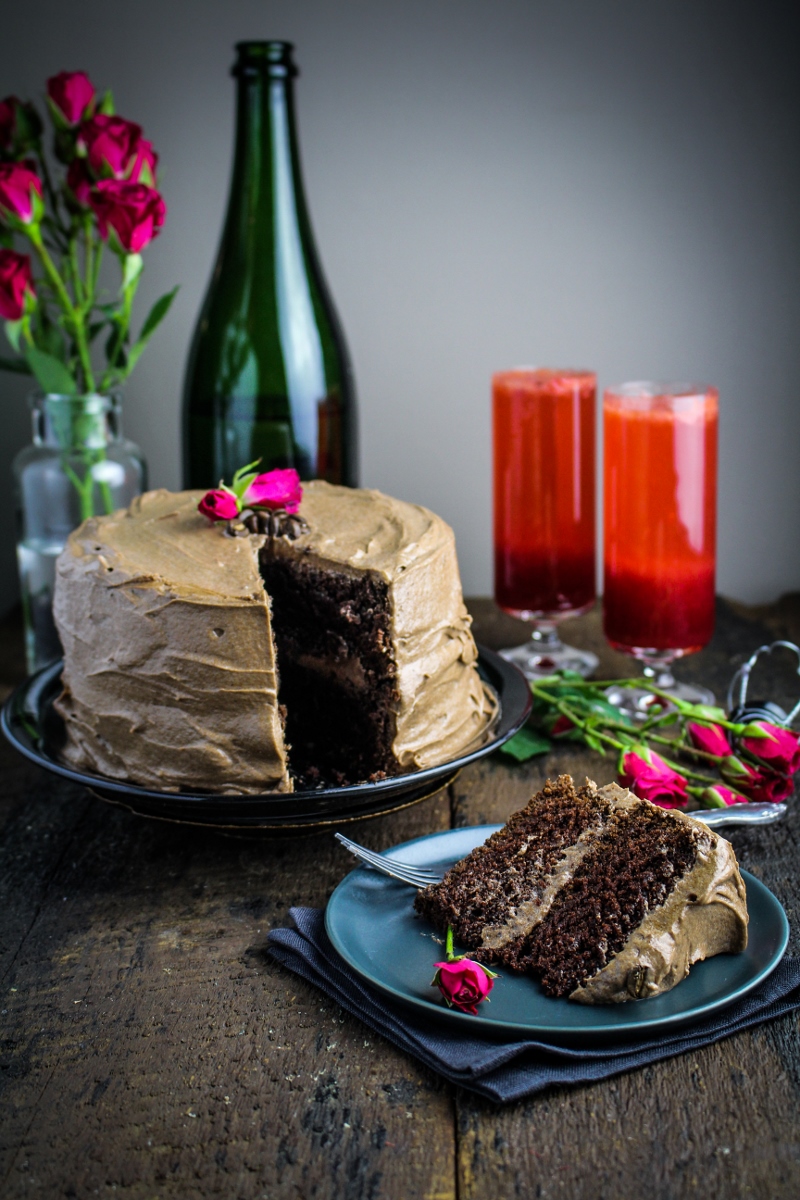 This Sunday Dinner post is a big one – I'm not even entirely sure where to start. There's the obvious, of course, that it was for our Valentine's Day celebration, so it had to be special and a little bit decadent. There's the fact that we prepared it during a blizzard, the third big storm in what feels like a never-ending chain of snow and white skies and freezing temperatures – a winter so beyond our imaginations that our city is stuck somewhere between awe, deep frustration, and total apathy. There's the coffee-crusted duck, the centerpiece of the meal, that we lifted from the menu at Bouchard in Newport, where we spent a wonderful evening last weekend, dining in quiet elegance before slipping back to a room with a fireplace and a four-poster bed, where I wanted to stay forever. There's the champagne we popped last night, the leftovers of which we unexpectedly took to a blizzard brunch around the corner – because day-drinking and eating waffles is a pretty good way to spend a blizzard. There's the chocolate espresso layer cake, which we ate thick slices of in bed this morning with our morning coffee, our windows completed whited out by the snow whirling outside. There's the chanterelle bisque, made from chanterelles we foraged in the middle of the summer, a time so green and warm and damp that it seems like it happened in another lifetime. These recipes have so many bits and pieces of memories tucked inside them it's hard to sort out a clear thread between them – and now of course they will bring back to us the Valentine's Day Blizzard of 2015, another weekend spent together grateful for a quiet and warm house in which to hide away and dream of spring.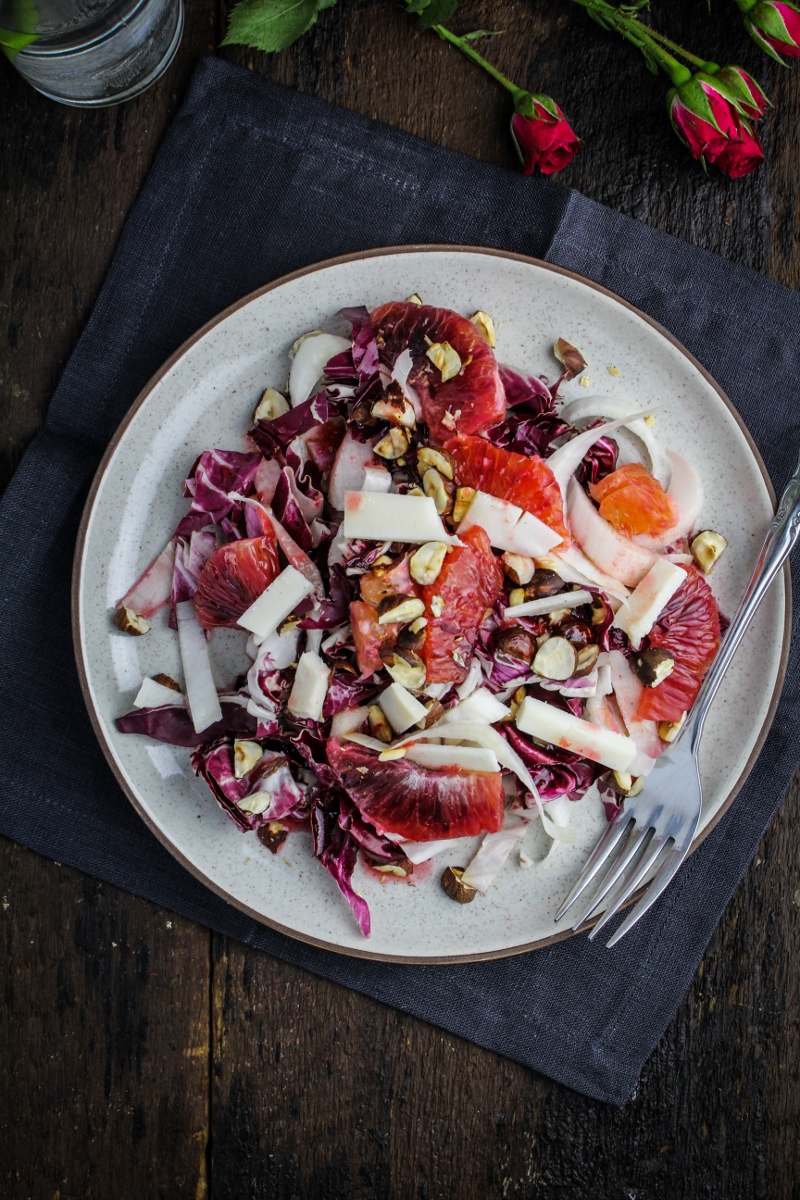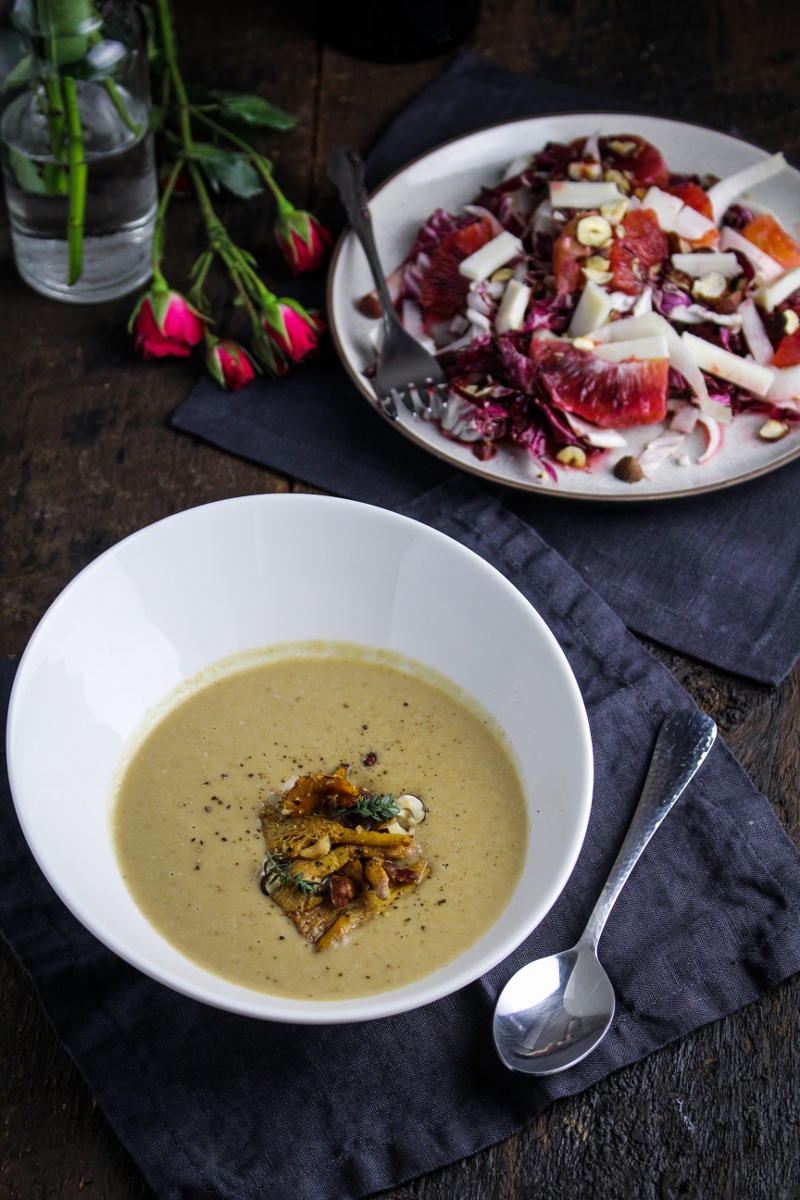 The menu we made for this dinner is wintery, earthy, and elegant all at the same time, with rich flavors tied one to the next: blood orange, endive, chanterelle, chestnut, coffee, brandy, chocolate. Brilliantly colored blood orange mimosas spiked with Campari and honey. A salad of bitter endive and radicchio topped with blood orange slices, goat gouda, and toasted hazelnuts. A velvety bisque of roasted chestnuts and chanterelles. A gorgeous duck breast, coated in coffee and drizzled with rich brandy-balsamic sauce. And a cake – two fat layers of chocolate cake spread thickly with chocolate-espresso buttercream. Everything turned out beautifully, and although there are certainly a lot of components, it was doable to prepare everything in one afternoon, and still sit down with enough energy to enjoy the meal and each other's company.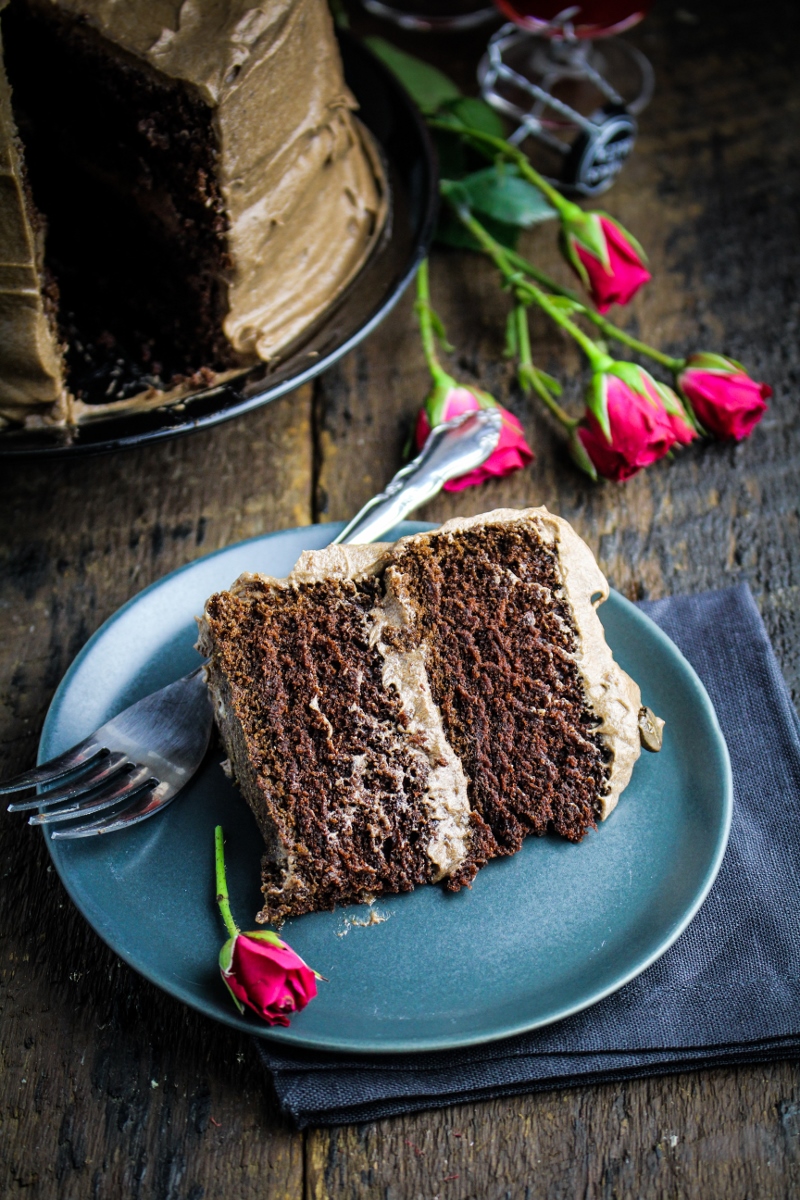 The Menu
Blood Orange Mimosa
Endive and Blood Orange Salad
Chanterelle and Chestnut Bisque
Coffee-Crusted Duck Breast with Brandy-Balsamic Sauce
Chocolate Espresso Layer Cake

Past Sunday Dinners:
May 26, 2013: Coffee-and-Chile Rubbed Strip Steaks with Chimichurri Sauce; Charred and Smoky Belgian Endives; Oven-Roasted Potatoes; Strawberry-Sour Cream Ice Cream
July 1, 2013: Strawberry-Lime Agua Fresca; Smashed Pea, Dill, and Feta Crostini; Chilled Asparagus Soup with Meyer Lemon Yogurt; Mustard Spaetzle with Mushrooms; Ricotta Bavarese with Red-Wine Poached Rhubarb
October 28, 2013: Braised Lamb Shanks with Gremolata; Creamy Polenta with Fresh Corn and Blue Cheese; Roasted Brussels Sprouts; Classic Apple Pie
March 31, 2014: Fried Halloumi with Spring Veggies and Strawberry-Basil Gastrique; French Gnocchi with Watercress Sauce; Strawberry-Rhubarb Meringue Pots
August 31, 2014: Roasted Garlic, Ricotta, and Maple-Roasted Cherry Tomato Crostini; Eggplant and Pesto Napoleons; Maple Mixed-Berry Pie
Like what you just read? Subscribe to Katie at the Kitchen Door on Feedly or Bloglovin', or follow along on Facebook, Twitter, Pinterest, Instagram, or Google+. Thanks for reading!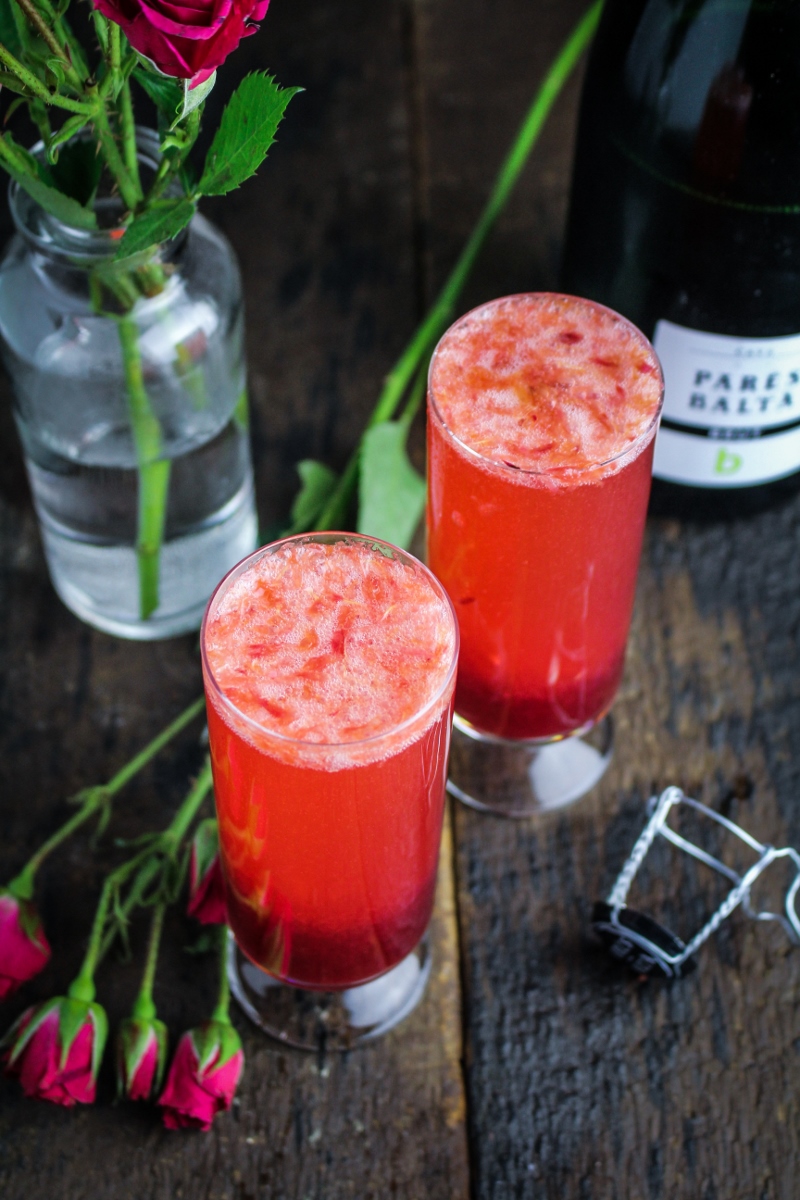 Blood Orange Mimosa
Serves 2.
1/2 c. freshly squeezed blood orange juice (from about 2 oranges)
1 1/2 oz. Campari
1 TBS honey
chilled Prosecco or Champagne
Whisk together blood orange juice, Campari, and honey until honey is dissolved. Divide between two champagne flutes and top with prosecco or champagne. Stir gently with a long handled spoon or small whisk. Serve immediately.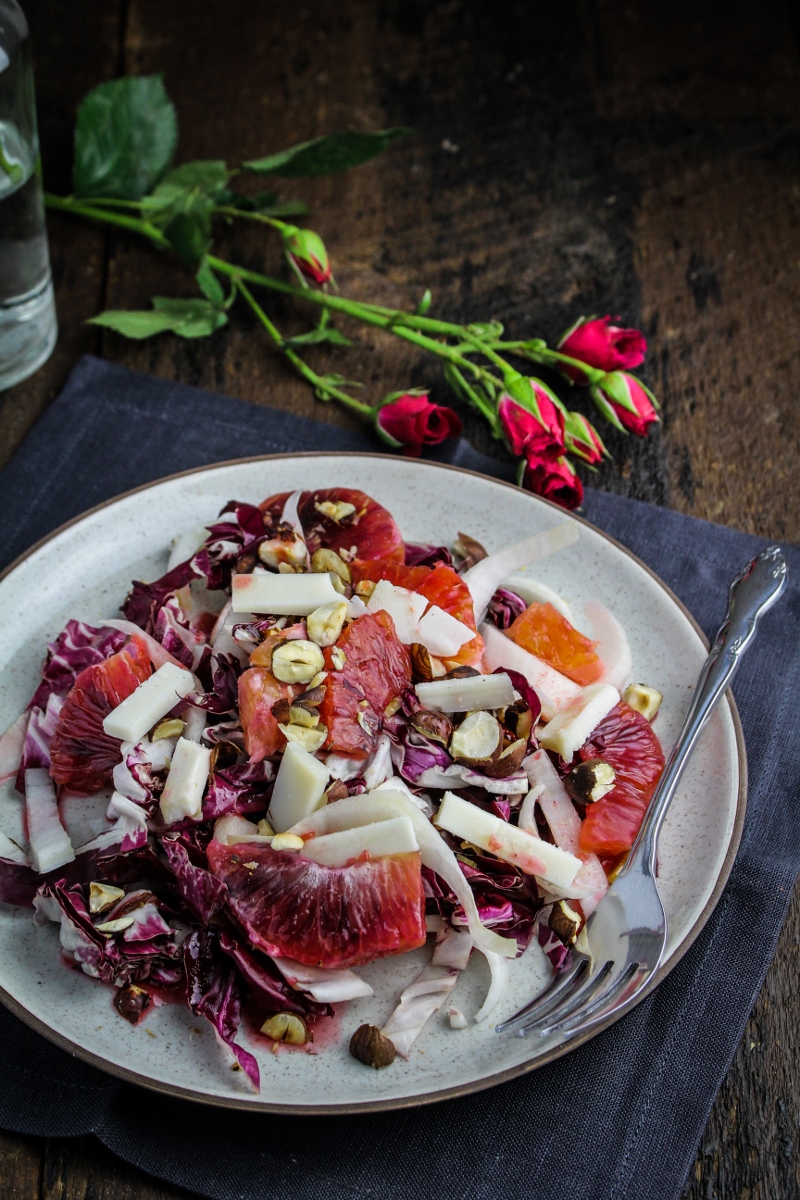 Endive and Blood Orange Salad
Serves 4.
1 small head of radicchio
1 large Belgian endive
3 blood oranges
1/4 c. hazelnuts, chopped and lightly toasted in a dry pan
2 oz. thinly sliced goat gouda or other goat cheese
2 TBS champagne vinegar
1/4 c. olive oil
sea salt and pepper to taste
Remove and discard the outer leaves from the radicchio and cut out the thick core at the bottom. Roughly chop or shred the radicchio and place in a bowl. Remove the outer leaves from the endive. Slice into thin rounds and add to the bowl with the radicchio. Toss the two vegetables together to evenly combine.
Peel the oranges. Juice one of the oranges so that you have 1/2 cup of juice. Slice or supreme the remaining 2 oranges and set aside.
Assemble the salads by dividing the radicchio mixture between four plates. Top each with several pieces of blood orange, a spoonful of the toasted hazelnuts, and a few slices of the goat gouda. To make the dressing, whisk together the blood orange juice, champagne vinegar and olive oil until well combined. Season to taste with salt and pepper and drizzle over the salads. Serve immediately.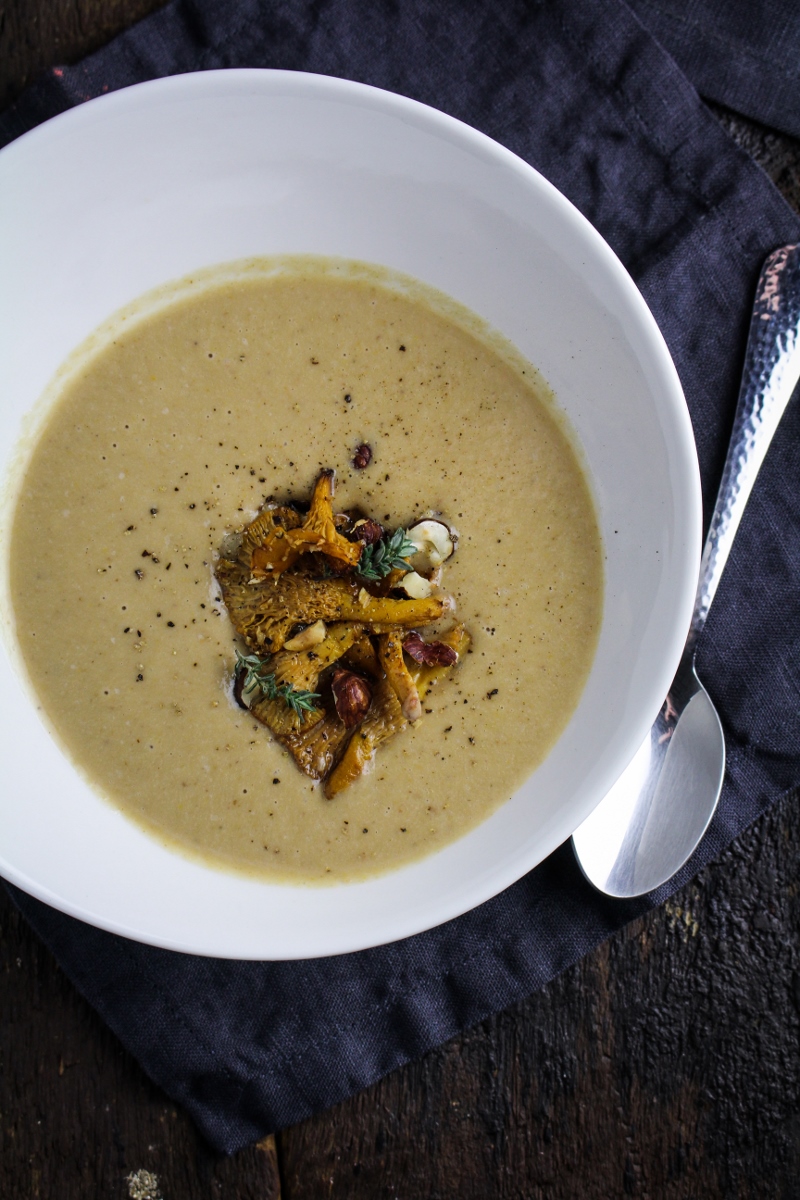 Chanterelle and Chestnut Bisque
Serves 2-3.
2 TBS butter
1/3 c. finely diced onion
2 c. fresh chanterelles, cleaned and torn into bite-sized pieces
sea salt and pepper to taste
1 c. peeled, roasted chestnut pieces
3 c. chicken stock
3 sprigs fresh thyme
1/2 c. heavy cream
Melt the butter in a large frying pan over medium heat. Add the onion and saute until translucent, about 5 minutes. Add the chanterelles and saute until soft and browned on the edges, about 8-10 minutes, stirring frequently. Season to taste with salt and pepper. Set several spoonfuls of the cooked chanterelles aside (for garnishing the soup).
Add the remaining chanterelles, chestnuts, chicken stock, and thyme to a soup pot and bring to a simmer over medium heat. Simmer for 10-15 minutes, then remove from the heat. Spoon out the thyme stems and discard. Transfer the soup to a blender and add the heavy cream. Blend on high until very smooth. Pour into bowls and garnish with the reserved chanterelles. Serve immediately.
Coffee-Crusted Duck with Brandy Balsamic Sauce
Inspired by dinner at Bouchard. Serves 2-3
2 medium duck breasts, trimmed of fat
4 TBS freshly ground coffee beans
2 TBS dark brown sugar
1 tsp sea salt
1 tsp freshly ground black pepper
3/4 tsp chili powder
3 TBS butter, divided
2 tsp flour
1/4 c. brandy
1 TBS balsamic vinegar
1/2 c. stout or other dark beer
Preheat the oven to 375°F. Mix the coffee, brown sugar, salt, pepper, and chili powder together in a small bowl. Rub the mixture all over the duck breasts so they are fully coated. Melt 2 TBS butter (or duck fat, if you'd like) in a dutch oven over medium-high heat. Place the duck breasts in the pan and sear for 1 minute on each side. Flip them a second time (to return to the original side) and transfer the pan to the preheated oven. Cook the breasts for 5-7 minutes, to at least an internal temperature of 130°F. Remove from the oven, transfer to a cutting board or plate and let rest for at least 5 minutes.
Scrape as much of the coffee grounds as you can out of the dutch oven and discard. Melt the remaining 1 TBS of butter in the dutch oven over medium heat. Add the flour and stir to make a paste, cooking for 60 seconds. Add the brandy to the pan (don't stand over the pan as you do this, as the alcohol will evaporate rapidly and can make you quite dizzy), followed by the balsamic and the stout. Stir to make a thick sauce and cook for 2-3 minutes, until thick and syrupy. Remove from the heat. Slice the duck on the bias and serve drizzled with the brandy-balsamic sauce.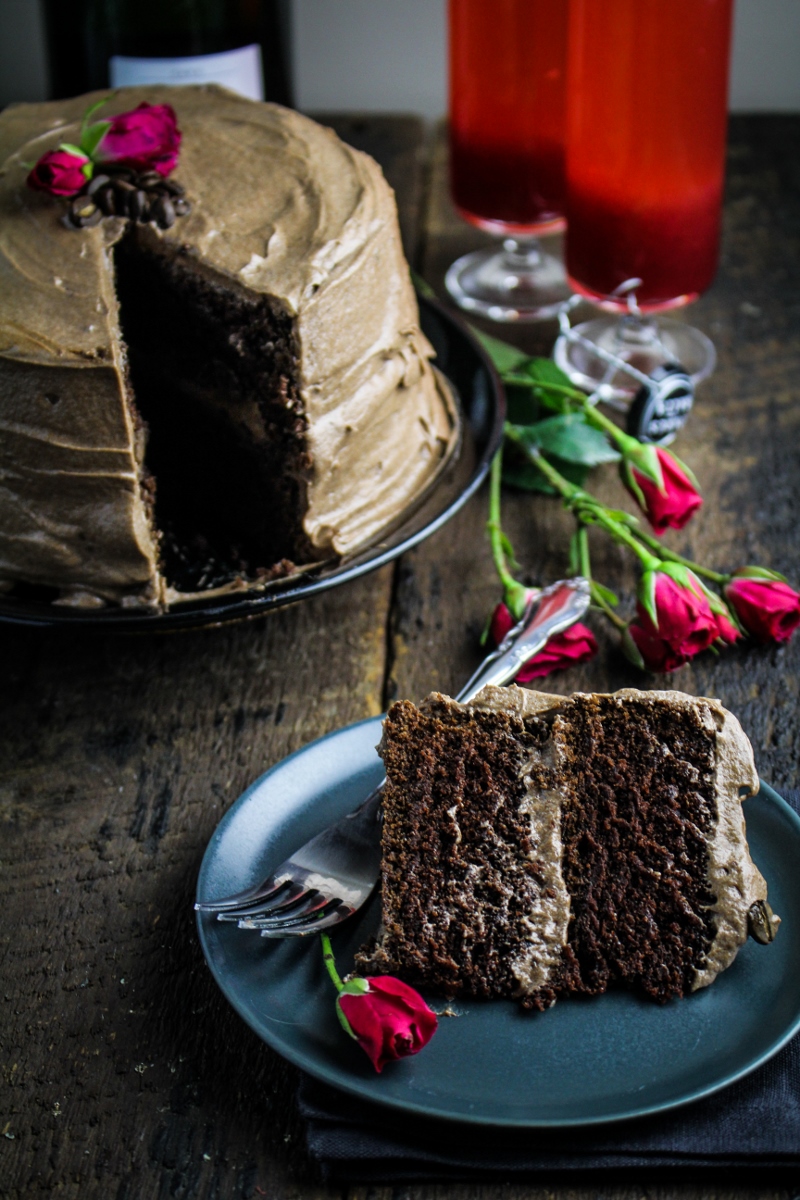 Chocolate Espresso Layer Cake
Once you have baked the three cake layers, turn out onto a cooling rack and let cool completely. Use a serrated knife to trim the dome from each cake so that you have flat layers. Frost the cooled cake with the buttercream, using a dot of buttercream on your cake plate to hold the cake steady. If the cake is crumbing too much as you frost, refrigerate the cake briefly before continuing to frost. Chill the frosted cake for at least 30 minutes before serving.
Chocolate-Espresso Flour Buttercream
Adapted from Serious Eats basic Flour Buttercream. Makes about 3 cups of frosting.
4 TBS flour
1 c. granulated sugar
2 tsp espresso powder
1 c. whole milk
2 oz. unsweetened chocolate, chopped into bite-sized pieces
2 sticks salted butter, softened to room temperature
Whisk the flour, sugar, and espresso powder together in a medium saucepan until smooth. Whisk in the milk, and place over medium heat. Bring the mixture to a low boil, whisking the entire time. As the mixture begins to boil it will thicken to a custard like consistency – still whisking, cook the custard for one minute, then remove from the heat. Add the chopped chocolate and whisk until melted. Continue whisking the custard until it has cooled to body temperature, about 5 minutes. Set aside.
In a large bowl, beat the softened butter until it is light and fluffy. If it is greasy, refrigerate for a few minutes to make it more firm. Add the cooled chocolate custard to the whipped butter one spoonful at a time, beating to thoroughly incorporate the custard into the butter between additions. If the frosting begins to break or separate, refrigerate for a few minutes before continuing to add the chocolate custard. Once all the custard has been incorporated into the butter, refrigerate the buttercream for 20-30 minutes before frosting your cake. If you refrigerate the buttercream for longer than 30 minutes, you will need to allow it to come back to slightly below room temperature before using.
1