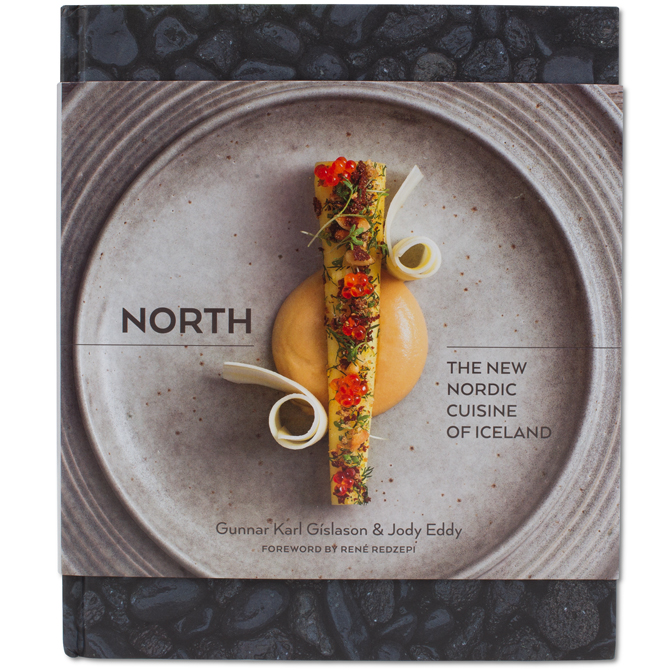 The Book: Iceland is at the very top of my travel wishlist. The dramatic landscapes and vast, untouched wilderness have me aching to throw my hiking boots in a bag and hop on a plane across the Atlantic. In reality, I'll be getting on planes to a lot of different places in the next few months – Colombia, Chile, and Charleston for starters – but none of them will be going to Iceland. I certainly can't complain about the wonderful places I will be going, but that doesn't mean I can't daydream about Iceland at the same time. The book North: The New Nordic Cuisine of Iceland, is one way to amp up my daydreaming. It's a cookbook, sure, but I have to say that it feels like more than a cookbook to me. The interviews with food producers and stories of life on the island are as important to the book as the recipes themselves. The book is organized not by meal or by region, but by producer – a chapter for the arctic char smoker, one for the salt maker, and for the birch and mushroom forager. It was truly fascinating to learn about rugbraud, the hearty rye bread that is baked in underground geyser ovens, and about Siggi Henningson, a fisherman who spends his afternoons rapelling over cliffs to collect seabird eggs, not for himself, but for the entire town. The structure of the book and the stories paint a clear picture of where Iceland's food comes from, on both land and sea.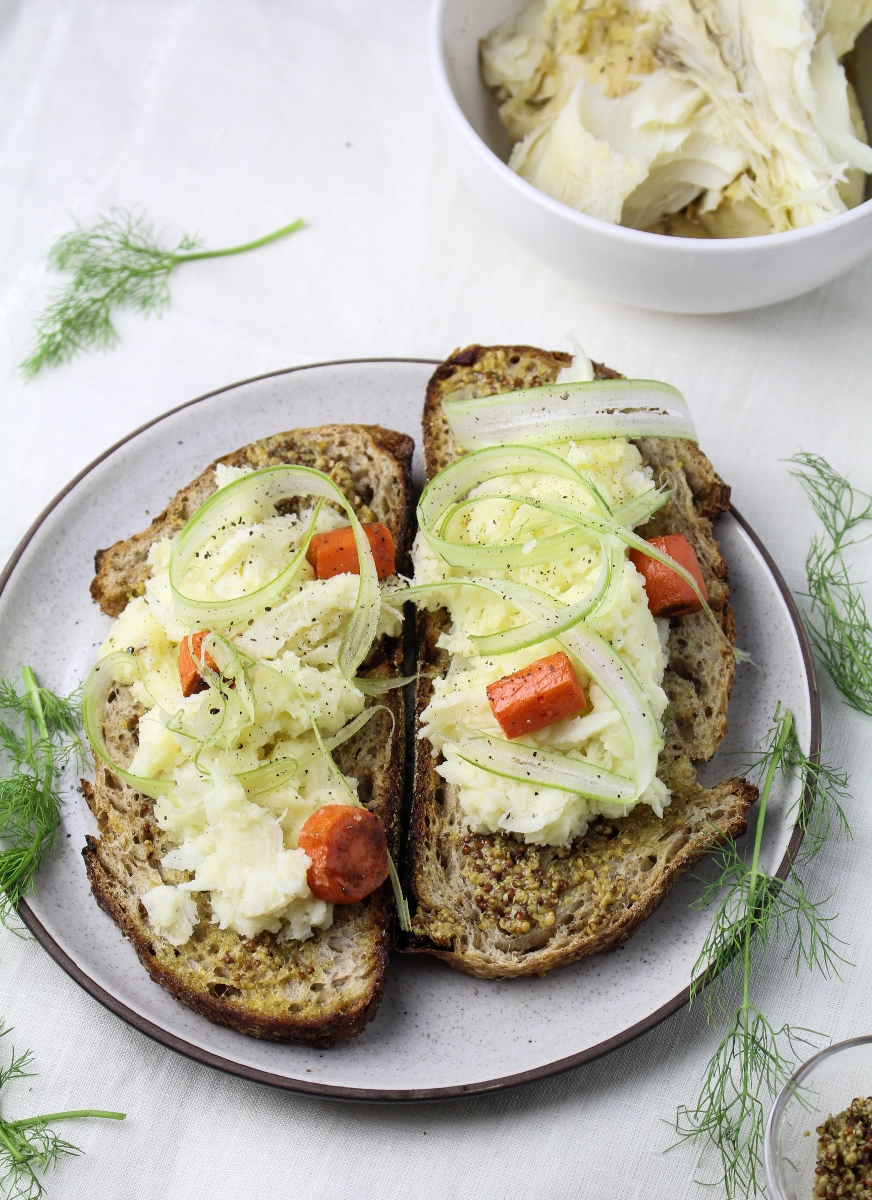 I knew in advance that many of the recipes in North would be too esoteric to ever make at home, but was thoroughly intrigued anyway. The flavors throughout the book are consistent and coherent: smoke, salt, rich dairy, bright pickles, oily fish, and grassy herbs, the foods of a cold and isolated island. The fact that some ingredients may be hard (or impossible) to find outside of Iceland (seabird eggs, anyone?) is readily acknowledged, and many substitutions are offered – the authors have even provided an email you can reach out to with questions. The recipes also skew towards fine dining more than rustic eating – one of the authors is, after all, the chef at Dill. But although I know that I will never go to the trouble of making Lumpfish Roe with Smoked Mayonnaise, Beer Vinegar Jelly, and Horseradish Cream (smoke your own oil to make your own smoked mayonnaise, make your own beer vinegar and then turn it into jelly, you get the picture), other recipes can certainly be tweaked to fit into my repertoire – like Fennel Salad with Cottage Cheese and Spiced Nuts, or Poached Cod Cheeks in Roasted Cod Soup. Whether or not I find myself cooking from this book regularly, it's so full of general inspiration that it deserves a place on my bookshelf, esoteric recipes or not.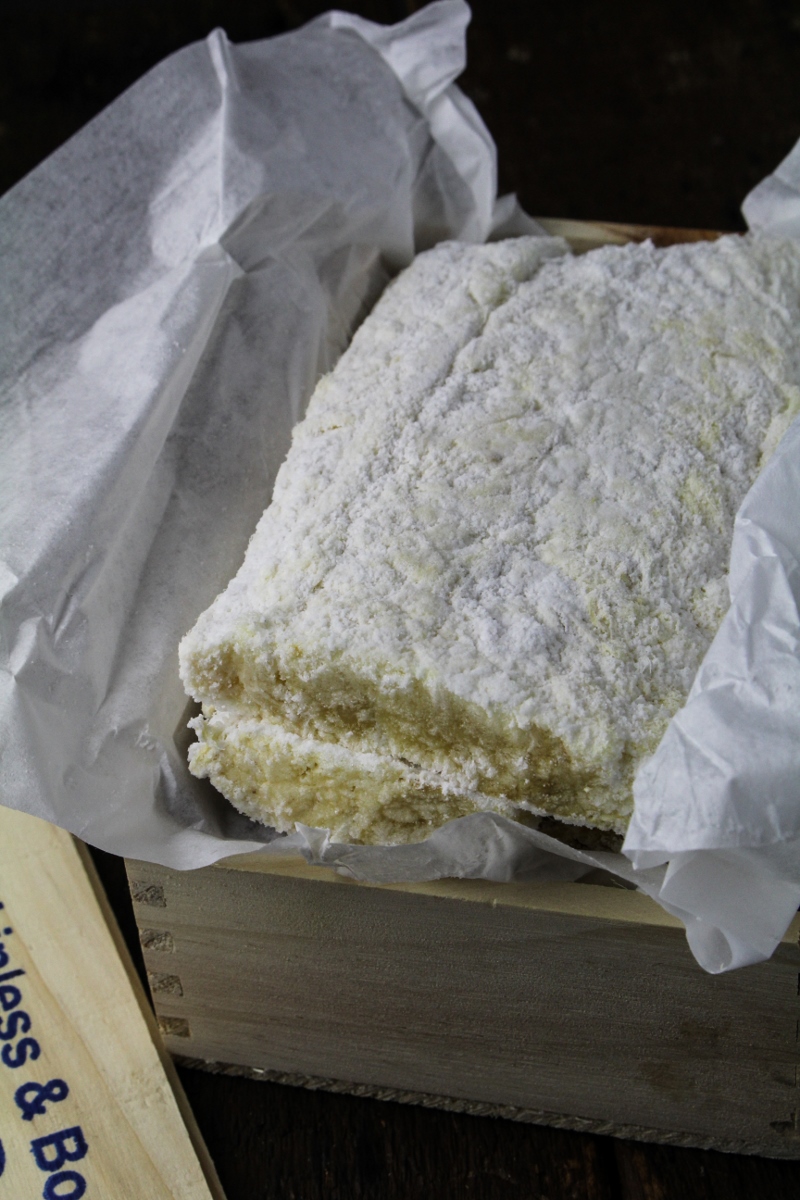 The Food: One of the recipes that felt approachable enough to try was for Bacalo Potatoes with Fennel Ribbons and Sorrel Ash. I had to be a bit generous with my interpretation of this recipe, taking inspiration as much from the headnote and author Jody Eddy's description of the ways they ate this throughout their trip, as from the recipe itself. The base of this recipe is creamy mashed potatoes mixed with bacalo, or salt cod, a combination sometimes called brandade. As written, the potatoes and cod are served topped with sorrel ash, roasted carrots, fennel ribbons, soft boiled eggs, and freshly grated horseradish. Since both sorrel and horseradish are hard to come by without planning ahead, I nixed them and decided to take a more rustic approach to the meal – serving the mash on hearty whole grain bread spread with mustard (a decent replacement for the pungent horseradish). I also skipped the eggs, as once you smear potatoes on toast you don't feel like you need that many more things on top. Although I usually try to stick to the letter when testing recipes for cookbook reviews, here, I don't feel bad about it. Eddy writes " One night, Gunnar served it on toast; another, he substituted smoked haddock, an ideal replacement for the cod. The profusion of herbs he added was dictated by whatever we foraged that day."  It's a recipe that is more idea than science. I've written it here the way I made it, inspired by the instructions in North.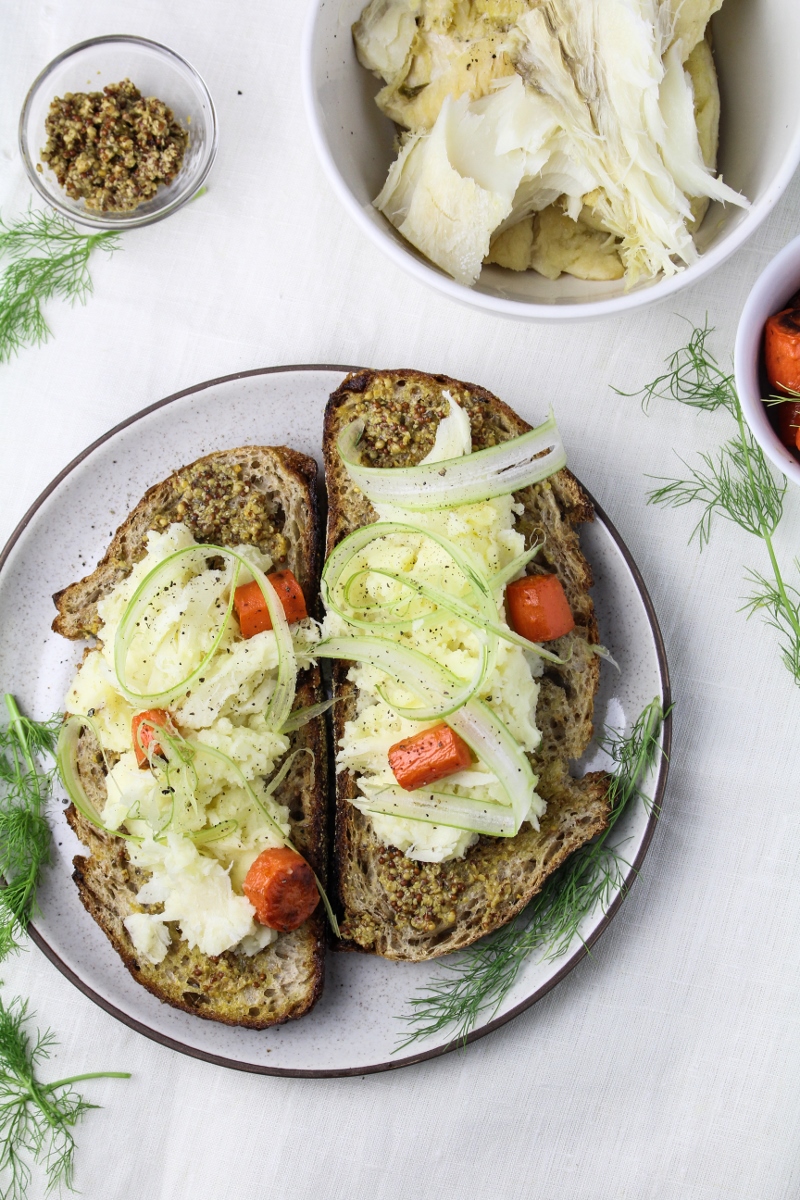 Recipe Shortlist: Salted Cod Tartar, Dill Mayo, Dulse Powder; Parsnips Three Ways with Arctic Char Roe; Cauliflower, Seabird Eggs, Burned Butter; Roasted Lamb Shoulder, Braised Cabbage, and Pickled Onions; Smoked Lamb with Skyr and Nutmeg; Stone Bramble and Cottage Cheese with Whey Caramel and Whey Granita; Red Beet and Rosemary Sorbet, Almond Cake, and Sugared Almonds
Like what you just read? Subscribe to Katie at the Kitchen Door in the box on the right, on Feedly or Bloglovin', or follow along on Facebook, Twitter, Pinterest, Instagram, or Google+. Thanks for reading!
Disclaimer: I received a review copy of North: The New Nordic Cuisine of Iceland from Ten Speed Press, but I was not otherwise compensated and all thought and opinions are my own.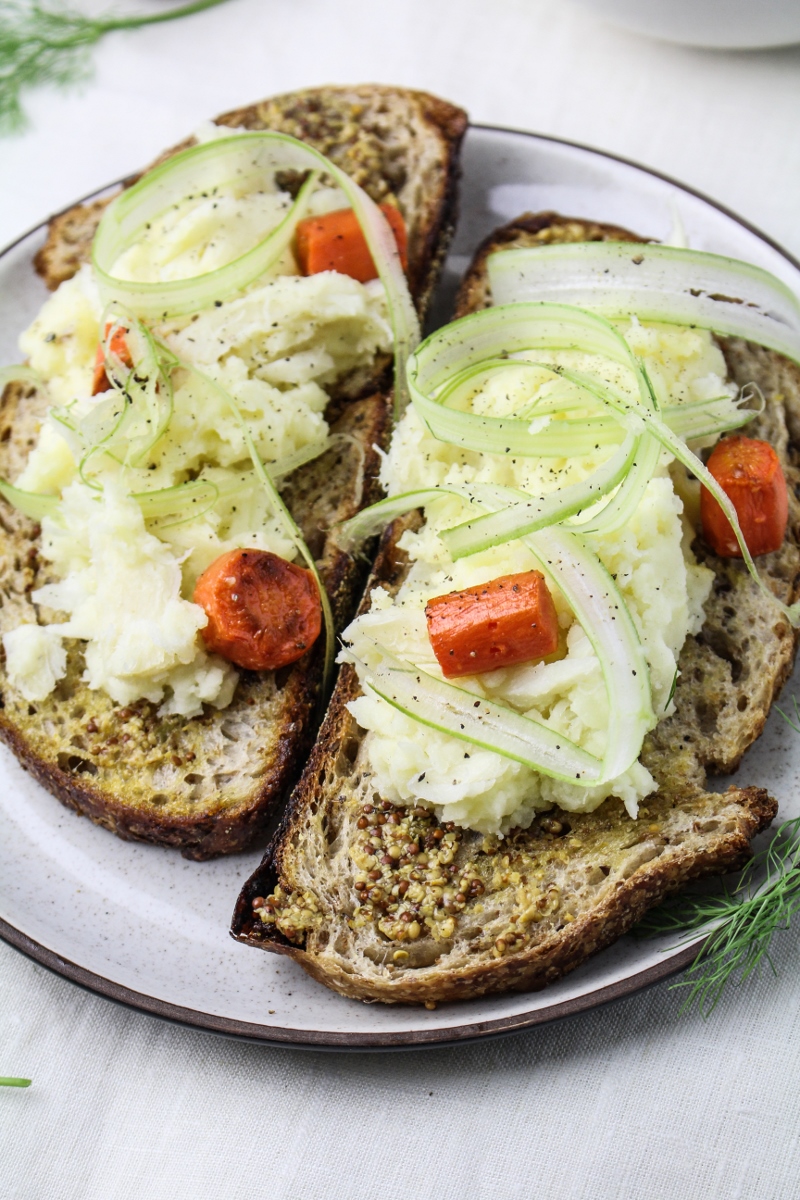 Bacalo Potatoes with Carrots and Fennel
Recipe adapted from North: The New Nordic Cuisine of Iceland. Serves 4.
1 lb. salt cod
4 large carrots, peeled and cut into bite-sized pieces
2 TBS olive oil, divided
sea salt and pepper to taste
1 lb. waxy potatoes
1/2 c. heavy cream
4 slices whole grain bread
2 TBS mustard
2 fennel stalks, peeled into ribbons using a vegetable peeler
Place the salt cod in a bowl and fill to cover with cold water. Soak in the water in the refrigerator for 24 hours, changing the water 2 to 3 times. When you are ready to prepare the meal, drain and rinse the soaked fish. If it has them, remove and discard the skin and bones. Set the fish aside.
Preheat the oven to 400°F. Toss the carrot pieces with 1 TBS of the olive oil and sea salt and pepper, and spread on a rimmed baking sheet. Roast, stirring every 10 minutes, until tender all the way through, about 20-30 minutes depending on the size of your pieces. Transfer the roasted carrots to a bowl and set aside.
Add the salt cod to the roasting pan and roast until warmed through, about 8-10 minutes. Break into flakes and keep warm.
Peel the potatoes and cut into chunks. Add to a large pot and cover with cold water. Salt water generously. Bring to a boil over medium-high heat, and boil until potatoes are tender, about 5-8 minutes. Drain the potatoes and mash with a potato masher. Add the heavy cream and mash until incorporated, then stir in the warm salt cod pieces. Season to taste with pepper.
Rinse and dry the roasting pan, then brush the bread slices with the remaining 1 TBS of olive oil. Reduce the oven temperature to 350°F and toast the bread until golden brown, about 5-7 minutes per side. Remove the bread from the oven and spread with the mustard. Top with a generous heap of the potatoes and cod, and several pieces of roasted carrot. Just before serving, shave the fennel stalks into thin ribbons using a vegetable peeler and place on top of the potatoes. Serve immediately.
0