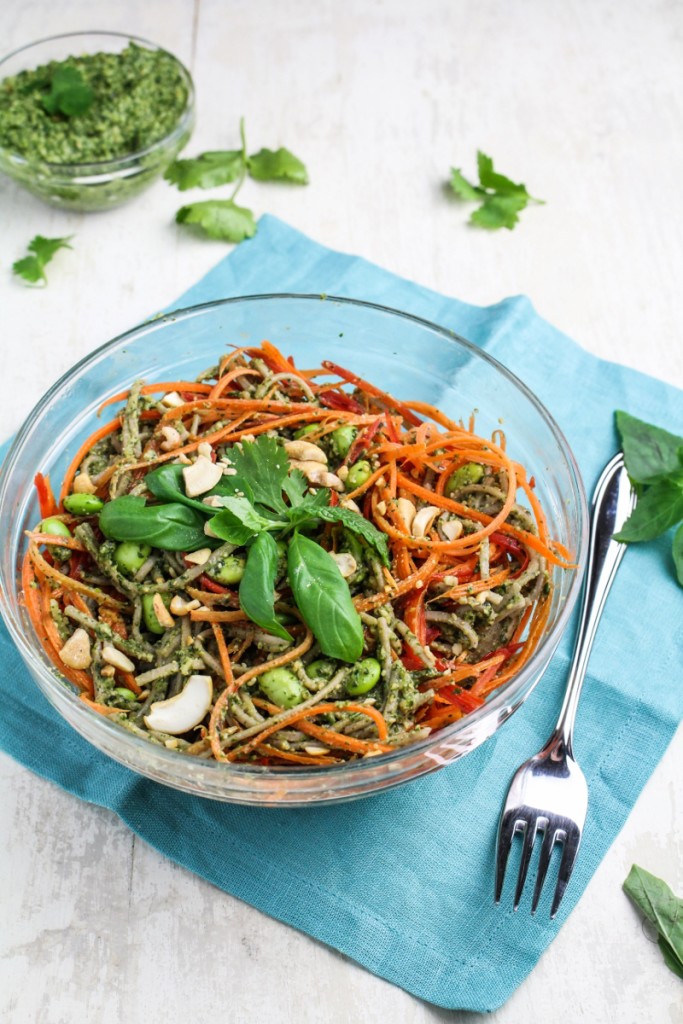 Hello from JFK's terminal B! I am on my way home from Bogota, where I spent most of last week for work. It was the first of several trips I'll take there this year, and while I didn't have much free time to explore, I did get to explore the food. And it's good – hearty stews of chicken, rice, and plaintain; lime and coconut shakes that taste like key lime pie in a glass; and big bowls of beans, beef, corn, and chorizo. Plus a little bit of avocado on top of almost everything for good measure. Despite the difficulties of exercising at 8,600 feet, I struggled through a few workouts just so I could keep indulging.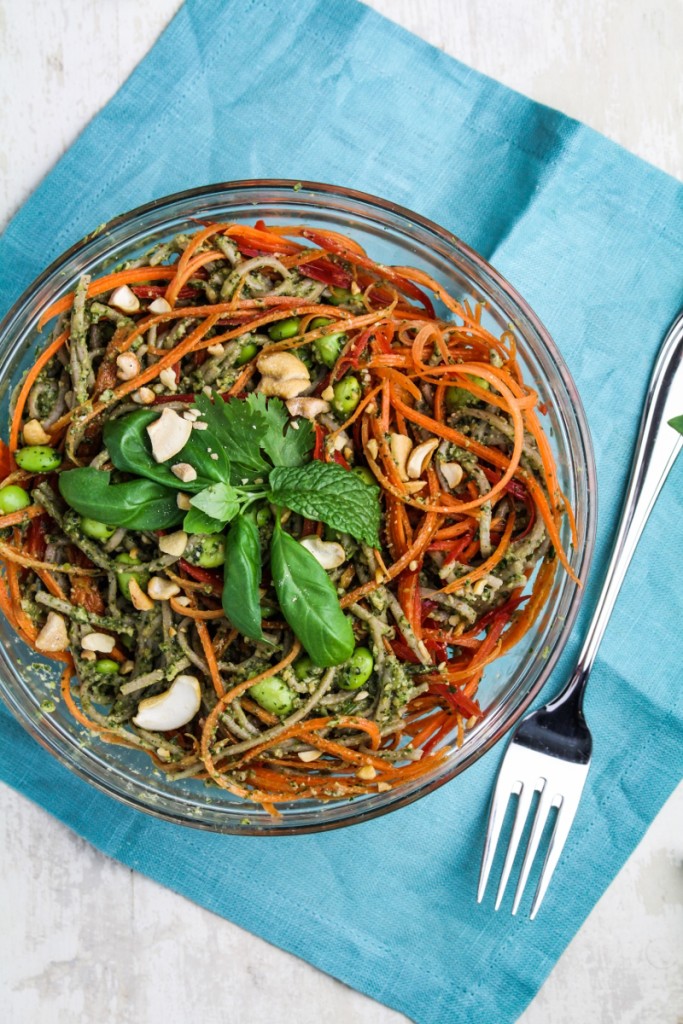 As much as I enjoyed eating my way through the city, I will say that I'm looking forward to a few vegetable-driven meals this weekend to recover. I'm thinking that perhaps another batch of these Soba Noodles with Asian Pesto will be just the thing The light, bright flavors of these noodles are just right after a weekend/week of heavy eating – and getting an eyeful of color on your plate in the middle of January doesn't hurt, either. The pesto is adapted from a favorite Ming Tsai recipe – it skips the garlic and cheese, adds jalapeno and ginger, and complements the basil with cilantro and mint. It's a little bit sweet and a little bit spicy, and a whole lot of green. Here I've mixed it with soba noodles, edamame, raw carrot "noodles," and red pepper, but other vegetables would not be out of place either. It's a flexible recipe, just right for reminding ourselves that eating vegetables can be delicious, even in the middle of winter.
Like what you just read? Subscribe to Katie at the Kitchen Door in the box on the right or on Feedly or Bloglovin', or follow along on Facebook, Twitter, Pinterest, Instagram, or Google+. Thanks for reading!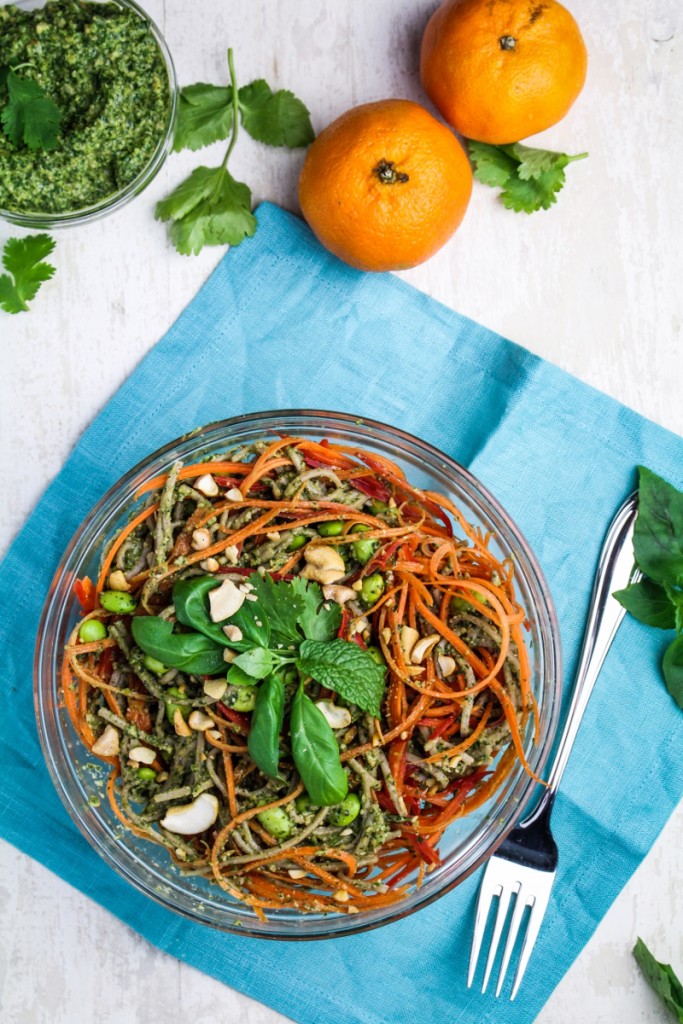 Soba Noodles with Asian Pesto
Pesto recipe adapted from Ming Tsai. Serves 4.
1/3 c. canola oil
1 jalapeno, stem removed and pepper cut into chunks (remove seeds if you don't like much heat)
1 1/4 c. salted and roasted cashews, divided
1 inch fresh ginger, peeled
1/4 c. freshly squeezed orange juice
1 c. fresh basil leaves
1 c. fresh cilantro leaves
1/3 c. mint leaves
1 TBS honey
salt and pepper to taste
8 oz. soba noodles
1 c. frozen shelled edamame
2 carrots, cut into "noodles" using a julienne peeler or spiralizer
1 red bell pepper, seeded and finely diced
Make the pesto: add 1 TBS of the canola oil, the jalapeno, 1 cup of the cashews, and the ginger to a food processor and pulse until finely chopped. Add the orange juice, basil, cilantro, mint and honey, and begin processing, slowly drizzling in the rest of the canola oil until a smooth consistency is reached. Stop the processor and season to taste with salt and pepper.
Cook the soba noodles according to package directions. 2 minutes before they are done, add the edamame to the boiling water. Drain and set the noodles and edamame aside. Roughly chop the remaining 1/4 cup of cashews. Toss the noodles with 1 cup of the pesto, the carrot "noodles," the chopped cashews, and the chopped red bell pepper. Season to taste with salt and pepper. Serve room temperature or chilled.
1