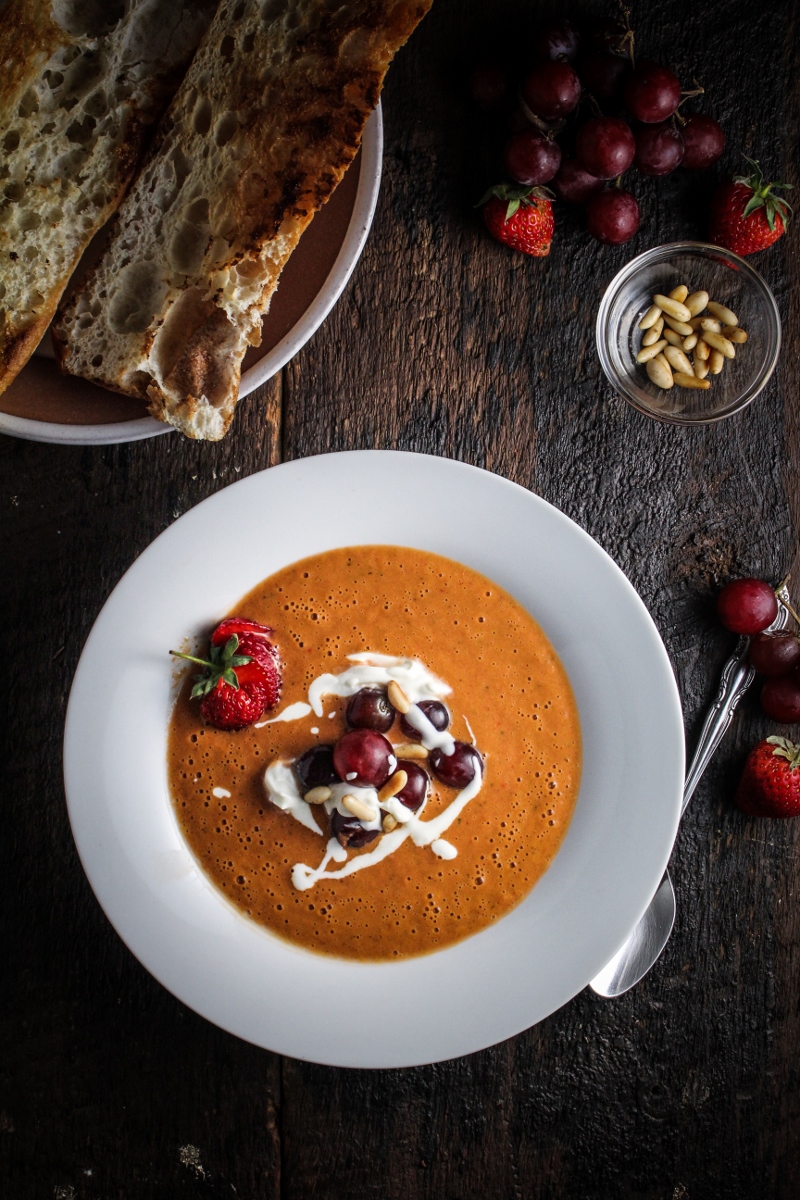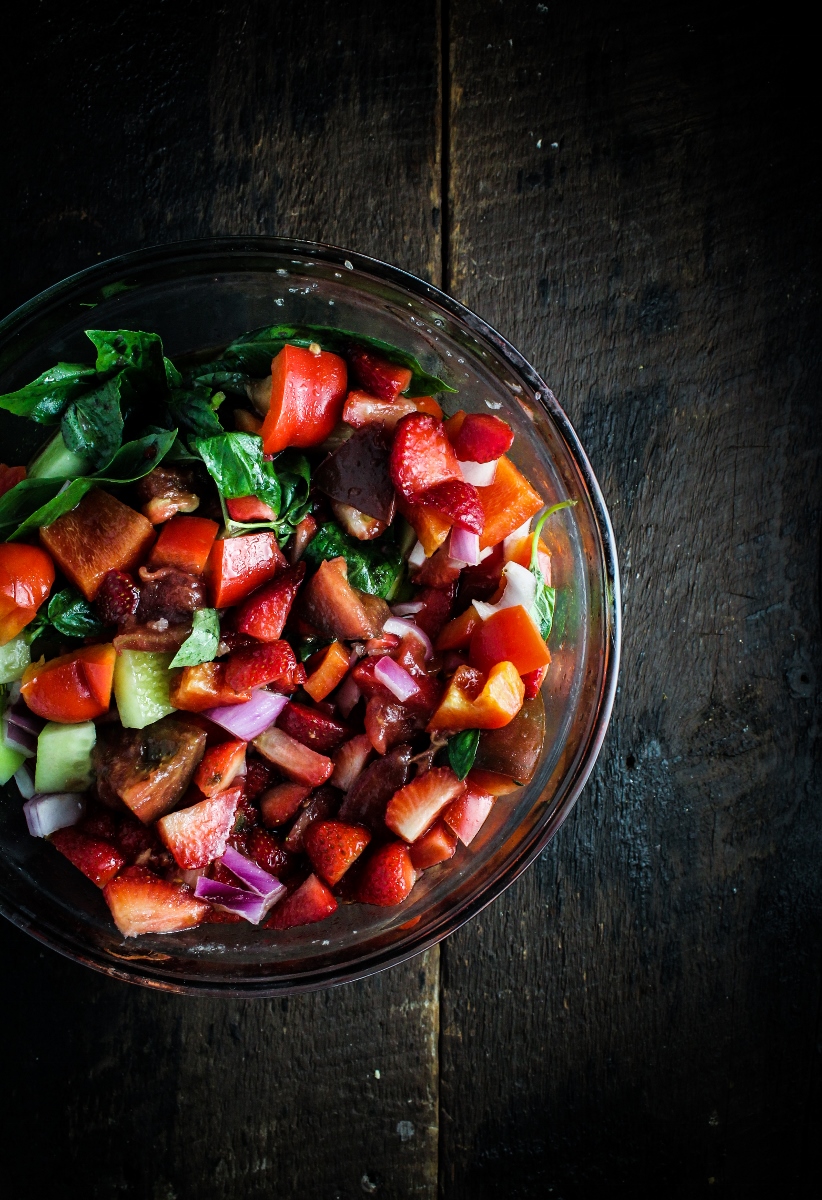 It's been ages since I've done an Ingredient of the Week series, mostly because it's been ages since we've had any hint of life in our garden. But even though the garden is several weeks behind where it was last year, thanks to the weirdly cold spring we had, it's finally starting to move out of that frustrating stage where everything's tiny and you use all your time weeding and waiting, into that lush, productive stage I dream about during the depths of winter.
The first crop to really come into its own this year was the strawberries. We planted 75 little plants last spring, and although it was torture to pick off the blossoms last summer, allowing the plants to establish themselves but forgoing the chance of fruit, we've been rewarded several times over for our patience, with pounds of fruit ripening on an almost daily basis this summer. In just a little over a week we've already picked over 8 pounds of gorgeous berries, which is a lot for just two people. I've done a little canning, a little baking, and a little drink-making, but we still have a lot of berries to work through, so we're going to do strawberry week – i.e. I'll be posting new strawberry recipes here every day this week, until you all are completely sick of hearing about them.
Although strawberries are usually recognized for their sweetness, we're kicking things off with a savory recipe. Strawberry gazpacho is not a new idea, but it is certainly a good one, as the balance of acid and sweetness in fresh strawberries  is actually pretty similar to the balance in a very ripe tomato. I did a little research on strawberry gazpacho recipes, but ultimately decided that none of the recipes out there had quite the mix of flavors I was looking for, so I came up with my own. Fortunately, I was really pleased with how well it turned out. It has a little bit of everything red in it – strawberries, tomatoes, red pepper, red onion and red chilies, plus a bit of cucumber, garlic, and basil (not red, but very necessary). Marinated in olive oil and champagne vinegar, then pureed into a smooth and frothy soup, it's well-balanced and refreshing.  I topped it with red grapes, for sweetness, a goat cheese cream, for richness, and a handful of toasted pine nuts. I liked it so much I had some for breakfast yesterday – it definitely meets my serving of fresh fruit or veggies at every meal requirement, so that's an added bonus. It's also super easy, so I imagine we'll be blending up several more batches of this before the summer is over.
Past Ingredients of the Week
Rhubarb: Rhubarb-Prosecco Spritzer; Rhubarb Custard Fool; Rhubarb Recipe Round-Up; Persian Rhubarb and Beef with Rice; Rhubarb-Ginger Bars
English Peas: Smashed Pea, Dill, and Feta Crostini; Green Pea Fritters with Herbed Creme Fraiche; English Pea Recipe Round-Up; Green Pea Rum Cooler; A Salad of Bacon, Peas, and Fennel
Carrots: Savory Carrot, Feta, and Almond Baklava; Carrot Cake Crepe Cake; Carrot, Grapefruit, and Mango Smoothie; Moroccan Carrot Panini with Olive Tapenade
Like what you just read? Subscribe to Katie at the Kitchen Door on Feedly or Bloglovin', or follow along on Facebook, Twitter, Pinterest, Instagram, or Google+. Thanks for reading!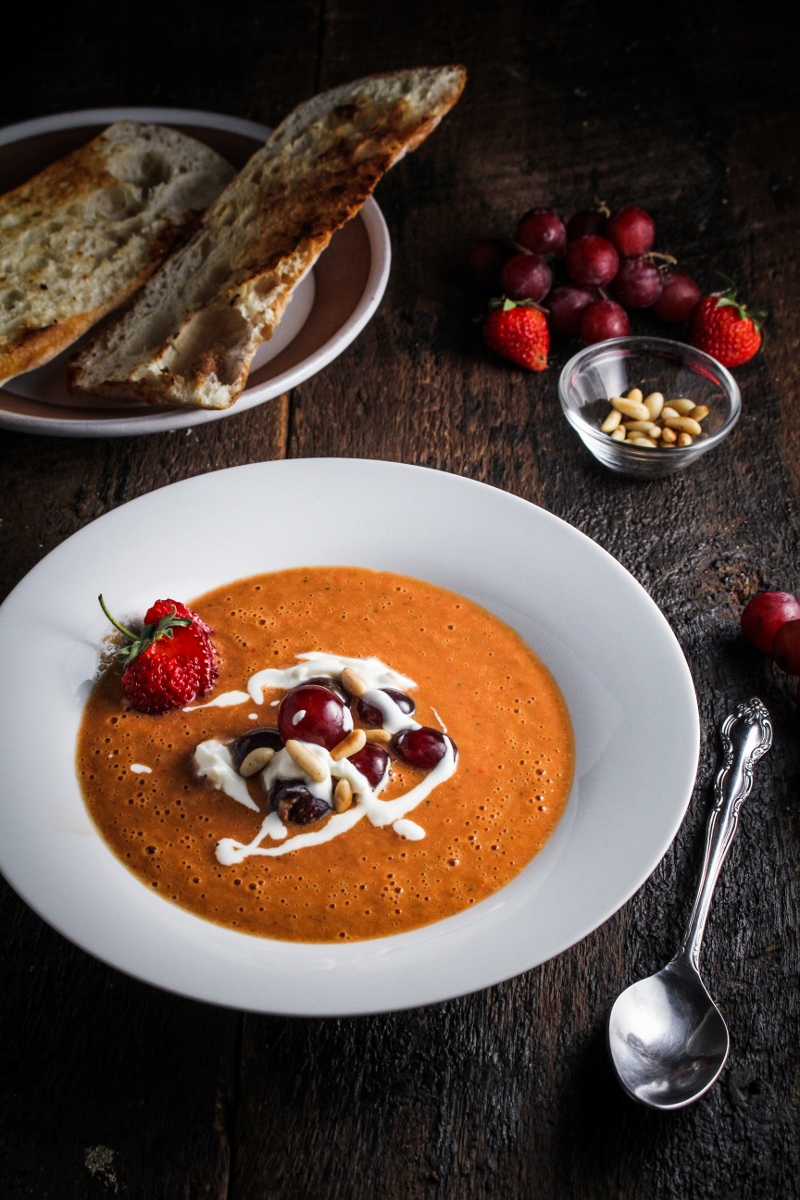 Strawberry Gazpacho with Grapes and Goat Cheese
A Katie at the Kitchen Door original recipe. Serves 4-6.
3/4 lb. fresh strawberries, hulled and sliced (about 2 1/2 c. sliced)
1/2 medium red onion, chopped (about 3/4 c. chopped)
1 large red bell pepper, seeded and chopped (about 2 c. chopped)
1 small cucumber, peeled, seeded, and chopped
1 large heirloom tomato, cored and roughly chopped (about 3/4 lb.)
2 medium cloves garlic, peeled and crushed
1-3 tsp red fresno chili, seeded and finely chopped (taste for heat and adjust amount accordingly)
1/2 c. packed fresh basil leaves
1/2 c. olive oil
1/4 c. champagne vinegar
1 TBS sea salt
2 oz. goat cheese
1/4 c. heavy cream
1 small bunch grapes
2 TBS pine nuts, lightly toasted in a dry skillet
Combine first 11 ingredients (strawberries through salt) in a large bowl and stir to coat all ingredients with the oil and vinegar. Cover and let marinate at room temperature for three hours. Transfer to a blender and blend on high until smooth and frothy. Serve at room temperature or chill in the fridge for 30 minutes.
Just before serving, whisk together the goat cheese and heavy cream until smooth. Pour the gazpacho into bowls and top each with a swirl of the goat cheese cream, a handful of grapes, and a few toasted pine nuts. Serve with crusty bread.
0