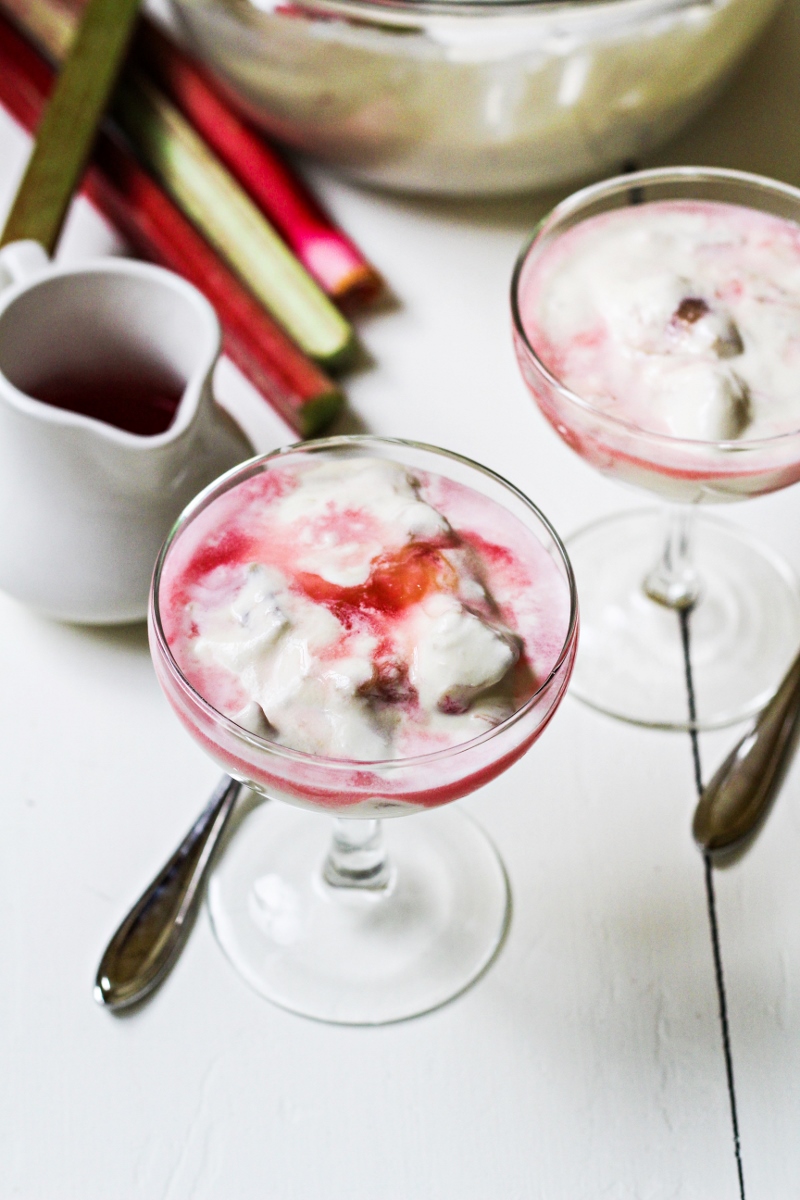 Anytime I have a particular ingredient that I'm looking to use I have a few cookbooks that I immediately pull off the (overloaded) shelf for recipe inspiration. Lucid Food, The Modern Vegetarian, Vegetable Literacy, and of course, Nigel Slater's Tender and Ripe are on that list, since they're all books that use fresh produce as the star of their recipes. For a project like this, the Slater books in particular are a gold mine of inspiration – first of all, they're organized by ingredient, making it pretty easy to flip through ways of using up strawberries or onions. Secondly, they're gorgeous, with enticing photographs, whimsical writing, and homey recipes that make you want to run to the kitchen.
It shouldn't come as a surprise, then, that Ripe was the first place I turned when putting together my list of recipes for rhubarb week. Slater has eight rhubarb recipes included in the book, and seems to favor the pairings of rhubarb and cinnamon (like the cocktail I made yesterday! And kept drinking tonight…) and rhubarb and cream. I made his rhubarb and cinnamon polenta cake a little over a year ago, so this time I decided to go for the rhubarb and cream pairing, making this rhubarb custard fool with rhubarb syrup.
A fruit fool is an English dessert made by folding cooked fruit into a light custard or whipped cream. This particular fool recipe uses both custard and whipped cream, and is very light on the sugar, using only 3 TBS for 6 servings. It makes for a very different rhubarb eating experience – rather than the tangy sweet-tart flavor I've come to expect from rhubarb desserts, this simple dessert really focuses your palate on the mild taste and thick texture of the cream, and the bright sourness of the softened rhubarb. It's a very restrained and elegant dessert. That being said, you fully have my permission to double the amount of sugar used in both the custard and the fruit if you have a sweet tooth as bad as mine (or if you're just not feeling restrained). Since this made a big batch, I froze the leftovers to see how it translates into a semifreddo – I'll let you know how that comes out, too.
Rhubarb Week Part One: Rhubarb-Prosecco Spritzer
Rhubarb Week Part Three: Recipe Round-Up from Around the Blogs
Rhubarb Week Part Four: Persian Rhubarb and Beef with Rice
Rhubarb Week Part Five: Rhubarb-Ginger Bars
Rhubarb Custard Fool
Recipe adapted slightly from Ripe. Serves 4-6.
Note: As written, this recipe is not very sweet. If you like sweeter desserts, increase the amount of sugar used in the custard to 2 TBS and use 4 TBS of sugar and 4 TBS of water in the rhubarb.
2 c. heavy cream, divided

2 egg yolks
3 TBS sugar, divided
1/2 tsp vanilla extract
14 oz. fresh rhubarb, leaves removed
3 TBS water
Make the custard: heat 1 cup of the heavy cream in a small saucepan over medium-low heat, stirring frequently, until it has just begun to simmer. Immediately remove from the heat. In a small, heatproof bowl, vigorously whisk together the egg yolks and 1 TBS of the sugar, until yolks are pale yellow. Pour the hot cream into the egg mixture in a thin stream, whisking the eggs vigorously as you do so to temper the eggs. Pour the custard back into the saucepan and return to medium-low heat. Cook, stirring constantly, until custard is thick enough to coat the back of a spoon. Remove from heat, strain through a fine mesh sieve into a clean bowl, and stir in vanilla. Cover tightly with plastic wrap and refrigerate for at least one hour.

Wash the rhubarb and slice into 1-inch lengths. Add the rhubarb, the water, and the remaining 2 TBS sugar to a medium saucepan and bring to a boil. Immediately turn down the heat and simmer the rhubarb gently until it is soft but not collapsing, about 4-6 minutes. Gently remove the rhubarb from the pan with a slotted spoon and place in a small bowl. Pour the leftover syrup into a separate small dish. Refrigerate both the fruit and the syrup until cool.
About half an hour before serving, whip the remaining 1 cup heavy cream until soft folds form. Fold in the chilled custard and the fruit. Spoon into glasses and refrigerate for 20-30 minutes. Serve with a drizzle of the rhubarb syrup.