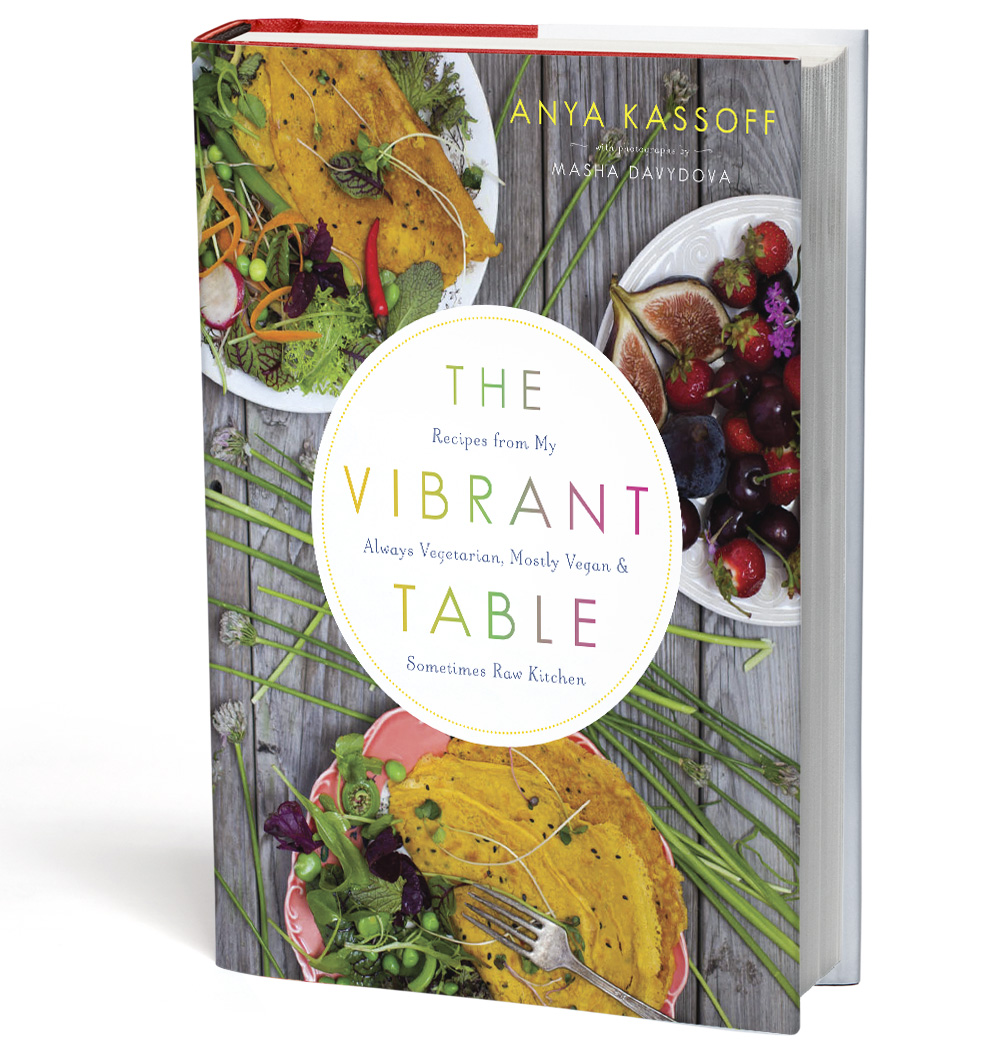 The Book: Even before I got to the recipe section of Anya Kassoff's new book, The Vibrant Table, I knew I would like it. Discussing her healthy eating philosophy in the introduction, Anya writes that she creates "recipes that utilize the most nourishing ingredients in the tastiest ways possible… without feeling confined or making too many rules." I sometimes struggle with my feelings about diet labels – vegan, raw, gluten-free, paleo, whole 30, etc. On the one hand, at their most basic level, they all encourage eating more whole foods and vegetables, a principle that's hard to argue with. But move beyond the basic principles, and I get really frustrated with the focus on excluding "bad" things instead of eating more "good" things, as well as by the diet-shaming communities that unfortunately seem to pop up around popular diets (loved Shanna's post about that a while back). Personally, I like to think I'm of the "everything in moderation" camp, and I would never sacrifice flavor for health, so it was refreshing to hear those feelings echoed in a book with the tagline "Recipes from my always vegetarian, mostly vegan, and sometimes raw kitchen."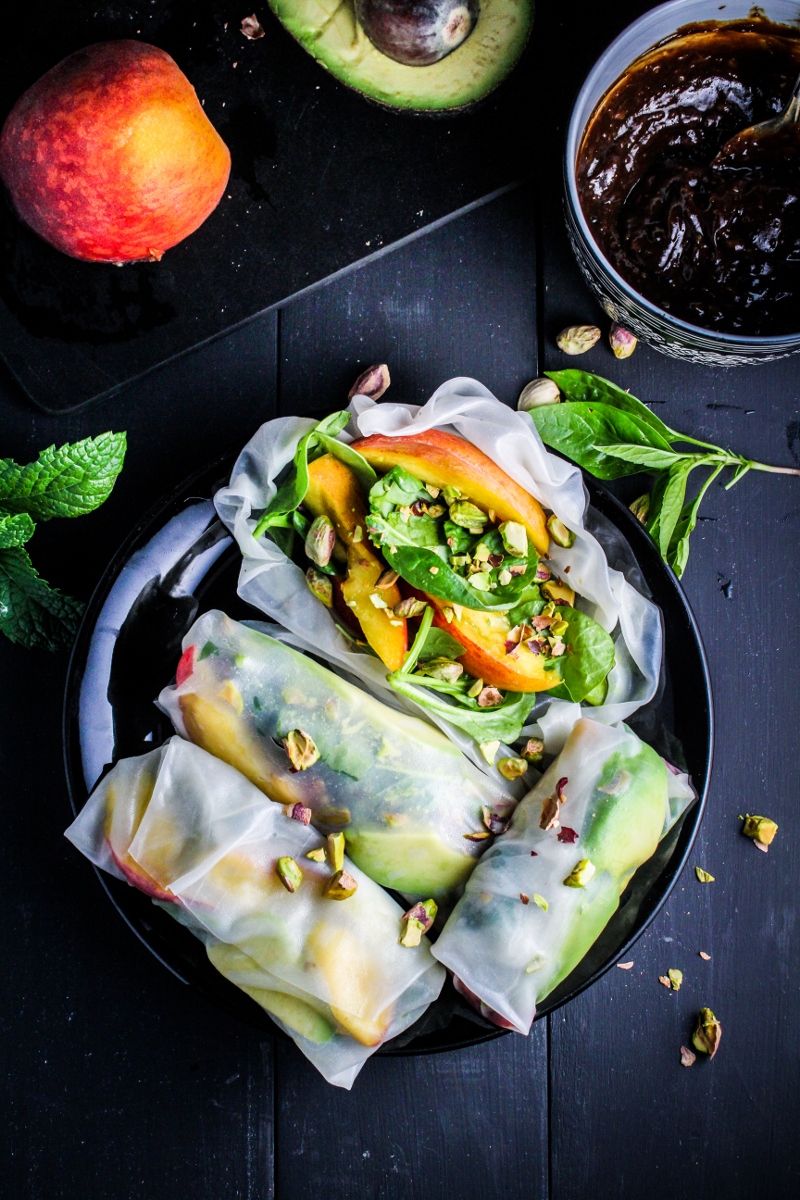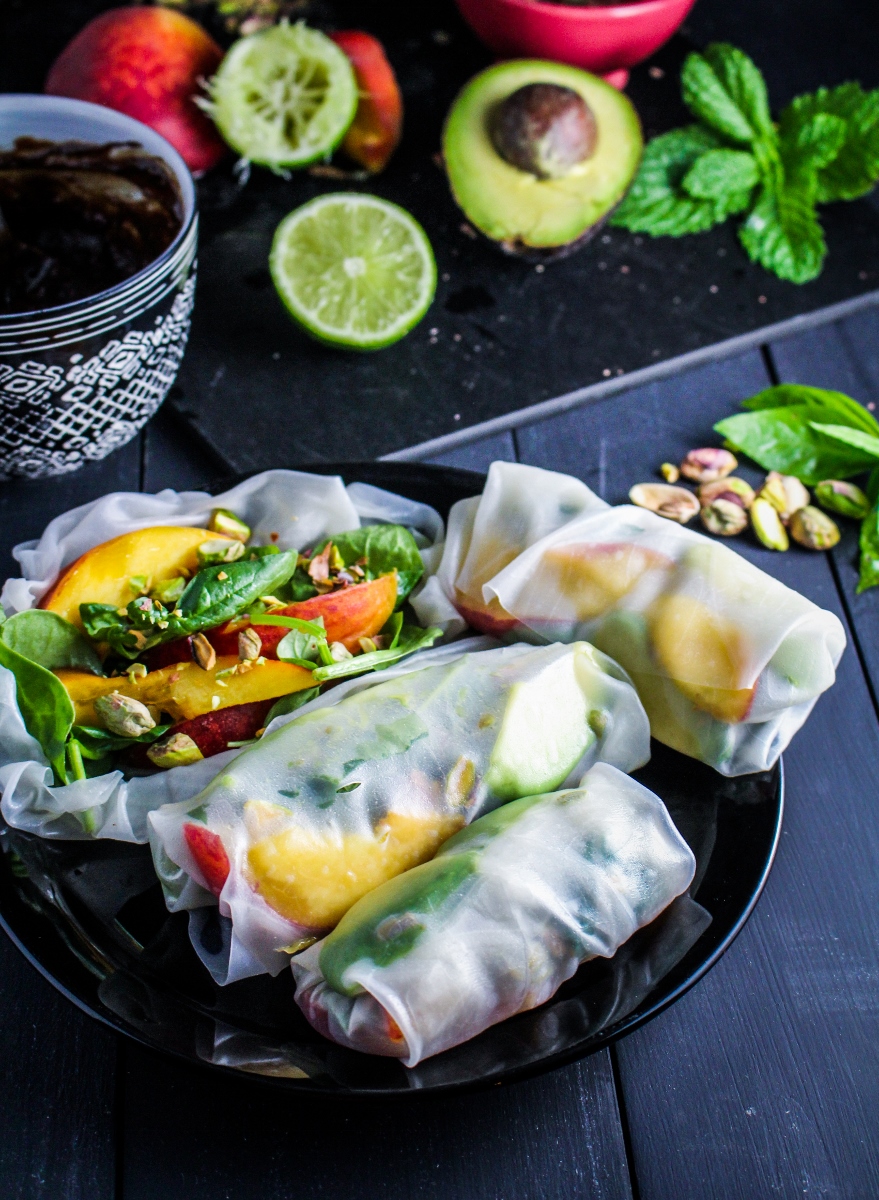 Anya and her daughter Masha are the writer/photographer team behind the popular blog Golubka, and they've managed to translate the same helpful and friendly tone and gorgeous photography that have mad their blog a success into this cookbook. The Vibrant Table will inspire you for every meal of the day, with as many healthy breakfast recipes and snacks as savory lunch and dinner ideas. Since I'm a bit of a Russophile, the dishes with a strong Russian influence hold special appeal to me, and I loved getting glimpses of Anya's memories into summer days at their dacha, foraging for mushrooms and berries. Most of the recipes require a medium effort level: they're not extremely simple, nor are they overly complex. There also aren't too may "out there" ingredients (by which I mean the dairy and meat replacements and weird alternative powders that some vegetarian/vegan recipes rely so heavily on, and really turn me off as an omnivore). Instead, the focus is on whole foods and natural flavors you'll be able to find fairly easily. True to the title, the food really is vibrant, and I love that the photography, which is light-filled and richly colored, compliments the bright and healthy feel of the food so gorgeously.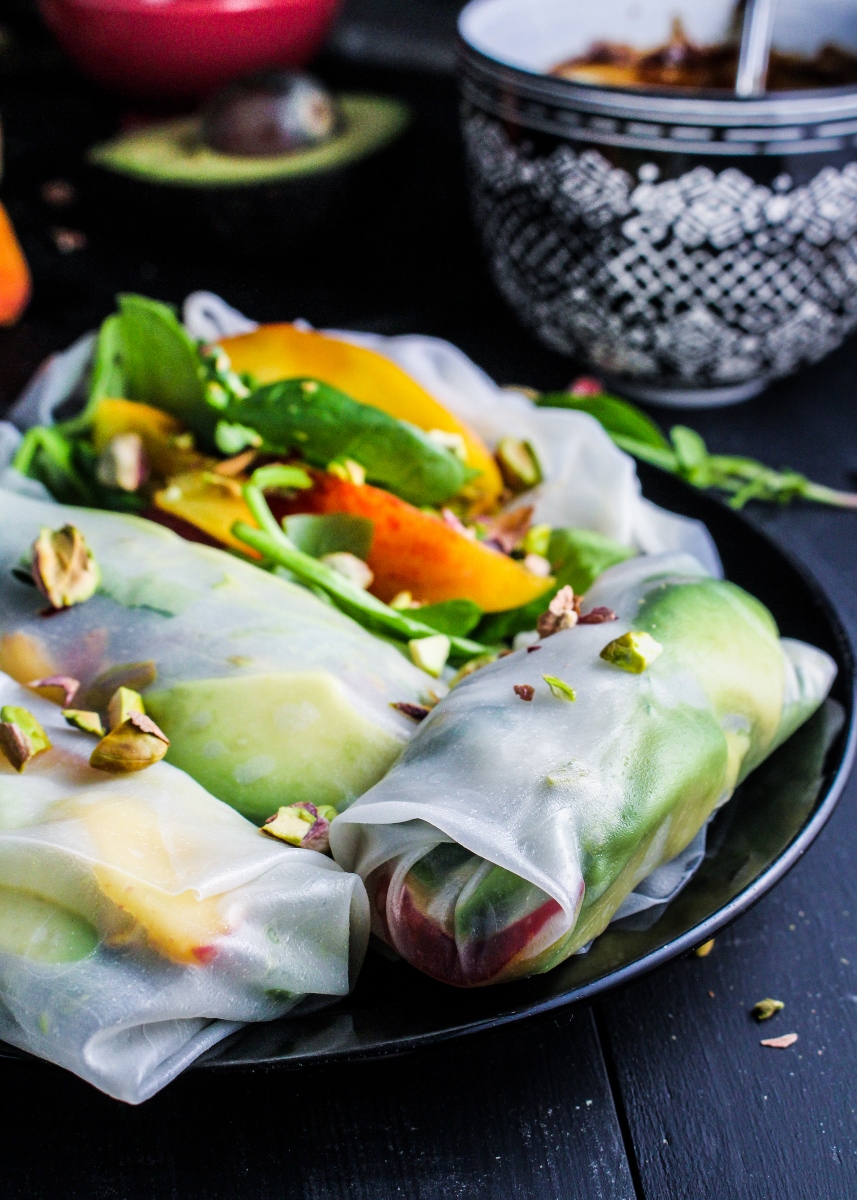 The Food: I cooked dinner from this book the same day it arrived in the mail – I was so inspired by it that I went out to the store just so I could make the Chickpea Crepes with Mango Salsa that night. I later adapted that recipe to have more Indian flavors and served it with grilled curried chicken (recipe here!), and I'm sure it's one of many recipes inspired by this book that will enter my regular dinner rotation. For this post, I'm sticking to a recipe that I didn't feel the need to adapt in the slightest – these beautiful, refreshing Peach and Avocado Summer Rolls. These summer rolls are packed with an astounding number of bright, juicy flavors. Even though they're one of the main ingredients, the peaches feel unexpected with each bite, when gorgeous little bursts of peach juice mix with the creamy avocado and toothy rice paper. The sauce, too, is intense and delicious, with both the sourness of the tamarind and the saltiness of the soy making it mildly addictive. I will certainly be making these again – they make a filling summer dinner that's not heavy in the slightest – but I'll definitely need to practice my wrapping technique (i.e. please excuse the messy styling in these pictures).
Recipe Shortlist: Cacao Buckwheat Granola; Apple and Carrot Breakfast Salad; Zucchini, Chocolate, and Blueberry Pancakes; Marinated Stuffed Poblano Chiles; Golden Gazpacho; Lazy Sweet Potato Dumpling Soup; Beet and Buckwheat Gnocchi; Zucchini Spaghetti with Nectarines and Pumpkin Seed Pesto; Fresh Fig Cupcakes; Earl Grey Poached Pears with Hazelnut Panna Cotta
Like what you just read? Subscribe to Katie at the Kitchen Door on Feedly or Bloglovin', or follow along on Facebook, Twitter, Pinterest, Instagram, or Google+. Thanks for reading!
Disclaimer: I received a review copy of The Vibrant Table from Roost Books, but I was not otherwise compensated and all thought and opinions are my own.
Peach and Avocado Summer Rolls
Recipe from The Vibrant Table. Makes 15 rolls.
4 TBS smooth almond butter
2 TBS tamarind paste
1 TBS maple syrup
1 TBS grated fresh ginger
1 tsp soy sauce [Note: I used 3 TBS to get the sauce to a good consistency, and the flavor was still good]
2 medium ripe avocados, peeled, pitted, and sliced
1 lime
3/4 c. pistachio nuts, chopped
1 TBS plus 1 tsp hazelnut oil
sea salt
3-4 oz. baby spinach
15 rice paper wrappers
3 medium peaches, pitted and thinly sliced
1 c. mixed fresh basil and mint leaves
To make the sauce, whisk together the almond butter, tamarind paste, maple syrup, ginger, and soy sauce until smooth. You may need to increase the amount of soy to get a thinner sauce if using very thick almond butter. Taste, and adjust balance if necessary.
Place the avocado slices in a shallow dish and squeeze the lime juice over them. In a small bowl, mix the pistachios with 1 tsp of the hazelnut oil and a pinch of sea salt (only if using unsalted pistachios) and set aside. In a large bowl, combine the spinach leaves with the remaining 1 TBS of hazelnut oil and toss gently with your hands to coat the spinach.
Fill a large flat dish (such as a pie plate) with slightly warm water. Soak the rice paper wrappers in the warm water one at a time, submerging each wrapper evenly and soaking until soft. As you remove each wrapper from the water, fill it immediately: place 1-2 peach slices in the middle, top with 2-3 avocado slices, a handful of spinach leaves, a few basil or mint leaves, and a small spoonful of pistachios, followed by 1 more peach slice. Don't overfill the wrapper, as it will be difficult to roll. To roll it, fold the bottoms of the wrapper up over the filling on both sides, then roll to close. Repeat until all your filling is used. Serve immediately with the dipping sauce.
0