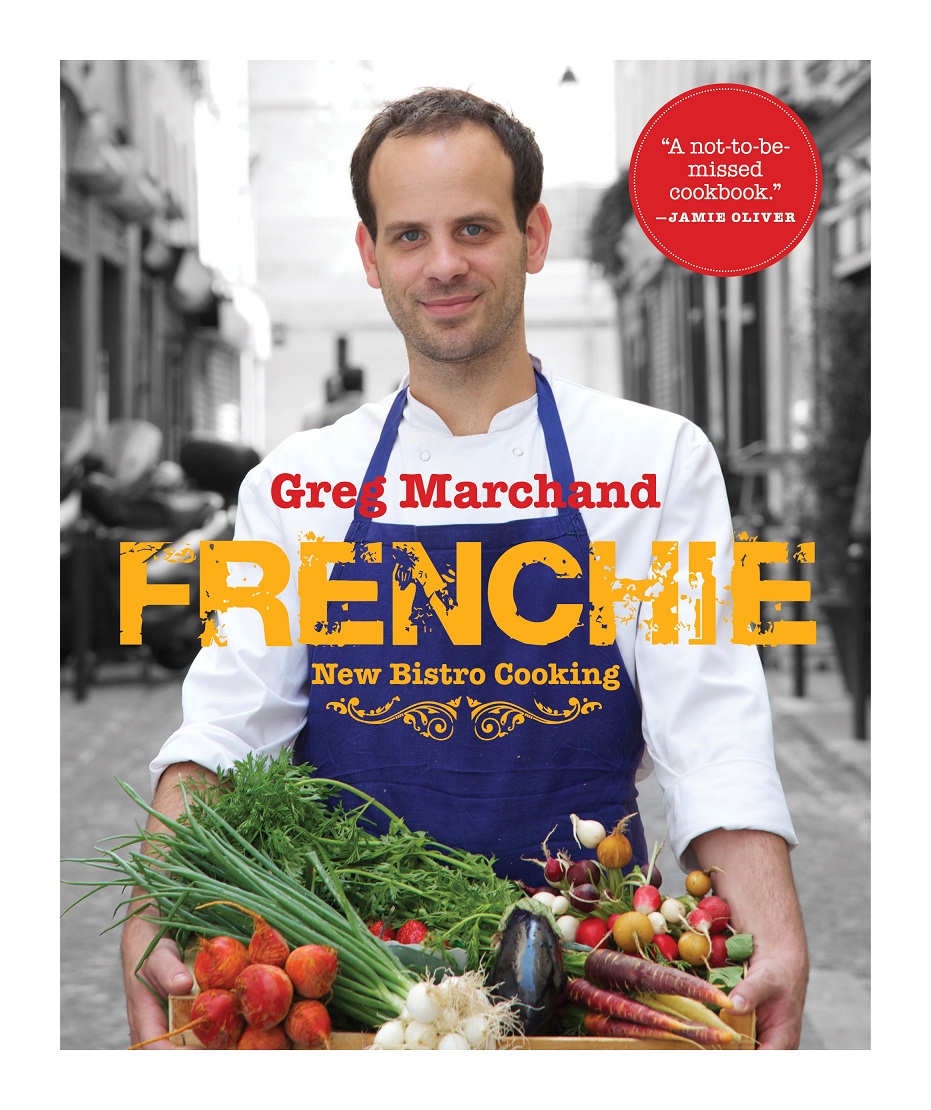 The Book: Despite the title, Frenchie is not about French food in the classic sense, so anyone looking for a great Boeuf Bourginon or Chocolate Mousse recipe will likely be disappointed. Rather, it's a collection of recipes from Marchand's restaurant Frenchie, which with main ingredients like mussels, duck breast, and quince, are certainly influenced by French cuisine, but are not in and of themselves particularly French. Many of the recipes have ingredient combinations that push the envelope even for today's creative restaurant norms – pairings like blood sausage, burrata, and apple; beef, beets, and horseradish; and quince, chestnut, and chocolate. Certainly not classics, and perhaps a bit unusual sounding at first, but definitely intriguing. There's lots of page space devoted to the evocative photography, with most recipes getting at least 3 pages dedicated to pictures. Like the recipes, the pictures are not traditional, and are more oriented to the process than glossy shots of the finished dishes. To be honest, some of the appeal of restaurant cookbooks is lost on me when I haven't had the opportunity to visit the restaurant itself. Frenchie doesn't have me rushing to the kitchen, but the recipes are solid, creative, and impressive while still being relatively easy to execute at home. It's not a huge investment in today's cookbook market, so if you're a fan of the restaurant, you'll likely be happy to snag a copy of this little book. Since it's a slim book, with only 32 recipes in total, if you're not familiar with Marchand, take a glance at some of the recipes first, to make you see a few things that catch your eye.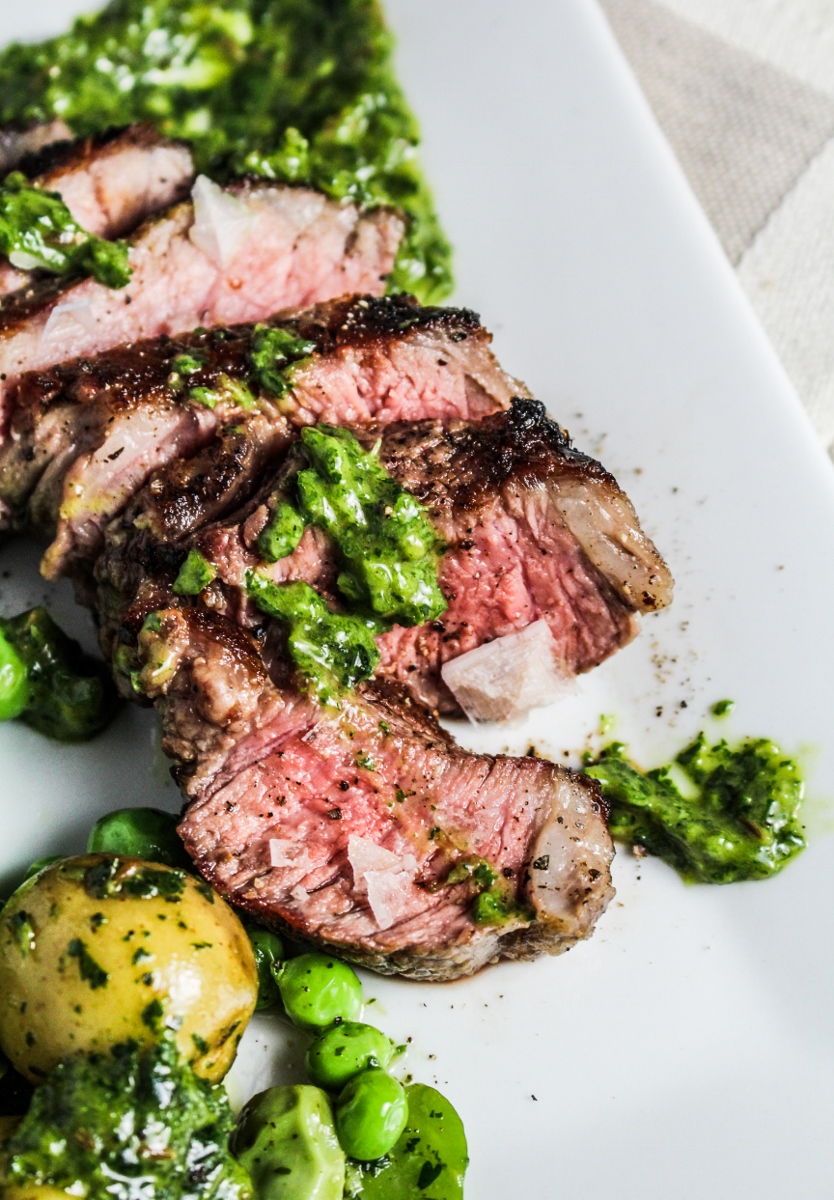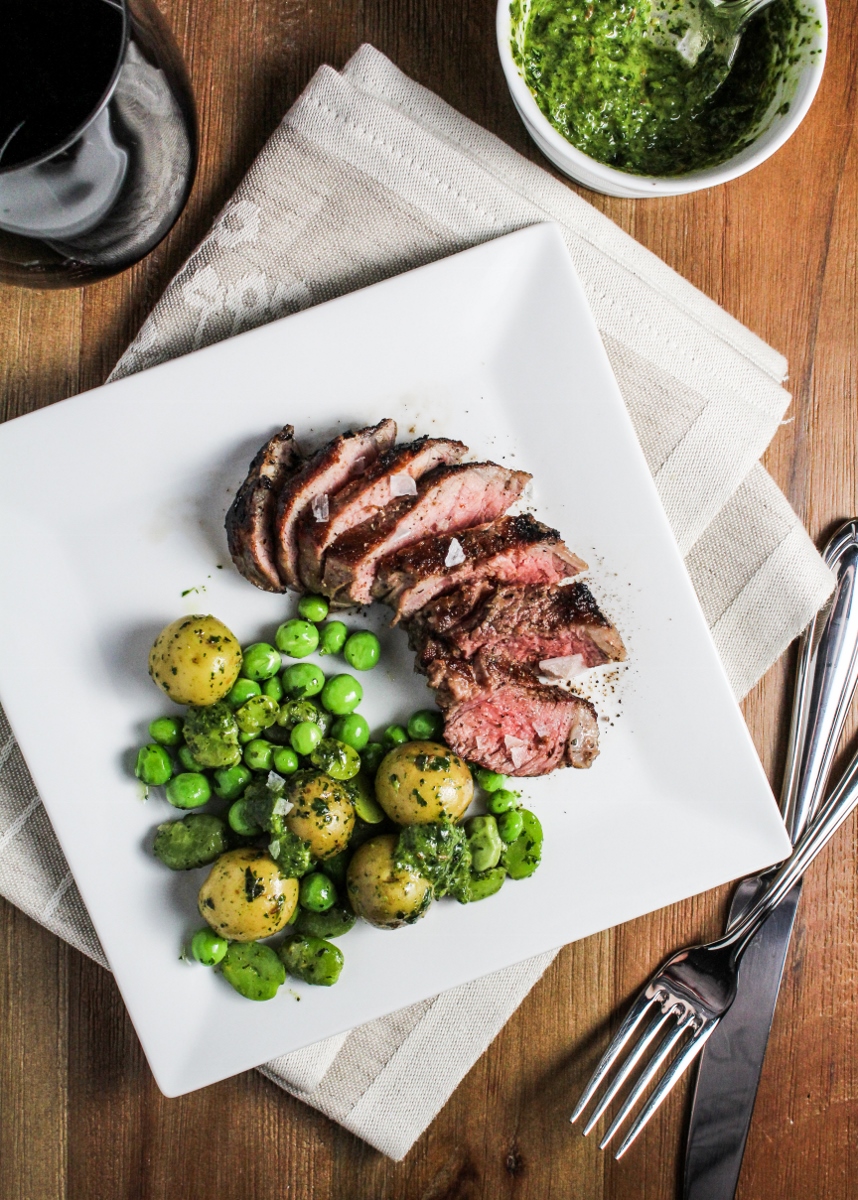 The Food: Since we've been giving our new grill a pretty good workout since we purchased it a few weeks ago, we decided to continue putting it through its paces with the grilled lamb recipe from Frenchie. It's a very spring-appropriate dish, with lamb, peas, favas, mint, and tiny new potatoes all on the ingredient list. Most of the preparation is fairly straightforward – a lemon and rosemary marinade for the lamb, a quick blanch for the new potatoes and favas, a butter sauce for the veggies – but the twist comes in the mint chutney used to dress everything. The chutney has faint Indian accents from the toasted cumin seeds and green mango, and really elevates the otherwise staid pairing of lamb and mint to something unique, not to mention delicious. We loved the meal, and also loved how quickly and easily a very balanced dinner came together. I was pleasantly surprised by both the ease and flavor of this recipe, and would certainly make it again, especially for company or a special occasion.
Recipe Shortlist: Wild Garlic Broth with Fresh Crabmeat; Grilled Mackerel with Cauliflower Farrotto and Trout Roe; Smoked Trout with Avocado Puree and Marinated Cucumbers; Bittersweet Chocolate and Wild Strawberry Tart; Spanish Ham, Corn, Bell Peppers, and Kaffir Lime; Pork Braised in Milk with Marinated Fennel; Poached Quinces with Chestnut Cream and Chocolate Shavings; Blood Sausage with  Burrata and Apple Chutney
Like what you just read? Subscribe to Katie at the Kitchen Door on Feedly or Bloglovin', or follow along on Facebook, Twitter, Pinterest, and Instagram. Thanks for reading!
Disclaimer: I received a review copy of Frenchie from Artisan, but I was not otherwise compensated and all thought and opinions are my own.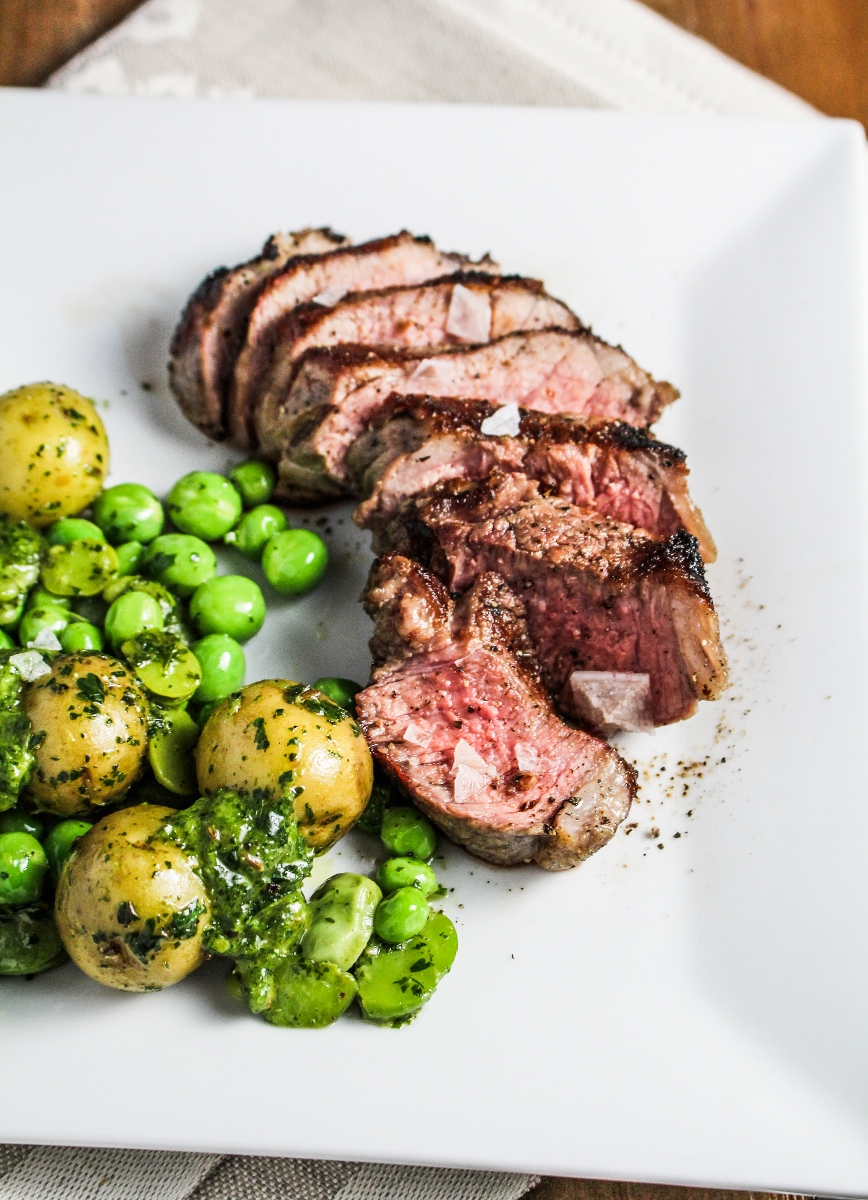 Grilled Lamb with Fava Beans, Sweet Peas, and Mint Chutney
Excerpted from Frenchie by Greg Marchand (Artisan Books). Copyright © 2014. Serves 4.
For the lamb:
1 rosemary sprig
2 garlic cloves, crushed
Grated zest of 1 lemon
1 teaspoon crushed black pepper
2 tablespoons olive oil
4 pieces boneless lamb leg or loin (about 8 ounces/225 grams each)
Salt and freshly ground black pepper
For the vegetable garnish:
16 tiny new potatoes
Coarse sea salt
Olive oil
1¼ pounds (600 grams) sweet peas in the pod (about 1 cup/160 grams shelled peas)
1¼ pounds (600 grams) fava beans in the pod (about 1 cup/160 grams shelled favas)
For the mint chutney:
½ teaspoon cumin seeds
1 small green mango
1 bunch mint
½ bunch cilantro
Extra virgin olive oil
Salt
2 tablespoons (28 grams) unsalted butter
Piment d'Espelette
Salt
Fleur de sel
Crushed black pepper 
The lamb marinade:
Combine the rosemary, garlic, lemon zest, crushed pepper, and olive oil in a baking dish. Add the lamb, turning to coat and rubbing the marinade into the meat. Cover and marinate for at least 4 hours in the refrigerator.
The vegetable garnish:
Meanwhile, put the potatoes in a large pot of cold salted water, bring to a boil, and cook for about 15 minutes, until tender: the tip of a knife should enter the flesh without resistance. Drain the potatoes thoroughly, transfer to a bowl, and add a drizzle of olive oil. Set aside at room temperature.
 Shell the peas and refrigerate. Shell the fava beans.
Bring a medium pot of salted water to a boil. Blanch the fava beans in the boiling water for 30 seconds, then drain and immediately transfer to a bowl of ice water to cool. Drain again and peel off the outer skin.
 Refrigerate.
The mint chutney:
Toast the cumin seeds in a dry skillet over low heat until fragrant, about 3 minutes; be careful not to burn them.
 Peel and pit the mango and cut enough of the flesh into 1⁄2-inch dice to make 1⁄3 cup (the green mango will bring acidity to the chutney without darkening its bright green color); reserve the remaining mango for another use. Remove the leaves from the mint and cilantro stems.
 Combine the cumin, mango, and herbs in a blender and blend until finely chopped, while drizzling in about 

2 ½  tablespoons olive oil. Season with salt and refrigerate.
Cooking the lamb:
Remove the lamb from the refrigerator about 1 hour before cooking. Fire up an outdoor grill.
 Season the lamb with salt and pepper and grill it for about 5 minutes or so on each side, depending on the thickness: when blood starts to bead up on the surface, the lamb will be cooked to medium-rare. Transfer to a plate and let rest for 10 minutes.
Finishing touches:
Meanwhile, melt the butter in a large skillet over low heat. Add the peas and cook for 1 minute, then add the potatoes and favas and heat, stirring and tossing the vegetables, until the potatoes are warmed through. Remove from the heat and toss with 1 tablespoon of the chutney. Add a pinch of piment d'Espelette and season with salt to taste.
For the most tender meat, slice the lamb crosswise against the grain.
Divide the vegetables among four plates and add a spoonful of mint chutney to each plate. Arrange the meat alongside and season it with fleur de sel and crushed black pepper.
2