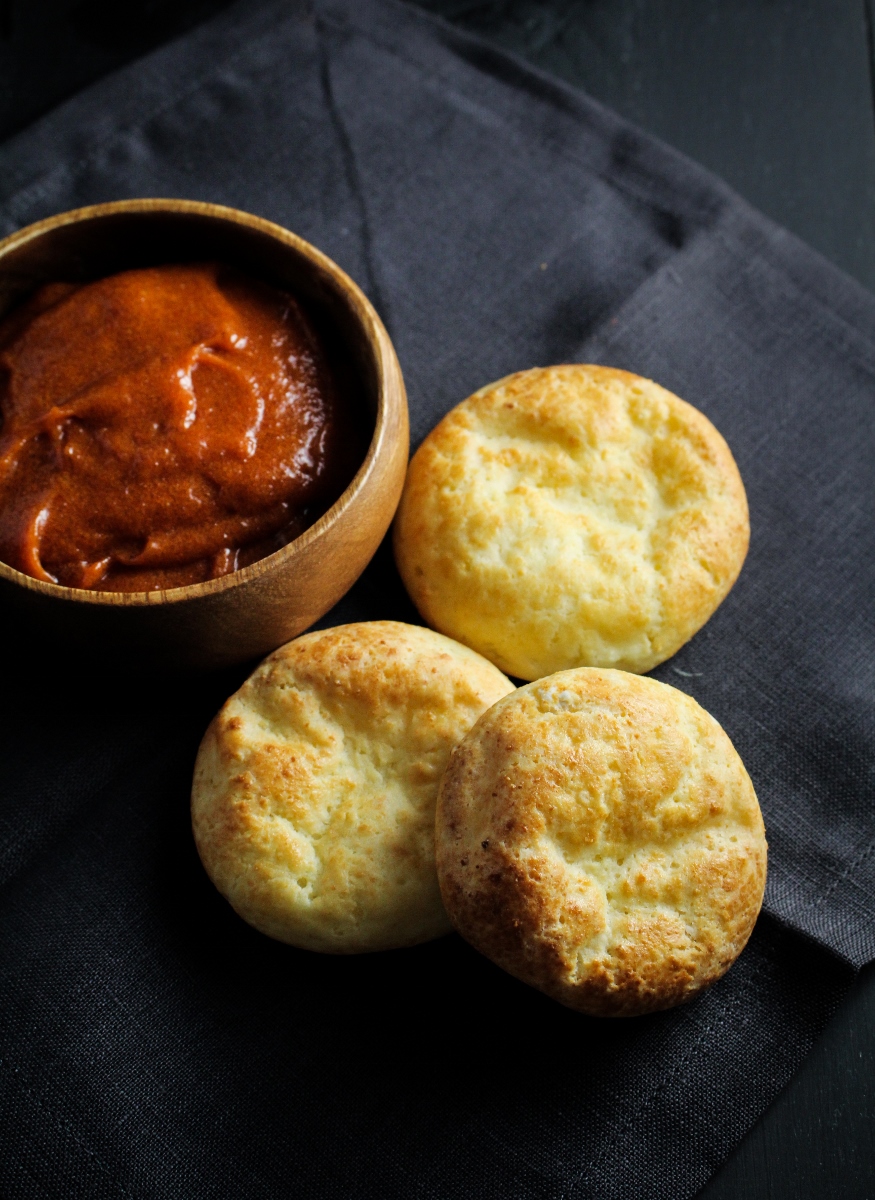 I'm back in Ecuador this week for a quick business trip, so I thought now would be an appropriate time to start sharing some Ecuadorian recipes. I wrote about the things we did on our trip in detail (see: Quito, The Amazon, Banos, Cotopaxi), but I haven't shared any Ecuador-inspired recipes yet. To be honest, I haven't had any meals in Ecuador that have really blown my mind, but they do have some solid recipes that are worth sharing. One of my favorites is locro, a creamy potato soup, often served with large chunks of boiled potato and an entire avocado sitting on top. I also love the traditional drink canelazo, a mixture of sour orange juice, cinnamon, and aguardiente, served piping hot to warm you up on cold mountain nights. And the fresh juices made from every fruit imaginable are an amazing addition to the breakfast table.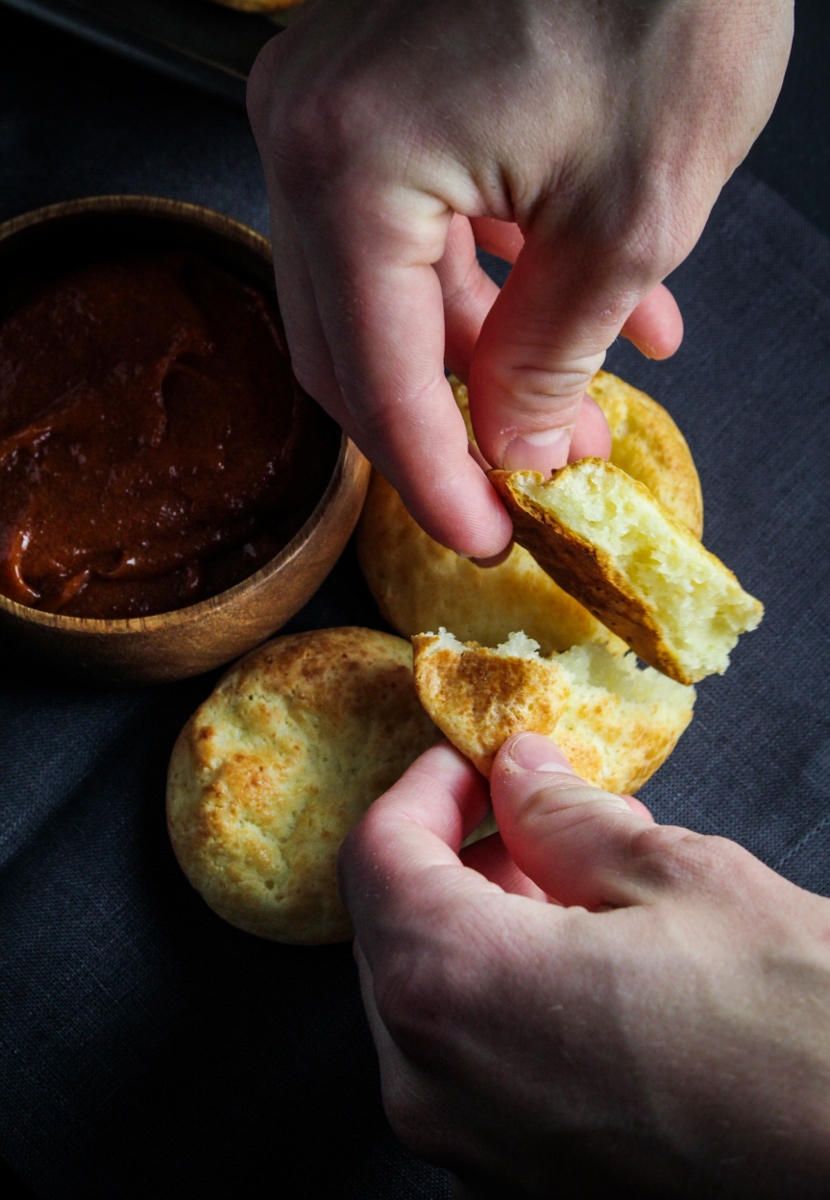 This recipe for Pan de Yuca with Guava-Chile Butter is actually not something I've tried while in Ecuador, but when I saw the recipe in the Ecuadorian section of Jose Garces' book The Latin Road Home, I wanted to give it a try. Although I can't say from personal experience whether this is a particularly common recipe in Ecuador, all the ingredients – yuca, queso fresco, guava – are very typical. These rolls are a tasty little snack, salty and savory from the addition of an entire pound (!) of queso fresco to the dough. Served with the sweet guava paste, which is tempered by the deeply savory flavor of black vinegar and the spice of sriracha, it's a new and interesting way to dress up your pre-dinner bread and butter.
Like what you just read? Subscribe to Katie at the Kitchen Door on Feedly or Bloglovin', or follow along on Facebook, Twitter, Pinterest, Instagram, or Google+. Thanks for reading!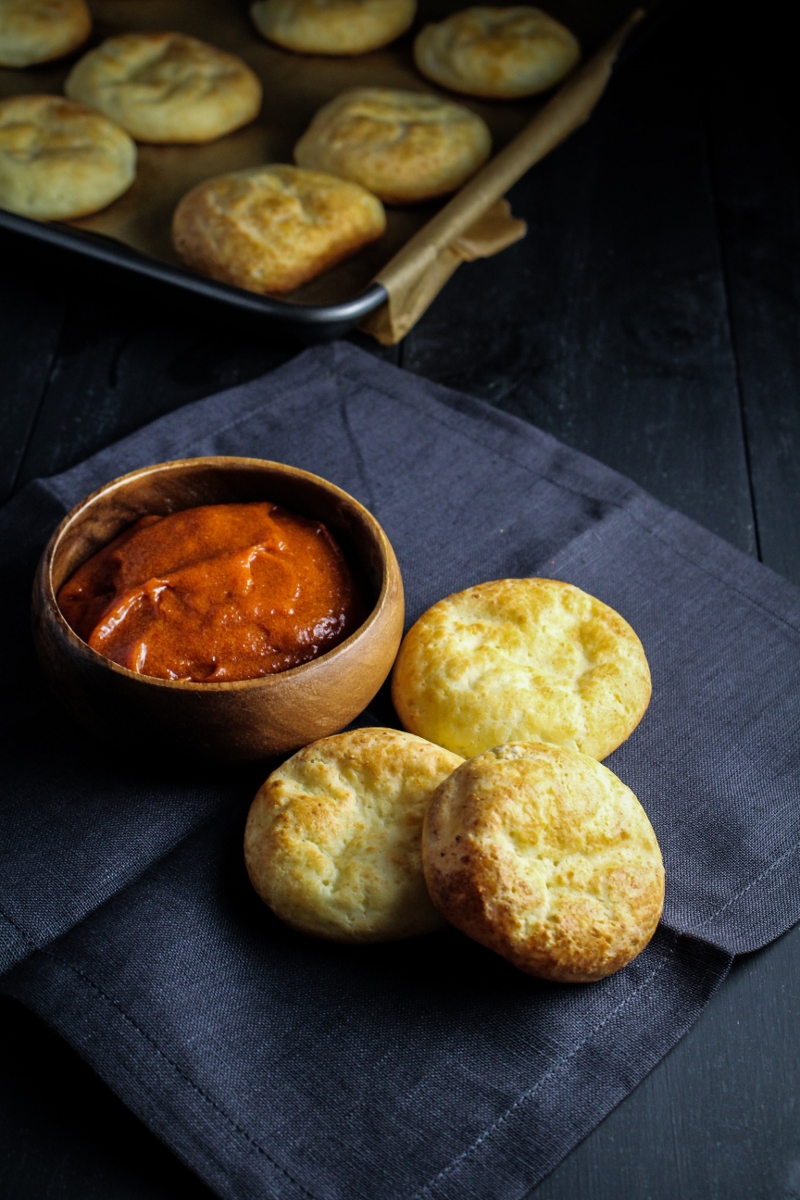 Pan de Yuca (Yuca-Queso Bread)
Recipe adapted slightly from The Latin Road Home. Makes 16-20 rolls.
1 c. yuca flour (yuca starch)
1 tsp baking powder
1 tsp granulated sugar
1 lb. queso fresco, finely grated
1 large egg, beaten
2 TBS whole milk
1 TBS unsalted butter, melted
Guava-Chile Butter (recipe below)
Preheat the oven to 375°F. Line a baking sheet with parchment paper.
Whisk together the flour, baking powder, and sugar until evenly mixed. Add the queso fresco, egg, milk, and melted butter and knead with your hands until thoroughly mixed and fairly smooth. Form the dough into 16-20 small round balls. Place on the baking sheet (with space in between, they will spread out as they bake). Bake for 20-25 minutes until golden brown. Serve warm with guava-chile butter.
Guava-Chile Butter
Recipe from The Latin Road Home. Makes 4 cups.
One 21-oz can guava paste
1/4 c. Chinese black vinegar, such as Chinkiang
1/4 c. sriracha sauce
2 TBS salted butter, at room temperature
Put the guava paste in a bowl or stand mixer and beat until it is smooth and has lightened in color (this will take some effort if doing by hand!). Add the vinegar, sriracha, and salted butter and beat in until evenly mixed. Store the butter in the fridge in an airtight container.
7