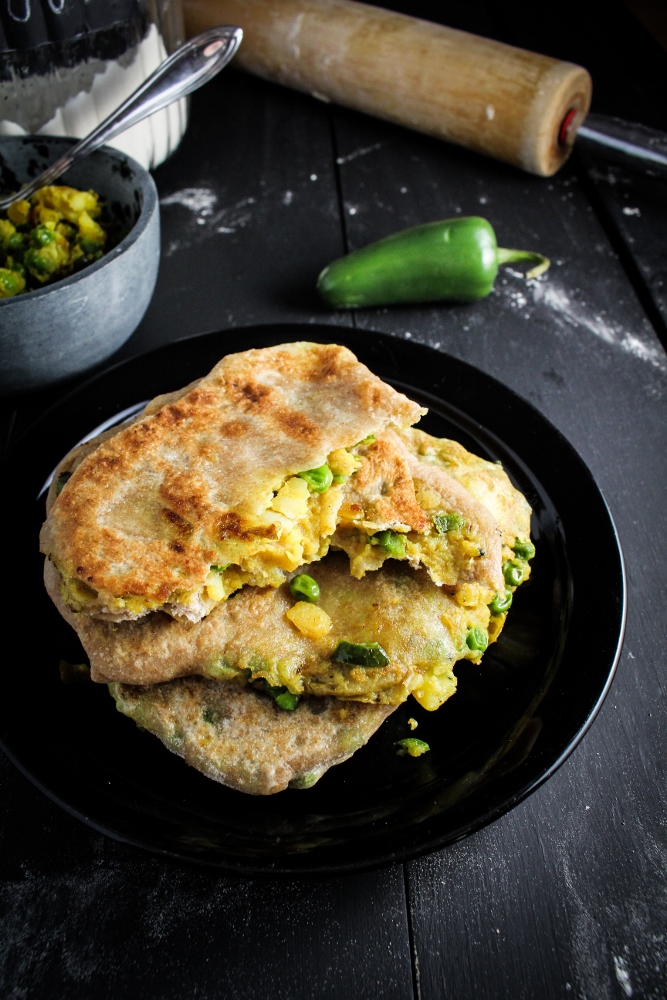 Part of me wishes I had never discovered this recipe, because now I'm kind of obsessed with these tasty little pan-fried breads. Seriously. They are the best thing that I've made in a long, long time. You know that feeling where even as you're putting something into your mouth your belly is telling you "too much! You will regret this!"? And yet you do it anyways, because whatever you're eating is really tasty or somebody put a bowl of oreos in front of you or you're just bored and noshing mindlessly? Well that has happened to me all three times I ate these, except when I've finished them and am sitting on the couch with a very full belly, instead of regretting it, I think "that was so worth it."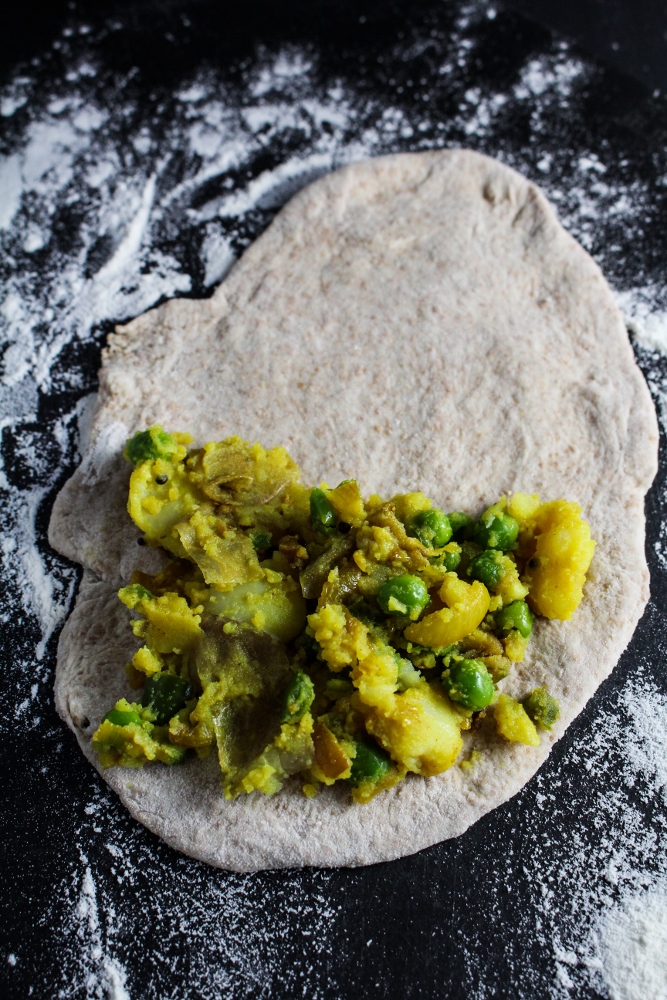 Parathas are a type of stuffed, Indian flatbread. You make a filling – in this case a mildly spiced mixture of smashed potatoes and green peas – plop some into the center of a piece of simple whole wheat dough, fold the dough over the filling twice, and then roll it out again so that the potatoes and peas get all mushed into the dough itself. You fry it in a little hot oil for a minute or two, until the dough is cooked and the inside is hot, then you tear it open and devour it, potentially pausing to dip it in a sweet chutney if you have that sort of self control. They're soft and doughy, addictively salty and spicy, and just so full of savory goodness. They're a little bit messy to roll out, but even as someone who hates cleaning sticky dough off counters, these are worth the trouble. This particular recipe for parathas is another hit from Mangoes & Curry Leaves – I'm so glad I finally bought myself a copy of this book! For those of you who know me in person, don't be surprised if I serve you Indian food anytime you come over to my house in the next few months.
Like what you just read? Subscribe to Katie at the Kitchen Door on Feedly or Bloglovin', or follow along on Facebook, Twitter, Pinterest, and Instagram. Thanks for reading!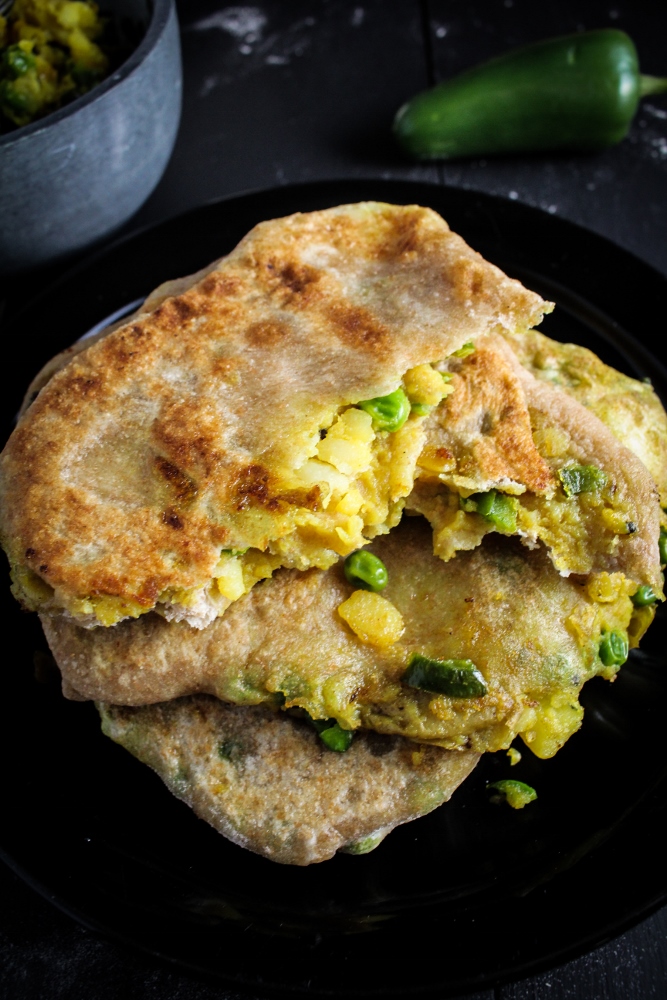 Spiced Potato and Pea Parathas
Recipe adapted very slightly from Mangoes & Curry Leaves. Makes 8 parathas, serves 4-8.
1 c. whole wheat flour
1 c. AP flour
1 tsp salt
scant 1 c. lukewarm water
2 c. Spiced Potato and Pea filling, recipe below
2 TBS vegetable oil
Mix flours and salt together in a medium bowl. Stir in lukewarm water, then turn dough out into floured surface and knead until smooth, about 5 minutes. Return to bowl, cover with plastic wrap, and let stand for 2 hours.
Split dough into 8 equal sized pieces, keeping the ones you are not working with loosely covered. Roll a piece of dough out to an 8-inch round. Spread 3-4 TBS of the potato filling over one half of the dough. Fold the dough in half to cover the filling, then fold in half again in the other direction so that you have effectively folded the dough into quarters. Roll out again into an 8 inch circle, smushing the filling into the dough. Don't worry if you're filling starts to break out of the dough and gets a little messy. Repeat with the remaining pieces of dough and filling.
Heat 1 TBS of the vegetable oil in a skillet over medium heat. Once the oil is hot, add a partatha to the pan and cook for 1 minute. Flip over and cook for 1 minute on the other side. Both sides should be golden brown. If they aren't, cook for another 30-60 seconds on each side. Remove to a plate, add a little bit more oil to the pan, and repeat with remaining parathas. Serve immediately with sweet chutney.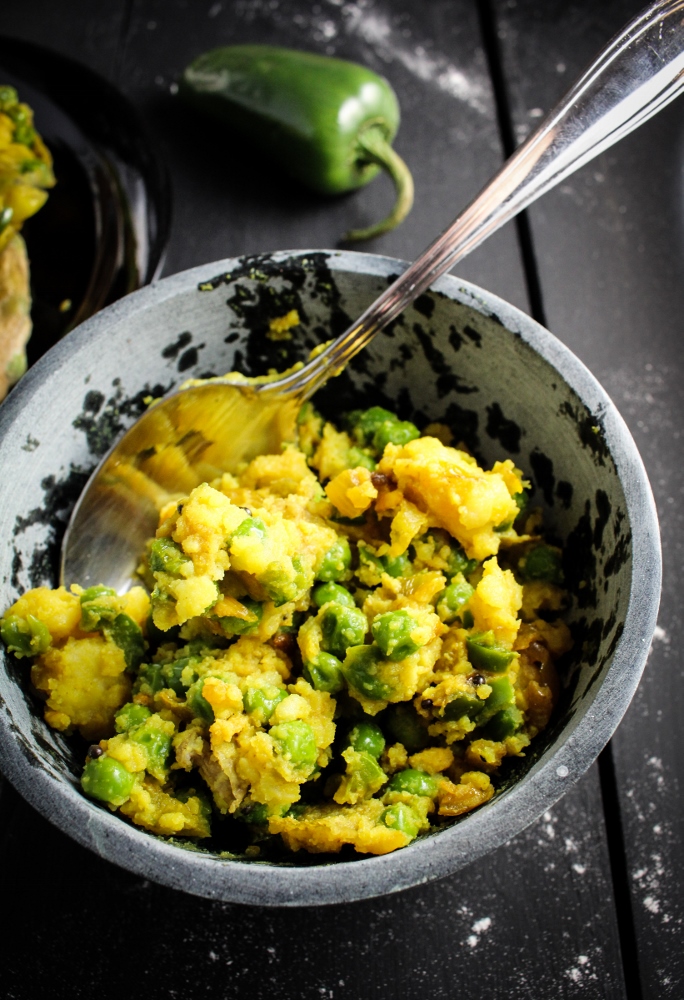 Spiced Potato and Pea Filling
Recipe adapted very slightly from Mangoes & Curry Leaves. Makes 3 cups.
1 lb. Yukon Gold potatoes, scrubbed and cut into 1 inch cubes
2 TBS vegetable oil
1/2 tsp black mustard seeds
1/2 tsp turmeric
2 tsp minced garlic or garlic mashed to a paste (1 large clove)
1 c. finely chopped onion
2 jalapenos, seeded and minced
1 c. frozen peas
1 tsp salt, or to taste
Place diced potatoes in a large pot and cover with cold water. Bring to a boil over medium-high heat, and boil potatoes until tender, about 15-20 minutes. Drain, let cool slightly, and roughly mash potatoes with a potato masher or a fork. Leave some chunks.
Heat oil in a large frying pan on medium-high. When oil is shimmering, add mustard seeds, cook for 45 seconds, until they stop spluttering, add the turmeric and garlic and stir-fry for 30 seconds, then add the chopped onion. Lower heat to medium. Cook, stirring frequently, for about 5-8 minutes, until onion is soft and staring to brown. Add jalapenos and cook for 2 minutes longer, then add potatoes and peas and stir to mix thoroughly together. Cook just to heat peas and potatoes through, about 2-3 minutes, then remove from heat. Season to taste with salt. Let cool and use as filling for parathas or samosas. Also tasty on it's own, or shaped into cakes and pan-fried.
37