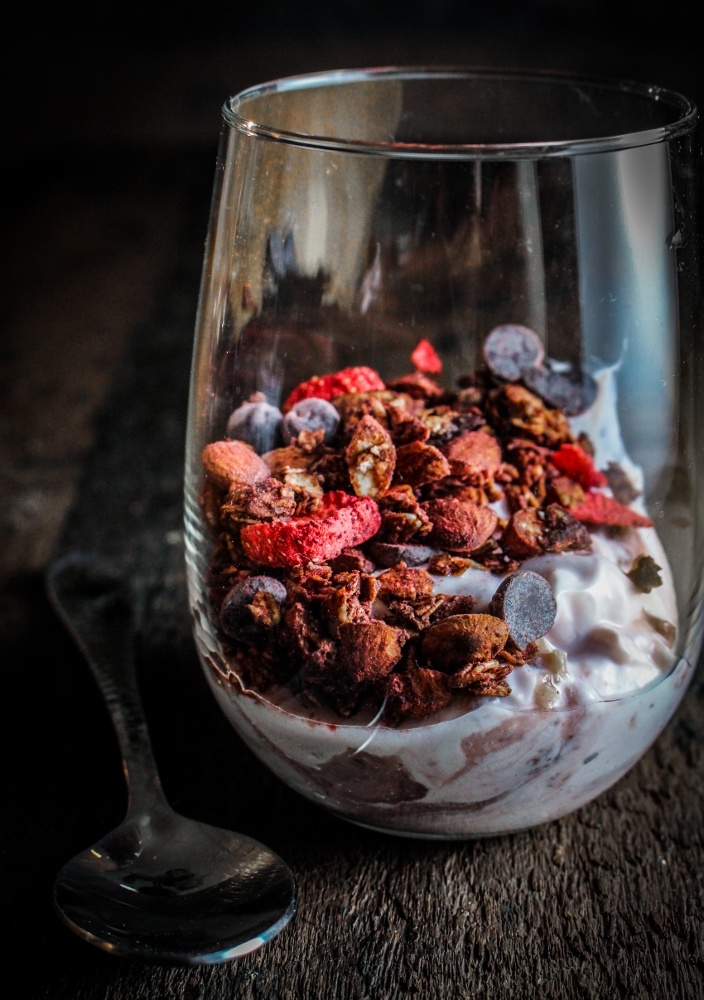 I'd been moping a little bit about Valentine's Day this year. Even though it's not a huge holiday in my book, the fact that Trevor would be away (and far away, at that – he's in Oman!) for business seemed unfair. But then scrolling through my feedly last week I came across this post by Melissa and remembered that I loved celebrating Valentine's Day long before boys were in the picture. Like she says, it's about "spreading a little extra love and joy to friends and family," and when I think back, my best memories of this holiday are mostly of my girlfriends and family. I'm lucky enough to get to spend almost every day with my man, loving him, and even though the flowers and chocolates on the 14th are nice, they really aren't the point. So I'm postponing the romantic part of February until Trevor is back, and today, I'm celebrating friends and family. [Edit: Because he's the sweetest, Trevor still managed to get roses to my desk at work today even though he's thousands of miles away. I love you, Trev.]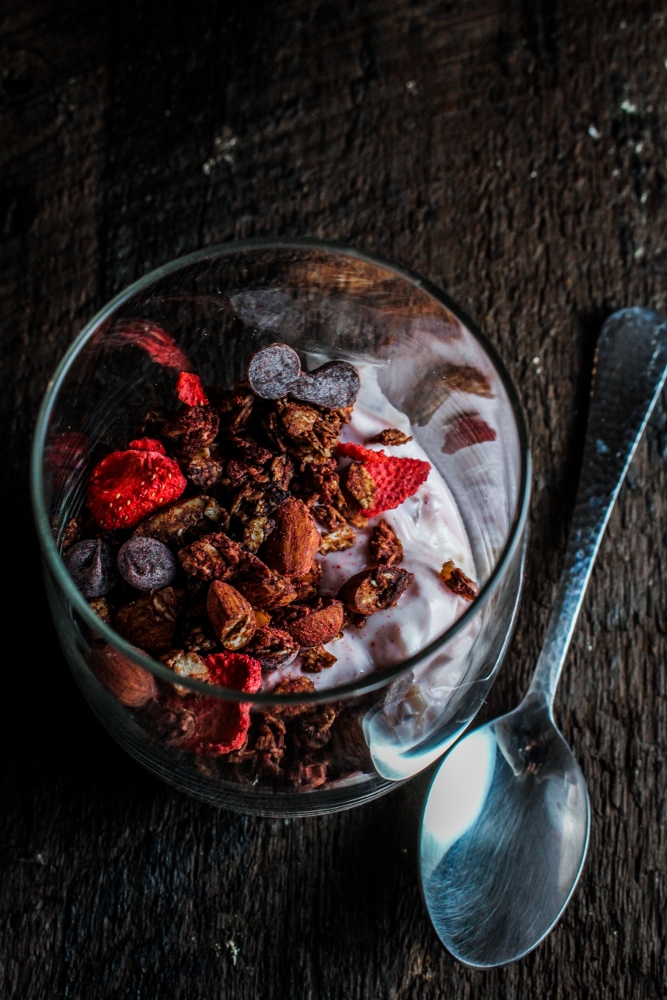 First up, family – as far back as I can remember, Valentine's Day meant coming downstairs to a big heart shaped box of chocolates and a card from my mom telling us how much she loved us. I mostly remember these mornings as sort-of bleary-eyed surprises, probably because I had to get up for school at 6am most days and it's pretty dark at 6am in February. She also always helped us make little homemade valentines to bring to school – bags of foil-wrapped hearts tied up in pink and red tuille with doile-and-construction-paper cards attached. Our valentines were way better than the average school valentine. So tonight I'm having dinner with my parents and my baby brother (who is probably dreading today, seeing as fifteen is probably the most awkward age for Valentine's Day). We're heaving steak and red wine and heart-shaped shortbread cookies and I'm really excited about it.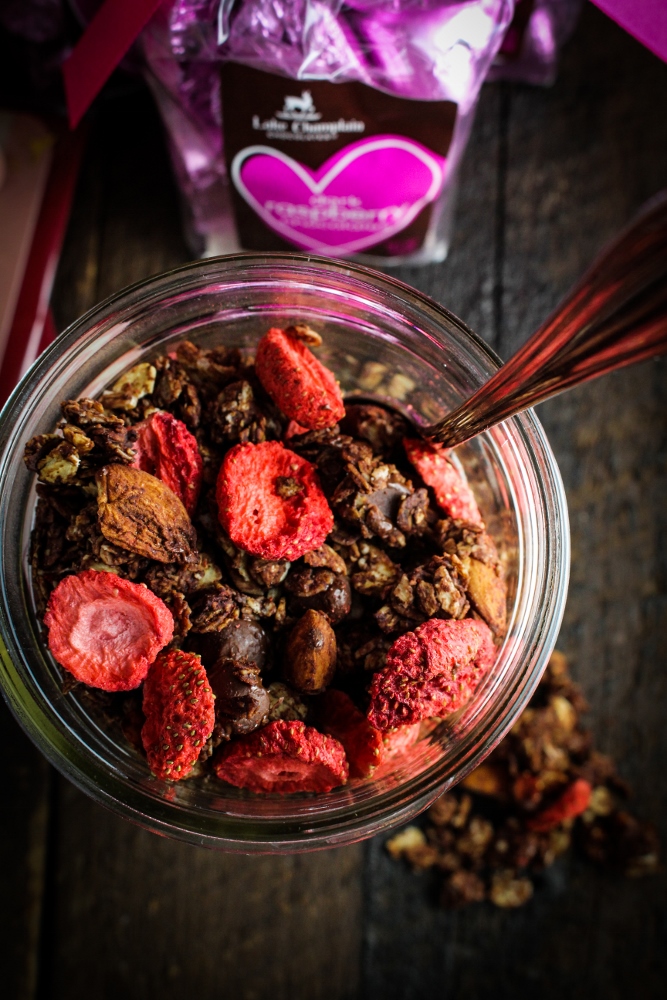 As for friends, I'm sending my three best college girlfriends these little care packages because celebrating your girlfriends is important. In high school, we used to have Valentine's Day parties at my house where we would all wear pink and make each other goofy homemade cards and decorate sugar cookies while getting a little hyper from too much hot chocolate and giggling. It was great. Later, during our freshman year at Duke, Becky and I got all the pink things we could find at the Dollar General and then covered her dorm room floor with candy hearts while making valentine's for our new found boy friends. Because part of celebrating your girlfriends is talking about how much you both love boys.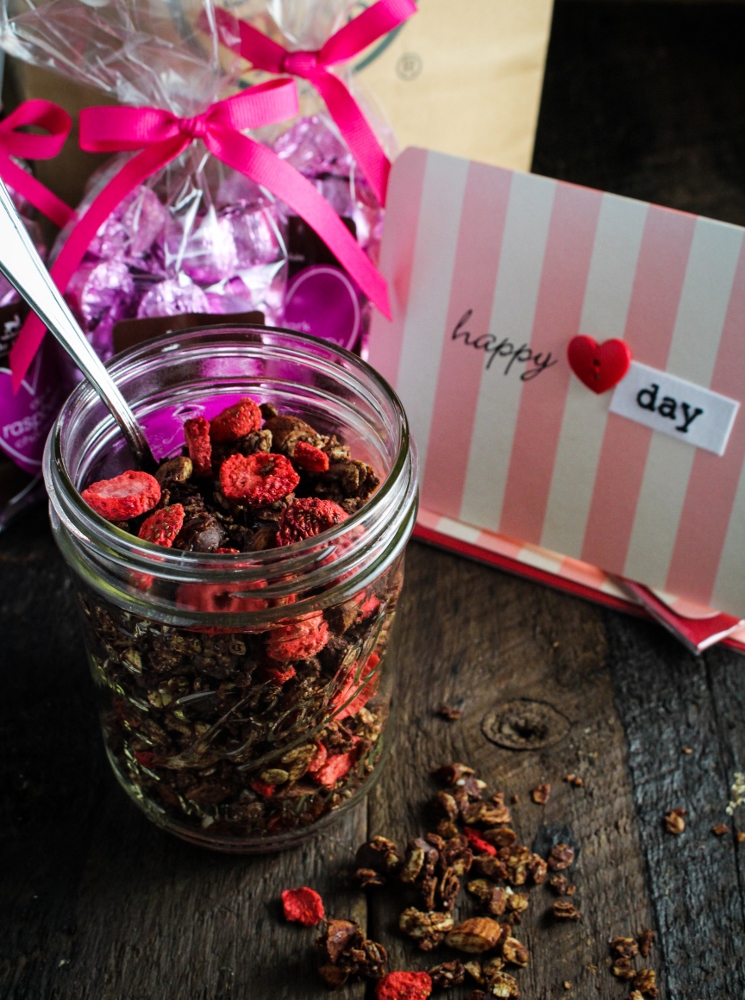 I was going to make cookies for these packages but after thinking about it, decided that maybe some crunchy dessert masquerading as a healthy snack would be more appropriate for my friends, who are all super busy and on-the-go students/teachers. This chocolate-almond-strawberry granola is inspired by (OK, I'm blatantly ripping it off) the only commercial brand of granola I've ever liked, LoveCrunch. I think I might like my version a smidge better, but I'm not sure I'm saving any money by making it myself – freeze-dried fruit is surprisingly expensive. The base is simply oats and almonds, which are coated with a mixture of melted coconut oil, cocoa powder, and honey before it's baked. After it's baked but while it's still warm, you stir in the chocolate chips, resulting in heavenly clumps of granola held together by creamy bits of melted chocolate, which is seriously going to elevate your yogurt-eating experience. I made the mistake of bringing the care packages to work with me before I shipped them, and I was eating out of everyone's bags – sorry if they seem a little light, guys, I promise I'll make you some more when you come visit. But seriously, this stuff is kind of addictive. Be careful with it. Or just give it away to someone that you love.
Happy Valentine's Day to everyone!
Like what you just read? Subscribe to Katie at the Kitchen Door on Feedly or Bloglovin', or follow along on Facebook, Twitter, Pinterest, and Instagram. Thanks for reading!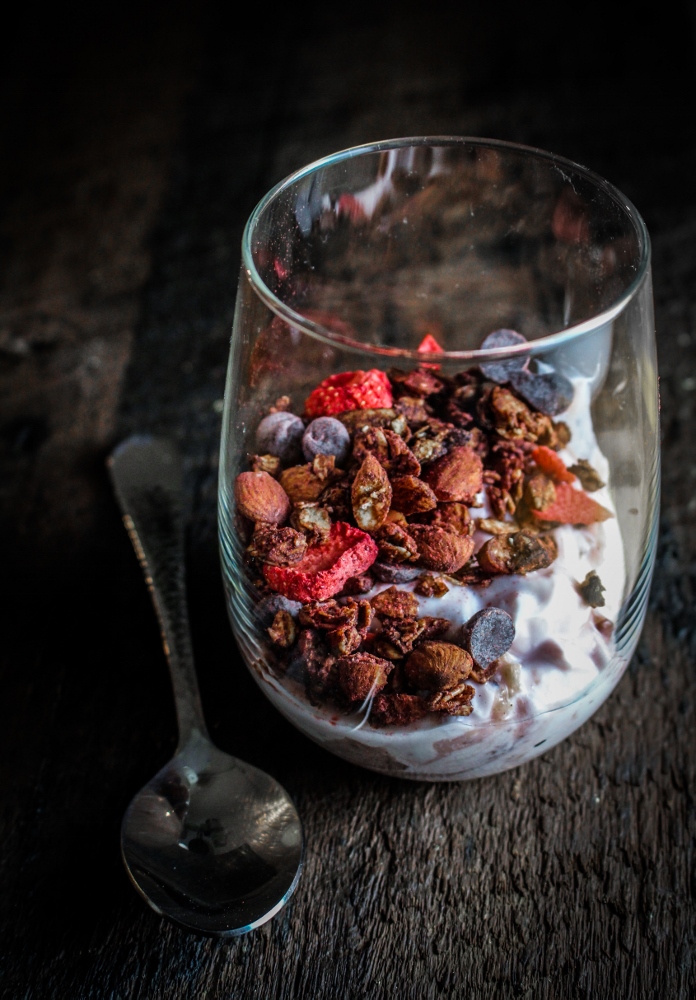 Chocolate-Almond-Strawberry Granola
Inspired by LoveCrunch and adapted loosely from Yummy Mummy. Makes about 8 cups.
6 cups rolled oats
2 c. chopped almonds
3/4 tsp salt
1/2 c. coconut oil
3/4 c. mild-tasting honey
3/4 c. cocoa powder
1 1/2 c. chocolate chips (or more or less depending on how dessert-like you want it…)
1 c. freeze dried strawberries
Preheat the oven to 325°F. In a large bowl, stir together the oats, almonds, and salt until evenly mixed. Set aside.
Add the coconut oil and the honey to a small saucepan and heat over medium-low heat, stirring, until the coconut oil has melted and the consistency of the mixture is smooth. Remove from the heat and stir in the cocoa powder, whisking until all clumps are removed. Pour the chocolate mixture over the oats and stir to evenly coat the oats with the cocoa-mixture. Spread out on two large sheet pans and bake in the oven for 15 minutes. Remove from the oven, stir up the granola to prevent burning, then bake for another 10 minutes. Remove from the oven and let cool for 5-10 minutes, until warm but touchable. Return to the mixing bowl and add 1 cup of the chocolate chips to the warm granola, stirring to evenly combine.
Let granola cool completely, then stir in the remaining 1/2 c. of chocolate chips and the strawberries. Keep in an airtight container.
1