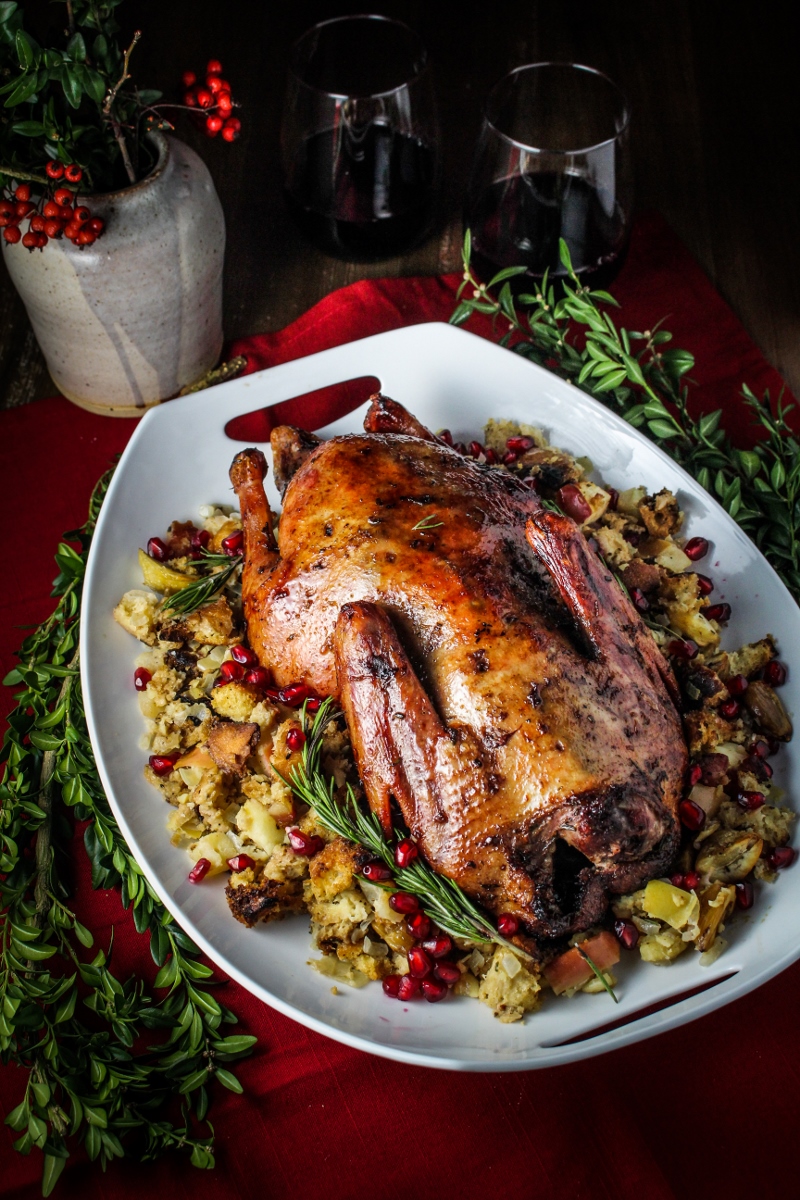 I can't believe Christmas is only ten days away. I was in St. Petersburg for a quick trip from last Tuesday to Saturday, then yesterday flew over to Madrid. It's always exciting to travel, but both trips have been fairly busy, and I'm missing out on critical Christmas-preparation time (thank God for Amazon Prime). Knowing I would feel this way, I made sure that last weekend was Christmas-activity heavy – we went and picked out a tree (our first! Trevor even let me take a gratuitous self-timer picture in front of it), played carols, watched Love Actually, and made this gorgeous roasted duck for the next round of the Captain Morgan Captain's Table Challenge.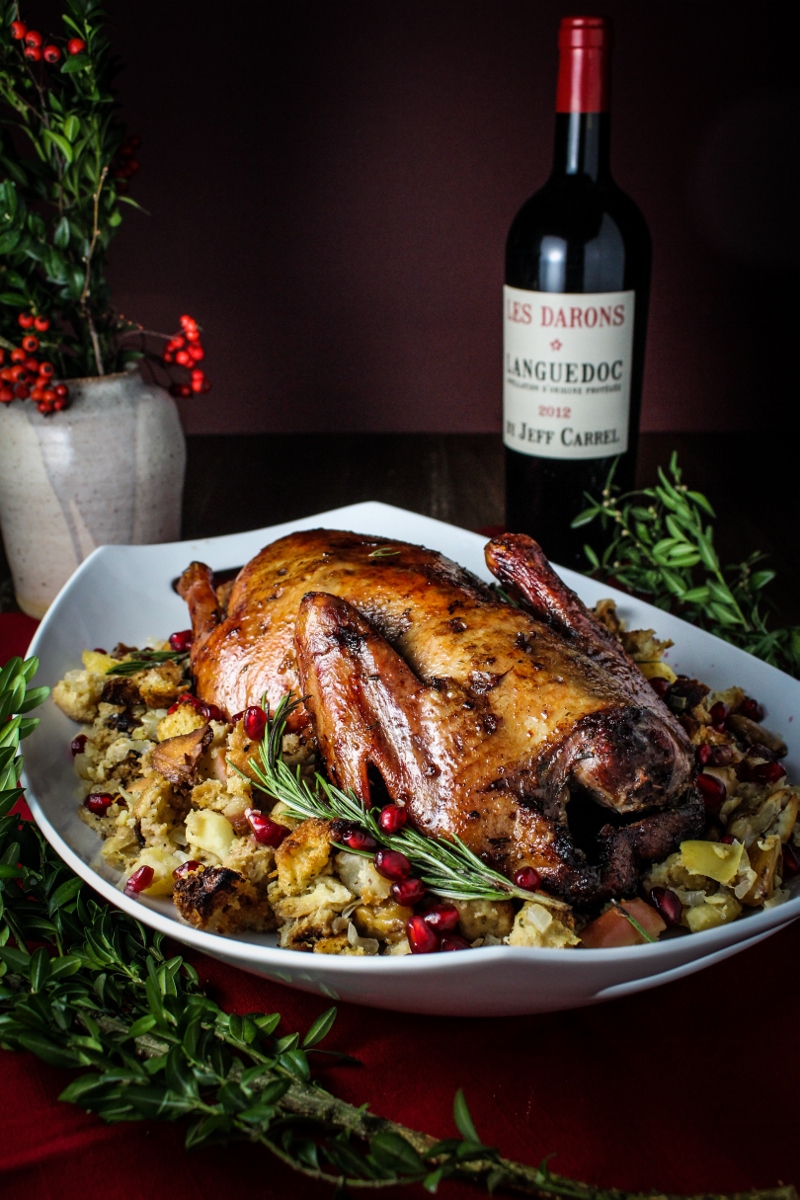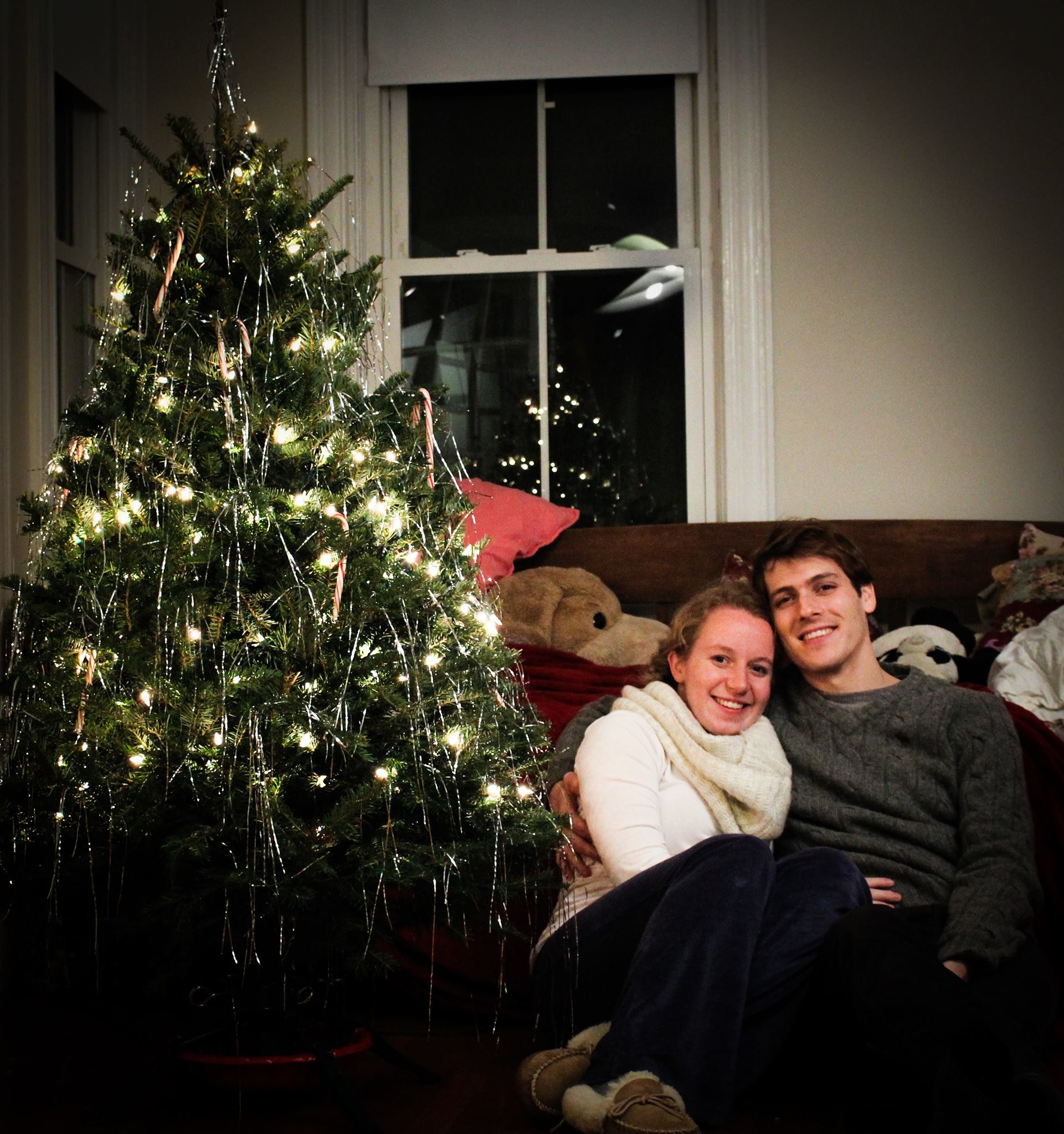 After making a sweetish side-dish for the last round, we knew that this time around we wanted to do a stunning, savory, Christmas dinner centerpiece. This whole roast duck with a pomegranate, orange and rum glaze is just that. The flavors are a perfect mix of fruity, bright, herbal, and salty; the skin is golden and crispy; the meat is tender. Surrounded by a boozy chestnut, apple, and pancetta stuffing that echoes all the flavors in the duck itself, it's the perfect thing to grace your Christmas dinner table if you're having a small gathering. I genuinely loved the complexity the rum gave to both the duck and the stuffing, and I might have to make the whole thing again soon even if just for a cozy Sunday night dinner.
Also, I have to take a moment to brag here (not a humblebrag, I'm still working on that skill) – Trevor and I won the first round of the Captain's Table Challenge with our sweet-potato souffle and sparkling cranberry-ginger cocktail! I think the most exciting part for me is that Hugh Acheson was the judge, and it feels quite validating to have a successful chef say your recipe seems decent. Finding out was just the momentum we needed to come up with this duck recipe. Stay tuned for our drinkable submission to the Christmas round later this week – Trevor's been testing out cocktails while I've been away, so he's getting to be an expert on rum-based Christmas drinks.
Disclaimer: This post is sponsored by Captain Morgan, who provided me with product samples and monetary compensation in exchange for my participation in this program. All opinions are honest and my own, as always.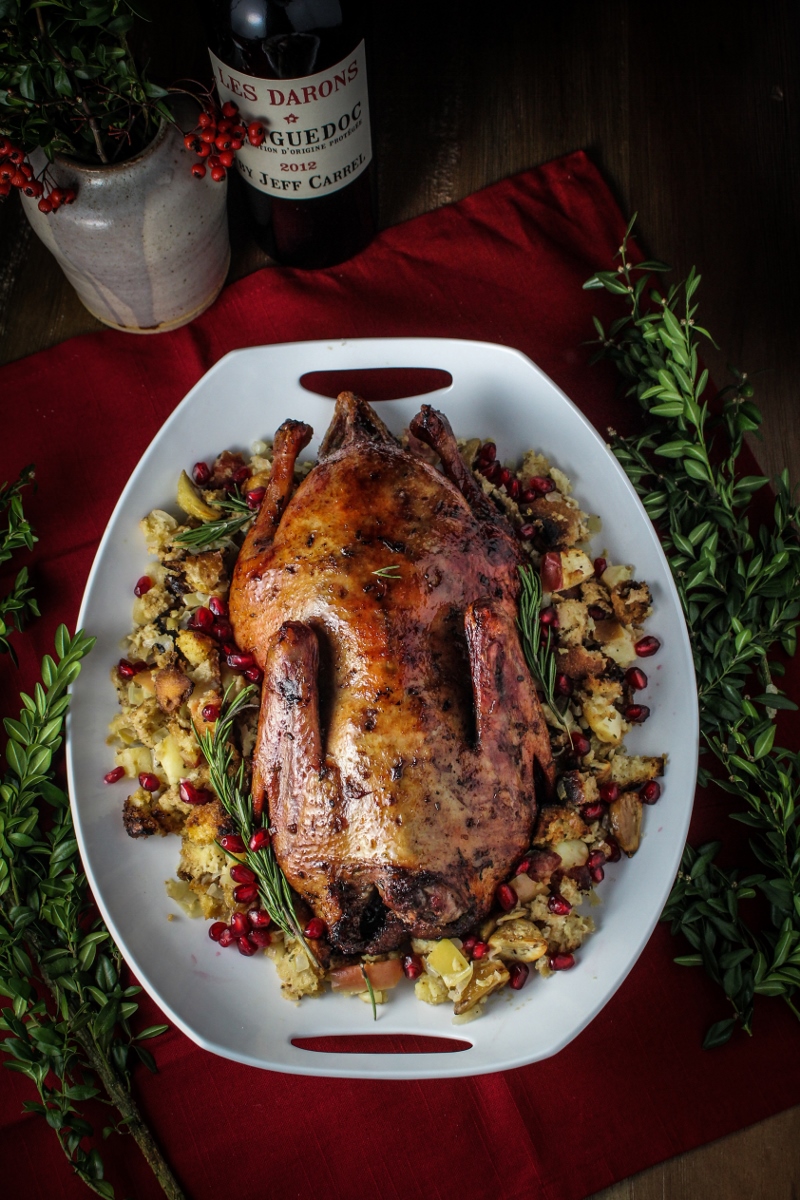 Rum-and-Pomegranate Glazed Roast Duck
Serves 4.
For the duck:
One 5-lb. whole duck
1 TBS coarse sea salt
1 TBS finely chopped rosemary + 3 whole sprigs rosemary
1 tsp freshly ground black pepper
zest of 1 orange, finely grated
juice from 1 orange
2 c. pomegranate juice
1/2 c. Captain Morgan Original Spiced Rum
pomegranate-rum glaze (see below)
Preheat the oven to 450°F. Remove giblets from cavity of duck and reserve for another use. Pat the duck dry and place on a cutting board. Cut off any excess skin, as well as the wing tips (to prevent burning). Truss the bird by tying the legs together over the front side using kitchen twine, tucking the tail between the legs. Score fat on breast-side of duck all over in a cross-hatch pattern, making sure to cut down to the meat. Flip the duck over and prick the back and the legs all over with a sharp knife.
Add the salt, 1 TBS of chopped rosemary, black pepper, and orange zest to a mortar and pestle, and pound until rosemary is crushed and mixture is somewhat moist. Rub the paste all over the duck, making sure to get under the skin. Place the duck in a roasting pan. Pour the orange juice, pomegranate juice, and rum over the duck into the bottom of the pan – bottom of the pan should be covered by liquid to a depth of a quarter inch, if it is not, add more pomegranate juice. Add the rosemary sprigs to the liquid, and place duck in the oven.
Roast the duck, for 2 hours and 30 minutes, basting the duck with the pan juices every 15-20 minutes. Before the last 15 minutes of cooking, take the duck out of the oven and brush all over with the prepared glaze, then finish off. Let rest 5-10 minutes before carving.
For the glaze:
1/2 c. drippings
1/2 c. Captain Morgan Original Spiced Rum
1/4 c. pomegranate molasses
juice from 1/2 orange
Add all ingredients to a small saucepan. Simmer over medium heat until reduced to a syrup, about 10-15 minutes.
Boozy Chestnut-Apple Stuffing
Inspired by Yankee Magazine. Serves 4.
1 large baguette, cut into 1/2 inch cubes
3 TBS olive oil
1/4 lb. pancetta, cut into 1/4 inch cubes
1 large onion, peeled and diced
2 honeycrisp apples, cored and cut into 1/4 inch cubes
1 1/2 c. roasted chestnuts
1 TBS minced fresh rosemary
salt and freshly ground black pepper
2 eggs
3/4 c. chicken stock
1/4 c. Captain Morgan Original Spiced Rum
seeds from 1 pomegranate
Preheat the oven to 350°F. Toss the bread cubes with the olive oil and spread on a baking sheet. Toast in the oven until golden brown and crispy, about 10 minutes.
Place a medium frying pan over medium heat. Add the cubed pancetta and fry until crispy on all sides, stirring frequently, about 10 minutes. Remove from the pan and set aside. Add the onion and apple to the pan with the pancetta fat and saute until the onion is soft and translucent and the apples are beginning to soften, about 10 minutes. Toss the onion and apple with the cooked pancetta, then stir in the chestnuts and rosemary. Season to taste with salt and pepper.
In a large bowl, whisk together the eggs, chicken stock, and rum. Add the toasted bread crumbs to this mixture and toss to coat, then add the apple-chestnut mixture and stir to combine. Butter a medium baking dish, then pour the stuffing into the prepared baking dish. Bake until the top of the stuffing is golden and crispy, about 30-35 minutes. Serve immediately, sprinkled with the pomegranate seeds.
15