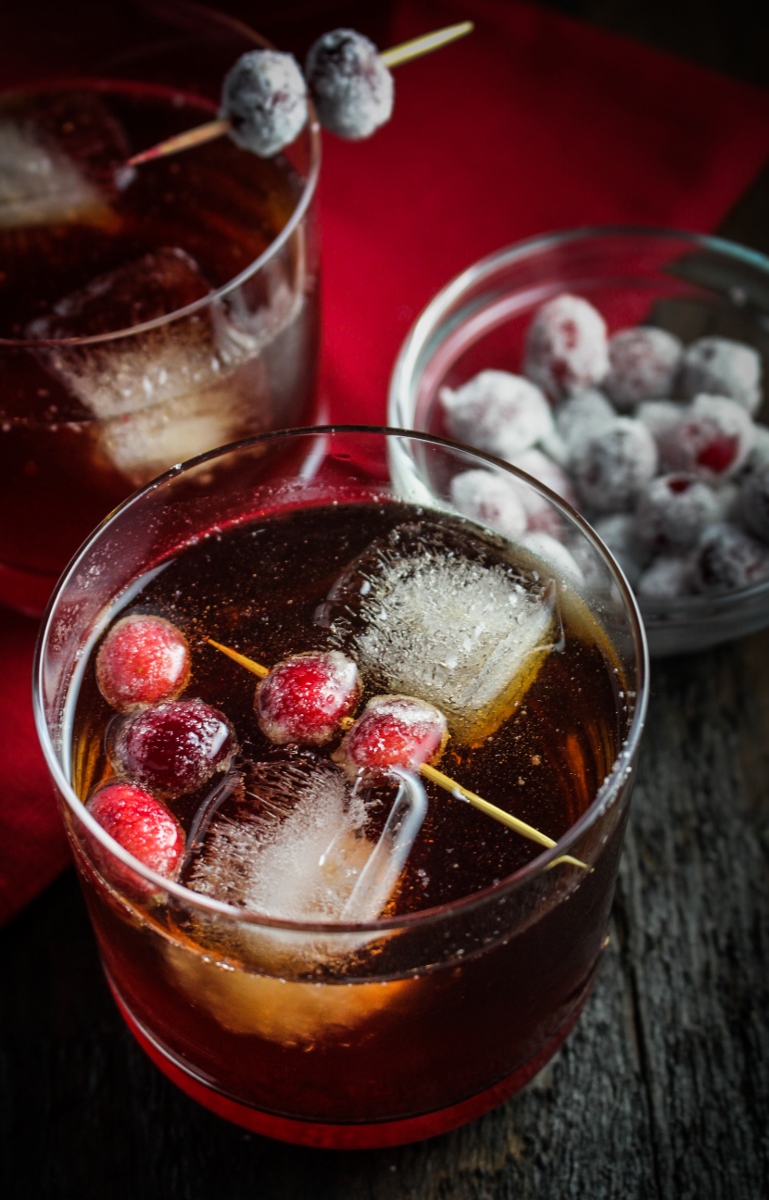 Happy Thanksgiving everyone! I hope that none of you have had any major kitchen or travel mishaps, and that you're all getting ready/happily in the midst of/recovering from a relaxing day of family, friends, and delicious eating. We're in the car on our way up to Maine to see Trevor's family, but before we sit down to overindulge, I wanted to share our Thanksgiving submission to the Captain's Table Challenge.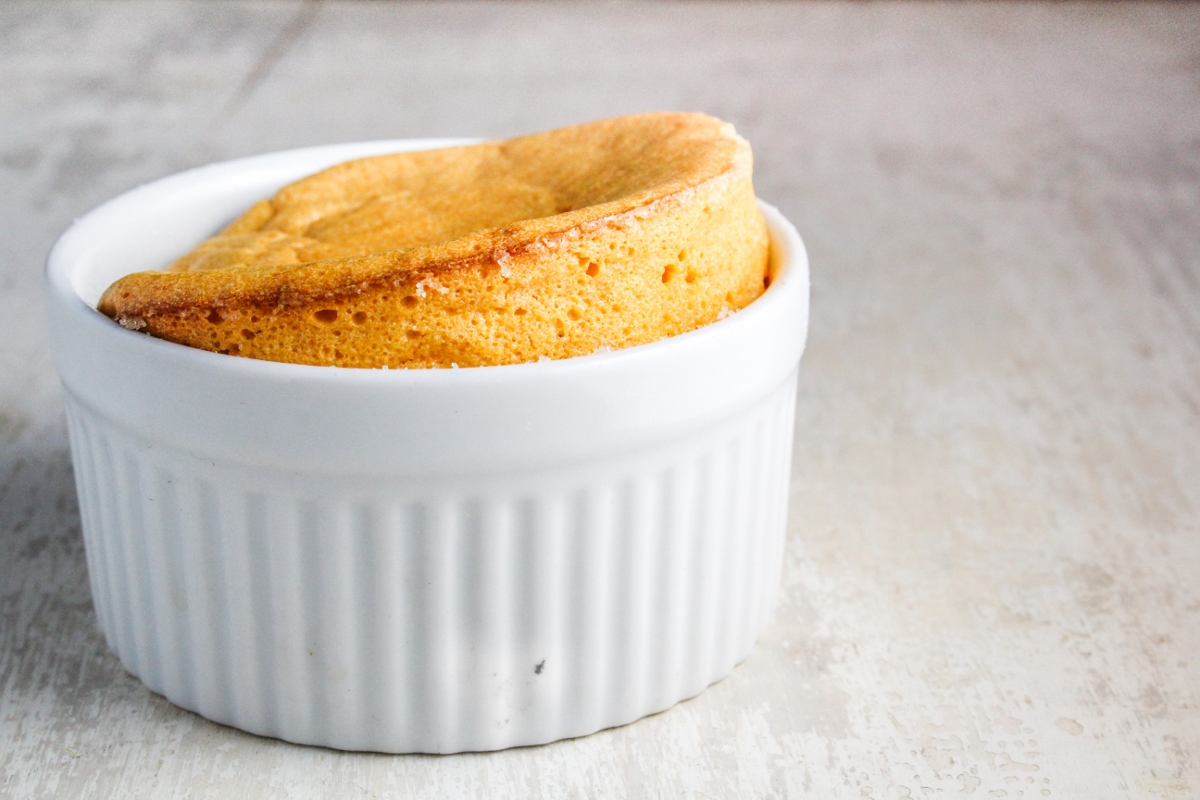 As I mentioned Monday, we're part of a group of 15 bloggers that are teaming up with Captain Morgan to create delicious rum-based food and drink recipes for the holiday season. There's a bit of a contest aspect to it as well, so I'm extra motivated to make these recipes top notch (there's nothing like a little competition to get me going). For the Thanksgiving edition of the challenge, we decided to work with two classic November ingredients, sweet potatoes and cranberries, turning each into a rum-infused masterpiece. After a bit of group brainstorming at the wedding we were at last weekend, we decided that the only thing for the sweet potatoes was a souffle, and not just any souffle, but a light, fluffy, rum-scented souffle drizzled with a rum-raisin caramel sauce. There are a surprising number of sweet potato souffle recipes out there, but you'll quickly notice that most of them are not actually souffles, but instead just mashed sweet potatoes buried under some form of sweet goo (I so enjoyed Sommer's rant on this topic). What we were going for was a real souffle, with a classic roux-base, a bit of rum, and a hint of sweet potato flavor.
Creating our own recipe for souffles was a bit of a risky move, and it was a tense 30 minutes in the kitchen as we waited to take them out of the oven. We've made souffles before, but tweaking any baking recipe can be hit or miss, plus souffles are notoriously challenging and we did significantly more than tweak a base recipe. We did our research, though, and what came out of the oven was far more perfect than we expected – puffed up gracefully over the top of the ramekins, cooked through yet still creamy, light and sweet and everything you want a souffle to be. With the thick, syrupy-sweet rum raisin caramel drizzled on top, I am not ashamed to admit that we each had two of these, one after the other. And then we skipped dinner.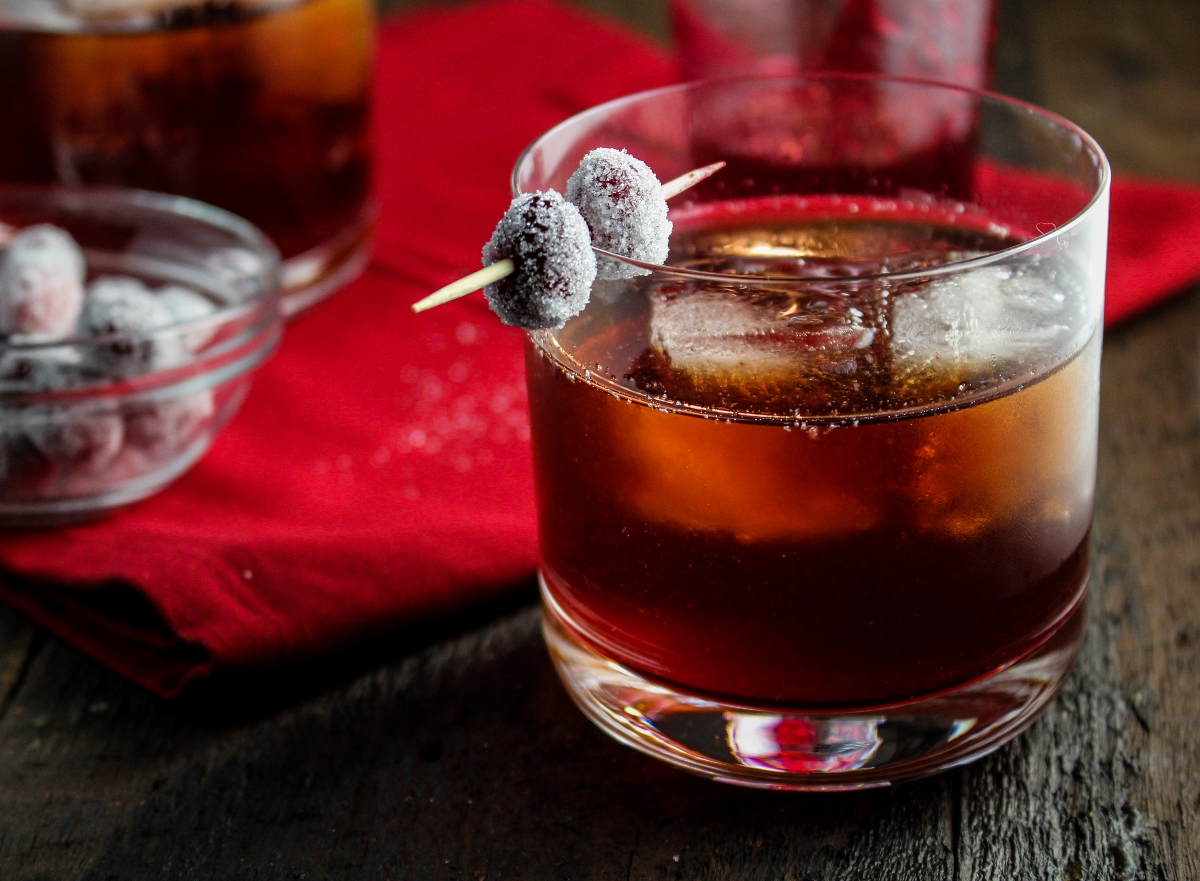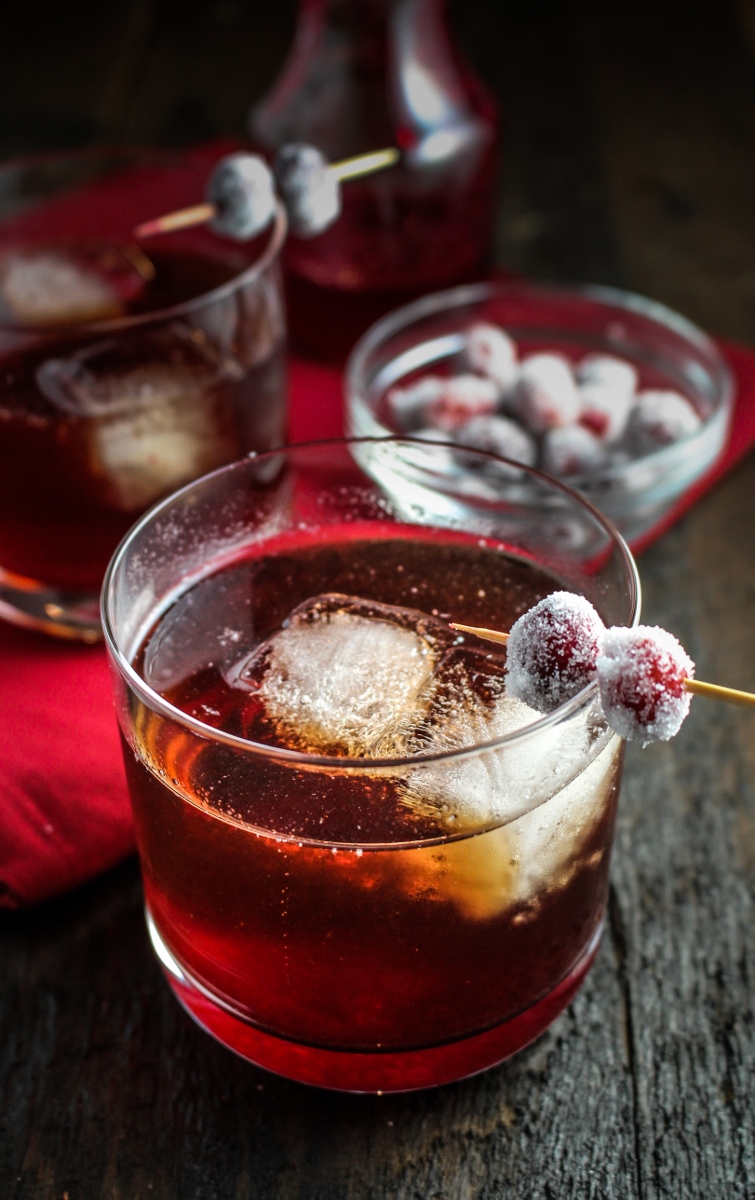 As for the cranberries, I knew I wanted to do a festive riff on Dark and Stormy's, the classic ginger and dark rum cocktail that's pretty much perfect any time of year. I wanted to incorporate cranberries, but I didn't want the drink to be too sweet or cloying, so instead of using cranberry juice, I made a thick, almost jam-like cranberry-ginger syrup for the base of the drink. After reading an article in Bon Appetit about how we should be celebrating Thanksgiving with the new crop of artisanal hard ciders that wouldn't have been out of place at early colonial celebrations, I decided to replace the traditional ginger beer with one of my favorite sparkling ciders, Bantam's Wunderkind. The resulting drink was strong and slightly sweet, with hints of spice, cranberry and apple.
So, if you're looking for something to do with your leftover mashed sweet potatoes or that bag of cranberries you didn't end up using? Try a souffle, or a cranberry-ginger cocktail, or maybe even both. And let me know what you think! Also, if there's any flavor combinations or recipe types you'd like to see for our Christmas Captain Morgan challenge, leave a note in the comments – we're looking for inspiration anywhere we can get it. Have a wonderful holiday!
Disclaimer: This post is sponsored by Captain Morgan, who provided me with product samples and monetary compensation in exchange for my participation in this program. All opinions are honest and my own, as always.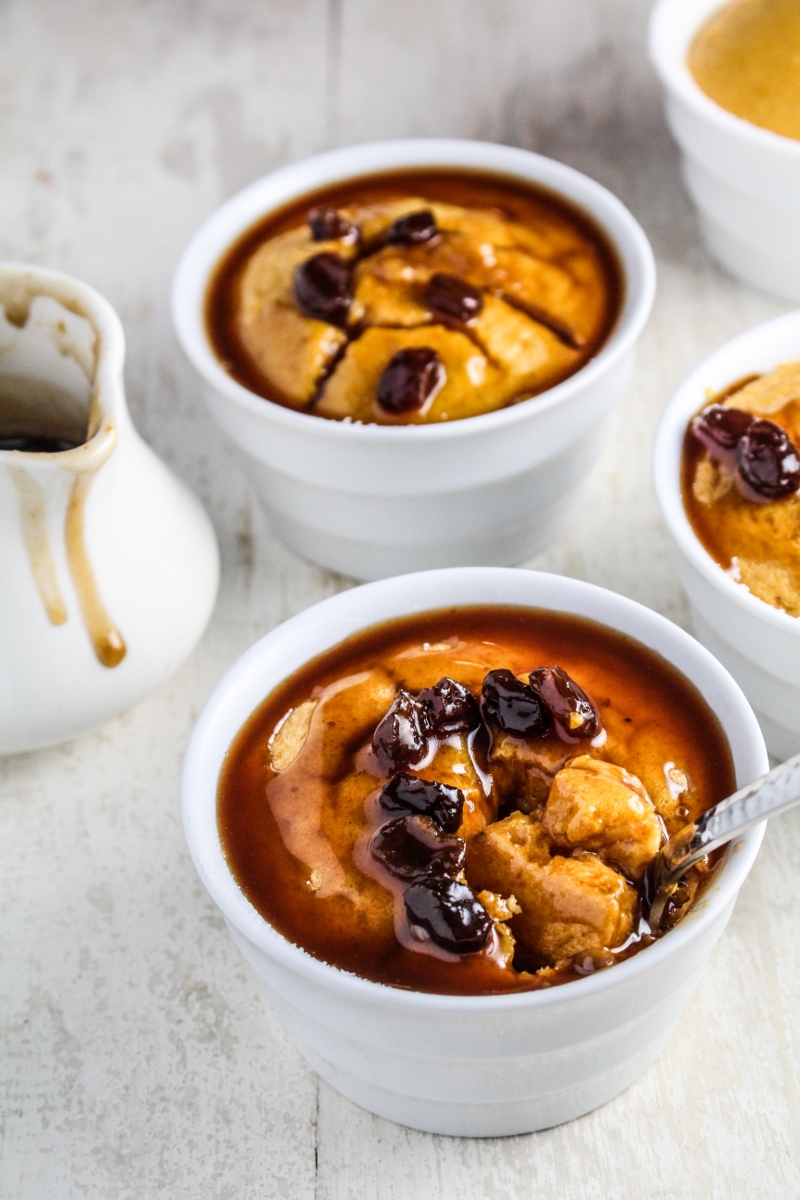 Sweet Potato Souffles with Rum Raisin Sauce
Serves 5.
For the souffles:
2 medium sweet potatoes, peeled and cut into 1/2 inch cubes
2 TBS olive oil
3 TBS butter plus extra for greasing the ramekins
3 TBS flour
3/4 c. warm milk
1/4 c. Captain Morgan Original Spiced Rum
3 egg yolks
1/4 c. sugar plus extra for preparing the ramekins
6 egg whites
pinch cream of tartar
Preheat the oven to 375F. Toss the sweet potato cubes with the olive oil and place in a single layer on a baking sheet. Bake for 30-40 minutes, until very tender and almost falling apart. Stir the sweet potatoes once after 20 minutes. While still warm, add the sweet potato cubes to a blender and puree until smooth. Scrape the puree out of the blender and set aside.
Adjust the oven temperature to 350F. Butter five 6-oz. souffle dishes or ramekins, then sprinkle a bit of sugar into each. Tap the sugar around the edges of the dish, tapping out any excess. Set the prepared dishes aside.
In a wide frying pan, melt the butter over medium heat. Whisk in the flour, and cook for 2-3 minutes, until the mixture is a pale yellow and smells nutty. Add 1/4 c. of the warm milk to the roux and whisk until smooth, then slowly whisk in the remaining warm milk. Cook over medium-low heat until thick and smooth, about 1-2 minutes, then remove from the heat. Whisk in the rum, and let cool slightly.
Beat the egg yolks and the sugar together until thick and pale yellow. Quickly whisk into the roux, taking care that the roux is not hot enough to scramble the eggs. Then, whisk in 3/4 c. of the sweet potato puree, adding 1/4 c. at a time. When the mixture is smooth and evenly colored, set aside.
In a large, clean bowl, beat the egg whites until frothy. Sprinkle the cream of tartar over the top, and then beat until the egg whites are shiny and hold a stiff peak. Fold the sweet potato mixture gently into the egg whites until they are just combined. Spoon the souffle mixture carefully into the prepared dishes, filling them just shy of the brim. Place the ramekins in a larger baking dish, and fill the baking dish with hot water so that it reaches halfway up the sides of the souffle dishes. Bake for 25-30 minutes, until souffles are puffed up and set in the middle. Remove and serve immediately with the warm rum raisin sauce.
For the sauce:
1/2 c. Captain Morgan Black Spiced Rum
1/2 c. raisins
1/2 c. sugar
1/2 c. cream
Place the rum and the raisins in a small saucepan. Heat over low heat until the rum just begins to steam, then immediately remove from heat and set aside. Let sit for at least 10 minutes to allow the raisins to plump up.
Pour the sugar into the bottom of a heavy-bottomed saucepan in an even layer. Place over medium heat, and melt sugar, whisking frequently. As you whisk, the sugar will clump up, but once melted, all the clumps should dissolve. As soon as all the sugar is melted, stop whisking but swirl slightly. Watch the sugar closely as it begins to darken. As soon as it reaches a golden caramel color, add the heavy cream all at once. Be careful, the caramel will bubble violently when you do this. Whisk until the mixture is even. Now add the rum and raisins all at once, again, being careful to avoid the bubbling up, and whisking until the mixture is even. As soon as the mixture is smooth and consistent. Remove from the heat and let cool slightly. Sauce should be served warm.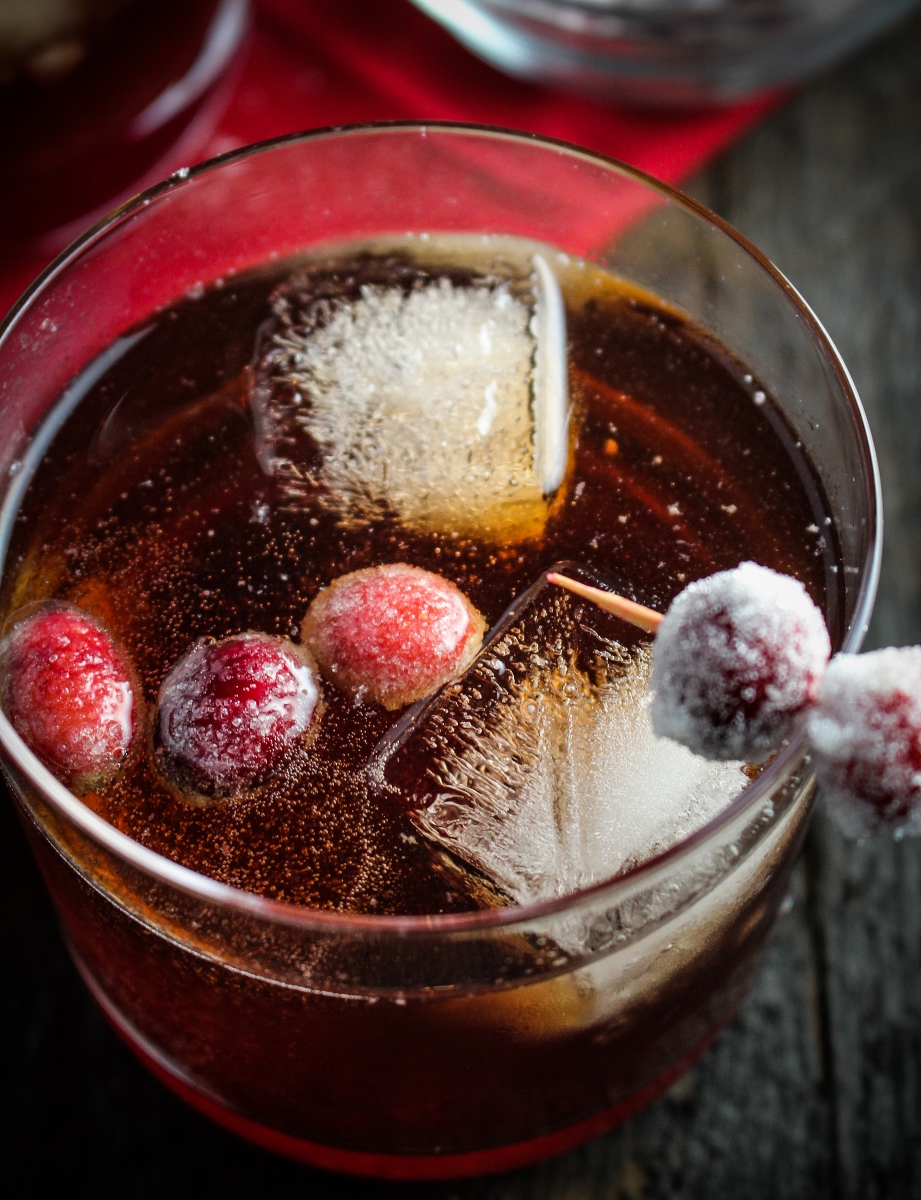 Cranberry-Ginger Sparkling Rum Cider
Serves 4.
3/4 c. sugar
3/4 c. water
1 1/2 c. fresh cranberries, rinsed (remove any squished/deflated berries)
1-inch piece of ginger, peeled and sliced thinly
6 oz. Captain Morgan Black Spiced rum
ice cubes
2 c. sparkling cider (alcoholic)
sugared cranberries

, for garnish
Add the sugar and water to a medium saucepan and place over medium heat. Stir until the sugar dissolves, then add the cranberries and ginger. Simmer the mixture until thick and syrupy, about 15 minutes. Stir occasionally to prevent the cranberries from foaming up, pressing the cranberries against the side of the pan to pop them.
Pour the cranberry mixture through a fine-mesh sieve and strain the liquid into a medium bowl. Press gently on the cranberries to extract more juice, but be warned that if you press too hard you may end up with more of a jelly than a syrup (still delicious!). Refrigerate the syrup until cold; save the berries for another use.
Add 1 to 2 TBS of the cranberry syrup to each of 4 glasses, then add 1 1/2 oz. (1 shot) of rum to each glass. Stir vigorously to mix. Add a few ice cubes to each glass, then top off with 1/2 c. of sparkling cider. Garnish with sugared cranberries and serve immediately.
13