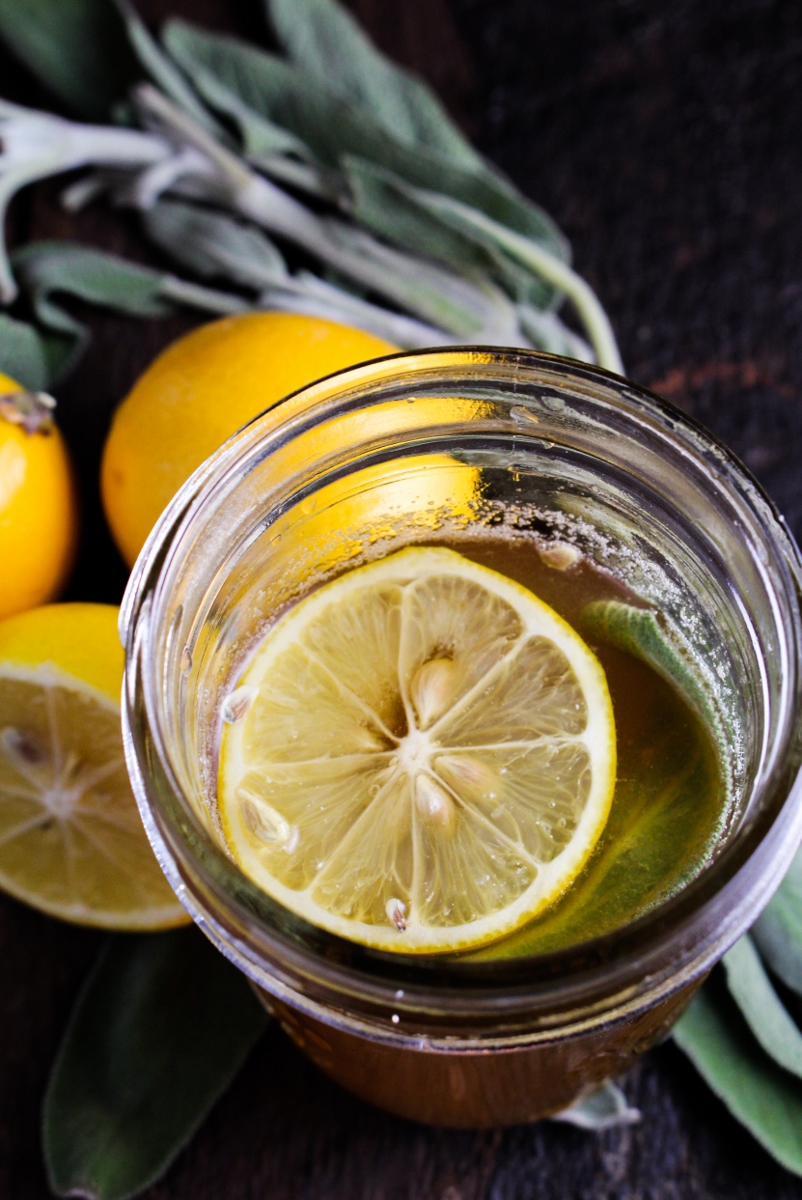 I'm excited to announce that for the next few months, I'll be participating in the Captain's Table Challenge that Captain Morgan is running this holiday season. Along with 14 other food bloggers, I'll be creating six recipes – three cocktails and three sweet or savory dishes – using Captain Morgan. The first official recipes will be coming at you later this week, just in time for Thanksgiving, and then later on there will be some Christmas treats, and something snacky and craveable for the Superbowl. Hugh Acheson, of Georgian restaurant and F&W Best New Chef fame, will be judging the challenge, picking a winner for each holiday, and an overall winner at the end of the program. I'm looking forward to getting creative with rum, and also taste-testing everything –  because a little extra rum in the cold winter months never hurt anyone.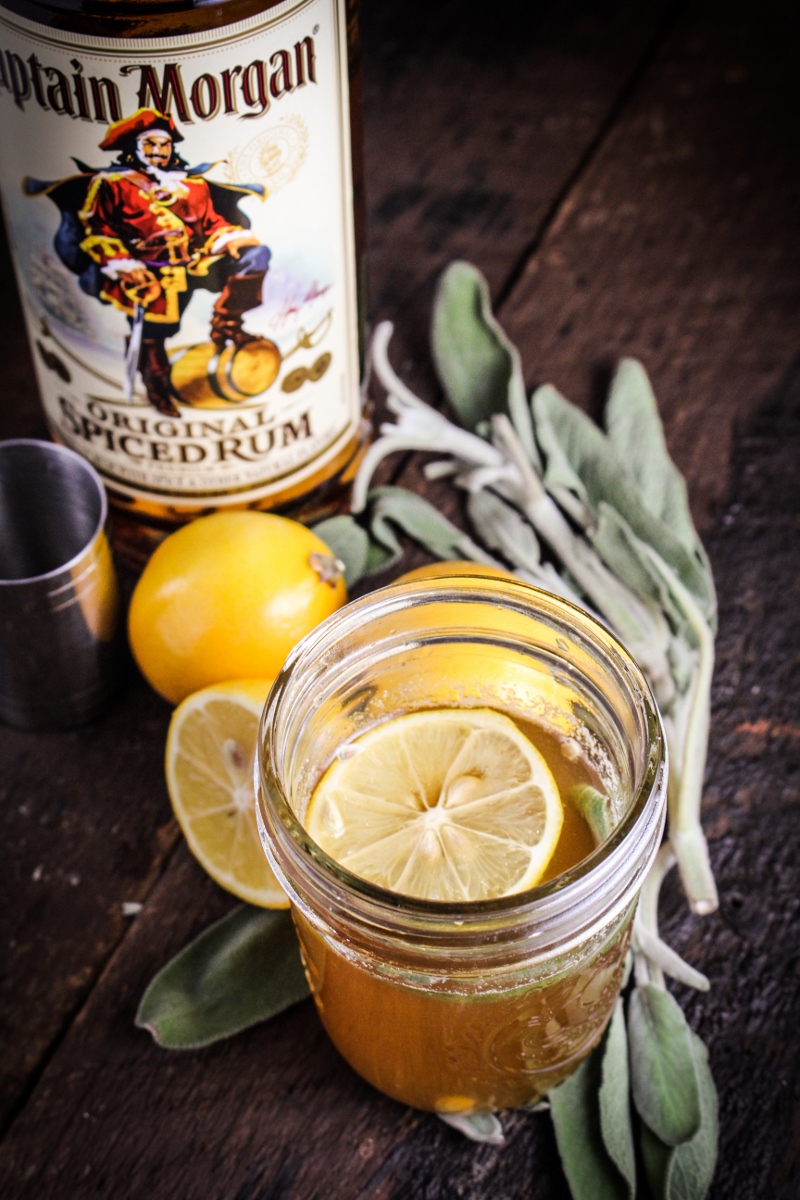 Besides free rum for me and a lot of rum-based recipes for you, there's another great aspect to this program – every time the #CaptainsTable hashtag is used on social media this season, Captain Morgan will donate $1 to Why Hunger. So break out your rum, get cooking/mixing, and share your recipes and entertaining tips using the hashtag, because drinking is even better when you're drinking for a cause.
Since I know you guys mostly come here for the food, I didn't want to leave you hanging with no recipe today, so I have a bit of a bonus recipe for you. Trevor and I were both feeling a little rundown this weekend, although we did manage to put in a respectable showing on the dance floor at our coworkers' wedding Saturday night. Come Sunday, all I wanted to do was lie on the couch and avoid going out into the "feels like 4°F" weather.  While I was laying there, bundled up and half-asleep at 4 in the afternoon, Trevor sat down next to me with a steaming cup of sweet, herbal rum. He'd been toying with the idea of a sage-based rum cocktail all weekend, and I'd been kind of a hard sell, but one sip of the drink changed my mind. Hot, soothing, sweet from the honey and rum, but balanced by the meyer lemon and sage, it really did make me feel better. This is probably completely a placebo effect, but my mom was always a proponent of hot toddies (just a teeny splash of whiskey) when we were sick, and who am I to argue with my mother's wisdom? Side note: is Trevor not the best boyfriend of all time? I'm pretty sure he is.
Disclaimer: This post is sponsored by Captain Morgan, who provided me with product samples and monetary compensation in exchange for my participation in this program. All opinions are honest and my own, as always.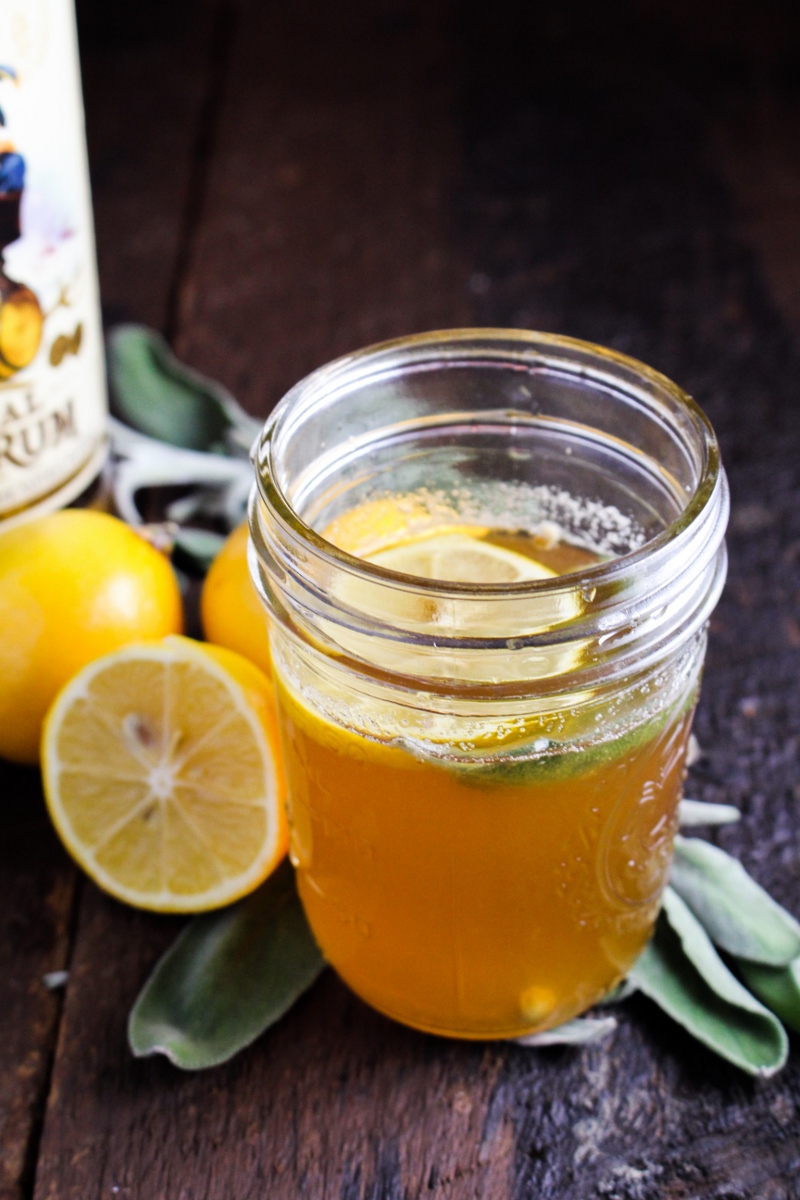 Meyer Lemon and Sage Hot Toddy
Serves 1.
1 TBS honey
1/2 c. water
4 sage leaves, washed
1 small meyer lemon
1 1/2 oz. Captain Morgan Original Spiced Rum
Add the honey, water, and sage leaves to a small saucepan. Heat over medium-low heat until sage is fragrant and honey is dissolved, about 4-5 minutes. Stir occasionally to prevent the syrup from foaming up, and do not let it come above a gentle simmer. Remove from the heat, remove and discard the sage leaves, and pour the syrup into a pre-warmed glass.
Cut the lemon in half, and squeeze 1-2 tsp of juice into the glass. Cut a slice of the remaining lemon for garnish. Add the rum and stir to combine. Serve immediately.
2