Bountiful: Recipes Inspired by Our Garden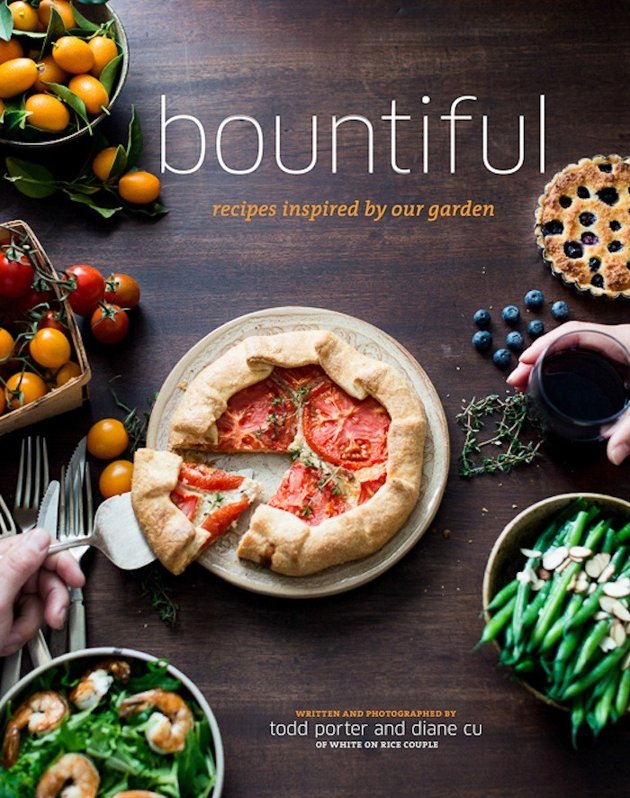 The Book: Bountiful is the first cookbook from Todd Porter and Diane Cu, the couple behind the beautiful blog White on Rice Couple. Having followed their blog for some time, and feeling a little like I already know them, I found myself completely immersed in the stories of their childhoods, journeys, and lives together that they share throughout their book. The book, like their blog, is heavily inspired by their gorgeous garden (you can take a peak at it in this video), one of the main reasons I started following their blog in the first place (especially to drool over those citrus trees!). I loved reading their introduction to garden design, and I can only hope that our garden gives us enough fruits and veggies to try many of their recipes next summer. I also identify with the way they cook and eat – primarily vegetarian, but naturally so, with meat appearing here and there to bulk up a dish or add extra flavor – and the recipes they've included in Bountiful are simple and accessible, with easy-to-find ingredients and a focus on fresh produce. Organized by vegetable/fruit type, this book would be a good choice for anyone just learning to incorporate more fresh fruits and vegetables into their meals. Many of the recipes are for things I already make – rosemary lemonade, cream of tomato soup, kale and avocado salad – but even as an experienced cook I can see myself turning to this for inspiration for quick weeknight dinners and healthy homemade lunches. And I can't forget to mention that their photography, like their writing style, is warm and peaceful, making you feel like you've been invited over for a casual afternoon garden party at their house. In short, Todd and Diane are just good, likeable people who make good, likeable food – if you don't already know them, I think you'll be pleased to meet them.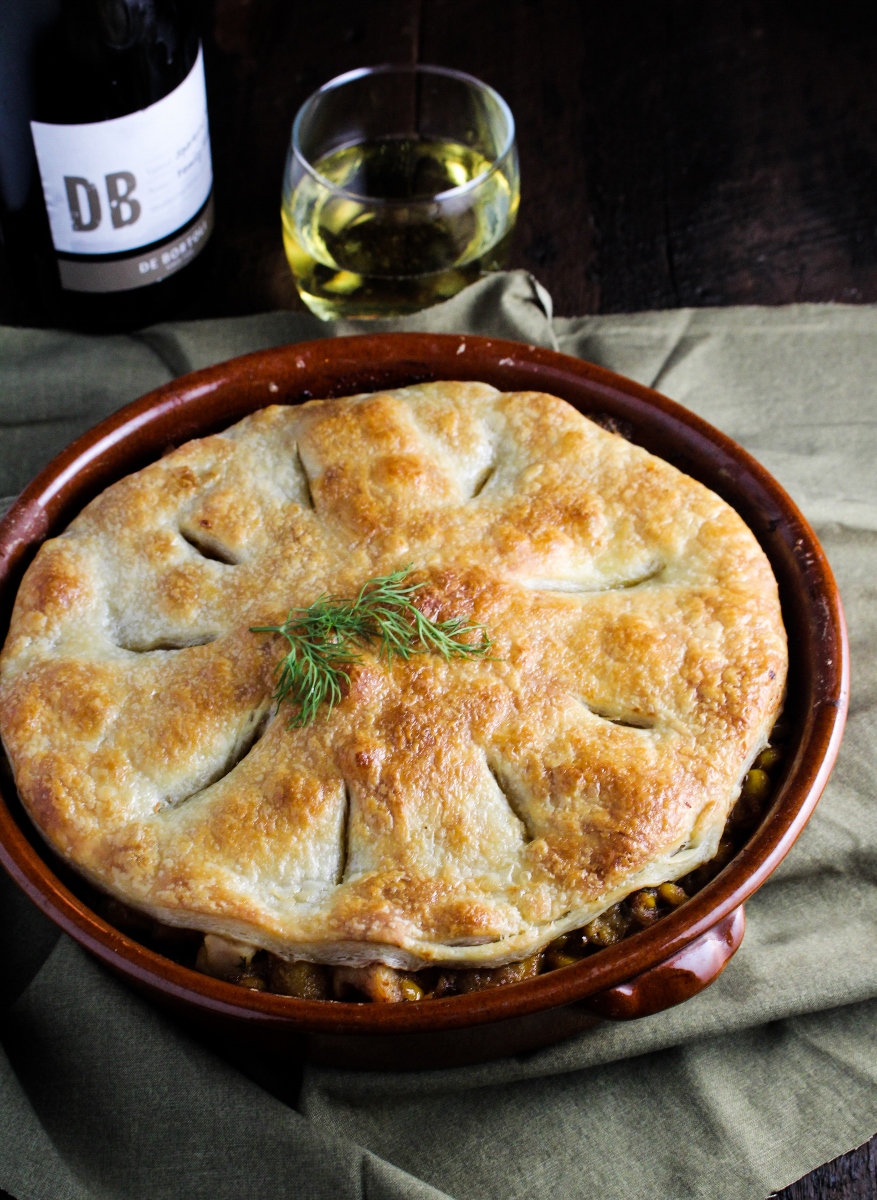 The Food: I've been wanting a good chicken pot pie recently, so when I saw the Creamed Dill Chicken Pot Pie with Puff Pastry recipe in Bountiful I knew it was the one I wanted to test, especially since I already had all of the ingredients in the fridge/freezer (which is a perfect example of the accessibility of this book). I love my mom's chicken pot pie recipe, which is very traditional, so I was curious about how I'd like the different elements in this one – the brandy, the wine, the heavy cream, the corn, and the dill. All together, it was rich, creamy, and slightly sweet from the brandy and the corn, a very satisfying cold-weather dinner. Using ready made puff pastry for the crust made it pretty quick to put together (actually, if I'm being honest, Trevor did 95% of this one, so maybe it just seemed quick to me). And it smelled amazing, really, one of those recipes that will have you drooling at the oven door. Definitely a contender for a new winter dinner standby.
Recipe Shortlist: Homemade Barbecue Sauce; Creamed Haricot Verts with Toasted Almonds; Roasted Asparagus Spring Rolls with Bacon; Roasted Broccoli and Grilled Cheese Melt; Truffled Butternut Squash Crumble; Miso-Sesame Cucumber Salad; Blackberry Cabernet Crisp with Honeyed Whipped Cream; Cherry Bourbon Delight Cocktail
Disclaimer: I received a review copy of Bountiful free of charge from Abrams, but was not otherwise compensated for writing this review.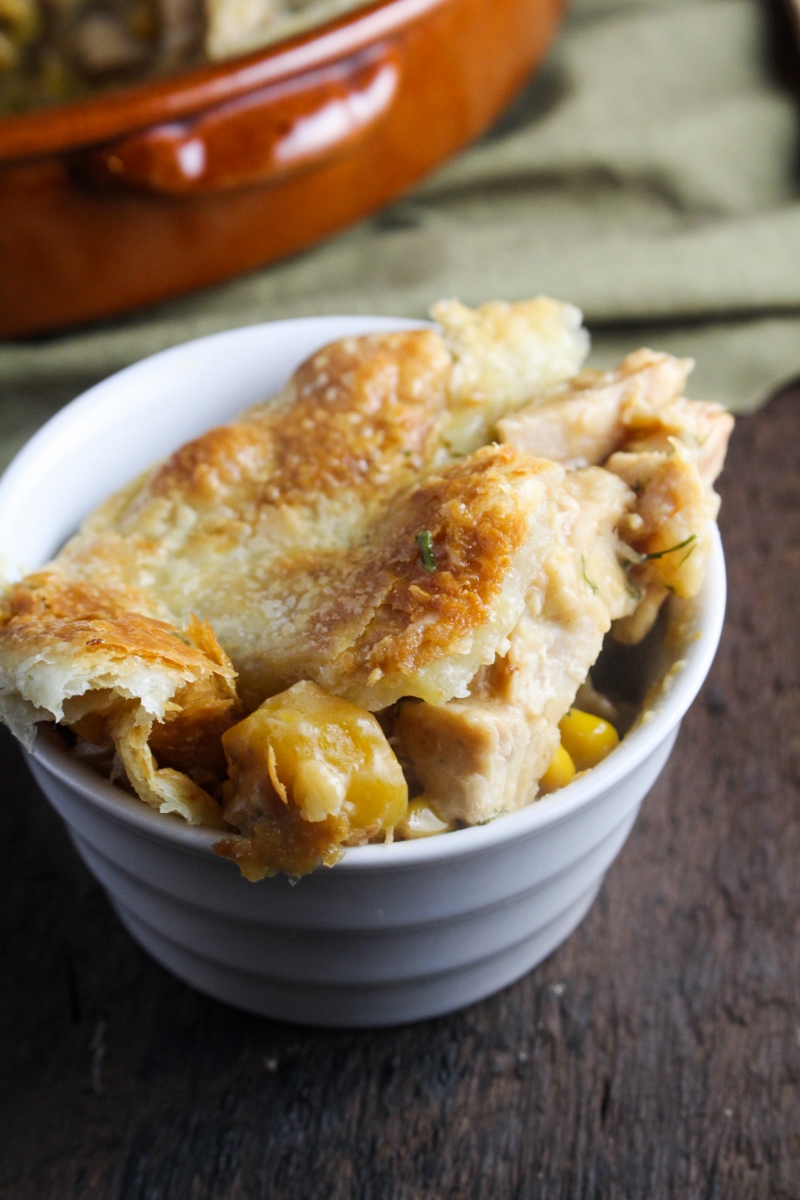 Creamed Dill Chicken Potpie with Puff Pastry
Recipe from Bountiful. Serves 6 to 8.
2 lbs. boneless, skinless, chicken breasts or thighs
salt and freshly cracked black pepper
4 TBS butter, divided
4 medium shallots, peeled and sliced
4 medium cloves garlic, peeled and finely minced
1/2 pound carrots, peeled and cut into 1/2-inch chunks
2 c. fresh or frozen corn kernels
1/2 c. dry white wine
2 TBS brandy
1/4 c. flour
1 c. heavy cream, plus more for brushing the pastry
1 c. chicken stock
1 TBS grainy mustard
1/4 c. minced fresh dill
1 lb. frozen puff pastry dough, thawed according to package directions
Preheat the oven to 400°F. If the chicken pieces are thick, pound them flat between two sheets of wax paper (or carefully slice in half lengthwise). Season the chicken pieces with salt and pepper.
Heat 2 TBS of the butter in a large saute pan over medium-high heat. Add the chicken pieces and cook until lightly browned, about 4 minutes per side. Remove the chicken from the pan and set aside.
To the same pan, add another 1 TBS of butter, the shallots, garlic, carrots, and corn. Cook over medium heat, stirring occasionally, until the shallots begin to soften, about 5 minutes. Add the wine and brandy to the pan and simmer until the pan is almost dry, about 12 to 15 minutes. Add the remaining 1 TBS of butter to the pan and let melt, then stir in the flour. Cook, stirring, for 1 minute, then add the cream and stock. Simmer, stirring occasionally, until the sauce is thickened, about 5 minutes.
Cut the browned chicken into 1/2-inch chunks and add them to the cream sauce. Stir in the mustard and the dill, then season to taste with salt and pepper.
Fill a 2-quart baking dish with the dill chicken mixture. Lightly dust a work surface with flour and roll out the puff pastry into a sheet large enough to cover the top of your baking dish. Trim the pastry to the size of the baking dish, then place on top of the filling. Cut a few small slits in the top of the pastry to allow steam to vent. Brush the top of the pastry with heavy cream. Bake for 30 minutes, or until the pastry is deep golden. Serve hot.
1