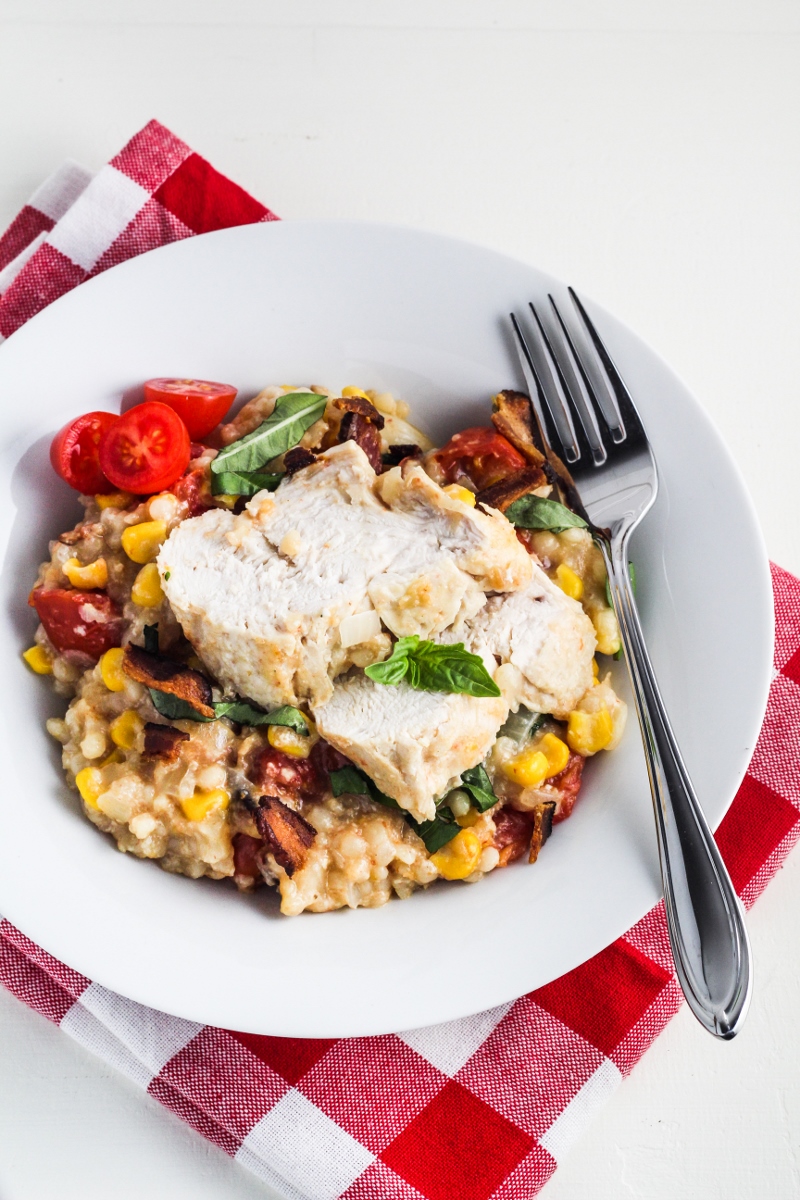 Just another quick hello and a recipe for a simple, summery, one-pan meal of the variety I think many of you are looking for at this time of year. Oftentimes August feels a bit like a warning month, reminding us summer is ending, enjoy it now! Even as the best produce of the year starts to ripen, we don't want to be too beholden to our kitchens, and quick nutritious dinners with plenty of leftovers ensure that you can still enjoy these warm sunny afternoons. As corn and tomatoes flood the markets and (hopefully!) your gardens, it's easy to throw them together into just about everything you make – salads, pastas, tacos, etc. This is one more good option for using up these two sweet summer veggies. By letting the couscous, milk, chicken, tomatoes, corn and garlic all simmer together at the same time, not only do you cut down on dish-washing, you end up with a risotto-like dish with all the flavors of summer blended together. Sprinkle some crisped bacon and a handful of shredded basil on top to take it one step further, eat, and then get back to enjoying your summer.
Creamy Summer Chicken with Corn, Tomatoes, and Bacon
Adapted from Martha Stewart. Serves 3-4.
1 lb. of boneless, skin-on chicken breasts

2 TBS olive oil
salt and pepper to taste
8 slices bacon
1 medium onion, finely chopped
10 cloves garlic, peeled and left whole
3/4 c. Israeli couscous
2 1/2 c. whole milk
3 sprigs thyme
1 pint grape or cherry tomatoes, halved
1 1/2 c. frozen corn
10 leaves basil, chiffonaded
Pat the chicken dry and season with salt and pepper. Heat the olive oil in a large dutch oven over medium heat. Place the chicken in the pan, skin-side down, and brown until golden, then flip and brown the other side. Remove the chicken to a plate and set aside.

Lower the heat on the pan to low, and let cool for a minute, add the bacon and cook until crisp on both sides, flipping once or twice. Remove the bacon to a paper-towel lined plate (different from the chicken), and set aside.
Add the onion and garlic cloves to the pan and cook for 2-3 minutes, until translucent, then add the couscous and cook 2-3 minutes longer, or until couscous is toasted and golden. Add the milk, thyme, chicken, and cherry tomatoes, and scrape the bottom of the pan with a wooden spoon to release any browned bits. Carefully bring the milk to a simmer, then lower heat and cover, cooking until cherry tomatoes are softened and chicken is cooked through, about 15-20 minutes. Check doneness of chicken by cutting into the fattest breast – if there is no sign of pink left in the middle, then the chicken is done. If your temperature is too high, milk may curdle, but it's not the end of the world – it won't be as pretty but you can still eat it.
Remove the lid and add the corn to the pan. Cook for another 5 minutes, until corn is warmed through and liquid is mostly evaporated. Remove from heat, and crumble the cooked bacon over the top. Serve in bowls with a sprinkle of the basil chiffonade.
1