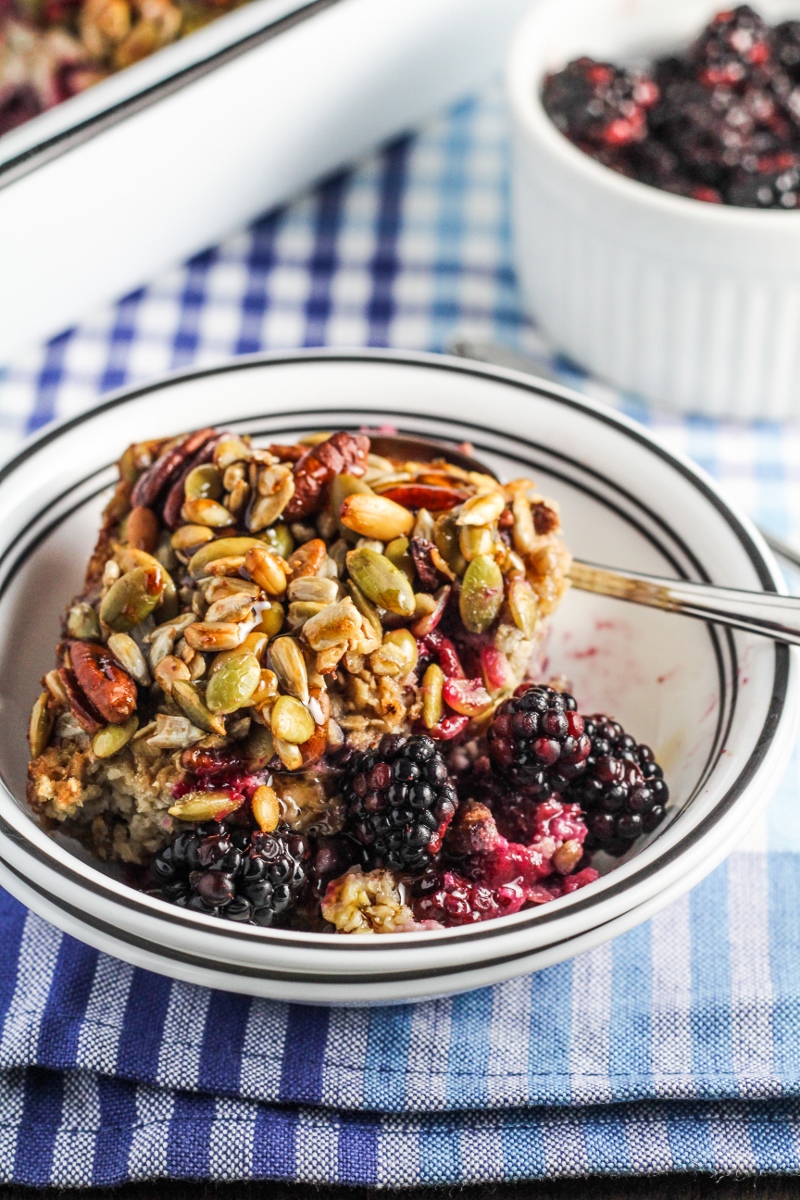 Sorry for the radio silence around here! I've been missing this space, but between traveling, moving, and ballet camp (yes, ballet camp for adults, it's awesome and exhausting), I feel like I'm running at 150% capacity, with not much of a reprieve in sight. Right now, October seems like the light at the end of the tunnel, but I'm trying to enjoy the summer for what it is, because while busy can be overwhelming, this time around, busy is ripe for making lasting memories.
Sometimes when your mind is in a hundred different places, you can forget to choose nourishing foods (especially if all your equipment for making nourishing foods happens to be packed away in boxes). But when you're slammed is when you most need good energy to get through the day, which is why recipes like this Baked Blackberry Oatmeal from Vegetarian Everyday are minor life savers. It's effortless to throw together, low on fat and sugar, high on fiber and protein, craveably good, and one batch is enough for breakfasts and snacks all week. I would venture to say that this might be the best baked oatmeal you'll ever have – the huge volume of blackberries oozes up into the oats making it taste like a giant blackberry muffin, and the crunchy, maple-sweetened topping tastes like something that should be really bad for you, but it isn't at all. And if you live near any sort of bramble patch, now is the time to make this – we have more ripe blackberries in our garden than we can keep up with and I'm sure some of you have the same problem.
I promise I'll be back soon – I want to update you on our garden, tell you about all the food I got to try in Russia, show you my new house, and share a few more great summer cookbooks with you. Thanks for not forgetting about me in the meantime!
Baked Blackberry Oatmeal
Adapted from Vegetarian Everyday. Serves 6-8.
butter, for greasing pan

2 1/2 c. fresh blackberries
1 1/3 cups rolled oats
1 tsp baking powder
1/2 tsp ground ginger or cinnamon
pinch of sea salt
2 large eggs
1 1/2 c. milk
3/4 tsp vanilla extract
1/4 c. maple syrup, plus more for serving
1/2 c. pumpkin seeds
1/2 c. pecans or hazelnuts, roughly chopped
1/4 c. sunflower seeds
Preheat the oven to 325°F. Grease a loaf pan with butter. Pour the blackberries onto the bottom of the pan and spread so they are at an even height.

In a large bowl, mix together the oats, baking powder, ginger or cinnamon, and salt. Pour over the blackberries. Whisk the eggs, milk, and vanilla extract together in the same large bowl, then pour over the oats, evenly soaking the entire mixture.
In a small bowl, use your fingers to mix together the maple syrup, pumpkin seeds, nuts, and sunflower seeds until they are all evenly coated. Sprinkle the seed mixture over the top of the oatmeal. Bake for 50 minutes to 1 hour, until the oatmeal is set and the seeds are lightly browned and crunchy. Serve at any temperature with a drizzle of maple syrup. Keep leftovers in the fridge.
31