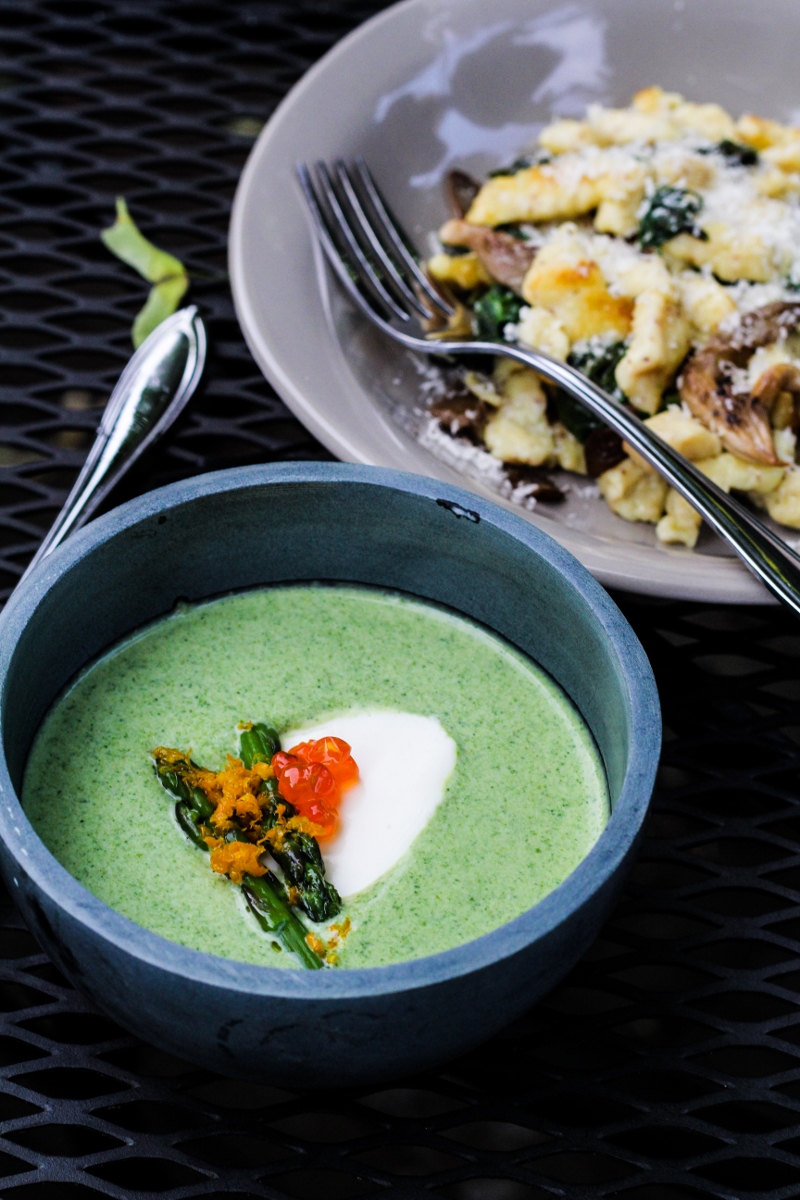 Last weekend I finally had time to put together another Sunday Dinner menu. I'd been mulling over this one for almost a month, the inspiration coming mainly from the beautiful (if slightly challenging) modern Italian cookbook SPQR. While planning the first round of ingredient of the week (starring rhubarb!), the recipe for Ricotta Bavarese with Verjus-Poached Rhubarb caught my eye. It ended up being too complicated to make (and photograph and write about) on a weeknight, but I made it a few weeks later, and proceeded to plan a menu around it. SPQR is organized into regional sections based on the eight major thoroughfares in Ancient Rome, and the bavarese recipe came from the Trentino-Alto Adige section, focusing on recipes from the Northernmost part of Italy. Since I loved the idea of making a coherent, regionally-specific meal, I chose two other recipes from the same section that also utilized spring ingredients to complete the menu – Chilled Asparagus Soup with Meyer Lemon Yogurt and Fish Roe, and Mustard Spaetzle with Mushrooms. Of course, then I went and served a Mexican drink where a glass of white wine would probably have been more appropriate, but hey, it was really hot.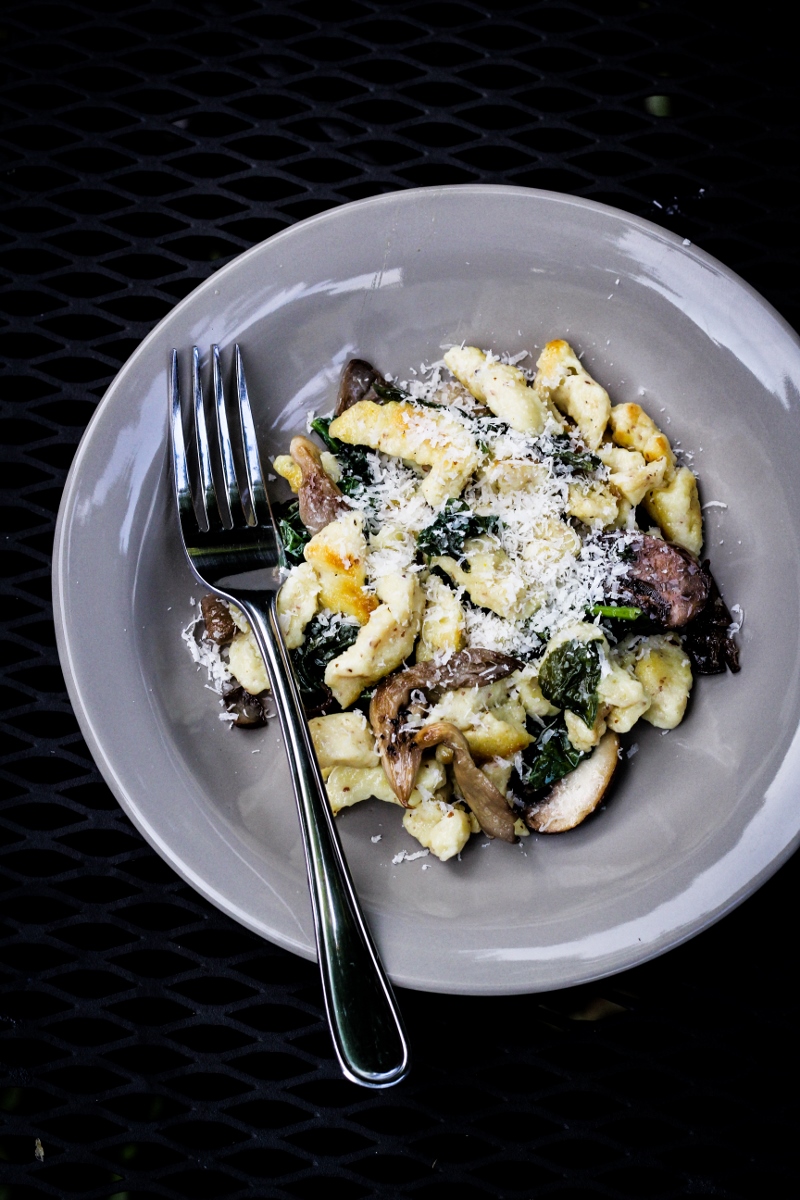 In contrast to the first Sunday Dinner I posted, this menu is quite elegant, the trade-off being that it's a bit time consuming to prepare if you're ambitious enough to make everything. Of course, everything except the spaetzle can be made ahead of time and served chilled, so it actually might make a wise choice for a dinner party. The thing I love about this menu is that it stars so many of my favorite spring foods – strawberries in the agua fresca, English peas in the crostini, asparagus in the soup, mushrooms in the spaetzle, and rhubarb in the dessert. Each dish is flavorful and elegant in its own right, and all together they make a luxurious and impressive meal. Since I've already written about the agua fresca, the crostini, and the bavarese, a few notes about the soup and the spaetzle: the asparagus soup is both refreshing and filling at the same time. The cream lends it a rich sweetness, and the asparagus flavor is not overwhelming. The lemon yogurt is essential – it provides a much needed acidic counterpart to the rich soup – so don't skip it! The spaetzle is surprisingly easy to make, once you've got the hang of grating it into the boiling water. It feels both fancy and rustic, and it becomes extremely luxurious with a spoonful of cold creme fraiche stirred into the hot pasta just before serving – like the most grown-up mac and cheese you can imagine. Whether you only try one of these recipes, or you try them all together, I hope you enjoy them!
The Menu
Strawberry-Lime Agua Fresca (adapted from Tacos, Tortas, and Tamales)
Smashed Pea, Dill and Feta Crostini (adapted from The Modern Vegetarian)
Chilled Asparagus Soup with Meyer Lemon Yogurt – see below (adapted from SPQR)
Mustard Spaetzle with Mushrooms – see below (adapted from SPQR)
Ricotta Bavarese with Red-Wine Poached Rhubarb (adapted from SPQR)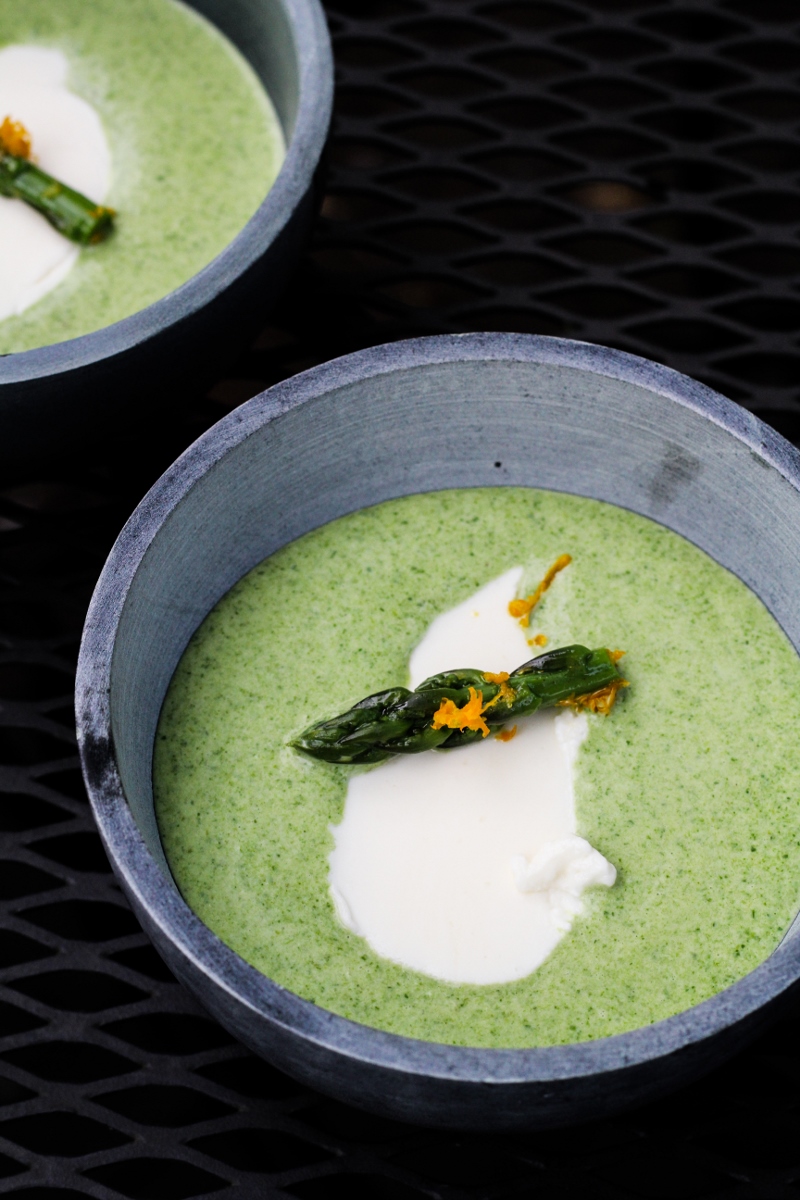 Chilled Asparagus Soup with Meyer Lemon Yogurt
Adapted slightly from SPQR. Serves 4-6.
2 lb. asparagus
salt
4 c. spinach
2 c. flat-leaf Italian parsley
olive oil
1 medium yellow onion, thinly sliced
1 medium leek, roots and dark green parts removed, thinly sliced
2 stalks spring garlic or 4 cloves garlic, minced
3 c. plus 2/3 c. of heavy cream, divided
1/2 packet of gelatin (3.5g or 1/8 of an oz)
1 c. whole-milk plain yogurt
zest of 1 meyer lemon
1/4 c. fresh meyer lemon juice (from 1-2 meyer lemons)
1 oz. fish roe
Cut the tips from the ends of the asparagus stalks. Prepare an ice bath, and bring a large pot of salted water to a boil. Blanch the asparagus tips in the salted water until bright green, about 1-2 minutes, then remove with a slotted spoon and immediately plunge into the ice bath. Let chill completely, then remove from the ice bath, place in a covered bowl, and refrigerate until ready to serve.

Add the spinach and the parsley to the boiling water. Blanch for 1-2 minutes, then remove with a slotted spoon and plunge into the ice bath. When chilled, remove from the ice bath and squeeze the greens to remove excess water. Set aside. Dump the boiling water from the pot.
Remove the bottom half inch from each asparagus stalk and discard. Slice the remaining stalks into rounds about 1/4-inch thick. Add a thin film of olive oil to the bottom of the pot, and heat over medium-low heat. Add the onion, leek, and spring garlic and saute until translucent, about 5-7 minutes, stirring frequently. Do not let the vegetables begin to caramelize. Stir in the asparagus and cook until softened, about 5 minutes longer. Turn off the heat and pour in 3 cups of the heavy cream and the blanched greens. Season with salt and pepper and place in a blender. Blend until smooth, then strain into a large bowl through a fine mesh strainer, pressing on the pulp to remove as much liquid as possible. Discard the green pulp. Taste the soup, season with salt and pepper, then cover and refrigerate until ready to serve, at least one hour.
To prepare the meyer lemon yogurt, dissolve the gelatin in 1/3 c. of the remaining heavy cream, whisking to combine. Heat the other 1/3 c. of the cream in a small saucepan over low heat, until just beginning to simmer, then pour over the gelatin. Whisk to combine and dissolve fully. Whisk in the yogurt, meyer lemon juice, and a pinch of salt. Cover and refrigerate for at least one hour. Once chilled, yogurt should be semi-solid.
To serve, pour the soup into 4 to 6 chilled bowls. Dress the asparagus tips with the meyer lemon zest, a drizzle of olive oil, and a sprinkle of salt. Top each bowl of soup with a scoop of the meyer lemon yogurt, a few asparagus tips, and a small spoonful of fish roe. Serve cold.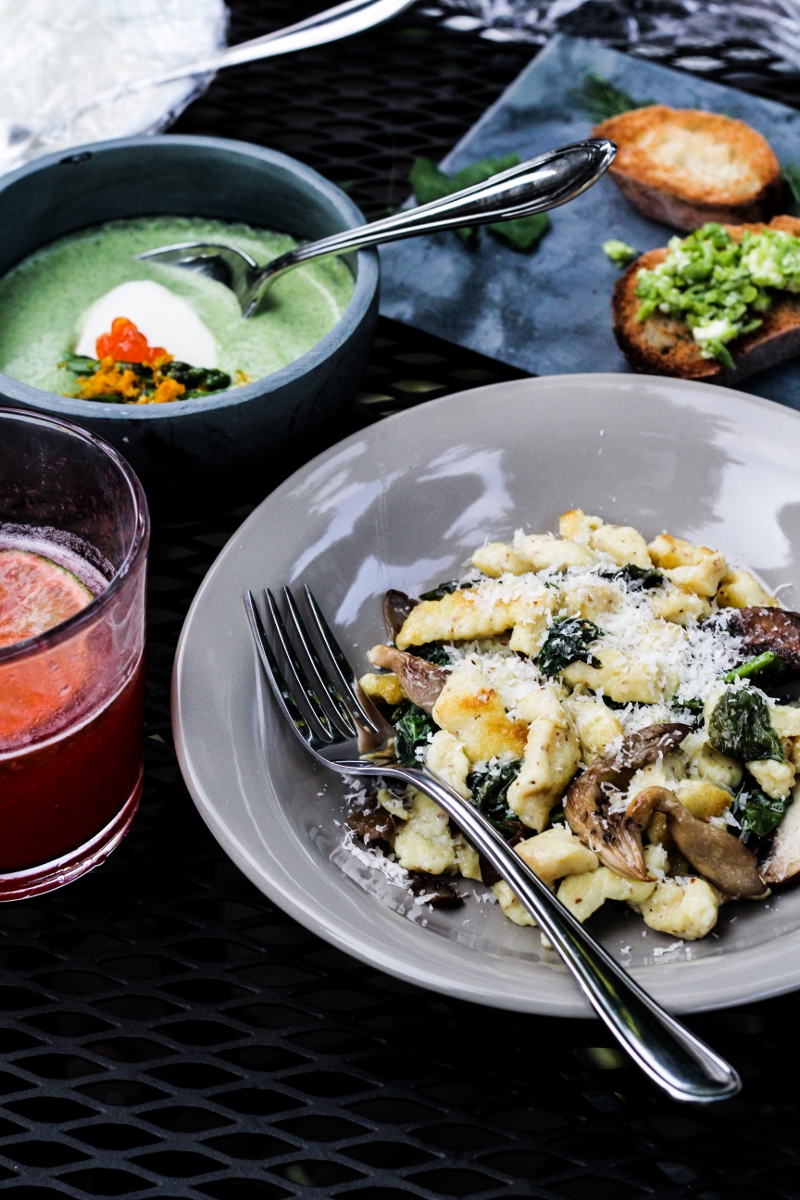 Mustard Spaetzle with Mushrooms
Recipe adapted from SPQR. Serves 6.
2 c. whole-milk plain yogurt

6 eggs, lightly beaten
1 egg white
3 TBS Dijon mustard
2 1/3 c. flour
1/2 tsp salt
1/4 tsp black pepper
olive oil
8 oz. sliced mixed mushrooms
2 TBS butter
2 c. baby spinach
freshly grated Parmesan cheese
In a large bowl, stir together the yogurt, eggs, egg white, and mustard until mixture is smooth. Add flour in three additions, whisking until smooth between additions. Stir in the salt and pepper, then cover spaetzle batter and place in the fridge for 30 minutes to 6 hours.

Bring a large pot of salted water to a boil. Use a spaetzle maker or a large-holed box grater to grate the spaetzle batter directly into the boiling water in batches. Cook each batch for 2-3 minutes, or until the spaetzle float to the top, then remove with a slotted spoon and place in a large bowl with a little olive oil to keep them from sticking. Repeat until all the batter is used.
Heat a thin film of olive oil in a very large saute pan. Add the sliced mushrooms and saute until golden brown, 4-5 minutes. Add the cooked spaetzle and cook, stirring occasionally, until spaetzle are golden brown in places, another 4-5 minutes. Add the butter and stir to melt. Add the spinach and stir it into the spaetzle, cooking until wilted, about 2 minutes.
Remove the spaetzle from the heat and scoop into bowls. Top with the grated Parmesan and serve hot.
4