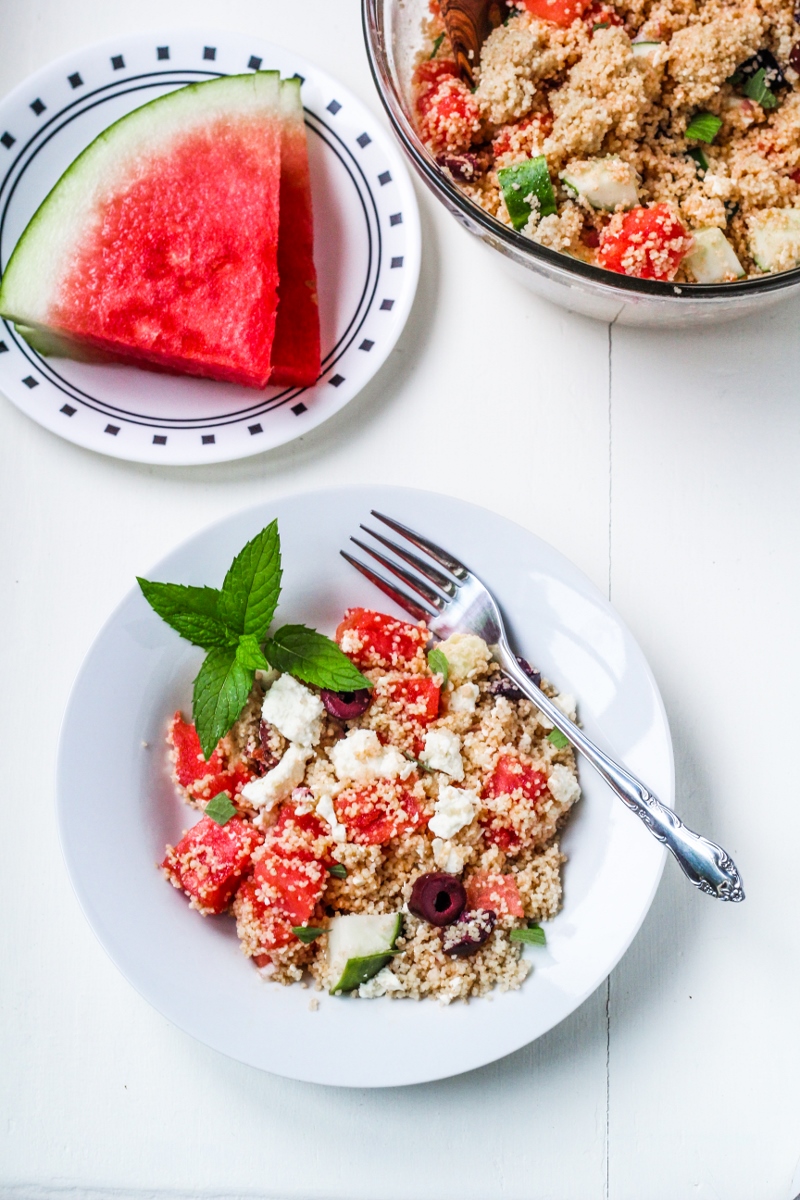 I had every intention of writing a few blog posts while I was on vacation. Really, I did. Since I know the next two months are going to be crazy, I'm highly aware of the risk of unintentionally abandoning this space. But I got too wrapped up in relaxing, swimming in the lake, spending time with my family, and exploring Maine, and blogging fell by the wayside. I don't regret it one bit, but I am finding it a little bit hard to get back into the swing of things in my non-vacation life, including blogging.
Tonight, though, I managed to make myself an actual meal for the first time since getting back. This particular recipe turned out to be just the thing to ease me back into cooking, for a number of reasons. One, the weather has been oscillating between hot and rainy and really hot and sunny, so the minimal amount of stove-time and large amount of fresh, cooling veggies in this dish was quite appealing. Two, on vacation I ate a lot more spaghetti, ice cream, and cheese than I normally do, and I replaced my daily green smoothie with a daily half bottle of wine. I needed something fresh and healthy to help reverse the damage, and this  completely fit the bill. Three, I'm generally feeling a little stressed out and short on time, so the fact that I could make this from start to finish in under 30 minutes, including photographing it, was a major bonus. Four, it was delicious. And it had watermelon.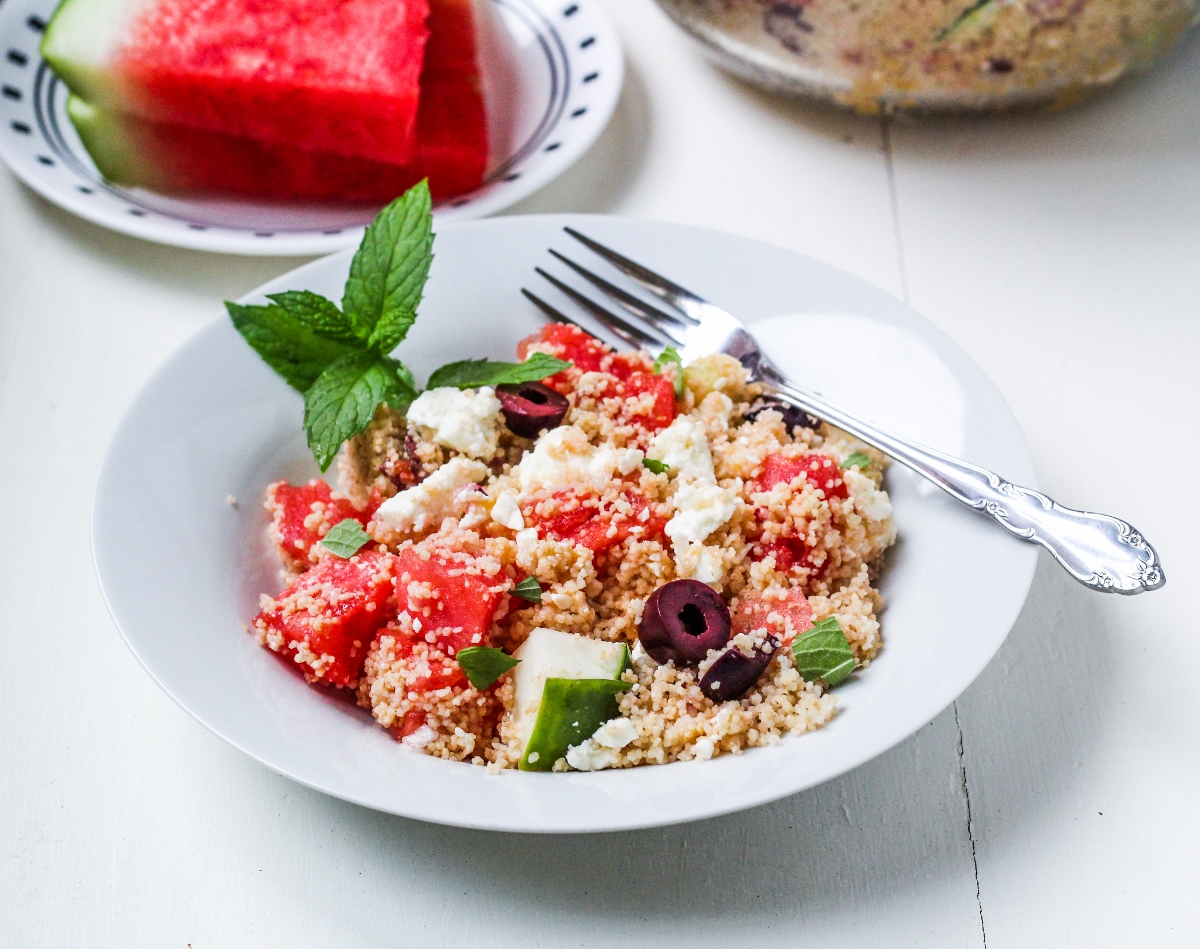 I've been thinking about watermelon an abnormal amount over the past week. While we were in Maine, we got a big one that I blended up into watermelon margaritas. Then BuzzFeed featured one of my watermelon recipes from last year in their "How To Eat Nothing But Watermelon All Summer" article last week. And I really can't get these gorgeous Chili Lime Cucumber Noodles with Salted Watermelon that Laura made out of my head. There's just something about watermelon in July – it's so emblematic of a wholesome American summer, grabbing ice-cold slices stacked high from a plate and eating them barefoot in the grass, juice dripping from your elbows, before running off to play some more. So I grabbed a just-enough-for-one-person-sized chunk of melon at the grocery store on the way home yesterday, in part to continue the feel of vacation. After thinking about what to make with it all day at work, my mind finally settled on a Greek-inspired couscous salad. The combination of watermelon and feta is all the rage, so I took it one step further and added a few more Greek elements – kalamata olives, cucumber, and a tangy vinaigrette. It was just right.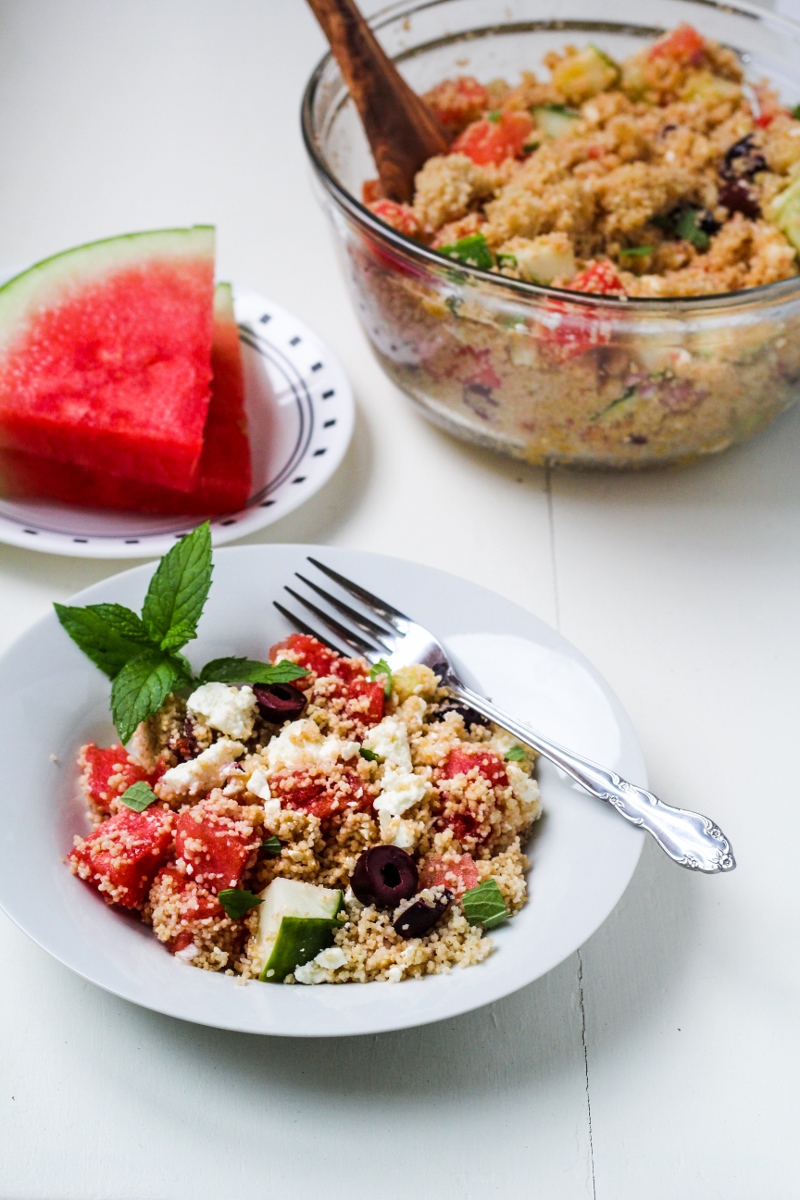 Print
Greek Couscous Salad with Watermelon and Feta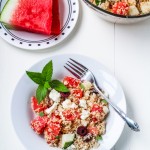 A summery couscous salad with fresh watermelon, feta cheese, and olives. Great on hot days!
1 1/2

c. dry couscous

2

c. water

1

medium cucumber, cut into

1/2

inch cubes

1 1/2

c. cubed watermelon

25

pitted kalamata olives, sliced in half

3/4

c. feta cheese

1

medium shallot, peeled and finely diced

1 1/2

TBS red wine vinegar

4

TBS olive oil
salt

6

–

8

sprigs of mint, finely chopped
Instructions
Combine the couscous and the water in a medium saucepan. Bring to a boil over medium-high heat, then immediately remove from heat and cover with a lid. Let sit for 5-10 minutes, until couscous has absorbed all of the water.
Toss the cucumber and watermelon cubes with the feta and olives in a large bowl. Fluff up the couscous with a fork, then mix that into the cucumber-watermelon mixture.
Whisk together the shallot, red wine vinegar and olive oil to make a vinaigrette. Season to taste with salt, then add to the couscous and stir to coat evenly. Sprinkle the top with chopped mint. Serve cold or at room temperature.
32