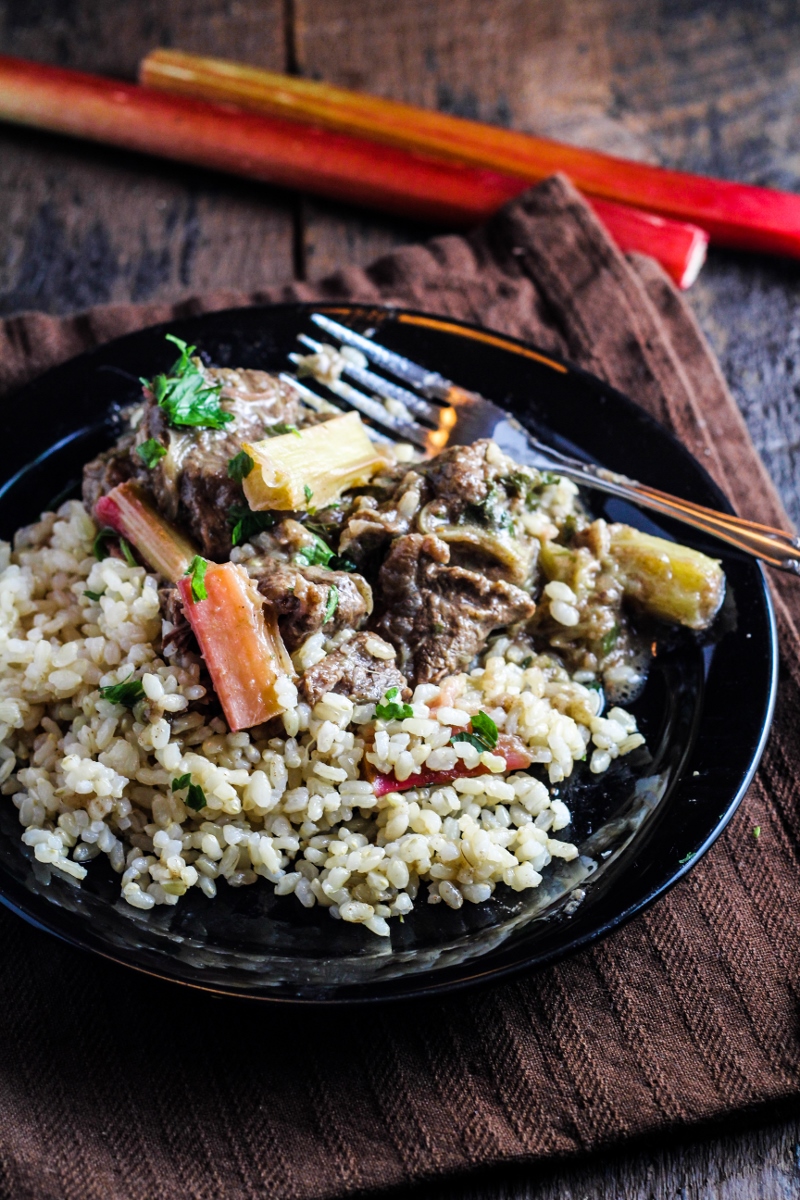 So we've had a little rhubarb cocktail, we've folded it into a whipped custard for dessert, and we've looked at all the amazing things other bloggers are cooking up with it – now let's talk a little more about rhubarb as a plant and as a culinary ingredient. Since it's one of the earliest "fruits" ready for harvest, rhubarb is usually heralded as a spring ingredient, but really it keeps growing all summer, and certainly stays tasty through September. I use "fruit" in quotations since it's not technically a fruit, although in the U.S. it's regulated as such, but a member of the knotweed family, which also includes sorrel and buckwheat.
In cool climates, growing rhubarb is surprisingly easy. It pops out of the ground in early March, and quickly proceeds to become a huge leafy giant. Some varieties always stay green, while others ripen over time to that gorgeous deep red most people expect. Usually, the stalks we harvest in our garden are red partway through but still greenish towards the top – this is totally fine, and they still taste delicious. To harvest rhubarb, reach your hand down to the base of a stalk, inserting a finger a little way into the ground right against the stem, and give a little twist-and-tug to pull the rhubarb stalk up from its base. It should come out fairly easily. Make sure you cut off and discard the leaves – they're poisonous (to both people and some bugs – it has even been used in insecticides!).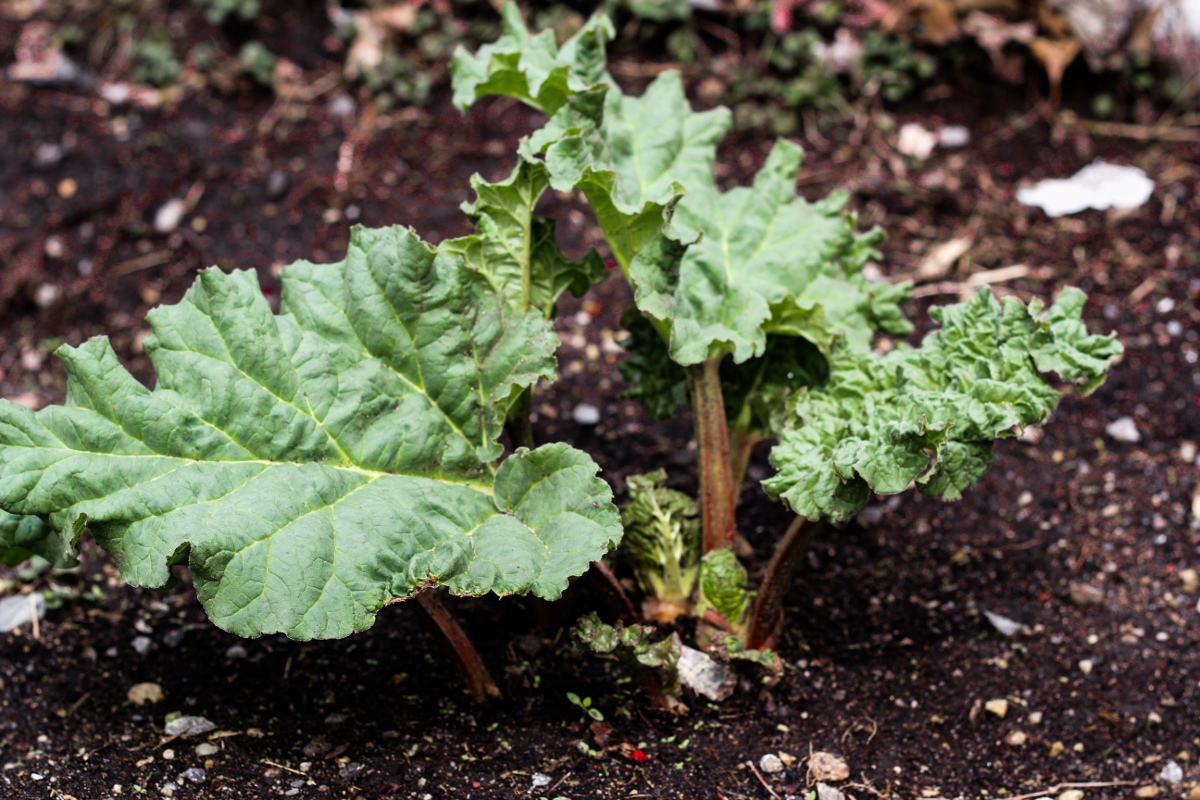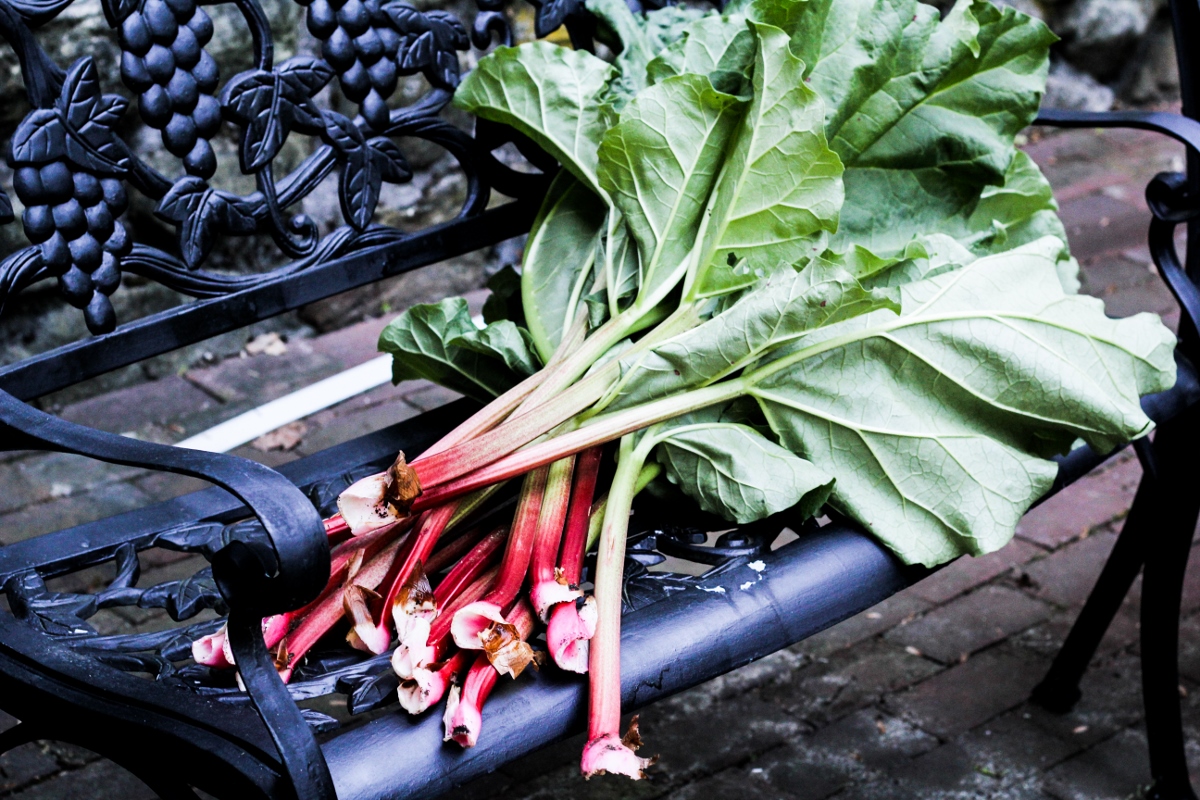 In the United States in particular, rhubarb is known for it's use in sweet dishes, and I would venture to guess that most people don't really encounter it beyond its appearance in strawberry-rhubarb pie. So well loved are rhubarb pies that rhubarb is also known simply as "pie plant." Beyond the classic strawberry-rhubarb pairing, rhubarb also goes well with cinnamon, orange, honey, and cream, all of which are typically thought of as sweet ingredients. However, if you dig back into rhubarb's history, you'll find recipes from its places of origin – China, Russia, Mongolia, and other parts of Central Asia – that use these pairings in savory dishes. I was fascinated to learn from Vegetable Literacy that before sugar was plentiful, rhubarb was actually used as a detoxifier and curative herb. It was during this same general time period that rhubarb was considered a luxury good, included in lists of trade goods side by side with rubies, diamonds, silks, and satins.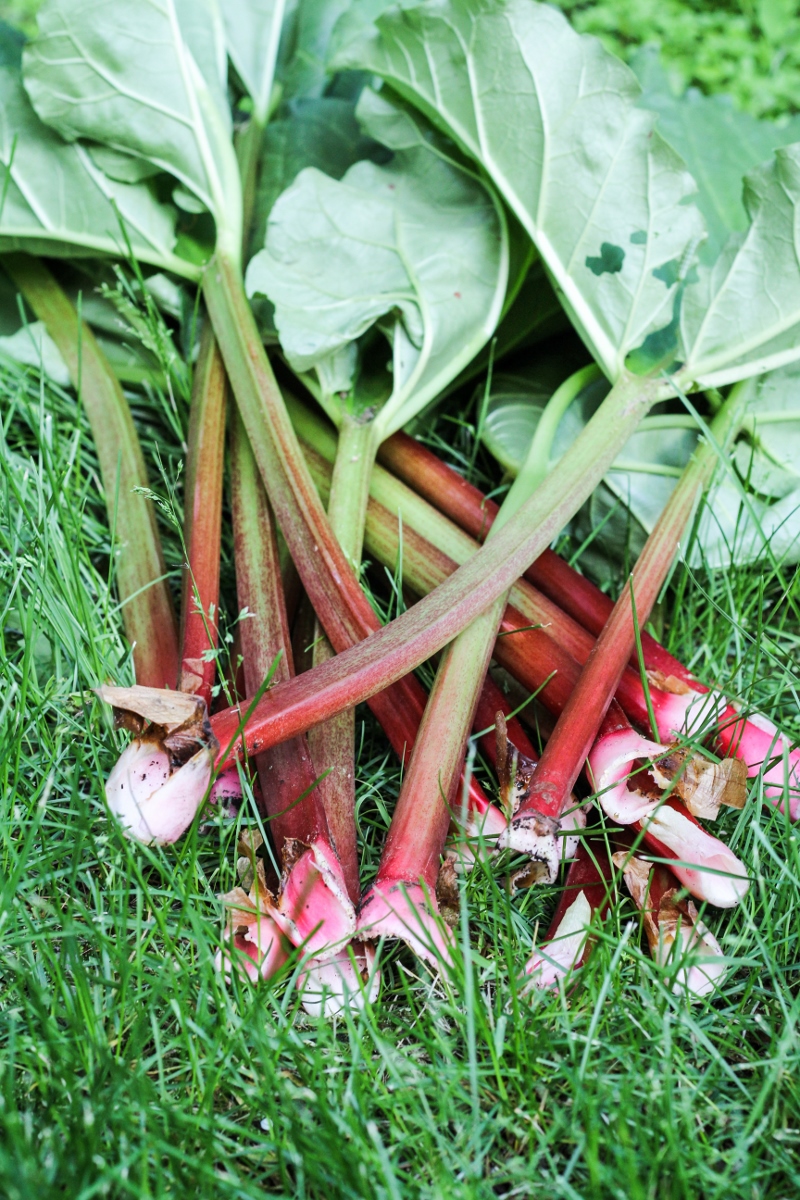 Inspired by all this history, I decided to try out one of these savory rhubarb recipes, this Persian Rhubarb and Beef with Rice. While Persia/Iran isn't technically part of Central Asia, it's right on the border and certainly shares some culinary heritage with the region. Although this is admittedly not the most photogenic of recipes, I really enjoyed the flavors at play in this dish. It's quite sour, but I thought the rhubarb gave it a lot of depth and character. That being said, as written, I found that the ratio of rhubarb to beef was a little high for my taste, so I've shared it here with a little less rhubarb than the original called for. This recipe is a bit adventurous and might not be the best thing to serve a picky eater, but if you like Middle-Eastern food and intense flavors (or you have a bumper crop of rhubarb), definitely give it a try.
Please note: Some of this information came from Vegetable Literacy, a cookbook that also provides a bit of a garden/history/culinary education! I also used information from Wikipedia.
Rhubarb Week Part One: Rhubarb-Prosecco Spritzer
Rhubarb Week Part Two: Rhubarb Custard Fool
Rhubarb Week Part Three: Recipe Round-up from Around the Blogs
Rhubarb Week Part Five: Rhubarb-Ginger Bars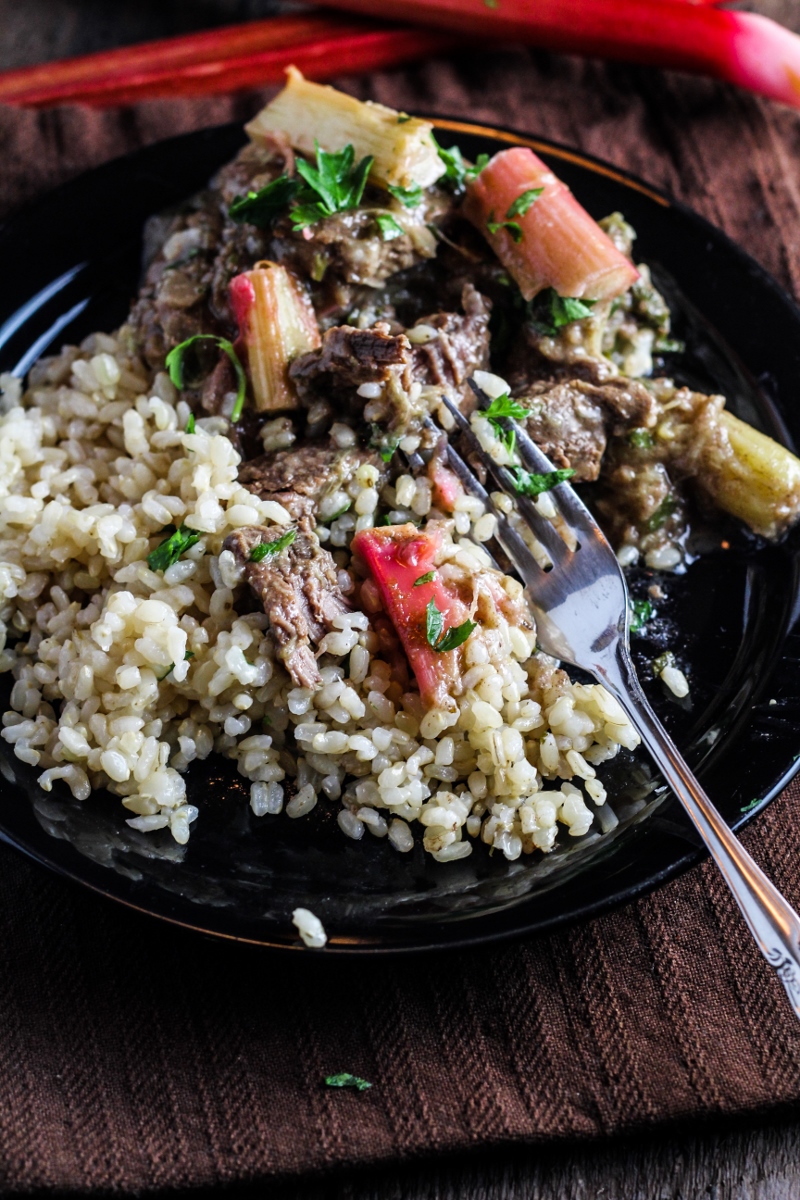 Persian Rhubarb and Beef with Rice (Khoresht-e Rivas)
Adapted from The New Book of Middle Eastern Food. Serves 2-3.
3 TBS butter

1 onion, peeled and finely chopped
1 lb. lean stew beef, cubed
salt and pepper
1/2 tsp cinnamon
1/4 tsp allspice
3/4 c. short grain brown rice
2/3 lb. fresh rhubarb stalks, cut into 2 inch lengths
juice of 1/2 lemon
1/2 c. chopped flat leaf parsley
Heat 2 TBS of the butter in a large saucepan over medium heat until melted. Add the onion and saute until golden, stirring frequently, about 5 minutes. Add the beef, season with salt and pepper, and brown on all sides. Add the cinnamon and allspice and stir to coat the beef – cook 1-2 minutes longer, until fragrant.

Add water to cover the beef and simmer for 1 1/2 hours, until meat is tender. Check water periodically and add more to keep beef covered and prevent burning. When it is nearing serving time, allow most of the water to evaporate so that the sauce is thick.
While the beef is cooking, prepare the rice. Add the rice and 1 1/2 c. of cold water to a small saucepan and bring to a boil over medium-high heat. Immediately reduce heat to low, cover saucepan, and simmer rice, covered, until all water is absorbed and rice is tender, about 30-40 minutes. Remove from heat and fluff with a fork.
Ten minutes before you are ready to serve the meal, heat the remaining 1 TBS butter in a medium frying pan over medium heat. Add the sliced rhubarb and cook until beginning to soften, about 3 minutes, then sprinkle with lemon juice and cook 1 minute longer. Remove pan from heat and add rhubarb to beef. Stir in chopped parsley. Cook entire mixture for 2 minutes longer, then remove from heat and serve over rice.
7