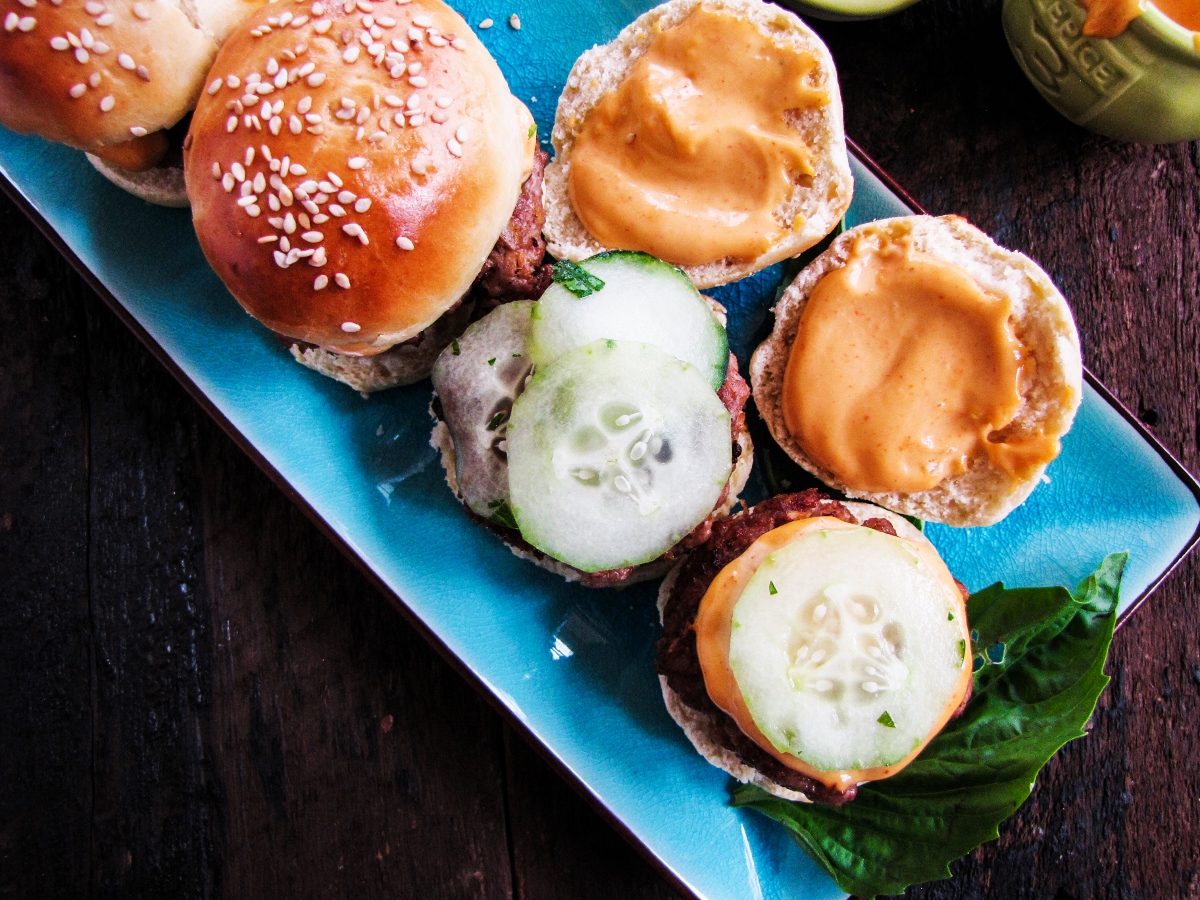 I may have found a new favorite cookbook. When I look through upcoming cookbook releases and think about which books I want to include in my reviews, some are obvious choices – books that have received a lot of advanced praise, like Vegetable Literacy or Gran Cocina Latina, or books that were written by my favorite bloggers, like the upcoming Vegetarian Everyday from the blog Green Kitchen Stories. Others I choose on more of a whim, and the fact that The Chef's Collaborative Cookbook ended up on my desk is the happy result of one of those whims.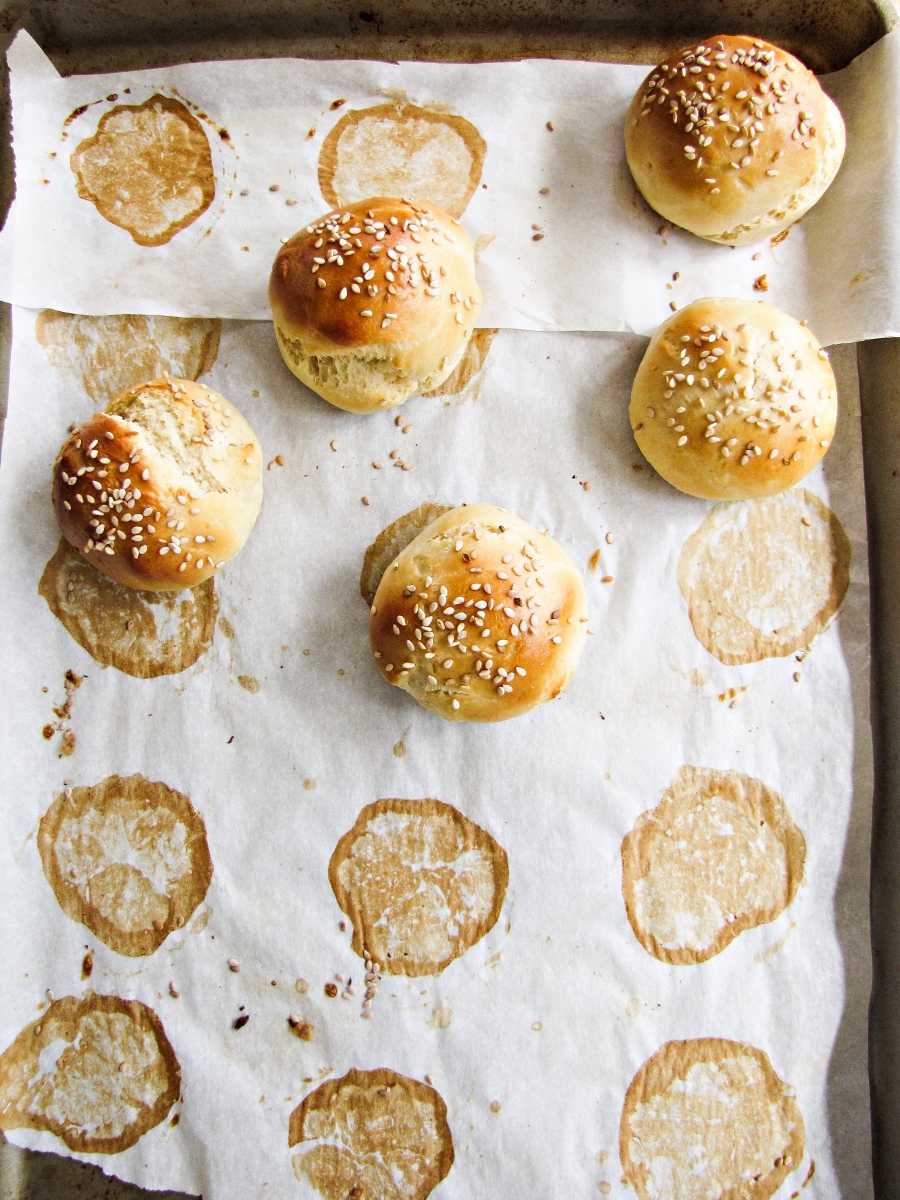 The Chef's Collaborative is an organization founded by a group of like-minded chefs in the early 90's to promote the ideas surrounding sustainable food. The organization now has 6,000 members, 115 of whom have contributed recipes which celebrate local, sustainable ingredients to this collection. Personally, I was happy to see so many local Boston and Cambridge chefs contributing to this book – Jody Adams and Brian Rae of Rialto (Pan-Seared Black Bass with Pepper Stew and Spicy Green Pesto), Ana Sortun of Oleana (Sweet Potato Chickpea Dolmas with Spinach and Crispy Mushrooms), Barry Maiden of Hungry Mother (Heirloom Beet and Upland Cress Salad with Apples, Grapefruit, and Fennel-Buttermilk Dressing), and a dozen others. (Side note: I feel really lucky to be able to walk to so many incredible restaurants. I need to start branching out beyond the Indian place around the corner.) In line with the organization's mission, this book brings a lot of helpful information about navigating "ethical" eating in today's world to the table – there are many side-bars with information about label-reading, understanding GMOs, why you should choose grass-fed, and more. Of course, some of these topics are controversial, so you should always read with a critical eye, but this book does begin to answer a lot of the most common questions about food politics.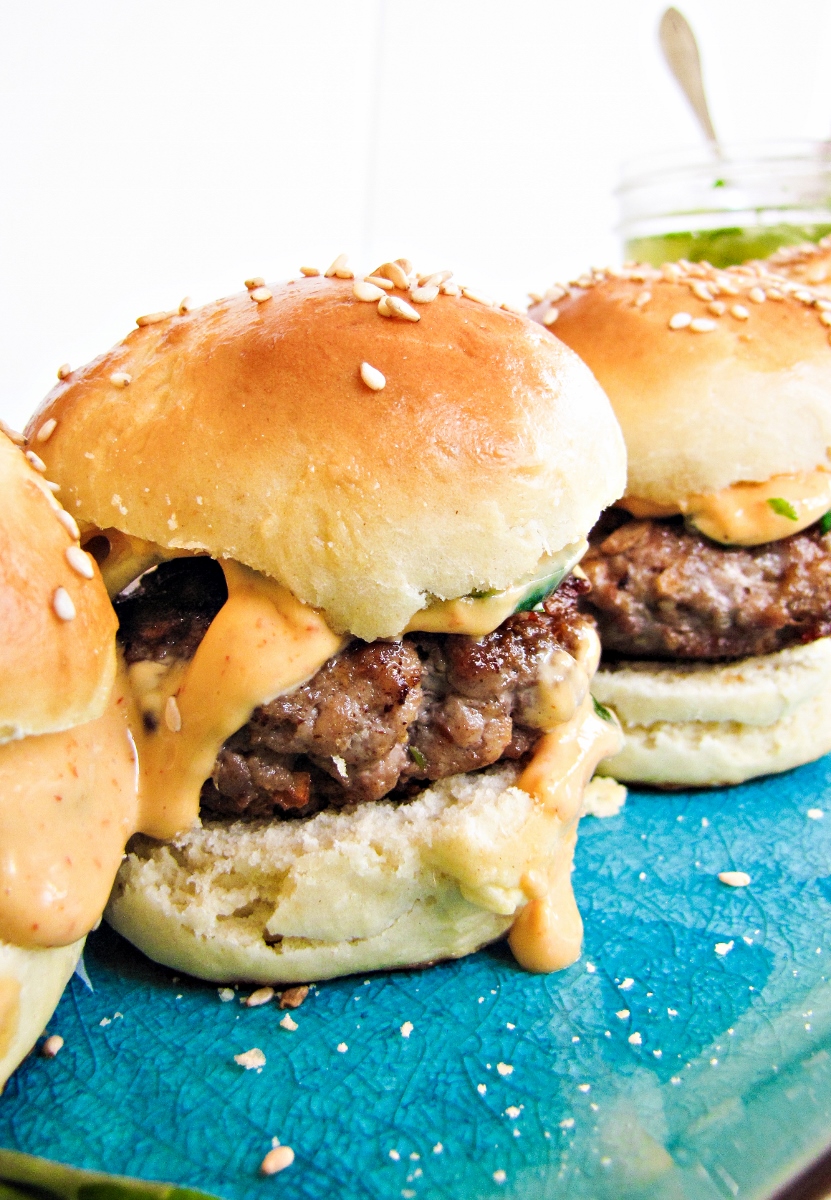 Now, on to the food: I want to cook everything in this book – the Asparagus, Spinach and Spring Pea Lasagna, the Chestnut Waffles with Roasted Apples and Cream, the Smoked Rabbit and Andouille Gumbo, the Wild Ramp and Farmstead Cheese Strata with Roasted Tomato Wine Butter, even the Spicy Calamari with Tomatoes and Saffron Aioli (I don't eat seafood…). Every recipe makes me drool a little bit. I think the book really benefits from having contributions from so many talented chefs with different aesthetics – all the recipes are creative but in slightly different ways, meaning each recipe seems fresh and the collection of recipes doesn't feel the least bit tired. Just flipping through it is getting me beyond excited for our growing season to start in earnest. The first recipe I tried, these Thai Pork Sliders, was a slam dunk on all accounts. I've been craving a burger for a while (OK, let's be honest, I'm always craving a burger), and these little umami-packed bites where just the ticket – craving 100% satisfied.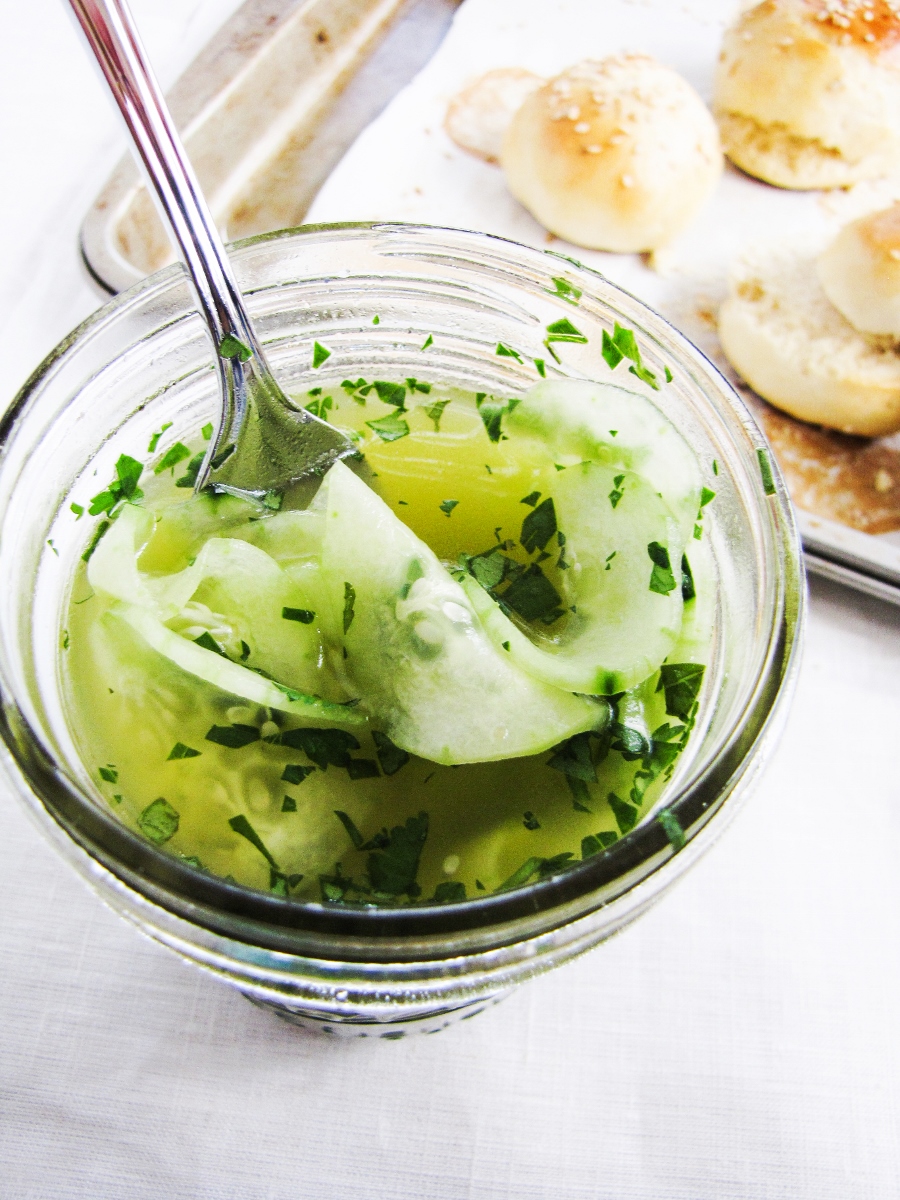 I went all out on this recipe, guys – homemade slider buns, homemade pickles, homemade aioli. It was all surprisingly easy. The slider buns only took 40 minutes from start to finish, with a quick ten minute rise built-in that gave me time to do the dishes before popping them in the oven. The pickles were an essential part of the recipe, but really required nothing more than making a quick salad. The Sriracha aioli was a last minute decision, based on a hunch that these might need something a little creamy to tie them together, and it made all the difference in the world. It's addictive stuff.
I have to add – Trevor told me while eating these sliders that he gives this book a rating of "seven forks and a spoon." When I asked what scale this was on, his answer was "the scale of silverware." I'm pretty sure this means he approves, as well as that he finds himself very amusing. (I suppose he should also get credit for frying the burgers and doing the dishes…)
The bottom line: The Chef's Collaborative Cookbook is an instant favorite for me. The creativity and quality of recipes in this book – all of which truly celebrate local, seasonal produce, from  quinces and fava beans to fiddleheads and wild crab apples – really help it stand out from the crowd. It's not a book that will explicitly teach you the basics, but it will bring exciting, restaurant-worthy food down to a level that's accessible for a home cook. Recommended for anyone who is looking to explore the principles of local, seasonal cooking, or who simply wants to bring a new level of creativity into their kitchen.
Disclaimer: Taunton Press sent me a review copy of The Chef's Collaborative Cookbook, but I was not otherwise compensated for writing this review and all opinions are my own.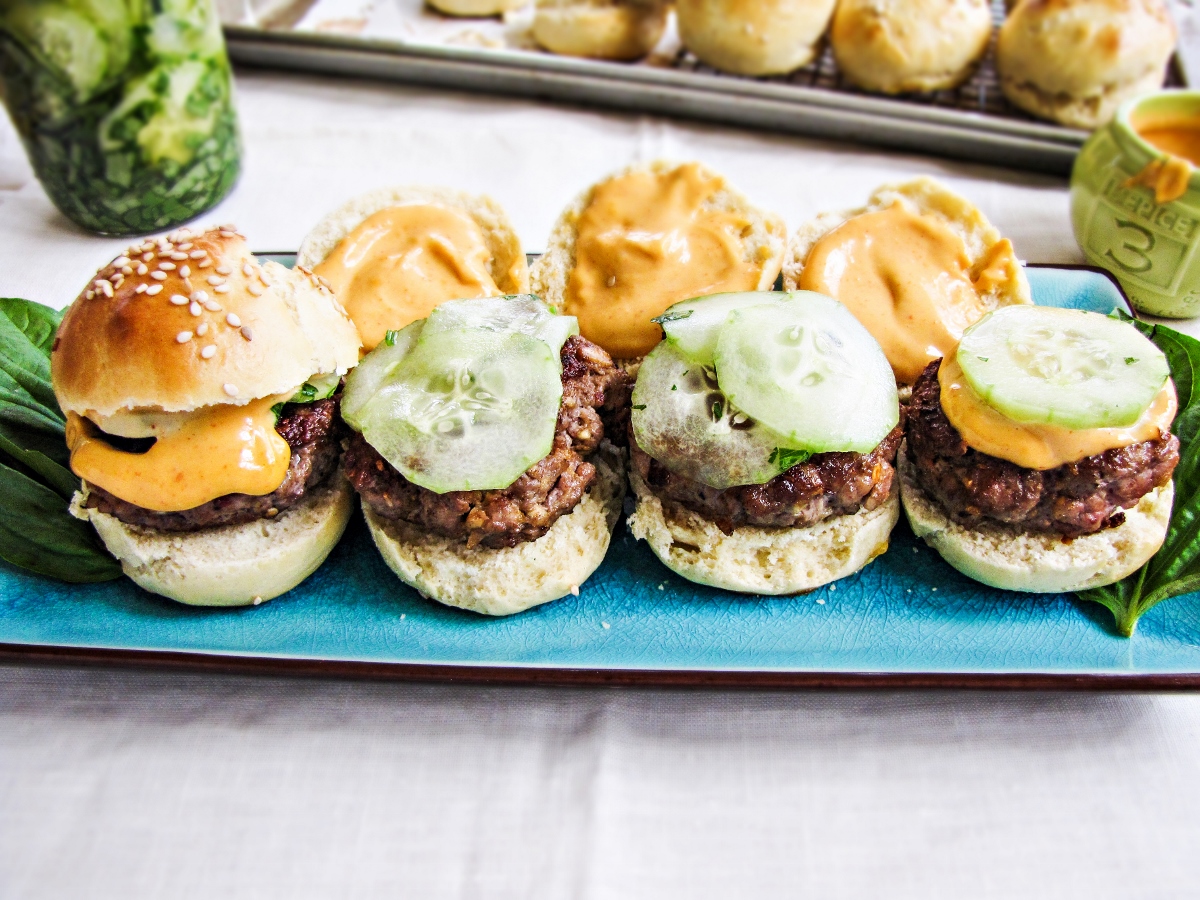 Thai Pork Sliders with Pickled Cucumbers
Recipe adapted slightly from The Chef's Collaborative Cookbook. Contributed by Chef Helene Kennan. Makes 8-10 sliders.
Note: the only changes I made to this recipe where to include a little bit more of various seasonings – more garlic, more ginger, more herbs in the pickles. This was simply a matter of taste, but I liked the little bit of extra flavor boost. Also, you will have leftover pickles, but they're delicious straight out of the jar, so don't worry about using them up!
1 lb. ground pork

2 cloves garlic, finely minced 

2 TBS finely minced fresh ginger
1 TBS sesame oil
1/2 tsp ground cinnamon
1/2 tsp crushed red pepper flakes
2 tsp soy sauce
1/4 tsp white pepper
1/4 c. rice vinegar
1/4 c. honey
2 TBS freshly squeezed orange juice
2 medium or 1 large cucumber, peeled and thinly sliced
1/2 bunch fresh cilantro, coarsely chopped
8 large fresh basil leaves, coarsely chopped
16 fresh mint leaves, coarsely chopped
1 TBS vegetable oil
1/2 c. roasted salted peanuts, coarsely chopped (optional)
8-10 slider buns (see below for recipe)
Sriracha aioli (see below for recipe)
Combine the pork, minced garlic, minced gigner, sesame oil, cinnamon, red pepper flakes, and soy sauce in a medium bowl and stir together until meat is seasoned evenly. Set aside while you prepare the pickles to let the flavors meld.

Whisk together the rice vinegar, honey, and orange juice in a medium bowl until the honey is dissolved. Stir in the cucumbers, chopped cilantro, basil, and mint, and thoroughly coat all the cucumbers with the dressing. Set aside.
Lightly coat a griddle or cast-iron pan with oil and warm over medium heat (if you don't have a cast-iron pan, use a regular pan but use more oil). Form the pork mixture into 8-10 small burger patties. When the pan is hot, add the patties and cook for 3 minutes per side, or until firm to the touch and cooked through.
Serve the burgers with the pickled cucumbers and Sriracha aioli on top of the slider buns. Serve the extra pickled cucumbers on the side with chopped peanuts, if desired.
Sriracha Aioli
Makes about 1 cup of aioli.
Note: I used an immersion blender to make this aioli. There are lots of other ways to do it – including by hand, or in a food processor, if you don't have an immersion blender. Just be sure to slowly drizzle in your oil so the emulsion doesn't break!
1 egg yolk

1 TBS of lemon juice
1 tsp water
1 tsp Dijon mustard
1 c. olive oil
Sriracha, to taste (we used about 3 TBS)
sea salt, to taste
Place egg yolk, lemon juice, water, and mustard in the bottom of a vessel in which your immersion blender fits snugly. Pulse the blender a few times to blend the ingredients so that they are smooth. Very slowly drizzle in the olive oil as you pulse the blender, pausing the drizzle occasionally to make sure that the aioli is coming together and turning creamy white. Continue drizzling in the olive oil while blending until you've used all the olive oil.

Remove the immersion blender and stir Sriracha and sea salt into the aioli a little at a time, tasting as you go, until your aioli has the desired flavor and heat. Refrigerate leftovers in an airtight container for a few days.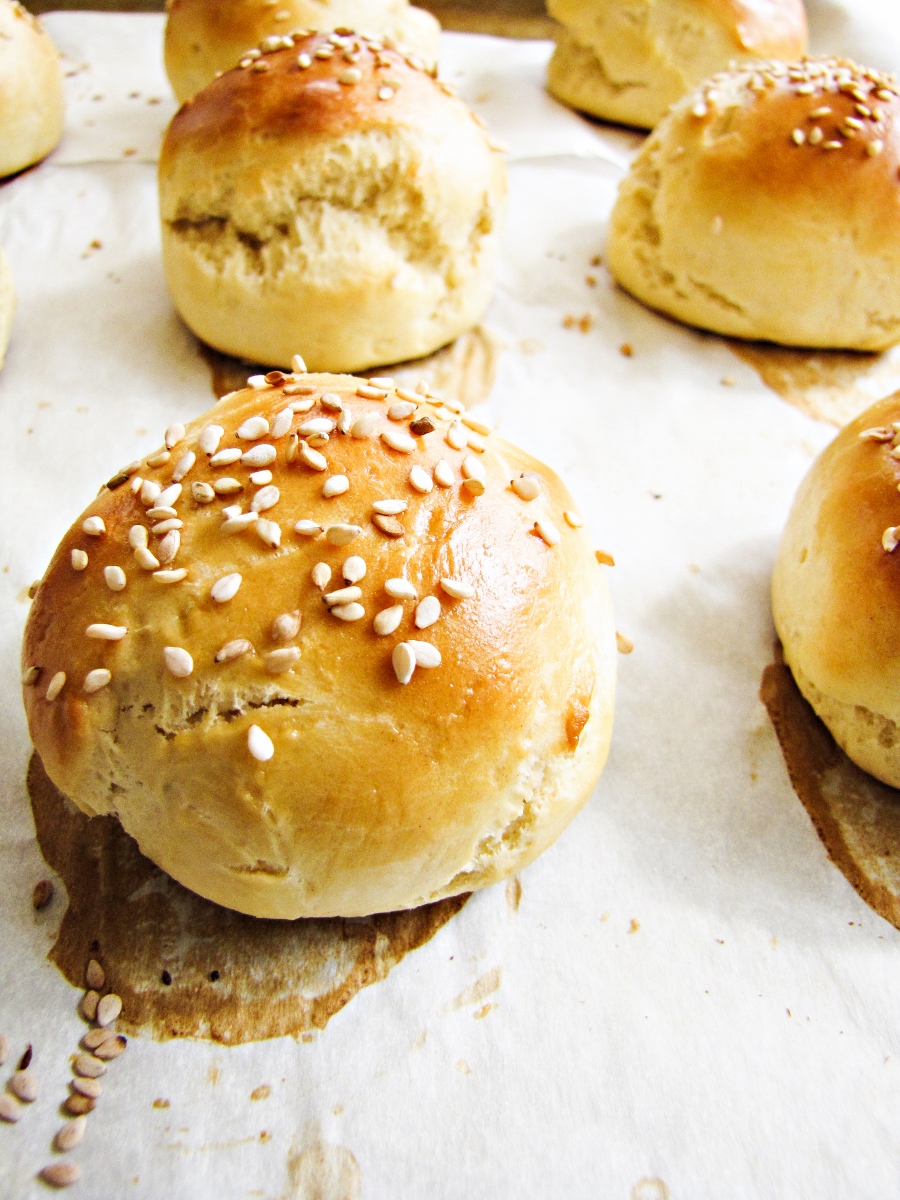 40-Minute Homemade Slider Buns
Recipe adapted slightly from Taste of Home. Makes 16 slider buns.
2 TBS active dry yeast

1 c. plus 2 TBS warm water (110°F to 115°F)
1/3 c. vegetable oil
1/4 c. sugar
1 egg
1 tsp salt
3 1/2 c. flour
egg wash – 1 egg beaten with 2 tsp water
sesame seeds
Preheat oven to 425°F. In a large bowl, combine yeast, water, oil, and sugar. Let sit and proof for 5-10 minutes – yeast should dissolve and get slightly goopy. Stir in egg and salt, then stir in flour a half cup at a time until you have a soft dough. Turn out dough onto a floured surface and knead until smooth and elastic, about 5-8 minutes. Break into 16 equal sized pieces and roll them into balls. Flatten slightly and place on a greased baking sheet. Cover and let rise for 10 minutes.

Brush the top of each bun with a small amount of egg wash, then sprinkle with sesame seeds. Bake buns for 10-12 minutes, or until golden brown.
2