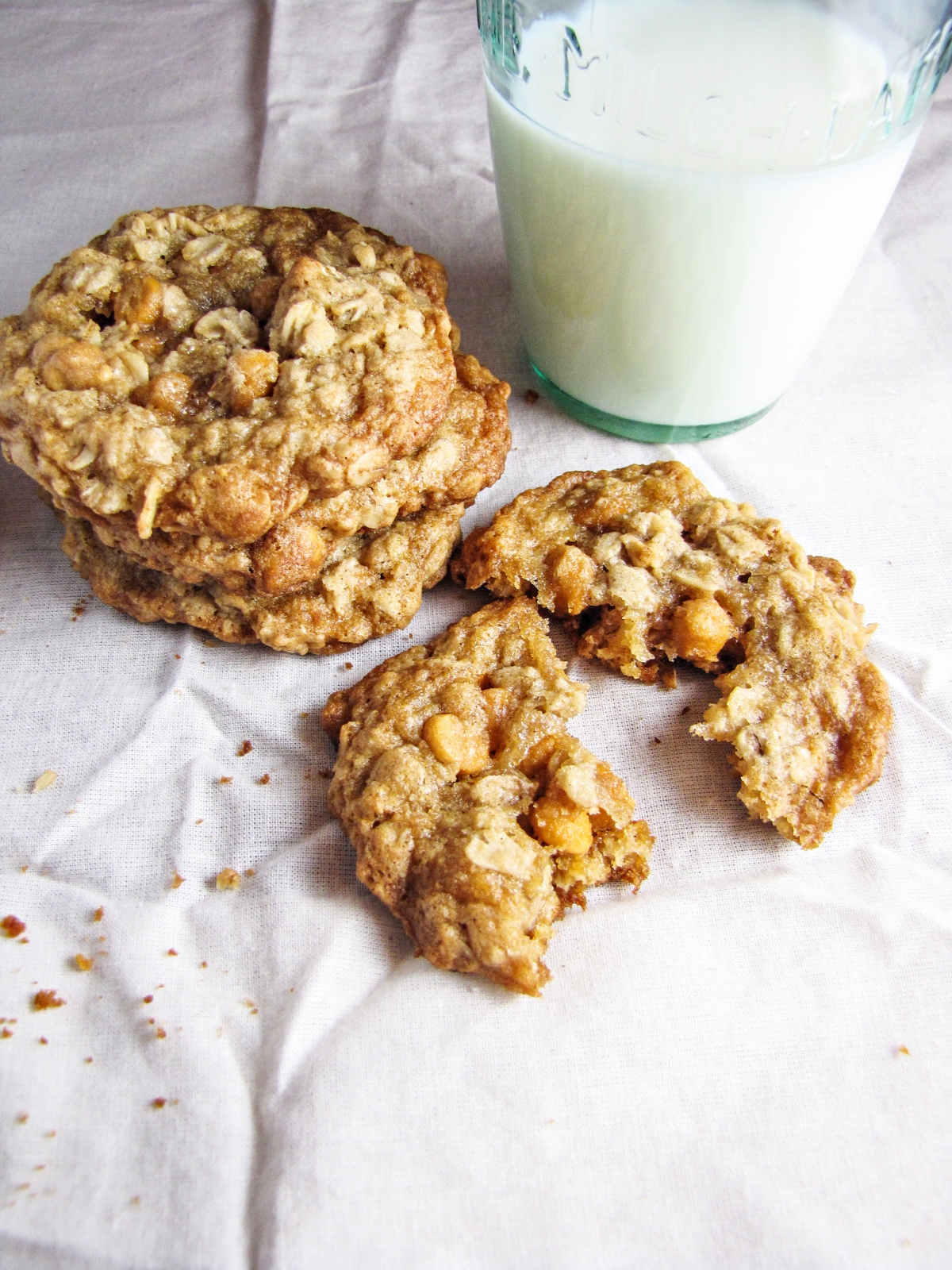 I've been craving cookies. I usually try to resist baking them for as long as possible, just because I know once they're on the counter it will be hard not to eat them by the handful. But I've been putting off this particular craving for weeks, and it was time to give in. I thought about trying to come up with some creative new cookie that would really wow you, but, the thing is, I didn't really want a fancy cookie. I just wanted something simple and sweet and crunchy. And when I remembered Oatmeal Scotchies, one of my favorite, favorite cookies, I suddenly couldn't justify making anything but those.
This is a back-of-the-bag recipe – sometimes, those are the best kind. There's something so comforting about recipes like these, ones that you've made a dozen times before. You barely have to look at the ingredient list to know – two sticks of butter, softened, three-quarters of a cup white sugar, three-quarters of a cup brown sugar, two eggs, one at a time. Like a mantra from your childhood. The first thing you helped your mother make once you'd graduated from boxed cake mix. The recipe you wrote for your "how-to" paragraph in first grade. Also, one of the few recipes you make where the time it takes to preheat the oven is all the time you need. Twenty minutes after you've started, you're eating the first cookie, still so hot that the molten butterscotch chips in the middle burn the tip of your tongue. The first cookie eaten on it's own, standing over the oven, the second one sitting at the table with a cold glass of milk. You spoil your dinner, and feel a little sick from eating one too many spoonfuls of dough. It's a welcome ritual at the end of a long week.
These are one of my dad's favorites, too, and when I eat them, I think of him standing at the counter, sneaking just one, OK maybe two more from the cat-shaped cookie jar. My family is away this week – in Colorado and New Mexico for my baby brother's spring break – but maybe when they come back I'll make another batch, to share with them. After all, it's such an easy way to show your love.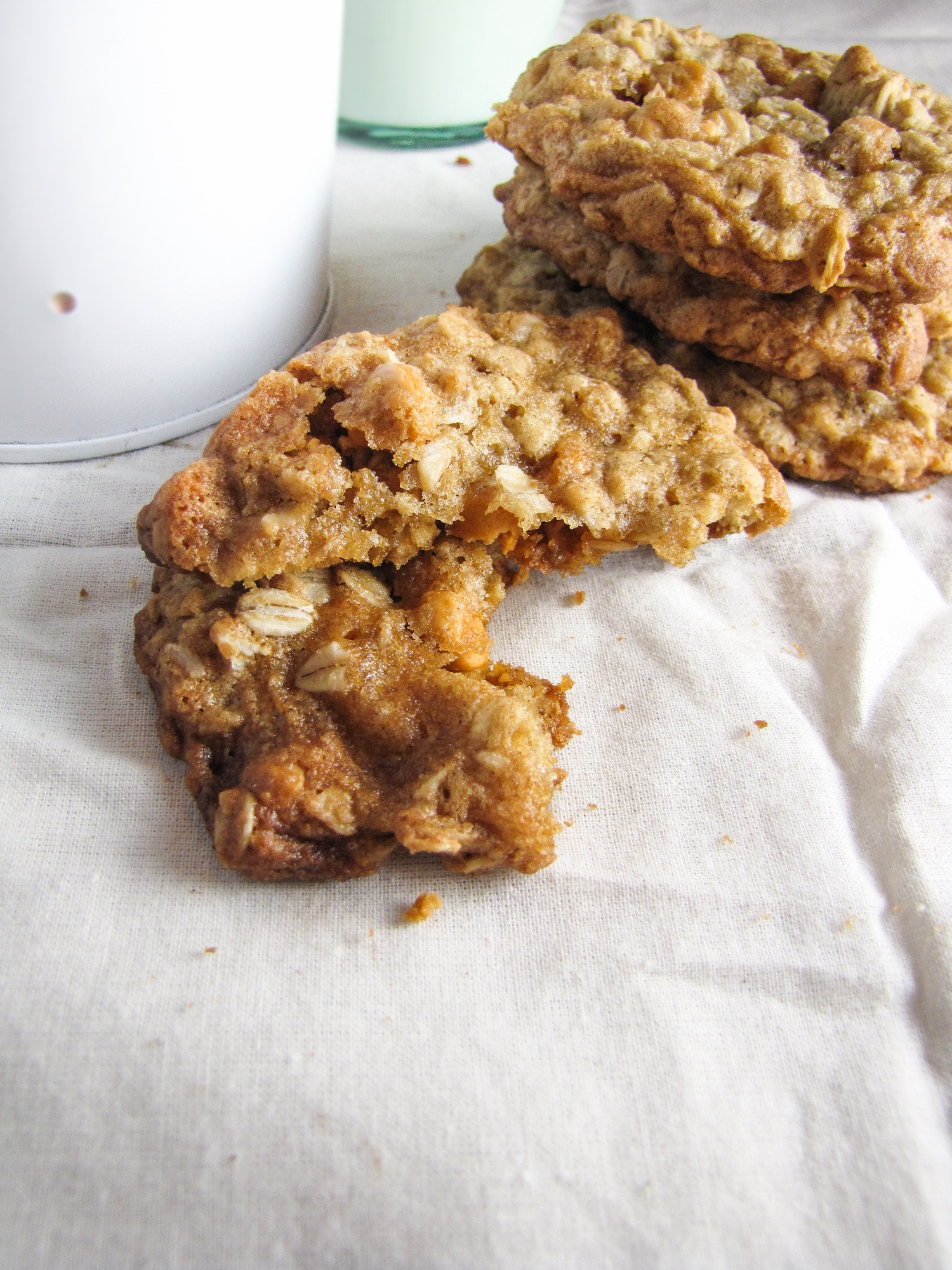 Oatmeal Scotchies
Recipe from Nestle Toll House. Makes 48 cookies.
1 c. (2 sticks) butter, softened

3/4 c. white sugar
3/4 c. brown sugar
2 eggs
1 tsp vanilla
1 1/4 c. flour
1 tsp baking soda
1/2 tsp cinnamon
1/2 tsp salt
3 c. oats
One 11-oz bag butterscotch chips
Preheat the oven to 375°F. In a large bowl, cream together butter and both sugars until light and fluffy. Beat in eggs one at a time, until fully incorporated. Stir in vanilla to incorporate.

In a separate, smaller bowl, whisk together flour, baking soda, cinnamon, and salt. Stir into the wet ingredients until the dough has an even, slightly sticky texture. Stir in the oats and the butterscotch chips.
Drop rounded spoonfuls of dough (a little more than a tablespoon each) onto a baking sheet to form cookies. Bake for 7-8 minutes for chewy cookies, or 9-10 minutes for crispy cookies.
23