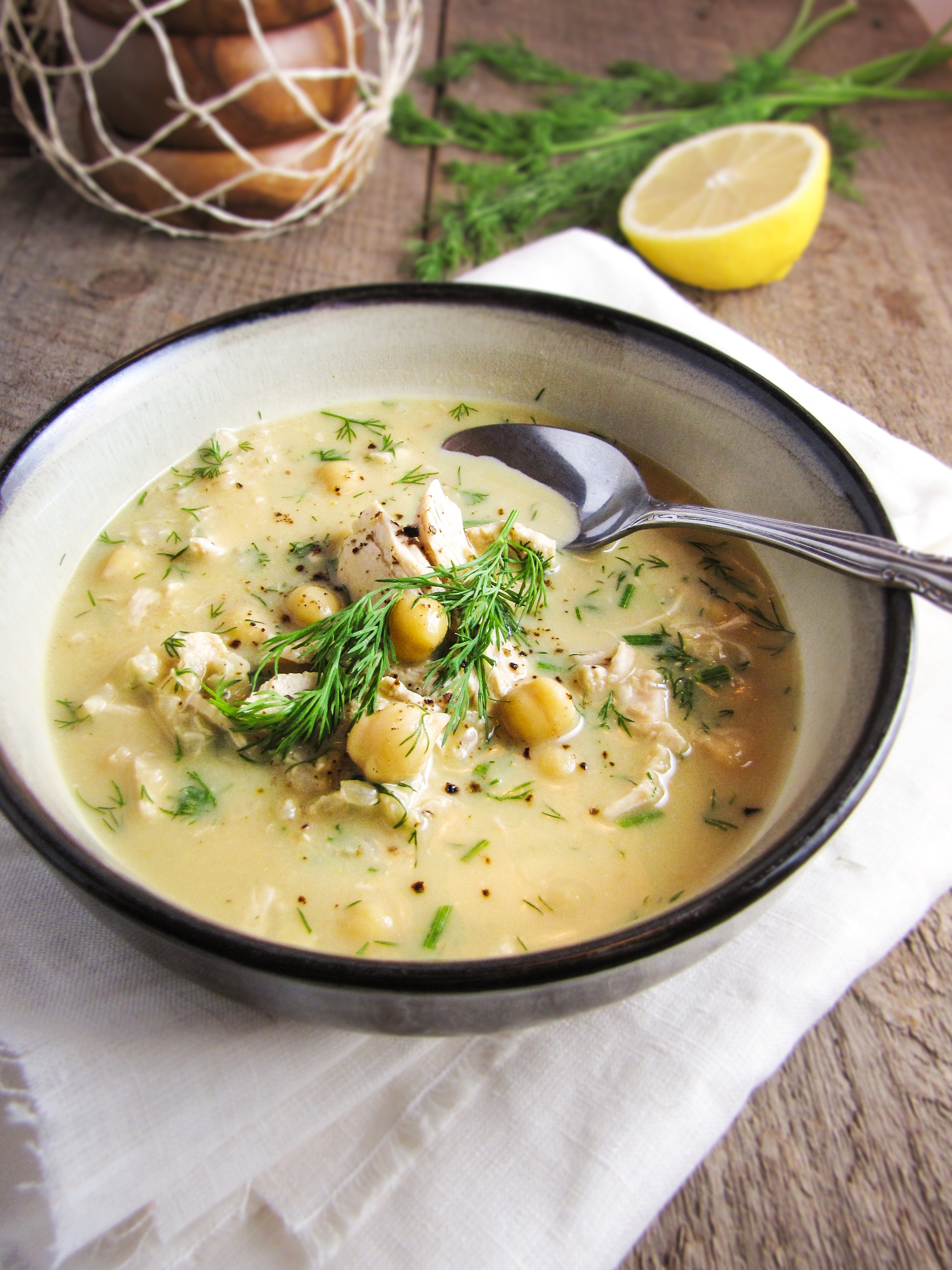 It seems as though we've entered flu season. I actually haven't been sick yet, but I've seen several co-workers, a few family members, and lots of blog-friends succumb in the past week or two. I just want to send everyone a big bowl of chicken soup, but that seems unfeasible, given, you know, the logistics of shipping chicken soup around the country, so I made this lovely, thick, Greek-inspired bowl of avgolemono with chicken to inspire health in all of you (and I'm also hoping that eating it myself will help stave off illness a while longer). In particular, Grandma Joyce – I hope you're feeling much much better!
This is another recipe that's inspired by Maria's Ancient Grains for Modern Meals. I really love this cookbook, but I'm always tinkering with the recipes, which sometimes gives me cooking guilt, as I know it's not a fair test of the recipe (and that a lot of work goes into recipe-testing for cookbooks to get them just right)! I set out to make this one exactly as written, but realized as I started cooking that I didn't have any scallions, and that I didn't have any par-boiled rice on hand, and that I really needed to use up the chickpeas that have been sitting in my fridge. So I sighed, and adjusted here and tweaked there, and made it my own. I promise, I'll make the next recipe from Maria's book the way it says to!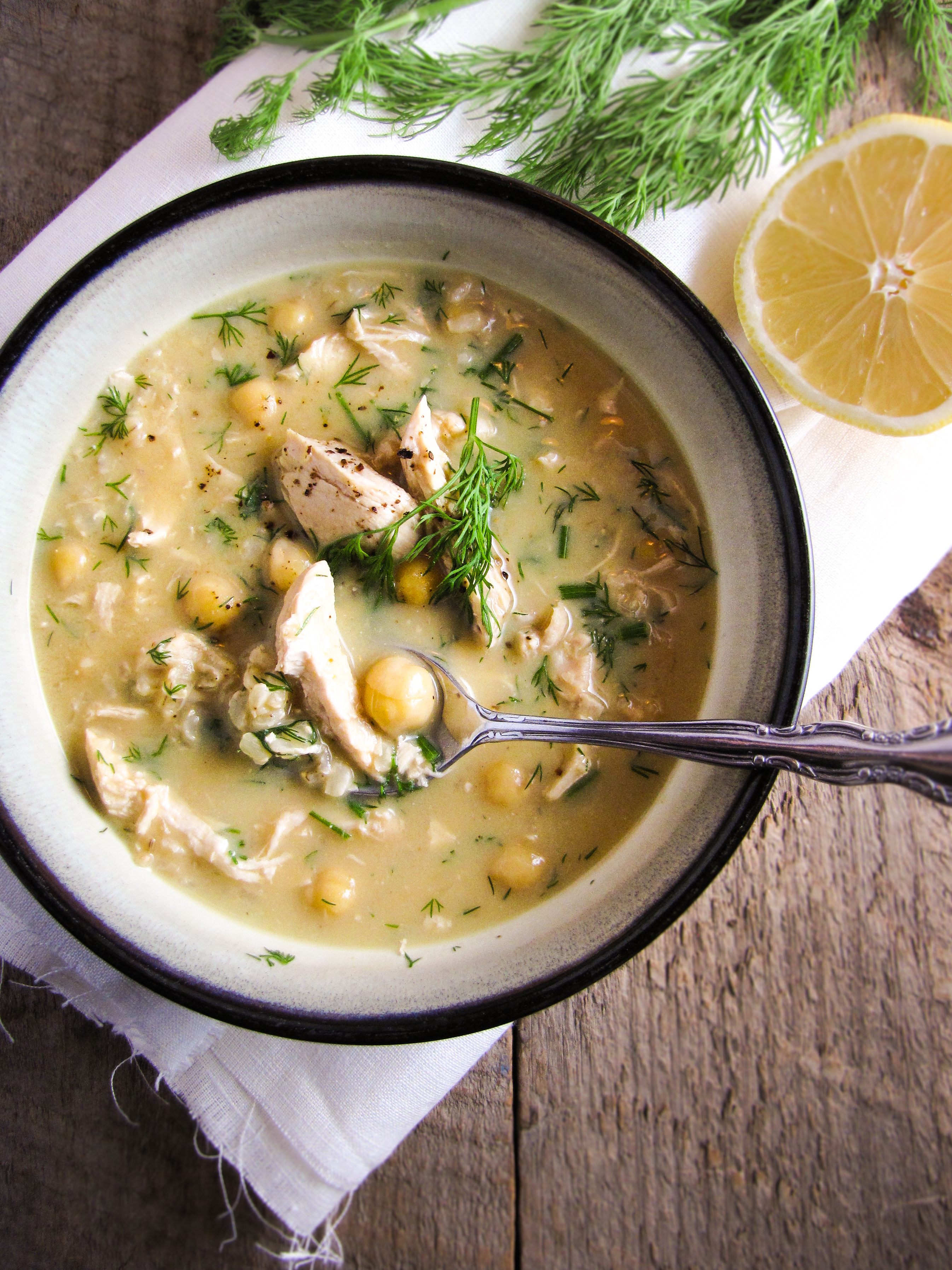 As you might have guessed, this is another one for my winter cleanse. It's great cleanse food – the avgolemono, a Greek technique that involves adding an egg and lemon mixture to thicken hot broth, makes it thicker and more substantial than your average soup, without adding a lot of extra calories. With chicken, chickpeas, and brown rice, it's filling and warming and lovely. Give it a try… and feel better to all of you who are under the weather!
Greek Egg and Lemon Soup with Chicken, Brown Rice, and Chickpeas
Inspired by Ancient Grains for Modern Meals. Serves 2.
4 c. chicken broth
1 boneless skinless chicken breast, fat trimmed (about 8 oz.)
1 clove garlic, peeled and crushed or finely minced
1/4 c. brown rice
1/2 c. cooked chickpeas
1 egg, separated, at room temperature
2 TBS fresh lemon juice (from about 1/2 lemon)
1/4 c. chopped dill
salt and pepper to taste
Add the chicken broth, chicken, minced/crushed garlic, and brown rice to a large pot. Bring to a boil over medium-high heat, then reduce to a simmer, cover, and simmer for 35-45 minutes, or until both the rice and the chicken are fully cooked – the rice should be tender and the chicken should be cooked through, with no pink in the middle when you cut into it.
Remove the chicken from the pot and place on a cutting board. When cool enough to handle, tear into bite-sized pieces, and set aside.
Beat the egg white with a whisk in a medium bowl until it is white and thick. Lightly beat the egg yolk, then add the egg yolk to the beaten egg white and whisk together. Slowly pour the lemon juice into the egg mixture as you whisk. The mixture should be pale yellow and fairly thick. Slowly add a thin stream of the hot broth-rice mixture to the egg-lemon mixture, whisking the eggs vigorously as you do so, to temper the eggs. Use about half of the broth mixture in doing this. Pour the tempered egg-lemon mixture back into the pan, whisking the soup as you do so. Continue to stir, and add the chicken pieces, chickpeas, and dill to the pot. Cook over low heat for 2-3 minutes, stirring, to heat all ingredients through and slightly thicken the soup. Season to taste with salt and pepper, and serve hot.
25