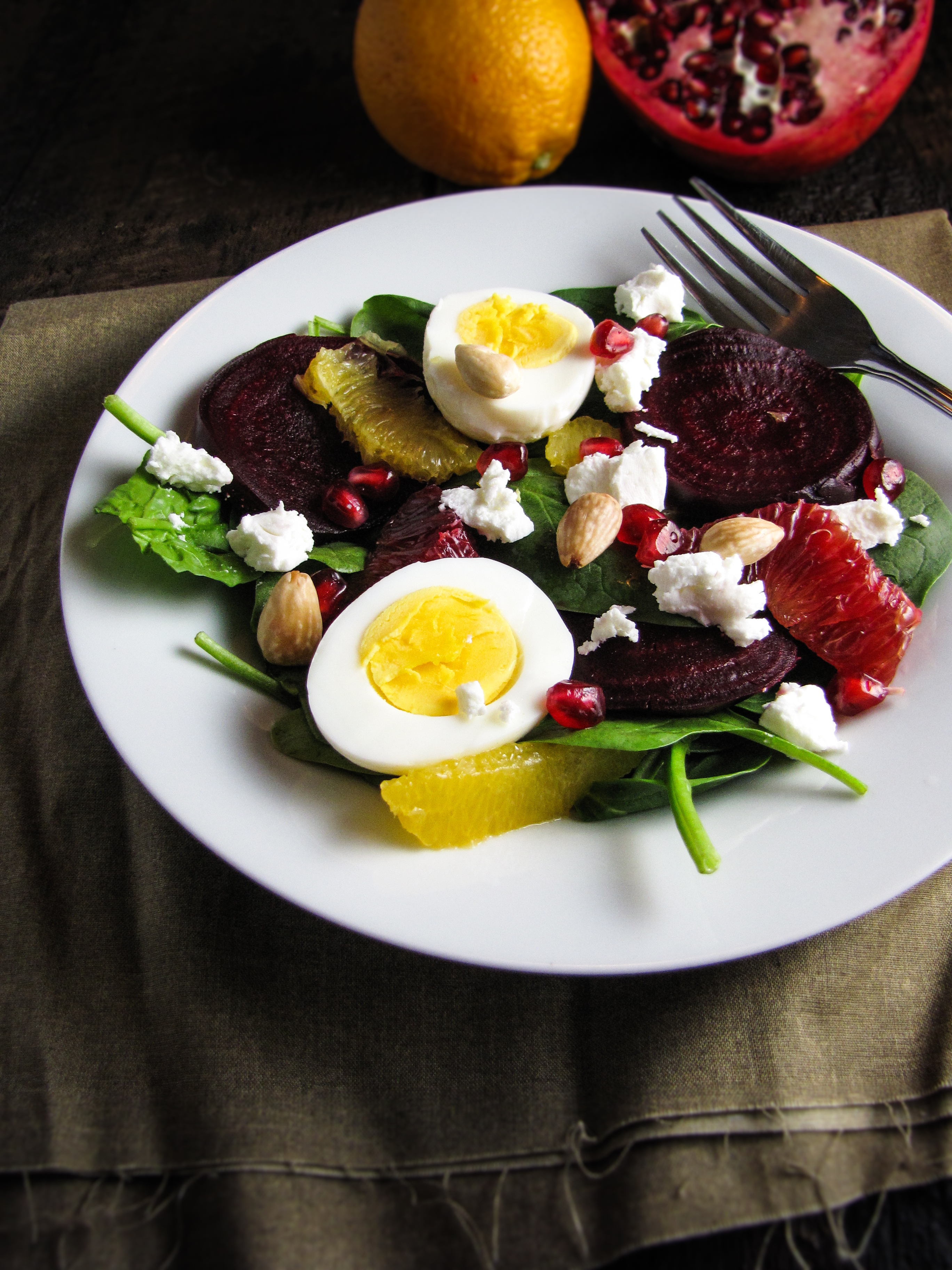 Don't tell anyone, but I'm taking tonight off from my cleanse to go out and celebrate my friend's birthday. We're going to Masa, and I'm so excited to a) drink margaritas, and b) eat cheesy, meaty, gluten-y things that are decidedly un-cleanse-worthy. I promise I won't go too crazy – I don't want to undo all my hard work thus far! – but I am looking forward to the meal.
To make up for tonight's planned splurge, I made my other main meal today a super satisfying and healthy salad. With loads of spinach, roasted beets, hard-boiled eggs, pomegranate seeds, oranges, goat cheese, and a delicious honey-almond vinaigrette, it's fresh-tasting and filling enough that it doesn't need any accompaniments. I made extra hard-boiled eggs and roasted beets so that I can easily make it again throughout the week. I'll probably bring some to work Monday… having a lunch that I'm looking forward to always makes Monday morning a little easier!
I'll be back tomorrow with a healthy and delicious brunch recipe (got to ease back into healthy eating after a night out, right?). I hope everyone is having a great weekend!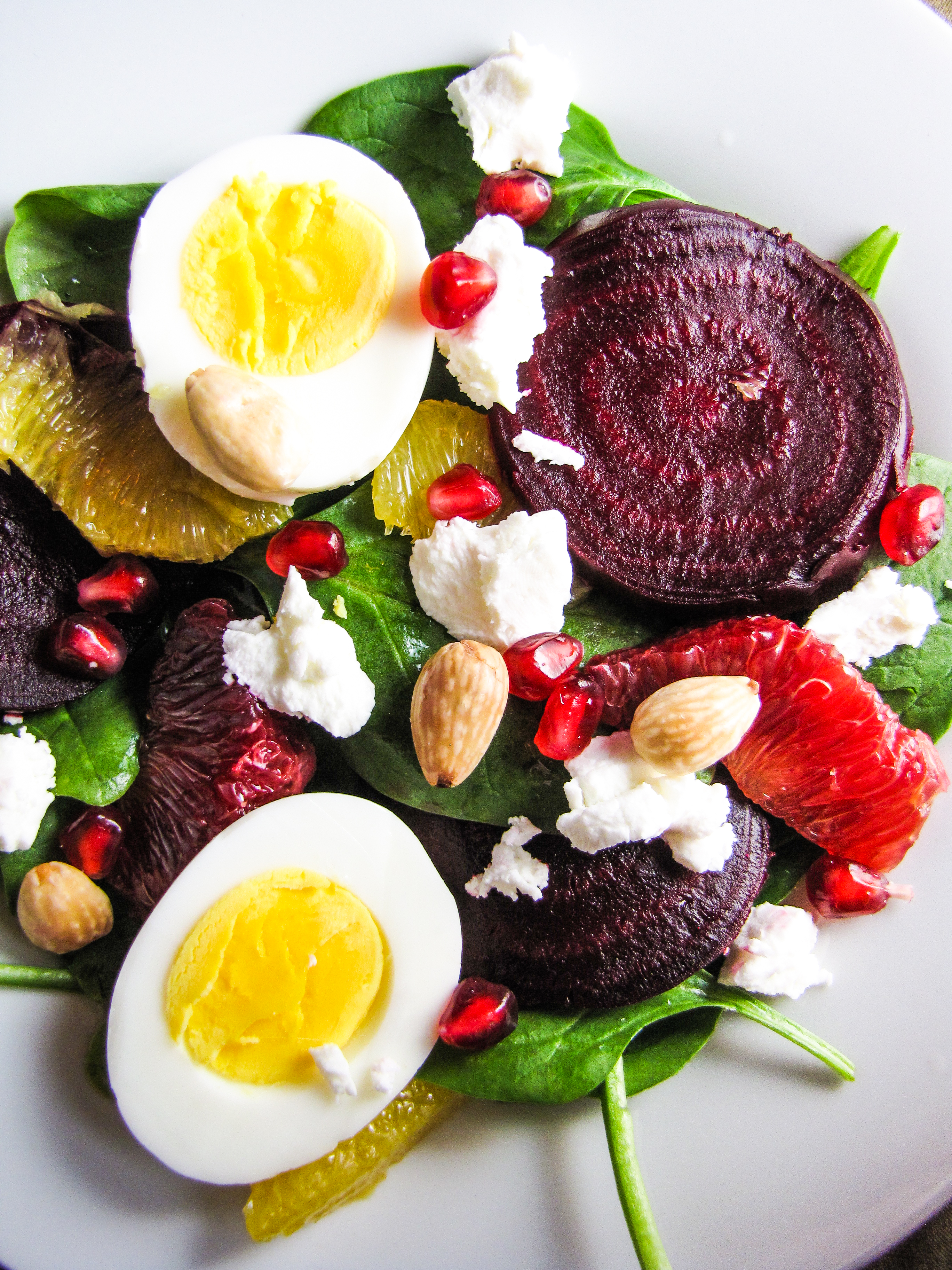 Roasted Beet and Spinach Salad with Goat Cheese, Eggs, Pomegranate, Orange, and Almond-Vinaigrette
Adapted from Serious Eats. Serves 2 as a main.
2 medium beets, greens removed
4 TBS olive oil, divided
sea salt
1/4 c. blanched whole almonds, toasted and roughly chopped
1 TBS honey
1 TBS sherry vinegar
1 TBS minced shallot
1 navel orange
1 blood orange
4 large handfuls of clean baby spinach
3 hard-boiled eggs, peeled and cut into quarters
1/4 c. pomegranate arils
2 oz. fresh goat cheese, crumbled
Preheat the oven to 375°F. Scrub the un-peeled beets and place in the center of a large sheet of tinfoil. Drizzle with 1 TBS of the olive oil and sprinkle with sea salt. Fold the edges of the tinfoil up to make a sealed packet. Place the packet on a baking sheet, and roast for 1 hour, or until a toothpick can easily penetrate the center of the beets. Let cool for ten minutes, or until they are cool enough to handle comfortable. Slip the beets out of their skins, then thinly slice them and set aside.
Whisk the toasted and chopped almonds, honey, sherry vinegar, shallot, and remaining 3 TBS of olive oil together to form the dressing. Season to taste with sea salt.
Cut the peel and pith from the oranges. Supreme/segment the oranges to remove the membranes. Set the orange segments aside.
Divide the spinach between two plates and drizzle each generously with dressing. Top each plate with orange segments, one and a half hard-boiled eggs, roasted beets, pomegranate arils, and fresh goat cheese.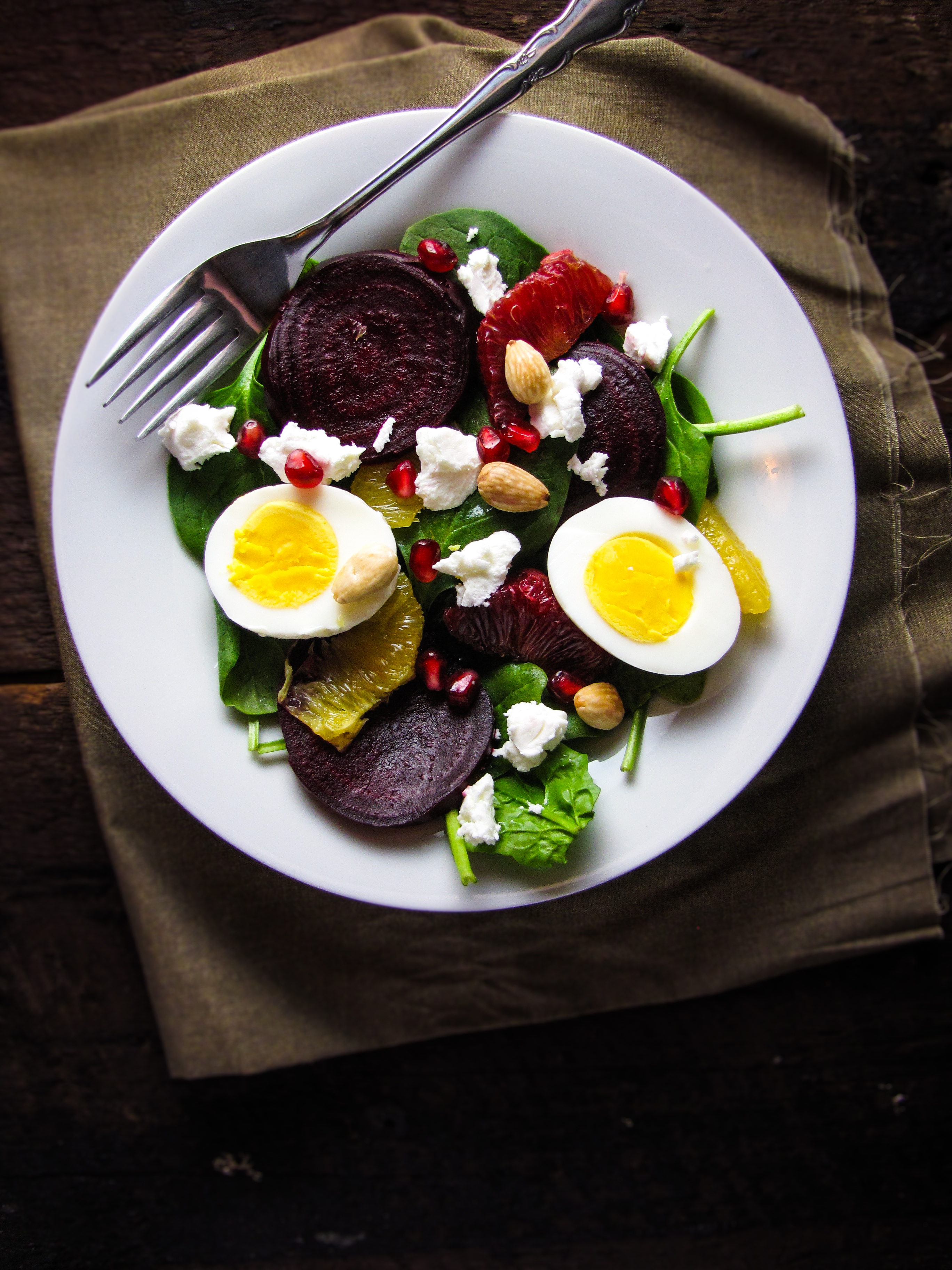 2