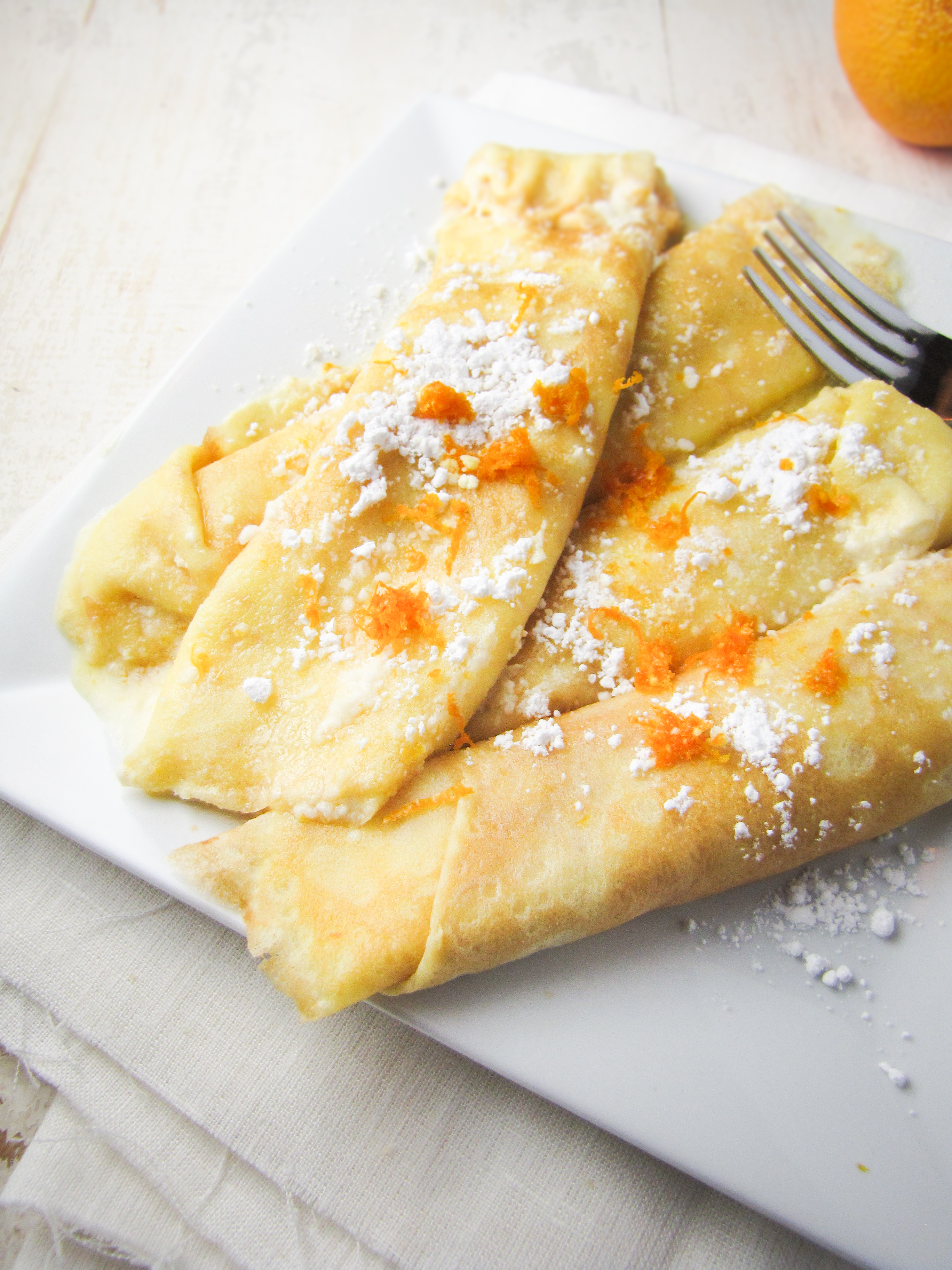 Yes, I know it's not the morning anymore, but at least it's still Monday! And I did do my new resolution today, I just didn't get the chance to tell you about it. Actually, there are a bunch of things I want to tell you about, all somewhat unrelated, so excuse this post for being a little bit jumpy…
Let's start off with this week's resolution: to bring a healthy snack to work each day (with the ultimate goal of staving off those mid-afternoon junk food cravings). Today I brought half an avocado and a clementine, tomorrow I'm thinking nuts and dried cherries. Anyone out there have any great snack suggestions for me? I'd love to hear them.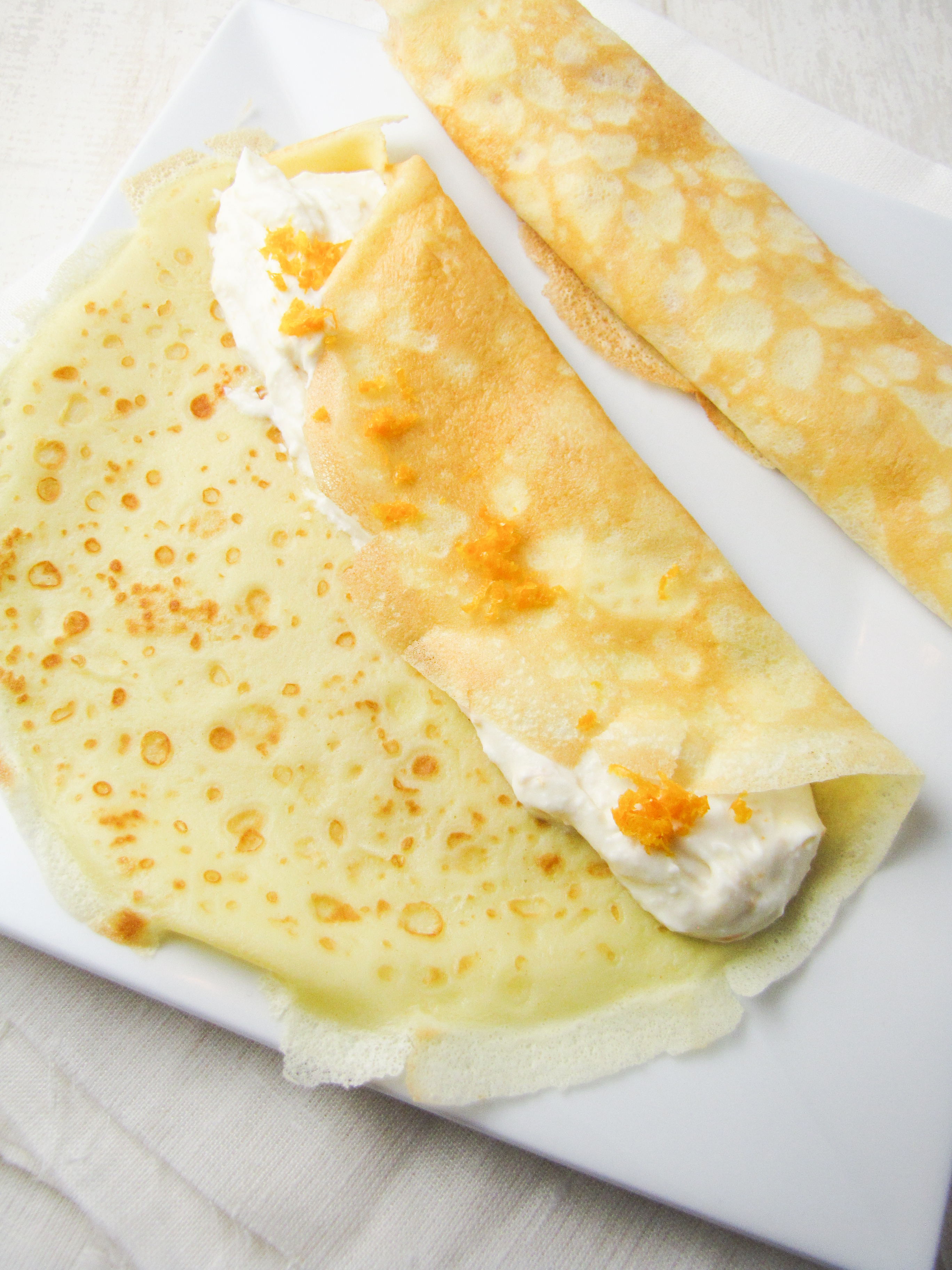 More on the resolutions – I did a pretty good job with them last week, except I ate only three green salads instead of four. I've forgiven myself, though. If you're new to my little resolutions challenge, you can read about the impetus behind it here, and please join in by posting your own resolutions in the comments (or updating me on how they're going, for those of you who have already shared)! And to continue holding myself accountable, here are all my cumulative resolutions thus far:
Week one: No chocolate from the chocolate box at work
Week two: Walk to or from Park St. Station each day (an additional 15 minutes of walking on my commute)
Week three: Do ten minutes of strength training and stretching every day
Week four: Eat at least four green salads per week
Week five: Bring a healthy snack to work every day
Moving on: the reason I was late in posting today was because I spent the weekend away on a girl's weekend with my mom, as my (very) belated birthday present to her for her 50th. I had so much fun and it was really nice to get away, so I just wanted to share a few trip notes and pictures. We stayed at a cute B&B – William's Grant Inn – in Bristol, RI, through a LivingSocial deal, and while we were there took a tour of The Breakers (which was all decked out for Christmas!) in Newport. It's stunning how much detail went into those houses. As part of the deal we had a lovely dinner at Le Central, where I was pleasantly surprised by how yummy the food was. Sunday we spent some time walking around Bristol shopping (I picked up a great set of Spanish bakeware at an antique shop – I can't wait to photograph it), and then went on a neat little hike in the Norman Bird Sanctuary. Such a nice little getaway!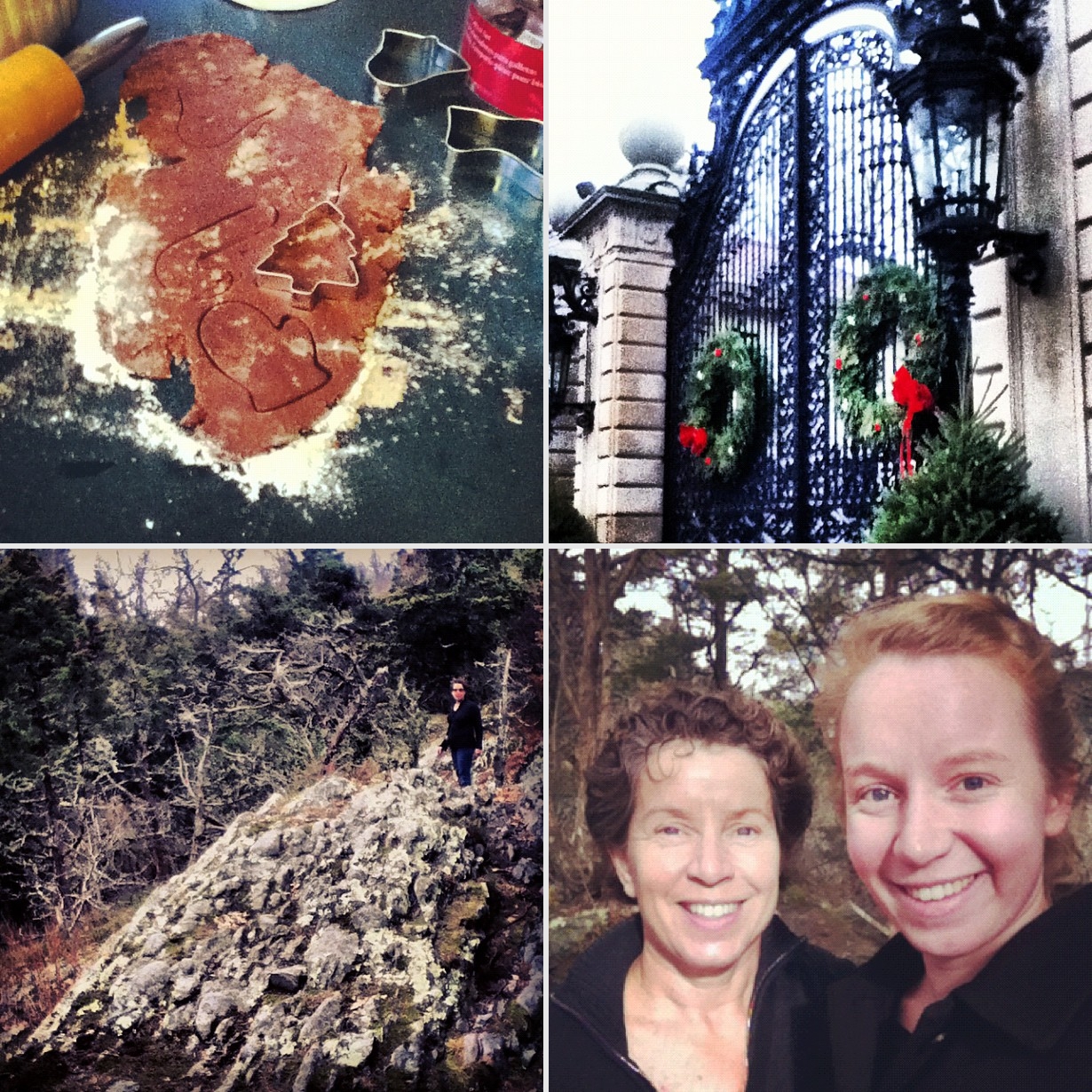 And now for everyone's favorite part – the food! The pictures here are of a super delicious crespelle recipe from a beautiful new book on Italian food, SPQR: Modern Italian Food and Wine. I'll be posting the full review later this week, but I couldn't wait to share these lovely little treats. Crespelle are just the Italian version of crepes, and these particular ones are filled with a mixture of sweetened goat cheese, mascarpone, and ricotta, then simmered briefly in an orange-caramel sauce. To top it off, the crepes themselves are made with nutty browned butter and are as light as air, with crispy lacy edges. The cumulative result is kind of sigh-inducing, and totally worth the extra work. If you're looking for a more savory crepe, check out these Mushroom and Goat Cheese Crepes I created for Life'd last week (it appears I'm on some sort of major crepe kick). And one last thing I wanted to mention before I leave you with the recipe: I'm being featured on NoshOnIt on Wednesday, if you'd like to check it out. Personally, I've been loving reading their daily emails and discovering great new food bloggers and recipes, and I highly recommend them.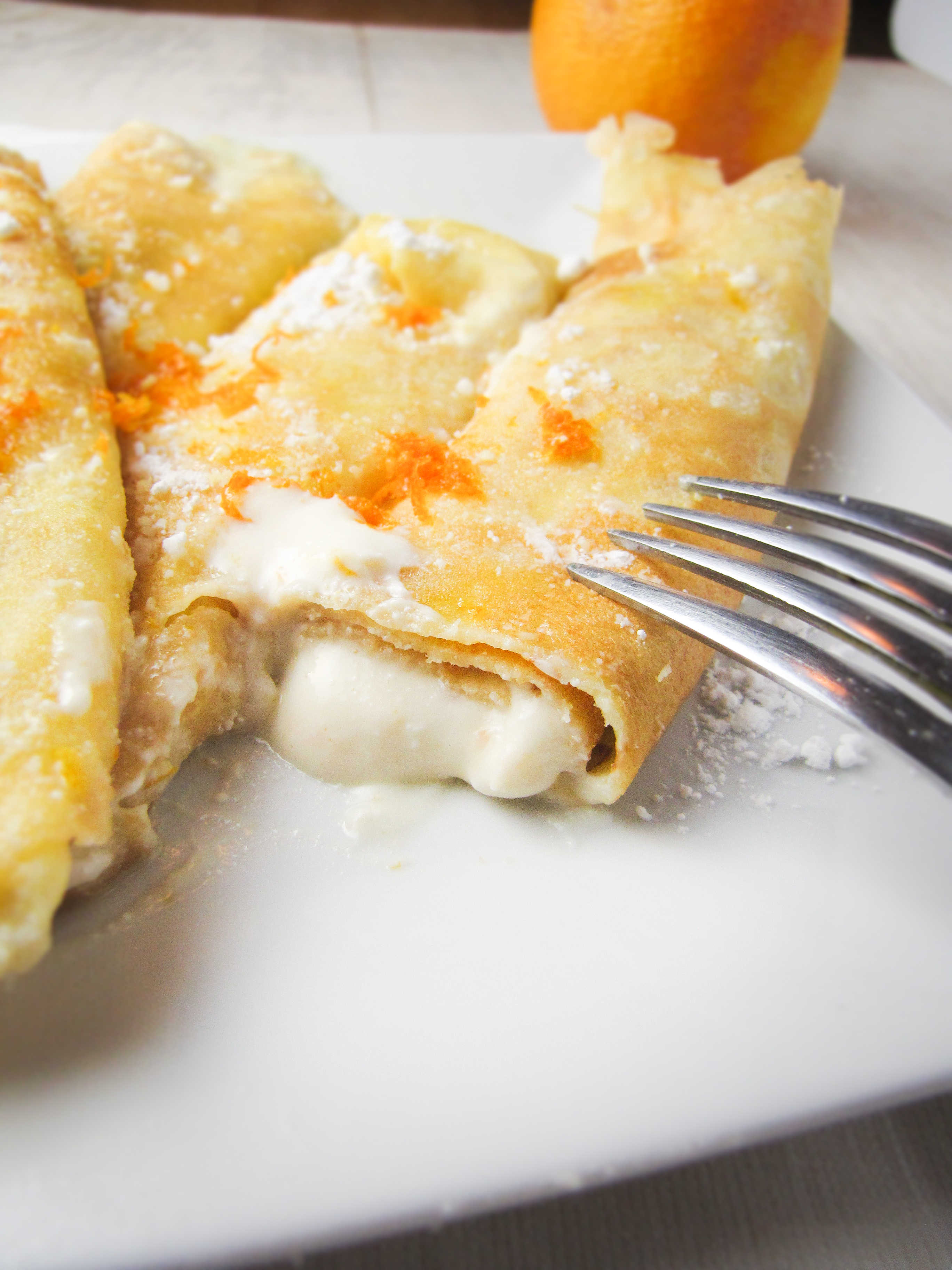 Ricotta and Goat Cheese Crespelle with Orange-Caramel Sauce
Adapted from SPQR: Modern Italian Food and Wine. Serves 3-4.
Notes: The original recipe made a lot of crepe batter, so I've scaled the proportions back to make it more manageable for a small household. However, I thought the ratio of filling to crepe in the original recipes was a bit off, so I've left the amount of filling at the original amount. Feel free to fill them according to your taste. The crepes are very thin and delicate, and flipping them takes a little bit of practice. You also have to plan ahead a little for this one, as both the batter and the filled crepes require a little chilling time in the fridge. Refrigerating the batter overnight will yield the most delicate crespelle.
1 1/2 TBS + 1 TBS salted butter, divided
3/4 c. whole milk
2 eggs
1/4 c. + 2 TBS flour
1 1/2 TBS + 1 TBS sugar, divided
1/4 c. goat cheese
1/4 c. mascarpone cheese
1/3 c. ricotta cheese
1/2 tsp vanilla extract
1/3 c. powdered sugar, sifted, plus additional for garnish
1 navel orange, zest and juice (1/2 c. juice needed)
Make the batter: Melt 1 1/2 TBS of the butter in a small saucepan over medium heat. Cook the butter until it bubbles and begins to smell nutty, then pour into a bowl and let cool slightly. Add the milk to the same saucepan and return to the heat. Heat the milk for 2-3 minutes, just enough to scald it. Remove the milk and let cool slightly (it should feel warm to the touch but you should be able to touch it without hurting yourself).
Add the warm milk and the eggs to a blender and pulse to combine. Add the flour and 1 1/2 TBS of the sugar and blend to combine. Drizzle in the butter (with the blender running, if possible), and blend until fully combined. Strain the batter through a fine-mesh strainer into a large bowl. Cover and refrigerate the batter for at least 30 minutes, or overnight.
Make the filling: in a medium bowl, stir together the goat cheese, mascarpone, and ricotta until smooth. Add the vanilla and the sifted powdered sugar and stir to combine. Zest the orange and add 1 tsp of the orange zest to the mixture. Reserve the remaining zest for garnish. Stir to combine, then refrigerate until ready to use.
Cook the crepes: Heat a very small pat of butter in a large non-stick saute pan over medium heat, then carefully wipe most of it out with a paper towel. Pour 1/4 c. of batter into the heated pan and quickly swirl in a circle to coat the bottom of the pan. Cook for 1 minute, until light golden brown, then carefully and quickly flip to cook the other side for 1 minute. Remove the cooked crepe to a plate and continue with remaining batter. This should make about 8 crepes.
When the cooked crepes are cool, spoon 1-2 TBS of the cheese filling in the middle of each crepe. Spread in a vertical line about 1/2 inch thick, then roll the crepe up like a burrito. Place the filled crepes on a platter, cover, and refrigerate for 1-2 hours, to firm up the filling.
When ready to serve, heat the remaining 1 TBS of butter in your largest saute pan over medium-low heat. Add the filled crepes, seam side down, and toast for 2 minutes, before carefully flipping each crepe over. Sprinkle with the remaining 1 TBS of sugar. Once it dissolves, and the orange juice from the orange. Cook down the mixture until the juice is slightly thickened and has been absorbed somewhat by the crepes. Remove the crepes to individual plates and top with the extra orange caramel. Garnish with powdered sugar and any extra orange zest.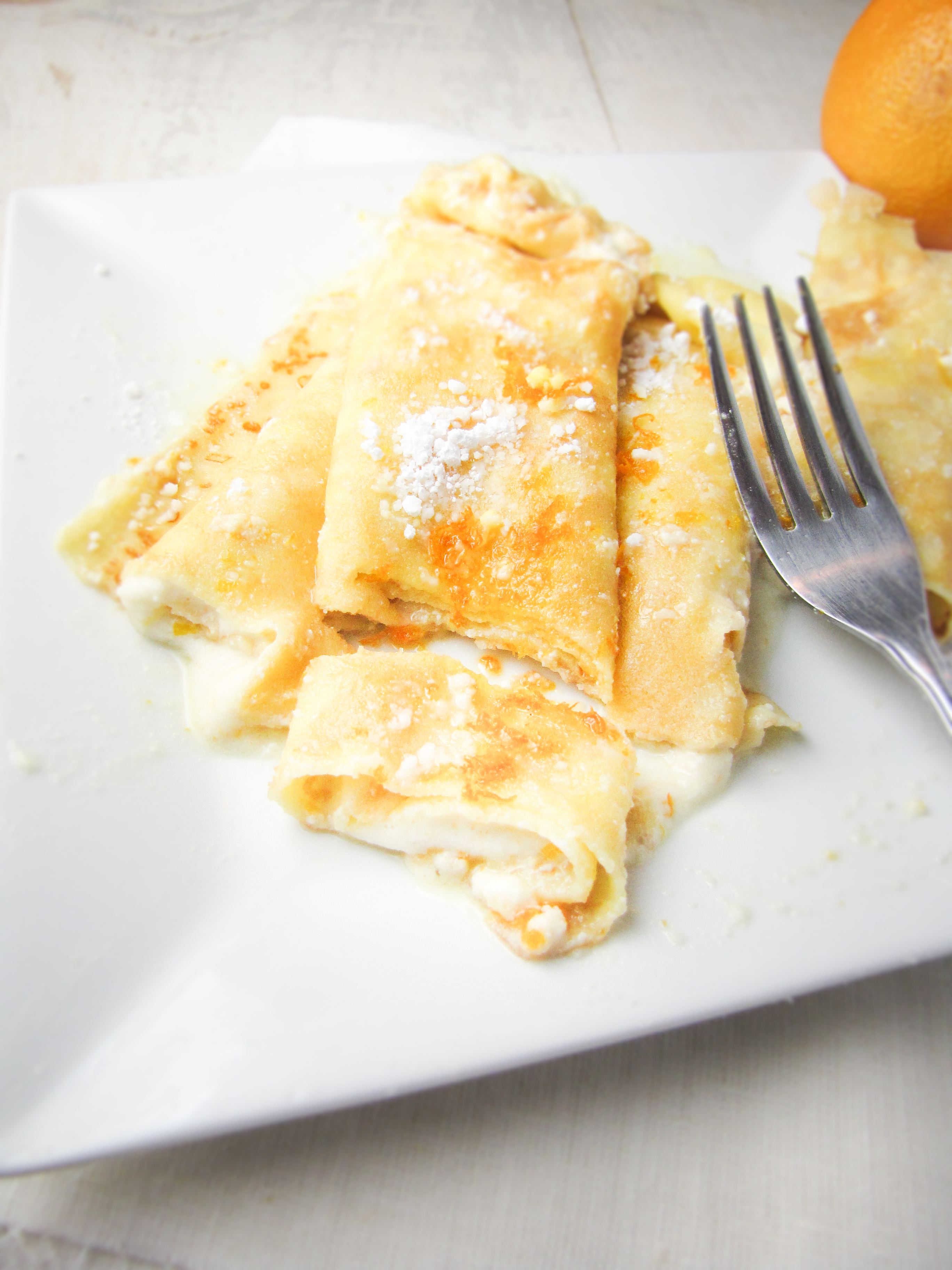 3