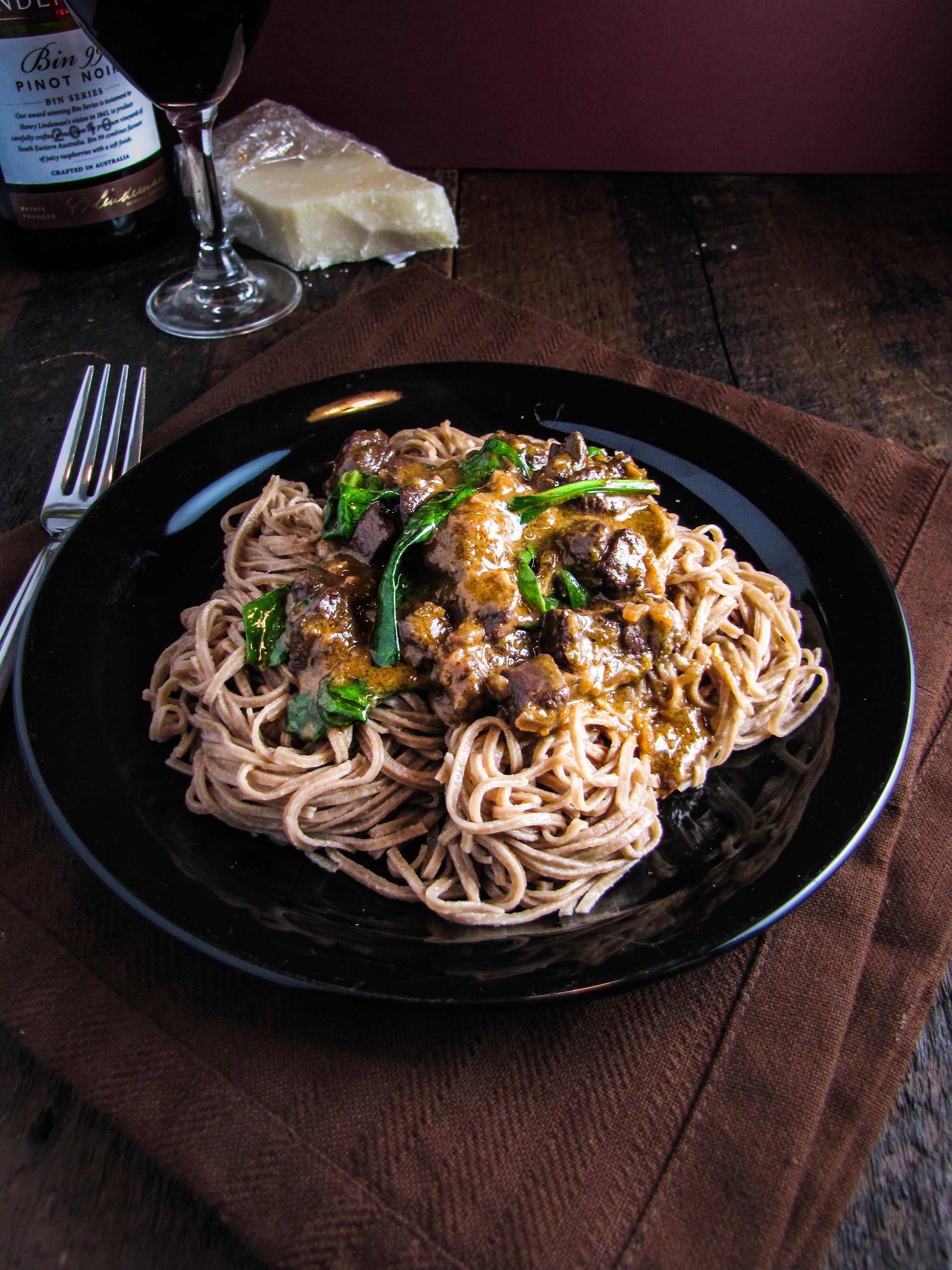 Before I tell you about this book, I have to tell you about something else. This recipe. We finished the last bowl of leftovers over a week ago and yet I can't stop thinking about it. It's venison ragu. On cocoa-infused spaghetti. Venison. Cocoa-infused spaghetti. You heard me. If venison weren't obscenely expensive (seems ironic given the deer population, no?), I would make this, er, have Trevor make this, at least once a week. The spaghetti is earthy and workable and tender, the venison rich and lean and just amazing. I had no idea I even liked venison. But now I'm a convert. Anyone with extra deer on their hands in Massachusetts?
Now, back to the book that provided us with this amazing recipe – SPQR: Modern Italian Food and Wine. As I cracked open the cover of this book and turned through the first pages of this book my mind immediately went something like: "Oh my God, this is a beautiful book."   Full page spreads of the Italian countryside, hands carefully harvesting grapes, bottles and bottles of wine, freshly picked artichokes, all in muted browns and greens that are calming and serene.  Cookbook checklist item #1: beautiful photography?  Instantly checked off.
Flipping through the recipes in this book is like browsing a high-end restaurant menu where I want to order everything. Spiced Ricotta Fritters with Smoked Maple Syrup? Yes, please. Baked Polenta with Beef Cheek Ragu, Eggs, and Fontina? OK, I'll try that too. Fava Bean Agnolotti with Mashed Black Truffle? If only it were fava season already! Now, you  might be able to tell from the names alone that these recipes are not simple. In fact, this is probably the most "advanced" cookbook I own, with recipes that require you to do everything from roll your own pasta, to sous vide a stuffed rabbit roulade, to clean and cure your own pig ears, and beyond. It's more of an "I have all weekend to prepare a dinner party" book than an "it's 8pm on Wednesday what's for dinner" book. So, obviously, not for everyone. But I'm totally digging it – and if you're also the kind of person who likes devoting a Saturday afternoon to preparing a venison ragu or brown-butter crepes filled with goat cheese and orange-caramel sauce, I'm pretty sure you'll dig it too.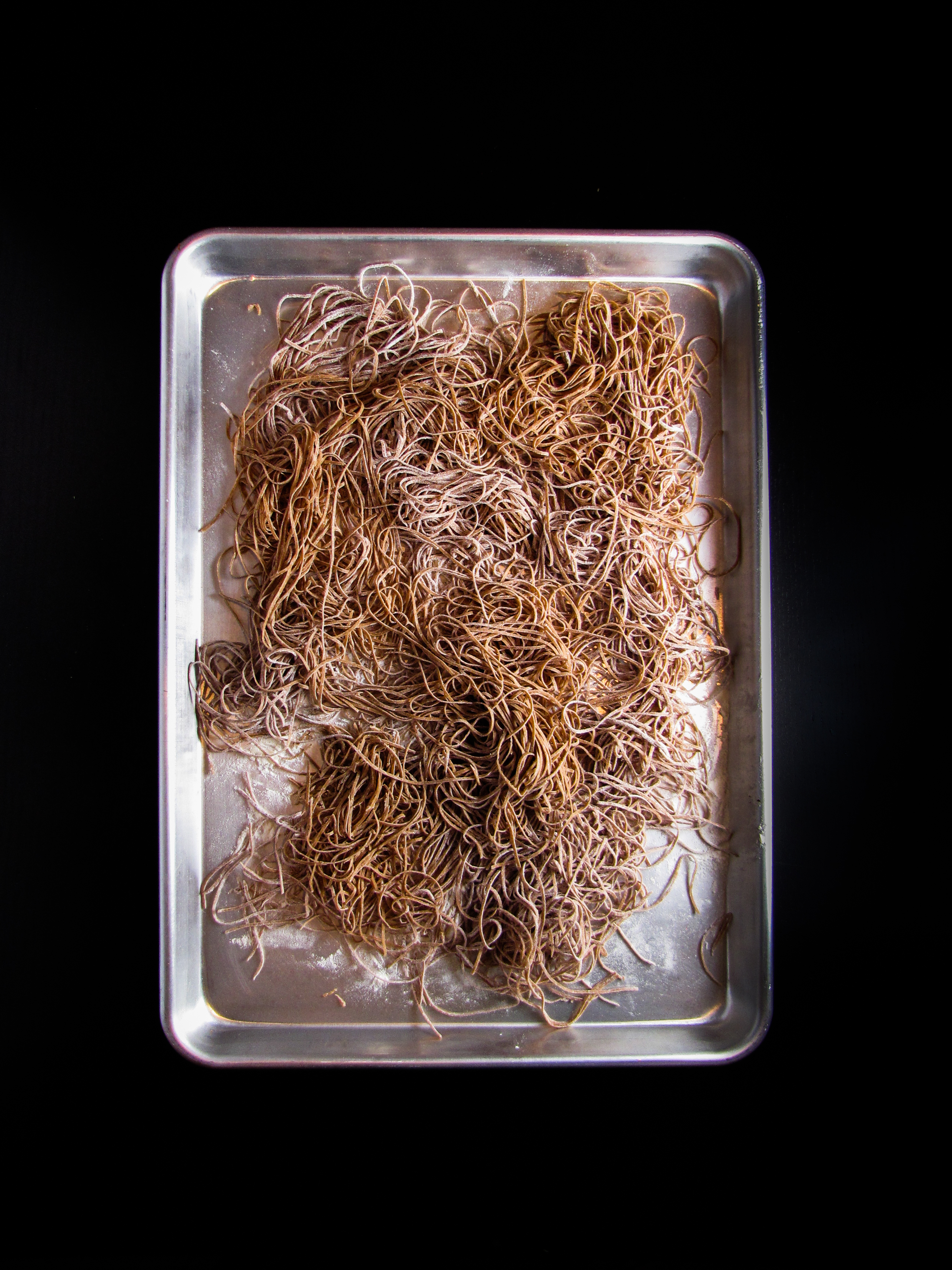 A few more tidbits: organized by region based on 8 major thoroughfares from Ancient Rome, each section has not only inspired recipes, but a wealth of information on the grapes and wines of that region. While I don't claim to know much about wine, I'm excited to dig into the detailed grape descriptions – maybe I'll even find something to order that I know I'll like besides Merlot. I also think the overall look and feel of this book is – in true Ten Speed Press style – really gorgeous. It's the kind of book I find myself flipping through just for the sake of daydreaming (sort of like Ripe, and Tender).
The bottom line: Perfect for the adventurous cook looking for new ways to challenge himself (or who wants to truly impress their guests!), SPQR: Modern Italian Food and Wine is packed with recipes for restaurant-quality dishes that will excite even jaded diners. The book also offers detailed information on grape-types and wine producers for each region of the country, as well as truly stunning photographs that make me want to hop on the next plane to Rome. While the challenging nature of the recipes in this book means it's probably not for everybody, I can tell it's going to become one of my new favorites.
Disclaimer: I received a complimentary review copy of SPQR from Ten Speed Press, but all opinions are my own.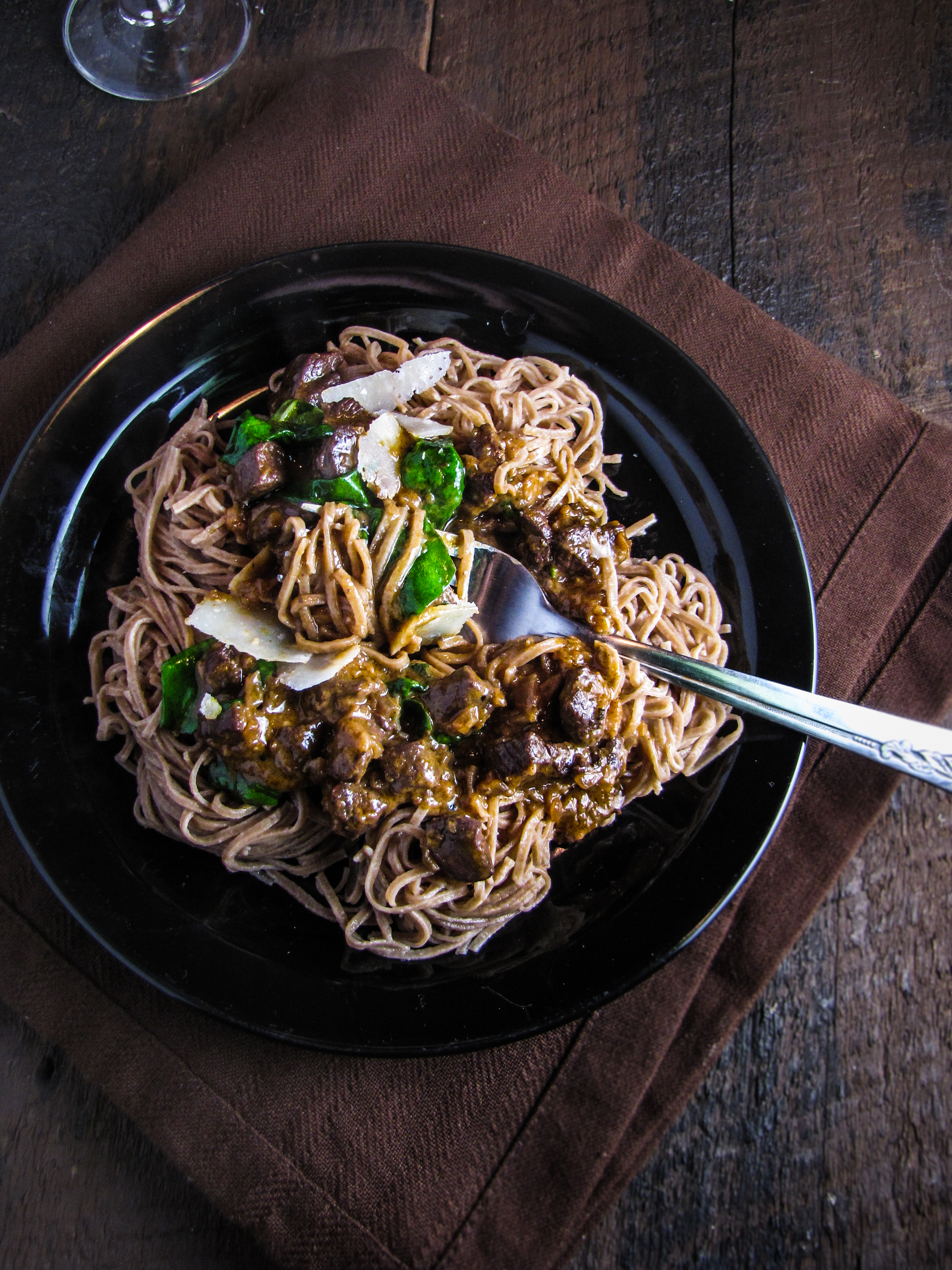 Linguine al Cocoa with Venison Ragu
Recipe adapted slightly from SPQR: Modern Italian Food and Wine. Serves 6.
For the soffritto:
1 carrot, peeled and chopped
1/2 onion, peeled and chopped
1 1/2 celery stalks, sliced
1/2 c. olive oil
1 1/2 tsp salt
For the linguine:
1 1/2 c. flour
1 1/4 c. "00" durum flour
1 TBS plus 1 tsp unsweetened cocoa powder
1/2 tsp salt
2 eggs
5 TBS warm water
For the ragu:
olive oil
13 oz. ground venison, preferably shoulder meat (we couldn't find any ground, so used finely chopped loin)
1/2 medium yellow onion, peeled and finely chopped
4 garlic cloves, minced
1/4 c. tomato paste
1/4 c. soffritto (recipe below)
1/4 tsp dried red pepper flakes
1 tsp chile oil (omit if unavailable)
1 1/2 c. red wine
1 1/2 c. chicken stock
4 sprigs thyme
1 sprig sage
10 whole black peppercorns
4 whole cloves
1/4 c. heavy cream
1/4 tsp quatre epices
2 c. baby spinach leaves
1 to 2 TBS butter
Parmesan cheese, for serving
Make the soffrito:
Combine the carrot, onion, and celery in a food processor and pulse until very finely chopped. Heat olive oil in a large pan over low heat. Stir in the ground vegetables and salt and cook, stirring occasionally, until all oil has been absorbed, about 45 minutes. Remove from heat and set aside. This will make more soffritto than you need for this recipe – save the rest in the fridge for another use.
Make the linguine:
Sift together flours, cocoa powder, and salt in a large bowl. In a small bowl, whisk together eggs and water. Slowly drizzle the liquid into the flour, whisking as you do. Knead the dough for several minutes – the dough will feel firm and dry. Flatten the dough into a rectangle, wrap in plastic wrap, and leave on counter for 30 minutes.
Roll out the dough using a pasta machine – roll it to the thinnest setting possible. Use the pasta machine to cut into linguine noodles (if you don't have a noodle cutter attachment, you can cut out thicker noodles by hand). Toss the noodles with a little bit of flour to keep from sticking and set aside.
Make the ragu:
Heat a thin film of olive oil in a large sauce pot over medium-high heat. Stir in venison and brown well, cooking for about 5 minutes. Season with salt and pepper, then add onion and garlic. Cook until onion is soft, about 3 minutes. Stir in tomato paste, soffritto, and red pepper paste. Cook for a few minutes, then add chile oil (if using), and red wine. Bring to a simmer and simmer for 30 minutes. Fill a sachet (or improvise with cheesecloth and cooking twine) with the thyme, sage, peppercorns, and cloves. Add the sachet and the chicken stock to the ragu and simmer to reduce liquid by half, about another 30 minutes. Stir in cream and the quatre epices. Simmer until thick and velvety, about 15 minutes. Season to taste. Remove the sachet.
Bring a large pot of salted water to a boil. When at a rolling boil, add linguine and cook for 2-3 minutes. Add noodles and about 1/4 c. of the pasta cooking water to the ragu. Add the spinach to the ragu. Cook for 2-3 minutes longer, just to wilt the spinach and cause the ragu to stick to the noodles. Finish with a pat of butter. Serve hot with grated parmesan cheese.
1