This time of year always seems to be filled with ghosts of the four months that I spent living in Prague. Maybe it's the drop in temperature, or the quality of light, but I find myself lost in little memories almost daily. Thoughts of walking through the cobbled streets after dark, buying klobasy (sausages) and svarak (mulled wine) from the glowing carts. Shivering as I waited to catch the tram each morning, then suddenly overwhelmed with heat once I'd stepped through the doors. The view across the river on the way to and from class, of all those thousands of spires. Haggling with the Vietnamese vendors over scarf prices at the Holesovice market. Long afternoons spent sitting alone in the park, stealing pictures of the people around me. Riding the tram out to the end of the line to go for long and wandering runs through the forest, hardly knowing where I was headed or what I would see. Piling up on the floor of the dorm's music room with dozens of friends to listen to The Relatives play by candlelight.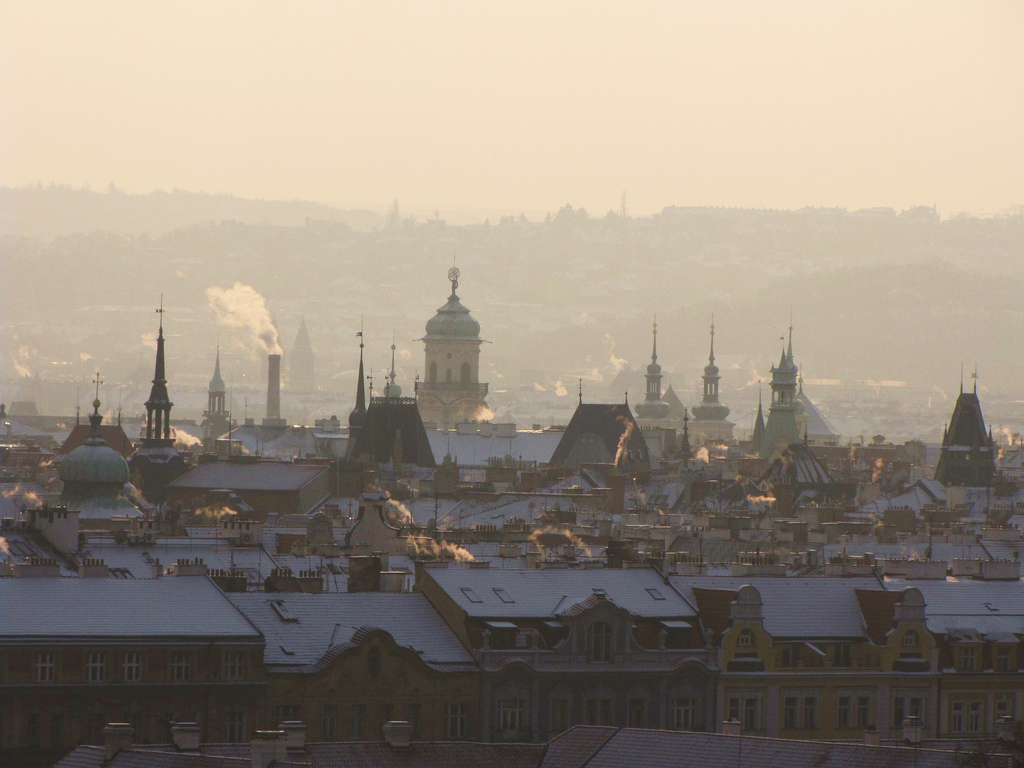 Scrolling through my reader a few weeks back, I came across this short little post from Nicole, which triggered one particular memory for me. I spent much of my time in Prague taking pictures, but one particular shot I wanted to capture was the Charles Bridge at sunrise. Iconic and touristy? Yes, but I wanted it anyways.
Where we lived was a little ways out from the city center, maybe 20 minutes on the tram, plus a short walk on both ends. So getting a picture of the sunrise wasn't a matter of rolling out of bed, but an adventure that needed some planning. I chose a weekday with predictions for good weather, laid out my clothes, and set the alarm for 4 am. Without disturbing my 3 sleeping roommates (we all slept in the same room), I pulled on layers of clothes, grabbed my camera, and stepped out into the still-starry dark. As I waited on the corner for the tram, I was amazed to see so many other people up and about, mostly stony-faced Czech men headed out for work. I arrived at the bridge in that pre-dawn gray haze, hoping against hope the sunrise would be clear and worthwhile.
I think it was probably late September or early October, and it was chilly and misty by the river. There was no one else there, which was both lucky and eerie. As the first hints of light and color snuck into the sky I began to snap pictures at every angle until the pink was gone from the sky and my fingers were stiff with cold. Then, I put away the camera and walked. Walked and walked along the river, absorbing everything around me going through its early morning routine – the old man in the row boat, the swans clustered around the shore, vendors setting out goods. I walked until I reached Cafe Savoy, where I had been wanting to try the hot chocolate. I sat on a bench, chilled to the bone, until the cafe opened, and was one of the first customers inside. Sitting by myself in the corner, I slowly sipped the rich chocolate until my insides were warm and my fingers had unclenched. Then, I walked to school and promptly fell asleep on the couch.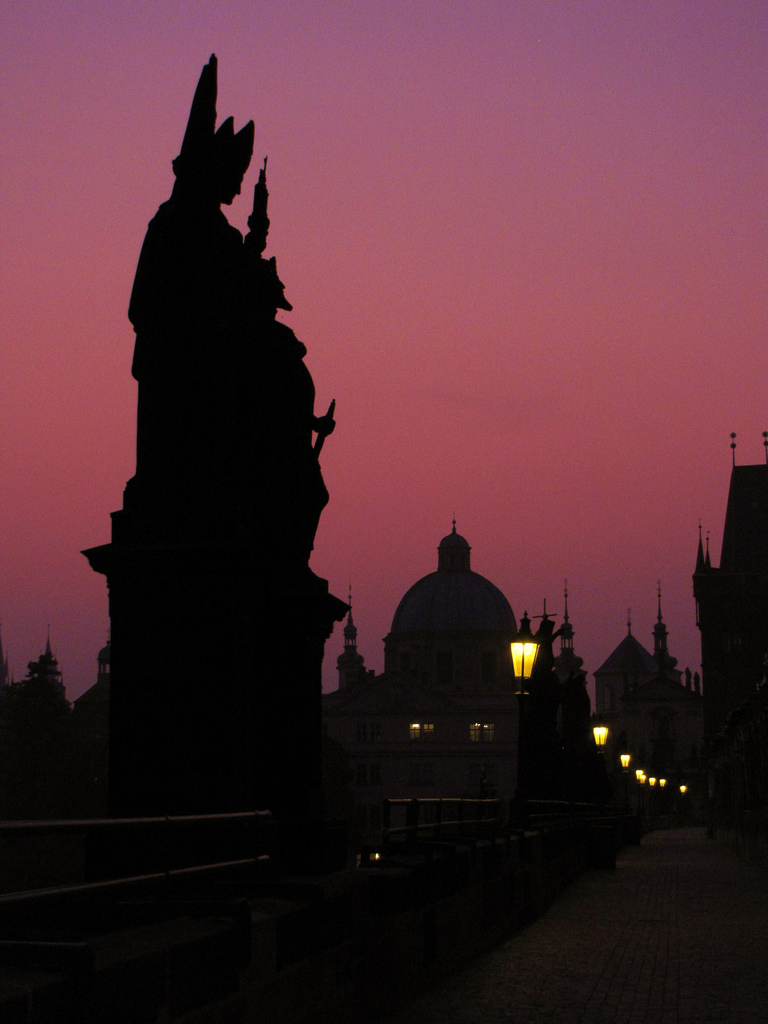 Hot chocolate is a bit of a thing in Prague. There are dozens of round-up articles of the best hot chocolate in town, and there is a cup out there for every taste. The ones I associate most with Prague are the thick ones, like the one served at Cafe Louvre – it's more like hot chocolate pudding then a drink, but it's certainly an exercise in indulgence. To celebrate this post and that morning and all my lovely memories of Prague, I made a pot of hot chocolate – the thick kind made from real chocolate – and a batch of chocolate cut-out cookies for dipping. It's hitting the spot.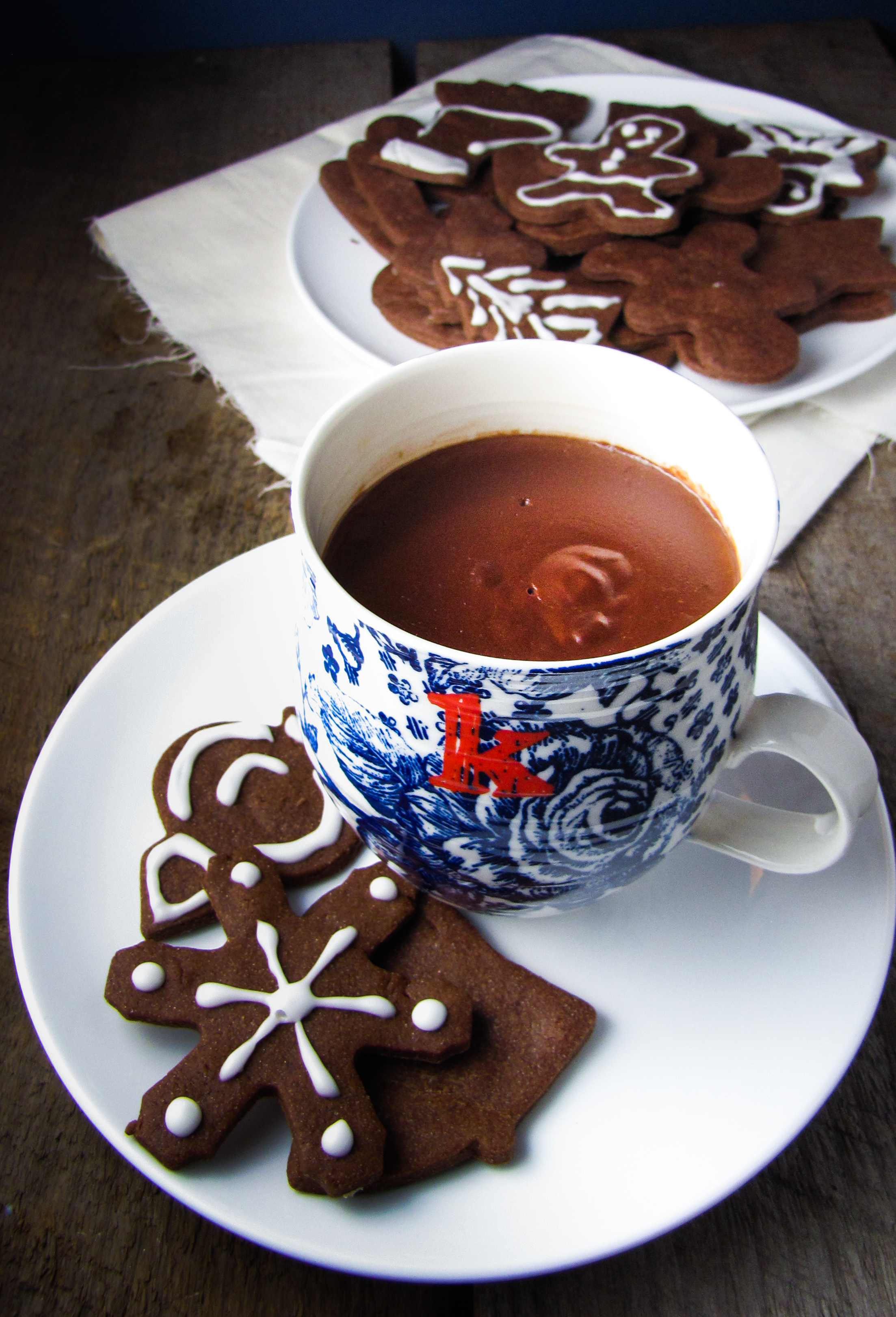 Every single day there was an adventure. Every day was marked by freedom. I can't remember a time in my life when I've felt more alive than those four months. It could just be because of the rosy haze of memory, but I think there's more to it than that. I think I'll have to go back to find out. But for now, I'm enjoying the beginning of winter on this side of the ocean.
European-Style Hot Chocolate
Adapted from Bell'Alimento. Serves 2-3. (A little goes a long way!)
4 oz. high quality bittersweet chocolate, chopped into pieces
1 1/2 c. whole milk
1 TBS sugar
2 tsp corn starch
whipped cream for topping
Add chocolate and 2 TBS of the milk to a small saucepan. Melt the chocolate over low heat, stirring the whole time. Once melted, slowly whisk in remaining milk until well combined. Add the sugar and the corn starch and whisk to fully integrate and dissolve. Cook the hot chocolate over low heat, whisking the whole time, until the chocolate has thickened enough to coat the back of a spoon. It will take about 10 minutes for the chocolate to begin thickening, but once it does, it will continue to thicken quickly so keep an eye on it! Serve hot.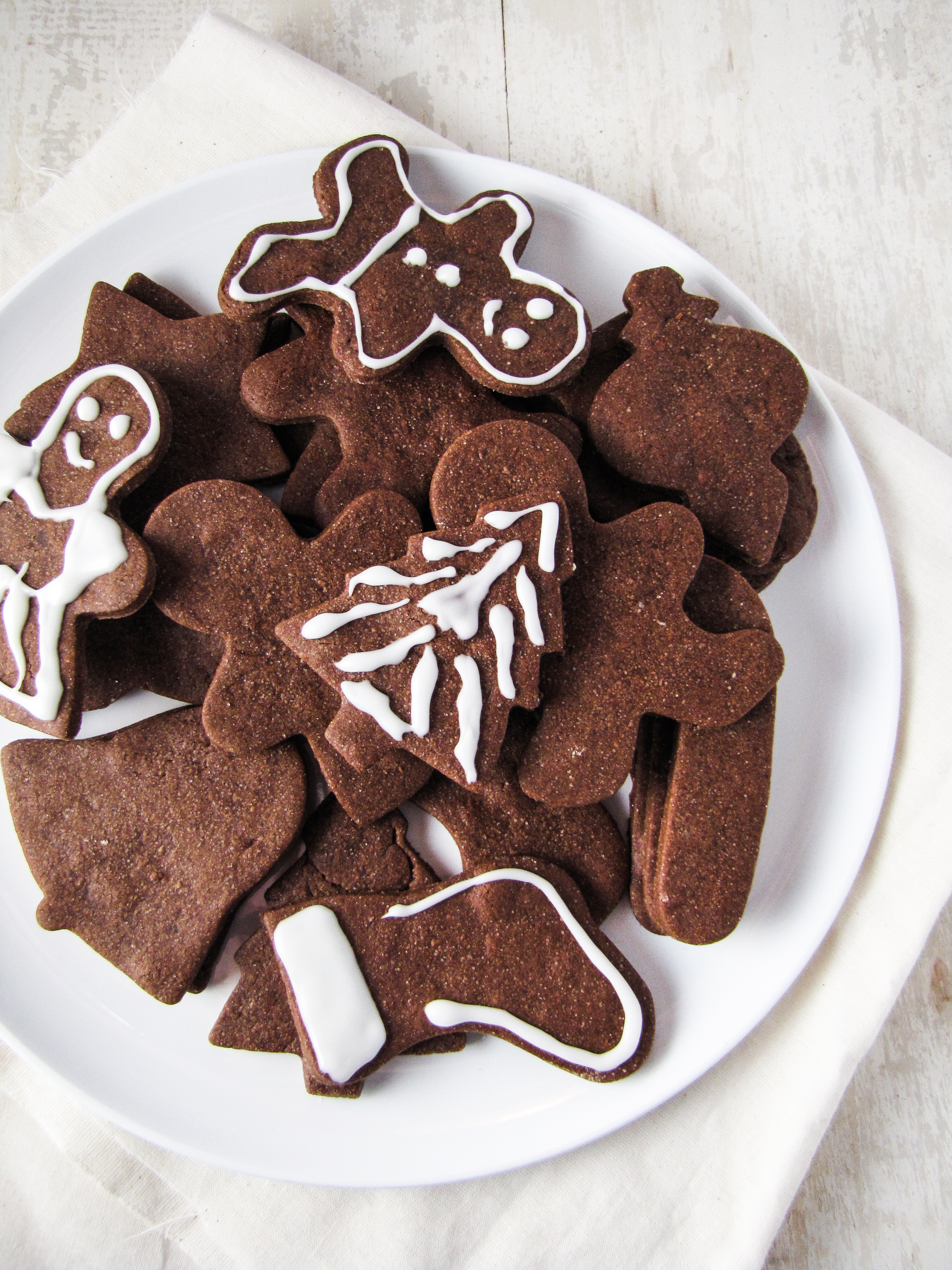 Chocolate Cut-out Cookies
Recipe adapted slightly from Bake at 350. Makes 40-50 cookies.
2 1/2 c. flour
1/2 c. cocoa powder
1 tsp instant espresso powder
1 c. (2 sticks) salted butter, at room temperature or slightly softened in microwave
1 c. sugar
1 egg
1 tsp vanilla
Whisk together flour, cocoa powder, and espresso powder in a medium bowl. In a large bowl, beat together softened butter with sugar until the mixture is light and creamy. Beat in the egg until fully combined, then beat in the vanilla.
Add the flour mixture to the butter mixture in 3 additions, fully incorporating the flour into the butter between each addition. The dough will appear somewhat crumbly, but should stay together when pressed into a ball. Press the dough into two disks, then wrap these in plastic wrap and refrigerate for 30 minutes.
Preheat the oven to 350°F. Line baking sheets with parchment paper. Lightly flour your work space and a rolling pin, and roll out one of the disks of dough to about 1/4 inch thickness. If the dough is cracking or not staying together, knead with your hands until it is smooth and workable. Cut out as many cookies as you can from the dough, then press back into a ball and roll out again. Repeat until all dough is used. Bake cookies for 7-8 minutes, then remove to a cooling rack. Frost and decorate once fully cooled.