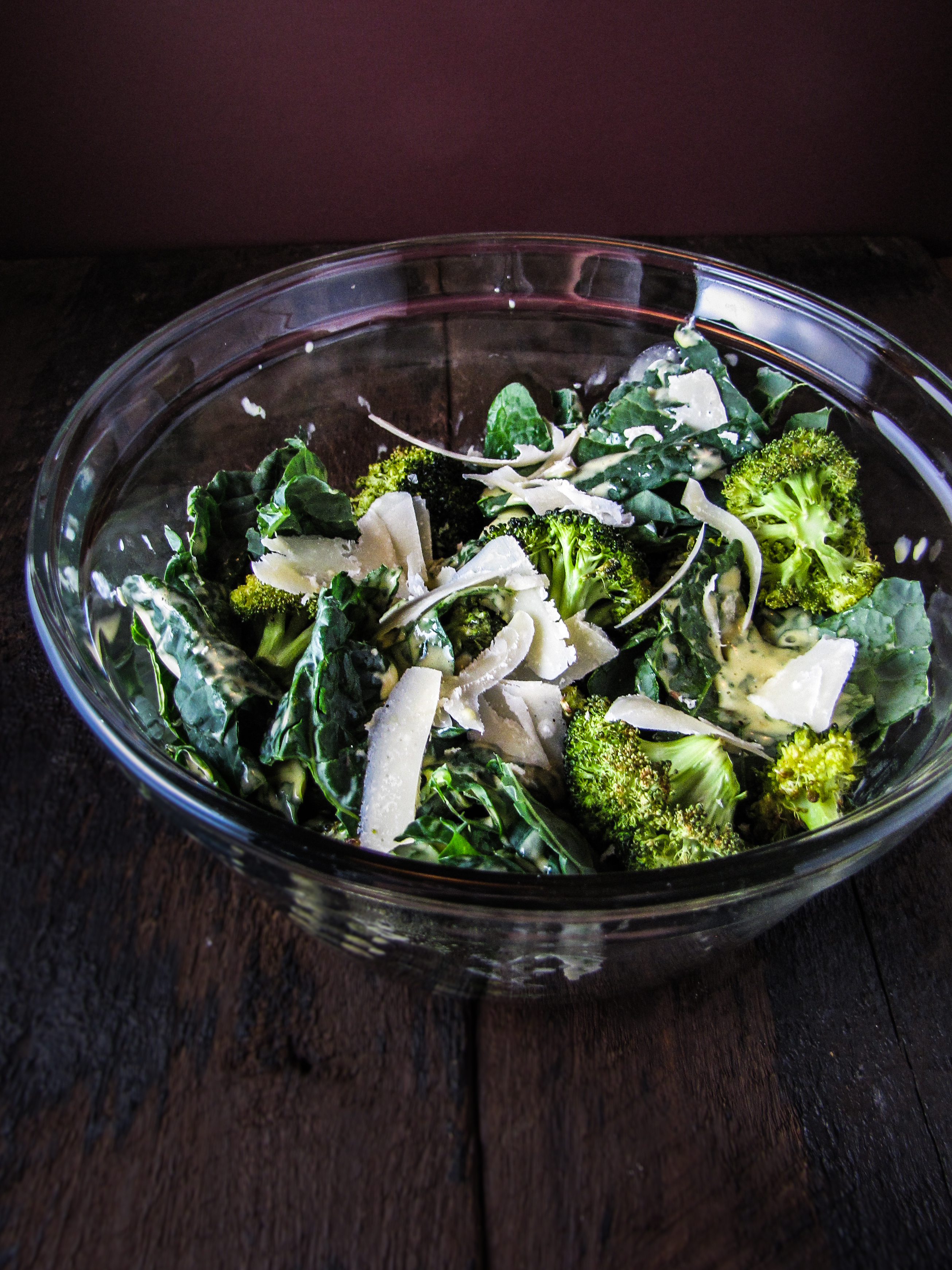 I didn't do very well at my resolution last week. The resolution was to do 10 minutes of strength training/stretching every day, and, well, when you find yourself still needing to do that after 4 glasses of wine, let's just say I went heavy on the stretching part. And also I counted the starfish stretch as stretching.
But it's a new week, so I'm trying again! And since these next 5 weeks are (hopefully) going to be full of cookies and cocktails, I'm making this week's resolution about salad. Sometimes when I tell myself I have to eat a salad for lunch, I end up with a bowl full of hard-boiled eggs, blue cheese, chickpeas, bacon bits, and avocado, with a sprinkling of arugula on top. Delicious, but not really what I was aiming for. So I'm making things a bit more specific, and saying I have to eat at least four green salads this week. Plus continue to stay away from the chocolate box, walk to work every morning, and do 10 minutes of actual strength training.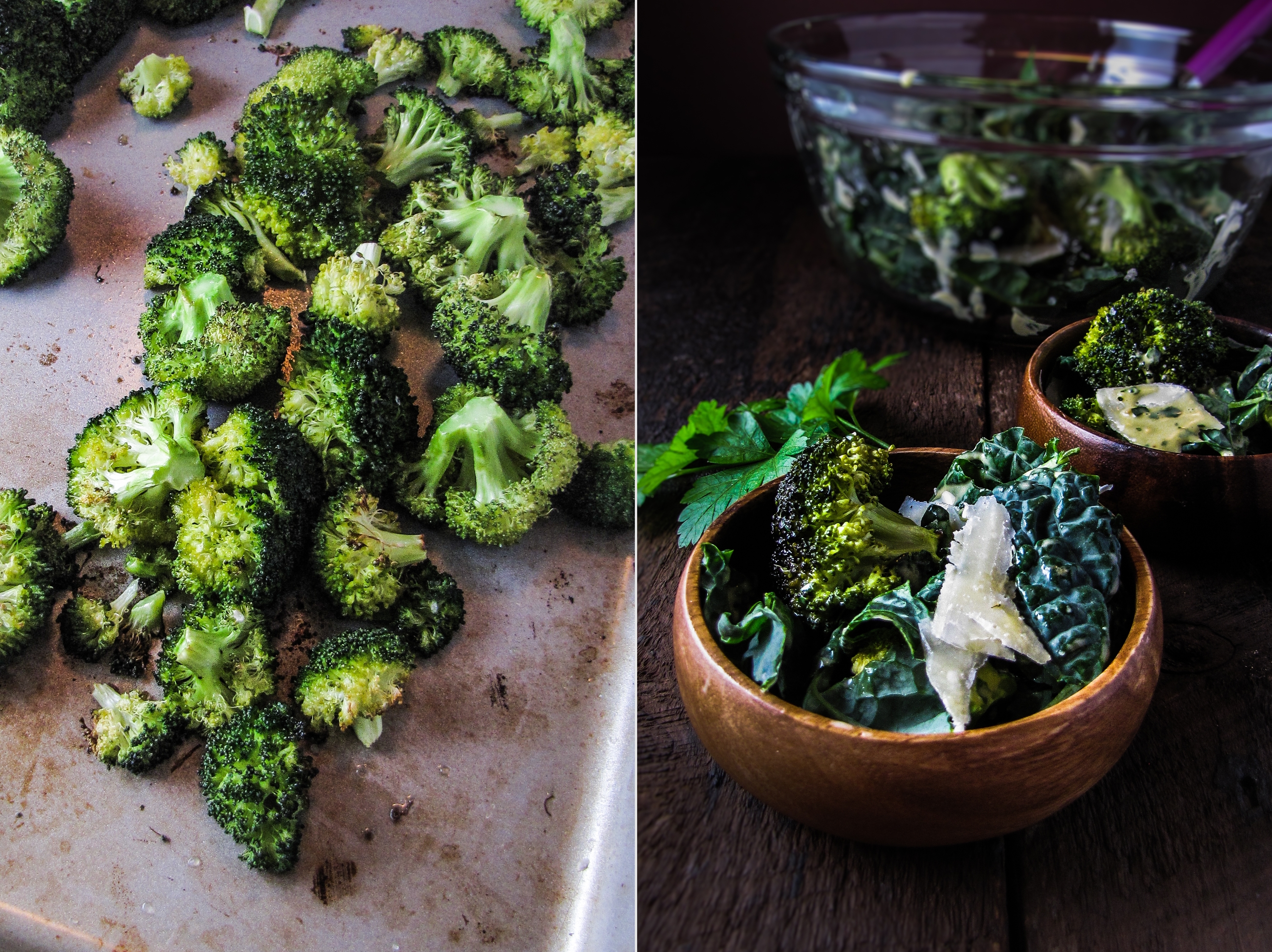 The first salad that I'm piling on my plate this week? This roasted broccoli and kale salad with a creamy Caesar dressing. I could eat roasted broccoli all day, so this was a good way for me to sneak some green in. I do think it could use a bit of crunch, so although the photos don't show it, I'll be eating it with homemade croutons. All in all this is not a salad you'd have to talk me into eating. With a little egg on top a plate of this could make a delicious and filling meal.
If you want more background on this whole resolution thing (which I'm planning on keeping up at least until the new year), check out posts one and two. And, as usual, if you'd like to join in, post your resolutions for this week in the comments! I find it very encouraging and inspiring to hear what habits you all would like to change.
Happy Monday!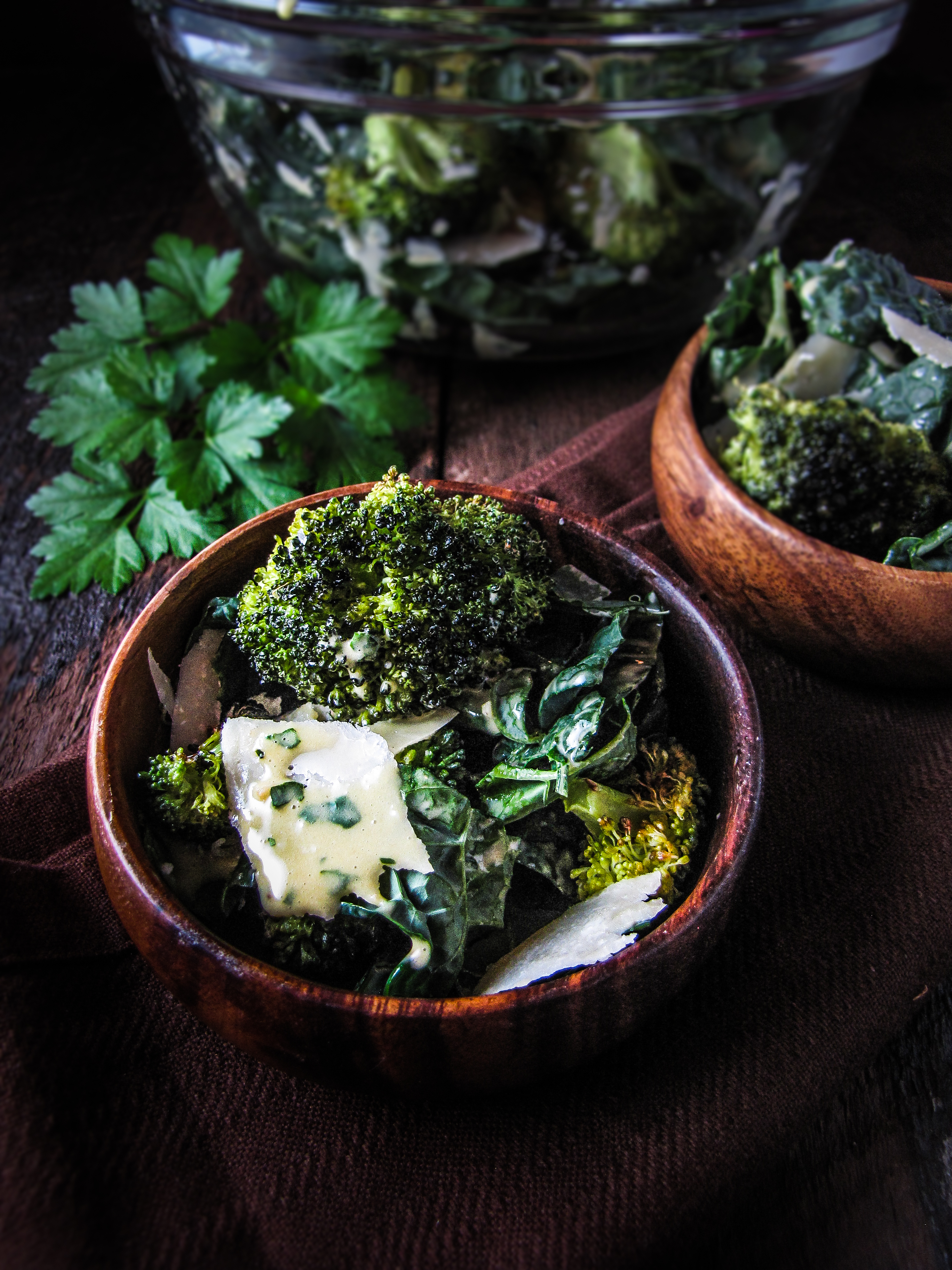 Roasted Broccoli and Kale Caesar Salad
Adapted liberally from Huffington Post. Serves 3-4 as a side.
florets from 3 small heads broccoli
2 TBS + 1/3 c. olive oil
1 tsp sea salt
1 large bunch of Tuscan kale (cavolo nero)
4 anchovy fillets
2 cloves garlic, peeled
2 large egg yolks
juice from 1/2 medium lemon (about 1 TBS of juice)
1/4 c. fresh parsley leaves
1/4 c. grated or flaked parmesan cheese (use a vegetable peeler to create large parmesan flakes)
1 c. croutons, preferably homemade
Preheat oven to 375°F. Toss broccoli florets with the 2 TBS olive oil and the salt until fully coated, then spread on a baking sheet and roast for 20-25 minutes or until tender and beginning to brown on edges, stirring once to prevent burning.
Wash kale, shake dry, and slice leaves away from tough center ribs. Discard ribs and tear kale into bite-sized pieces. Place in a large bowl with the roasted broccoli.
In a food processor, combine anchovies, garlic, egg yolks, and lemon juice and blend until smooth. With the machine running, slowly drizzle in remaining 1/3 c. olive oil. Dressing should be thick and creamy. Add the parsley and pulse a few times just to break up the herbs (but not to fully blend). Pour the dressing on the salad and toss to fully coat kale. Let sit for 10 minutes to allow kale to become more tender. Sprinkle each plate with cheese flakes and croutons just before serving. Dressed salad (without croutons) will keep for 1-2 days in the fridge.
0