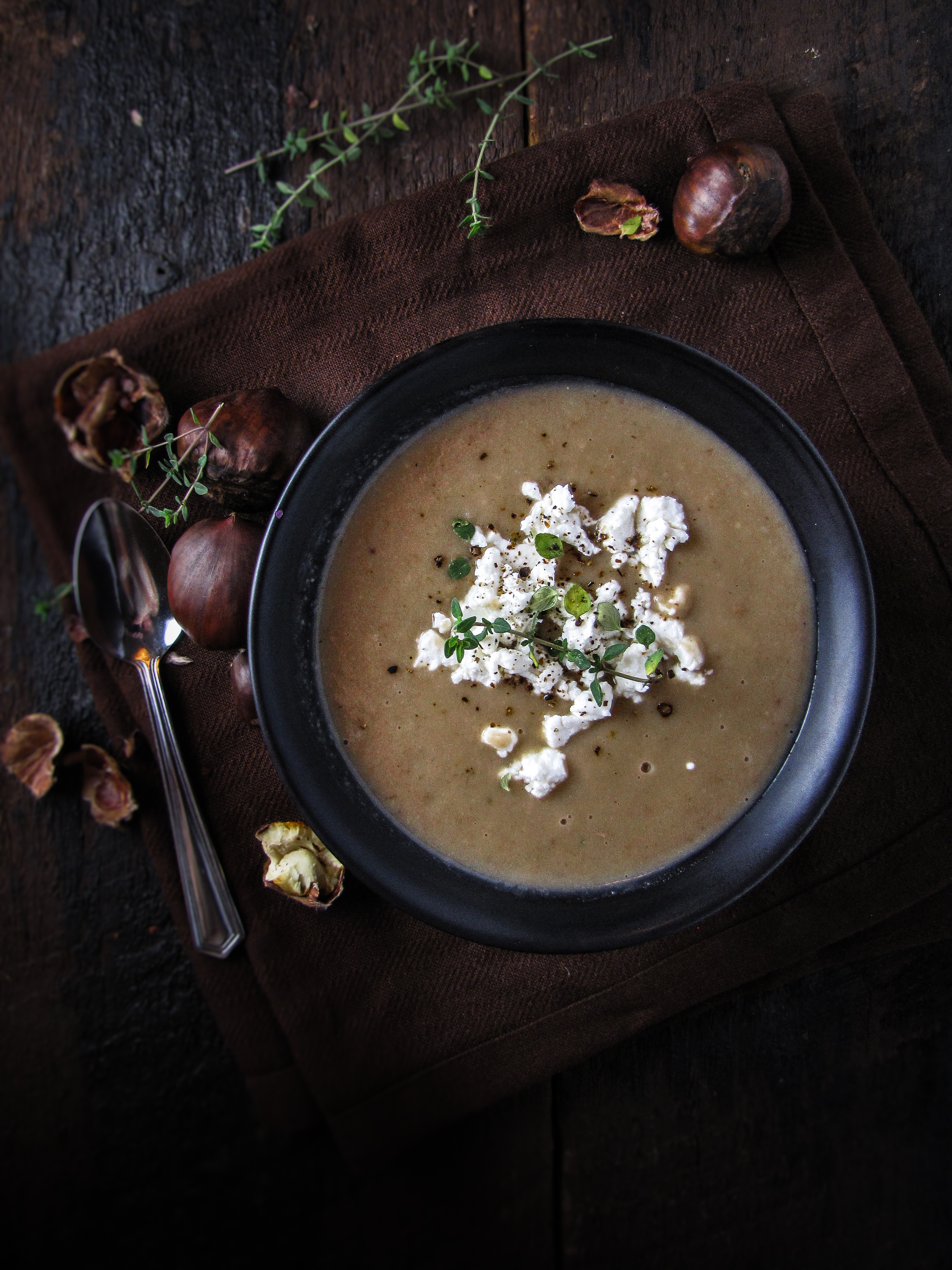 I know that by the time I publish this, some of you will have been up for hours, standing in long lines and snagging amazing deals on everything from that perfect pair of riding boots to new televisions and cameras. I take my hat off to you, since I plan on being in bed all morning,  nibbling on leftovers and looking forward to having a bowl of this lovely soup for lunch, all while taking advantage of Black Friday via my favorite shopping vehicle – the internet.
Online shopping – it's a beautiful and terrifying thing.
But while I'm lying here clicking away, I thought I'd take a moment and, in the spirit of consumerism, share some of my favorite holiday picks for the food-lovers in your life. If you're only interested in the soup pictured above (one of my favorites, a sweet-nutty-creamy blend of roasted chestnuts, potatoes, and thyme, topped with a smidgen of goat cheese), skip on down to the bottom for the recipe.
A quick note – I really like themed gifts. I'd typically much rather give (and get!) a bunch of little things that all go together than one big thing. I think it's fun, so most of the ideas below reflect that. I also tried to keep everything within a price range that wouldn't have made my heart skip a beat when I was in college – sometimes the small, thoughtful gifts are the best! Also, I had a lot of fun putting this together, but I know it's a bit different from what I usually post – if you found this helpful, or if you think I should stick to the recipes, I'd appreciate you letting me know in the comments.
1) For the Coffee Lover
This is a version of a gift I got for Trevor a few years ago. Maybe this is a memorable gift for me because I'm still benefiting from it – namely in the form of piping hot lattes served to me in bed. The Bialetti is a great little espresso maker – my family always has one with us!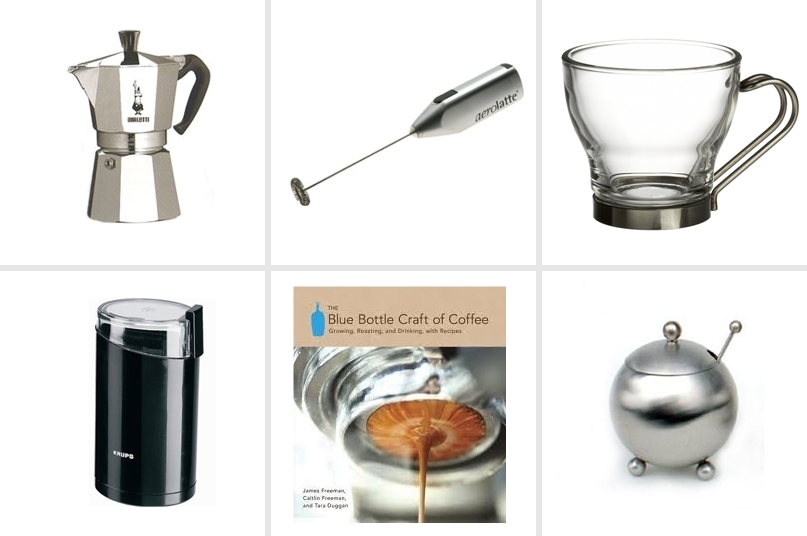 1) Bialetti Stovetop Espresso Maker; 2) AeroLatte Milk Frother; 3) Espresso Cups; 4) Coffee Grinder; 5) The Blue Bottle Craft of Coffee; 6) Sugar Bowl
2) For the DIY-er
I'm kind of obsessed with the "do it the way your great-grandmother would have" movement back towards creating our own kitchen staples through various forms of preserving. It's not always practical, but if you have the inclination, it can be a lot of fun! Below are some of my favorite resources for making your own bread, pasta, cheese, and canned goods – most of which I own or have given to friends in the past few years.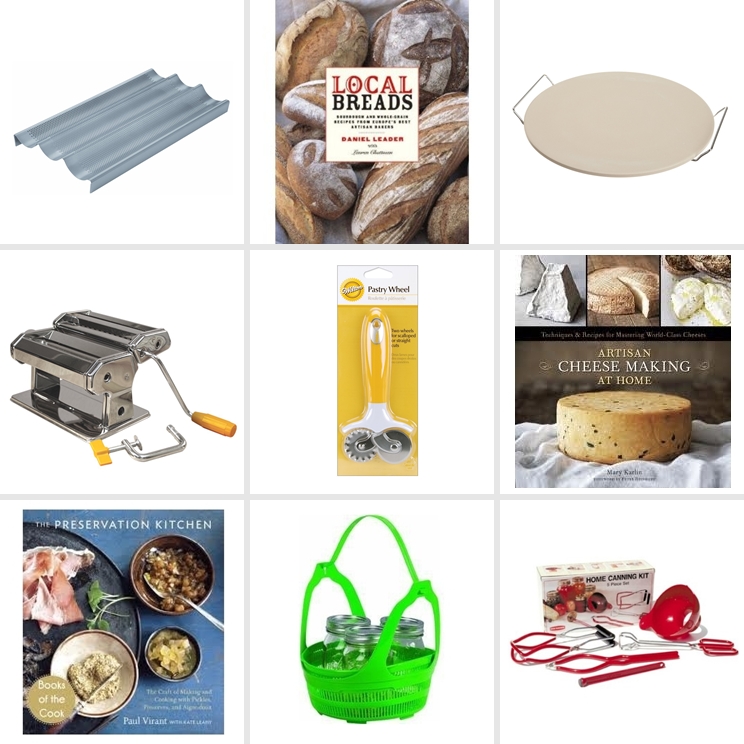 1) Baguette Pan; 2) Local Breads; 3) Pizza/Artisan Bread Stone; 4) Pasta Maker; 5) Pastry Wheel/Ravioli Cutter; 6) Artisan Cheese Making at Home; 7) The Preservation Kitchen; 8) Canning Basket; 9) Canning Tools
3) For the Cookbook Collector
There were a lot of cookbooks released this fall. I've been reviewing and giving away a bunch of them over the past month or so, but there's so many I haven't gotten to yet. If the food-lover in your life stays current with the cookbook scene, here are some of the most exciting books from this fall. (It's so great to see that some of the best books are coming from bloggers, too!)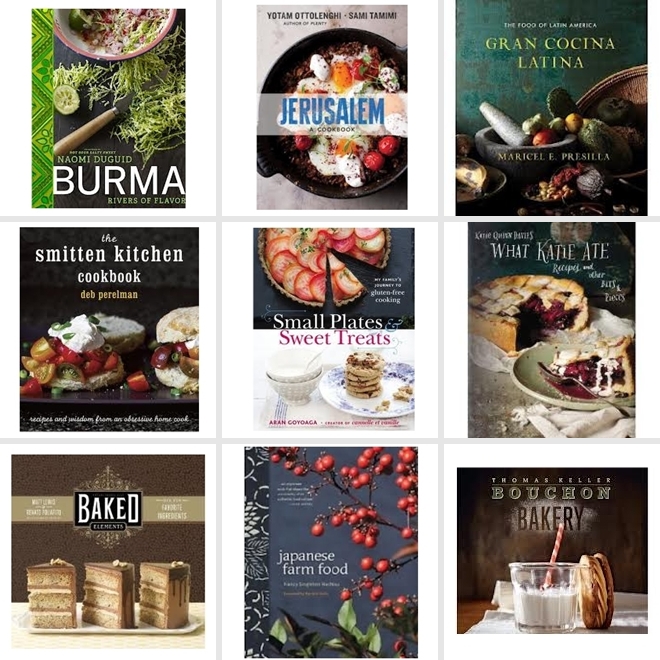 1) Burma: Rivers of Flavor; 2) Jerusalem: A Cookbook; 3) Gran Cocina Latina (see my review); 4) The Smitten Kitchen Cookbook; 5) Small Plates & Sweet Treats; 6) What Katie Ate; 7) Baked Elements; 8) Japanese Farm Food (see my review); 9) Bouchon Bakery
4) Stocking Stuffers – My Favorite Kitchen Gadgets
Given that the little presents are my favorite kind, it might come as no surprise to you that stockings are my favorite part of present opening. These are some of my favorite everyday kitchen gadgets that are small enough to fit inside a stocking. Also, this can opener? It will change your life. Mine was a gift from my parents and my roommates are so amazed by it. And I know that the pastry brush is marketed to kids – I just like that it's silicone, and a fun color.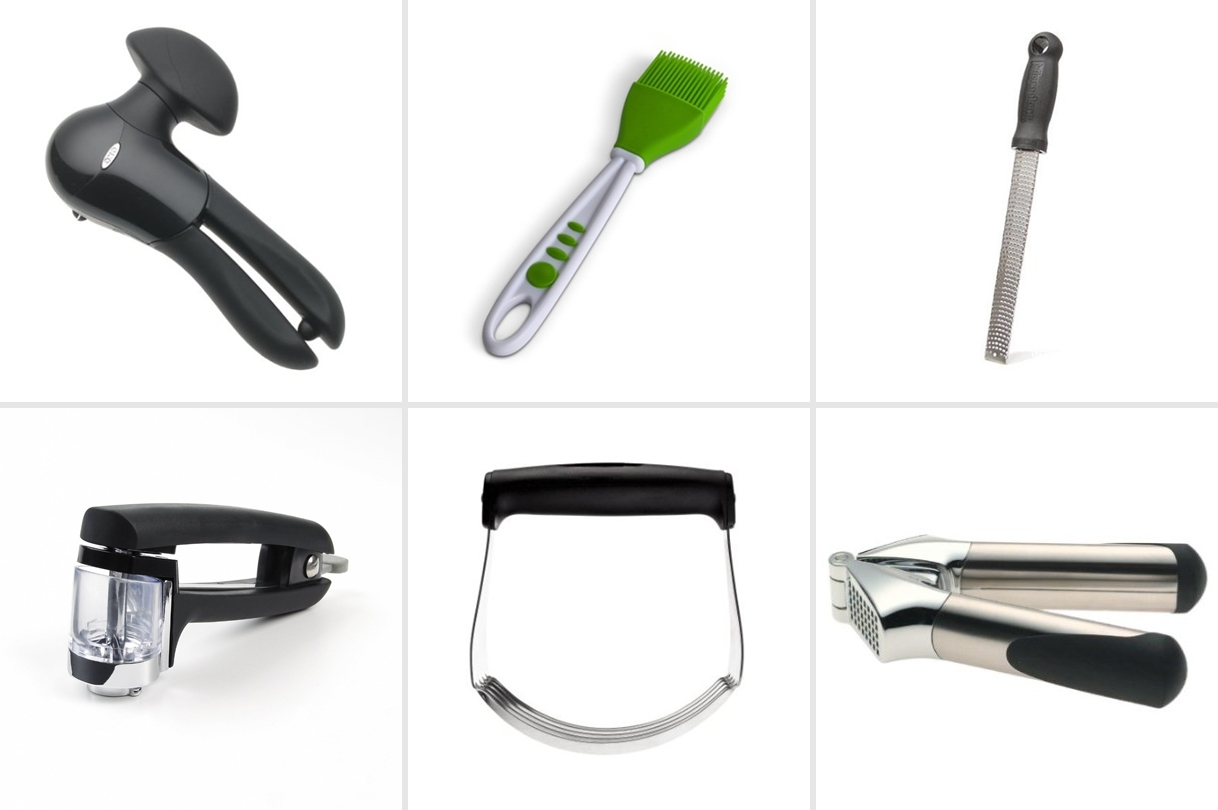 1) OXO Can Opener; 2: Silicone Pastry Brush; 3) Microplane Grater/Zester; 4) Cherry Pitter; 5) Pastry Cutter; 6) Garlic/Ginger Press
Note: I feel it's especially important to disclose in a post like this that if you buy anything through the Amazon links provided in this post, I'll get a small commission from the sale. If you're not cool with that but interested in the items recommended, just don't use the link! And if you do use the link, I appreciate it!
And now for the soup! If you can get your hands on some fresh chestnuts, please do try this – in my mind, it's one of the ultimate seasonal treats.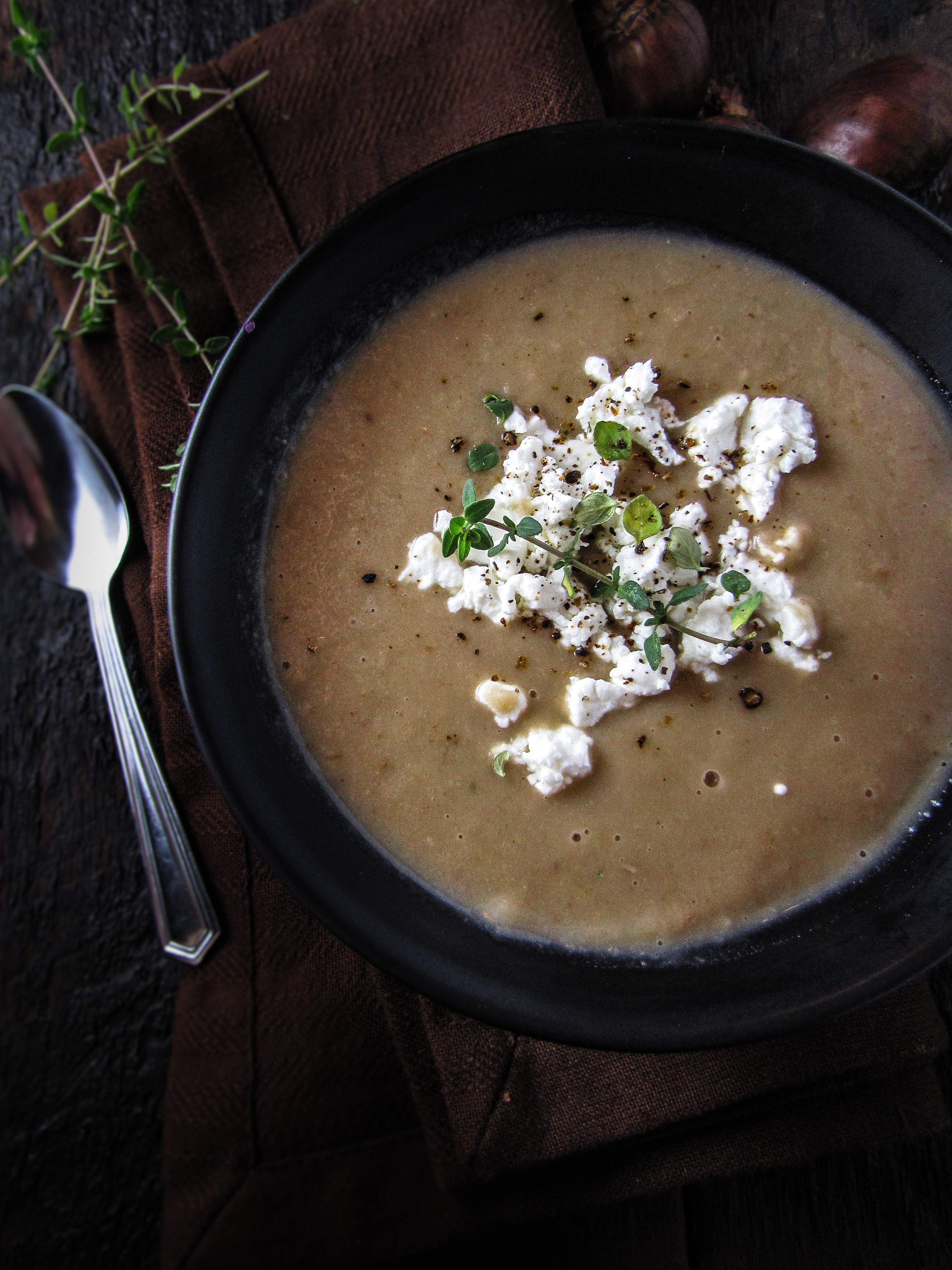 Roasted Chestnut and Potato Soup with Goat Cheese
Adapted from Cannelle et Vanille. Serves 2-3.
Note: Buy more chestnuts than you think you'll need. Fresh chestnuts are very perishable, and I always end up with at least a few that have gone moldy inside. Others just never come out of their shells, so leave yourself some wiggle room. And when you're at the store, try to pick nuts that still feel completely firm – any mushiness may be a sign that they've begun to mold.
20 chestnuts, roasted and peeled
1 TBS butter
1 small leek, trimmed, washed, and sliced into thin rounds
1 small onion, peeled and finely diced
2 small russet potatoes, peeled and roughly chopped
4 c. chicken stock
1 tsp fresh thyme leaves
1 c. skim milk
2 oz. fresh goat cheese, crumbled
salt and pepper to taste
Heat the butter in a medium saucepan over low heat. Add the leek and the onion and saute until soft and translucent, about 5 minutes. Add potato and saute for another 5 minutes. Add stock, thyme leaves, and roasted chestnuts, and bring to a boil.
Lower the heat, cover the pot, and simmer for 20-30 minutes, until potatoes and chestnuts are tender. Carefully ladle hot soup into a blender (or use an immersion blender) and blend into a smooth puree. Add the cup of milk and blend to combine. Season to taste with salt and pepper, and ladle into bowls. Top each bowl with some of the crumbled goat cheese. Serve hot.
0