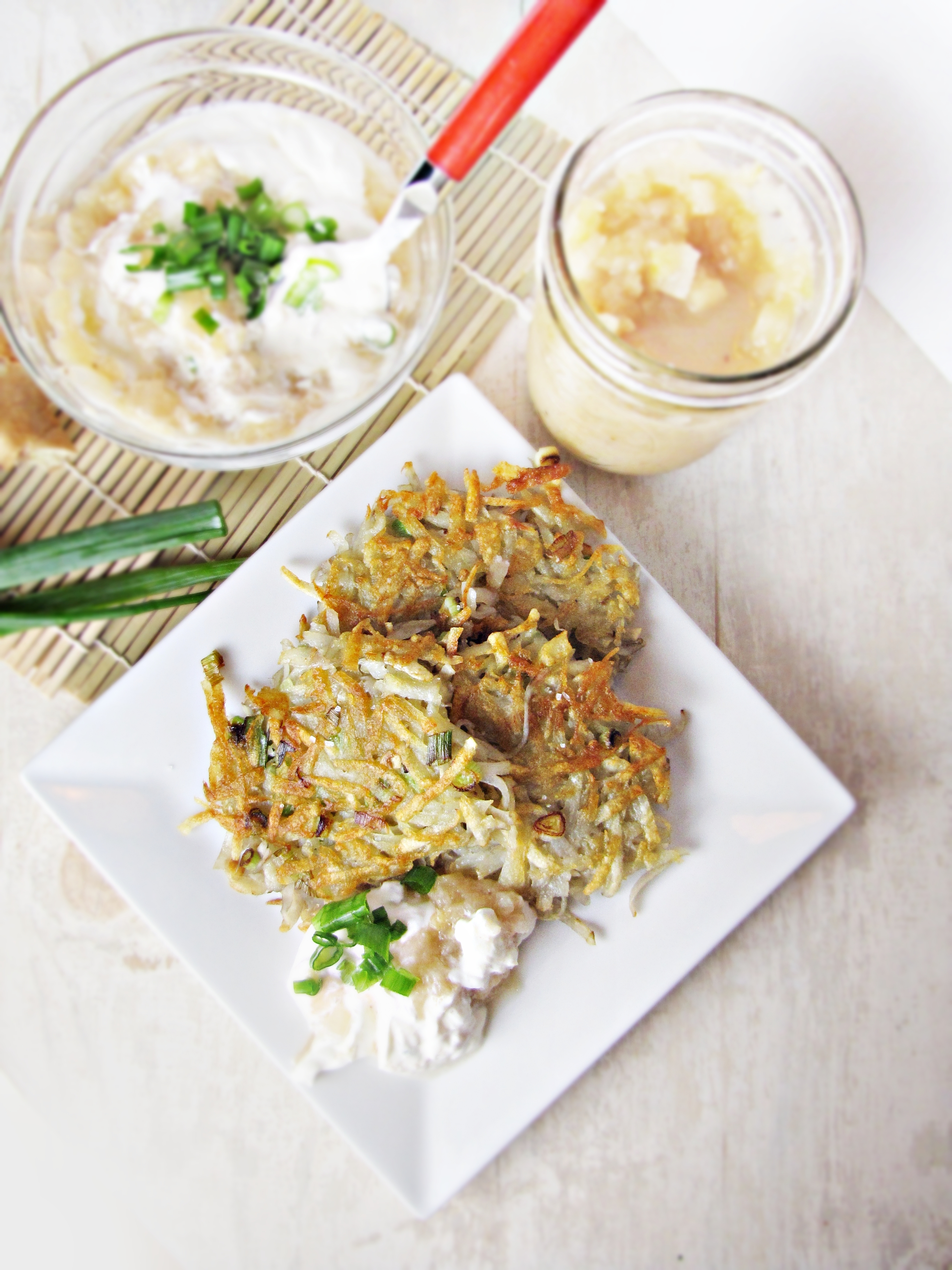 I had the best weekend.  Seriously, the best.  There wasn't even anything super thrilling about it, just lots of tiny happy moments with my favorite person that added up together to make me feel totally relaxed and refreshed and joyful.  We went apple picking and then stopped in to say hi to my dad and check on the Andover garden.  We made apple cider doughnut cake, Kerala-style beef stew, pumpkin whoopie pies with maple-cream cheese, this chutney, and an amazing salad I'll tell you about soon.  Saturday we went to the Ipswich River Sanctuary and Trevor let the birds land in his hands and there was almost no one there – it was so peaceful and so beautiful.  Sunday started off with Trevor bringing me a homemade cappuccino and a slice of this tart while I was still all tucked under the big white comforter, half-asleep and letting the sunshine and cool breeze and smell of coffee slowly stir me.  Then we lounged for 3 hours before walking a few miles to brunch at M3 and listening to all the crazy folks of Somerville play in the Honk! festival.  Later that day I ran 10 miles (and was proud of myself) before falling asleep watching Dark Shadows all warm and cozy.  I live the good life.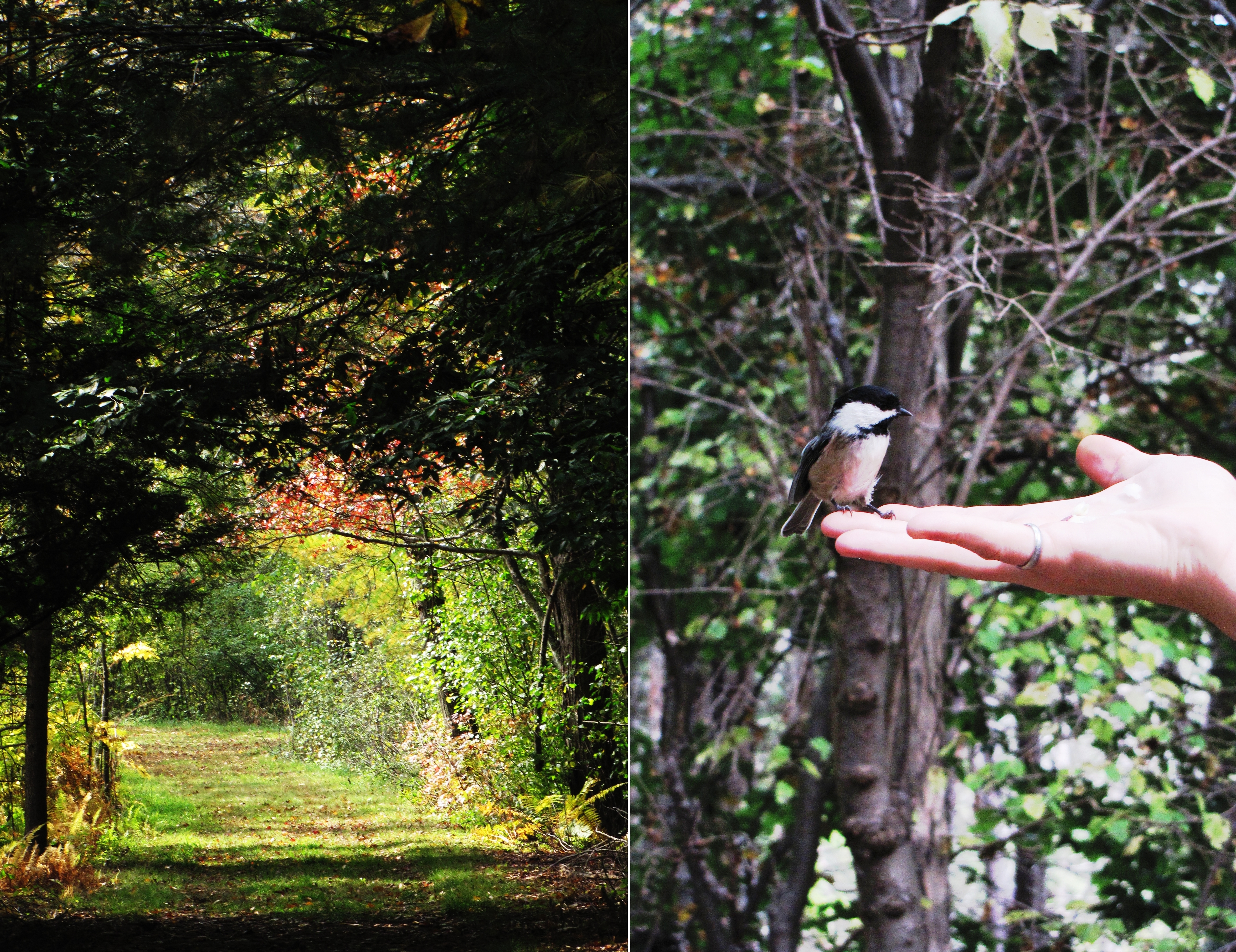 You want to know something else that's good?  Ming Tsai's recipes.  I've written about how he's kind of my idol before, but seriously, this man puts great flavor into his food.  And now that I'm employed and everything, I've even been able to eat at Blue Ginger… where the food lives up to its reputation.  Knowing I had almost half a bushel of apples to use, this chutney immediately came to mind.  I've made it several times before, and I really love it – it's tangy and a little bit spicy but still sweet.  It's also great mixed with sour cream and slathered on potato latkes, which is how I chose to enjoy it for dinner tonight.  Leave it to Ming to revolutionize latkes and applesauce… give this one a try, for sure.  And stay tuned for more ways to use this chutney later this week!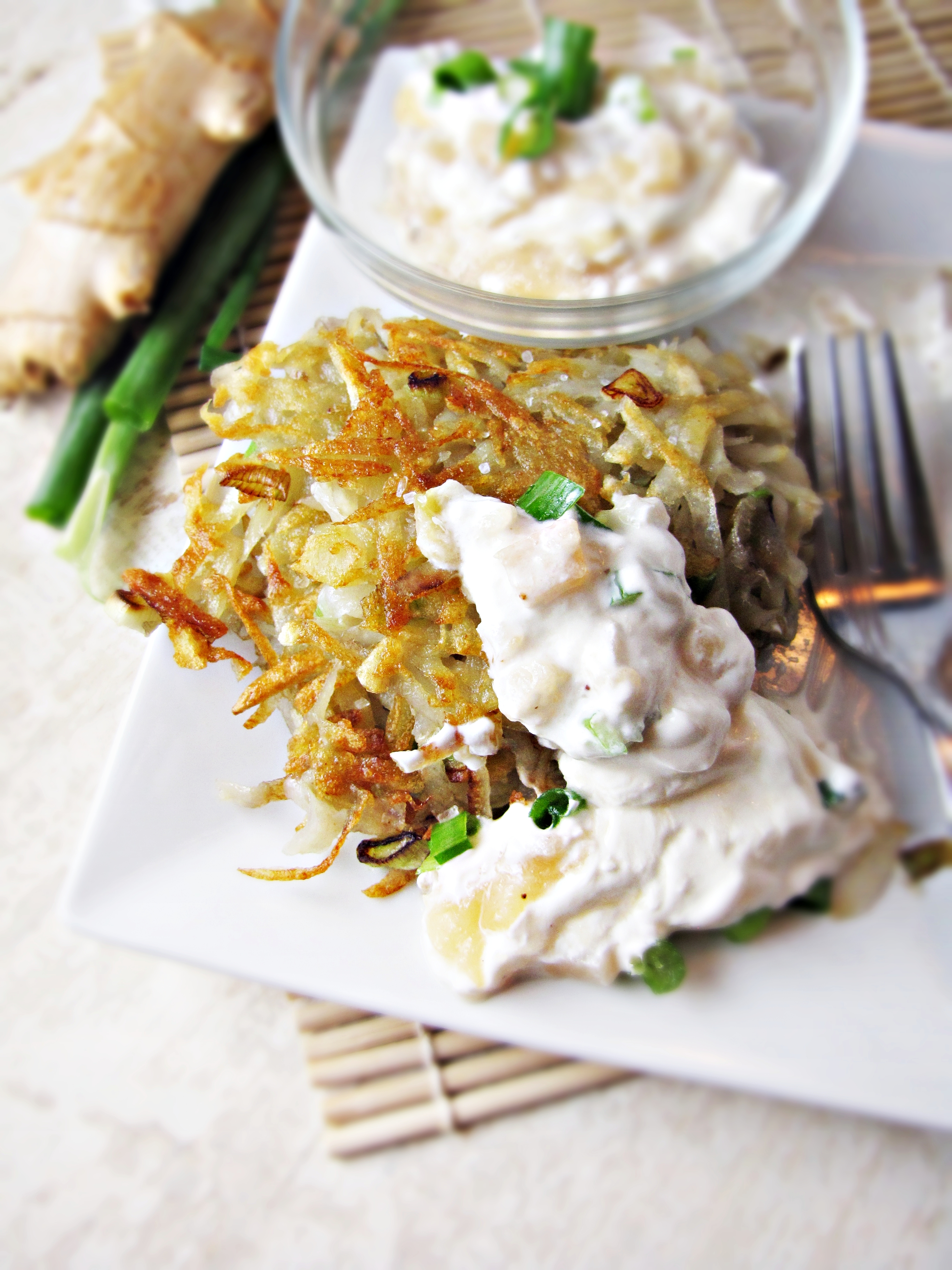 Apple Ginger Chutney
Adapted from Ming Tsai.  Makes 4 c. chutney.
2 onions, diced
2 inches ginger, peeled and finely diced
1 TBS canola oil
juice of 1 lemon
8 non-mealy apples (such as Fuji, Honey Crisp, or Empire), peeled and cored
salt and pepper
1 c. apple cider or apple juice
1 c. rice wine vinegar or apple cider vinegar
Cut apples into even 1/4 inch cubes (this will take longer than you think so budget extra time!).  Place cubes into a large bowl and squeeze lemon juice over them to prevent from browning.
In a large stockpot, heat oil over medium heat.  Add onion and ginger and cook for 3-4 minutes, until onions soften.  Add apples, and season generously with salt and pepper.  Stir to coat, then cook apples for 3-4 minutes, until beginning to soften.  Add apple cider/juice and vinegar and simmer until liquid is reduced by three quarters, about 30 minutes.  Adjust seasoning to taste.  Keeps for about 1 week in the fridge.
Scallion-Potato Latkes with Apple-Ginger-Cream
Adapted from Ming Tsai.  Makes 16 latkes.
1 c. apple ginger chutney (see above)
1 c. sour cream
8 scallions, thinly sliced, white and green parts separated
4 medium russet potatoes, peeled
2 eggs
salt and pepper
2 TBS butter
2 TBS olive oil
Mix together apple chutney, sour cream, and green parts of scallions together.  Cover and place in fridge until latkes are ready.
Grate potatoes on a large box grater.  Squeeze liquid out of grated potatoes into sink; place grated potatoes into large strainer set over large bowl, and continue to squeeze to remove as much liquid as possible.
In a large bowl, whisk eggs together gently.  Add drained potatoes and white parts of scallions and mix together.  Season with salt and pepper.
Heat 1 TBS olive oil and 1 TBS butter over medium-low heat in large frying pan for 3 minutes.  Form patties out of the potato mixture and place in frying pan.  Cook latkes in batches for 4-5 minutes per side, or until golden brown.  Replenish frying pan with butter and olive oil as necessary as you make multiple batches.  Place finished latkes on a plate line with a paper towel.  Serve hot with Apple-ginger-cream.
1