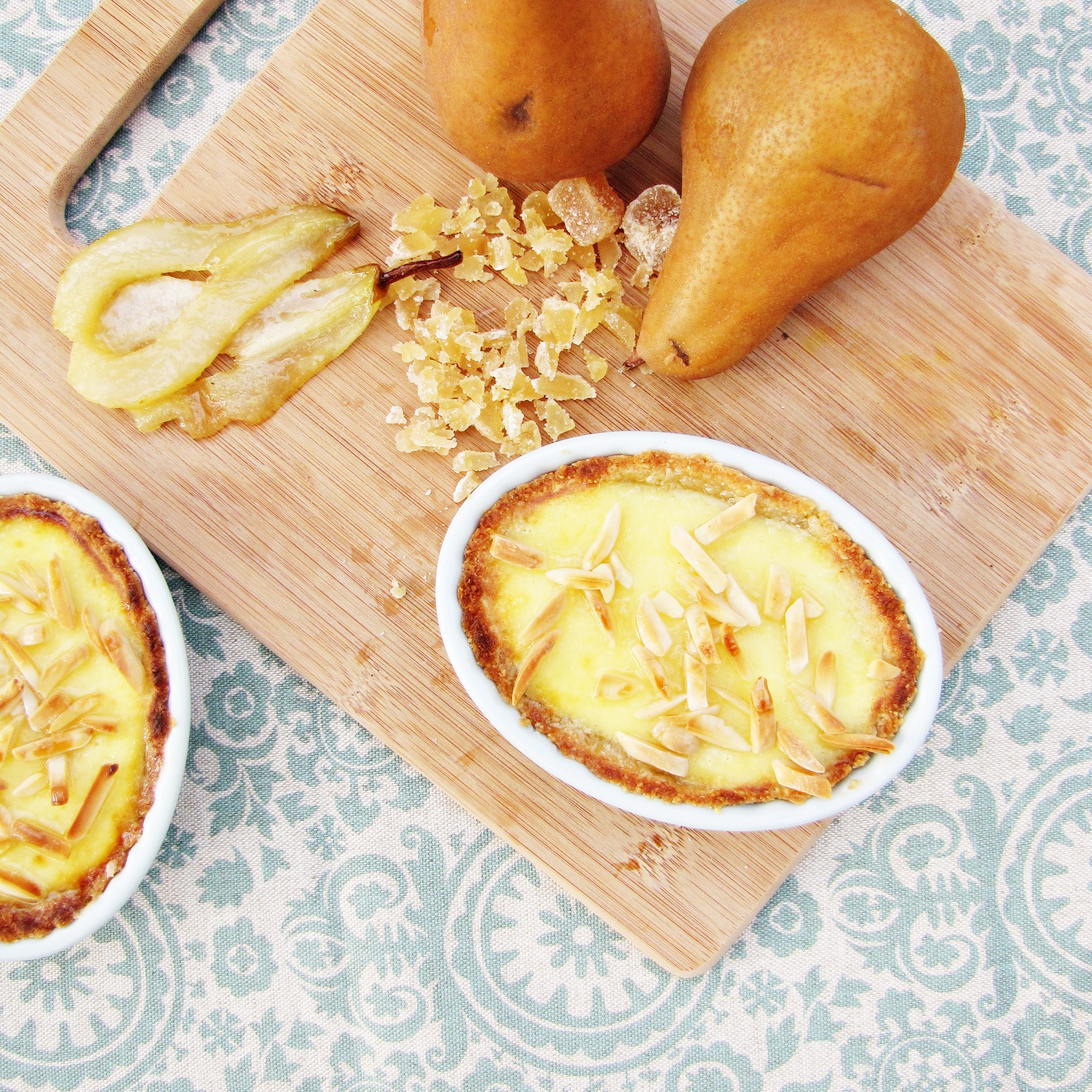 This is my 100th post!  How excellent is that?  In my opinion, pretty excellent.  This seems like the appropriate time to speak sagely about blogging and what it means to me and how it has changed my life, but I'm not really in the mood for that today – maybe I'll save it for hitting the 2 year mark.  However, I do think that having written 100 posts calls for a celebration, so I spent Sunday making myself (and Trevor, ardent blog supporter) a nice dinner with a yummy, blog-worthy treat for dessert.  To my other ardent blog supporters – I would have made you dinner too if you lived as close as Trevor does, don't worry.  Dad.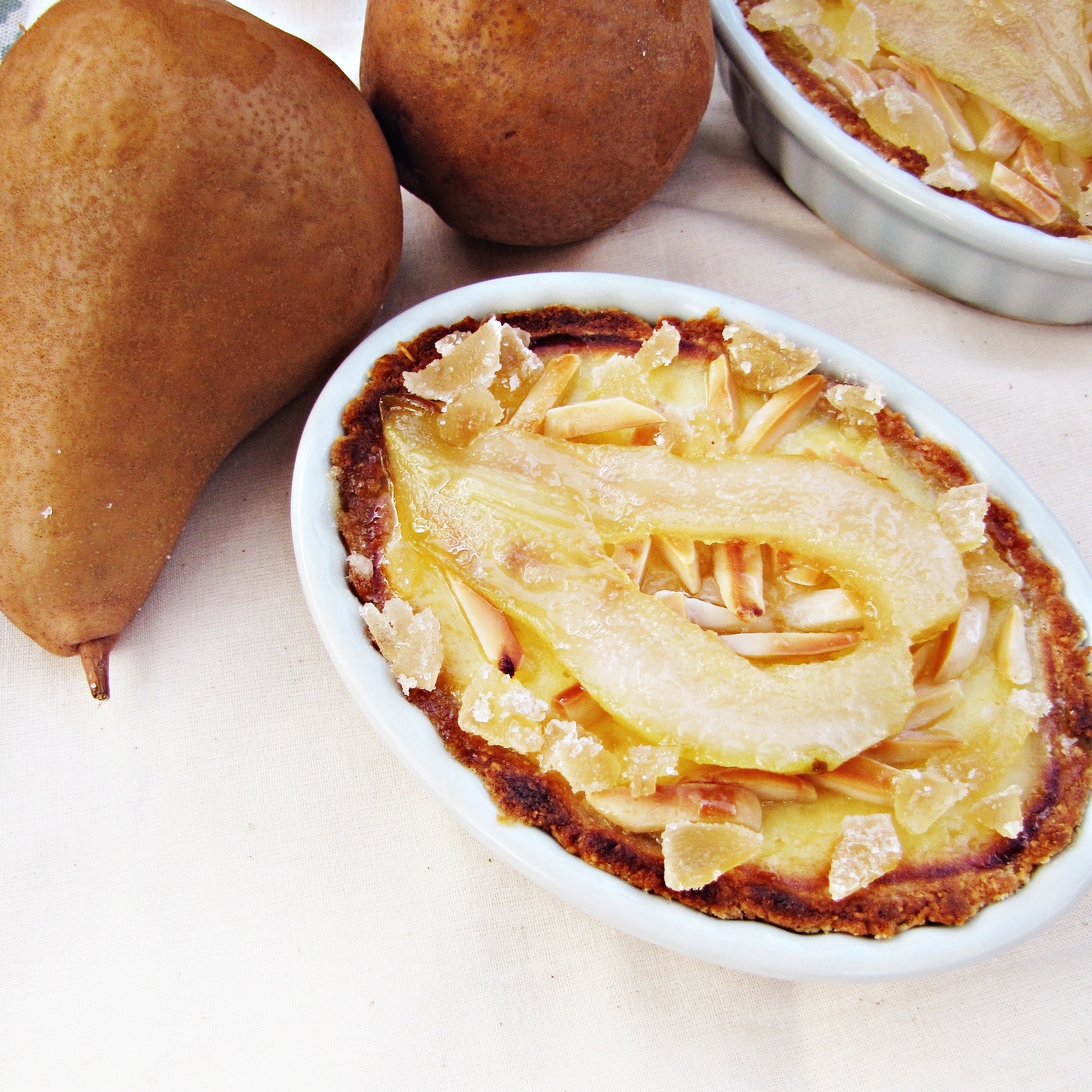 Saturday I visited the Somerville Winter Farmer's Market for the first time and was so overwhelmed by the quality and variety of produce that I got a little of everything, including a few things that I didn't need and had no plan for but couldn't resist.  These pears included.  Once I arrived home I quickly decided that they would be the star of my celebratory dessert.  I went with a ricotta, pear, almond, and ginger tart adapted from this recipe.  It seemed autumn-y and festive and appropriate.  I've made a lot of ricotta-based desserts this year – I keep picking them out because somehow they feel healthier to me – but I'm usually disappointed by them.  Although I like the texture of ricotta in some dishes, I don't love it in dessert.  This recipe was an exception.  I think the addition of sour cream and heavy cream to the custard base smoothed out some of the graininess associated with ricotta, without taking away from the ricotta's flavor.  The final tartlets had a great mix of flavors and textures – a crunchy almond crust, sweet ricotta custard, caramelized pears, and spicy, chewy bites of ginger.  The only change I would make next time is to increase the amount of pear used – I'm imagining a sort of caramelized pear chutney for the top rather than a single slice of pear.  Give this recipe a try if you're looking to mix it up a little, or trying to impress someone.  Happy 100 to me!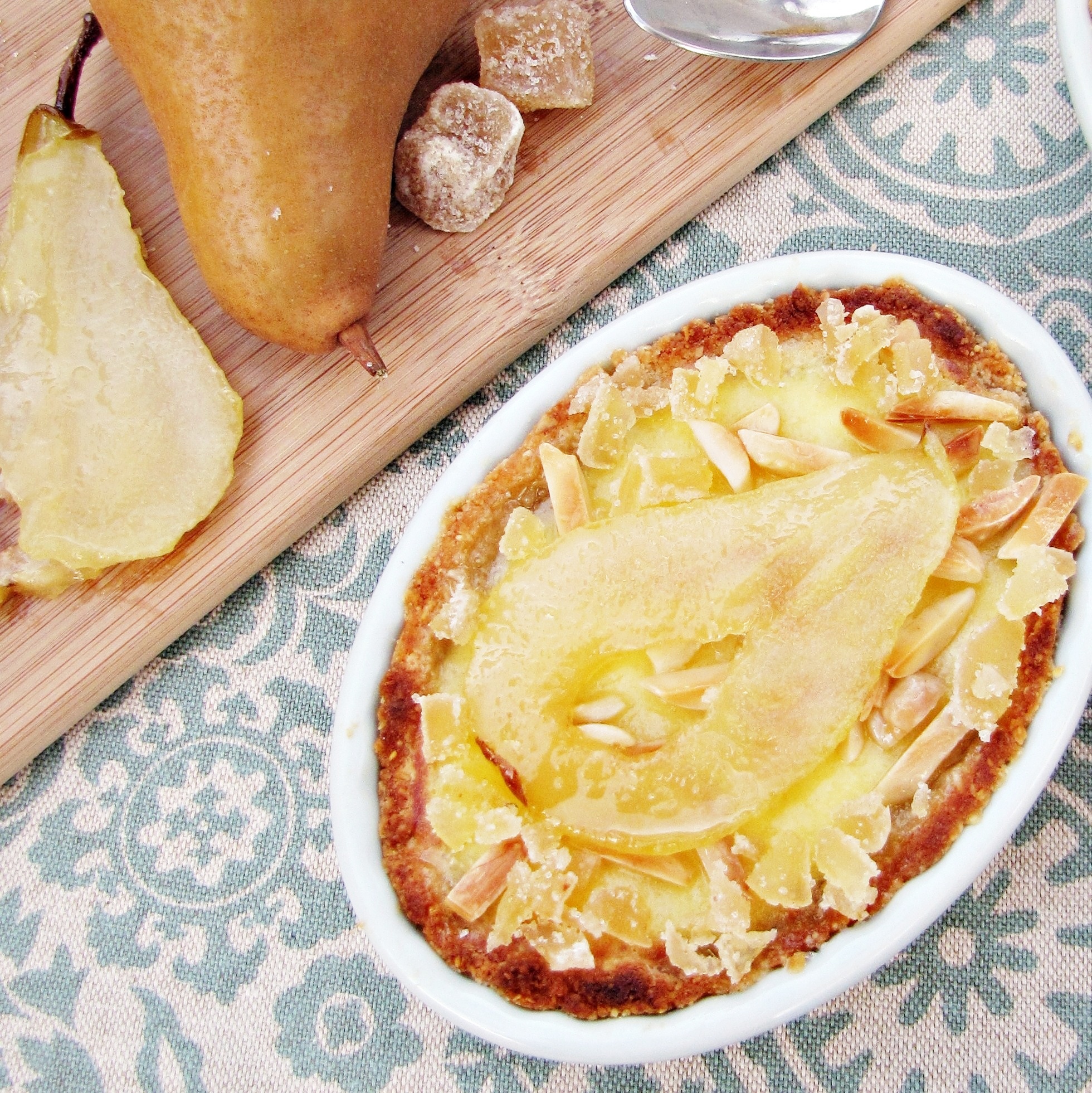 Pear, Ricotta, and Almond Tartlets
Recipe adapted from Know Whey.  Serves 4.
For the crust:
2/3 c. almond flour
1/2 c. flour
3 TBS sugar
3 TBS cold butter
1/8 tsp salt
2 TBS cold heavy cream
1 TBS cold water
For the filling:
1 c. ricotta
1 tsp almond flour
1 tsp flour
1 egg
2 TBS heavy cream
1 TBS sour cream
1/4 c. sugar
For the topping:
1 pear, peeled and sliced
1 TBS butter
1/4 c. sugar
4 1-inch cubes crystallized ginger, finely diced
1/3 c. slivered or sliced almonds
Prepare crust.  In a medium bowl, mix together almond flour, flour, sugar and salt.  Cut in cold butter and press with a fork or a pastry cutter until the mixture is crumbly with pea-sized lumps.  Add the chilled cream 1 TBS at a time, mixing with a fork between additions.  Press the dough together into a ball – if it just stays together, it is ready, if it is still too loose to hold to itself, add the extra tablespoon (or two if necessary) of cold water to get it to firm up.  Press the dough into individual creme brulee ramekins, so that it is about 1/4 inch thick all the way around and up the side.  Freeze the ramekins for 10 minutes.
Preheat the oven to 350°F.  In a medium bowl, mix together ricotta, almond flour, flour, sour cream, heavy cream, sugar, and egg, until the batter is an even consistency.  Set aside.
Heat 1 TBS of butter in a medium saucepan over medium-low heat.  Add 1/4 c. of sugar and let sit until it begins to turn golden brown.  Add pear slices and cook until pear is tender and pear syrup has thickened slightly.  Remove from heat and set aside.
Blind bake the prepared ramekins with tart dough for 7 minutes, until just starting to turn golden.  Divide the ricotta mixture evenly between the ramekins and bake on a cookie tray for 15-20 minutes, until custard is beginning to firm up and turn slightly golden.  Remove from oven, and change oven setting to broil.  Brush the tops of the custards with pear syrup.  Sprinkle almonds over the top of custards and broil on high for two minutes, until almonds and crust are golden-brown.  Remove from oven and top with diced ginger and pear slices.  Refrigerate until ready to serve.  Serve cold.