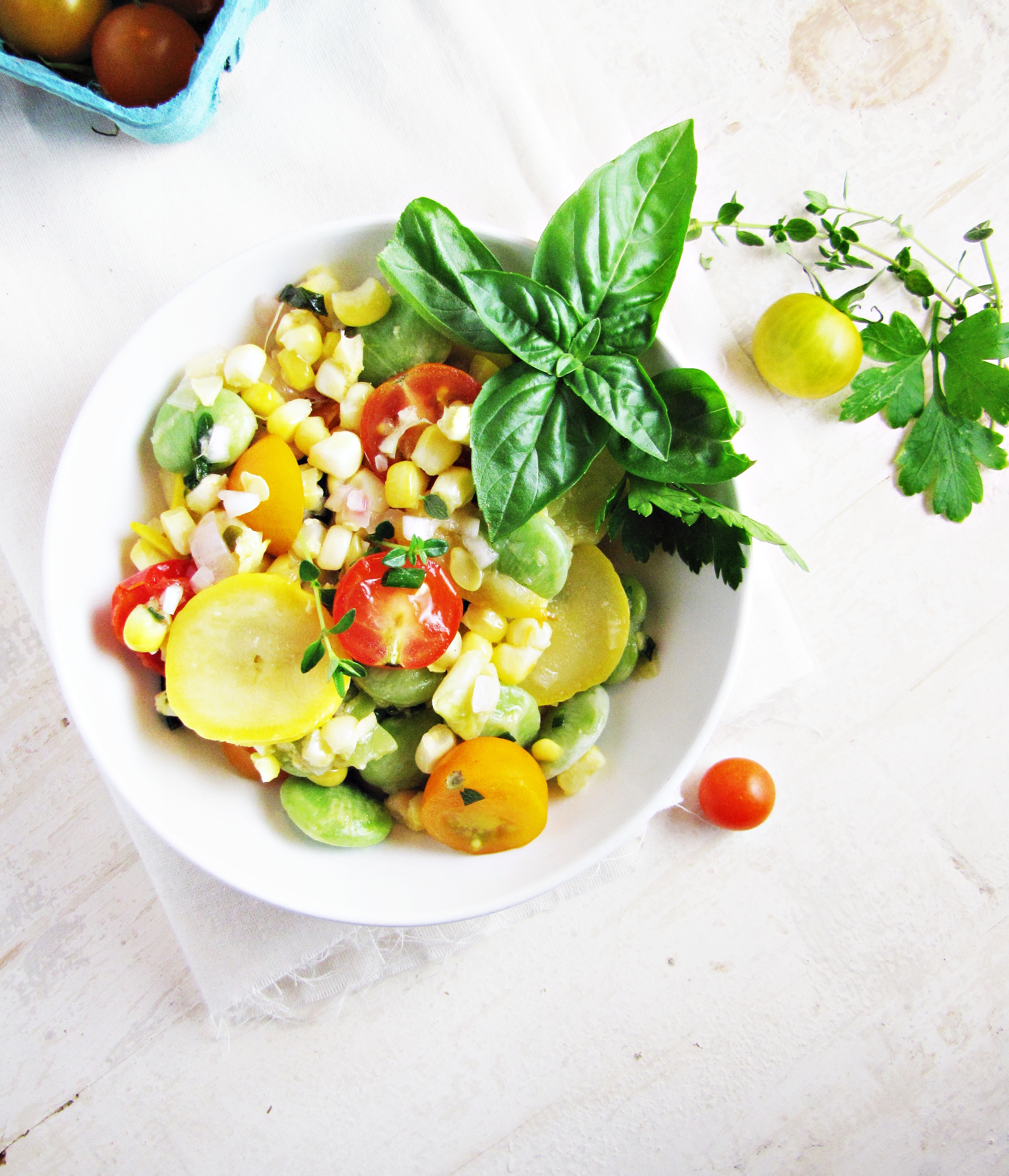 I've been dragging my feet on a lot of things lately, including, as you may have guessed, blogging.  It doesn't really make sense to be having a burnt-out period now, as I don't have that much going on to be burnt out from.  My current project is fairly boring, I don't have any trips or major events planned for the next several weeks, and I'm just kind of doing the lazy summer thing.  Maybe that's the problem – does inspiration beget more inspiration?  Or maybe it's just a phase.  Or the heat.  In any case, I find myself mostly wanting to read and eat takeout and get 8 hours of sleep and stalk people on facebook, and not so much wanting to go to the grocery store and plan meals and turn on the oven.
I'm sure I'll get my groove back in the next week or two, but in the meantime it would be a shame to not take advantage of summer's best produce, so I did manage to throw together a few meals this week.  And while I may be a little uninspired, this recipe certainly isn't – in fact, I've been excited to share it since I first tried it 2 years ago.  You really do need to wait to make this until that moment in August when all the ingredients are at their ripest – sweet sweet corn, tomatoes bursting with flavor, fresh beans that aren't too starchy – and that time is right now, at least in Boston.  The corn, in particular, is the best I've had in years.  I bit into an ear as I was shucking, just to see how sweet it was, and proceeded to eat the entire thing raw in about 45 seconds.  I'm stopping by the farmer's market today to get another 5 ears to devour – maybe I'll even get a jolt of inspiration from them.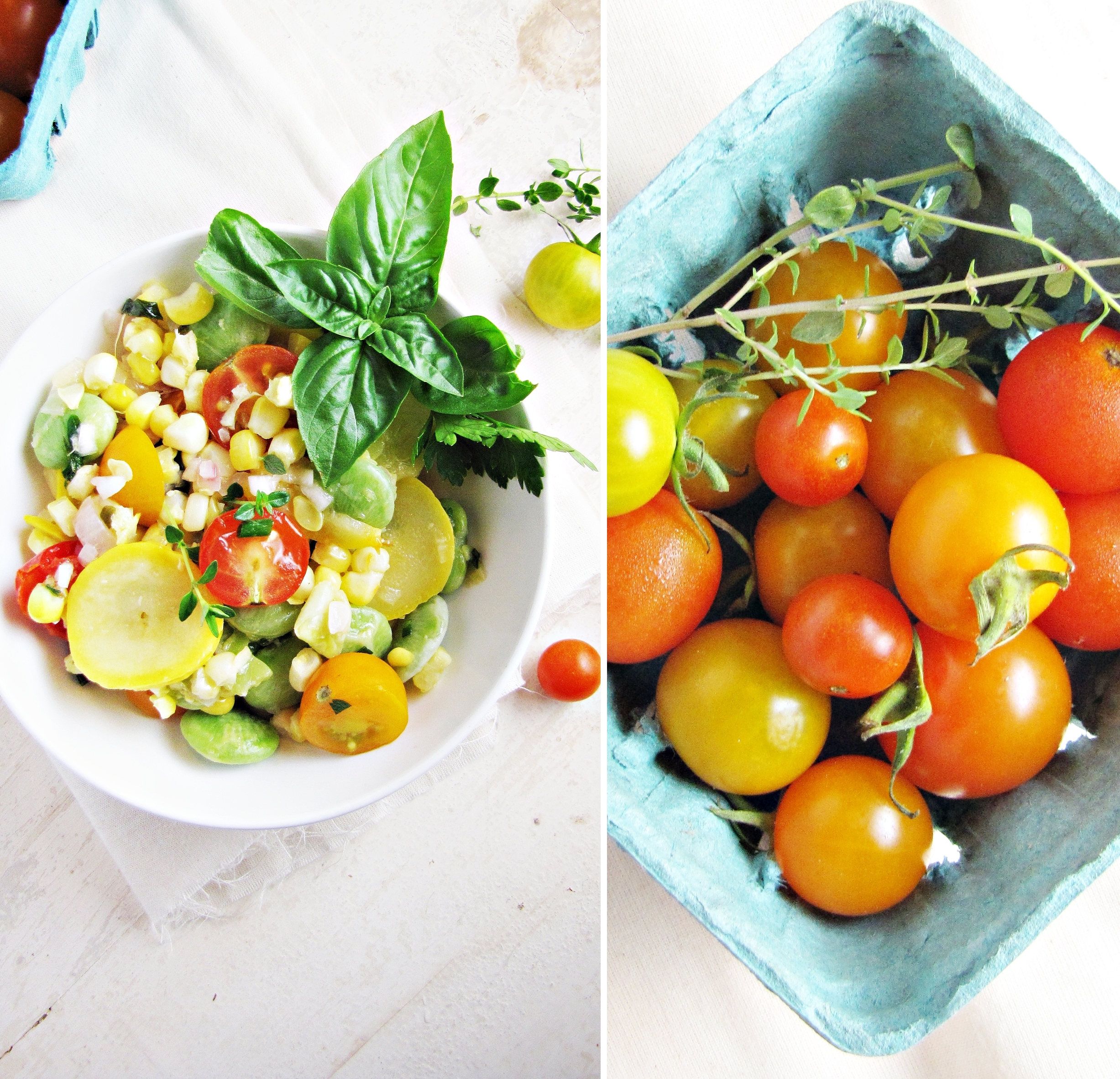 "First-of-the-Season" Succotash
Adapted slightly from Sunday Suppers at Lucques.  Serves 6-8.
1 shallot, finely diced
3 TBS lemon juice
4-6 TBS olive oil
1 small red onion, finely diced
2 tsp thyme leaves
2 c. sliced summer squash
kernels from 4 ears fresh corn
1 pint cherry tomatoes, cut in half
1 1/2 c. fresh or frozen lima beans, cooked
1/4 c. basil, mix of green and purple
2 TBS sliced parsley
2 TBS minced chives
sea salt
black pepper
Mix shallot, lemon juice, and 1/2 tsp salt in a small bowl.  Let sit.
Heat 2 TBS olive oil in a large frying pan over medium-high heat.  Add red onion and thyme, and cook, stirring, for 2 minutes.  Add summer squash, season with 1/2 tsp salt, and cook 4-5 minutes, stirring, until the squash is tender and beginning to brown.
Remove squash/onion to a large bowl and return frying pan to heat.  Add another 2 TBS olive oil to frying pan, and let heat up for 2 minutes.  Add corn, 1/2 tsp salt, and a sprinkle of black pepper.  Cook until corn is just tender, stirring frequently, about 3 minutes.  Add corn to bowl with squash.  If using frozen lima beans, and them to the hot pan and defrost over medium heat, then add to the succotash.  If using fresh lima beans, drain the cooked beans well and add to the succotash.
Add shallot mixture, cherry tomatoes, basil, parsley, and chives to succotash and stir to combine.  Taste, and season with olive oil, salt, and pepper to your taste.  Serve at any temperature.
0