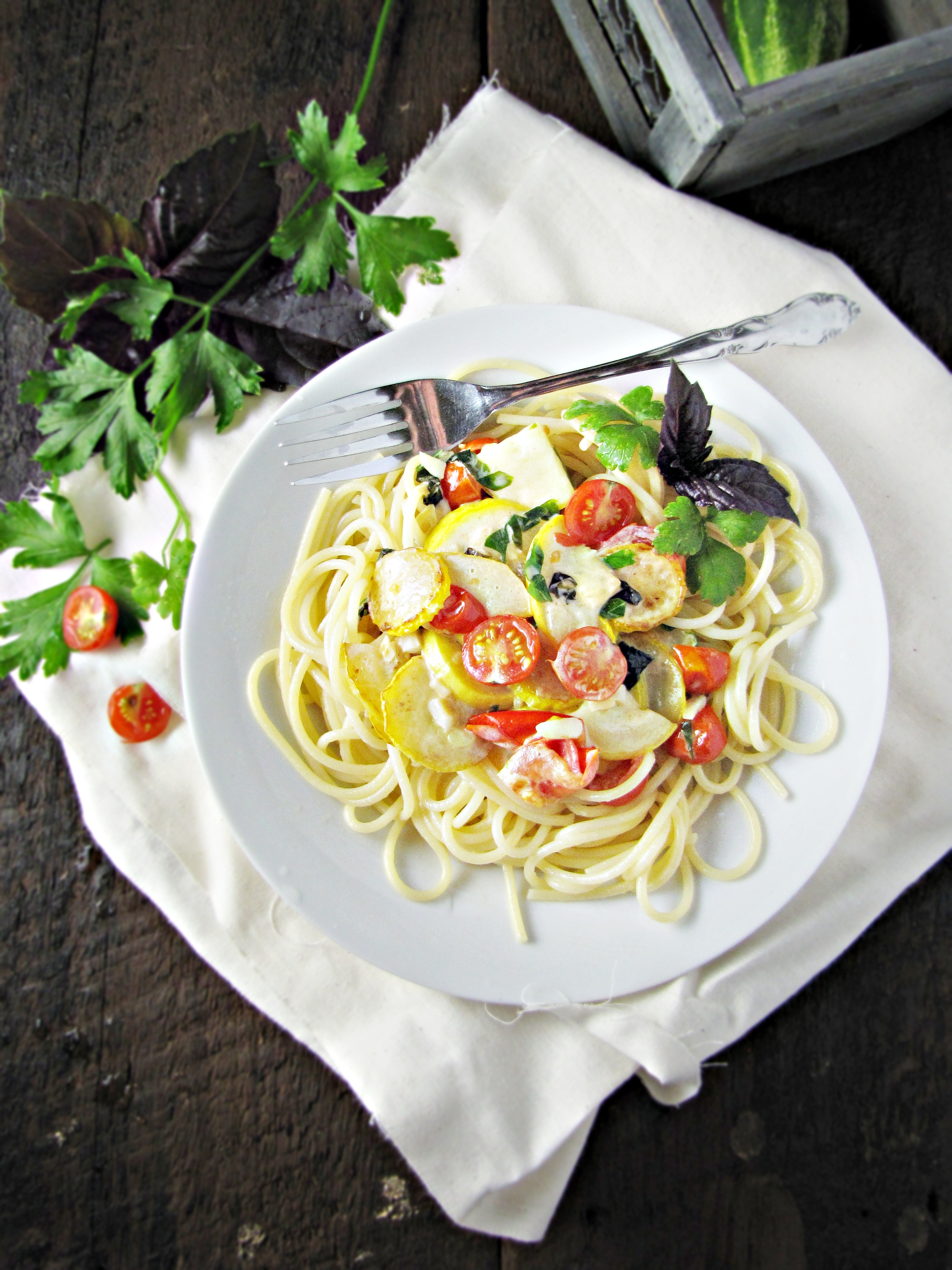 I've been waiting for this meal for a long time.  Since February, to be exact, from the moment I put the first seed in the first pot to sit in my bedroom window absorbing the weak winter sun.  And by this meal, I don't mean this dish exactly – I just mean the first meal where all of the produce (well, except the garlic, we don't get to plant that until September) could be fresh-picked from the garden, moments before preparing it.  Accomplishing this was just as satisfying (and delicious) as I thought it would be.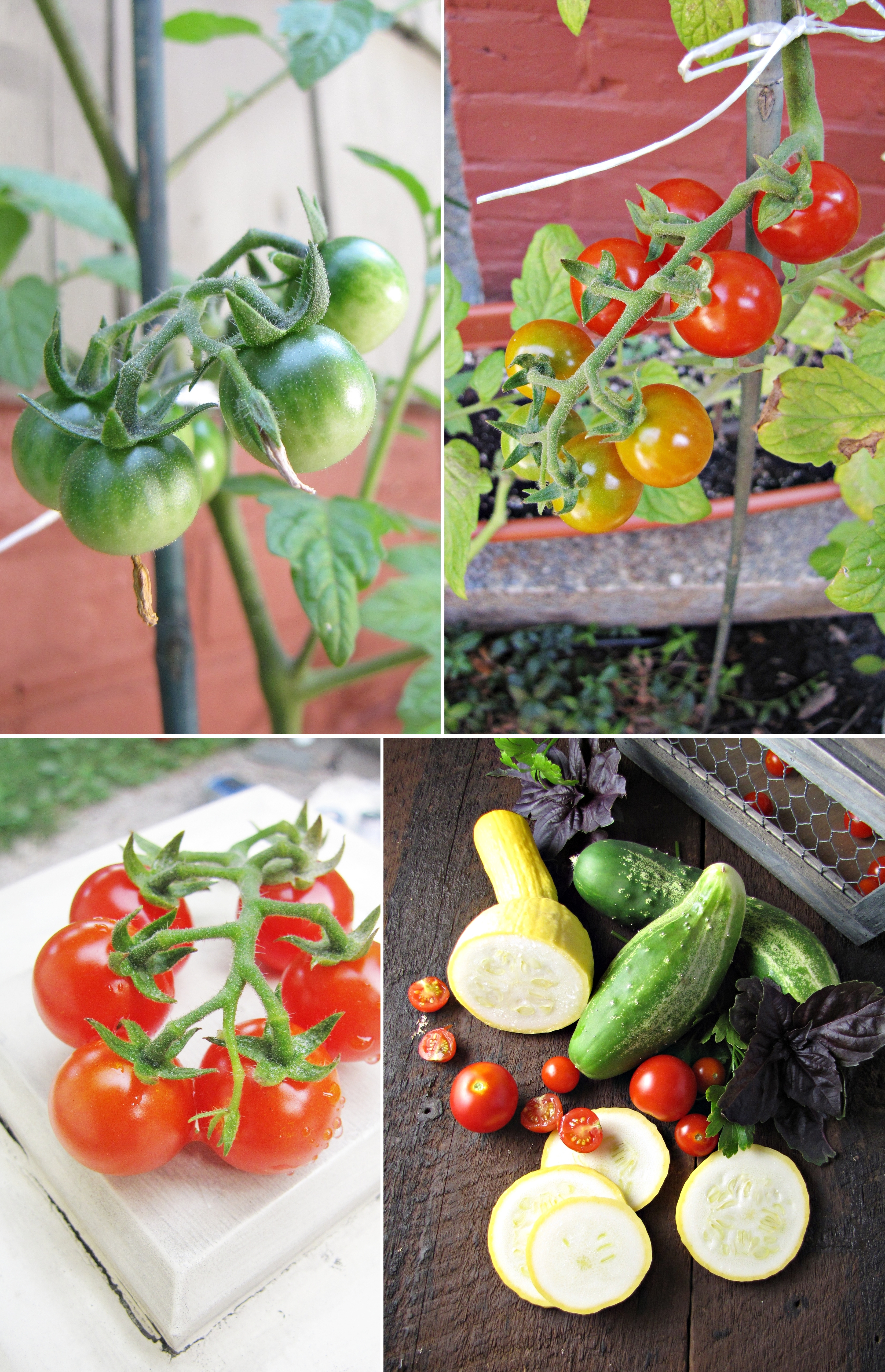 The garden has been far more successful than I expected.  Our random assortment of pots with store-bought dirt have turned into a lush array of greenery, and I'm so happy about it.  The highest tendrils of the watermelon are beyond arm's reach, the cucumbers have climbed all the way up the porch and threaten to overrun the grapes, the tomatoes (started from seed!) are turning red one at a time, and the kale finally battled off the last of the cabbage moths and could provide at least 5 batches of my favorite kale soup.  Even the lemon tree has made a comeback and is covered in new leaves (!) after losing almost all of them this winter.  (This lemon tree seriously toys with my emotions.  After all my painstaking work nursing it back to health from the mealybugs, it rewarded me with over a hundred blossoms – not a single one of which managed to turn into a lemon larger than a quarter before shriveling up and falling off the tree.  No lemons this winter – any citrus experts out there have advice for me?)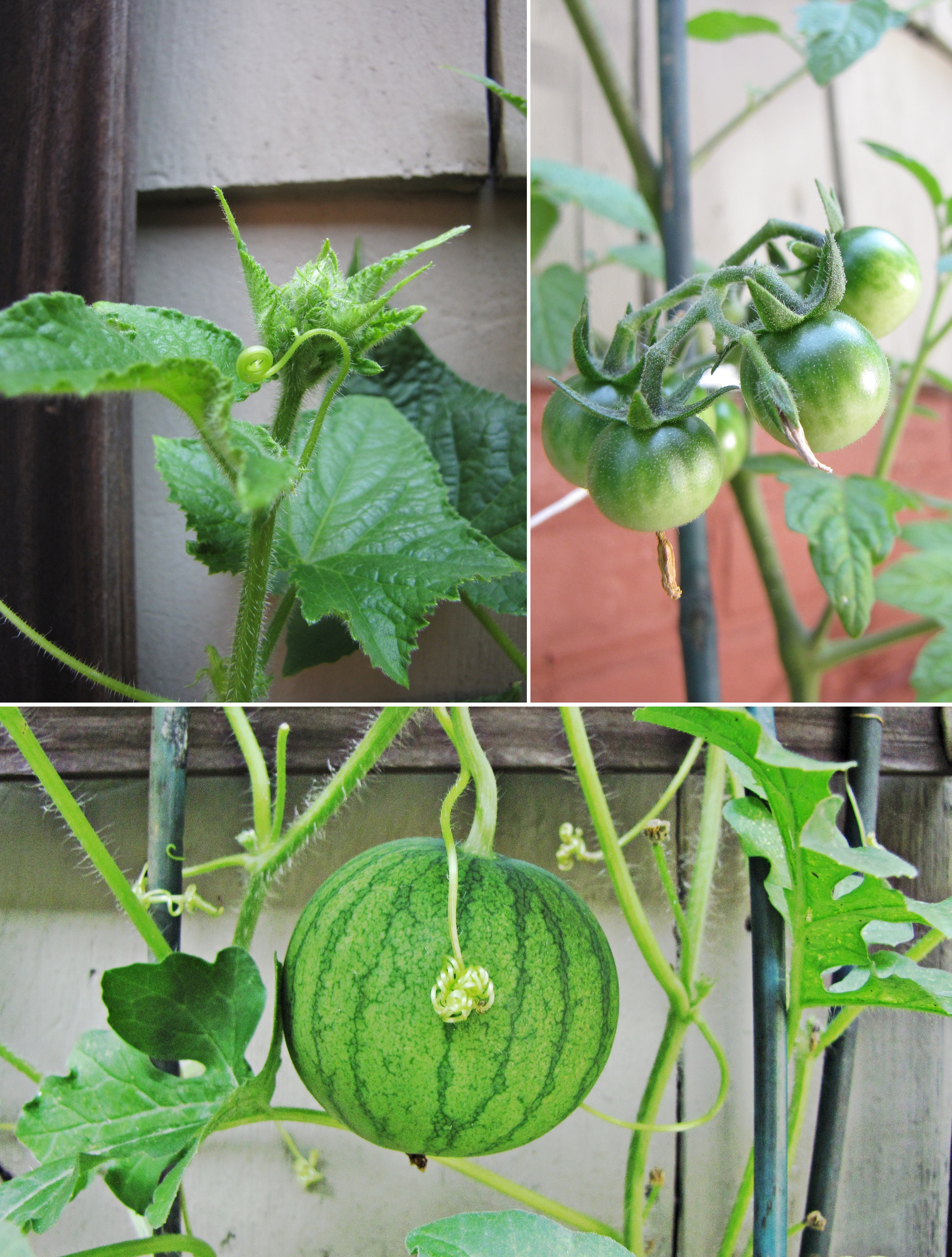 This is less a recipe than a suggestion for how to use whatever's good in your garden now.  The basic process is this: gently cook your vegetables until they're crisp tender, then toss with pasta, or rice, or leave them by themselves.  Smother the veggies with herbs, heated only for a moment or two just to release their flavor.  Then dress the dish – I went the luxurious route, with cream and cheese, but a drizzle of good olive oil and a sprinkling of salt would have an equally wonderful effect.  Maybe pour yourself a glass of white wine, and, if it's a nice night, take your dinner out to the garden and enjoy all the goodness summer has to offer.  It can't be beat.
I can't wait to share more garden-inspired recipes soon!  Especially when the watermelons (and the figs, and the grapes) are ready.  Stay tuned.  And enjoy your weekend!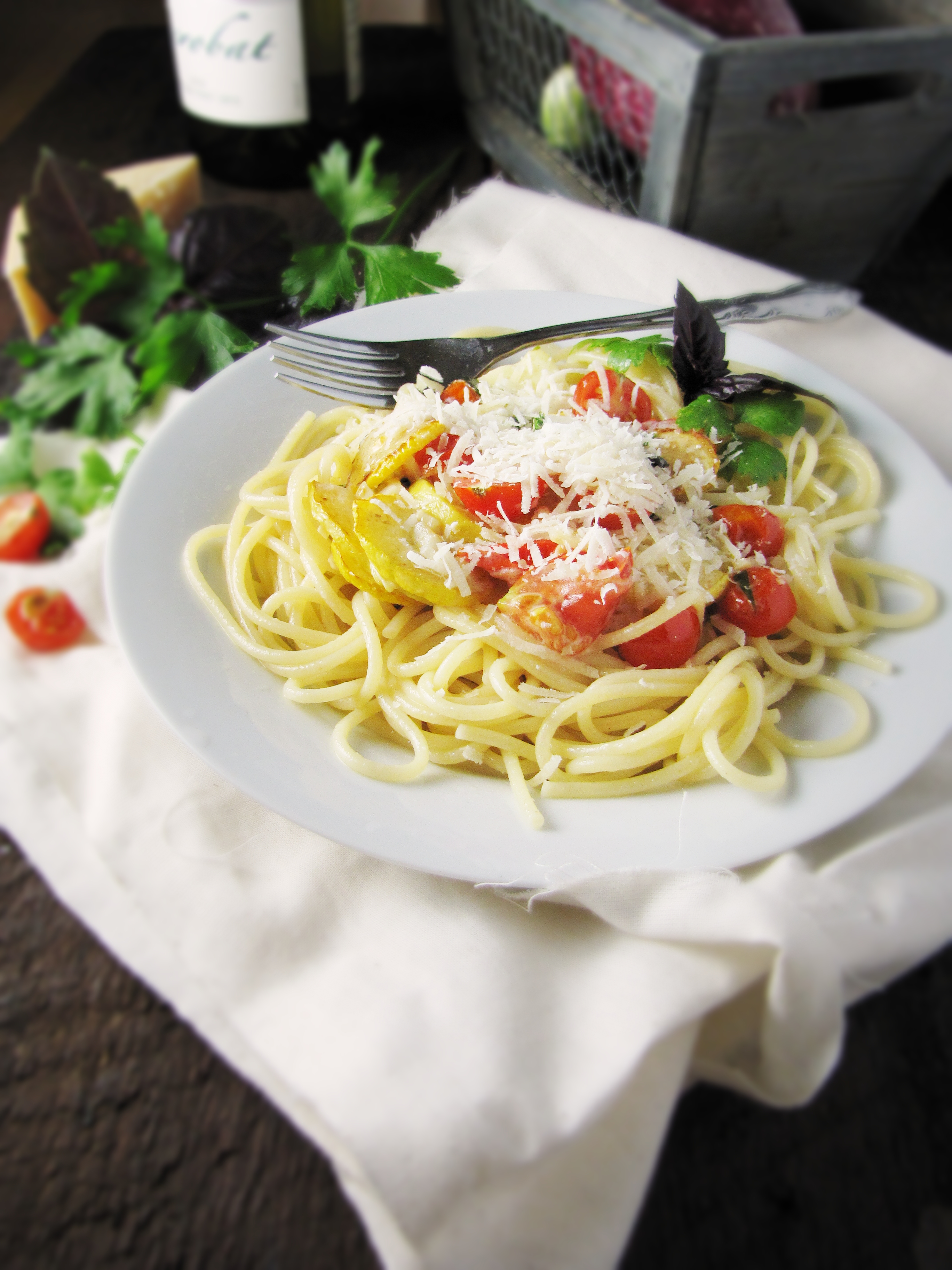 Creamy Spaghetti with Summer Squash and Tomatoes
Serves 4-6
1 lb. spaghetti
3 TBS butter
2 small summer squash, thinly sliced
6 cloves garlic, minced
20-30 cherry tomatoes, halved
1/3 c. packed fresh parsley, thinly sliced
1/3 c. packed fresh basil, thinly sliced
1/2 c. heavy cream
1/3 – 1/2 c. packed grated parmesan
1 tsp lemon juice
sea salt
black pepper
Bring a large pot of well-salted water to a boil.
Heat the butter in a large saucepan over medium heat until melted.  Add the sliced squash and cook until tender and beginning to turn golden brown, about 7-10 minutes, flipping with a spatula once or twice over this time period.  Add the minced garlic and cook for 2 minutes longer, until garlic is very fragrant but not browned.  Add cherry tomatoes and cook for 2 minutes more, stirring.
Add the spaghetti to boiling water at about this point.  Cook according to package directions.  In an ideal world, you want the sauce to be ready as the same time as the pasta, but life doesn't always work out like that.  If your pasta is done first, rinse with cold water or drizzle with olive oil to prevent it from sticking.
Lower the heat on the sauce and cook vegetables for 2-3 more minutes, stirring.  Add cream, parsley, and basil to vegetables, and cook, simmering gently, for 2 minutes.  Turn off heat, and stir in lemon juice and parmesan cheese.  Taste for seasoning and add salt and pepper as necessary.
If your spaghetti is just finishing, add a few TBS of the pasta cooking water to the sauce, then drain the spaghetti and immediately toss with the sauce.  If your spaghetti has been finished for a while, add as much of the spaghetti as will fit to the saucepan and heat over low heat for 2 minutes, tossing spaghetti with sauce.  When spaghetti is just heated, add it all back to the pot to mix thoroughly.  (The goal here is to get the sauce to adhere to the spaghetti and both to be hot when served).
Serve hot with additional grated parmesan.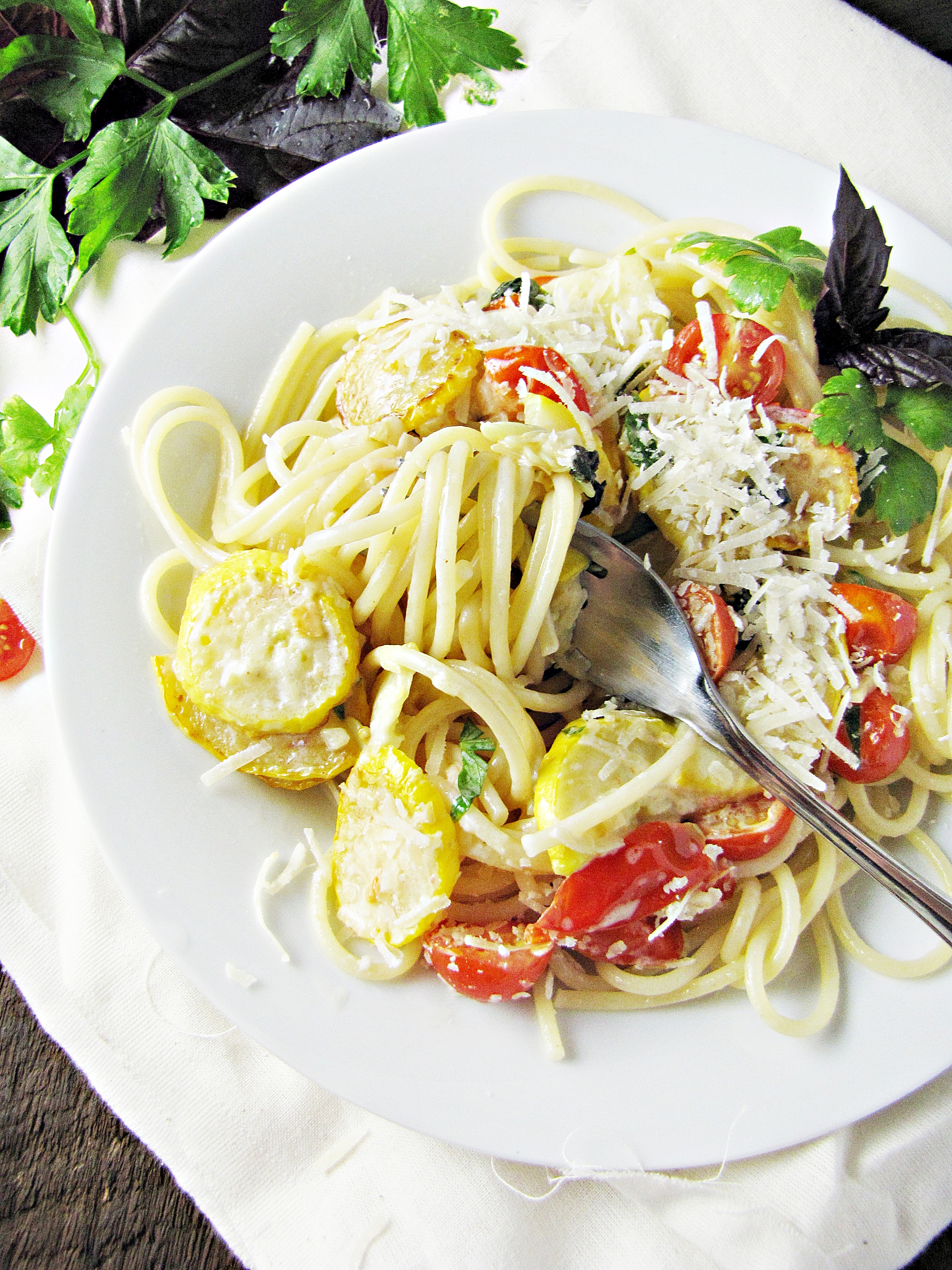 2