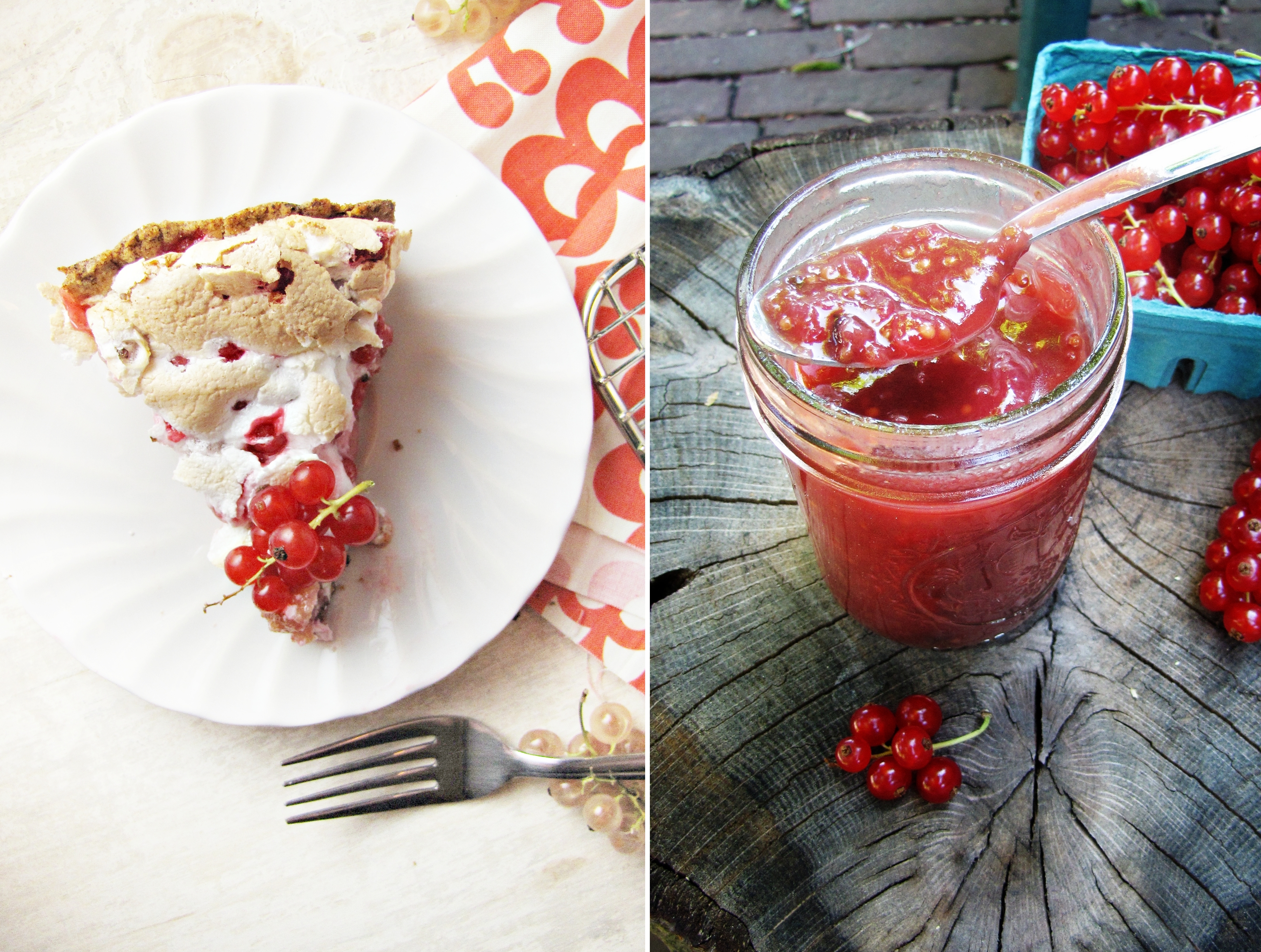 Three years ago, I didn't know what currants were.  I guess this isn't really that surprising, given that I also didn't eat broccoli, brussels sprouts, cabbage, or other cruciferous vegetables, didn't know how to pit an avocado, and certainly couldn't tell you the difference between a lemon and a meyer lemon.  (Don't totally write my three-years-ago-self off though – I did know how to prepare couscous in a dorm room without getting any dishes dirty, which I consider a feat up there with being able to completely change your clothes – underwear included – in the locker room without ever flashing anything).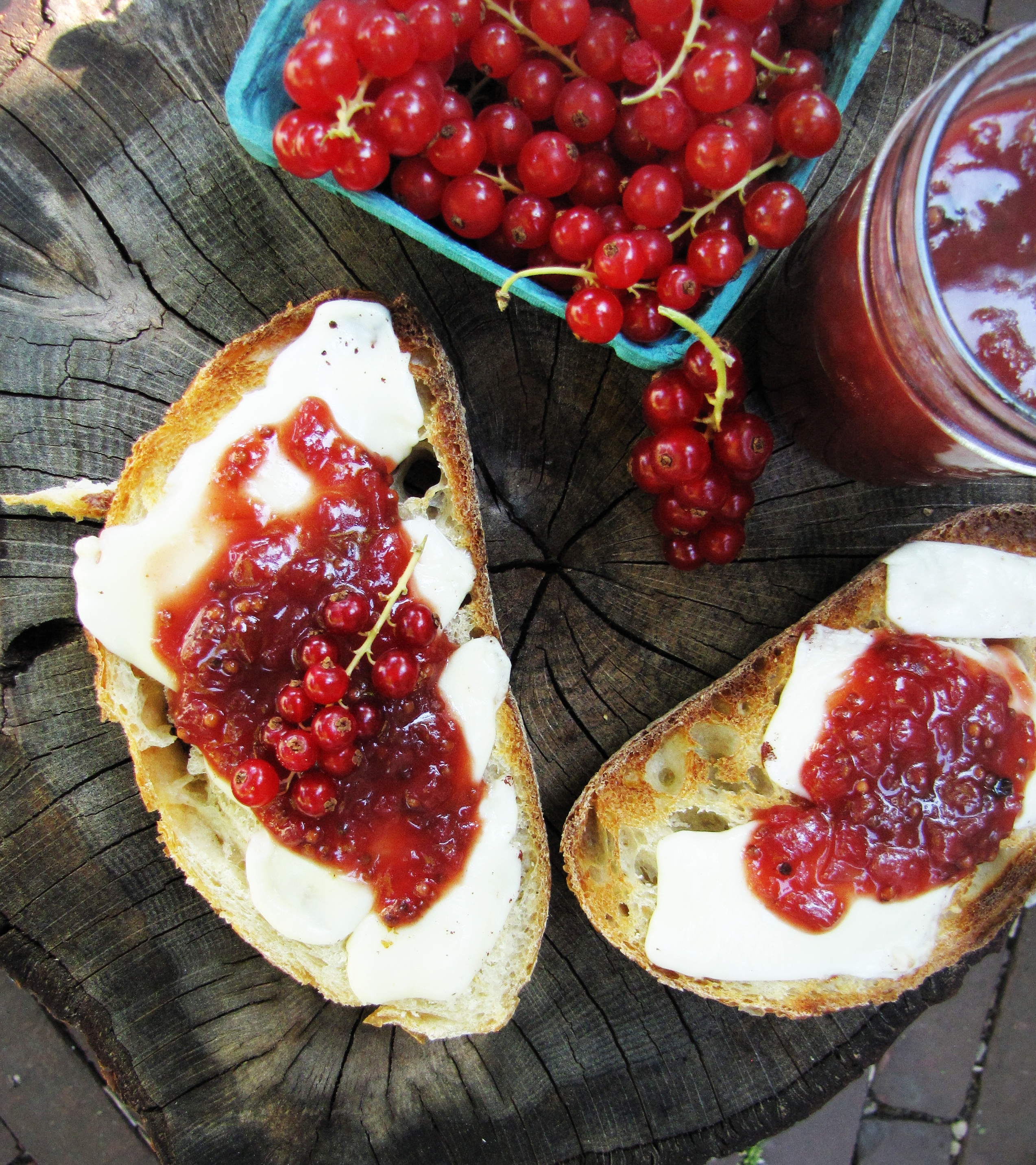 Besides the fact that I didn't really know much about food in 2009, currants haven't really been a thing here for a long time.  You still don't see them in grocery stores, and even at farmer's markets, I hear a lot of people ask what they are.  Their lack of popularity is not because they're an unlikeable fruit, although their tart-tart flavor can be off-putting at first, but rather because they've been banned as a crop in many parts of New England since the early 1900s due to the fact that they can carry White Pine Blister Rust.  Recently, bans have been lifted town by town as demand for the berries has begun to rise, and now, for a brief few weeks in July, you can actually get red currants, white currants, and gooseberries fairly consistently at Boston farmer's markets.  Black currants are still a no-go, although rumor has it that there are wild bushes still around – if you know of any locations, I'll trade you a pie for the deets.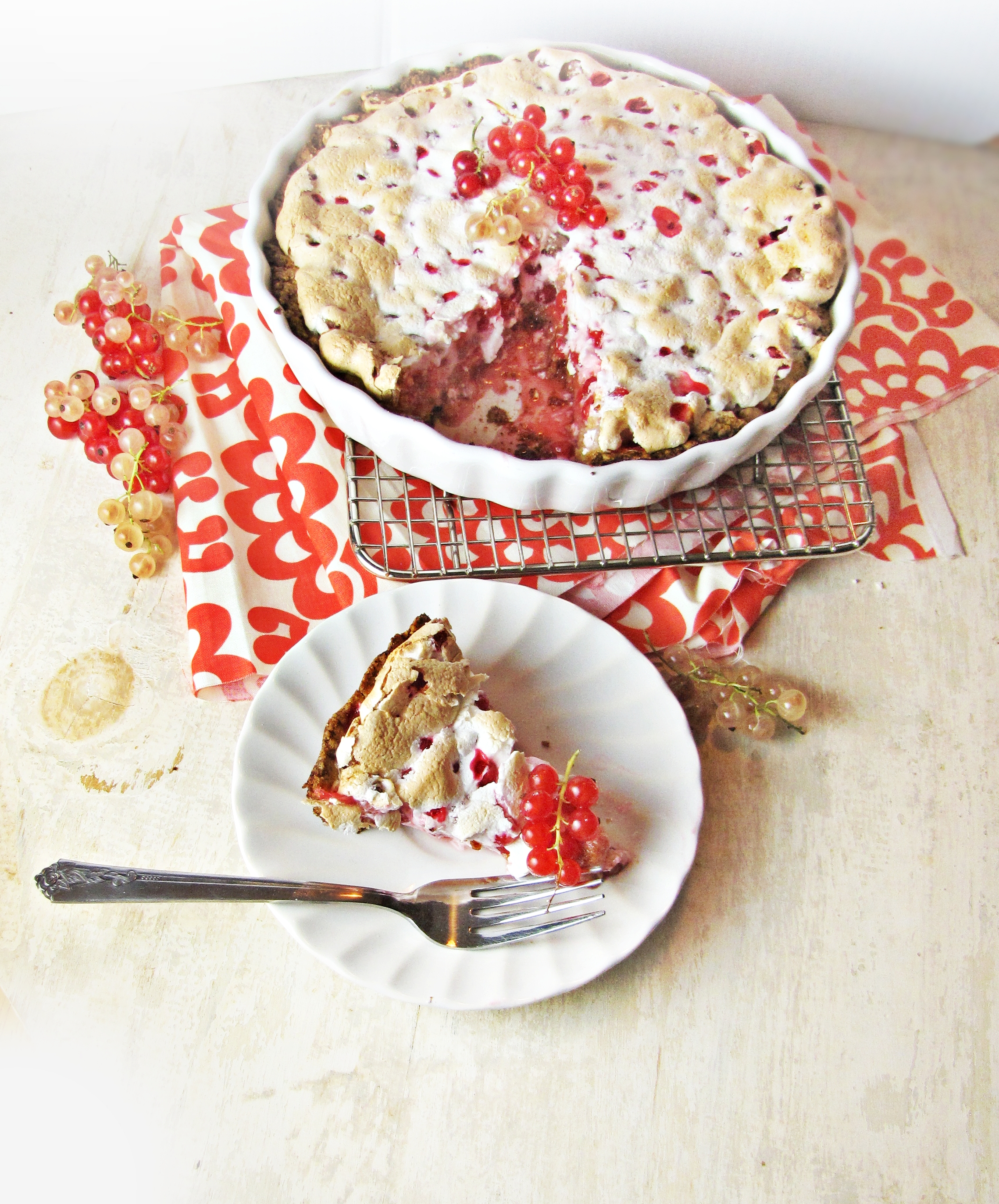 Back to 2009.  That fall was the semester I spent in Prague, where I learned a lot of things, among them, how to cook for myself on a daily basis.  This is where I started to learn about foods I thought I didn't like, like cabbage (a Czech staple), and goulash (which I would love a good bowl of right now).  Grocery stores were an adventure, and there were definitely recipes I made where I didn't know what the ingredients were even after the dish was complete.  I also made a lot of pie and quiche in Prague, and have vivid memories of sitting at the kitchen table, slicing up frozen butter for a pie crust and being perfectly content.  But this is not about Prague, it's about currants.  And Czech people eat quite a few of them.  I didn't really actively notice them, as they're usually mixed with other berries, but frozen fruit mixes contained them, cheesecakes were topped with them, and I liked them.  It wasn't until I got back to the U.S. and went to buy some at the store that I learned you can't get them here – which clearly set me on a mission to find them.  Long story short, 2 1/2 years later and I got my hands on some, which I quickly turned into two things – red currant and meringue pie, and red currant chutney.
I really enjoyed both these recipes.  The pie, well, it's different, in the best sort of way.  Not what I typically think of when I hear "fruit pie," the sweet, airy meringue is punctuated by bursts of tart red currant, with a buttery crust to ground the flavors.  It's ethereal, surprising, and totally delicious.  It would be the perfect sort of thing to serve at a picnic, when you need something light to finish off the meal, or for a pretty, feminine treat at a bridal or baby shower.  Or for dinner on a Monday night, if that's more your speed (hint: it's definitely more mine).  I promised Trevor I would save him some for when he gets home from his business trip Friday, but given that I've already had three big slices, I'm not sure how good the chances of that are.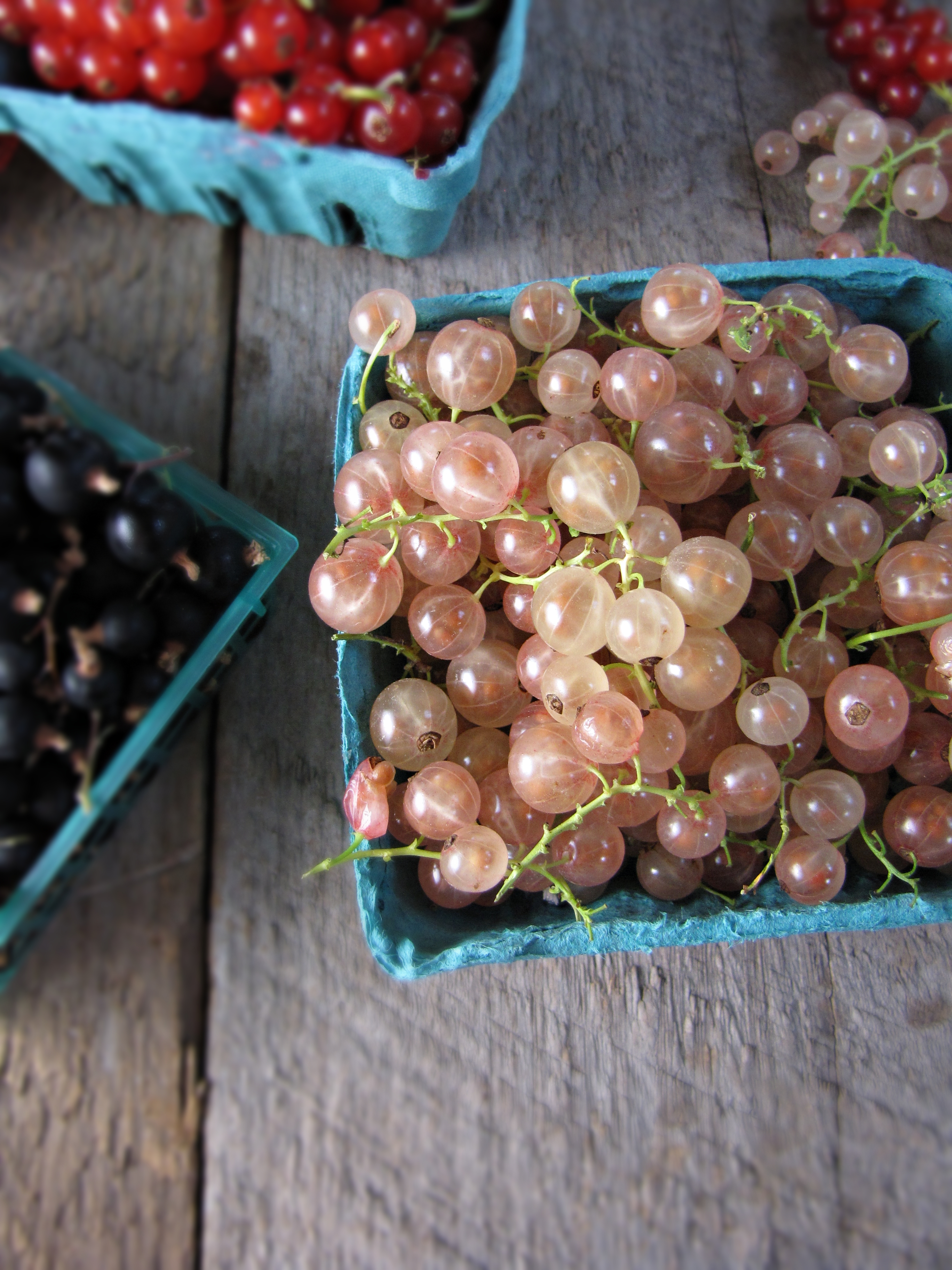 The chutney is also a real treat – with a flavor vaguely reminiscent of sweet and sour sauce and a smooth, jammy texture, it's delicious on toast, as a condiment, or straight out of the jar.  The currant gets mellowed out a lot during the cooking process, so it's less of a standout flavor, and the seeds are strained out as well.  Whereas when I'm eating the pie I'm thinking "currant! meringue! currant!" with every bite, with the chutney it's just "mmm, chutney."  I had the chutney spooned over toasted sourdough and melty fontina cheese alongside a cold glass of raspberry lambic for dinner on both Friday and Saturday nights last weekend – lazy summer cooking at it's best.  (Can I take a moment to express how amazing raspberry lambic is?!  It's like someone distilled raspberries – not sugary-sweet raspberry syrup, but fresh, sun-ripe, forest floor raspberries – into a bottle and then gave it the added bonus of giving you a buzz.  If it weren't $10 a bottle, I'd be drinking a lot of it.  Tangent over.)  Since currants are newer to the American palate than many fruits, many people seem mystified by what to do with them beyond toss them into a berry mix.  If you happen to find yourself with some (maybe you bought a box at the market because they're just so pretty and now can't figure out how to use them) – I highly recommend both these recipes.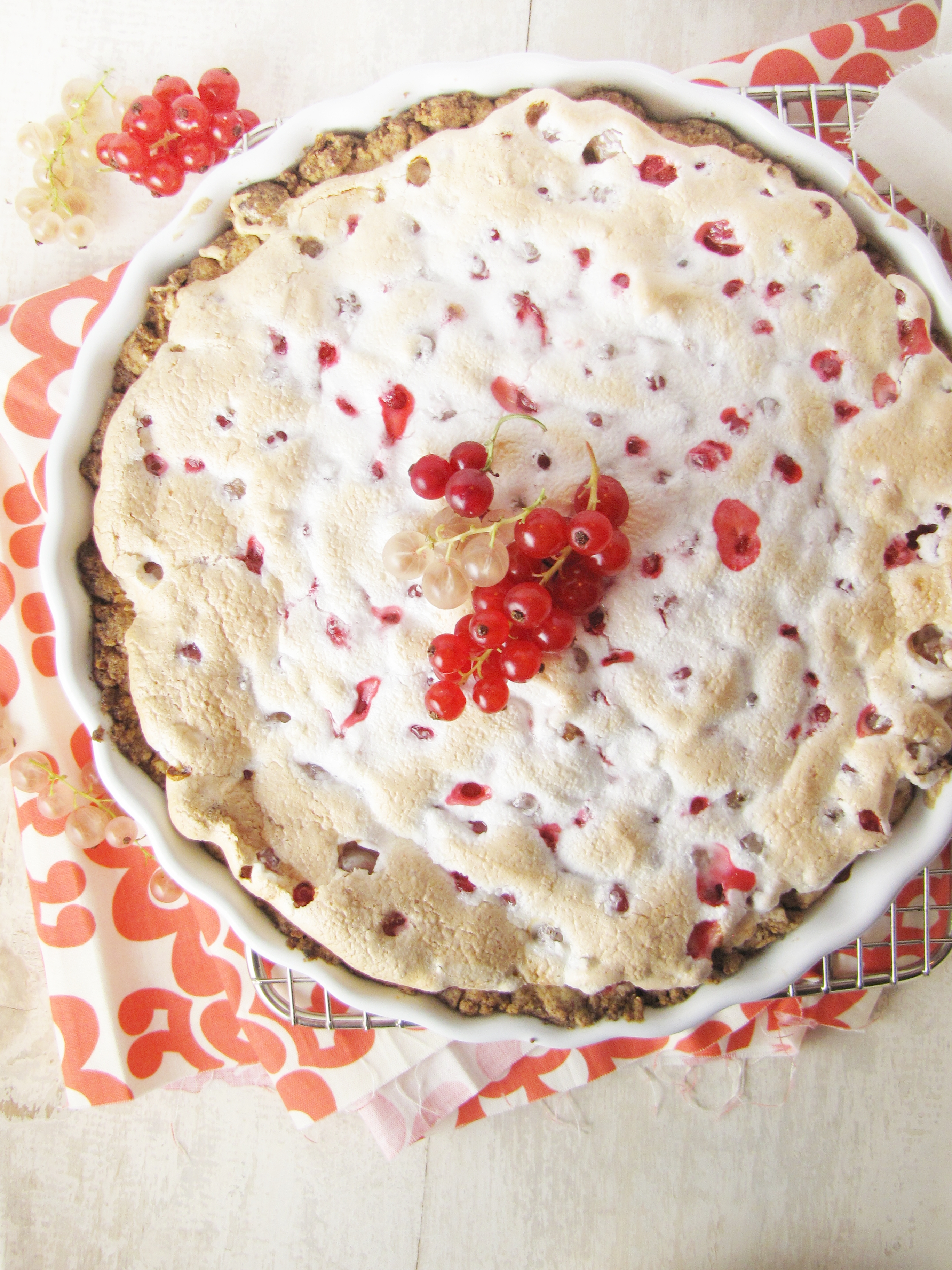 Red Currant Meringue Pie
Adapted slightly from Heather Homemade.  Serves 8.
1 1/2 c. flour
1 tsp baking powder
1/2 c. butter, very soft
1 c. white sugar, divided
1 tsp lemon extract
2 eggs, separated
2 tsp cornstarch
pinch cream of tartar
1 c. white and red currants, washed and stemmed
In a large bowl, whisk together flour and baking powder.  Stir in butter, 1/2 c. of white sugar, lemon extract, and the 2 egg yolks until evenly moistened.   Knead with your hands several times to bring dough together, form into a smooth ball, wrap in plastic wrap, and refrigerate for 1/2 an hour.
Preheat oven to 325°F.  Press chilled dough into a 9 inch tart pan, forming a crust a little less than an inch thick that also wraps up the sides of the pan.  Bake the crust for 25 minutes, until golden, then remove from oven and cool for 10 minutes.  Increase oven temp to 400°F.
Whisk 2 egg whites until frothy, then sprinkle cream of tartar over, and whisk vigorously until egg whites are stiff.  Whisk in cornstarch, then gradually add remaining 1/2 c. of sugar to egg whites, whisking vigorously between additions.  Whisk until whites are stiff and shiny, then gently fold in currants.  Smooth currant filling out on top of the pre-baked pie crust, then bake for 12-18 minutes, until most of the meringue top is golden brown.  Remove from oven and let cool/set.  Serve at room temperature on same day.  Refrigerate leftovers (although this will make the meringue begin to "weep").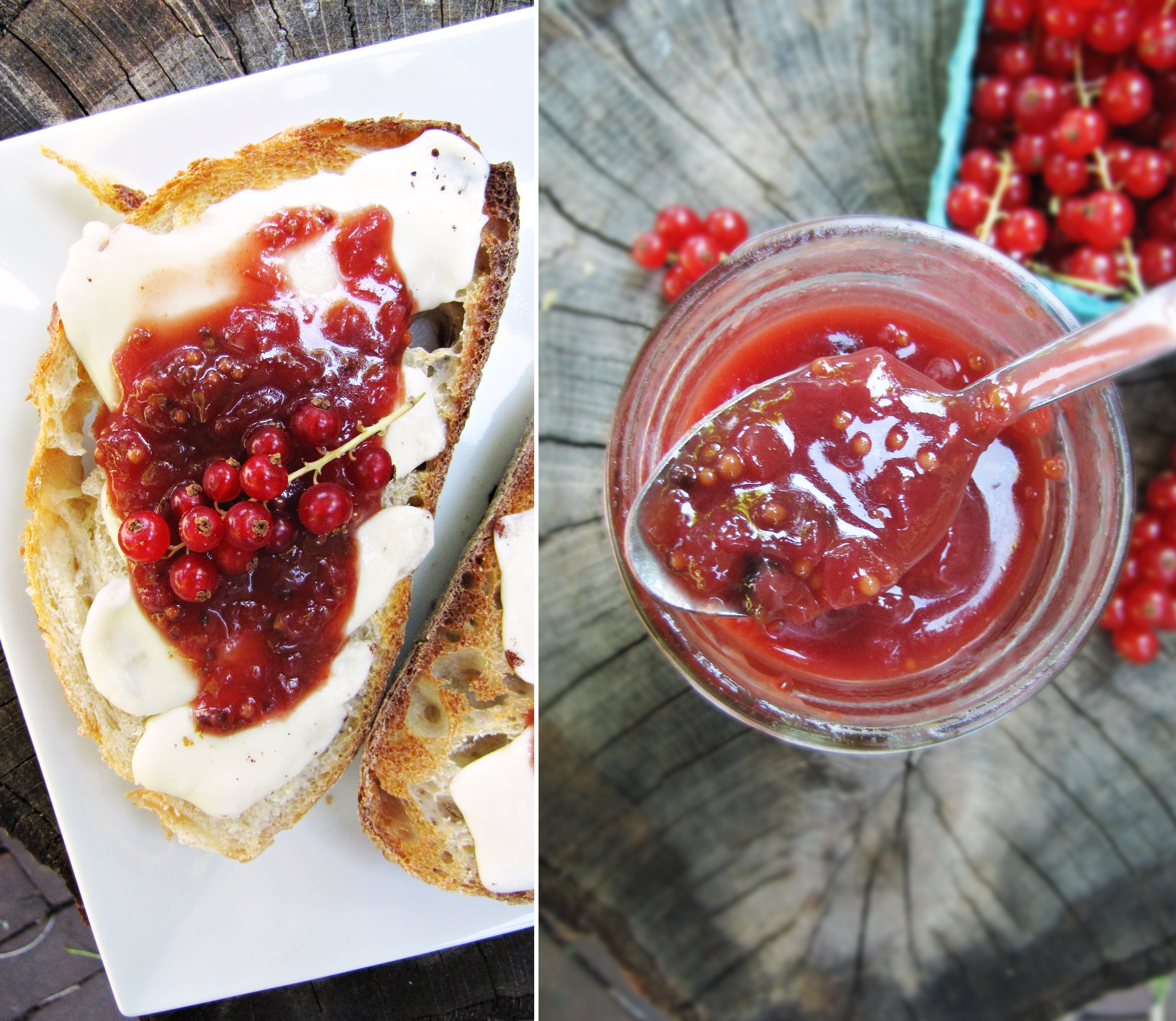 Red Currant Chutney
Adapted slightly from Fresh Juice.  Makes about 1 1/2 c.
2 c. red currants, washed and stemmed
1/3 c. sugar
3 TBS apple cider vinegar
1/3 c. water
1 TBS vegetable oil
1 TBS whole mustard seeds
10 whole black peppercorns
10 whole cloves
1 cinnamon stick
1/2 tsp ground ginger
1/4 tsp salt
1 large onion, chopped into small pieces
1/8 to 1/4 tsp cayenne pepper, depending on your heat tolerance
In a small saucepan, bring currants, sugar, vinegar, and water to a boil.  Reduce heat to low, cover, and simmer until currants begin to fall apart, about 10-15 minutes.  Careful, this is a recipe that's likely to boil over (and make a mess!), so leave your lid somewhat ajar or give it a stir frequently
Strain red currant mixture through a fine sieve, catching the juice in a bowl.  Press down on the currant solids to extract as much juice as possible.  Discard the solids, reserve the juice.
Rinse out the saucepan and return to stove.  Heat vegetable oil in saucepan over medium-low heat.  Add mustard seeds, peppercorns, cloves, cinnamon stick, ginger, and salt, and fry until mustard seeds begin to pop, about one minute.  Warning, the hot mustard seeds can pop quite forcefully and splatter oil, so work quickly and carefully, removing pot from heat if need be.
Add the onion to the spices, and cook over medium low heat, stirring occasionally until onions are golden brown, about 10 minutes.  Add currant juice and cayenne pepper to pot, and stir.  Bring to a simmer, and simmer, uncovered, for about 15 minutes, until the sauce has reduced and thickened.  Let cool and refrigerate for up to two weeks.
Note: This wasn't written as a canning recipe, so I'm not sure if it has enough sugar/acid/other preserving elements to work, but if that's your thing and you can figure out the safe ratios, I think it could work really well!  If not, I'm sure you'll be able to use this up pretty quickly.
19