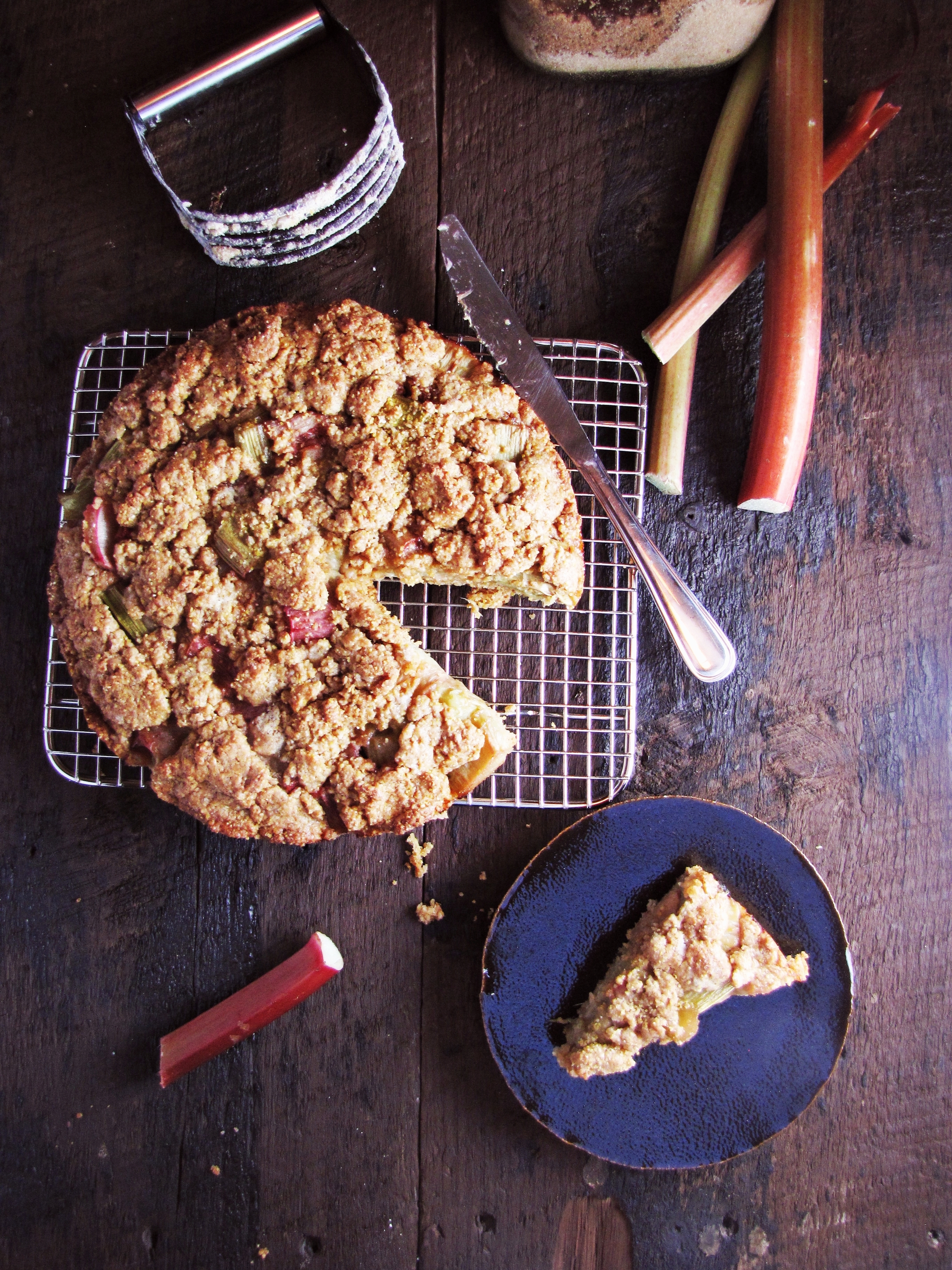 This post was intended to be about the long weekend I just spent in Southern Vermont, hiking and sunbathing and resting.  But today was just one of those days, and when I arrived home from work at 9pm (far too late), soaking wet (forgot my umbrella), hungry, and disgruntled, I wasn't really in the peace-and-sunshine sort of mood.  I was more in the judge-everyone-around-me sort of mood.  I'm looking at you, anxious guy on the subway playing molecule identification games on your iPhone and continuously jiggling your legs back and forth into mine.  And you too, large thighs girl eating chicken with your fingers on the subway.  And you, angry bus driver man with no pity for a soaking wet girl carrying a partially split bag of groceries.  Usually, none of you would bother me, but today, I judged you all.  In fact, the only person that I really liked when I got home from work was my roommate Allison, because she happened to be cleaning the bathroom, and it kind of made my day.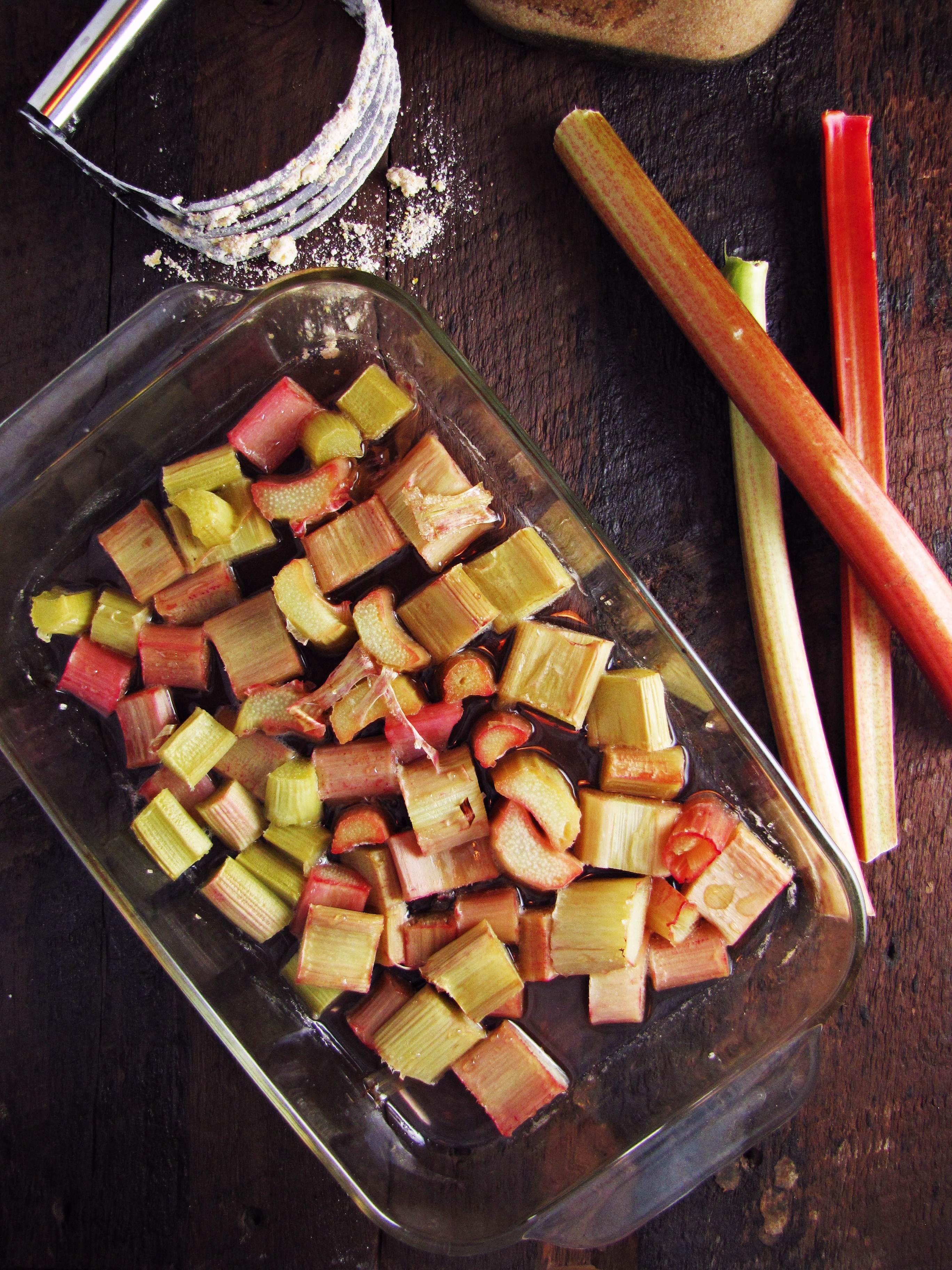 So, even though I'm over most of my grouchiness, no Vermont stories today.  But I did make a cake that I wanted to share with you, so I'll do that for now.  And the story of me making this cake is actually kind of similar to the story of me being a grouch, in that it involves a rainy afternoon and needing a little comfort.  Because as soon as I stepped off the train on my way home yesterday afternoon, it started pouring.  Pouring in that torrential, summer way that you know can't last for more than an hour and is kind of inspiring in its intensity and makes me want to kiss someone (preferably Trevor, unless Ryan Gosling is available) Notebook-style.  I didn't actually mind the rain that much, but by the time I got to my front door, I was dripping, so I stripped down and threw everything into the laundry and hopped into bed with a bowl of fresh linguine, cream, and parmesan, and watched the Desperate Housewives finale.  (By the way, I can't believe it's over, like, forever.  I might have to start at season 1 again.)  And after that, my errands and ambitions for the rest of the afternoon started to seem very unappealing, whereas baking one of the gorgeous, simple, rustic cakes from Nigel Slater's Ripe, which my parents had just given me as a birthday present, and staying in bed eating it seemed quite appealing.  So, that's what I did.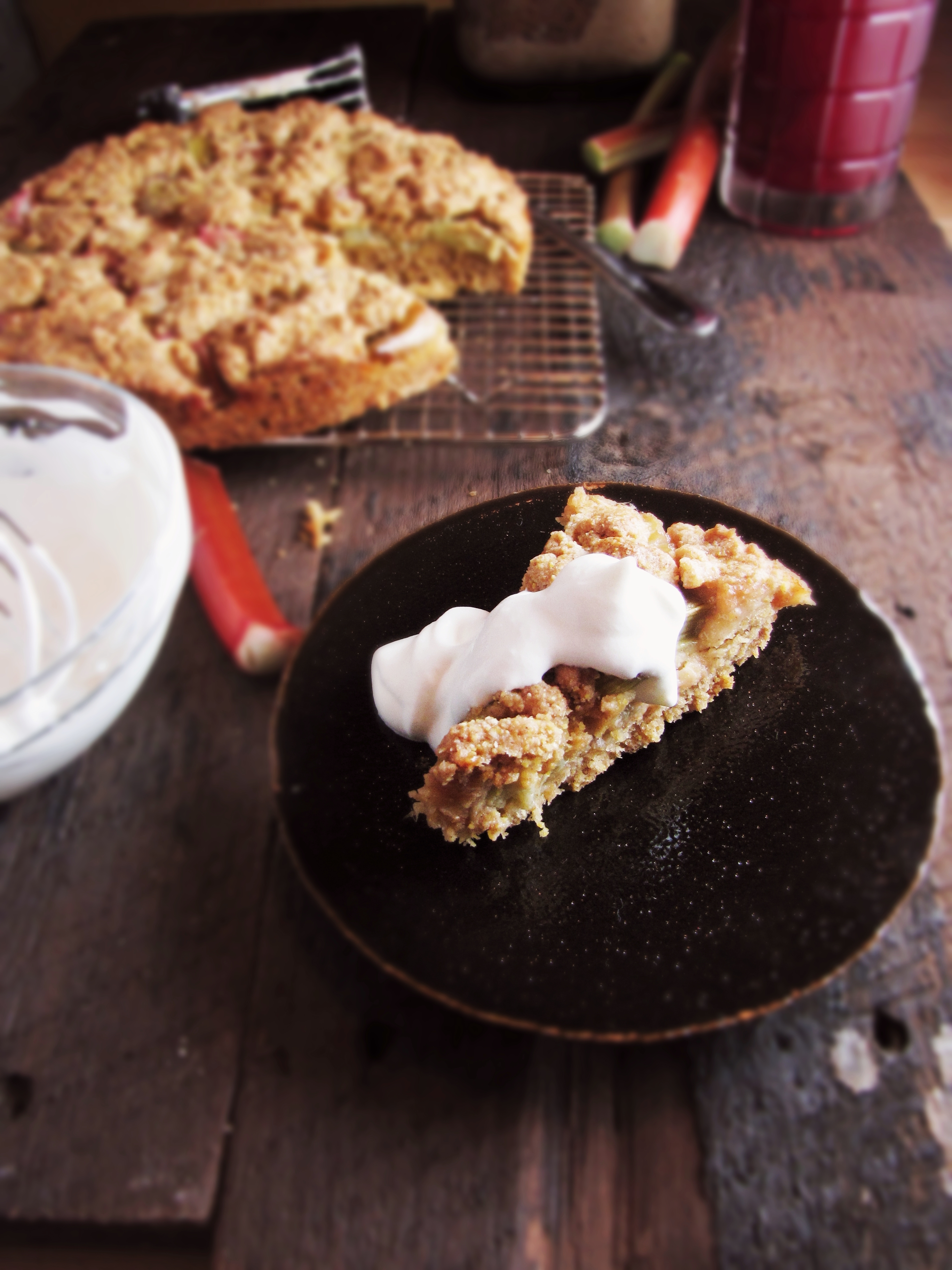 Since my dad had given me several pounds of just-picked rhubarb on my way out the door earlier that afternoon, I used some of it to make this Cinnamon-Polenta-Rhubarb cake.  With a dollop of whipped cream and a drizzle of rhubarb syrup, it definitely hit the spot.  It seems that I have a thing for all things tangy and polenta-based, especially in the springtime, as is evident from this cornmeal-cranberry cake and this strawberry-cornmeal breakfast cake.  I just like the hearty unfussiness of these cakes – easy to make, easy to eat, not too sweet, with a burst of fresh tartness from the fruit.  This particular cake was a bit different from the others, somewhere halfway between a cake and a crumble, with a gritty crumb and smooth filling.  Given that I wasn't digging leaving the house, I made some substitutions – brown sugar for golden baking sugar (don't even know where I'd find that, anyway), orange oil extract for orange zest, grits for coarse ground polenta, etc. – but it still came out great.  Next time, I'll try it exactly as written, but I don't think the changes I made took too much away from the cake's character.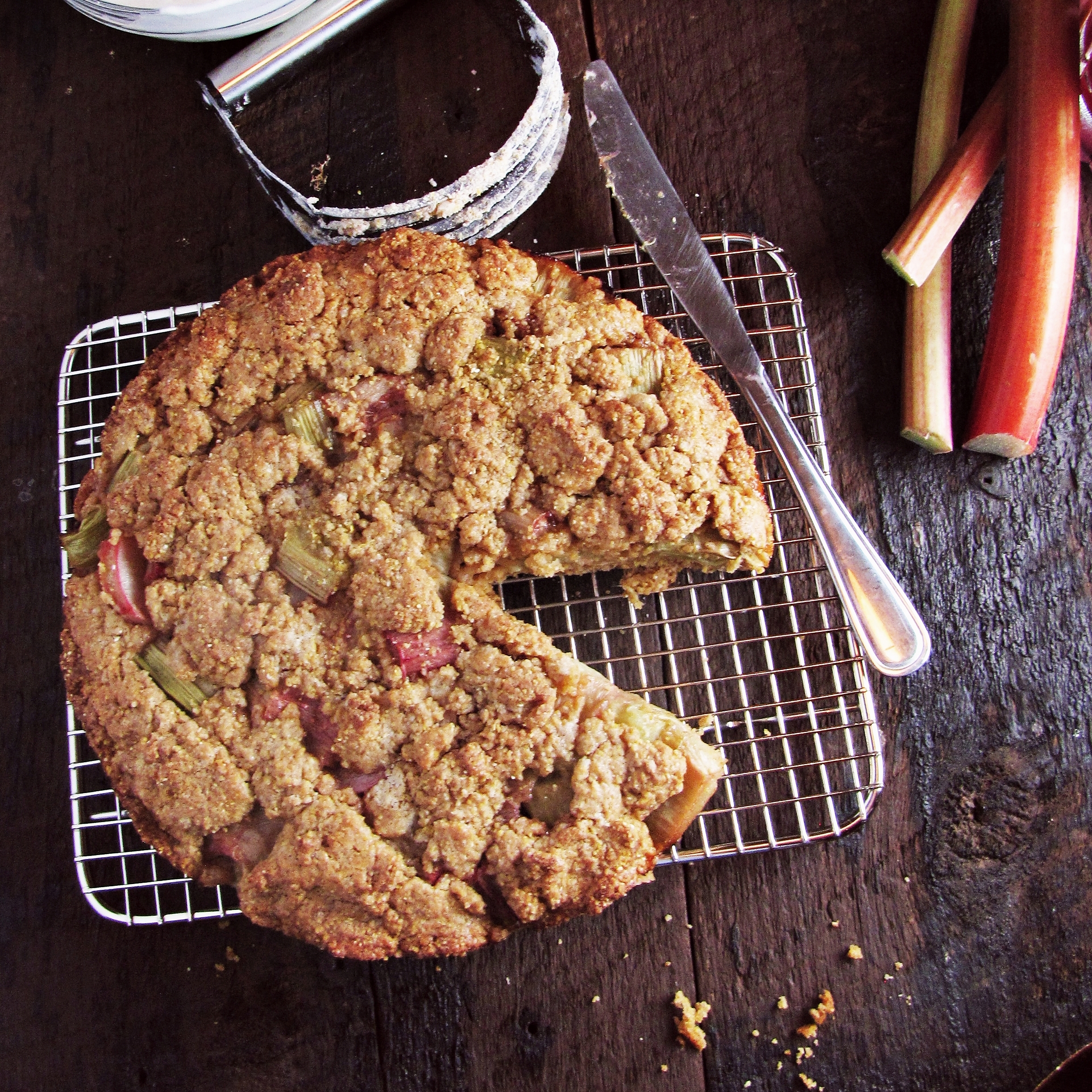 Rhubarb-Polenta Cake with Cinnamon
Adapted from Ripe.  Serves 8-10.
1 lb. rhubarb, rinsed and cut into 1/2 inch slices
1/4 c. turbinado sugar (sugar-in-the-raw)
4 TBS water
3/4 c. coarse polenta or grits
1 1/2 c. flour
1 tsp baking powder
1 tsp cinnamon
3/4 c. light brown sugar (or sugar-in-the-raw, blended in the food processor for 5 seconds)
1/2 tsp orange oil or zest of 1 orange
10 TBS cold butter, cut into cubes
1 large egg
3 TBS milk
Preheat oven to 350ºF.  Place sliced rhubarb, turbinado sugar, and water in a baking dish and stir to mix.  Roast for 30 minutes, then remove from oven.  Use a slotted spoon to remove rhubarb pieces to a bowl.  Reserve syrup for drizzling on cake.
In a large bowl, whisk together polenta, flour, baking powder, cinnamon, and brown sugar.  Use a pastry cutter to cut in the cold butter until the mixture has the texture of wet sand, with the largest lumps the size of peas.  In a small bowl, beat together egg, milk, and orange oil (or zest if using) until combined.  Add to flour mixture and stir gently with a fork, mixing just until the dough is thoroughly moist and slightly sticky.  Take care not to overmix.  Add 1 more TBS milk if dough is not slightly sticky to the touch.
Grease 8-inch cake pan.  Spoon 2/3 of the batter into the pan, pressing into the bottom and up around the edges.  Spread the rhubarb on top of this layer, leaving 1/2 inch between the rhubarb and the edge of the pan.  Spoon the remaining batter over the top of the rhubarb – it most likely won't cover all the rhubarb, but don't worry about it.  Bake for 45 minutes, then let cool on a cooling rack for at least half an hour before removing from pan.  Serve with fresh whipped cream and a drizzle of the reserved rhubarb syrup.
3