Don't worry, I'm going to write about the book.  Especially after I left you hanging last month.  But I can't tell you about it yet.
Because I have to tell you about this mac and cheese, first.
This mac and cheese is amazing.  AMAZING.  It has oomph – lots of rich, smoky, garlicky, spicy oomph.  I ate it for 3 out of 4 meals this weekend.  (What, you eat lunch on the weekend?  Hasn't anyone introduced you to brunch??)  Then I brought it for lunch on Monday.  And I still wanted more.  But I have an affinity for weighing less than my boyfriend, so I froze the rest and hid it from myself and made broccoli and edamame soup to distract myself.  Which is currently working, but probably won't for long.
Alright, let me break it down for you.
First, there's the homemade breadcrumbs.  Made from soft french bread drenched in a red-pepper garlic butter, then toasted and blitzed with freshly crisped bacon to make the world's most incredible bread crumbs.
Yes, I said bacon.
Then, there's the cheese sauce, which starts with whole milk, gets infused slightly with onion, thickened into a roux, and then mixed with havarti, cheddar, and smoked gouda.
Not too shabby.
Add to the cheese sauce lightly browned sopressatta, granny smith apples, and the requisite macaroni, top with the afore-mentioned incredible bread crumbs, and bake.
Did I mention you cook the cheese sauce in the bacon pan?  Well, I should have.  Because the slight smoky hint throughout the whole dish puts this baby over the top.
Moving on to praise the woman responsible for this incredible, decadent recipe, Stephanie Izard – author of Girl in the Kitchen – knows food.  I've never been to her Chicago restaurant, Girl and The Goat, but next time I'm in town, I'm absolutely going, especially after testing out some of her recipes in my own kitchen (usually I estimate that what I can reproduce is about 60-80% as good as if the author of the recipe/original chef were making it, so recipes that turn out really well in my kitchen must be pretty amazing in a restaurant).  I also made (and loved) this Asparagus and Arugula Pasta with Almond-Parmesan Breadcrumbs recipe (she really works those breadcrumbs) from Girl in the Kitchen, as well as a nice spring salad with pickled rhubarb, goat cheese, and roasted asparagus.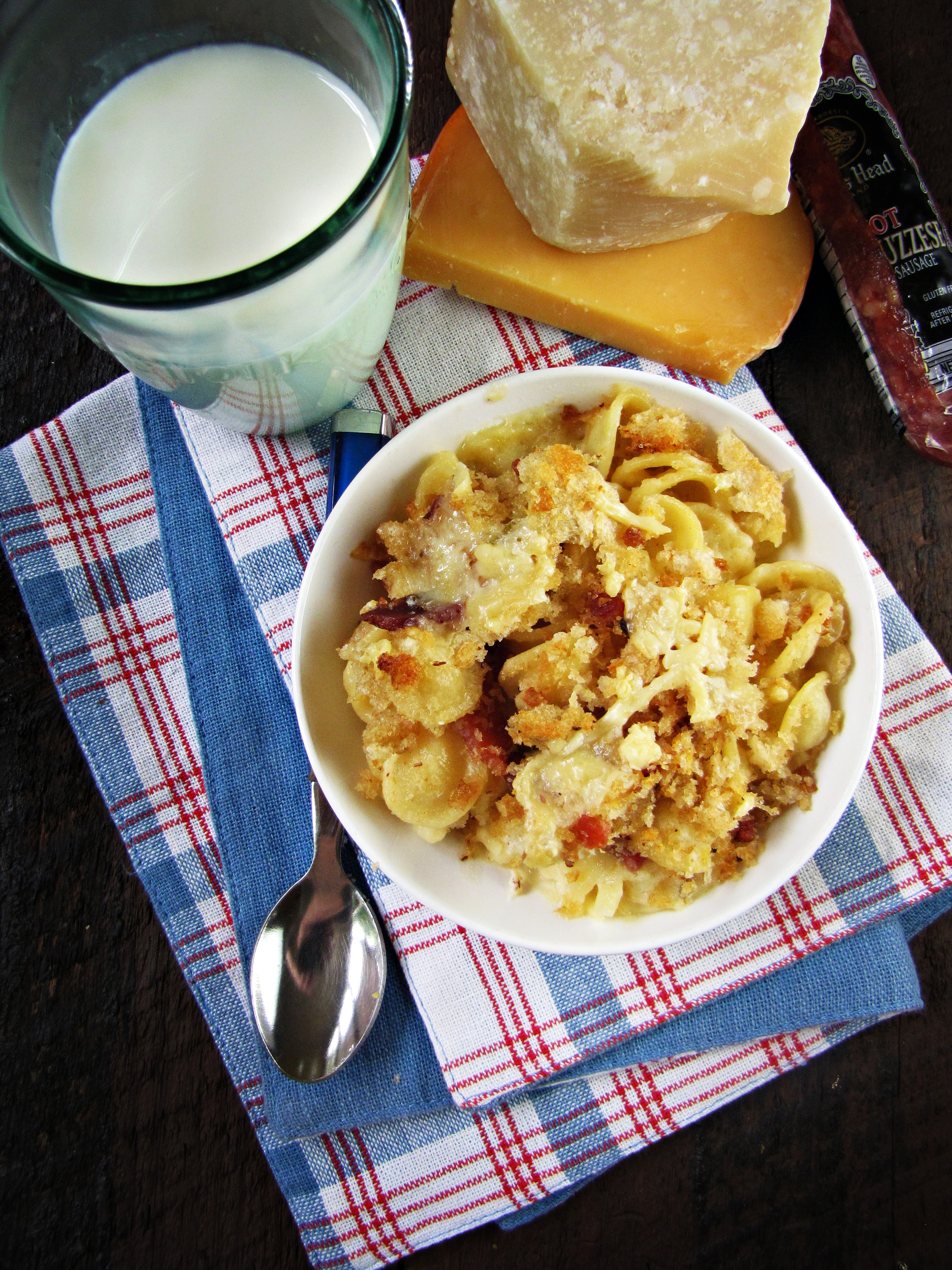 I already wrote a little bit about the aesthetics of the book here, but I'll recap briefly.  This book is fun.  It's got beautiful, bright photographs, drink pairings for every recipe, ingredient spotlights and tips, and great recipes.  I even like the typeface (dork alert).  The recipes are unique, creative, and delicious.  However, these are "Sunday recipes," as in they're not something you can easily whip up on a work night when you have 20 minutes to eat and clean up before you crash.  Many of them take planning ahead, have multiple components, and take several hours.  It's also not a particularly healthful book.  There are certainly very healthy and light recipes included, but there are also recipes like this one that could ruin any diet.  The effort to make these dishes (and calories to consume them) seems to pay off, but this is most likely a cookbook I'll turn to more for special events and weekend dinners rather than my weekly menu planning.
Oh, and there's no dessert section in this book, which I just feel like is something you should know.  But I kind of appreciate her sticking to the area she considers her strength, rather than rolling everything into one book.
And now let's get you back to that mac and cheese.
Make this.  Soon.  Don't think about the ingredients while you eat it.  Just enjoy it.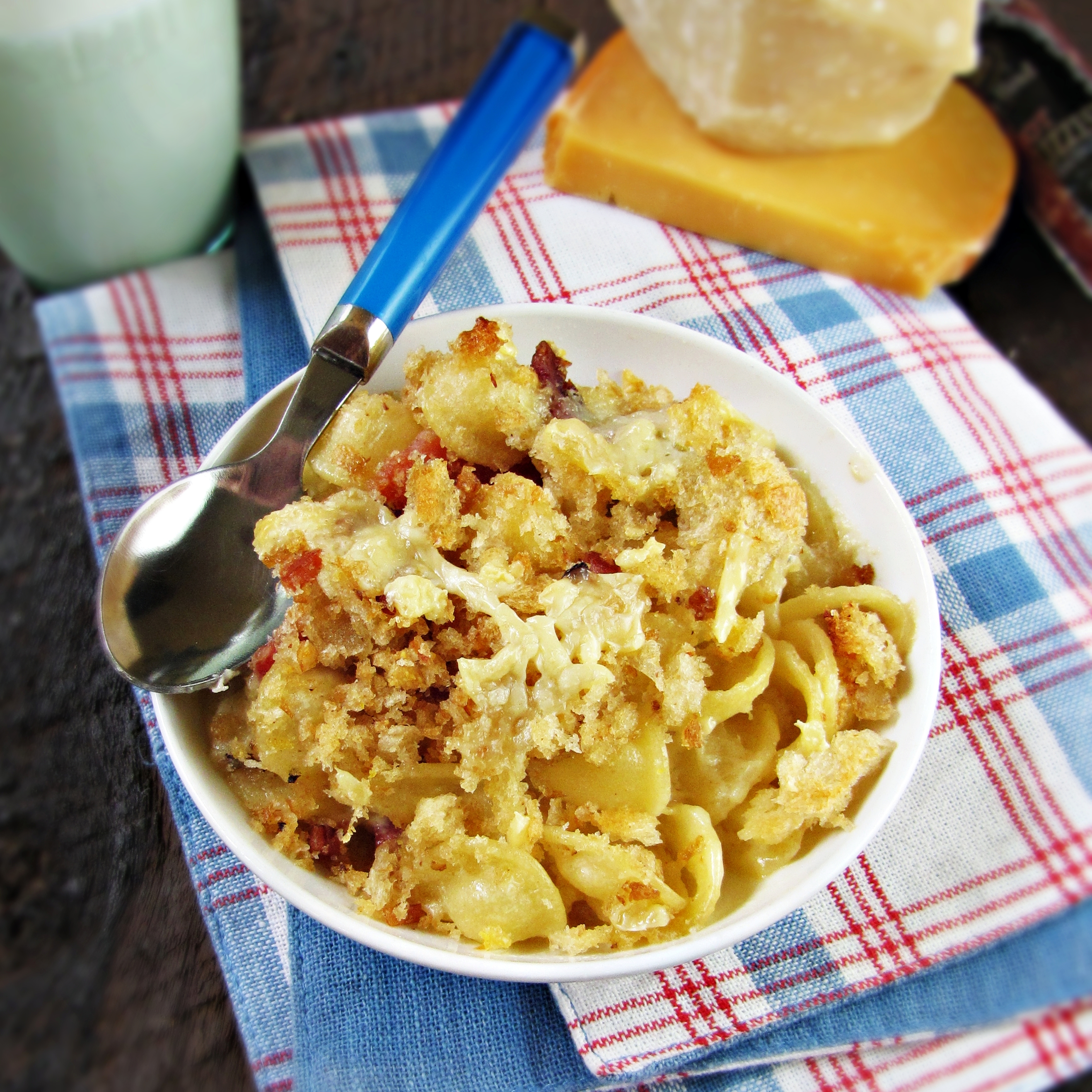 Macaroni and Cheese with Apples and Bacon
Adapted from Girl in the Kitchen.  Serves 8-10.
I've rearranged the steps of Stephanie's original recipe to make it such that you only need 1 sauce pot and 1 9×13 baking pan, because I hate using multiple dishes, but if you're pressed for time (or happen to have a resident dishwasher), feel free to do multiple steps simultaneously (like cook the pasta, warm the milk, toast the breadcrumbs and fry the bacon) in different pans.  Also, I only used about 3/4 of the sauce this made because I was worried it would overflow, but I left the proportions in the recipe below close to the originals.  If you have extra sauce, freeze and use at a later date as a pasta topping.
1 stick salted butter, divided
4 garlic cloves, minced
1/2 tsp red pepper flakes
4 c. cubed fresh french bread
6 c. whole milk
1 small onion, halved
4 oz. bacon
3 Granny Smith apples, cored and diced
2 TBS apple cider vinegar
8 oz. sopressatta or other dried Italian sausage, preferably spicy
1 lb. orecchiette or other shell pasta
1/3 c. flour
8 oz. havarti, grated
4 oz. cheddar, grated
4 oz. smoked gouda, grated
Preheat oven to 375°F.  In a large pot, melt the stick of butter over low heat.  Add garlic and red pepper flakes, and cook over low heat for 1-2 minutes, until garlic is fragrant.  Pour into a small bowl.  Spoon 1/4 c. of the garlic butter (about half) into a 9×13 in. pan and add the bread cubes, tossing to coat with the butter.  Toast in the oven for 15 minutes, or until very crisp.  Set aside.
In the large pot, combine milk and onion and heat over medium heat.  Bring just to a simmer, then continue to cook at a gentle simmer, stirring frequently, for 15 minutes.  Pour hot milk into a large bowl and set aside.
In the large pot, fry bacon until crispy.  Remove and place with bread cubes.  Place bread cubes and bacon in a blender or food processor and pulse several times to make breadcrumbs.  Reserve breadcrumbs.
In the same pot, still with the bacon grease, cook sopressatta for 1 – 2 minutes over medium heat, until slightly crispy, then remove with a slotted spoon and add to 9×13 pan.  Add apples to pan (still with bacon drippings) and cook for 2 minutes, until just beginning to soften, then add to 9×13 pan.  Add the vinegar and toss to coat.
In the same pot, melt the remaining garlic-red-pepper butter.  Add flour, and stir until flour becomes nutty and brown.  Slowly add hot milk, 1/2 c. at a time, whisking in between to make sure there are no lumps (this process is called making a roux).  Once all the milk has been added to the flour-butter mixture, bring just to a boil, stirring frequnetly, then reduce heat to a simmer and cook until sauce thickens enough to coat the back of a wooden spoon.  Remove from heat, stir in all the cheeses except for 1/2 c. of the havarti, and let melt.  Pour cheese sauce into 9×13 pan with apples and sopressatta.
Rinse out the pot, then fill with water, and salt heavily.  Bring salted water to a boil, then cook pasta according to package directions.  Drain pasta, then add to the 9×13 pan with the cheese sauce, apples, and sopressatta.  Sprinkle breadcrumbs over the top as well as remaining 1/2 c. havarti, then bake for 5 minutes at 375.  Change oven setting to broil, and broil for 5 minutes.  Remove and serve while hot.
0