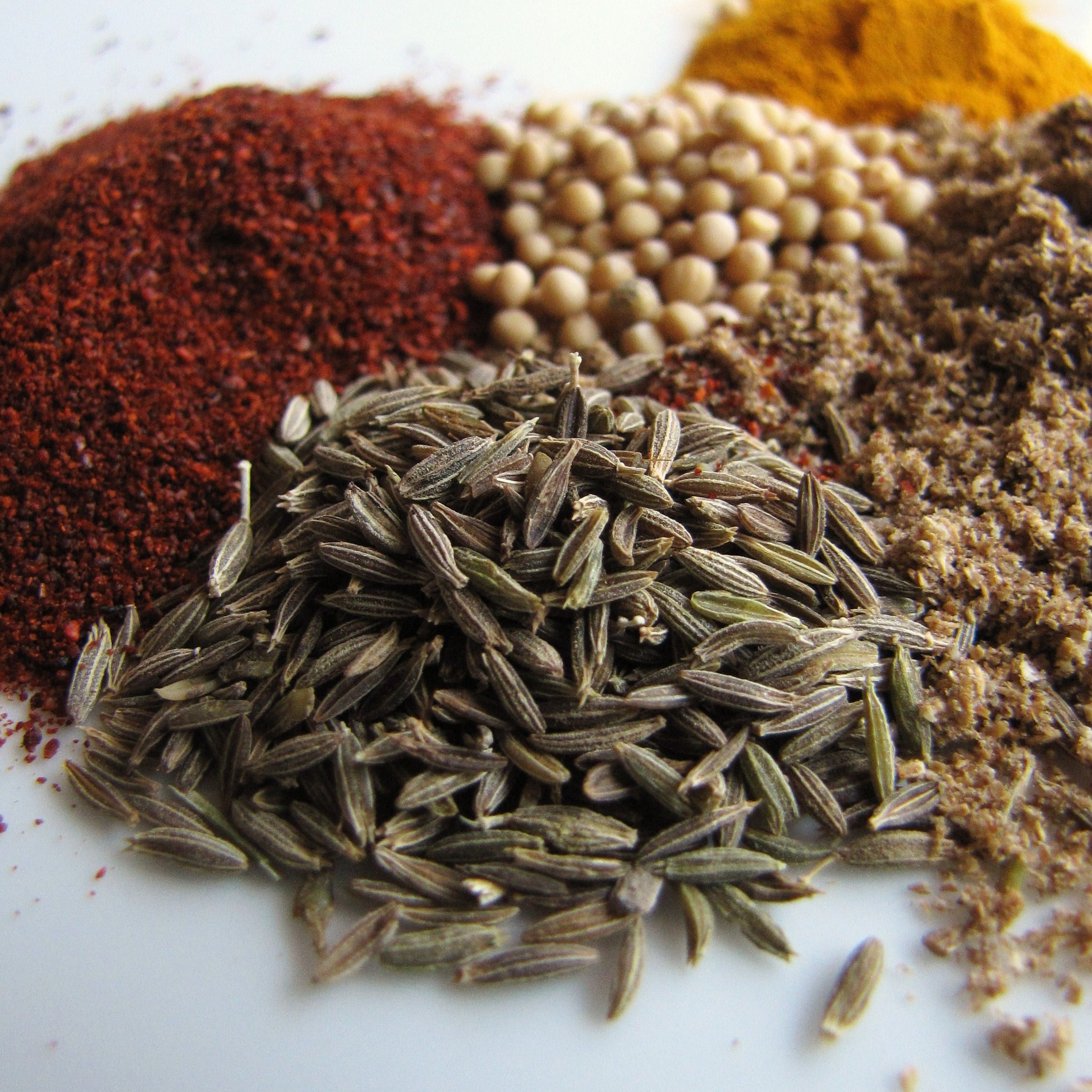 Over the summer I picked up a cookbook called Cooking with My Indian Mother-in-Law, written by Simon Daley.  I love Indian food, but I've struggled with several things when trying to cook it for myself – finding authentic and flavorful recipes, balancing the spices properly, and achieving that wonderful combination of sour, spicy, and warm that is so characteristic of many Indian dishes I've tried.  Glancing through this book, I was intrigued by the simple recipes and the idea of learning home recipes from a woman who has cooked these dishes every day of her life; it's true that the simplest, most comforting, yet also most wonderful Indian food I've eaten has always been prepared by someone's Indian mother.  So I checked the book out and began to read.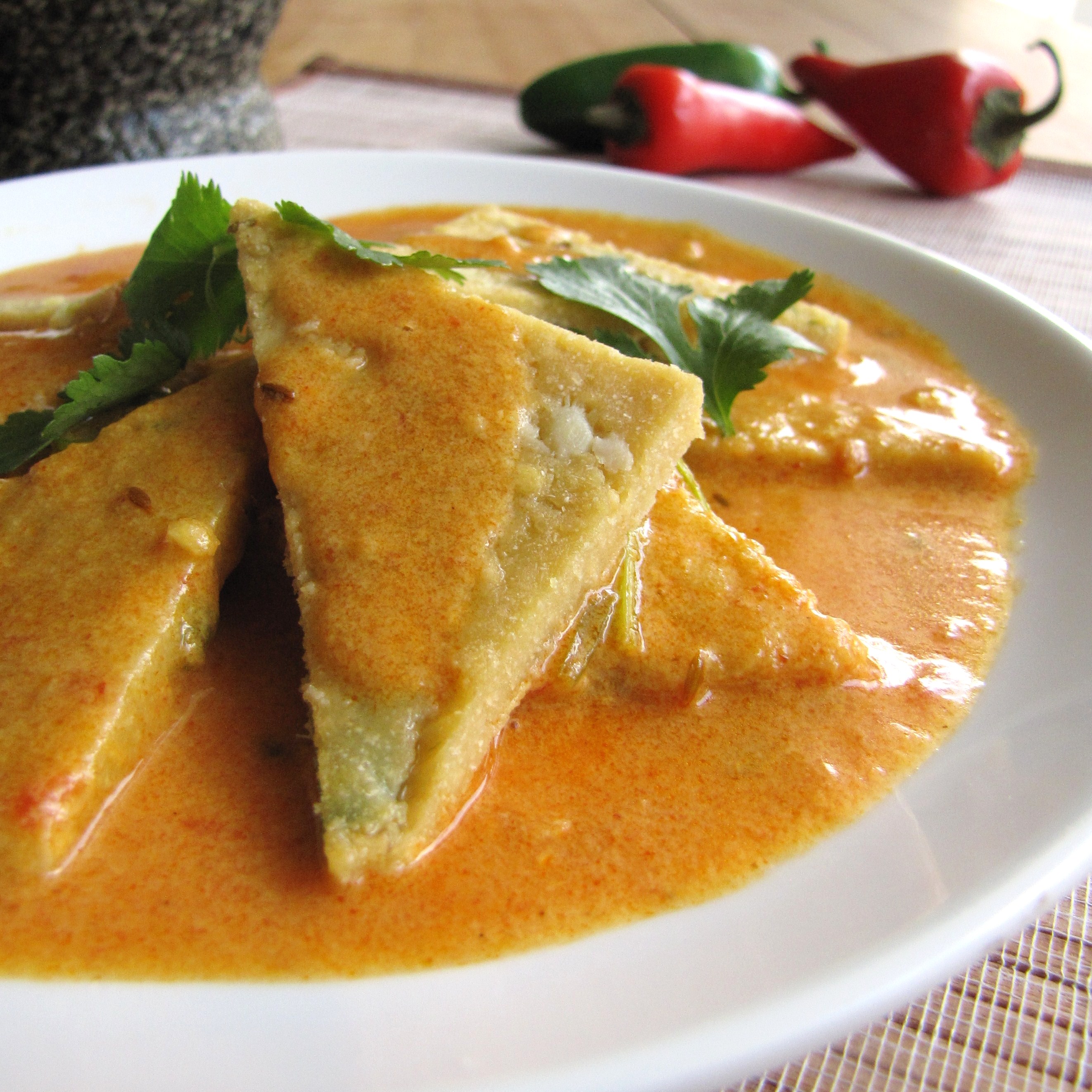 First, the book demystified the ingredients and techniques essential to Indian cooking.  I learned about the process of tempering whole vs. ground spices, how to ready-fry onions, how to make a basic garlic-ginger-chilie paste, what kind of tomatoes are best to use in sauces, and how to identify when a masala pools.  Then I looked through the recipes, and found myself confronted with a lot of excellent sounding dishes with very long ingredient lists.  The one that attracted me most, however, was a simple-ish recipe for Chickpea Dumplings.  It took me about 6 weeks from the time I first saw the recipe to the time I first made it.  To a lot of people, this may seem like a long time.  To  people who, like me, hoard recipes in word files, scans, clippings, and scribbled notes, it should seem fast.  At least it does to me.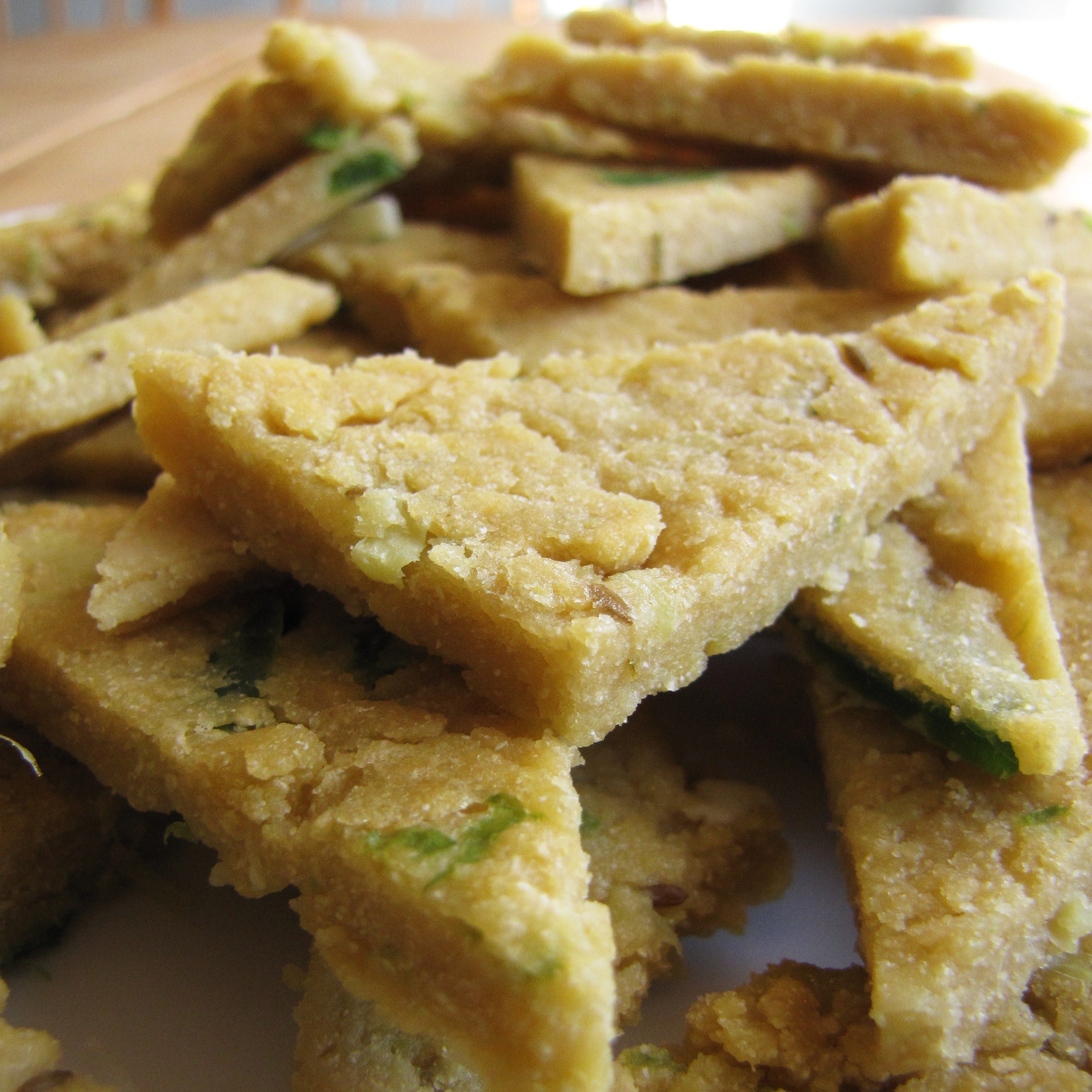 This recipe absolutely lived up to my expectations.  I went all out and bought all the spices from the bulk spice section in Wholefoods. (Side note: I literally cannot get enough of the bulk section in Wholefoods.  Every time I come back with little baggies of grains and nuts and spices for super reasonable prices I show Megan and say things like "Look!  Three pounds of couscous only cost $4!  They had asafoetida!  And dried lemon balm!  Look how many pinto beans I have!"  And she looks at me like I have 3 to 4 heads.  Actually, I kind of can't get enough of Wholefoods in general.  Like, every time I go I'm a little bit tempted just to start living there and subsisting off of cheese samples.  Not kidding.  Side note over.)  I even used those San Marzano tomatoes that food bloggers rave about all the time and are ridiculously expensive, at least for canned tomatoes.  I actually only bought them because I read the price tag wrong and thought they were a good deal.  The weren't.  But they were good.  One day when I'm employed I will buy quality ingredients regularly.  Until then I love me some store brand staples.  I don't even know what I'm talking about anymore.  I should move on.  I'm just gonna start this paragraph over.
This recipe absolutely lived up to my expectations.  The best way to describe it would be as an Indian version of pasta with tomato sauce – comforting, warm, tangy, hearty.  The dumplings were perfectly spiced and kind of fun to make.  To do so, you boil water with a ginger-garlic paste and then dump in some chickpea flour and stir until it forms a ball of dough.  Then you roll the dough out as quickly as possible and cut it into little diamonds.  Yes, this is fun for me.  The dumplings themselves are addictive.  I would estimate that both times I've made them I consumed one fourth of them before even starting the sauce.  After simmering them in a tomato-yogurt sauce, you have the kind of meal you can't stop shoveling into your mouth after a long day – unpretentious, filling, flavorful, good.
Chickpea Dumplings in Tomato-Yogurt Sauce
Adapted from Simon Daley's Cooking with My Indian Mother-in-Law. Serves 3-4.
For the chickpea dumplings:

3 cloves garlic
1 inch ginger, peeled
1-2 jalapenos, stemmed and seeded
1 tsp. salt
1/2 tsp cumin seeds
1 1/2 c. water
2 tsp. canola oil
2 c. chickpea flour
Peel the garlic.  Slice peeled ginger and seeded jalapeno into large chunks.  In a mortar and pestle, grind garlic, ginger, jalapeno, salt, and cumin seeds into a paste.
Oil a large cutting board and rolling pin.  Set aside.
In a medium pot, bring 1 1/2 c. water and ginger-garlic-pepper paste to a boil.  Turn vent on as steam may sting eyes.  When water is boiling.  Add 2 tsp. oil and stir.  Add chickpea flour, reduce heat, and cook for 2 minutes, stirring constantly, until dough comes together in a ball.  Turn the dough out onto oiled board and let stand 1 minute.  Then quickly roll dough out to about 1/2 inch thickness.  Slice dough into diamonds, and set dumplings aside.
For the masala:
1 tsp. cumin seeds
1 tsp coriander seeds
1 tsp. chili powder
1/2 tsp turmeric
2 TBS canola oil
1 tsp. mustard seeds
1 tsp. cumin seeds
1/2 tsp asafetida
1 onion, sliced
14 oz. canned plum tomatoes, preferably San Marzanos
4 cloves garlic crushed into a paste with 1 tsp. salt
2 TBS cilantro stems
1 1/2 c. plain yogurt
1 c. warm water
1 recipe chickpea dumplings, above
Mix 1 tsp. cumin seeds, coriander, chili powder, and turmeric in a small bowl. Set aside.
Heat oil over medium-low heat.  Add mustard seeds and remaining 1 tsp. cumin seeds and cook for 1 minute.  Add asafetida and onion and sautee 2 minutes, until onion is beginning to soften.  Add garlic paste and sautee an additional 1 minute.  Add spice mixture from step 1, tomatoes, and cilantro stems.  Simmer over low heat until oil pools around edges of pan.
Mix yogurt with 1 c. warm water in large bowl.  Add 1 c. of hot tomato mixture to yogurt, stirring yogurt constantly, to temper yogurt and keep it from curdling.  Slowly add yogurt to remaining tomato mixture in pan, stirring constantly.  Bring to a slow boil, add dumplings, and cook 2-3 minutes to heat dumplings through.  Season with additional salt if necessary.  Serve hot.
3