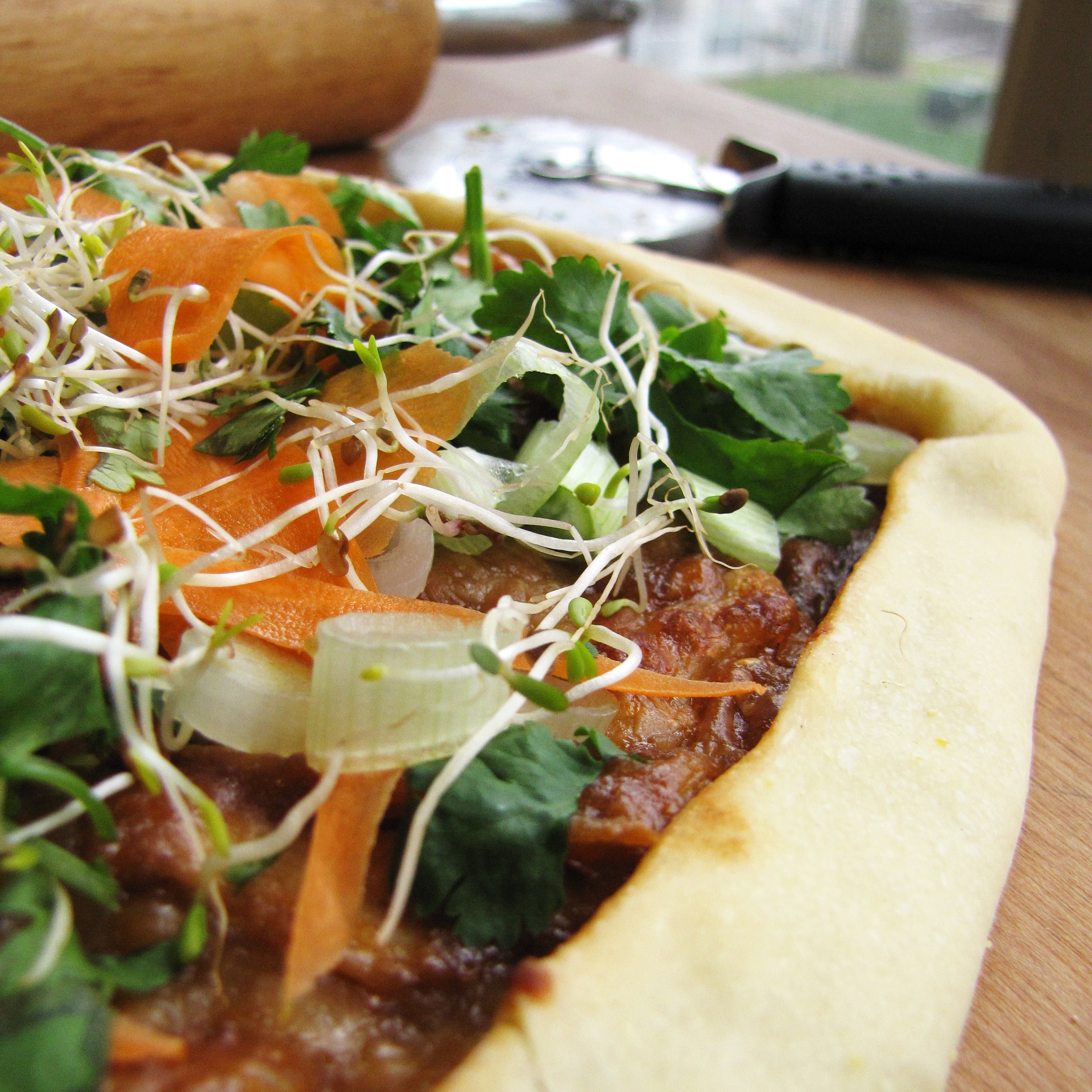 Aha!  I got you.  You thought that after I posted the first two installments in this so-called series 3 months apart I would either get my act together and post with some continuity or give up like a respectable human being and stop with the chicken thing.  But you were wrong.  Because it's been another 3 months, and I'm back with more lovingly-roasted-by-someone-else-chickens.  Get excited.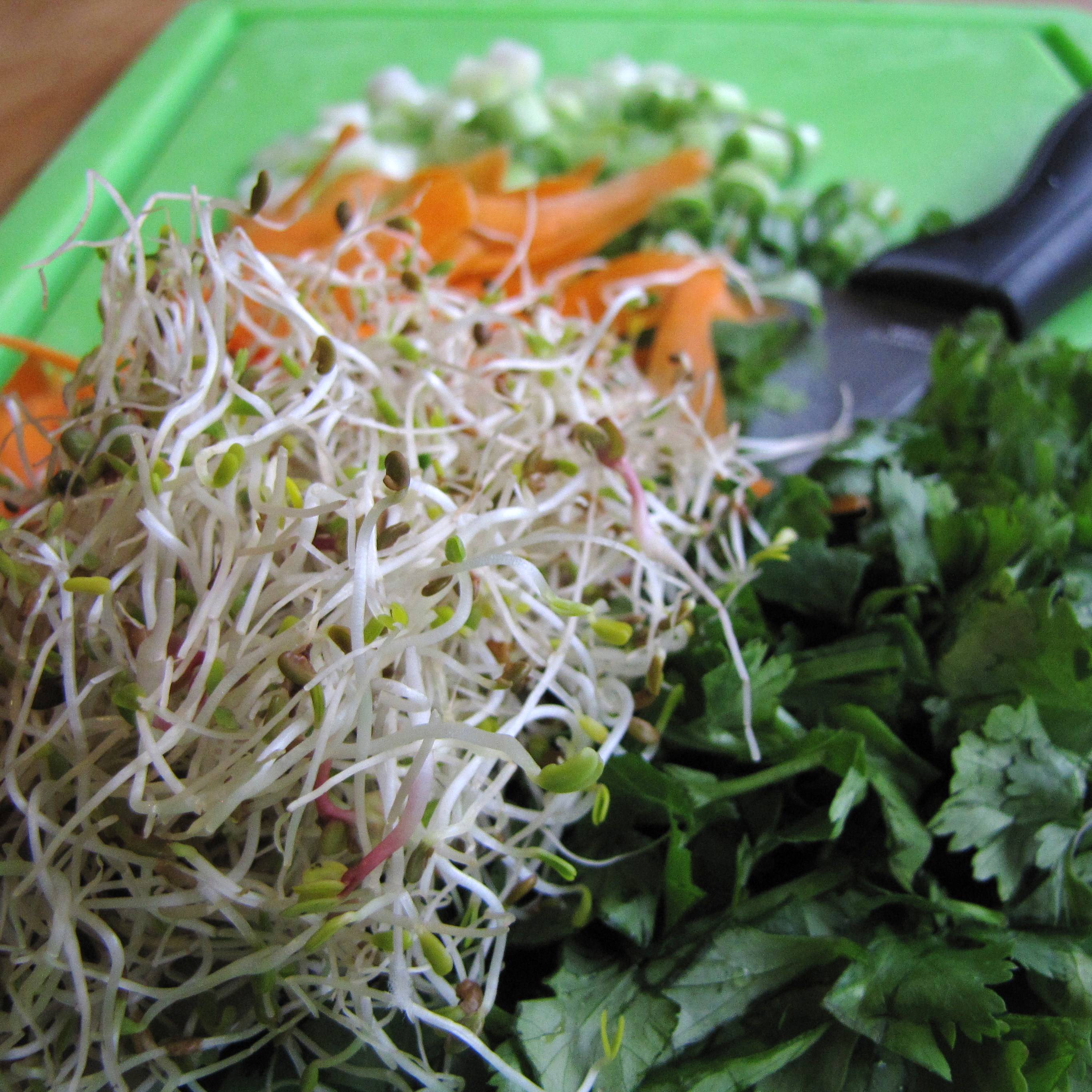 I've known for a while that the 3rd installment in my rotisserie chicken series was going to be a pizza.  Chicken on pizza is stellar.  It's actually been on my menu for the past 5 weeks in a row… it's just that I ran out of pizza dough, and making pizza dough without a stand mixer?  Huge pain in the ass.  I did it once last spring and made enough for 5 pizzas, but I ate those 5 pizzas and the 45 minute kneading process required to make more dough should definitely be categorized as an aerobic workout.  Maybe anaerobic.  And who likes exercise anyways.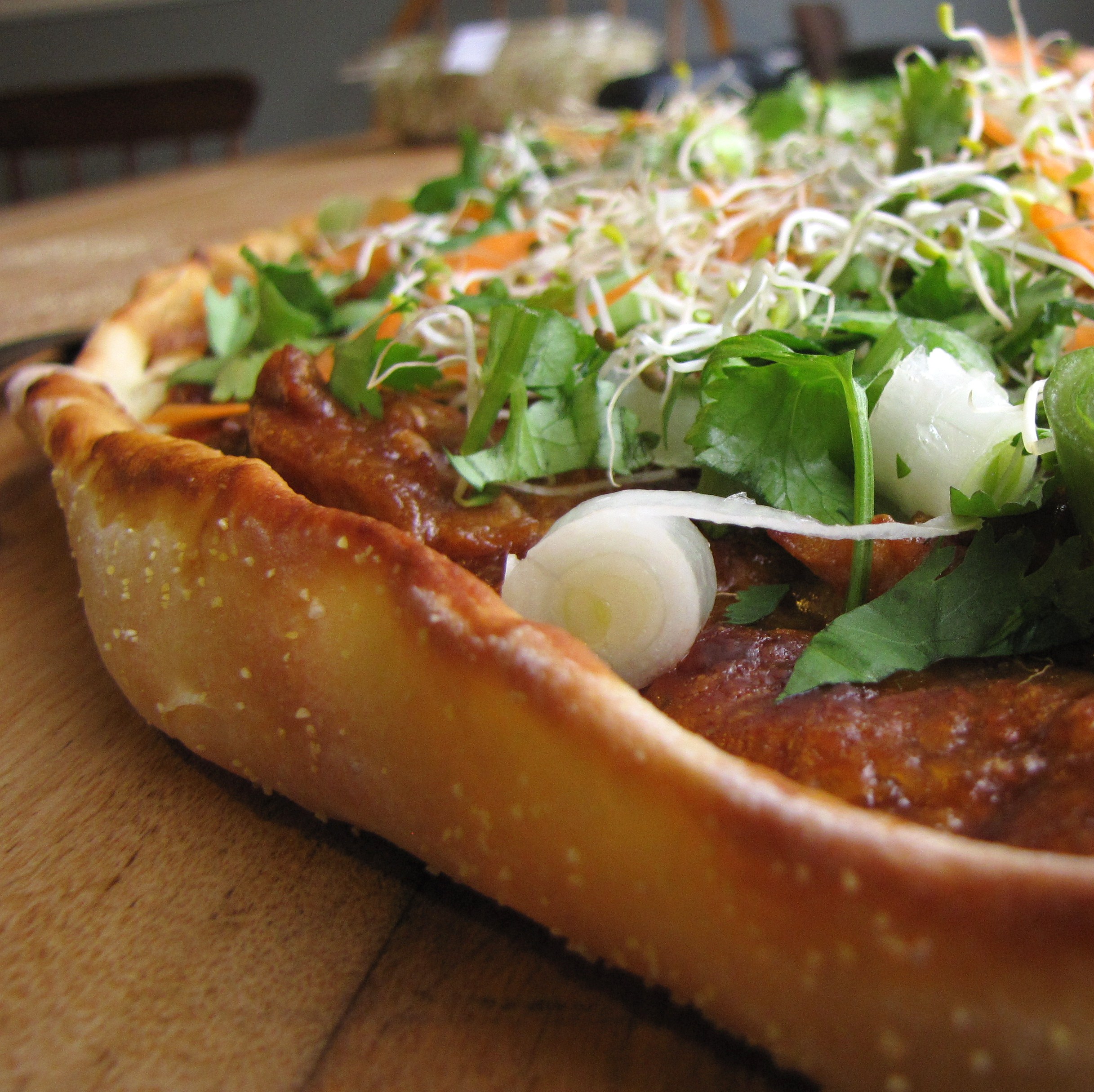 The other problem is the chicken itself – if I don't get at it right away, while it's still warm, it's a goner.  Cold rotisserie chicken that's been in the fridge for two days and has congealed in the bag?  Not my favorite thing to pick apart.  And if I do manage to tackle the chicken as soon as I get back from the grocery store then there's the problem of trying to make stock at night and getting really exhausted before it has time to cool properly.  Whine whine bitch moan.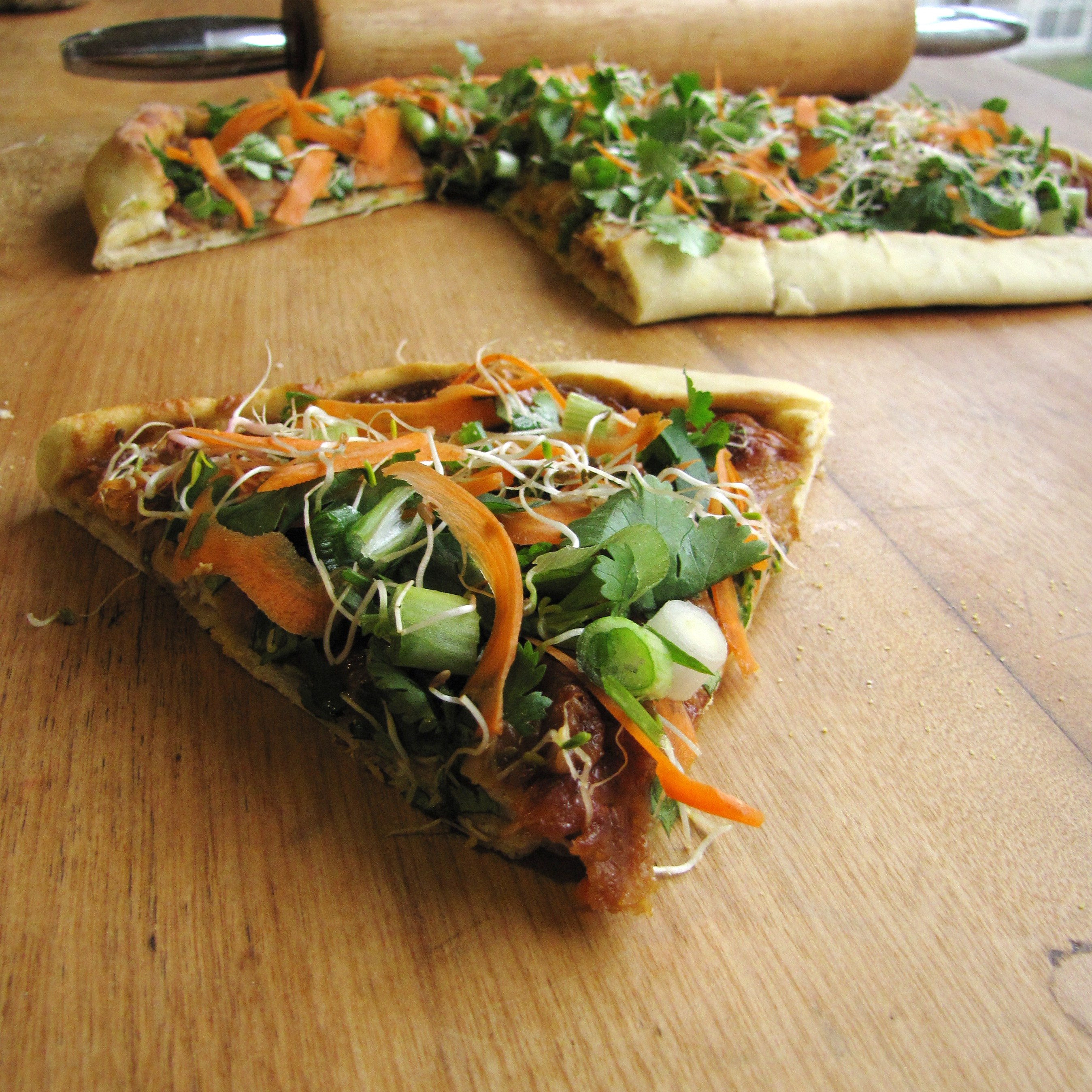 But I've been really wanting this pizza.  And the prospect of having pizza dough in the freezer again is highly appealing.  So I buckled down.  I'd like to say that the stars just aligned and I woke up this morning totally jazzed to knead dough and boil chicken carcasses and then have the energy to photograph my lunch before snarfing it.  But no, I actually just had to make myself do it.  But it was totally worth it.  Especially because as I was taking my pictures it started to snow.  And not only is it the first snow of the season, I've actually never seen it snow like this in Durham.  We had one really heavy, really brief, really nasty storm last January and no one could figure out how to drive for 2 and a half weeks, but this is like… beautiful, perfect snow.  The kind of snow I actually like.  All the freshmen from Texas/Florida/Southern California are probably freaking out like they do every year.  Anyway, I just sat by the window and ate my pizza and watched the snow and didn't think about anything other than how lovely it was, and it was really nice.
Back to pizza.  This was just like I wanted it to be – pizza is one of those sum of its parts things.  In a good way.  If you use quality ingredients that you like, and you have some idea of how to combine them, your pizza will be good.  Like this.  Besides the dough-making process it was also really quick to throw together.  If you already had dough in the fridge/freezer this could be ready to eat in 20 minutes.  And now I no longer have to be tempted by the frozen California Pizza Kitchen pizzas in Kroger, cuz I can do it myself. :-)
.
.
Want More Chicken?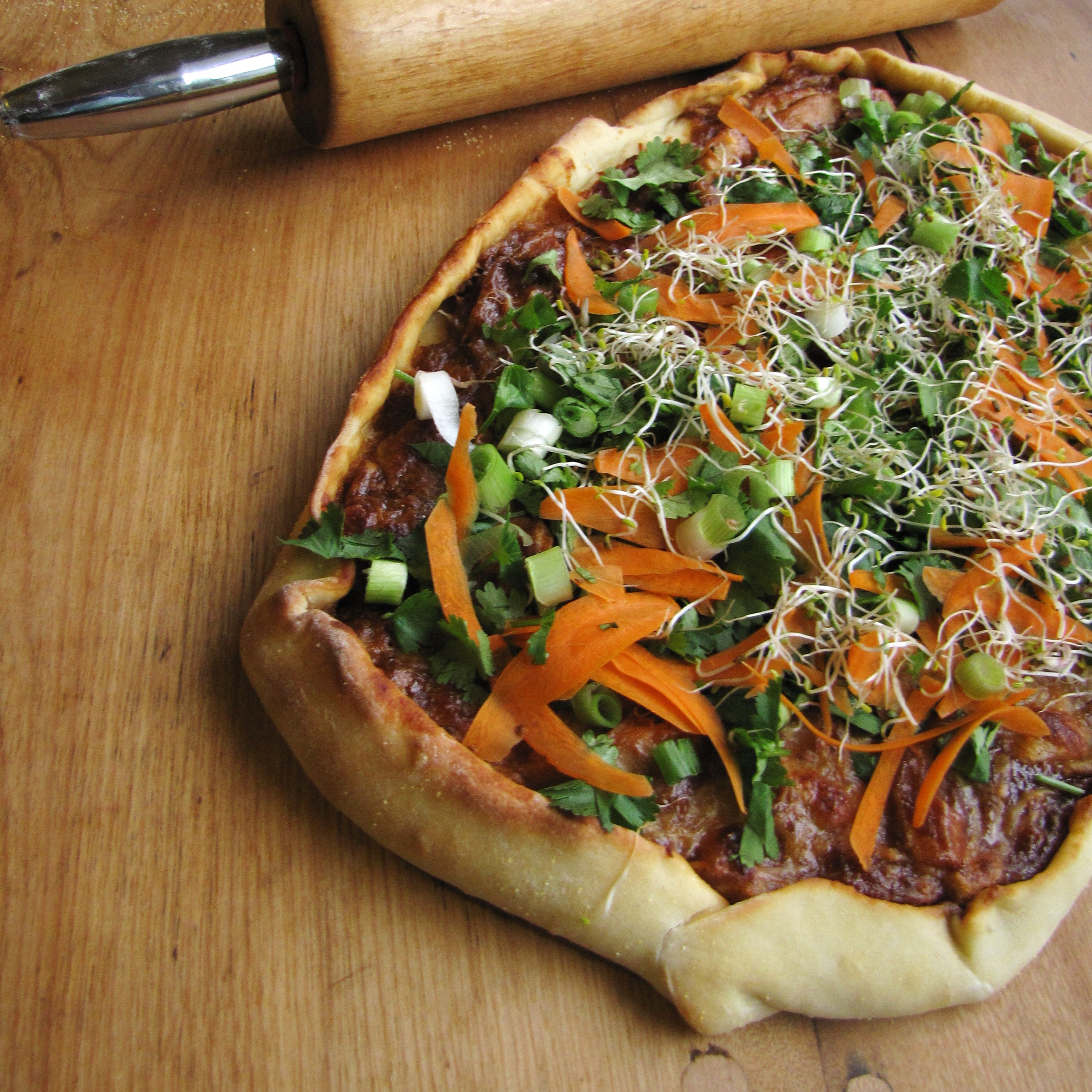 Thai Chicken Pizza
Serves 2-3.

1/5 basic pizza dough recipe, below
2 TBS minced fresh ginger
1/2 c. peanut butter
1/2 c. water
2 TBS soy sauce
3 TBS hoisin sauce
1/4 tsp. red pepper flakes
1 c. shredded cooked chicken from rotisserie chicken
3/4 c. mozzarella cheese
3 scallions, sliced
1 carrot, grated
1/2 c. sprouts
1/2 c. chopped cilantro
Preheat oven to 425°F.  Roll pizza dough out to 1/4 inch thickness.  Sprinkle baking pan with a teaspoon or two of cornmeal to prevent the bottom from burning and place dough on pan.
In a small bowl, mix together ginger, soy sauce, water, peanut butter, hoisin sauce, and red pepper flakes until smooth.  Spread 2/3 of the mixture evenly over the pizza dough.  Add the remaining 1/3 of the peanut sauce to the chicken and stir to coat.  Sprinkle cheese over the sauce/dough, and then place chicken pieces on top.  Bake for 15 minutes.
When pizza is cooked, remove from oven and allow to cool for 1 or 2 minutes.  Then sprinkle the top with the scallions, shredded carrot, sprouts, and chopped cilantro.  Slice and serve.
Basic Pizza Dough
This is my mom's calzone dough recipe.  It's very simple and actually takes significantly less time than 45 minutes to knead, so I'm glad I have it now.  It also gets a great rise, and extra can be frozen after it has risen and been punched down.  This recipe makes enough for 5 individual sized pizzas or calzones.
2 c. skim milk
1/4 c. very warm water
1 TBS active dry yeast
1/4 c. olive oil
1 tsp. salt
5 1/2 – 6 c. flour
Proof yeast – sprinkle yeast over 1/4 c. warm water and allow to stand for 5 minutes.
Heat milk in the microwave for 2 minutes, until quite warm but not bubbling.
In a large bowl, mix together 4 c. of flour, salt, and olive oil.  Add milk and yeast mixture and stir with a wooden spoon until well incorporated.  Add remaining flour half a cup at a time until the dough comes together and is not too sticky.
Dump dough on lightly floured surface and knead for 10 minutes until smooth and elastic, adding flour as needed.
Place in a lightly oiled bowl and allow to rise for 1 hour.  Once risen, punch down and break into five equal portions.  Freeze portions in individual ziploc bags or use within 1-2 days.
1