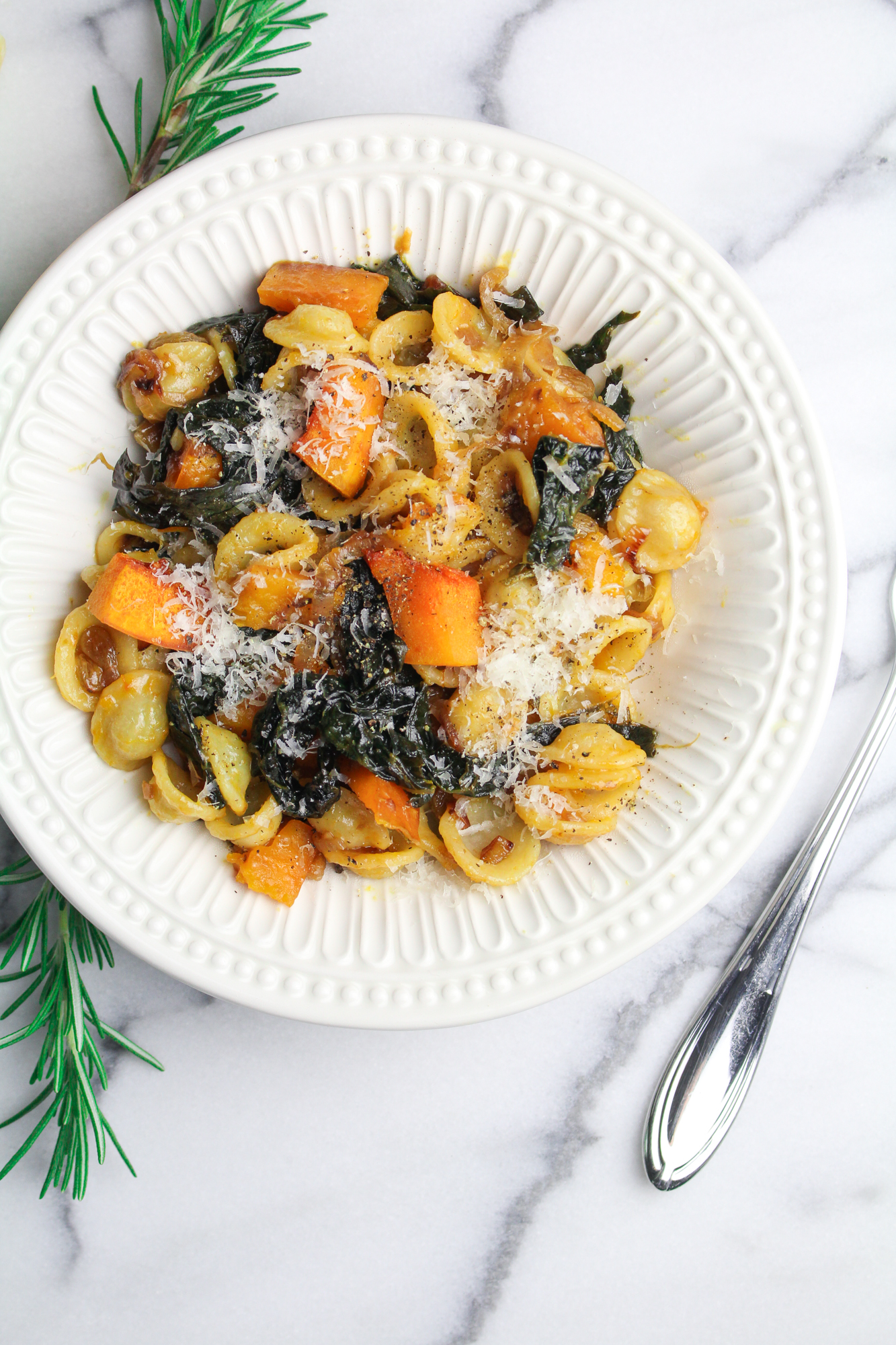 Although I'm a bit later than usual this year, my annual year-end post is one of my favorite things to write each year. I love reading other people's posts, too, even people I don't know personally. I like reflecting on how much growth and change and activity a single year can hold. It gives me perspective. But, if you're not a big fan of this sort of thing, or of lengthy personal blog posts, skip on down to the end. There's a recipe for a kale, golden raisin, and kabocha squash pasta that's been getting me through this cold snap. I've made it four or five times to get the balance just right, and now it's become my go-to winter pasta.
For those of you sticking with me for the long haul, let's talk about 2017. For me, 2017 was the year of the wedding, first and foremost. After that, there was travel – but less of it than 2016 and 2015 and more of it for fun than for work. It was a year of great and easy friendships, of growing beautiful flowers, of work weekends in Maine. It was a good year, perhaps not a great year, but a good one.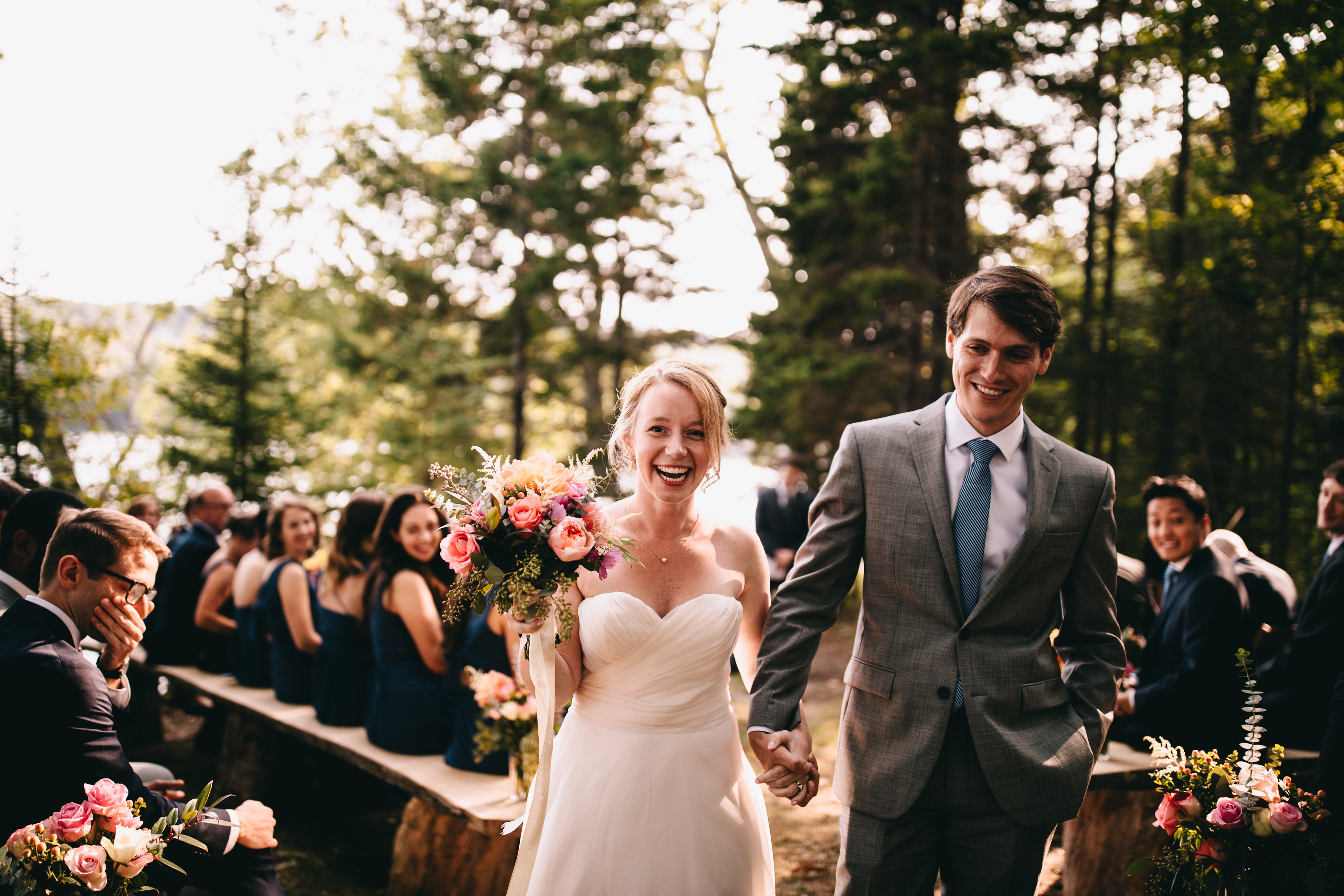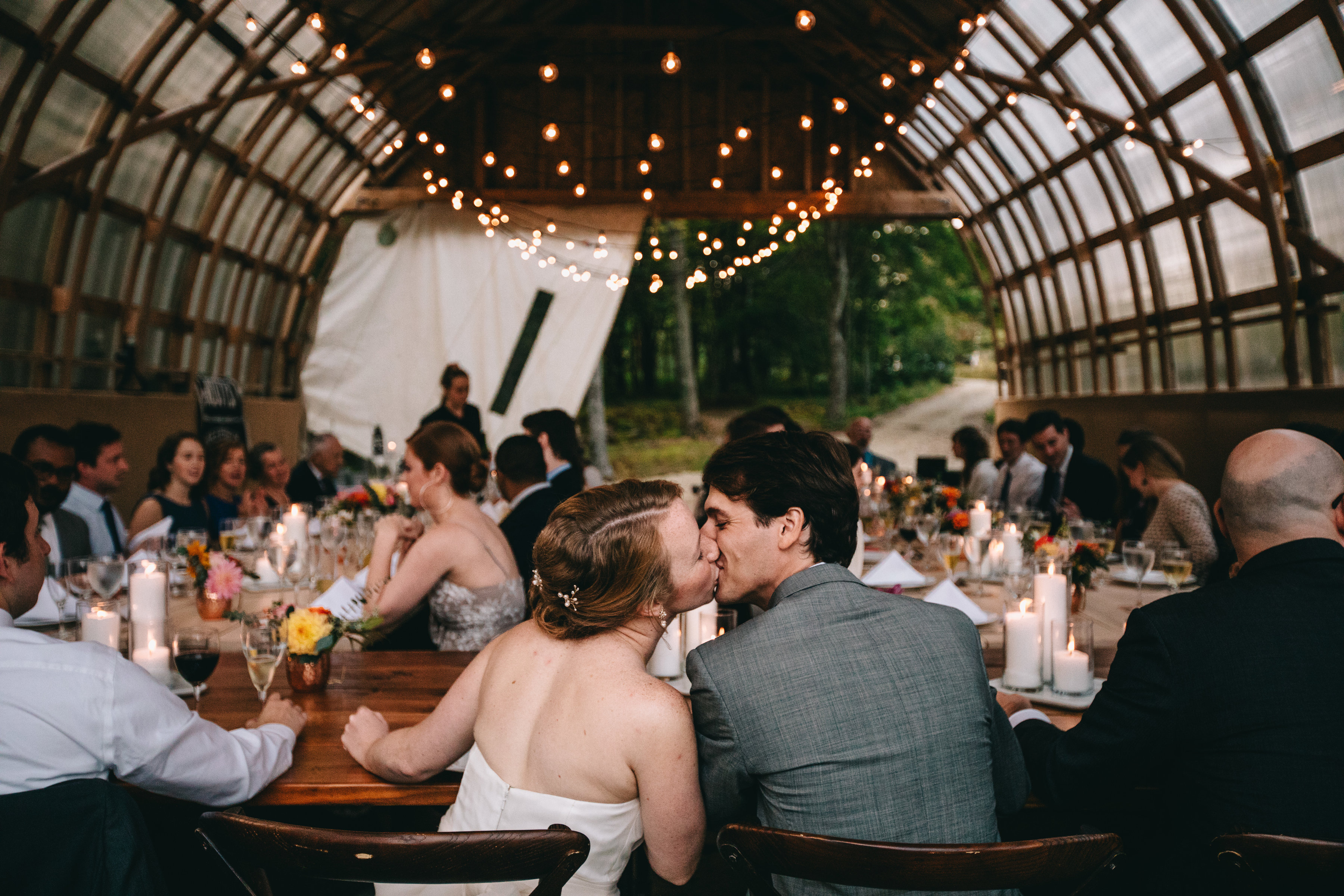 The big thing – our wedding
Of course, we knew before the year even started that 2017 would be the year of the wedding. It dominated the whole year. Our wedding day turned out more beautiful than we had imagined, but it was a huge amount of work to get there. We had our wedding at my parent's house in Maine, and it was very much a from-scratch affair. We built the barn by hand (and by we I mean mostly my parents), which was an enormous undertaking. We had gorgeous hand-made farm tables milled from trees on the property. I did my own flowers, and grew half of them. (As an aside, 2017 was 100% a year of flowers for me. I fell in love with flower gardening and arranging and I can't wait to get my seeds started in the spring.) Every aspect of the wedding was personal and lovely, but it was so much work. I'm really glad we got married and had our closest friends and family there by our sides, and I'm really glad we're not doing it again.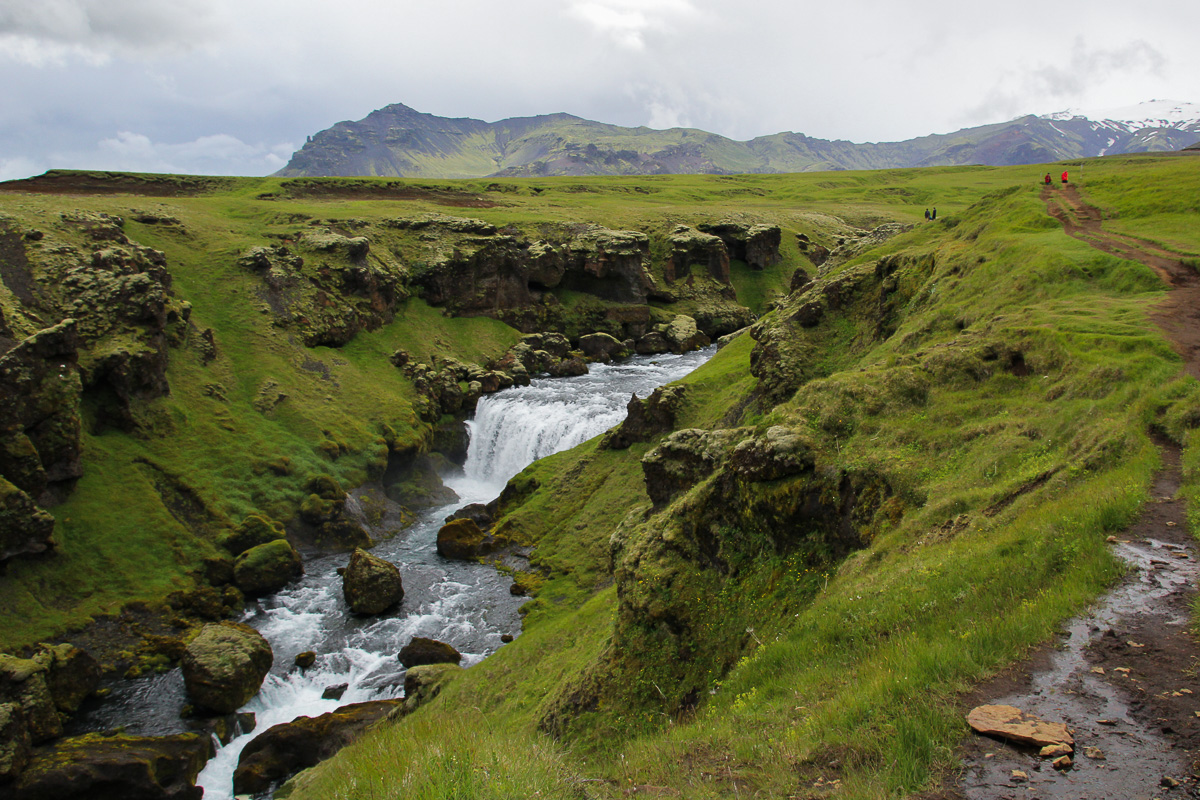 Twenty-eight countries and counting
Trevor and I kicked off the year with five weeks in Portugal, an incredible escape from the cold and dark of January in Boston. Of course, I was working the whole time, but we still got to explore on weekends and immerse ourselves in the wonderful Portuguese culture. I leave a little part of my heart everywhere I travel, but I left a big piece in Portugal. I miss the food and the wine, the lonely sounds of fado in tiny clubs, the white light reflecting off the cobblestones. I miss the café culture and the gentle winter sunshine. I miss the people, my coworkers and friends, who opened their hearts to us so easily. I miss the language, which I still practice almost daily, in hopes that I'll need it again. I'm glad that we're staying put this winter, after relocating for January and February in the past two years, but it was a wonderful experience to live in Lisbon.
In July, I took a long-anticipated trip to Iceland with three of my best girlfriends. It was a short trip – just five days – but absolutely packed. Iceland was stunning and wild, exceeding my already high expectations. It was also wonderful (if very tiring) to travel with friends, something I hadn't done before beyond short weekend trips in the states. I already can't wait to return to Iceland and continue exploring. And in November, we made a Thanksgiving trip to Colorado and Utah to visit my extended family. The sun was life-giving, and we were outside hiking in the beautiful desert every day.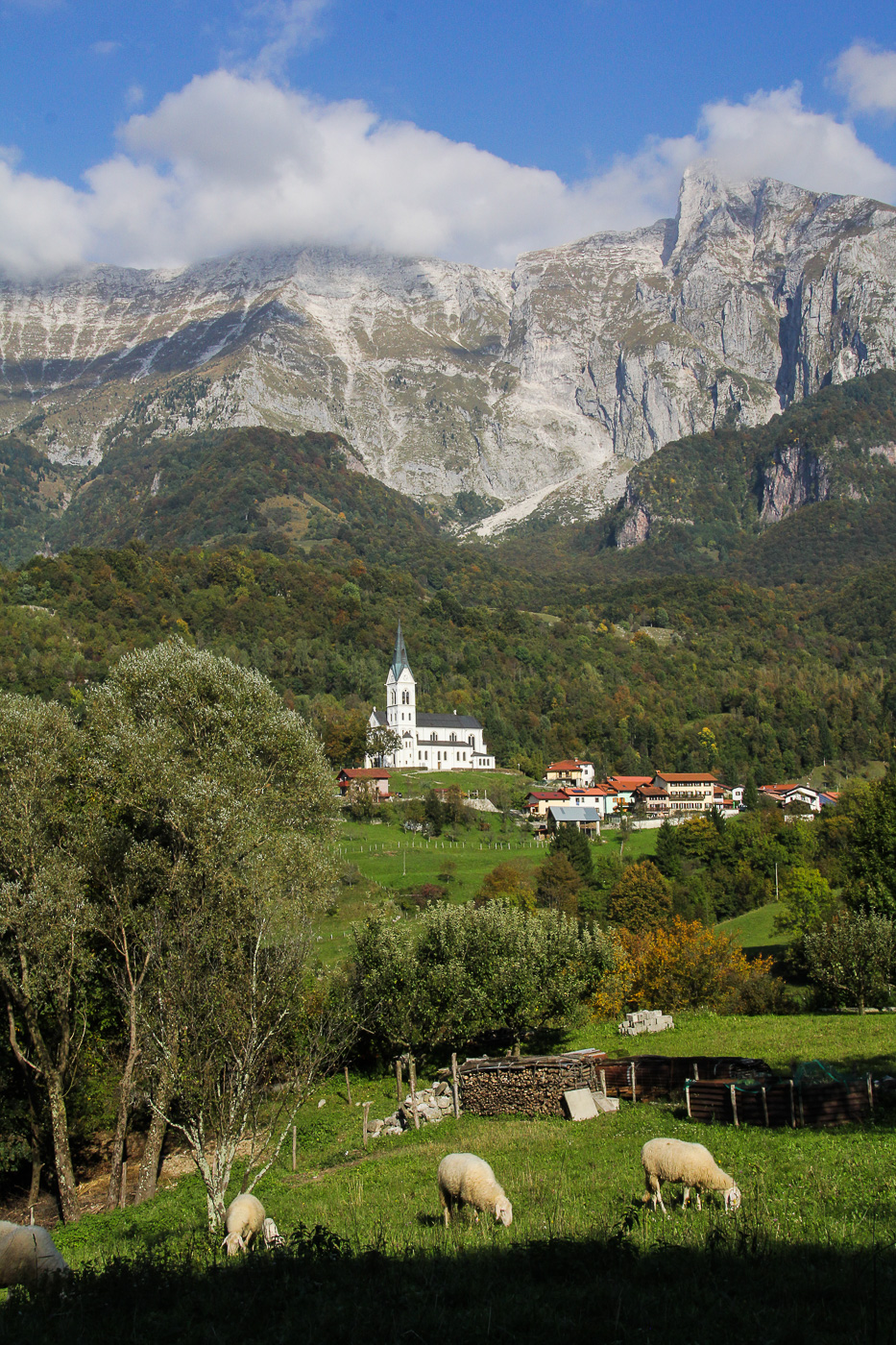 And then of course, there was our honeymoon. We were gone three full weeks, making our way up the Croatian coastline, driving through the Slovenian alps, then wrapping up with a city break in Prague. It was an epic trip. It was also so nice to just be with Trevor for three weeks and… hang out. Of course we were exploring and adventuring but we were also just being us, something I had missed in the chaos leading up to the wedding. I'll write about our trip properly someday, but for now, I'll just mention the highlights. There was a sunset bike ride through the sleepy hill-top olive groves in Korcula, followed by an unforgettable candlelit dinner under pomegranate trees. We spent an afternoon drinking champagne and watching the sun slowly sink over the Adriatic at a seaside bar where you could climb down into the ocean at any point. We hiked up through the emerald gorges in Slovenia, following a wooden sign with a piece of cheese on it, until we reached a beautiful alpine valley with two houses, one of which did, indeed, serve us some cheese. We designed our own brewery tour in Prague, sampling the best of the Czech Republic's beer scene. We fit so much into three weeks – it will be a hard trip to top.
For other work travel, there was one follow-up trip to Portugal in April, for my birthday in fact. Never have I received so many hugs on a single day. A July trip to Hong Kong and Singapore registers as barely a blip on my mental calendar of the year, although it was my first time in Singapore. I'll be back to both countries in a few weeks, and I'm excited to escape the cold (and for the food! Always the food). Then just a few weeks ago, a December trip to a small town in Northern Ireland followed by two days in Dublin. I love Ireland for so many reasons but this trip was a blur, especially getting home just three days before Christmas. Overall, work travel felt much more manageable this year – hopefully I can carry that through into 2018.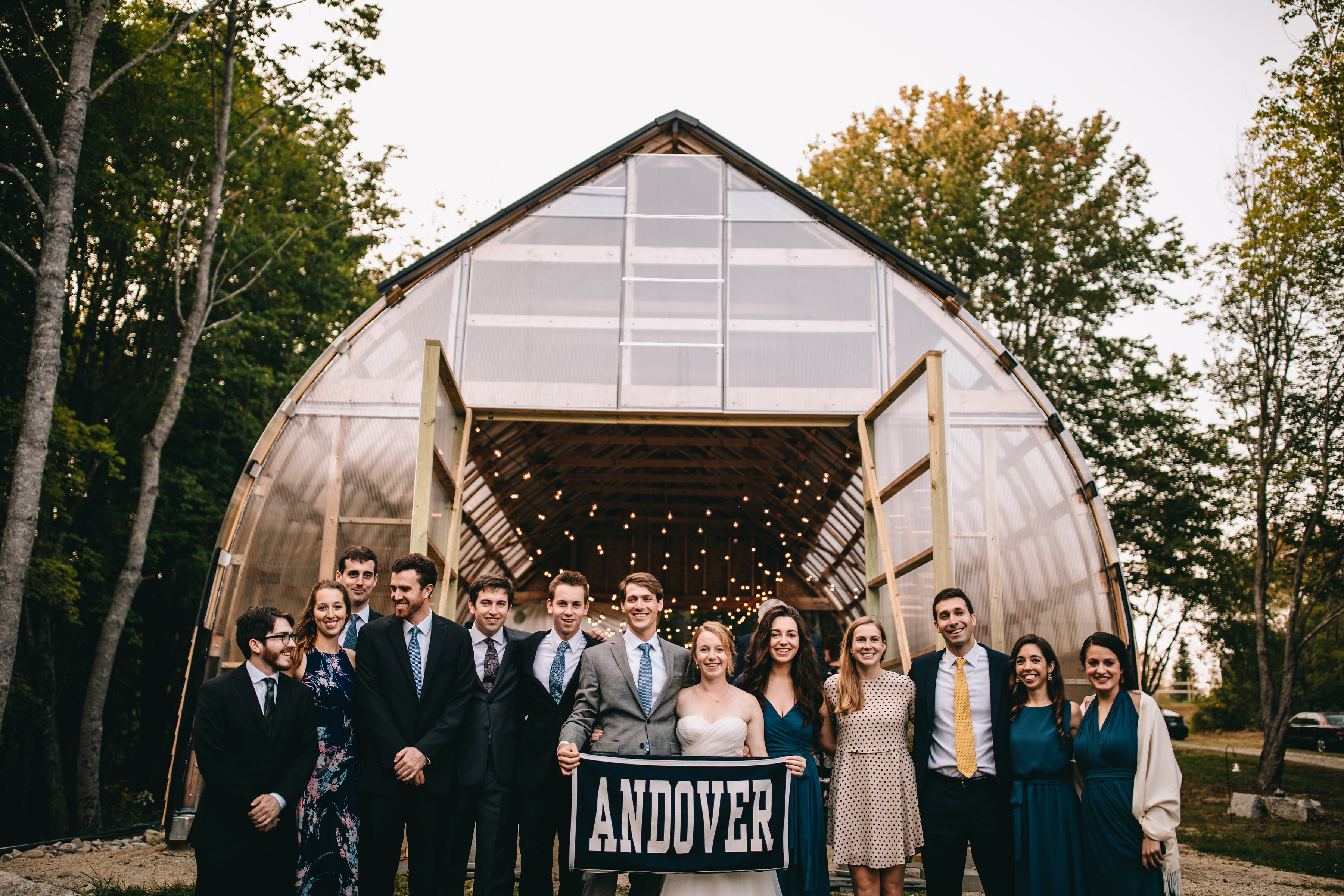 The best people
I'm not particularly quick to make new friends – I've always done better with a small group of people I'm really close to. But after 6 years living in Boston, I have such a solid crew, many of them high school friends who have moved back to the area. They are all good, smart people who are easy to be with, and some of my best memories of this year were with them. A lazy August Sunday spent tubing down the Saco river was a highlight, as was a weekend at a friend's Maine island cottage, complete with hours of wine-laced Molkky, a candlelit lobster dinner, the poetry reading that his father mandates, beautiful sailing, and a late night bonfire dance party. And, I almost forgot, our 10 year Andover reunion. I imagine most people don't look forward to their high school reunions as much as we do. It was a blissful weekend full of super impressive people, an all day kickball lawn party (complete with kegs), midnight dancing, and collapsing on the lawn in fits of giggles around 2am. Sunday we couldn't move, because we're old now, but it was worth it. Add to this the many other dinner parties, bar nights, one epic scavenger hunt birthday party and a casual NYE game night turned dance party to close out the year, and it sums up to a year of really good playtime with really good friends.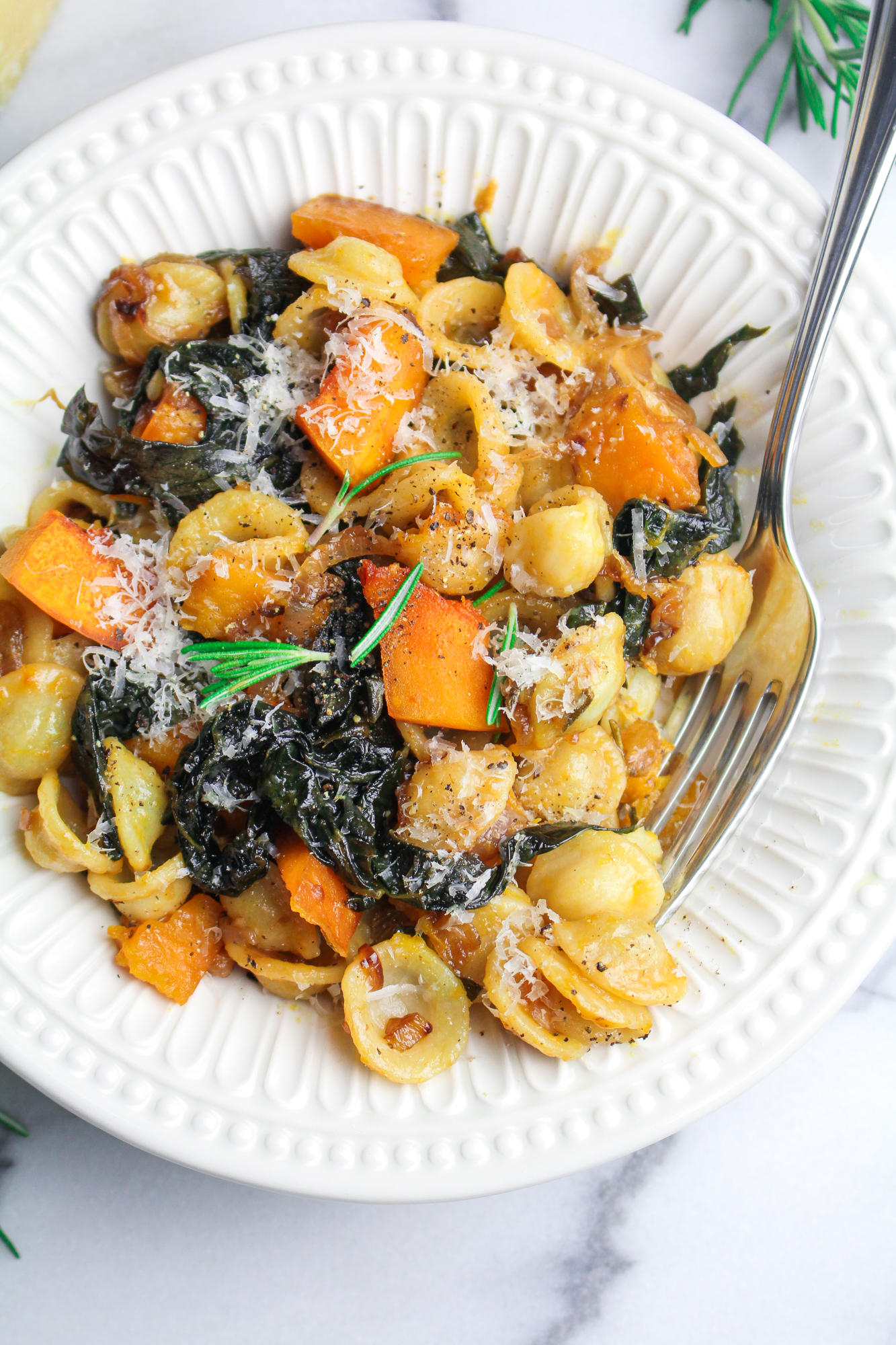 Working and blogging and growing
I feel a huge amount of relief going into 2018 with an understanding of what I want this blog to be. I spent the first half of 2017 listening to blogging podcasts ad nauseam, investing in a new design and a mailing list and SEO plugins. I thought a lot about my content and who I wanted it to reach, and I pored over my analytics to understand how I could grow. Basically, I hustled. It was stressful and frustrating and overwhelming. And then somewhere in the middle of all that hustle I realized that I don't want to blog as a business-owner. That's not why I started, and that's not what brings me joy. I have a stable, compelling career that I love and it's not blogging – so why should I turn blogging into work when it doesn't need to be? I want to create beautiful content and delicious recipes and tell stories as long as it feels like a hobby and not a chore. Of course, it's nice when a hobby has financial perks, but making business success the goal of blogging took all the fun out of it. Realizing this has been so helpful.
On the flip side of this blogging decisions lies my real work. Although I went through a similar questioning phase about what I wanted my next career move to be, I came out the other side with the realization that I really like my job. I'm going into 2018 in a new role, with a team and multiple projects to manage, and I'm excited. I have a lot to learn but I work in a team with the smartest, best people, which makes all the learning and growing easier.
Now for 2018
I've been reflecting this week about how open 2018 feels. It's a wonderful feeling. Of course, we have things planned – weddings to attend and house projects and a few trips with friends already on our calendar. But largely, the year feels full of potential, untethered to major life milestones. I'm excited to see where it takes us, what new opportunities and adventures it will bring. My intentions for 2018 are to bring a sense of calm into every day, to spend as much time as I can outside in nature, to prioritize my health, and to learn and grow.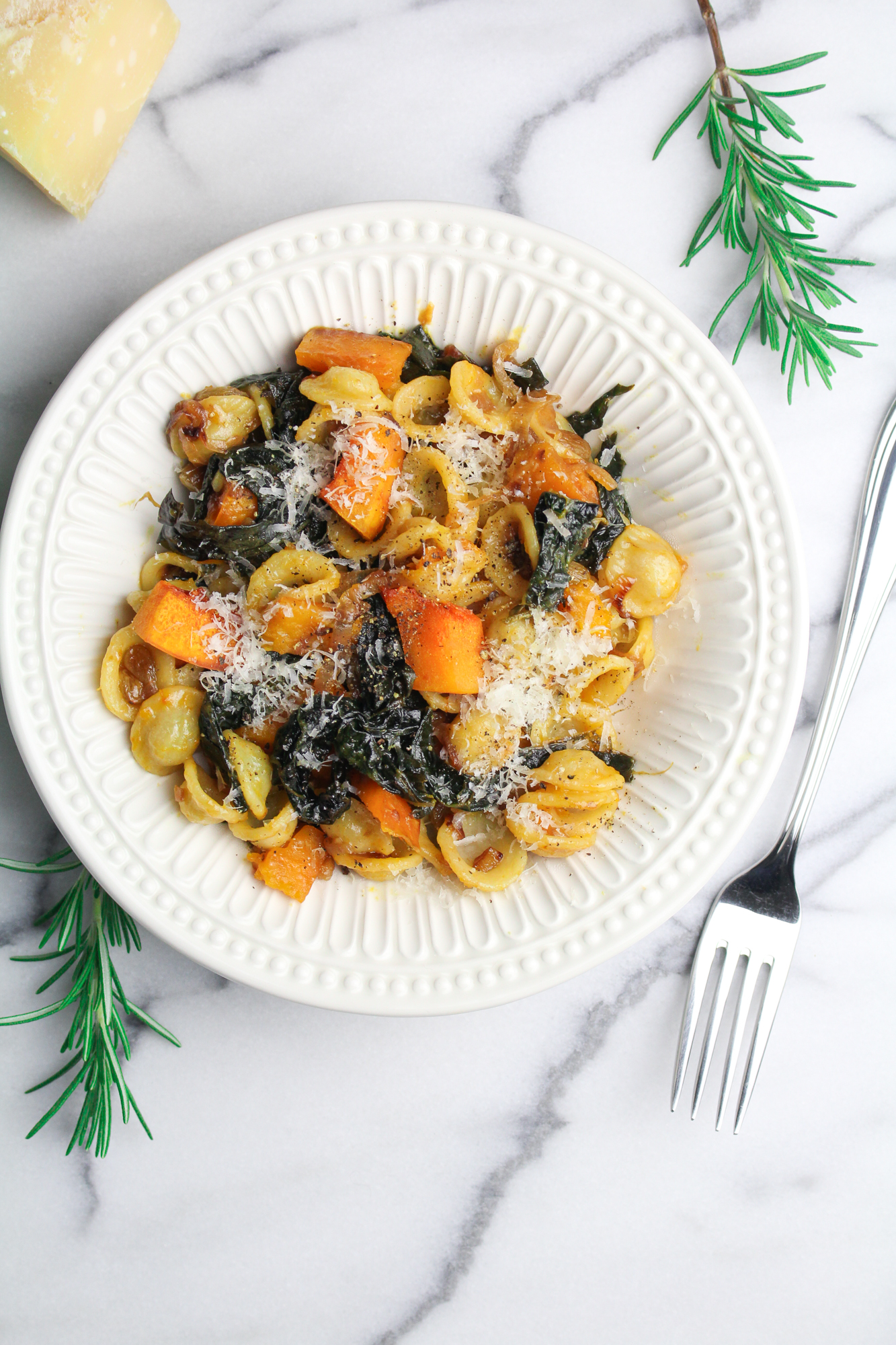 Winter Pasta
And if you made it through all of that… I'm impressed. I'm guessing even my mother will skim this one. So now, what most of you are here for, a recipe for a delicious winter pasta. A few year's back I read a magazine article about how you should always be finishing your pasta in the pan with the sauce and a splash of the pasta cooking water, and it has totally changed the way I cook pasta. It's such a simple trick and it makes a huge difference. Since reading that article, I've been experimenting with what I think of as "perfect seasonal pastas." I test them over and over again until they are just right, foolproof, and full of seasonal ingredients. So far I have a summer pasta, with heirloom yellow tomatoes and sweet onions, a creamy mushroom spaghetti that is irresistible in the fall, and a spring carbonara with ramps and meyer lemon zest. Over the past 5 or 6 weeks I've been testing what I've come to think of as my winter pasta, and I'm ready to share it. This pasta has tuscan kale and shallots slow-cooked in white wine, plump golden raisins, a hint of chile, and sweet roasted kabocha squash. It is hearty and wintery without being overly heavy or creamy. It's on weekly rotation in our house and I hope it will be in yours, too.
Happy 2018 to all of you!
Past New Years' posts…
2016: Feta and Onion Phyllo Pie
2015: Brown-Butter Chestnut Waffles with Poached Pears and Mascarpone
2014: Rye Blini, Smoked Salmon Dip, Russian Beet Dip, Pretty in Pink Cocktail
2013: Raspberry Sherbet Champagne Floats
2012: Butter-Roasted Cinnamon Chicken with Almonds and Pomegranates
Like what you just read? Subscribe to Katie at the Kitchen Door in the box on the right, on Feedly or Bloglovin', or follow along on Facebook, Pinterest, or Instagram. Thanks for reading!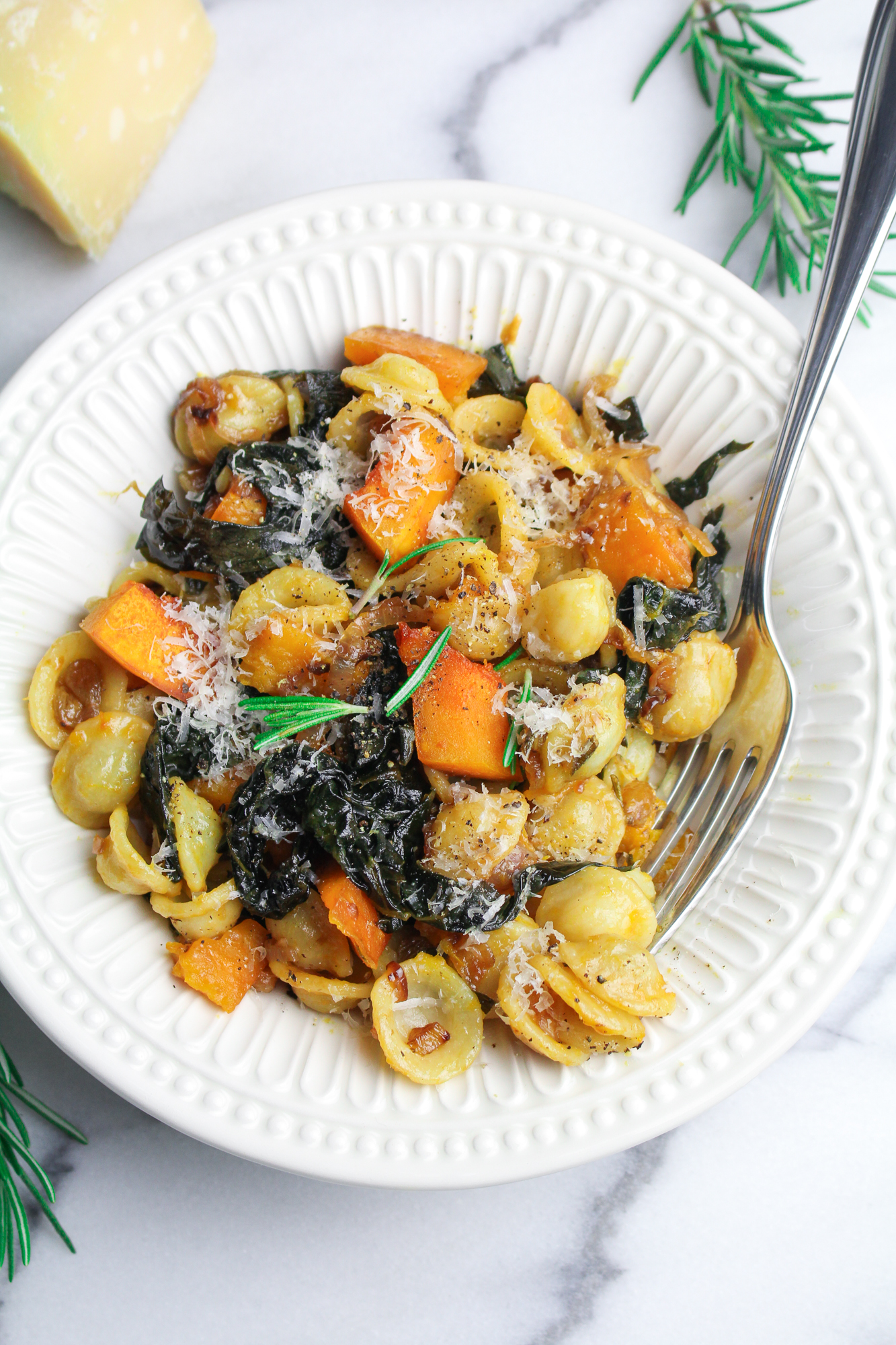 Print
Winter Pasta with Slow-Cooked Kale, Kabocha Squash, and Golden Raisins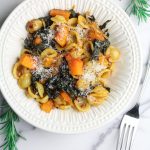 A seasonal winter pasta with slow-cooked Tuscan kale, roasted kabocha squash and golden raisins. Satisfying and warming without being heavy.
Inspired by Sunday Suppers at Lucques.
1/2

small kabocha squash, peeled, seeded, and cut into

1/2

inch cubes

5

TBS olive oil, divided
sea salt and black pepper to taste

4

shallots, peeled and thinly sliced

4

cloves garlic, peeled and thinly sliced

1

sprig fresh rosemary, needles finely chopped

1

chile de arbol, broken in half (or

1/4 tsp

red pepper flakes)

1

bunch Tuscan kale, center ribs removed, torn into bite-sized pieces

1/2 cup

white wine

1/4 cup

golden raisins

1/2

lb. orechiette pasta (or other similar shape)

1/2 cup

freshly grated parmesan cheese
Instructions
Preheat the oven to 400F. Toss the cubed squash with 2 TBS of olive oil and spread out on a rimmed baking sheet. Season with sea salt and black pepper. Roast in the preheated oven until tender, about 25-30 minutes. Flip the squash cubes over halfway through cooking.
Bring a large pot of salted water to boil.
Heat 1 of the remaining tablespoons of olive oil in a large saute pan over medium-low heat. Add the sliced shallots, sliced garlic, chopped rosemary, and the chile de arbol to the pan. Saute until the shallots are soft and golden brown, about 5 minutes. Add the kale along with the remaining 2 tablespoons of olive oil. Season with sea salt. Cook the kale in the olive oil for 3-4 minutes, stirring frequently, then add the wine and the raisins to the pan. As soon as you add the wine, stir to scrape any burnt bits off the bottom of the pan.
Cook the kale over low heat for about 10 minutes. After 10 minutes, add the pasta to the boiling water. Continue cooking the kale while the pasta cooks. When the pasta is just barely al dente, use a skimmer to add the pasta to the pan with the kale. Add a few splashes of the pasta cooking water to the pan as well, along with the grated parmesan cheese. Add the roasted squash to the pan. Cook everything together for 2-3 minutes, stirring to fully coat the pasta in the sauce and to evenly distribute the vegetables. Serve immediately.
14