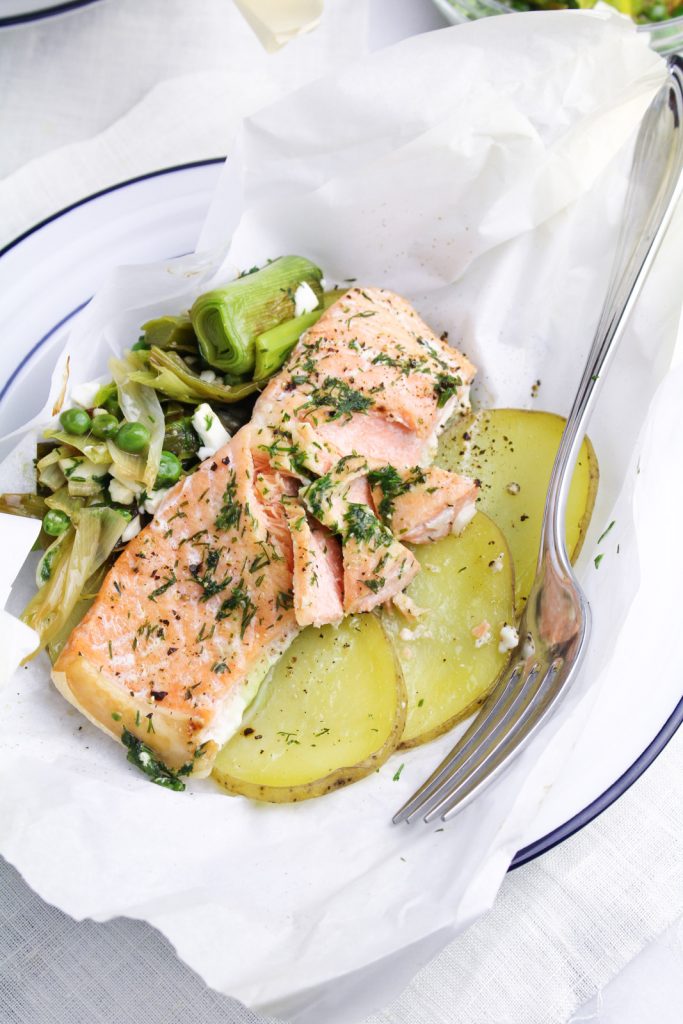 March is a hard month for cooking. It feels like it should be spring – we're so ready for the sunshine and for green to return to the trees! And, perhaps more pressing, we are ready for winter to be over. Even though I escaped Boston for 5 weeks in January and early February, I'm still ready for it to be over. We've had a handful of sunny days this month, but here in Massachusetts, it's still very much winter. As evidenced by the windchill of -6°F this weekend and the Nor'easter bearing down on us today.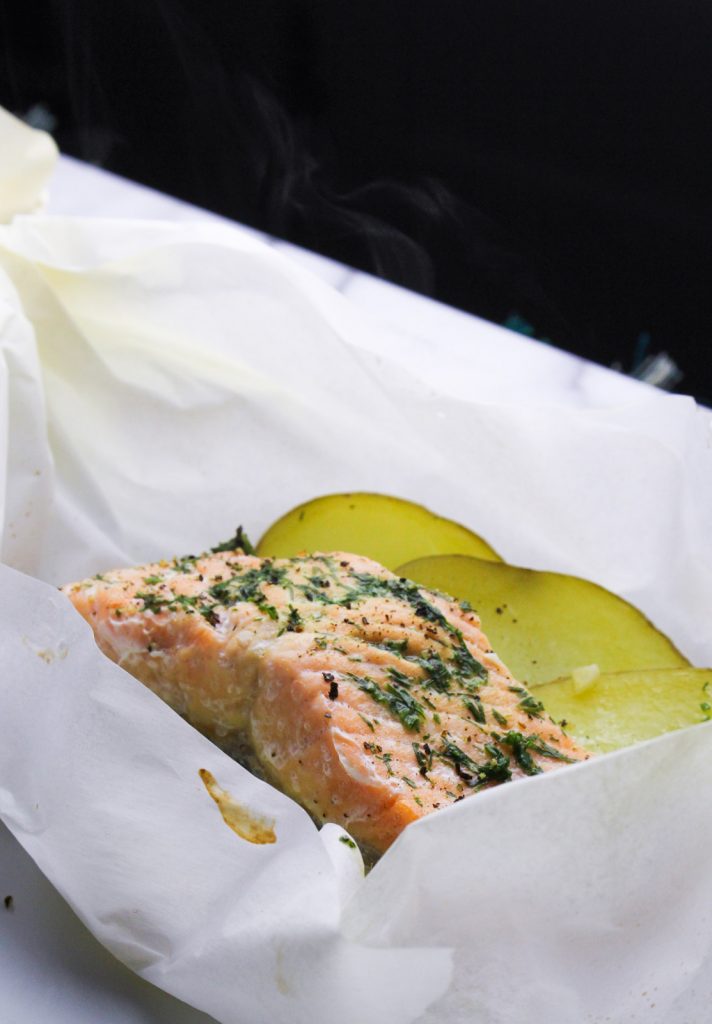 By extension, March is a hard month for food blogging. There's no local produce to inspire, no major food holidays. Just a craving for summer mixed with the reality of winter. In past years, I've posted everything from Butternut Squash Carbonara to Apple Cider Doughnuts to Strawberry Balsamic Salad – no seasonal cohesion to speak of.
It's a transitional eating period, but instead of the abundance of September and October, we're left with the dregs of the root cellar. We're still at least a month away from the first tender greens and peas. We're no longer excited about brussels sprouts and squash. All we want is the first cocktail-on-the-porch Saturday afternoon.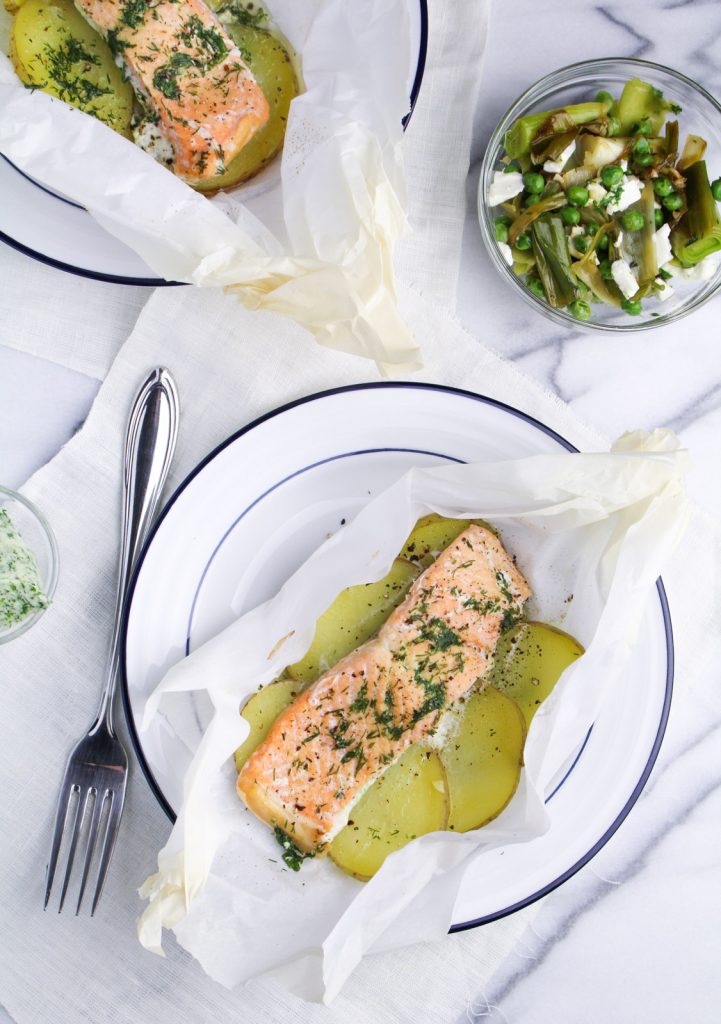 So this year, I'm making a concerted effort to come up with and share recipes that are appropriate for March. Recipes that are warm and nourishing without being heavy and rich. Recipes that shift towards spring without leaving you unsatisfied. They all have an element of brightness. I hope they will help inspire you in the kitchen this month while we wait patiently for spring.
This Salmon en Papillote with Potatoes and Dill Butter is an easy weeknight meal that perfectly fits the bill. Salmon is a richer fish, still fatty and satisfying, but not heavy like a roast or stew. The dill butter adds a bright, herbal note and makes it feel a little fancy. As a bonus, it's one of the simplest recipes on this blog and its pretty healthy. The trifecta for dinner recipes: tasty, healthy, easy.
Tell me, is there anything that's a staple in your kitchen while you wait for spring?
Like what you just read? Subscribe to Katie at the Kitchen Door in the box on the right, on Feedly or Bloglovin', or follow along on Facebook, Twitter, Pinterest, and Instagram. Thanks for reading!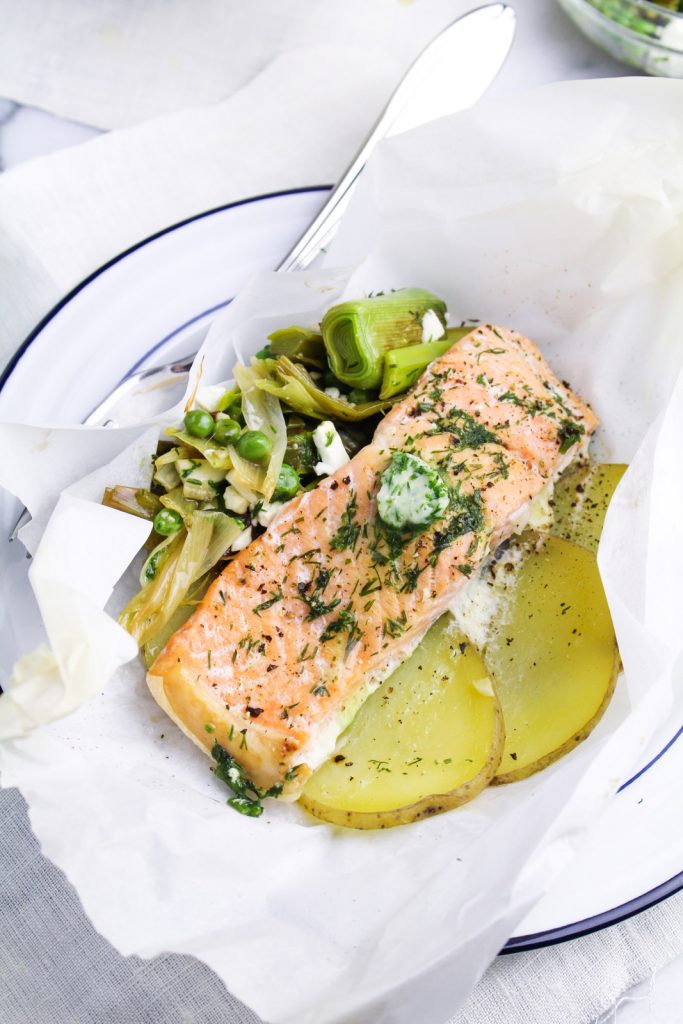 Salmon en Papillote with Dill Butter
Recipe adapted from Simple by Diana Henry. Serves 2.
4 TBS salted butter
3 TBS finely chopped fresh dill
pinch sea salt
6 small red or white potatoes
Two 6 oz. salmon fillets
2 TBS dry white vermouth
Mix the softened butter and chopped dill together in a small bowl until thoroughly combined. Sprinkle with sea salt. Cover and chill in the fridge until ready to use.
Thinly slice the potatoes and add to a medium pot. Cover with cold water. Season lightly with salt and bring to a boil over medium heat. Boil just until the potatoes are tender, about 8 minutes. Drain the potatoes and set aside.
Preheat the oven to 400°F. Cut out four squares of parchment paper that are about 1 foot long/wide. Double up the squares so there are two in a stack. Place a knob of dill butter in the middle of each stack, then layer potato slices over the butter. Place a piece of salmon on top of the potatoes, then top with a few dots of dill butter and a little sea salt. Pour 1 TBS of vermouth over each piece of fish. Bring two edges of the packets together over the fish and fold down a few times, then twist the open ends to seal the packets. Place on a rimmed baking sheet and bake for 10-12 minutes, until the salmon is just cooked through. Unwrap carefully at the table and serve.