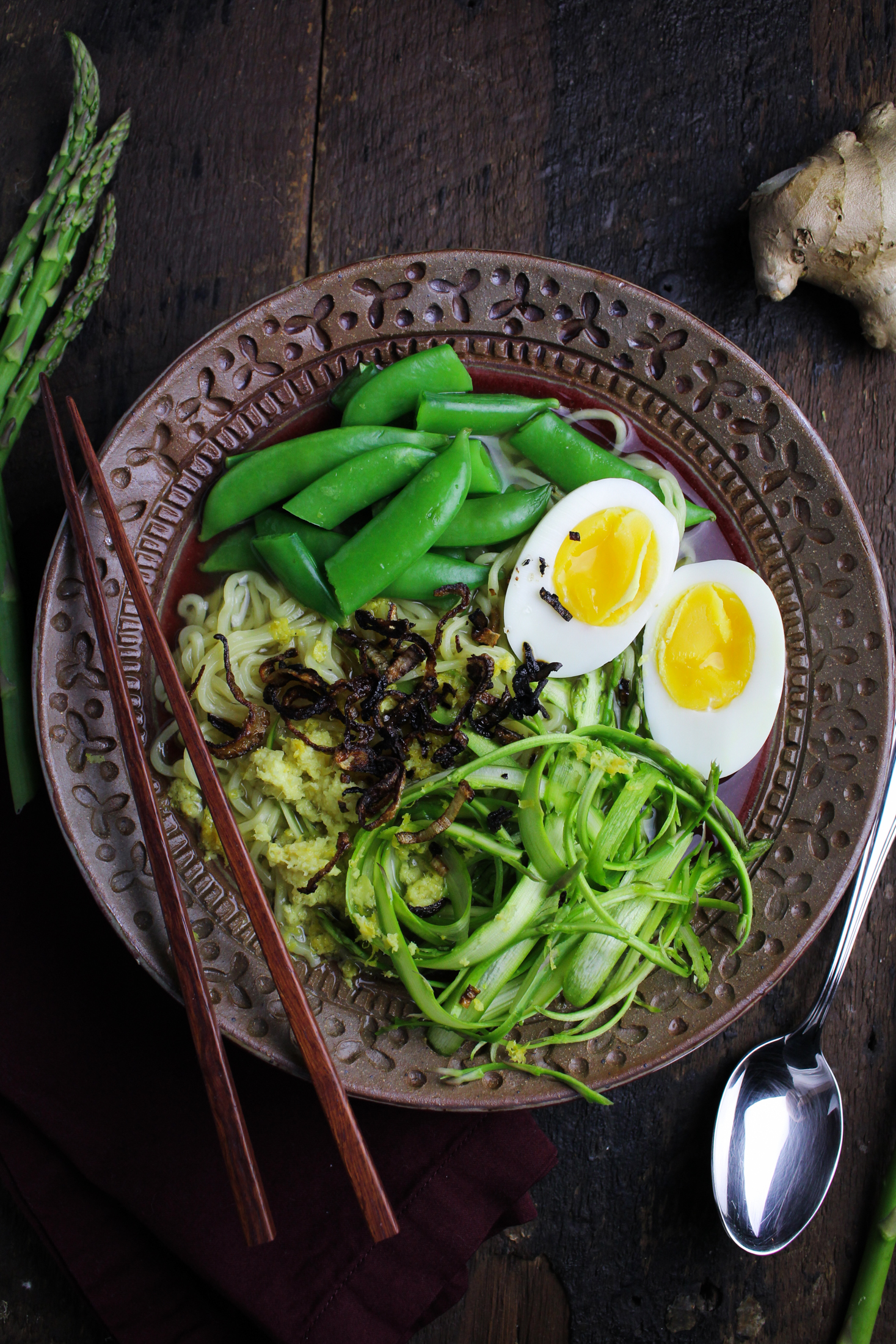 The Book: It's been ages since I've done a cookbook review – my last one was way back in August! That's partly because my cookbook shelves are not just full, but crammed, so last fall I forced myself to take a break from ordering and requesting cookbooks. But when I got back from Asia all that restraint flew out the window – one of the first things I did after getting home was order 4 Japanese and Vietnamese cookbooks, and now I have a sizable stack of books awaiting review sitting next to my desk. I guess it's time to clean out those cookbook shelves and make room for the new!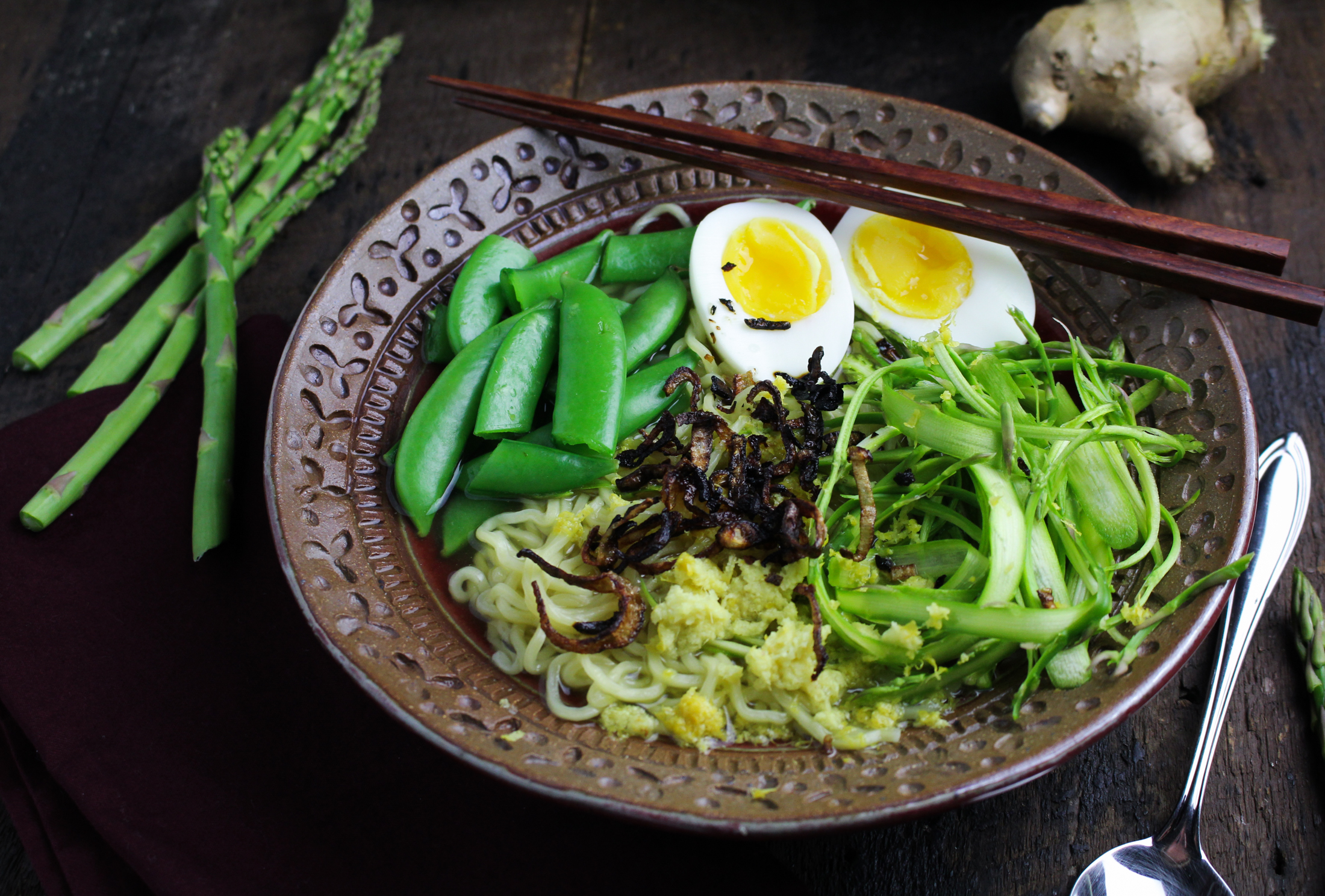 Bowl: Vegetarian Recipes for Ramen, Phô, Bibimbap, Dumplings, and Other One-Dish Meals, successfully capitalizes on the intersection of two trends: the rage for "bowl food" and the rising popularity of authentic Asian cuisine in Western cultures. The book covers a lot of cultural ground, ranging from ramen and phô, bibimbap and even polenta, but is fundamentally organized by grain type, starting with wheat (ramen, soba), moving through rice (phô, bibimbap), and then onto other grains and dumplings. The flavors and techniques showcased here are not exactly classic – I'm sure many ramen chefs would cringe to see brussels sprouts and kabocha squash included in a ramen recipe – but they are modern, refreshing, and clever twists on traditional Asian dishes. There were a few flavor combinations that were a bit too far fetched for me (soba, kimchi, and pickled apple?), but far more that sounded absolutely delicious. I particularly love the seasonal variations, like summer ramen with corn, basil, and cherry tomatoes as toppings, or the winter bibimbap with gochujang-roasted sweet potatoes and kale. The dumpling chapter was also intriguing, and even includes an overview of the 5 kinds of dumpling folding styles, which is exactly the type of new-to-me information I love to find in the middle of a cookbook. And although the dishes themselves are a little irreverent, there are some good tips and historical tidbits included – now I know to rinse my ramen noodles post cooking to remove the excess starch and up the "slurp factor," and that phô is traditionally served for breakfast.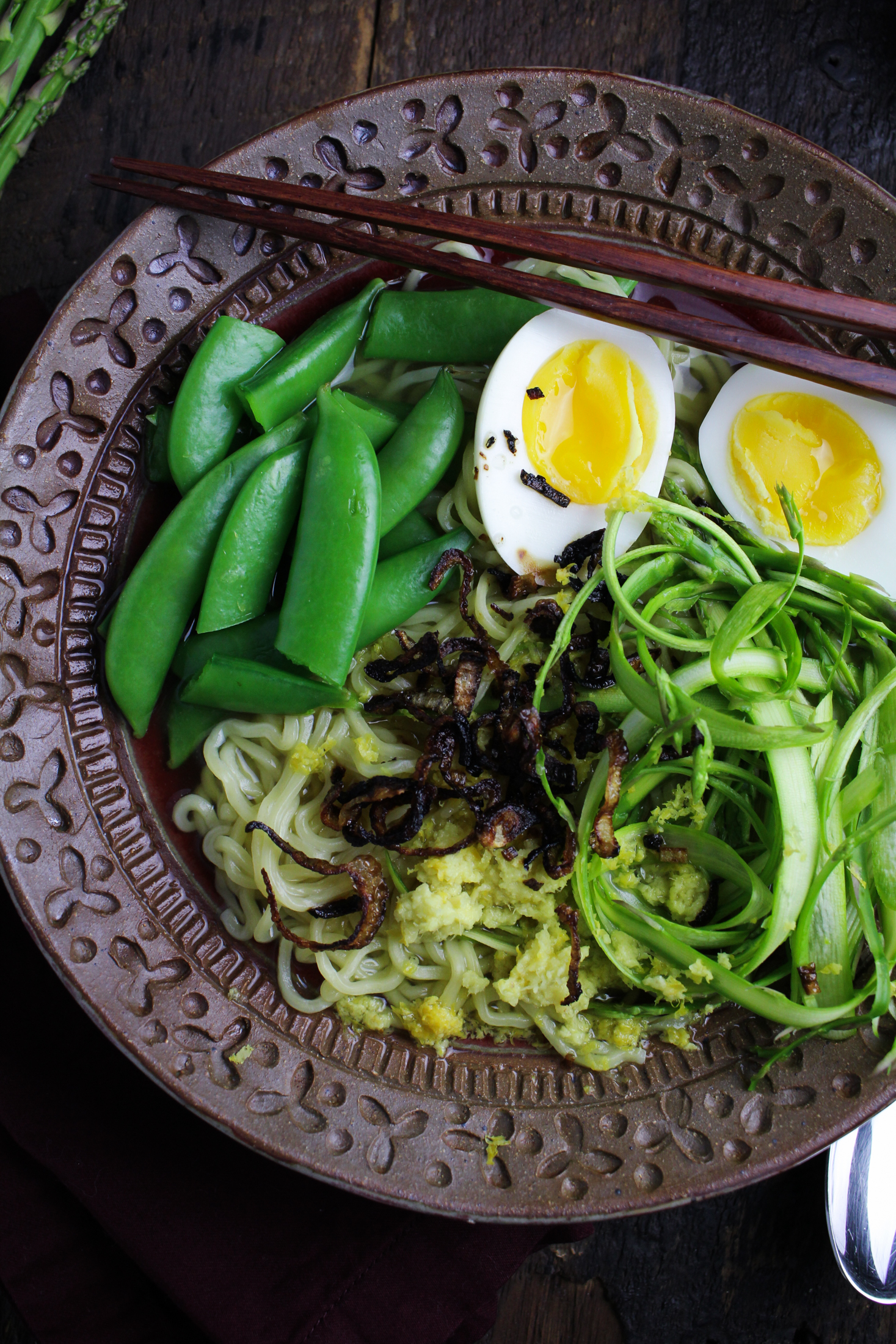 The Food: I have to admit, I was skeptical about how satisfying a vegetarian ramen broth would be. I loved the idea of a light, vegetarian bowl of ramen, but I couldn't imagine the soup without the salty, golden yellow broth I'd come to revere during our time in Asia. I considered making one of the broth-free recipes for this review, like the leek and mushroom shumai dumplings, but decided that I couldn't give a fair review of a vegetarian ramen book without making, well, vegetarian ramen. I would put it to the test – could a handful of dried mushrooms, asparagus stems, sheets of seaweed, and a spoonful of miso make a satisfying soup?
I ended up loving the soup. Sure, the broth on its own wasn't the same as a really perfect chicken broth, but the combination of the noodles, the raw and grassy asparagus, the sweet, crunchy peas, the bright lemon and ginger, the creamy egg, and the charred, bitter but sweet shallots was almost perfect. I went back for seconds and felt nourished and satisfied and happy. The recipe does require dirtying a number of different pots and pans to make all the components, but despite that, it wasn't very time consuming to pull together.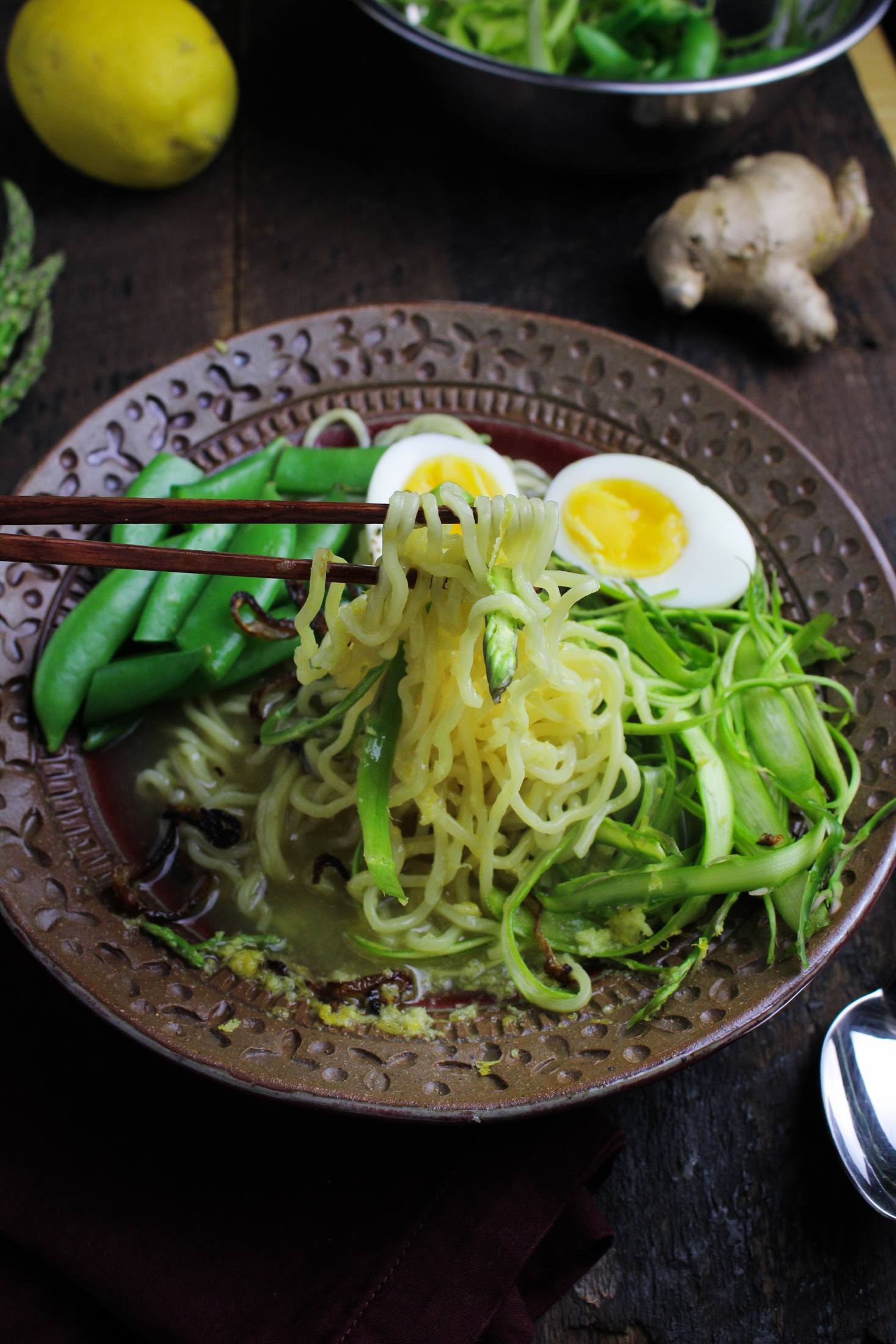 Recipe Shortlist: Autumn Ramen with Brussels Sprouts, Roasted Mushrooms, and Chili Broth; Vegetairan Curry Laksa; Fennel Pho; Spring Bibimbap with Kimchi, Swiss Chard, and Avocado; Sprouted Lentil Bowl; Edamame Dumplings; Leek and Mushroom Shumai; Chickpea Potstickers
Like what you just read? Subscribe to Katie at the Kitchen Door in the box on the right, on Feedly or Bloglovin', or follow along on Facebook, Twitter, Pinterest, Instagram, or Google+. Thanks for reading!
Disclosure: I received a review copy of Bowl: Vegetarian Recipes for Ramen, Phô, Bibimbap, Dumplings, and Other One-Dish Meals from Houghton Mifflin Harcourt, but I was not otherwise compensated and all thought and opinions are my own.
Vegetarian Spring Ramen
Recipe adapted slightly from Bowl: Vegetarian Recipes for Ramen, Phô, Bibimbap, Dumplings, and Other One-Dish Meals. Serves 4.
8 oz. asparagus
4 dried shiitake mushrooms
2 garlic cloves, smashed
9 cups water
Four 2-inch squares of kombu
2 TBS minute miso
1 tsp sea salt
4 large eggs
4 oz. sugar snap peas, trimmed of strings
2 TBS canola oil
3 shallots, peeled and sliced into thin rings
12 oz. fresh or frozen ramen noodles
4 pinches of freshly grated lemon zest
4 tsp freshly grated ginger pulp
To make the broth: thoroughly rinse the asparagus, then snap off the tough ends by bending each piece of asparagus in the middle and letting it snap at the natural point. Place the tough ends of the asparagus, the dried mushrooms, garlic, and water in a pot, and bring to a boil. Cover and keep at a low boil for 20-30 minutes. Remove from the heat, add the kombu, and let stand, covered, for 30 minutes. Strain the broth into a clean bowl, discarding the solids. Stir the miso into the hot broth, then taste and adjust seasoning with additional miso or salt as needed.
To prepare the ramen toppings: bring a large pot of salted water to a gentle boil. Use a slotted spoon to carefully lower the eggs into the boiling water. Boil the eggs for exactly 7 minutes, then immediately use a slotted spoon to transfer the eggs to an ice bath. Soak in the ice bath until cool, then carefully peel.
Add the snap peas to the boiling water you used for the eggs and blanch them until bright green, about 2 minutes, then use a slotted spoon to transfer them to an ice bath. Keep the water at a gentle boil. Use a vegetable peeler to peel the raw asparagus into long, thin strips (like flat noodles), and set aside. Then add the canola oil to a frying pan and heat over medium heat, add the shallots (test one shallot first – it should sizzle as soon as it hits the oil) and saute, stirring frequently, until the shallots are dark brown, about 3 minutes. Remove the shallots to a paper towel-lined plate and salt generously. Set aside.
To assemble the ramen: bring the vegetable broth back to a gentle simmer. Add the ramen noodles to the boiling water and cook according to package directions, usually about 2 minutes for fresh noodles. When noodles are tender, use a slotted spoon or skimmer to remove the noodles from the pot and rinse in cold water to remove the excess starch, then quickly dunk them back in the hot water just to reheat them. Add a pinch each of the lemon zest and ginger pulp to each of your serving bowls, then cover with a few ladlefuls of the hot broth and add a serving of noodles. Top each bowl with a handful of the asparagus "noodles," a few blanched snap peas, a soft-boiled egg, and a spoonful of the fried shallots. Serve immediately.
1