I have news – really big news! As of twelve days ago, Trevor and I are no longer just boyfriend-girlfriend/roommates/long-term-snuggle-buddies… he made the whole thing official and asked me to marry him!
Part of me feels hesitant to write, or even talk about it – it's such a personal moment and a huge, emotional decision, to commit to spending the rest of your lives together. The other part of me wants to tell everyone I see and take obnoxious photos of my ring. Basically, in real life, I'm alternating between blushing and gushing. But I know that 1 or 2 or maybe even 10 years from now I'm going to be back here hoping to remember what I was feeling and thinking right now, so I'm pushing my reservations to the side for a moment and sharing.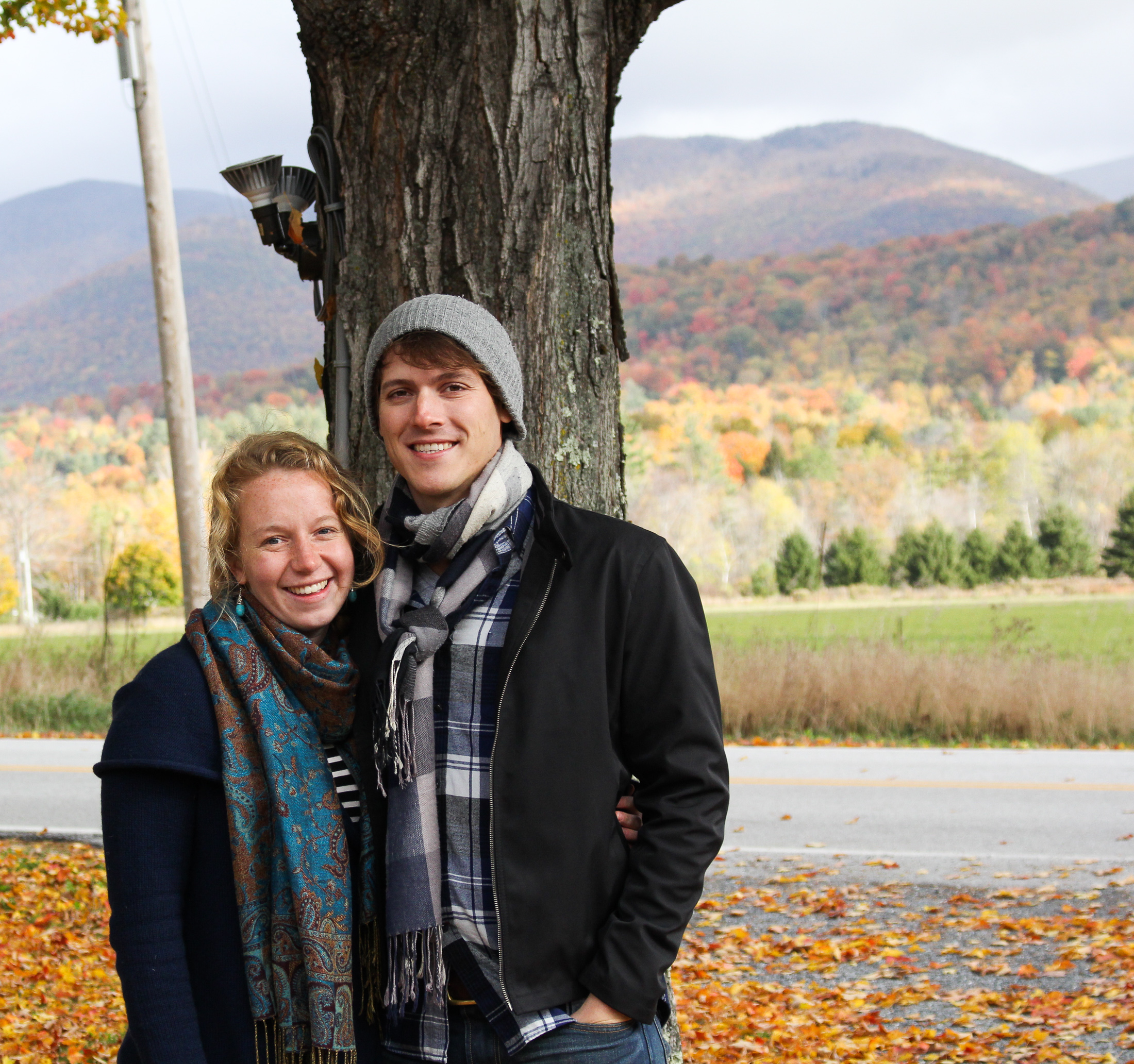 Here's the story. Saturday morning we took a leisurely drive through Western mass and up into Southern Vermont. It was a brilliant day, cold and crisp and cloudless, and every turn seemed to take us through a tunnel of golden leaves more vibrant than the last. Everything glowed. We checked into a lovely inn in Dorset, VT, in the early afternoon, and went for a cold and quiet walk for the last hour of daylight, marveling at the colonial houses before wandering up a wide, wooded trail simply marked "Town Trail."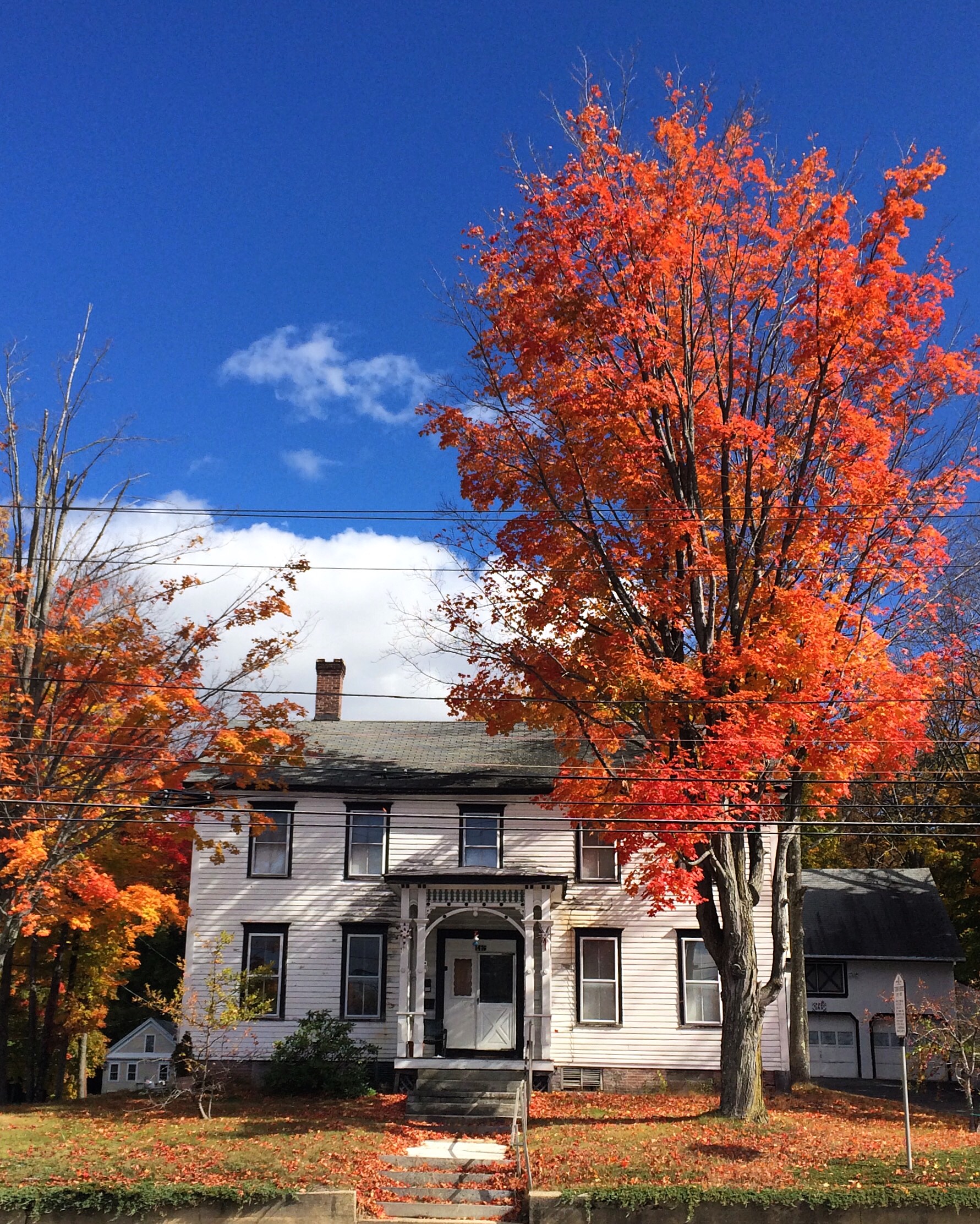 As we turned around it began to snow, then hail – not enough to be uncomfortable or wet, just enough to rattle through the leaves and fade the golden landscape to gray. By the time we were back at the inn, the snow had cleared. We changed into warmer clothes and sat by one of the many fireplaces, drinking big glasses of Malbec and reading and nibbling on blue cheese and pickled green tomato pizzas the lovely innkeeper had put out for us. As the dark and cold grew deeper, we bundled up for a windy, back-roads drive to SoLo Farm & Table, where seemingly everyone else in Southern Vermont had gathered for a cozy meal in the farmhouse. I had mushrooms and duck egg on toast followed by the tenderest rabbit with bacon, prunes, baby eggplant, and roasted vegetables. We ended with a shared chocolate pot de creme before stepping back outside into the gentle snow.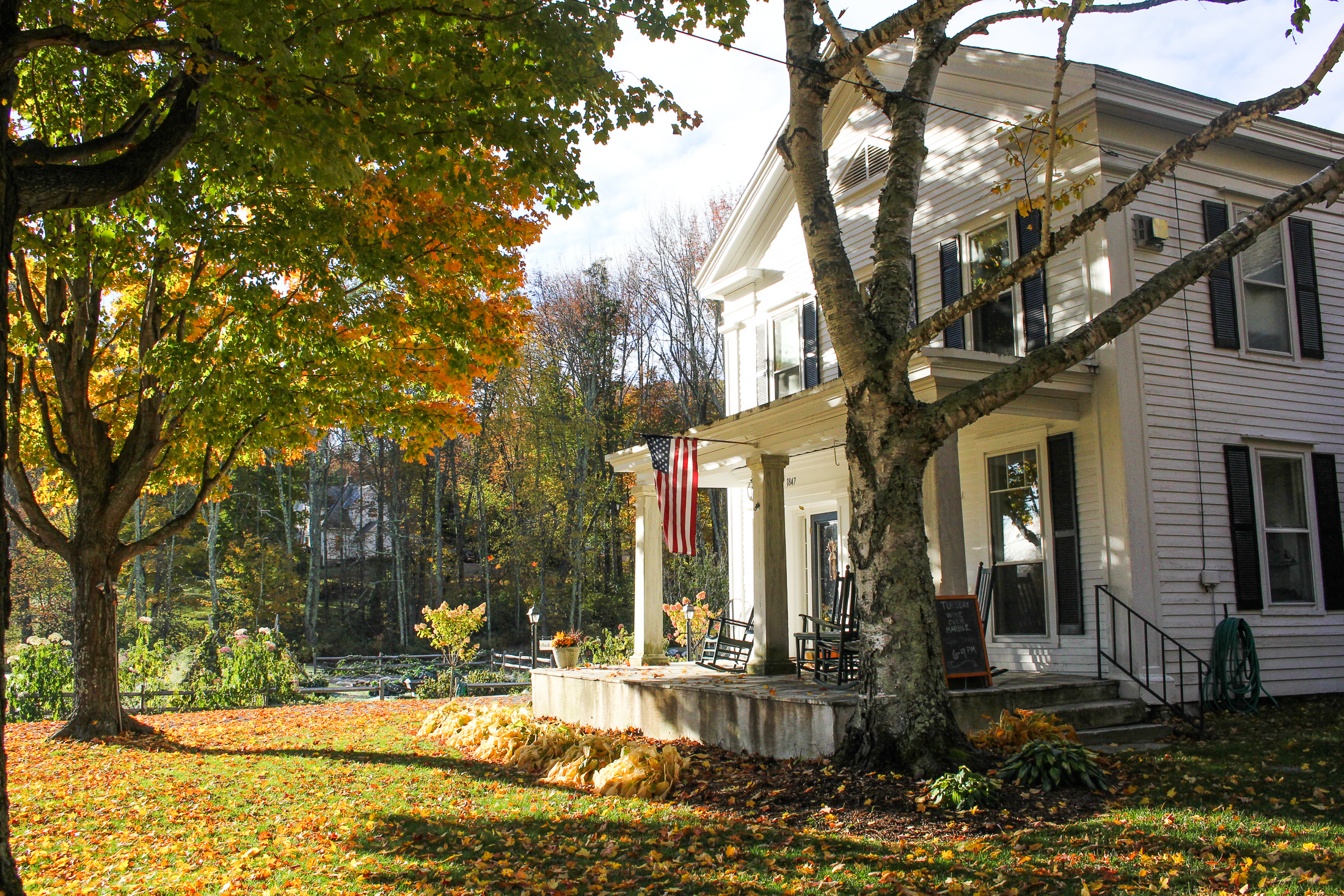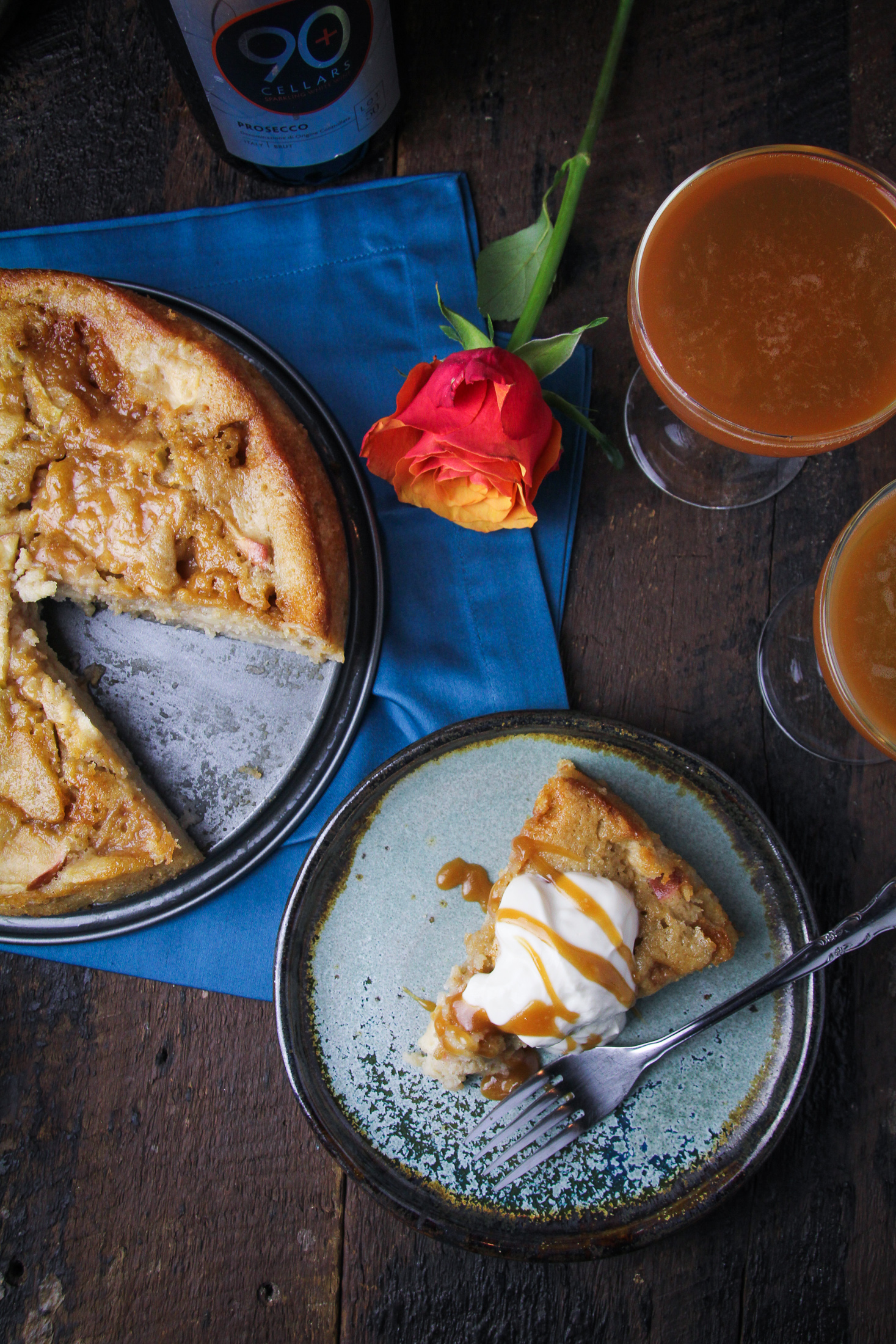 Back at the inn, full and warm and sleepy, sitting in the low light in front of the woodstove in our room, Trevor kissed me and told me he wanted to spend the rest of his life with me, and asked me would I marry him? And of course, with the biggest smile and a pounding heart, I said I would and kissed him a lot more times. We didn't tell anyone until we got home the next afternoon, so all morning we reveled in our temporary secret, driving around in the alternating sun and snow and holding hands and just enjoying being together.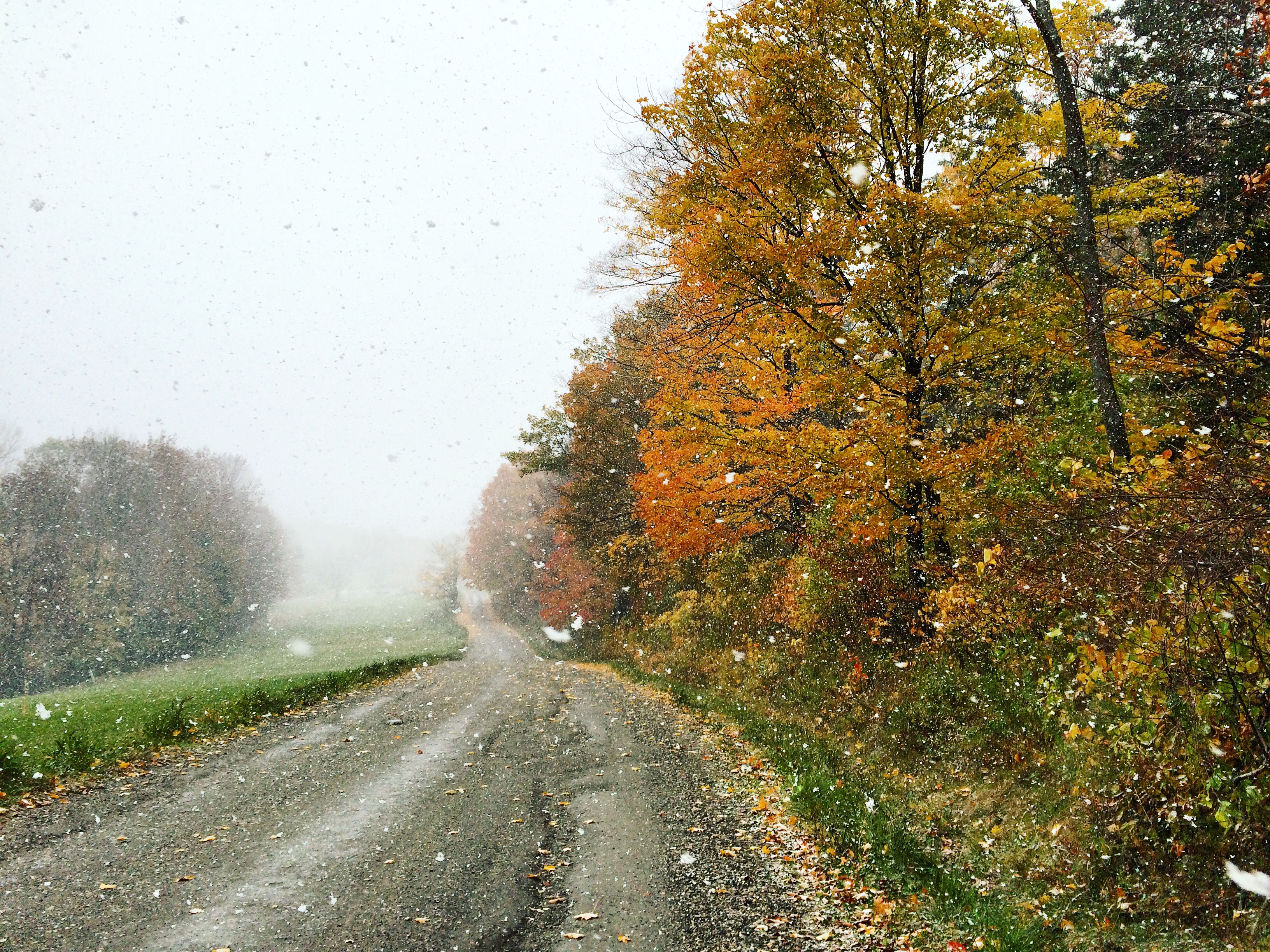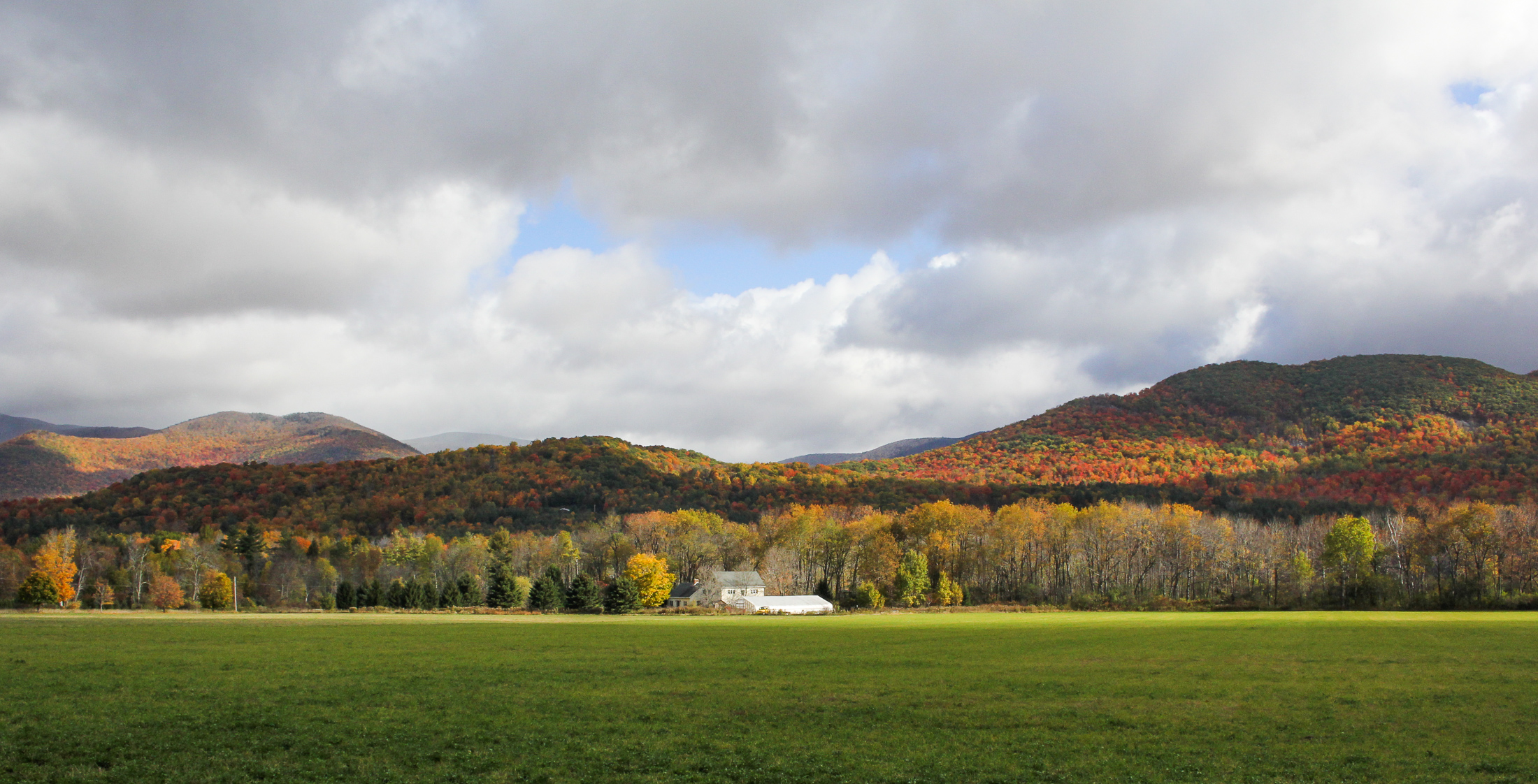 And here's the more important part: I get to spend the rest of my life with an incredible man. There's so many little things that I'm thrilled to have every day. The way all the tension leaves my body when I slip into his arms at night. Yelling "goodbye, I love you!" from the front door to the bedroom every morning, even though we've already kissed goodbye. The hug I get every time I walk in the door. I have a man who will drop everything to come pick me up if it's raining and I don't want to wait for the bus, and who meets me with takeout when I have to work late. Who insists on dropping me off and picking me up at the airport every trip, even though it's sometimes a bi-weekly occurrence. Who comes home from a 12-hour day and spends 3 hours more working to fix our house. Who makes spicy chicken noodle soup when I'm sick and tirelessly helps me with my photo shoots and does all the dishes when I just look tired. Trevor is smart, hard-working, handsome, supportive, sweet, and most importantly, kind. I have a lifetime of being cherished ahead of me, and of giving back all the love I have. And I'm so excited for every minute of it!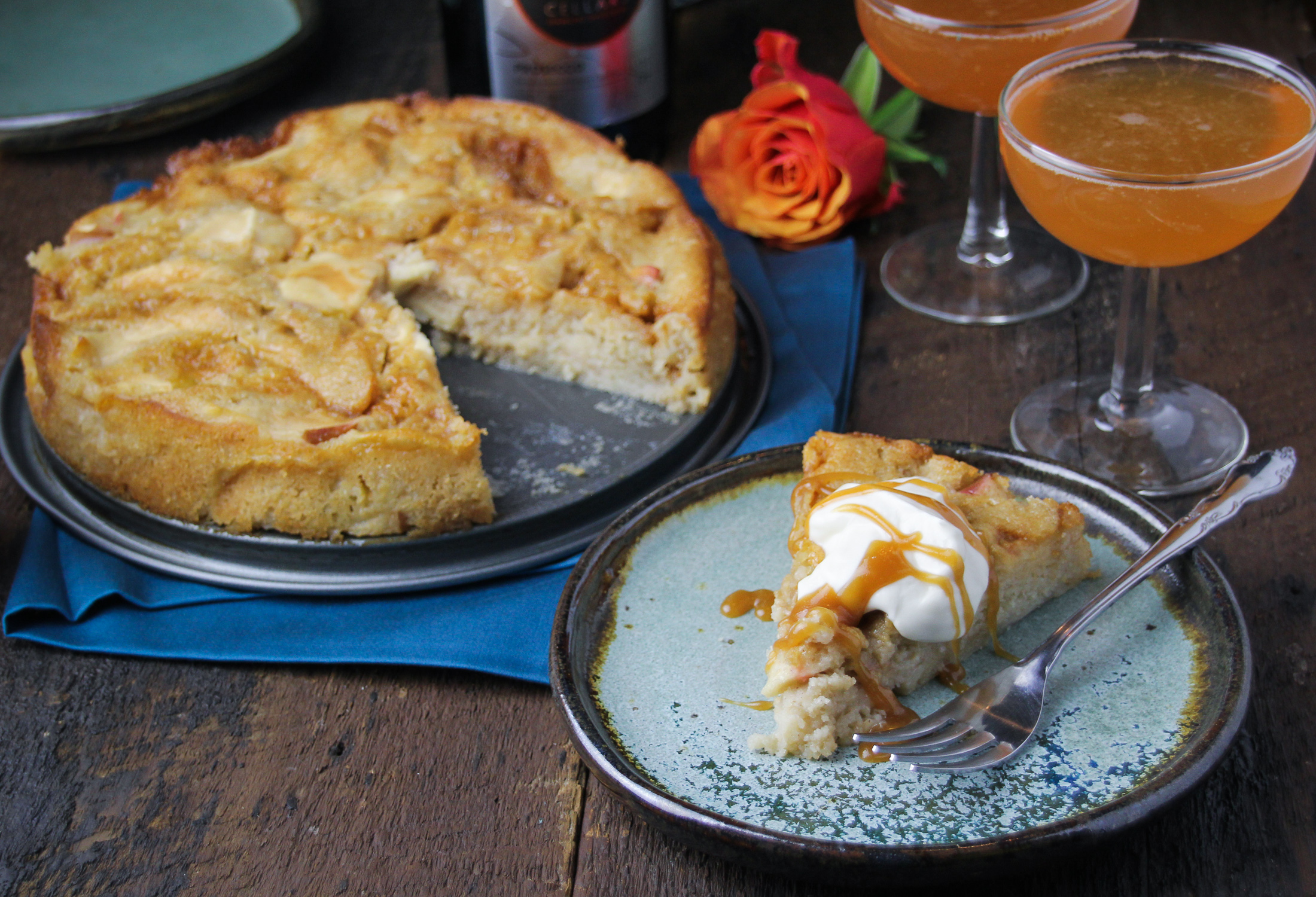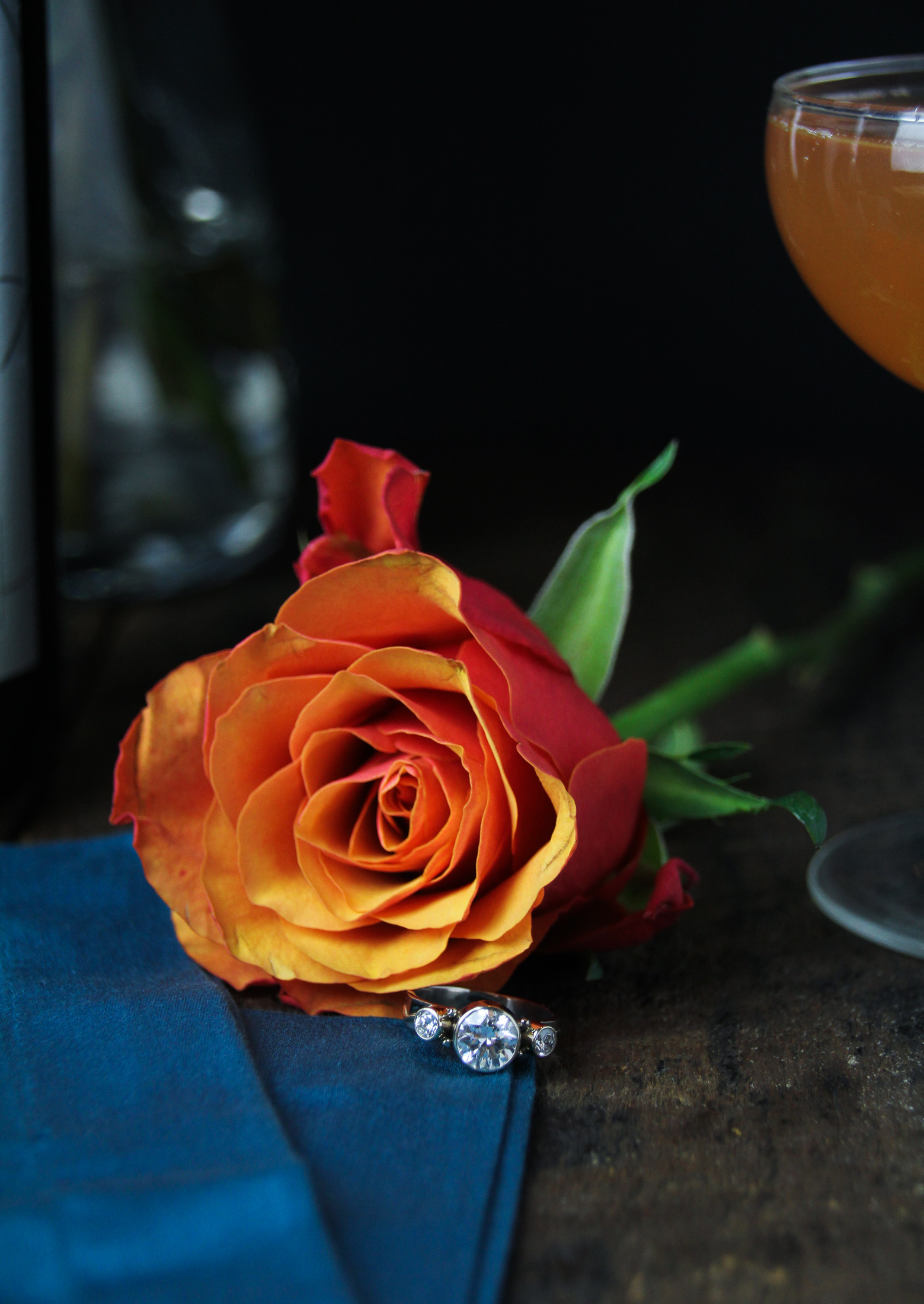 We haven't done anything official to celebrate yet, but I did make us a little cake and open a bottle of champagne last weekend. The cake is packed full of apples spiked with a little bit of bourbon and drizzled with salted caramel for a supremely fall-ish dessert. And the champagne, besides getting drunk it's own, worked very nicely to top off a simple cocktail of apple cider and bourbon and bitters. So, cheers to Trevor, to us, to the past 7 years and hopefully the next 80!
Like what you just read? Subscribe to Katie at the Kitchen Door in the box on the right, on Feedly or Bloglovin', or follow along on Facebook, Twitter, Pinterest, Instagram, or Google+. Thanks for reading!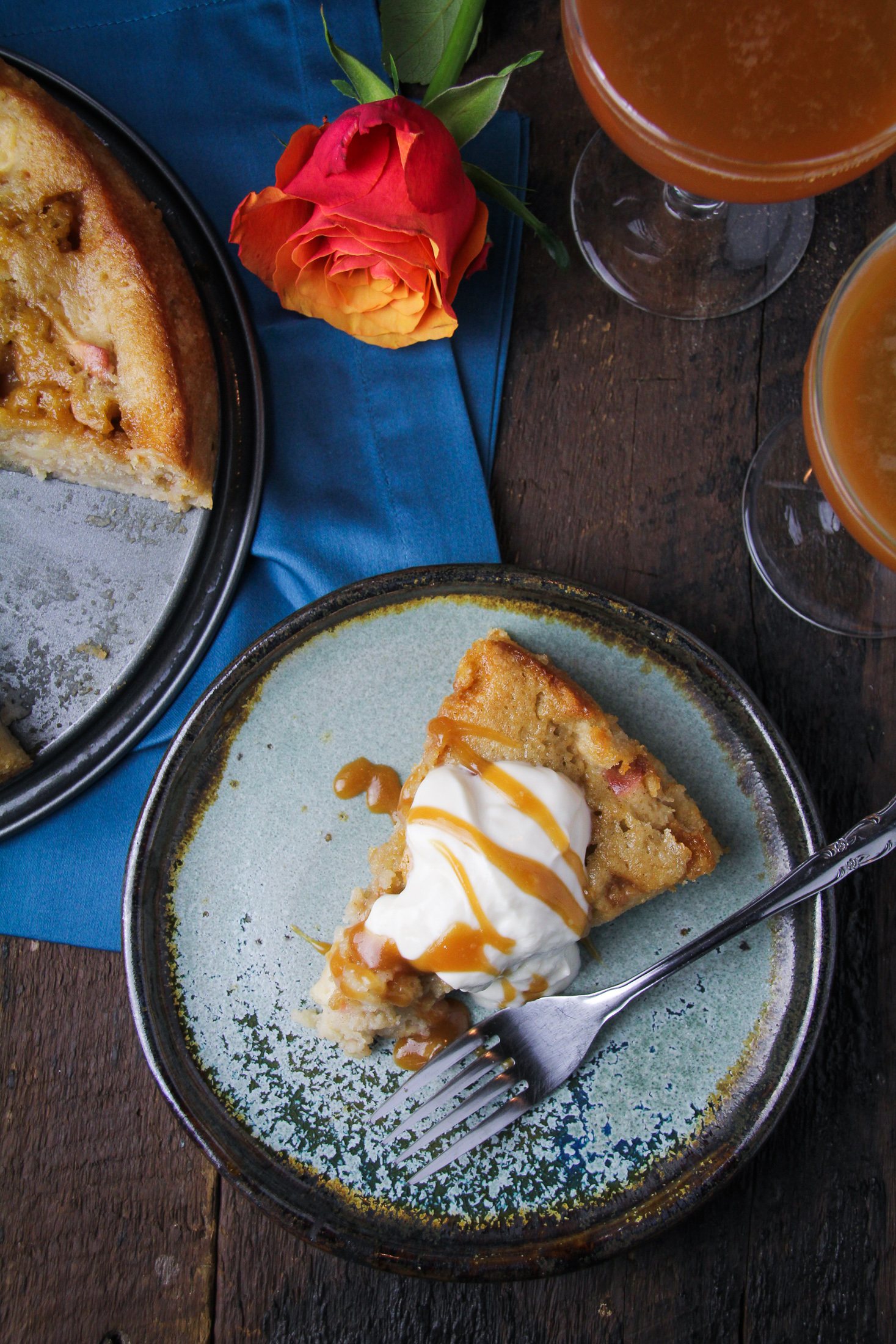 Salted Caramel Apple Cake
Serves 8-10. Adapted from Dorie Greenspan via Epicurious.
3/4 c. AP flour
3/4 tsp baking powder
pinch of salt
2 large eggs
3/4 c. sugar
3 TBS bourbon
1/2 tsp vanilla extract
8 TBS butter, melted
3 large apples, peeled, cored and thinly sliced
1/3 c. salted caramel, plus more for serving
Greek yogurt or whipped cream for serving
Preheat the oven to 350°F. In a small bowl, whisk together the flour, baking powder, and salt. In a large bowl, whisk together the eggs, sugar, bourbon, and vanilla extract until frothy. Whisk in half of the flour until incorporated, then half of the melted butter. Repeat with the remaining flour and butter, leaving a small amount (less than 1 TBS) of melted butter to the side to grease the cake pan. Add the sliced apples to the batter and gently stir to coat the apples with the batter.
Brush a 9-inch springform pan with the remnants of the melted butter, then place the springform pan on a baking sheet (to catch any leaks). Pour the batter into the pan, using a spatula or wooden spoon to smooth the apples into a flat top layer. Drizzle the cake with the salted caramel and transfer to the oven. Bake for 45-50 minutes, until a toothpick poked into the center comes out clean. Remove from the oven and let cool for 15 minutes, then run a knife around the edges of the pan to loosen the cake and release the springform cake. Serve with whipped cream or yogurt and a drizzle of salted caramel.
Bourbon Apple Cider Sparkler
Serves 2.
3 oz. bourbon
1/2 c. apple cider
few drops bitters
chilled champagne
Add the bourbon, apple cider, and bitters to a cocktail shaker with a few ice cubes. Shake for 15 seconds, then strain into coupe glasses. Top off with champagne and serve immediately.
0